April 3, 2014
Peanut Butter and Jelly Doughnuts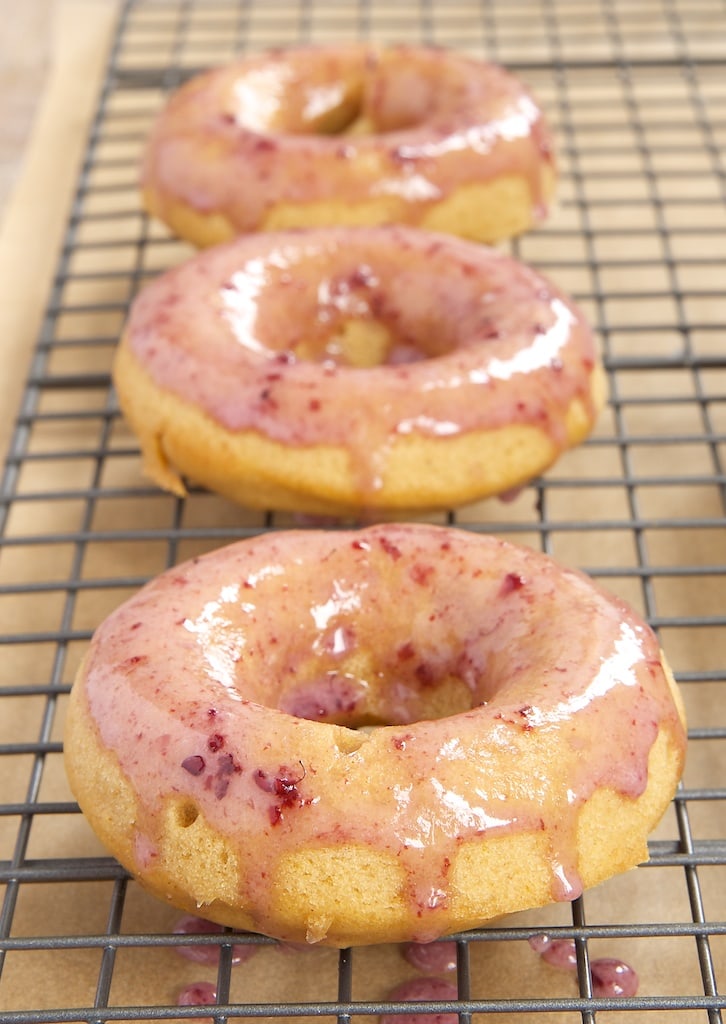 A while back, I purchased a couple of doughnut pans. I baked a quick, experimental batch of doughnuts, and then put the pans in a cabinet. Then, the old out-of-sight-out-of-mind thing kicked in and those poor pans sat abandoned for far too long.
Recently, during a kitchen cabinet purging, I rediscovered those pans and promptly put on my doughnut thinking cap. After some thinking, I decided to go with an old favorite combination – peanut butter and jelly.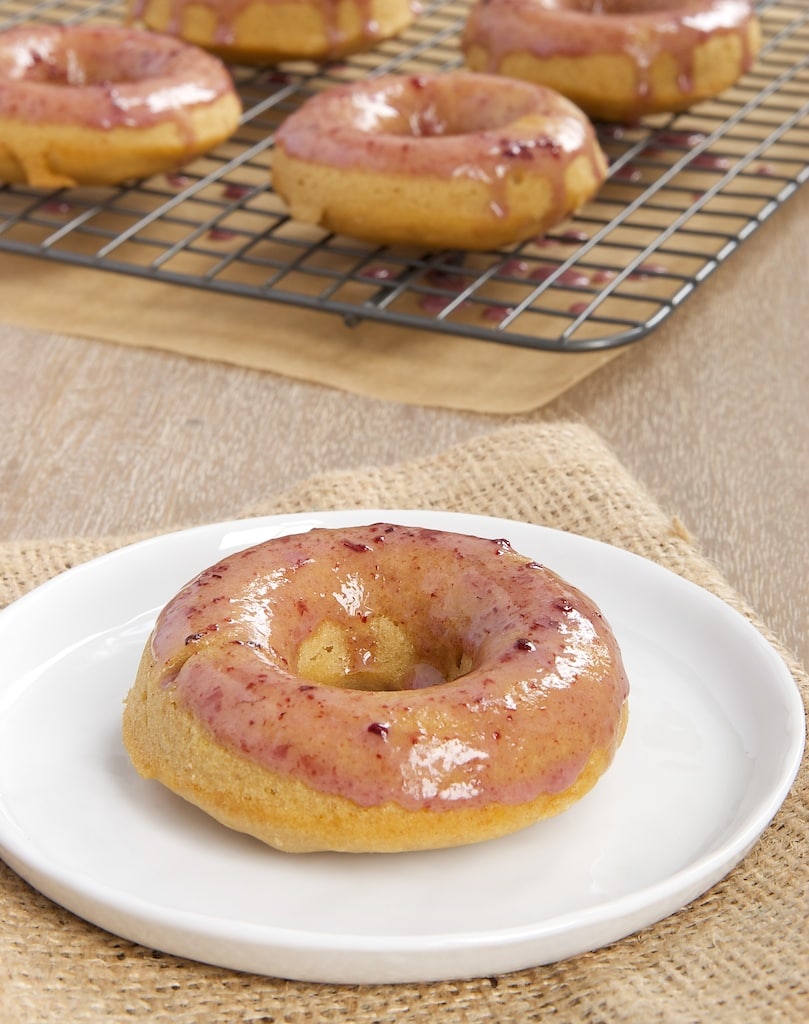 The doughnuts themselves are sweet and nutty, with just the right amount of peanut butter flavor. The glaze is your basic confectioners' sugar-milk combo sweetened up with jelly.
When it comes to pairing peanut butter with jelly, I usually prefer grape or strawberry. I used strawberry preserves for the ones you see here. But, you can make these with your favorite fruit variety. What's your favorite jelly to pair with peanut butter?
We are a participant in the Amazon Services LLC Associates Program, an affiliate advertising program designed to provide a means for us to earn fees by linking to Amazon.com and affiliated sites.
Peanut Butter and Jelly Doughnuts
Yield: 12 doughnuts
Prep Time:20 minutes
Cook Time:10 minutes
Peanut Butter and Jelly Doughnuts are sweet and nutty. A fun and tasty way to enjoy your peanut butter and jelly!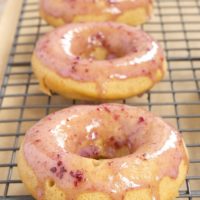 Ingredients:
For the doughnuts:
1 & 1/2 cups all-purpose flour
1 teaspoon baking powder
1/2 teaspoon salt
2/3 cup packed light brown sugar
1/4 cup unsalted butter, melted
1/2 cup creamy peanut butter
2 large eggs
1 & 1/2 teaspoons vanilla extract
2/3 cup milk
For the glaze:
1/2 cup confectioners' sugar
3 tablespoons jelly, jam, or preserves
2 to 3 tablespoons milk
Directions:
To make the doughnuts:
Preheat oven to 350°F. Grease two 6-cavity doughnut pans.
Whisk together flour, baking powder, and salt. Set aside.
Mix together brown sugar, melted butter, and peanut butter. Stir in eggs, one at a time, mixing well after each addition. Mix in vanilla.
Add flour mixture in three portions, alternating with two portions of milk. Mix just until combined.
Divide batter evenly among doughnut pans. Spread evenly.
Bake 8 to 10 minutes, or until a pick inserted into the center comes out clean.
Cool doughnuts in pans on wire racks for 10 minutes. Then, transfer doughnuts to wire racks to cool completely.
To make the glaze:
Whisk together confectioners' sugar and jelly until combined. Add milk until the mixture is desired consistency.
Dip each doughnut straight down into the glaze. Then, set each on a wire rack with the glazed side facing upward.
This recipe was originally developed for Go Bold with Butter, where I am a paid contributor.