These Mini Chocolate Bundt Cakes have a simple peanut butter filling and a rich chocolate glaze. These little beauties are perfect for entertaining or sharing!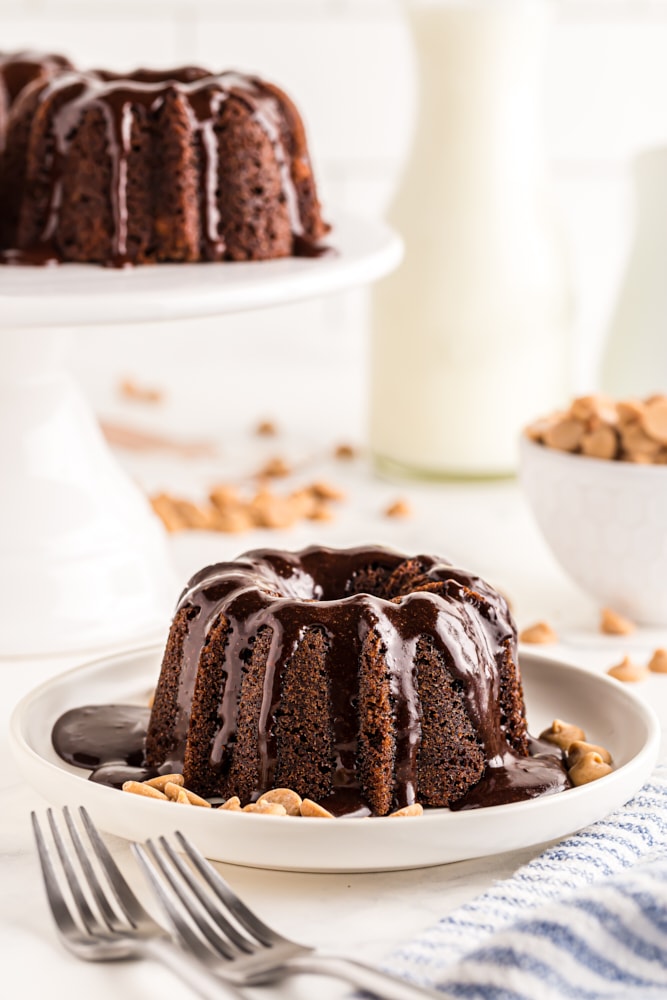 Mini Chocolate Bundt Cakes
Three of my favorite things in the baking world are mini desserts, chocolate, and Bundt cakes. That means that I'm beside myself about these Mini Chocolate Bundt Cakes.
If you're a big fan of chocolate and peanut butter like I am, then the addition of peanut butter chips to the batter will be right up your dessert alley. When you're ready to serve, just add a simple chocolate glaze, and you've really got something special.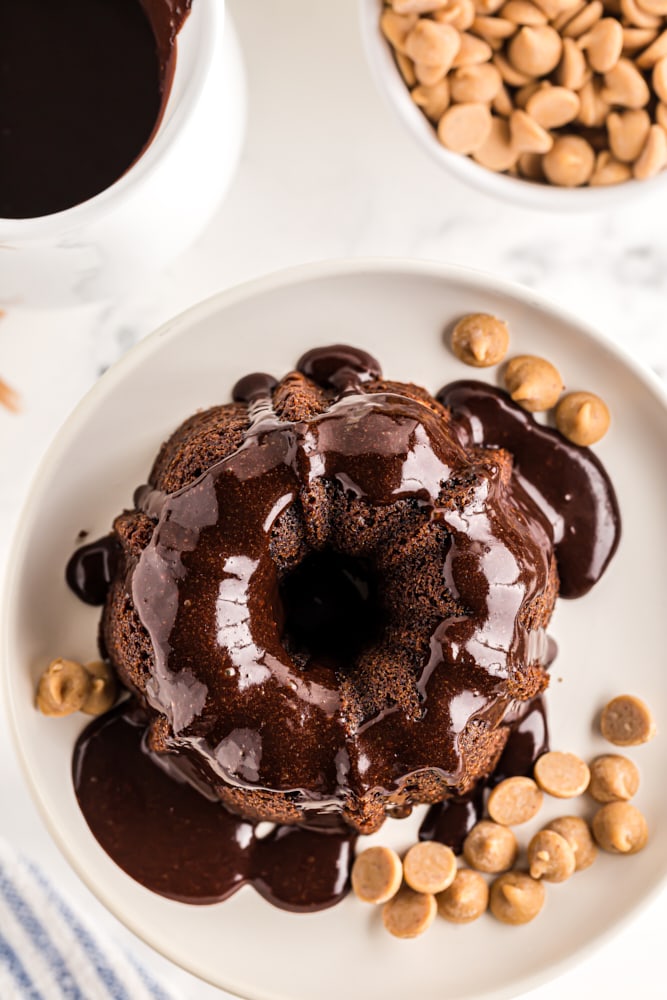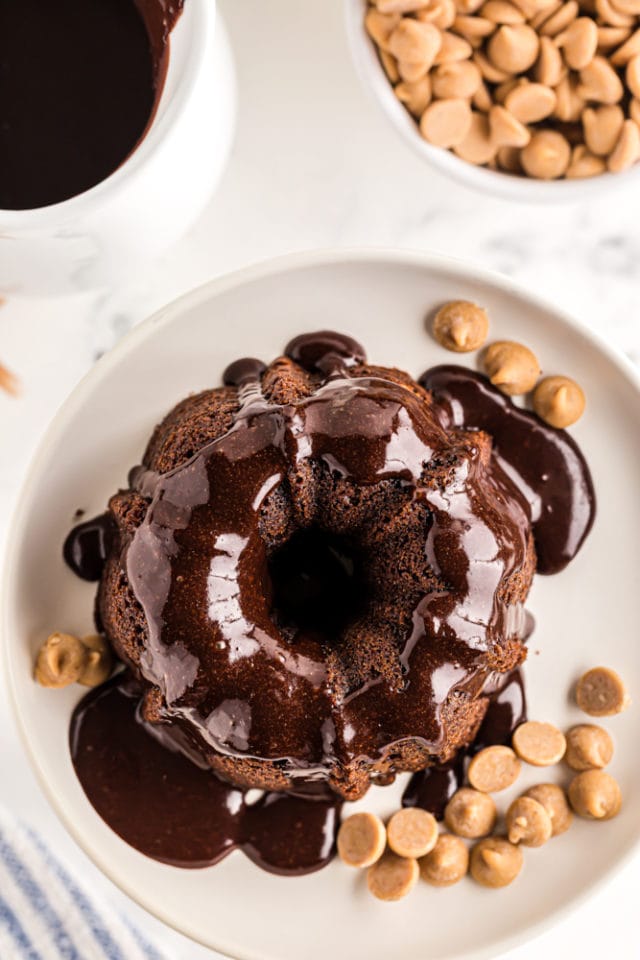 This recipe makes twelve beautiful Bundt cakes that are ideal for entertaining or just for sharing with family and friends. They're a perfect way to end a special occasion dinner, but they're also simple enough for a more casual setting.
These are great little cakes for serving a crowd. Think holidays, birthdays, or other special occasions. Just think – when it comes time for dessert, there's no slicing and doling out. Everyone just gets their own pretty little cake!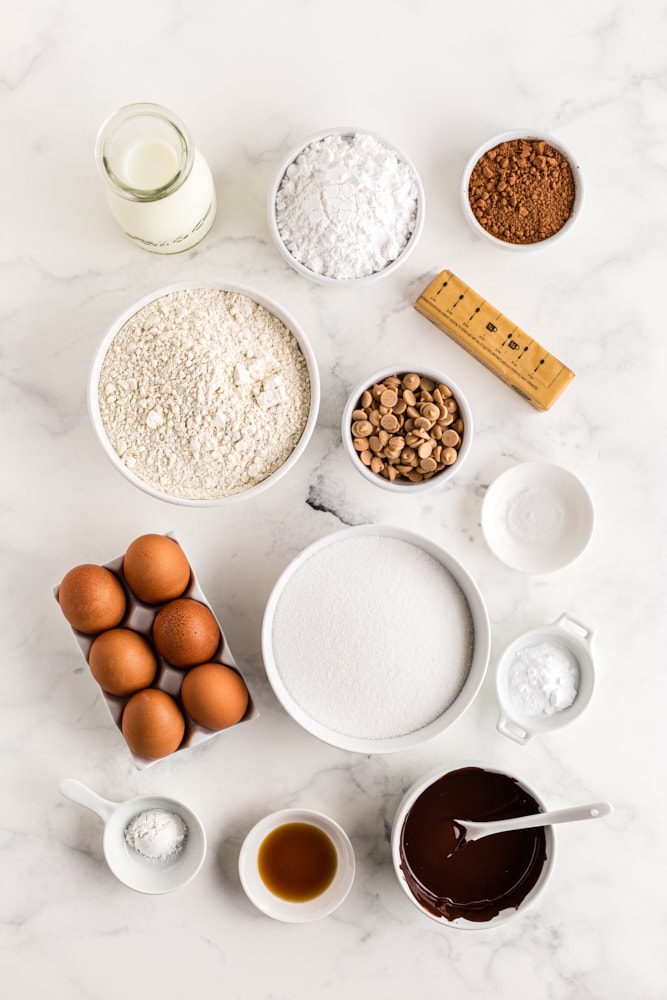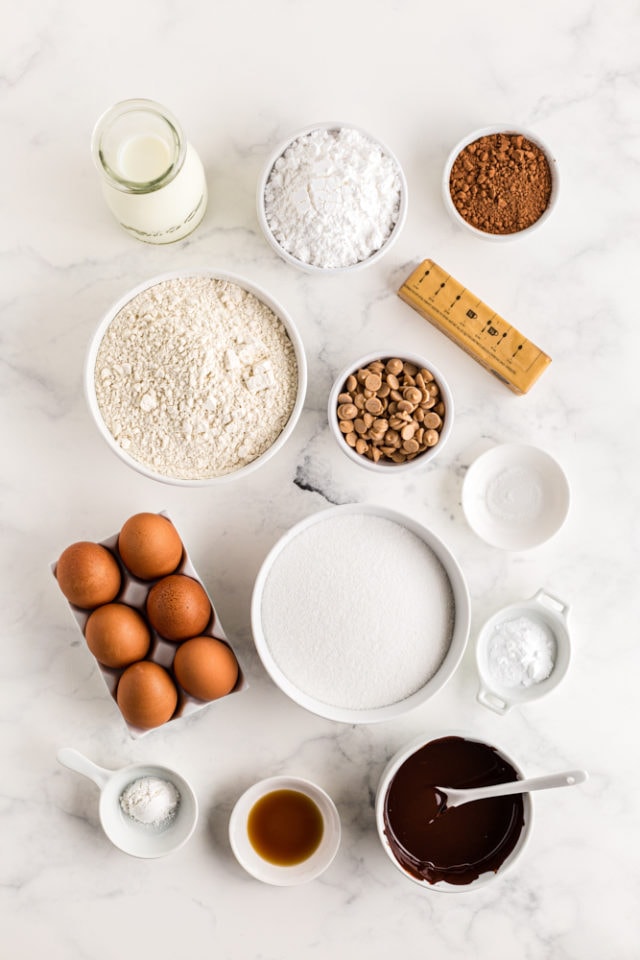 What You'll Need
Besides the peanut butter chips, you won't need any special ingredients to make these Mini Chocolate Bundt Cakes.
For the cake:
All-purpose flour
Baking powder
Baking soda
Salt
Butter – Set out the butter about half an hour before baking to allow it to soften.
Granulated sugar
Eggs – Set out the eggs before you begin baking so they won't be completely cold when added to the batter.
Unsweetened chocolate – Use good quality chocolate for the best results. You can melt the chocolate in a double boiler, or in the microwave. For the latter, place the chocolate in a microwave-safe bowl, and heat at half-power in 30-second increments until the chocolate melts when stirred. Let it cool before adding it to the batter.
Vanilla extract
Milk – Whole or 2% milk works best.
Peanut butter chips – This is all you'll need for a simple peanut butter filling. Look for these with the chocolate chips and other flavored chips.
For the glaze:
Cocoa powder – I prefer natural cocoa powder for this glaze, but either natural or Dutch-process will work because it's being used solely for flavor and not its baking properties. Natural cocoa powder will give a milder flavor, while Dutch-process will provide a bolder flavor more like bittersweet chocolate. Be sure to use unsweetened cocoa powder, not a sweetened cocoa mix. Sift it if needed.
Confectioners' sugar – Sift the sugar for the smoothest glaze.
Milk – Again, whole or 2% milk will work best.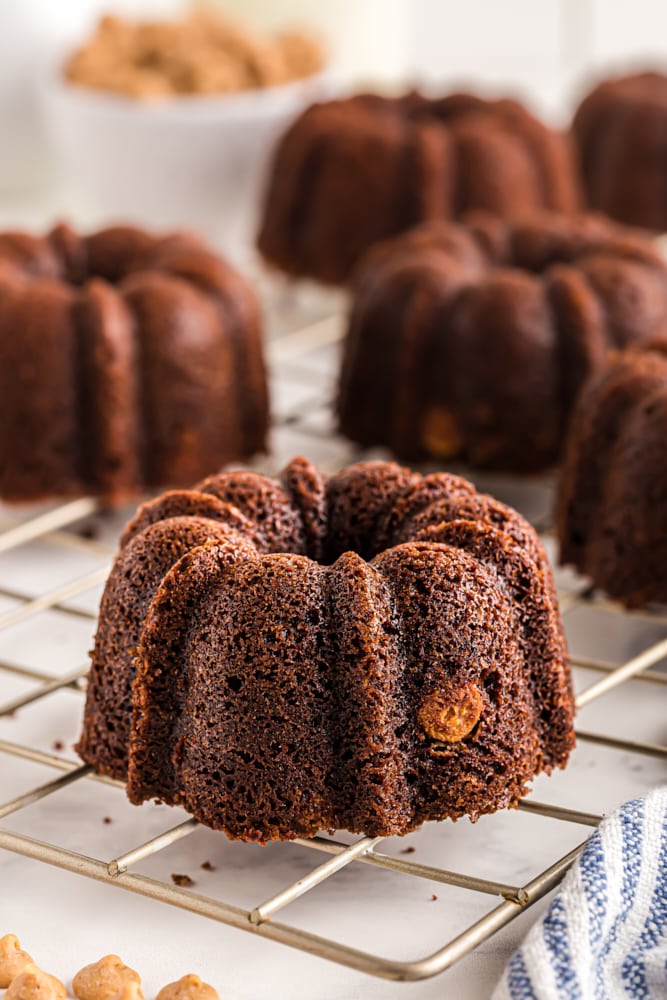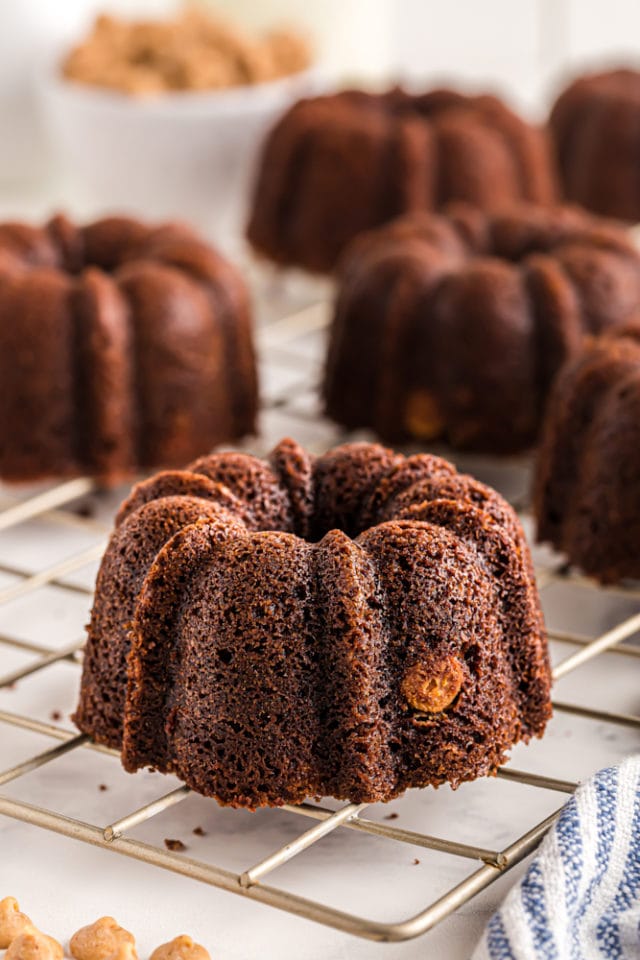 How to Make Mini Chocolate Bundt Cakes
These little chocolate cakes are simple to make using the creaming method. You'll need a few mixing bowls, a hand or stand mixer, and mini Bundt pans.
Prepare for baking. Heat the oven to 350°F. Thoroughly grease 12 mini Bundt cups, each with a 1-cup capacity. I prefer a baking spray with flour, like Baker's Joy or Pam Baking. If you aren't sure what size your pans are, measure 1 cup of water and pour into one of the cups until full. However much water you used is the capacity of the cups of your Bundt pan.
Combine the dry ingredients. Whisk together the flour, baking powder, baking soda, and salt. Set aside while you mix the wet ingredients.
Mix the wet ingredients. Use a hand or stand mixer to beat the butter and sugar until light and fluffy. Add the eggs, one at a time, and mix well after each. Mix in the chocolate and vanilla.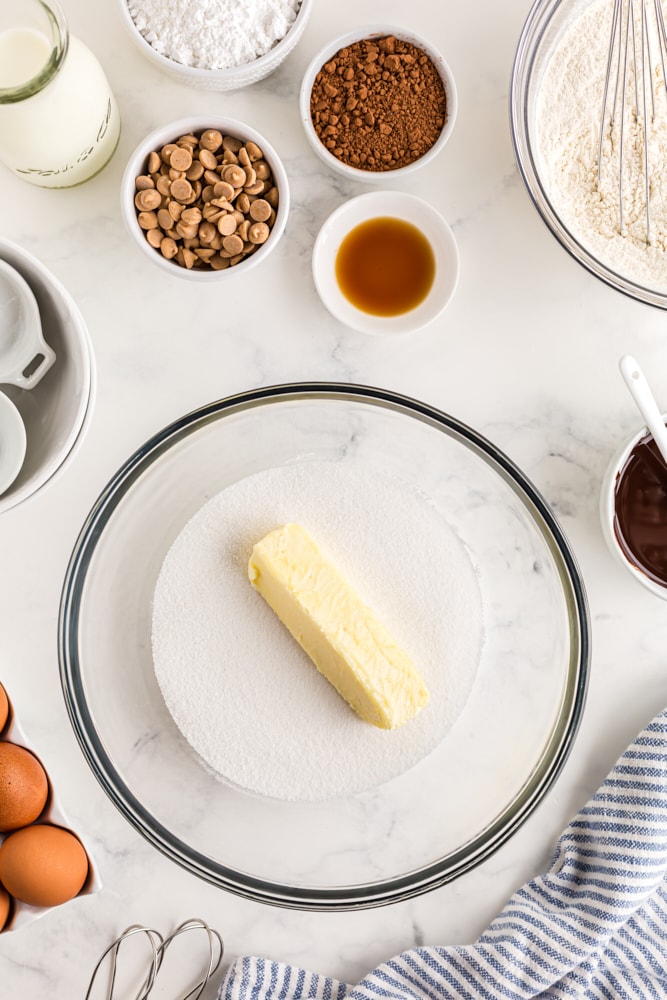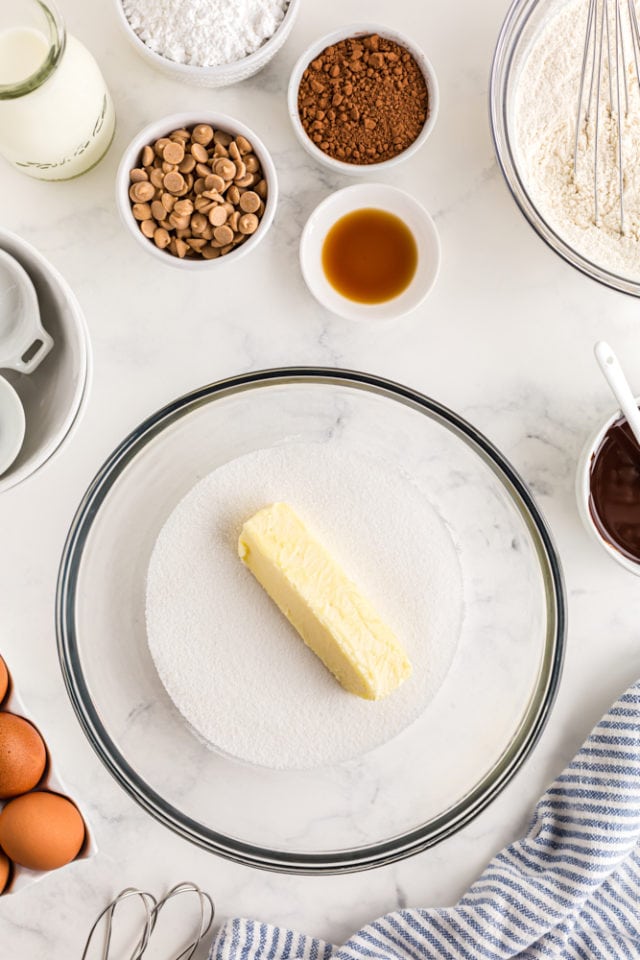 Add the dry ingredients and milk to the wet ingredients. Reduce your mixer's speed to low. Add the flour in three portions, alternating with two portions of the milk. Mix the batter just until combined.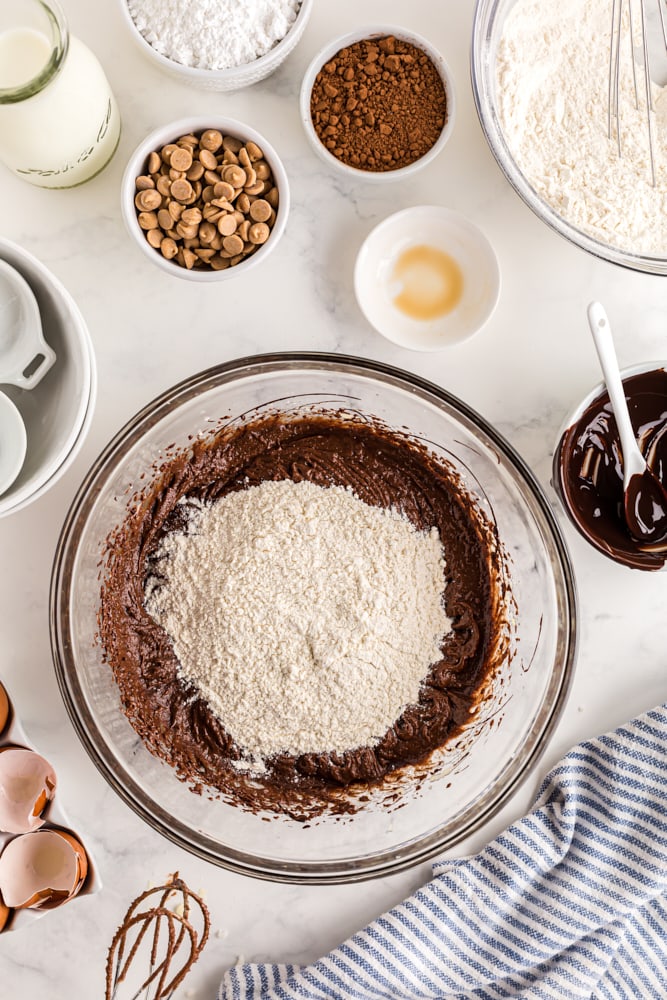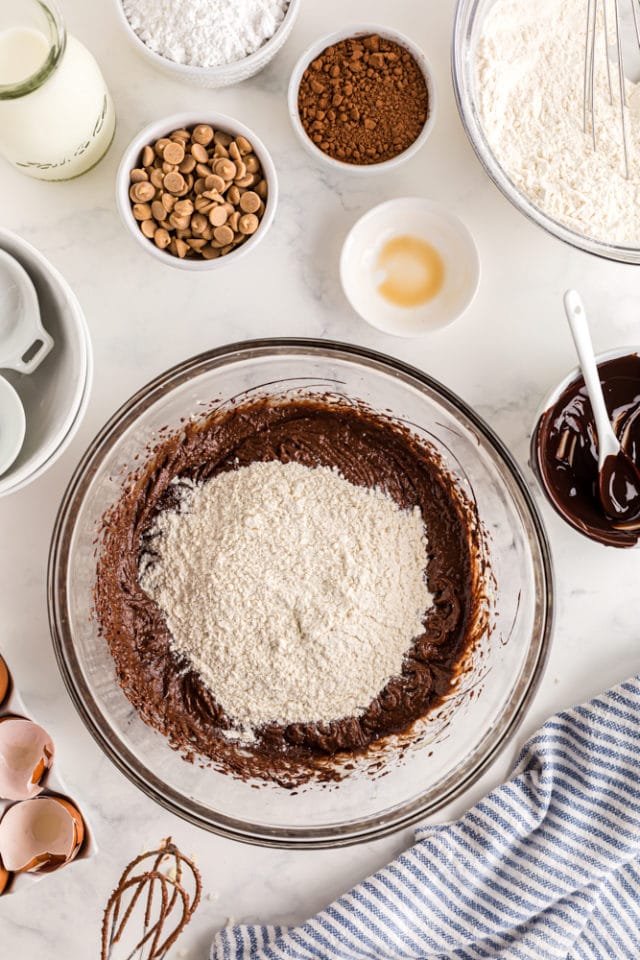 Assemble the cakes. Fill each Bundt cup about half full. Scatter peanut butter chips around the center. Then top with the remaining batter.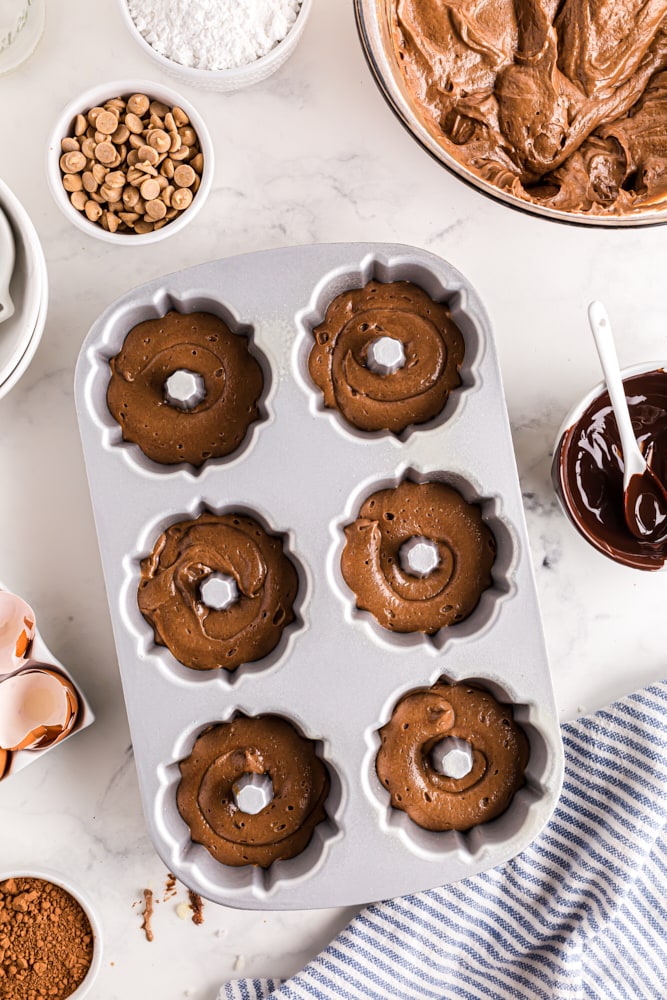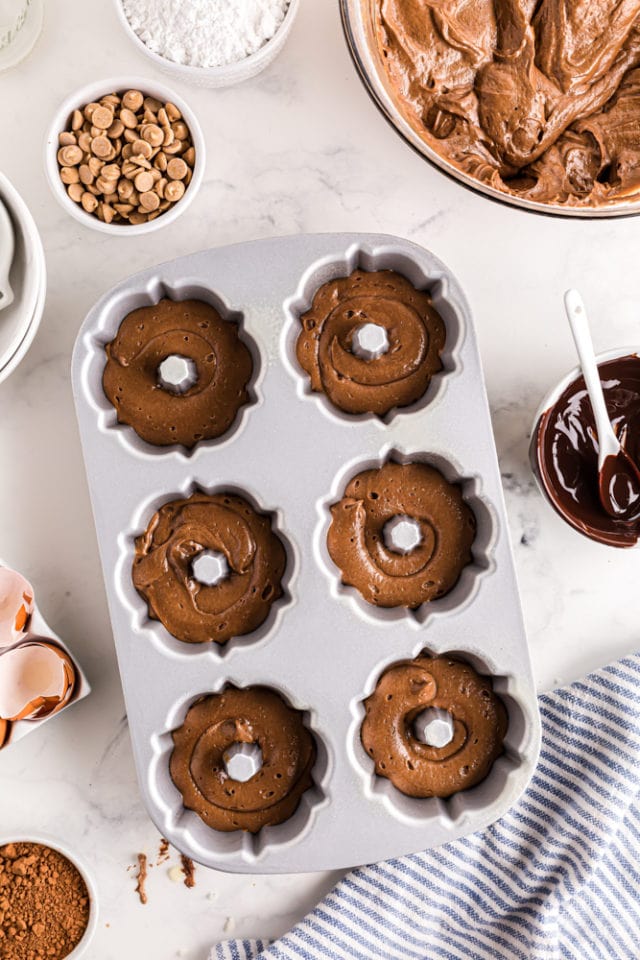 Bake the cakes. The cakes will need 18-20 minutes to bake thoroughly. You can check for doneness with a wooden pick or a cake tester. It will come out clean when the cakes are done.
Cool the cakes. Place the pan on a wire rack to cool for about 5 minutes. Then transfer the cakes from the pan to a rack to cool completely before glazing.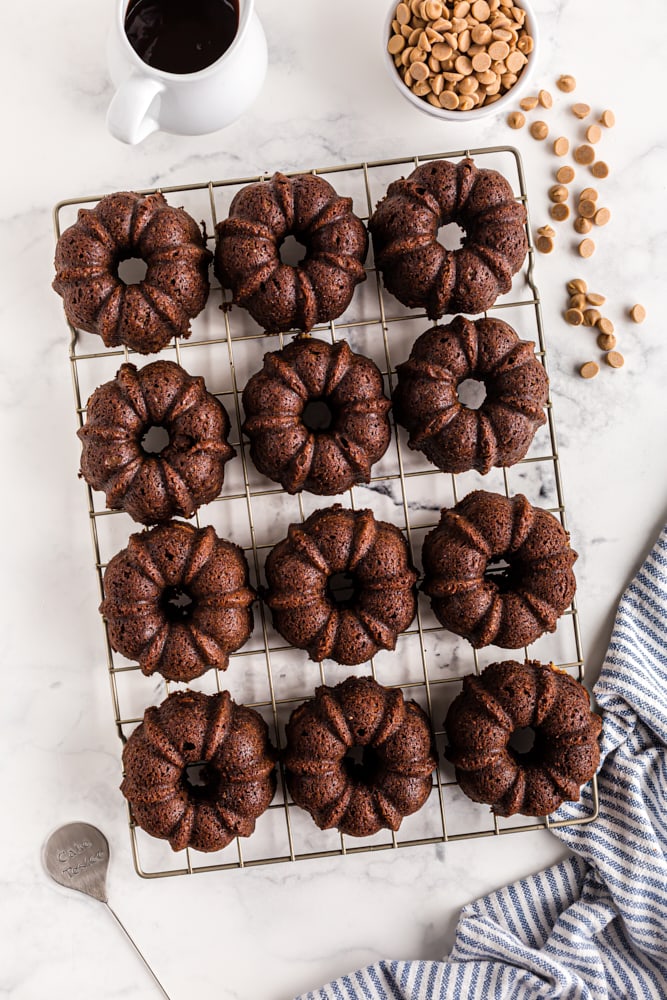 Make the glaze. Mix the cocoa powder and confectioners' sugar. Add 2 tablespoons of milk, and stir until combined. If needed, add more milk, a small amount at a time, until the glaze is the consistency you like. The end result should be thick but pourable. If it gets too thin, add a little confectioners' sugar.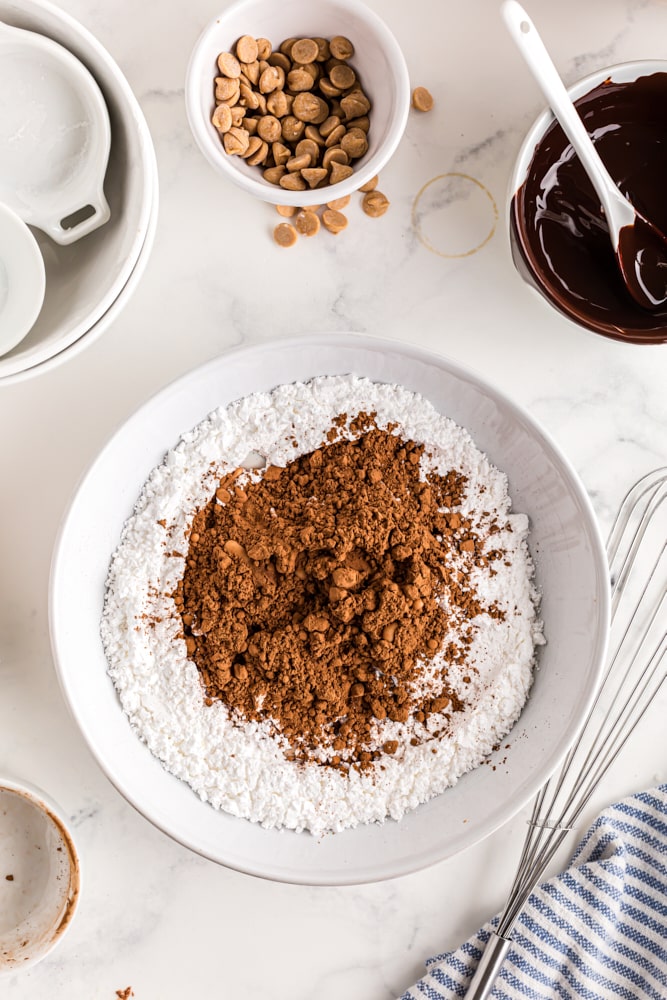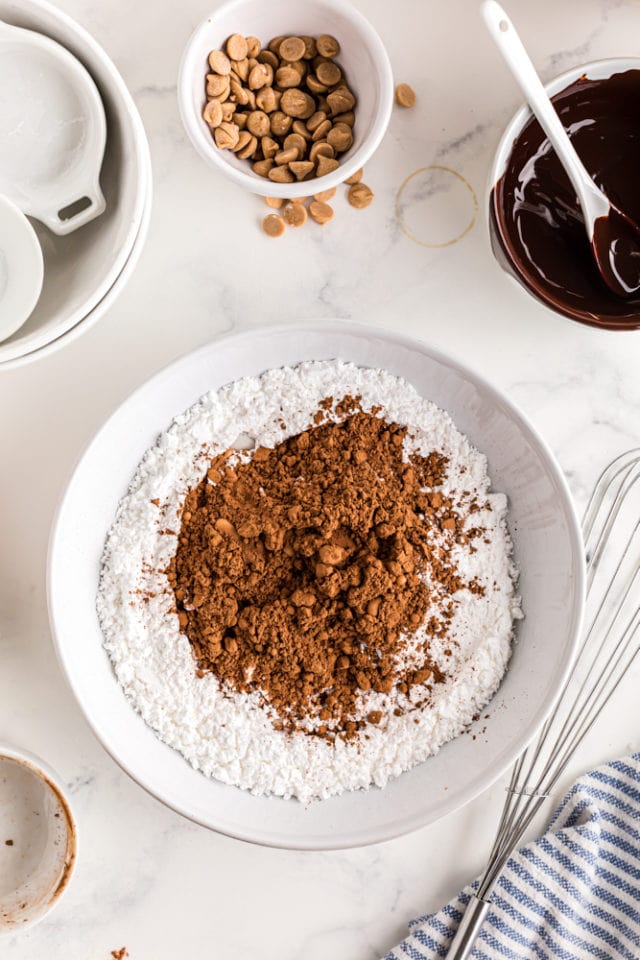 Add the glaze to the cakes. Spoon the glaze over each cooled cake. Then let the glaze set before serving.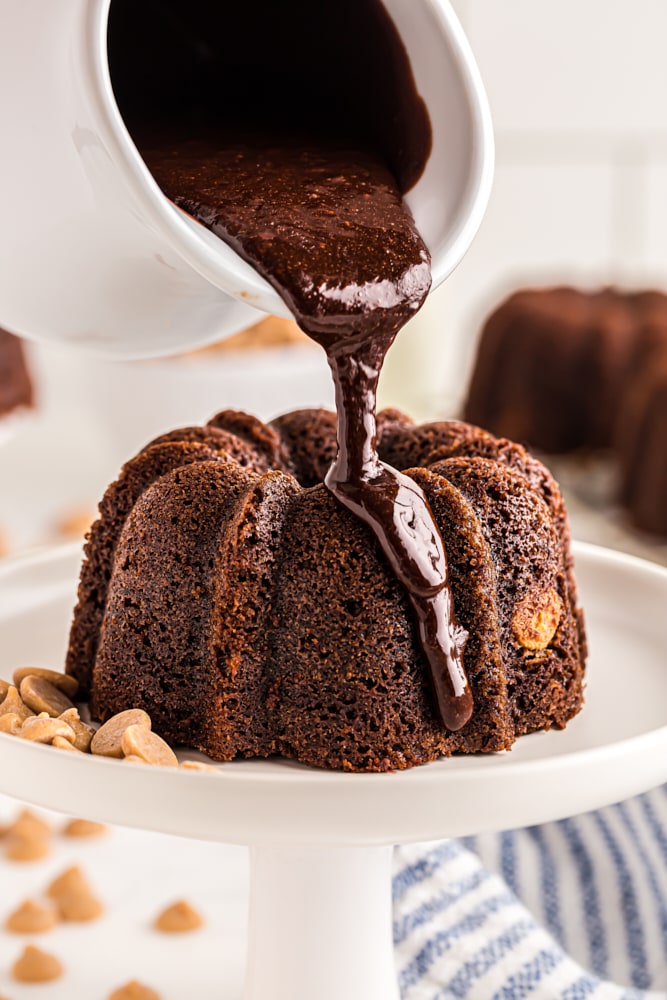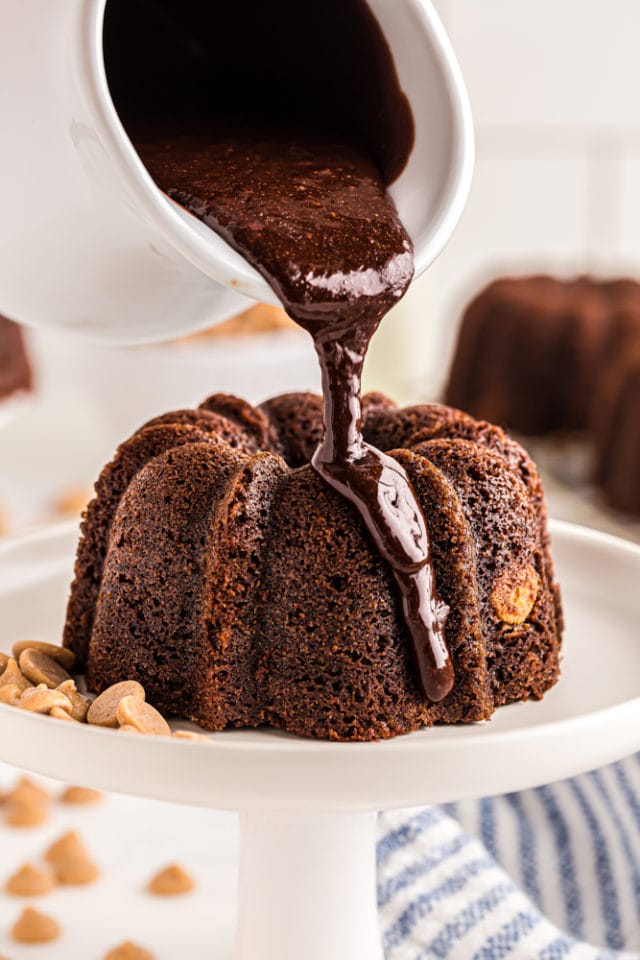 Recipe Variations
Here are some ideas for tweaking this recipe for some variety.
Use different flavor chips. Try butterscotch, cinnamon, white chocolate, or some other flavor if you like. For a serious chocolate experience, add chocolate chips!
Omit the peanut butter chips to focus the flavor on chocolate.
Skip the glaze. A simple dusting of confectioners' sugar is a simple alternative.
Add a garnish. Sprinkle some chopped peanuts on top of each cake for some crunch, or serve with a few more peanut butter chips scattered on top of and around each cake.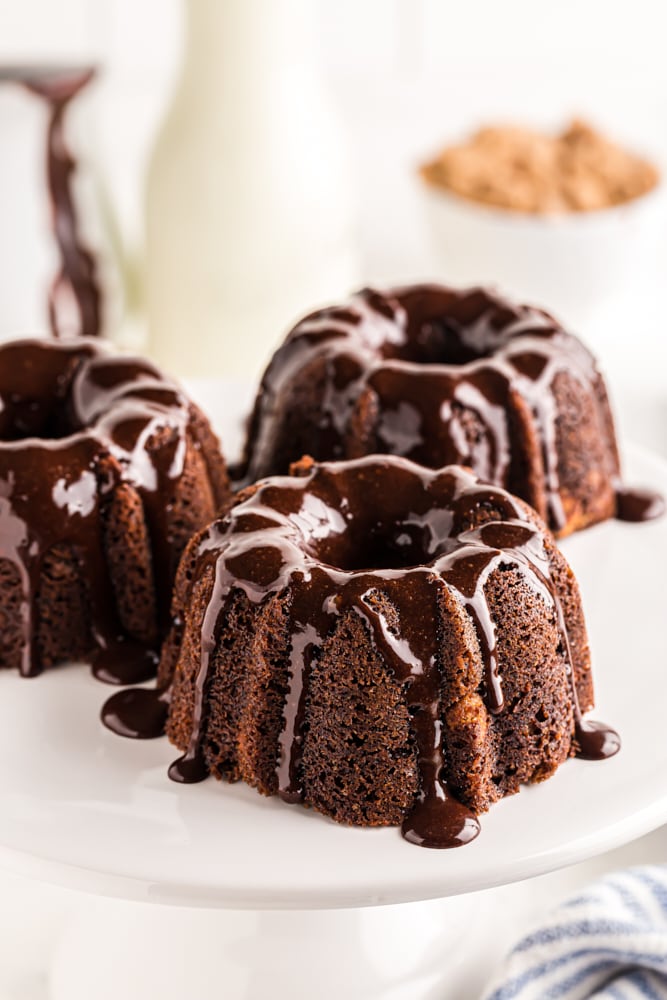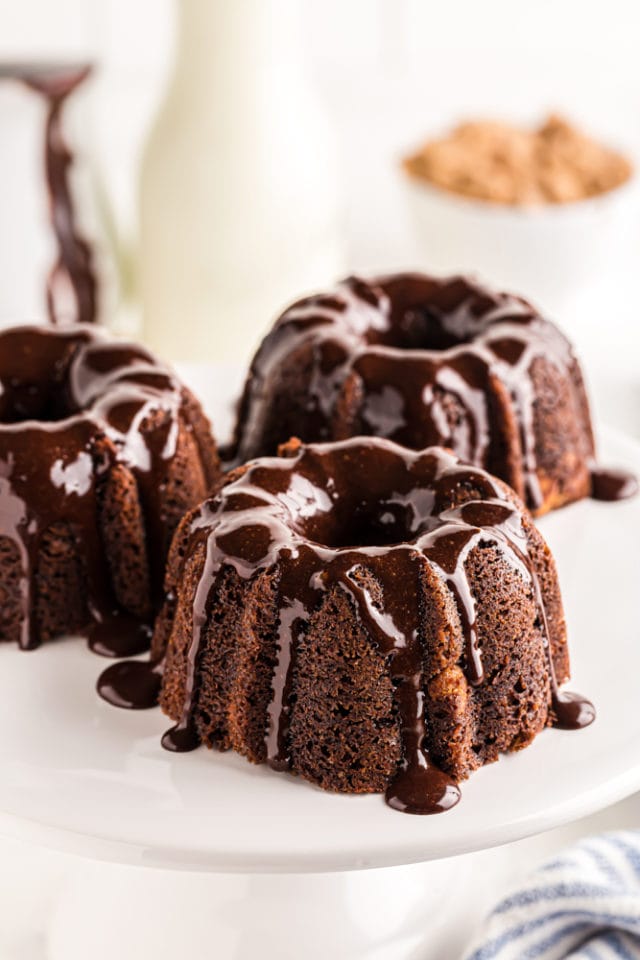 Tips for Success
This is a pretty straightforward recipe, making it a good choice for bakers of all skill levels. Here are some tips to help make sure your cakes are the best they can be!
Measure accurately. Use a kitchen scale to measure by weight if possible. Otherwise, use the spoon and sweep method to measure the dry ingredients and sugar.
Use a light-colored metal pan. These pans will bake the cakes more evenly.
Grease the pans well. Bundt pans have lots of nooks and crannies, so be sure to get them completely covered. I have the most success with a cooking spray with flour.
Sift the confectioners' sugar and cocoa powder. While not an absolute requirement, sifting those two ingredients will make the glaze extra smooth.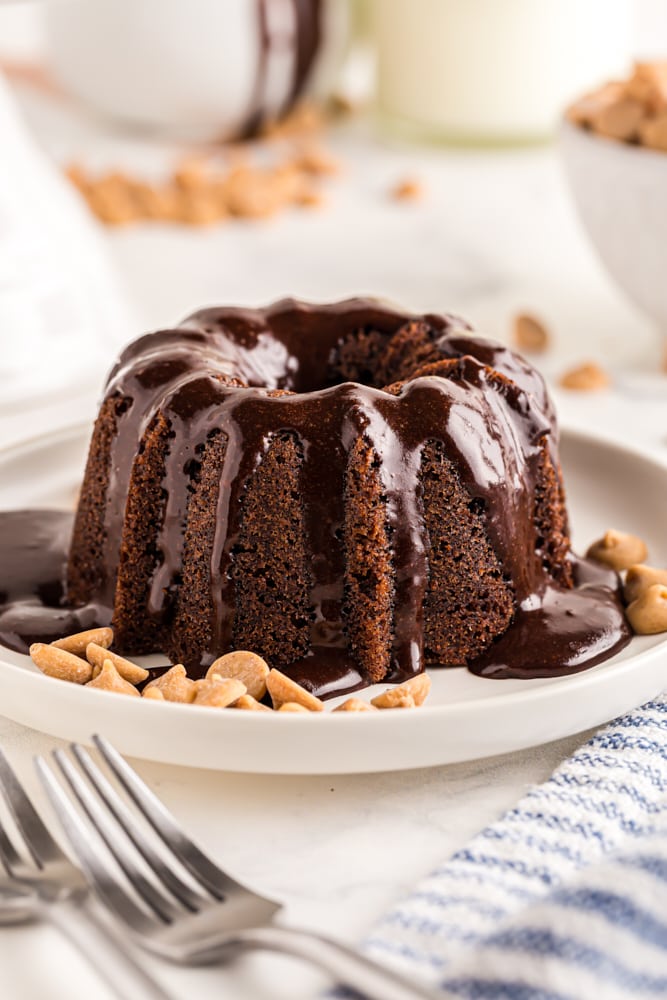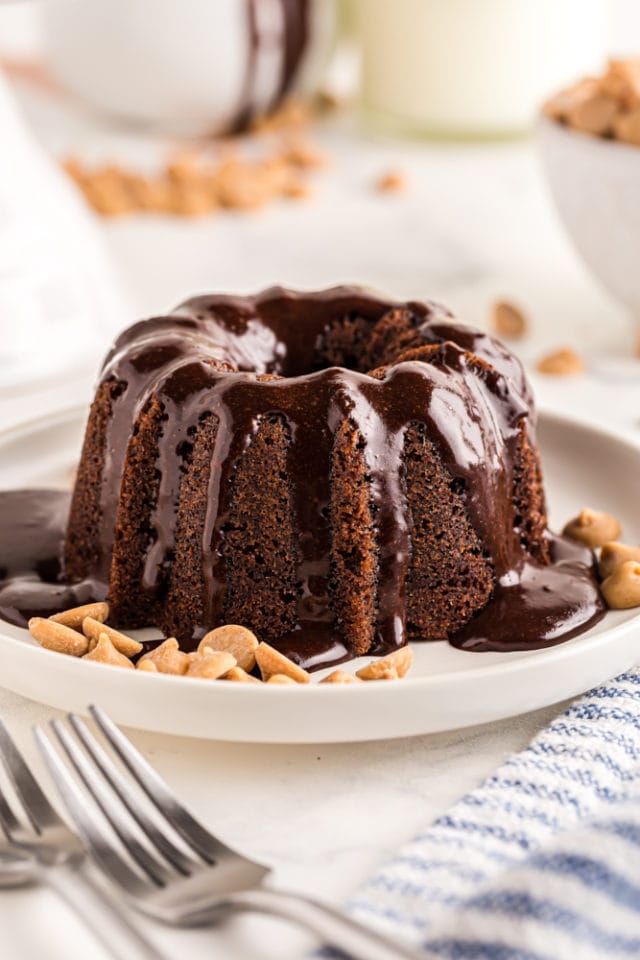 How to Store Chocolate Mini Bundt Cakes
Stored in an airtight container, these cakes should keep at room temperature for up to 3 days. If possible, store the cakes and glaze separately so the cakes don't get soggy.
For a few more days' storage, you can refrigerate the cakes. Set them out on the kitchen counter for a couple of hours to bring them to room temperature for serving.
If you'd like to freeze the unglazed cakes, first cool them completely. Then wrap each cake in plastic wrap. Wrap again in aluminum foil or place in a freezer-safe storage bag or container. Stored properly, these cakes should keep in the freezer up to 3 months. Thaw overnight in the refrigerator.
More Mini Bundt Cake Recipes