June 24, 2007
Mini Chocolate Bundt Cakes with Peanut Butter Filling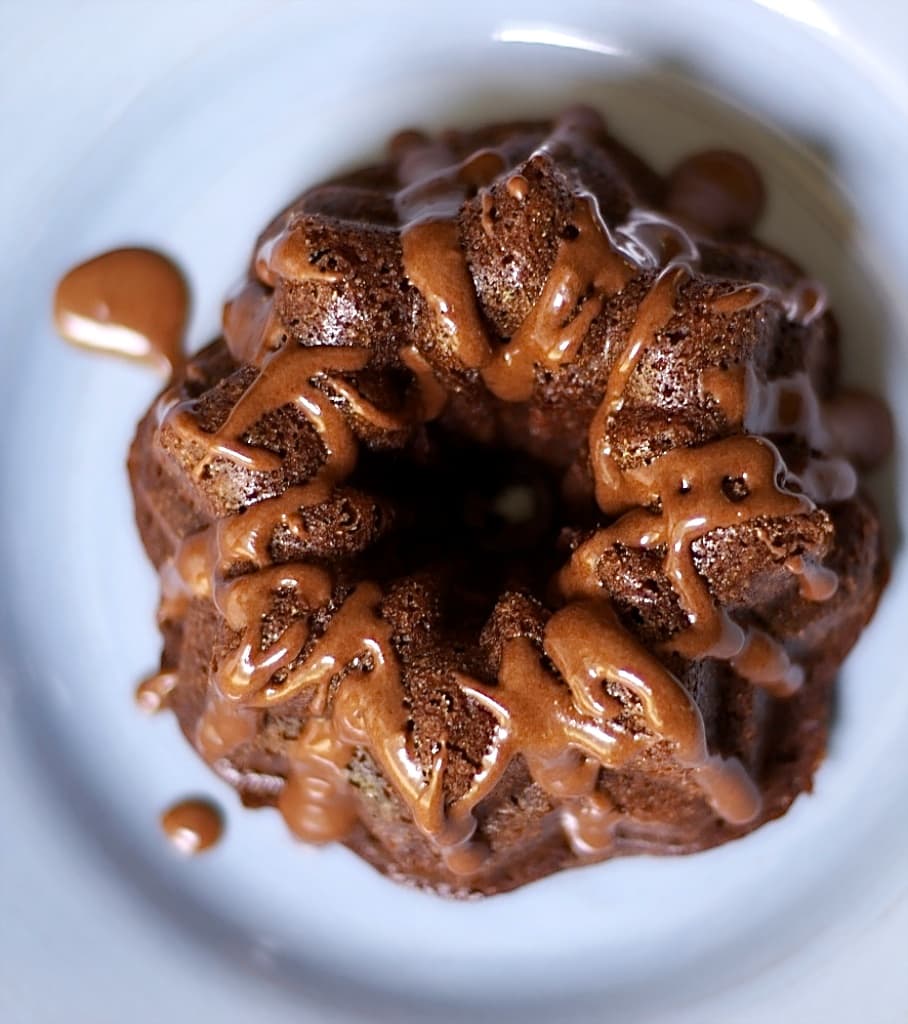 This month marks Bake or Break's first birthday! In this inaugural year, I've made 18 different kinds of cookies, 8 kinds of brownies, 13 cakes, and various other things totaling almost 100 different recipes. Thanks to everyone for reading my ramblings and sharing your comments. Now, on with the next cake…

For Fathers' Day, I obviously wanted to make something that my Daddy would love. Knowing his enormous love of peanut butter, I went in search of a recipe with plenty of peanut butter. Surprisingly, I had a bit of a hard time finding one that sounded just right. After a while, I found these mini bundt cakes. Chocolate and peanut butter being one of the best combinations known to man, I was excited to make these little cakes. Of course, I convinced myself that I needed a second mini bundt pan to make life easier. So, I was also excited to go buy that mini bundt pan I've had my eye on.
My only word of caution for making these has to do with the mini bundt pans. Make sure you spray/grease them generously. Cleaning those up was tedious to say the least. There will actually need to be some time and space before I get those pans out again. Of course, I'm not likely the only one who enjoys the baking far more than the cleaning.
These are great little cakes for serving a crowd. When it comes time for dessert, there's no slicing and doling out. Everyone just gets their own pretty little cake. I did wait to add the glaze until right before serving, but that was simple enough. My opposition to cleaning aside, this proved to be a good recipe that everyone really liked. I worried about the size of each one being too much for one person, but judging by the cleaned plates that clearly wasn't an issue.
Mini Chocolate Bundt Cakes with Peanut Butter Filling
Yield: 12 mini Bundt cakes
Prep Time:29 minutes
Cook Time:20 minutes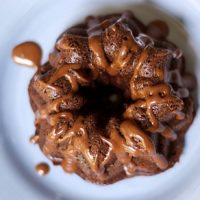 Ingredients:
For the cakes:
2 cups all-purpose flour
1 teaspoon baking powder
1 teaspoon baking soda
pinch salt
1/2 cup unsalted butter
1 & 3/4 cups granulated sugar
2 large eggs
4 ounces melted unsweetened chocolate
1 teaspoon pure vanilla extract
1 & 1/4 cups milk

1/2 cup peanut butter chips
For the glaze:
1/4 cup cocoa powder
1 cup powdered sugar
2 to 3 tablespoons milk
Directions:
To make the cakes:
Preheat oven to 350°. Grease and flour 12 1-cup individual Bundt tins.
Whisk together flour, baking powder, baking soda, and salt. Set aside.
Using an electric mixer on medium speed, beat butter and sugar until light and fluffy. Add eggs, one at a time, mixing well after each addition. Mix in chocolate and vanilla.
Gradually add flour mixture, alternating with milk. Begin and end with flour mixture. Mix just until combined.
Fill each prepared Bundt tin 1/2 full. Scatter some peanut butter chips around the center of the batter. Pour remaining batter over peanut butter chips.
Bake 18-20 minutes. Cool in pan for 5 minutes. Then, remove cakes from pan and cool completely on a wire rack.
To make the glaze:
Combine cocoa powder, confectioners' sugar, and milk. Mix until smooth. Spoon over each Bundt cake.
Allow glaze to set before serving.