February 29, 2016
Mini Coconut Bundt Cakes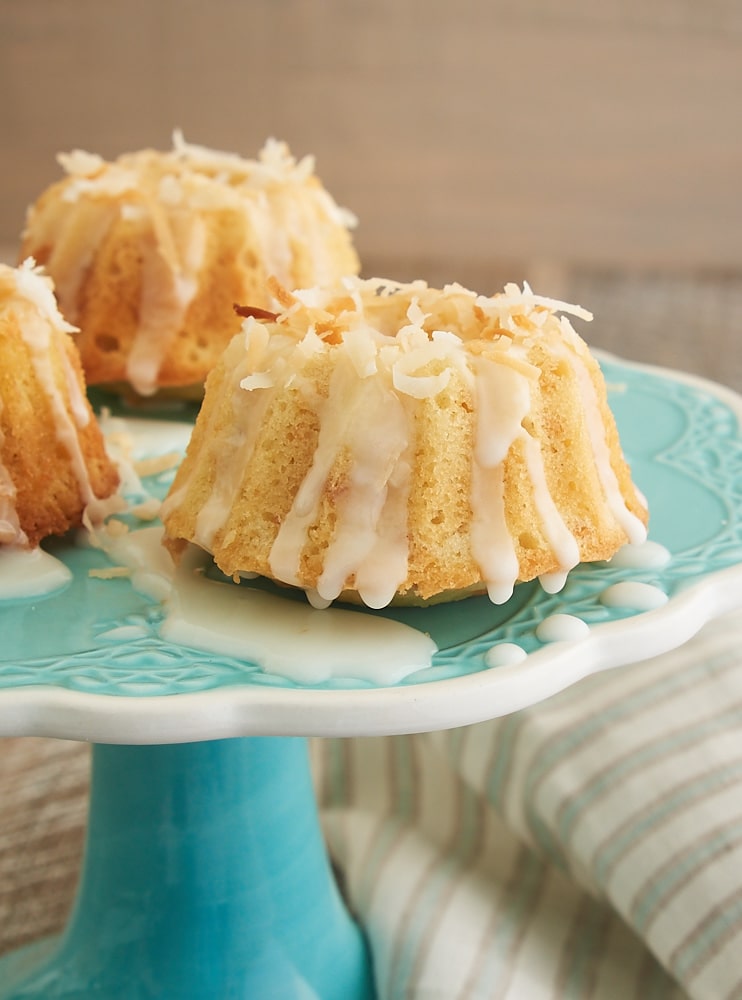 As you can likely imagine, I have quite a collection of baking pans and tools. And with our limited storage, they are stuck in every spare space I can find. That kind of organizational system has its issues, of course. Not the least among those issues is that I often forget what all I have. Then again, it's a bit like getting something new when I discover some pan or tool I forgot I had.
That was the case recently when I discovered a forgotten mini Bundt pan. I'm sure that somewhere in my mental inventory I knew that I had it, but I was so excited when I found it that I immediately began thinking of what I could bake in it.

Ultimately, I decided it was a good time to make a coconut treat. I lovingly recalled a coconut Bundt cake that I made for my 5 Ingredient Baking book and set out to adapt it for this pan.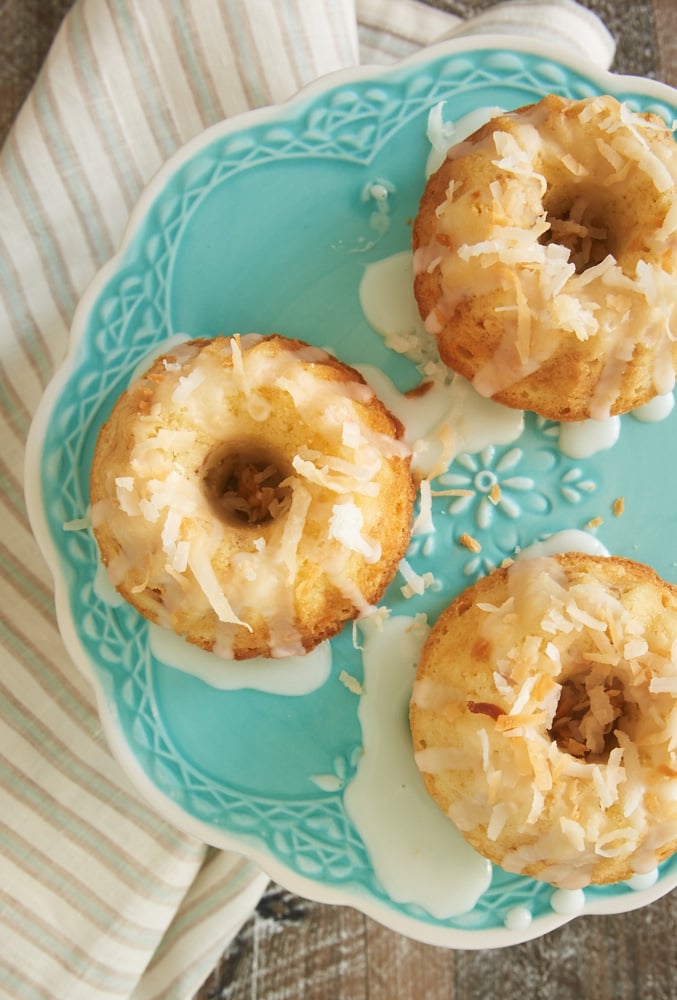 This is really quite a simple recipe. At its heart, it's a simple yellow Bundt cake. The addition of toasted coconut and a bit of coconut milk are all you need to make these sweet, lovely, tasty mini cakes. But if you'd like a little variation, try substituting almond extract for the vanilla extract. Or go a little different route with the juice of a lemon or lime.
The small size of these cakes makes them a great choice for no-fuss serving for a small group. No cake slicing and serving! They also look gorgeous displayed on a cake stand among other treats on a dessert table. Or, you know, take the simple route and just store them well and grab one when the craving strikes!
Visit the Recipe Index for more coconut recipes!
Mini Coconut Bundt Cakes
Yield: 12 mini Bundt cakes
Prep Time:30 minutes
Cook Time:35 minutes
Toasted coconut adds big flavor to these Mini Coconut Bundt Cakes!
Ingredients:
For the cake:
1 & 1/4 cups sweetened flaked coconut
1 & 1/2 cups all-purpose flour
1/2 teaspoon baking powder
1/4 teaspoon salt
1/2 cup unsalted butter, softened
1 cup granulated sugar
2 large eggs
1/2 teaspoon vanilla extract
1/2 cup coconut milk
For the glaze:
1/2 cup confectioners' sugar, sifted
2 to 4 teaspoons milk
Directions:
To make the cake:
Preheat oven to 350°F. Line a small baking sheet with parchment paper or aluminum foil. Generously grease a 12-cup mini Bundt pan.
Spread the coconut in a single layer on the prepared baking sheet. Bake for 10 minutes, or until the coconut has browned. Stir the coconut about halfway through the bake time to help it toast more evenly. Set aside to cool.
Whisk together the flour, baking powder, and salt. Set aside.
Using an electric mixer on medium speed, beat the butter and sugar until light and fluffy. Add the eggs, one at a time, mixing well after each addition. Mix in the vanilla.
Reduce the mixer speed to low. Add the flour mixture in three portions, alternating with two portions of the coconut milk. Mix just until combined.
Set aside about 1/4 cup of the toasted coconut for garnishing the cakes. Stir the remaining coconut into the cake batter.
Divide the batter evenly among the cake cavities, using about 3 tablespoons of batter to fill each cavity about 3/4 full.* Spread evenly.
Bake 20 to 25 minutes, or until the edges of the cakes are browned and a pick inserted into the center comes out clean.
Cool the cakes in the pans for 10 minutes. Then transfer the cakes to a wire rack to cool completely.
To make the glaze:
Combine the confectioners' sugar and 2 teaspoons of milk. Add more milk, a small amount at a time, until the glaze is the desired consistency.
Drizzle the glaze over the cooled cakes. Garnish with the reserved toasted coconut.
Notes:
*Be sure not to overfill the pan. It's far better to have a little leftover cake batter than to have a mess in your oven!
This post contains affiliate links.