November 21, 2016
Toasted Pecan Bundt Cake with Caramel Cream Cheese Glaze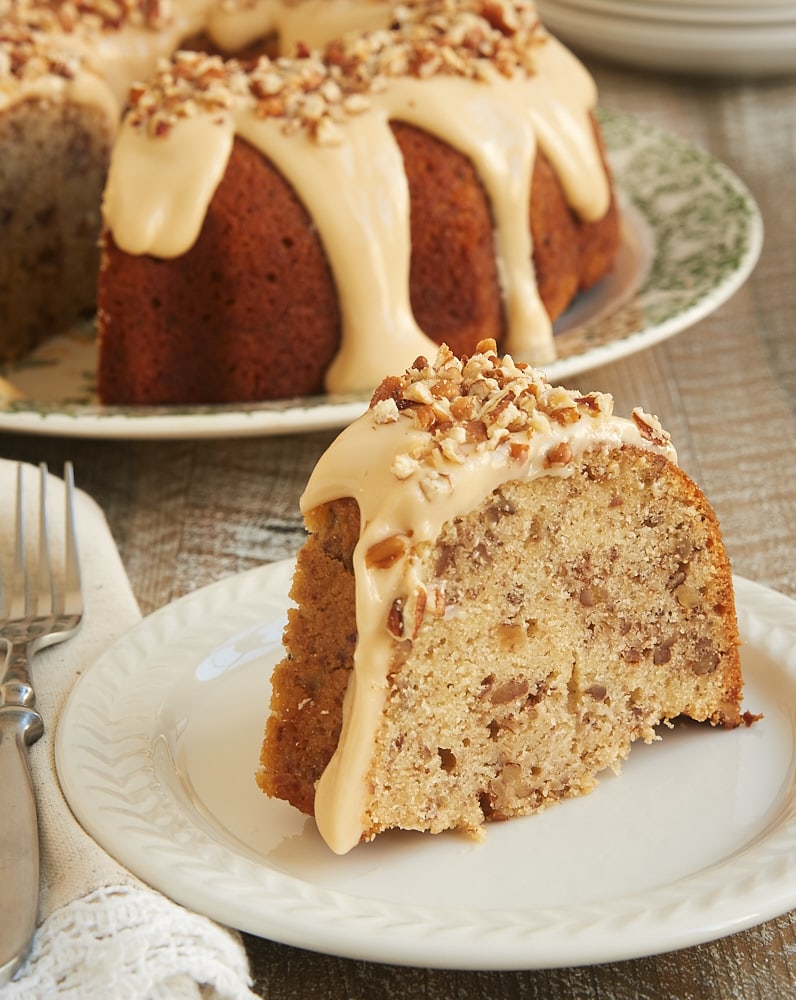 Some of my favorite ways to make baked goods even better are very simple things. Perhaps my favorite little something extra is toasting nuts. It's amazing what a little oven time can do to enhance the flavor of nuts. And it's such a quick and easy step!
Toasting nuts is certainly a worthwhile endeavor even when nuts aren't the primary flavor. But this Toasted Pecan Bundt Cake puts them center stage and really lets you savor their amazing, toasty flavor. If you're a fan of nutty desserts, then you're about to be in dessert heaven!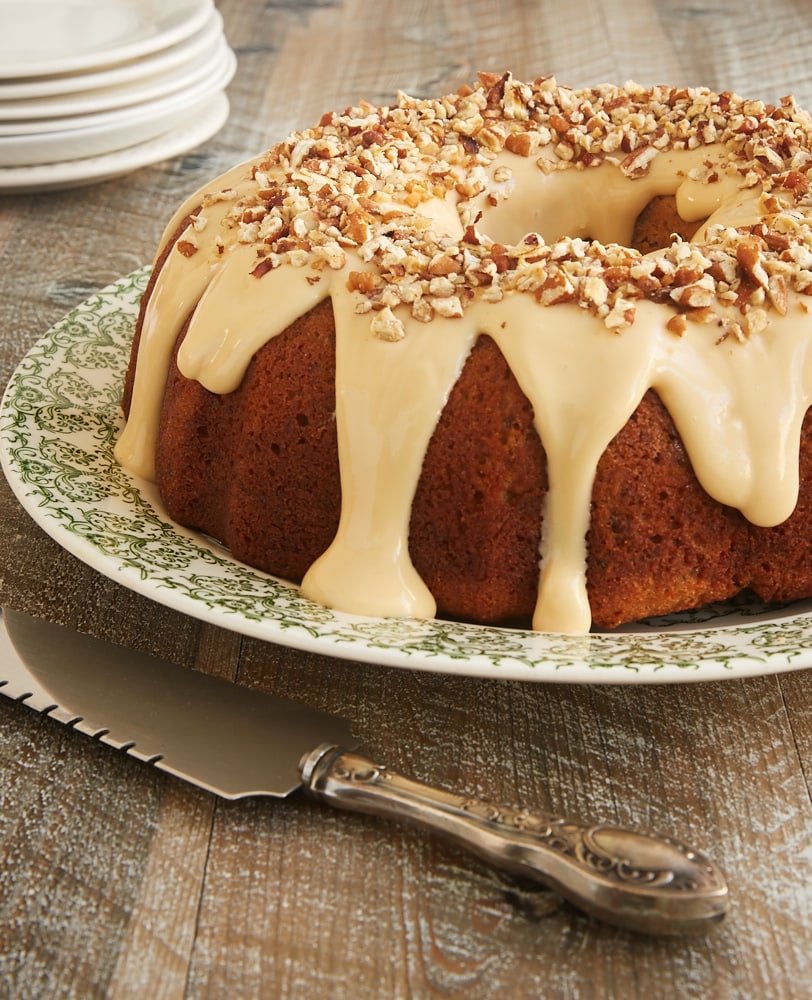 Before we delve into the cake itself, I'll share a couple of tips for toasting pecans. Spread the pecans out on the baking pan as much as possible. Having a single layer will help them toast faster and more evenly. And keep in mind that toasted pecans can turn into burned pecans fairly quickly. Don't stray too far while they're toasting, and use your nose. You'll likely smell that toastiness and know when they're ready.
The cake itself is a straightforward plain Bundt cake. The sugar scale is tipped in favor of brown sugar for its caramel-like flavor that complements all those nuts. Enhancing the flavor of all those pecans even more is a bit of bourbon. (Don't fret if you're feeding an under-21 crowd. You can omit if you like.)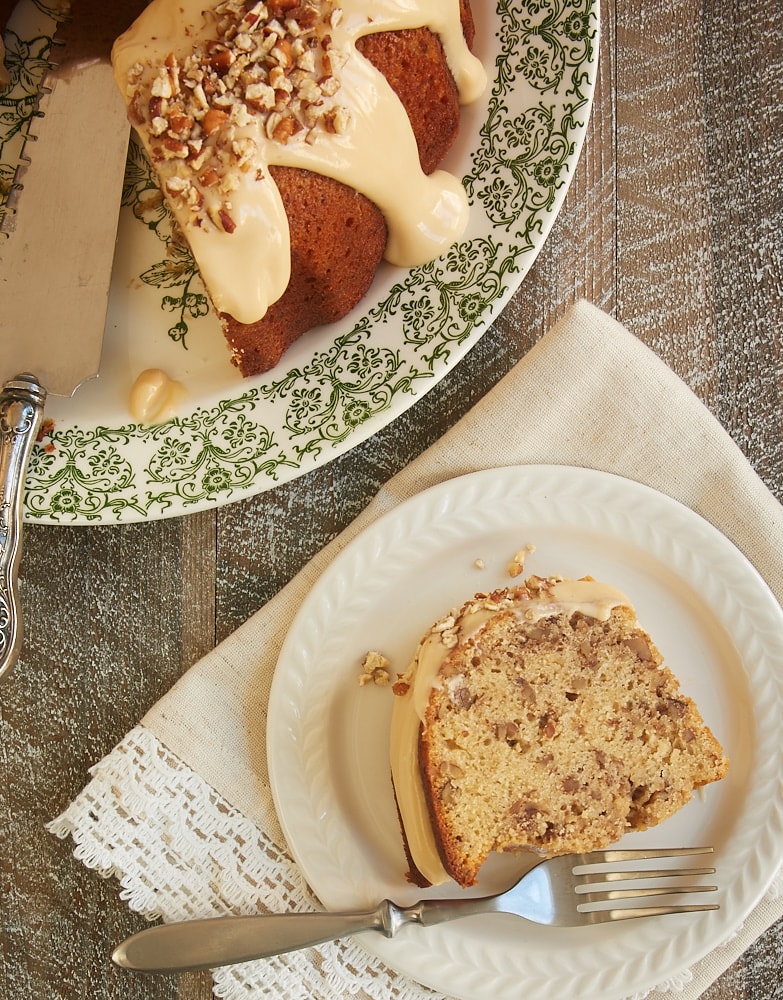 For the glaze, I started with a basic cream cheese glaze that I've made many times and gave it a very simple caramel twist that's the perfect complement to all those pecans in the cake. Just a little bit of store-bought caramel sauce adds such amazing flavor. I almost always have a jar of caramel sauce in my refrigerator, but you can certainly go the homemade route if you have a recipe you love. Either way, be sure you're using a thick sauce as opposed to a thinner syrup.
This amazingly flavorful cake is an absolute must for pecan lovers. I can't get enough of it! It's definitely worthy of a special occasion or even just because. I know I wouldn't turn it down at any time!
Find more Bundt cake recipes in the Recipe Index.
This post contains affiliate links. If you make a purchase through one of the links, I'll receive a
small commission at no additional cost to you.
Toasted Pecan Bundt Cake with Caramel Cream Cheese Glaze
Yield: 12 to 16 servings
Prep Time:30 minutes
Cook Time:1 hour
Toasty nuts, lots of brown sugar, and a sweet glaze combine to make this fantastic Toasted Pecan Bundt Cake. A must for pecan lovers!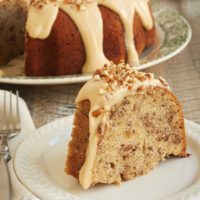 Ingredients:
For the cake:
2 cups chopped pecans
3 cups all-purpose flour
1 teaspoon baking powder
1/2 teaspoon salt
1 cup unsalted butter, softened
1 & 1/4 cups firmly packed light brown sugar
3/4 cup granulated sugar
4 large eggs
2 tablespoons bourbon
1 teaspoon vanilla extract
1 cup milk
For the glaze:
4 ounces cream cheese, at room temperature
3 tablespoons caramel sauce
1 cup confectioners' sugar, sifted
2 to 3 tablespoons milk
Directions:
To make the cake:
Preheat oven to 350°F. Grease a 10- or 12-cup Bundt pan.
Line a rimmed baking sheet with aluminum foil or parchment paper. Place the pecans on the lining in a single layer.
Bake 10-12 minutes, or until the pecans are toasted and fragrant. Set aside to cool.
Whisk together the flour, baking powder, and salt. Set aside.
Using an electric mixer on medium speed, beat the butter, brown sugar, and sugar until light and fluffy. Add the eggs, one at a time, mixing well after each addition. Mix in the bourbon and vanilla.
Reduce mixer speed to low. Add the flour mixture in three portions, alternating with two portions of milk. Mix just until combined.
Set aside about 1/4 cup toasted pecans for garnish. Stir the remaining pecans into the cake batter.
Transfer the cake batter to the prepared Bundt pan, spreading evenly. Bake 50 to 60 minutes, or until a pick inserted into the center comes out clean.
Cool the cake in the pan for 20 minutes. Then flip the cake onto a serving plate to cool completely.
To make the glaze:
Using an electric mixer on medium speed, beat the cream cheese and caramel until thoroughly combined and smooth.
Add the confectioners' sugar, and mix until smooth.
Add 2 tablespoons of milk and mix well. Add more milk, a small amount at a time, if needed to attain the desired consistency. The glaze should be thick but pourable.
Pour the glaze over the cooled cake. Sprinkle the reserved pecans over the top of the glaze.
Notes:
If you won't be serving this cake within the first day it's made, I recommend refrigerating the cake. Then let it sit at room temperature for about an hour before serving.