July 9, 2015
Brown Butter Cherry Cobbler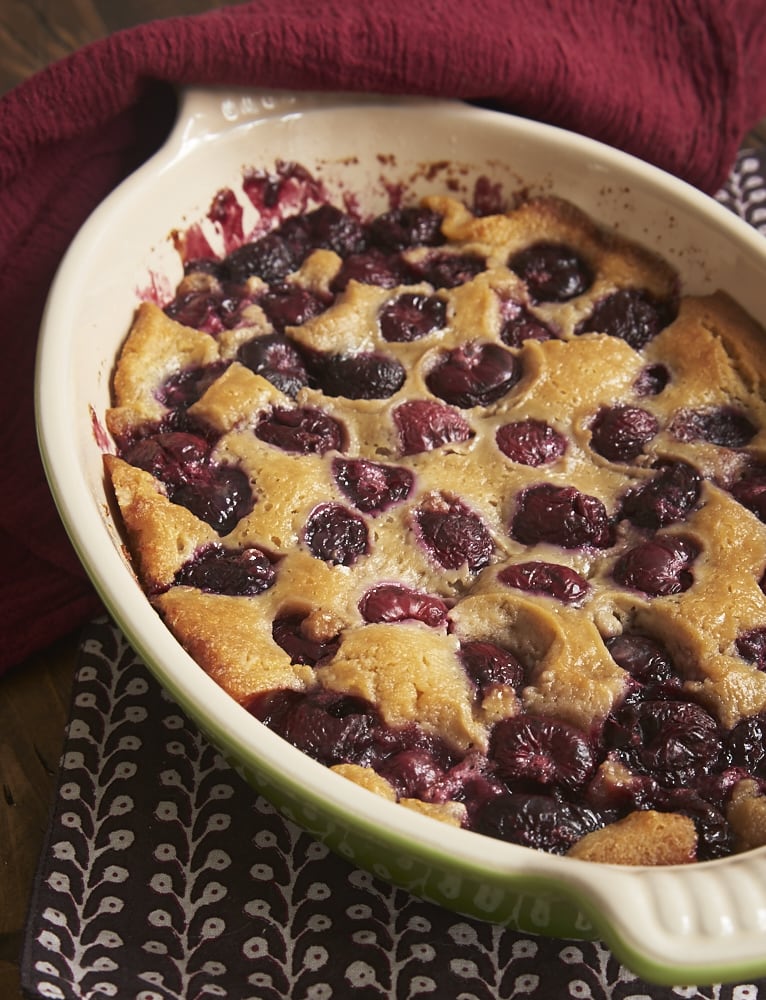 Cobblers, crisps, and crumbles are a great way to enjoy your favorite fruits while keeping things simple. After baking those Cherry Cheesecake Bars recently, I still had plenty of cherries just begging to be made into something delicious. I thought to keep things simple with a dessert I could whip up quickly and with minimal mess.
This amazingly easy, rustic cobbler is made in three simple steps. Melt butter. Add batter. Add cherries. And just like that, it's ready for the oven! There's no need to stir it all together. It just works its magic while it bakes.

This cobbler all starts with butter. That's true of so many things, isn't it? Here, the butter goes into the pan and is melted to the point of browning. Browned butter adds a whole other dimension with its rich, nutty flavor. If you aren't yet a brown butter convert, this is one of the simplest ways to join the fan club.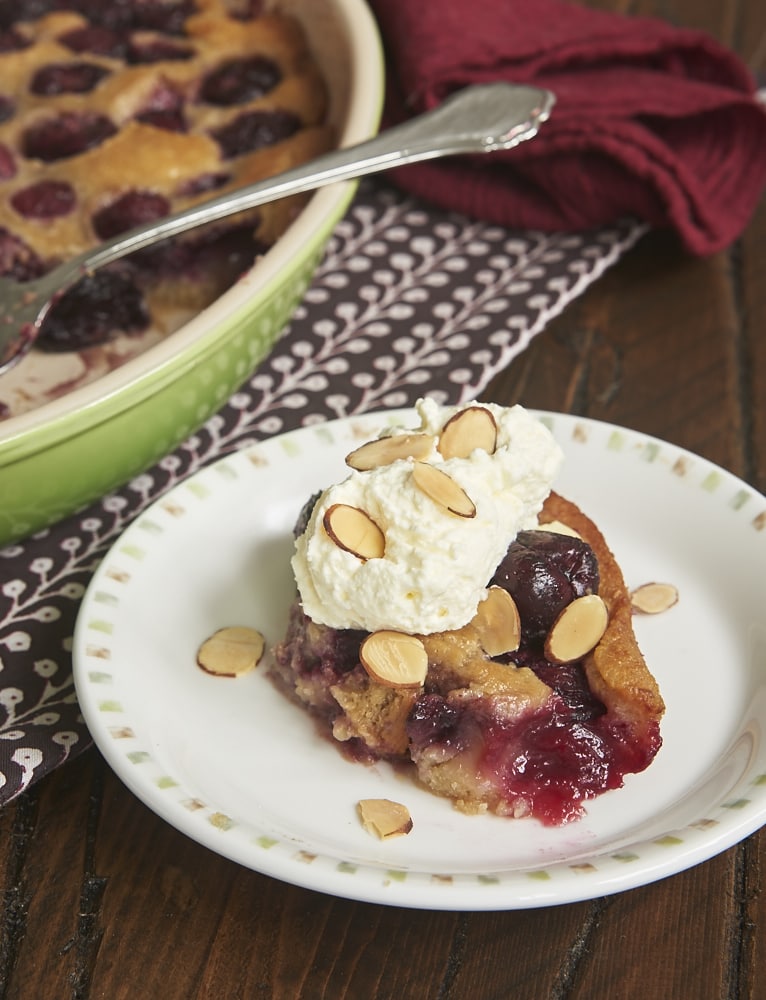 Most any pan with a 1-quart capacity will work for this cobbler, although a skillet or a baker like I used will brown the butter better. You can brown the butter in a skillet or pan in the oven while you prep the other ingredients, or you can brown it on the stovetop where you can keep a closer eye on it. It just needs about 5 to 7 minutes to begin foaming and to brown around the edges.
I may be in the minority here, but I often forego topping cobblers with ice cream in favor of some homemade whipped cream. I made a half batch of sweetened whipped cream, substituting almond extract for vanilla. Then, I topped each serving with a dollop of almond whipped cream and a sprinkling of toasted almonds. The almonds, vanilla, and cherries all work together so perfectly for big, big flavor.
This is the kind of go-to cobbler recipe you'll love to make over and over. You can certainly substitute another fruit for the cherries. Most any fruit or a combination would work quite well. If you like, swap out the vanilla extract for the juice of half of a medium lemon to give it a little different flavor kick. It's so quick to make that you can easily have fun with seemingly endless variations!
We are a participant in the Amazon Services LLC Associates Program, an affiliate advertising program designed to provide a means for us to earn fees by linking to Amazon.com and affiliated sites.
Brown Butter Cherry Cobbler
Yield: 6 to 8 servings
Prep Time:15 minutes
Cook Time:35 minutes
It doesn't get much simpler than this 3-step, from-scratch Brown Butter Cherry Cobbler. Such big, amazing flavor!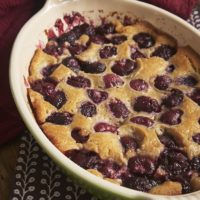 Ingredients:
1/4 cup unsalted butter
1 to 1 & 1/2 pounds of cherries, pitted
1/3 cup granulated sugar
1 tablespoon cornstarch
1 teaspoon vanilla extract*
1/2 cup all-purpose flour
1/2 cup firmly packed light brown sugar
3/4 teaspoon baking powder
1/4 teaspoon salt
1/2 cup milk
sweetened whipped cream or ice cream, for garnish**
toasted sliced almonds, for garnish
Directions:
Preheat oven to 350°.
Place a 10-inch skillet or a 1-quart baking pan in the oven. Carefully add the butter to the hot skillet and allow the butter to melt until it begins to foam and brown around the edges. Alternately, you can brown the butter over medium heat on the stovetop.
Meanwhile, stir together the cherries, sugar, cornstarch, and vanilla extract. Set aside.
Stir together the flour, brown sugar, baking powder, and salt. Add the milk, and stir just until combined. It should be similar in consistency to pancake batter. A few lumps are fine.
Carefully remove the hot skillet with the browned butter from the oven or from the stovetop. Pour the batter over the butter without stirring. Spoon the cherry mixture evenly on top of the batter.
Bake 30 to 35 minutes, or until the crust is golden brown and the filling is bubbly.
Serve warm with whipped cream or ice cream and toasted almonds.
Notes:
*Substitute 1 teaspoon almond extract or the juice of 1/2 medium lemon.
**I made a half batch and substituted almond extract for the vanilla.