Cherry Cheesecake Muffins are such an irresistible treat. They're studded with fresh cherries and filled with sweetened cream cheese!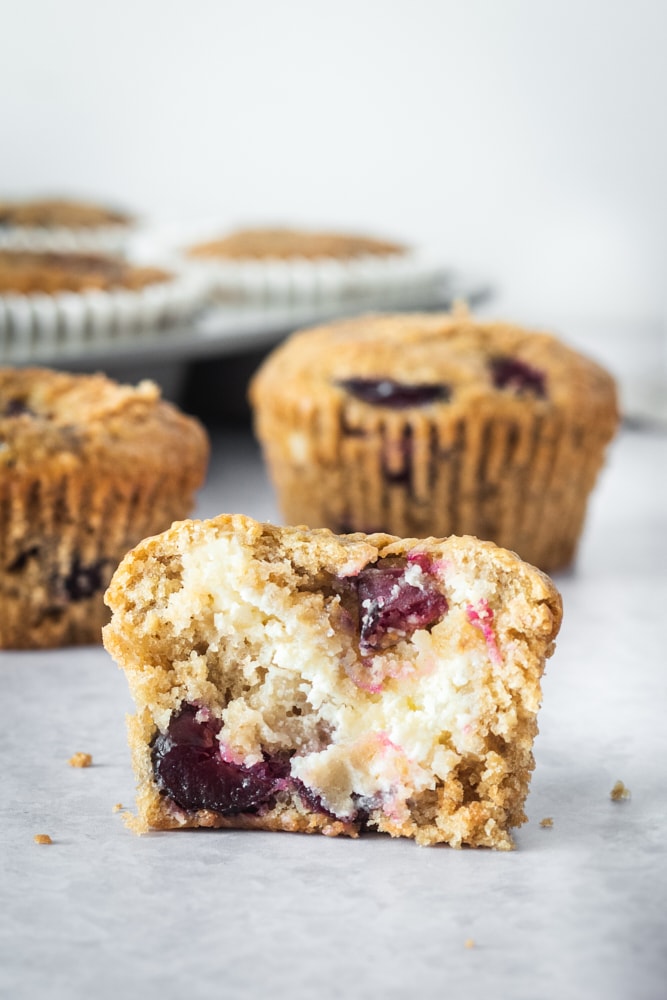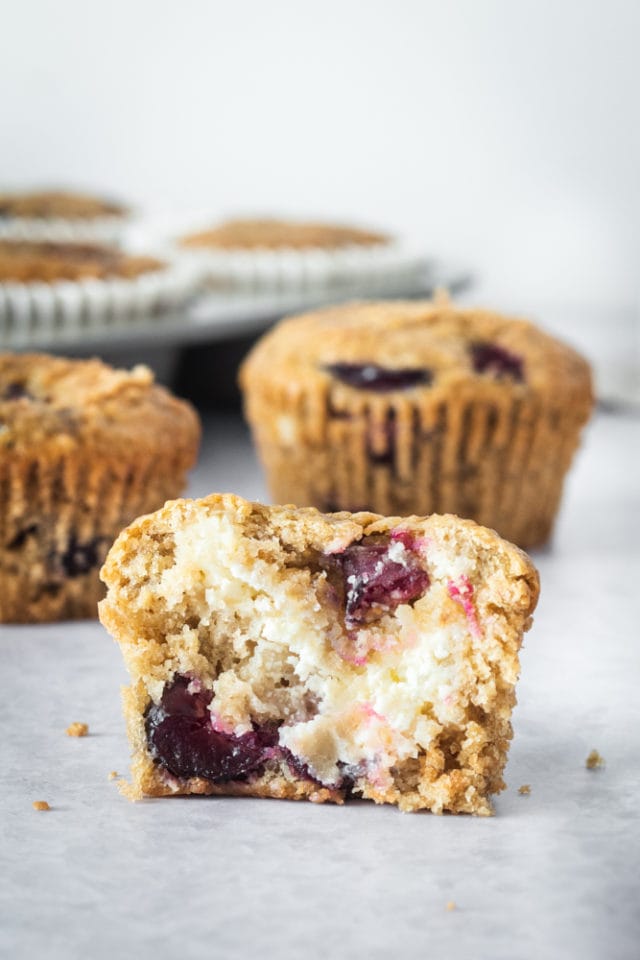 Cherry Cheesecake Muffins
Fresh cherries are such a treat this time of year, that I knew I get a little excited about all the things I want to make with them.
Of course, cherries and cheesecake have such a delicious history together. I have my own history with it, too, as one of my early favorite desserts was that cherry cheesecake made from a box mix. In celebration of those flavors, I happily share with you these Cherry Cheesecake Muffins.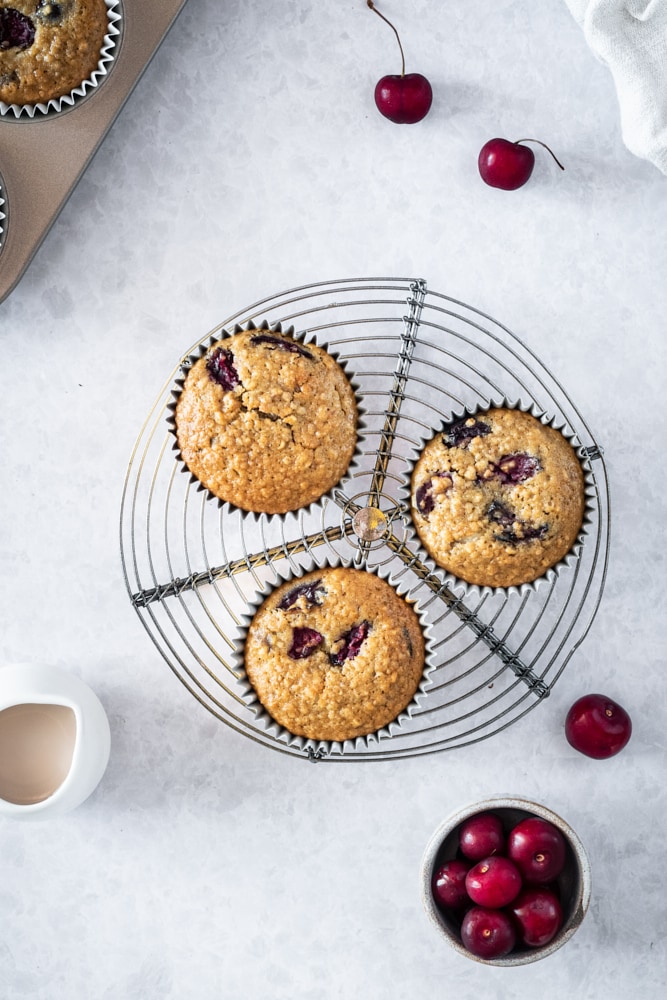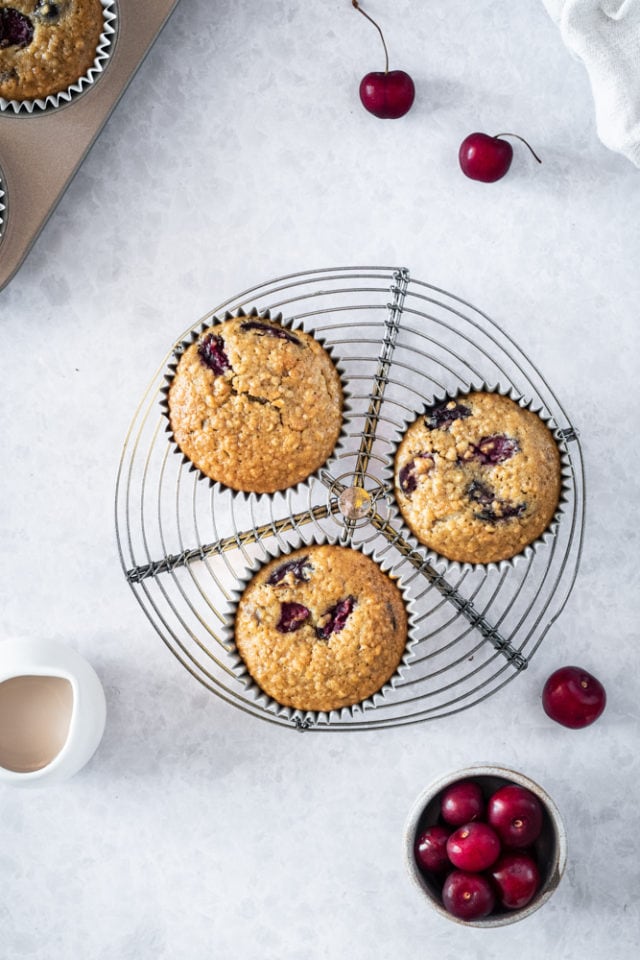 Somehow simply calling these "muffins" just doesn't seem adequate. They are so much more than that. They may seem unassuming from the outside. But, bite into one and you'll find a lovely little pocket of sweet cream cheese filling.
While I usually associate muffins with breakfast or brunch, I'd be more than happy to enjoy one of these most any time of day. After just one bite, I think you'll wholeheartedly agree.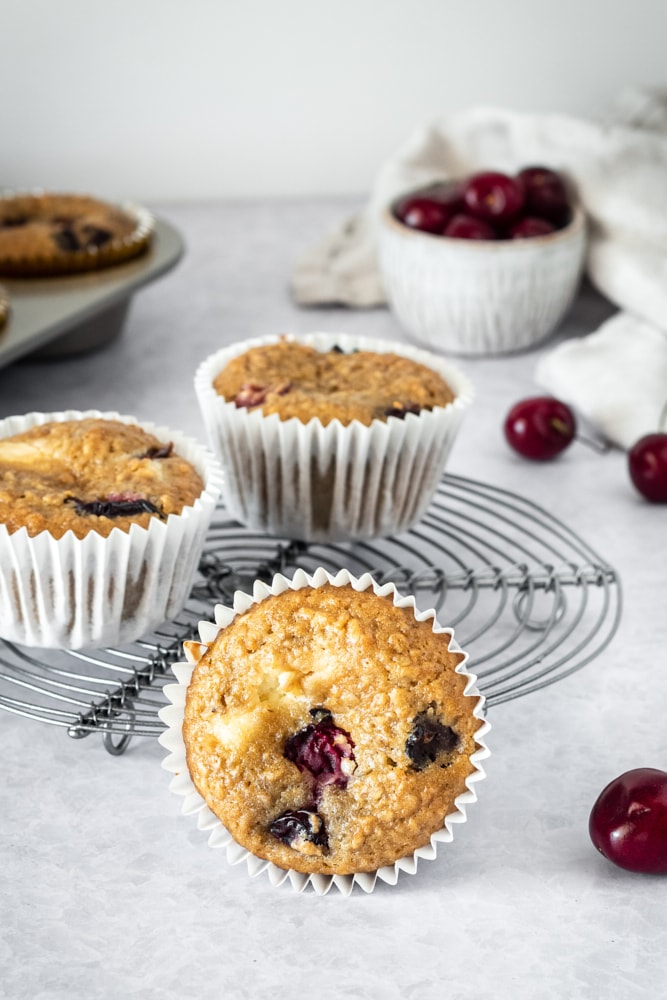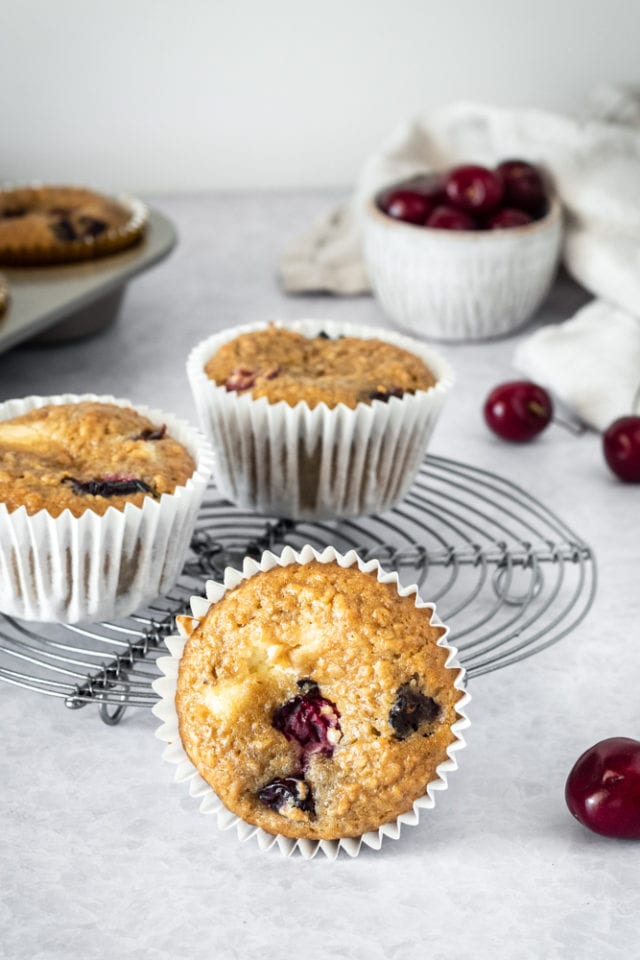 Besides the cherries and cream cheese, I love all the oats in these muffins, too. It gives them a slightly chewy and more hearty texture that works well to hold the cherries and the filling. All of that good stuff together makes for a batch of pretty irresistible muffins.
Tips for Success
Measure accurately. Use a kitchen scale to measure by weight if possible. Otherwise, use the spoon and sweep method for measuring dry ingredients and sugar. Take care to measure all ingredients with accuracy.
Use fresh cherries if you can. You'll get the best results with fresh, but frozen will work well enough in a pinch.
Let the melted butter cool. If it's too warm, you'll have issues with mixing well. It doesn't have to cool all the way to room temperature, but give it a few minutes to cool before adding it to the batter. When I need melted butter for a recipe like this, I often melt it first and then gather the remaining ingredients to give it the time it needs without slowing down the baking process.
Be ready to work quickly. Muffin batters with baking soda should be baked right after mixing, so be sure you're ready to assemble the muffins once the batter is mixed.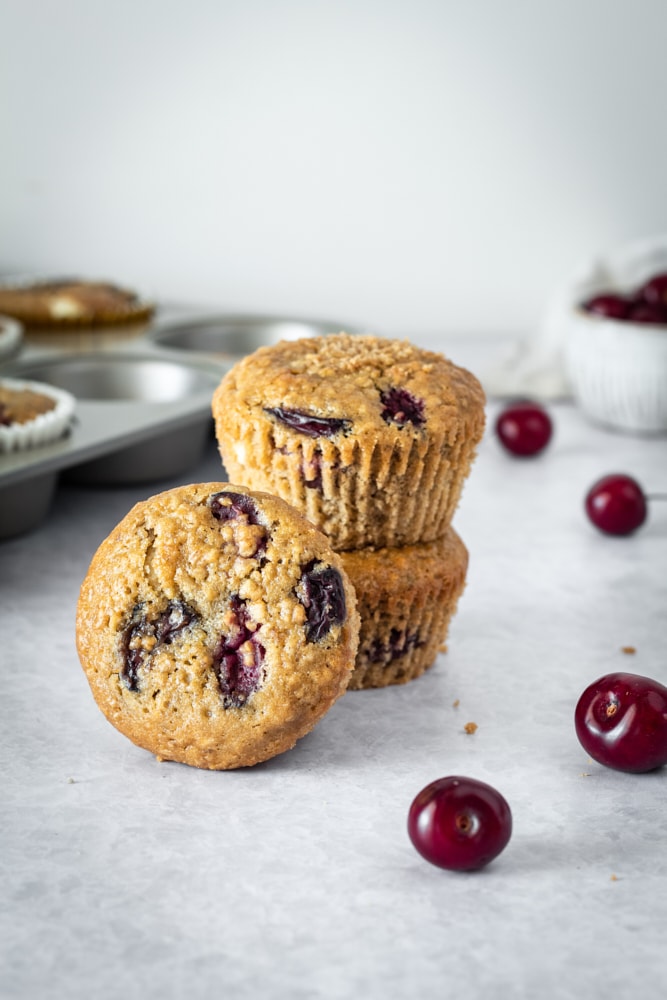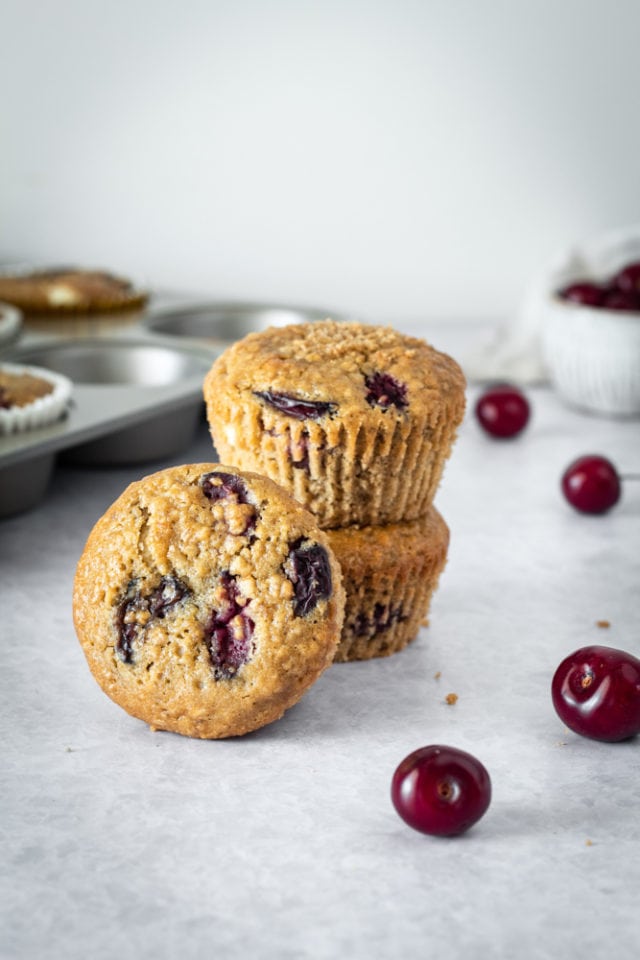 I must say that these Cherry Cheesecake Muffins are one of my all-time favorite muffins. I always expect the cherry-cream cheese combo to thrill my taste buds, but these beauties seem to do that in an especially delicious way. If you're a fan of all things cherry and cheesecake, I hope you'll give these a try!
See more recipes for muffins in the Recipe Index.
More Fruit Muffin Recipes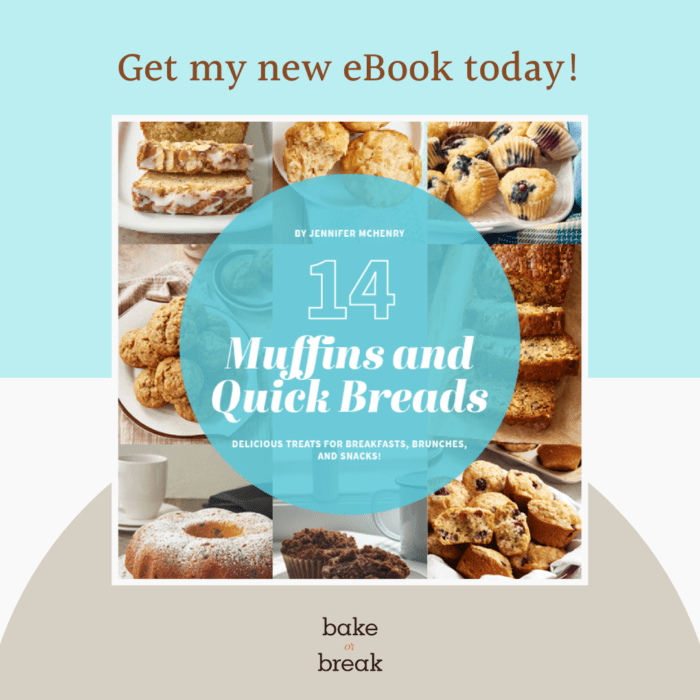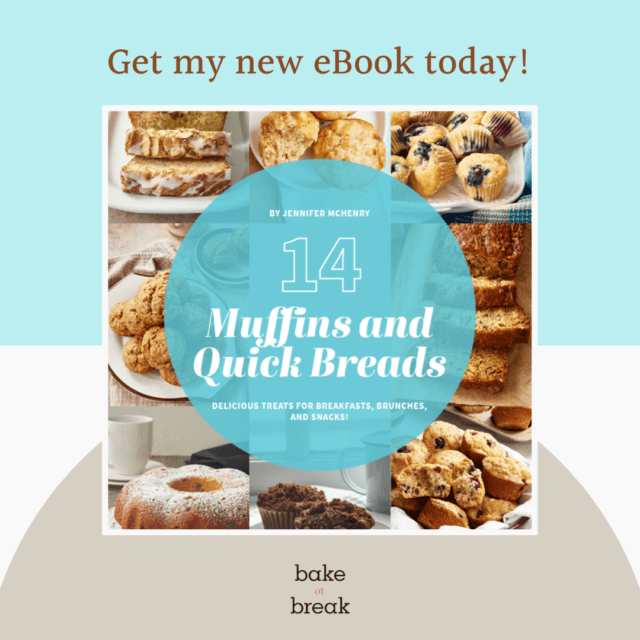 Have you made these Cherry Cheesecake Muffins? Leave a comment below, or share a photo and tag me on Instagram with the hashtag #bakeorbreak.