September 10, 2014
Ricotta Almond Pancakes with Cinnamon Pear Topping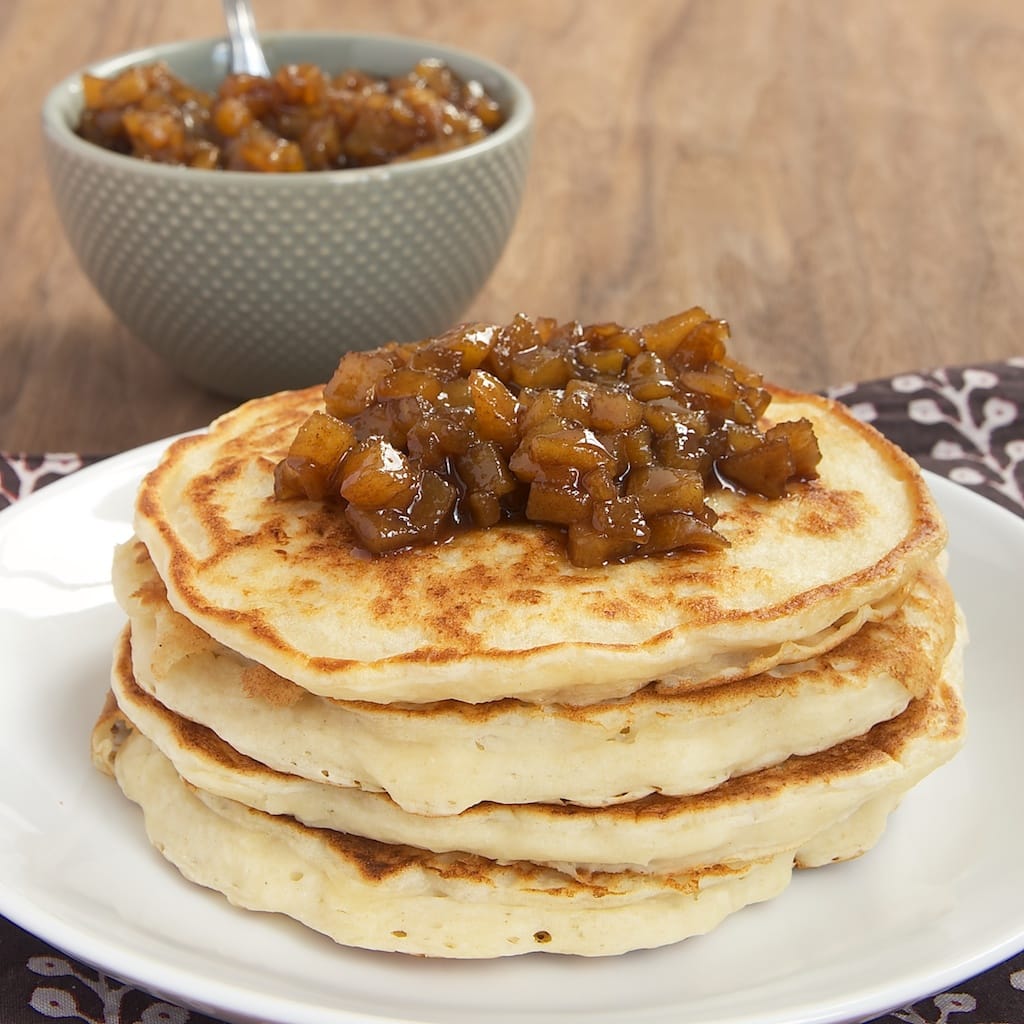 I do a lot of breakfast and brunch baking. We're talking muffins, biscuits, etc. But somehow in all the years of BoB, I've never shared pancakes with you. I have no idea how that has happened. But, we are going to remedy that in a big way with these beauties.
A few weeks ago, I went to brunch with some lovely blogging friends. As is often the case when you eat with a bunch of food bloggers, there was so much food to be sampled. I snagged a bite (or two) of ricotta pancakes from a neighboring plate and instantly was sad that it had been so long since I had enjoyed any of their amazing deliciousness.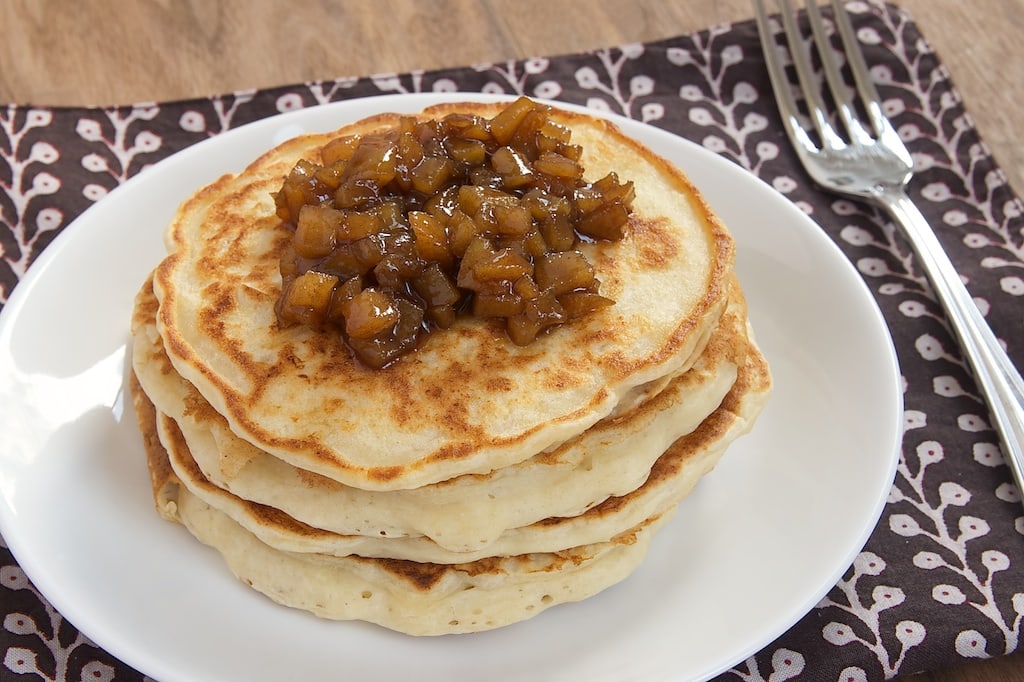 As you may remember, I recently partnered with Krusteaz to bring you all kinds of fun, simple, delectable baking recipes. Inspired by my renewed love of ricotta pancakes, I grabbed a box of Krusteaz Buttermilk Pancake Mix and set out to create my own version of ricotta pancakes.
For those of you who've never had ricotta pancakes, I must tell you that they are so light and delicate and moist. They are seriously fabulous. The flavor of the ricotta really isn't predominant. Rather, it serves to make the texture simply amazing.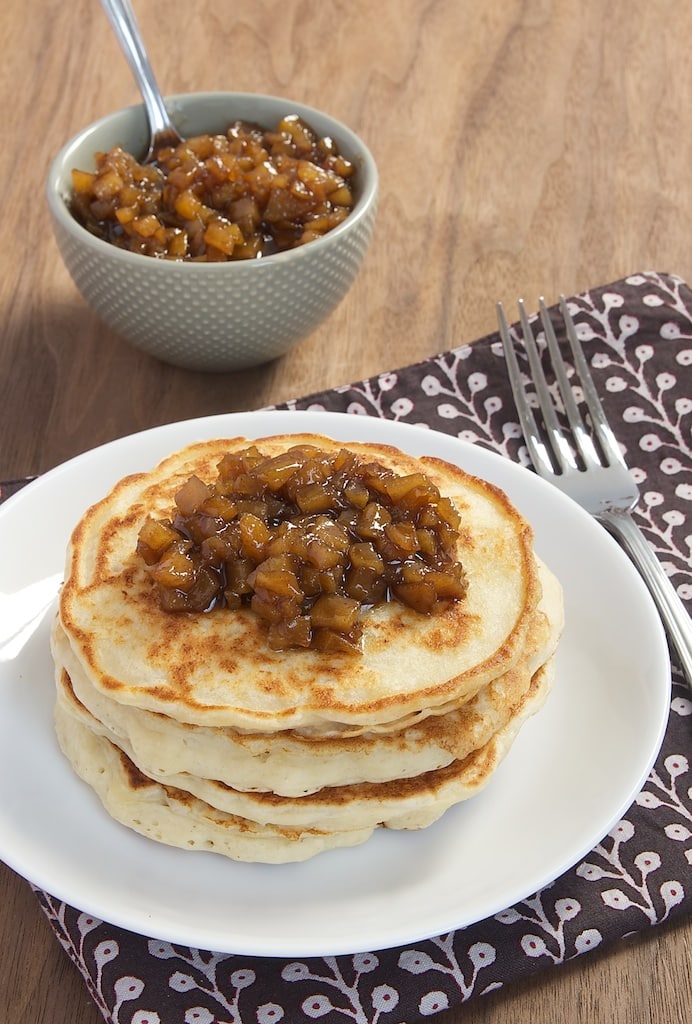 With fall upon us, my thoughts are never far from fall fruits like pears. I put together a quick topping of pears, butter, brown sugar, and cinnamon. While that was cooking, Quinn and I got started on the pancakes. I added some finely chopped almonds to the batter to give them a little extra flavor. The combination of the pancakes, almonds, and warm pear topping is so, so good. After just one bite, these beauties became an instant favorite for us.
While these pancakes are a lovely choice for breakfast or brunch, why not try them for dinner? I am not a morning person AT ALL, so having a Breakfast Night is often a more enjoyable way for me to make breakfast foods. Whip up a batch of these pancakes on a cool fall evening, curl up under a blanket, and dive into a stack of pancake deliciousness.
Ricotta Almond Pancakes with Cinnamon Pear Topping
Yield: 6 pancakes
Prep Time:20 minutes
Cook Time:35 minutes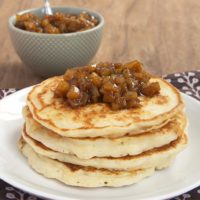 Ingredients:
3 tablespoons unsalted butter
3 tablespoons packed light or dark brown sugar
2 medium ripe pears, peeled and cubed*
1 teaspoon ground cinnamon
3/4 cup water
1 teaspoon vanilla extract
1/2 cup ricotta
1/4 cup finely chopped almonds
Directions:
Place butter and brown sugar in a medium saucepan or small skillet. Cook over medium heat until butter has melted and sugar has dissolved.
Add pears and cinnamon and stir to combine. While you prepare the pancakes, continue cooking the pears over medium heat, stirring occasionally, for 10 minutes or until thickened. Remove from heat.
Lightly grease a griddle or skillet. Heat over medium heat.
Whisk together pancake mix, water, and vanilla until combined. Stir in ricotta, mixing just until combined. Stir in almonds.
Pour 1/4 cup of batter** onto griddle or skillet. Cook pancakes for 1 & 1/2 to 2 minutes. Then, flip and cook about 1 & 1/2 minutes.
Stack pancakes and serve with warm pear topping.
Notes:
*Apples work well, too. Or, use a combination of apples and pears.
**A 1/4 cup cookie/ice cream scoop works beautifully for portioning batter and transferring it to the griddle or skillet.
Disclosure: I have been chosen by Krusteaz to be a paid brand ambassador. This recipe also appears at Krusteaz.com. All opinions written are my own.