With the bright flavor of citrus and fresh strawberries, this Lemon-Strawberry Shortcake Cake is the perfect dessert for springtime! It has all the flavors of a "strawberry shortcake" in citrusy cake form.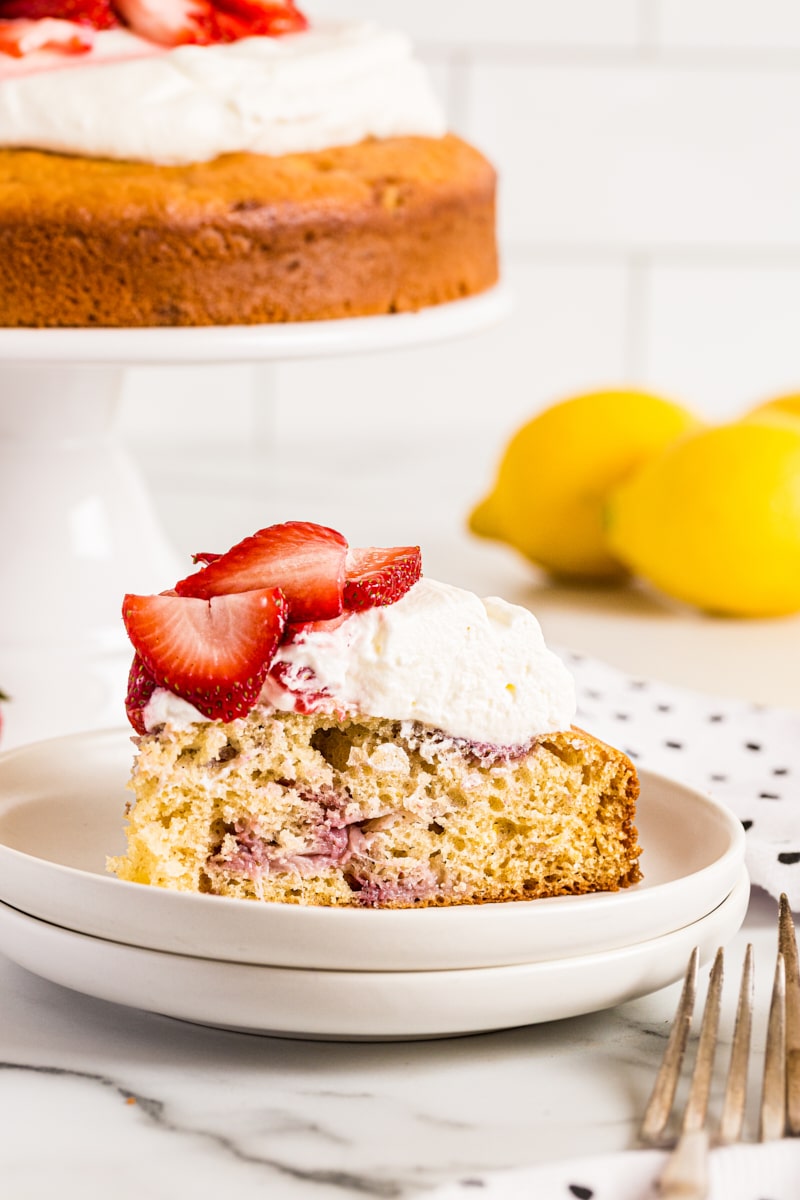 Homemade Strawberry Shortcake Cake
When I ended up with a bumper crop of strawberries from my CSA box, it was clear that I needed to bake up something delicious with strawberries. But what?! Brown Butter Strawberry Muffins? Or maybe a classic Strawberry Cobbler? What about Strawberry Cream Cheese Bread?
I made far too big a deal out of trying to choose just the right recipe for my beautiful strawberries, but can you blame me? Farm-fresh strawberries are nothing like the giant, firm berries they sell at the grocery store year-round—they're fragrant, supremely sweet, and bright red all the way through. (No crunchy white middles here!) They seemed so special that I wanted to make something fabulous.
This Lemon-Strawberry Shortcake Cake ended up winning out and I'm so glad it did. It's light and fresh and just sweet enough. You get plenty of strawberries, both baked into the cake and on top. Plus, there's just the hint of lemon to brighten things up. The lemon won't knock over your taste buds, but you know it's there.
While this isn't a shortcake in the traditional sense, it is reminiscent of strawberry shortcake with its flavors. It's an utterly gorgeous dessert perfect for that time of year when you start breaking out your short sleeve shirts so you can feel the warm sun on your skin again.
This is the kind of cake you'll happily come back to every strawberry season.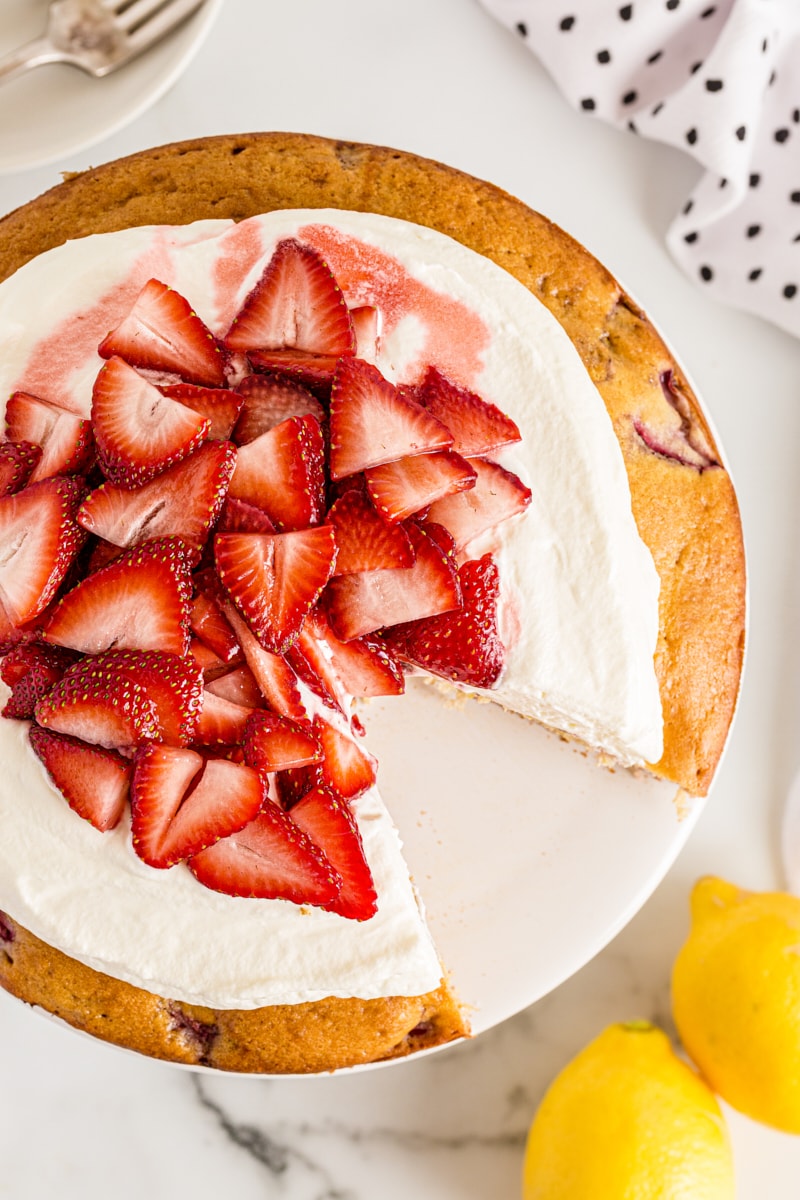 Why You'll Love this Strawberry Shortcake Cake Recipe
Here are just a few of the reasons this cake will become a favorite:
Simple. As opposed to a layer cake, this one-layer beauty is easy to make and assemble.
Fresh flavor. There are lots of fresh, sweet strawberries here!
Beautiful. This is one eye-catching dessert!
What Is the Difference Between Shortcake and Cake?
Shortcake has a different texture than traditional cake—it's more biscuit-like, with a slightly crumbly texture and an exterior that's almost a bit crispy when you bite into it. The cake in this recipe is not a traditional shortcake, which usually involves cutting in the butter like you would with a biscuit dough to get that crumbly texture.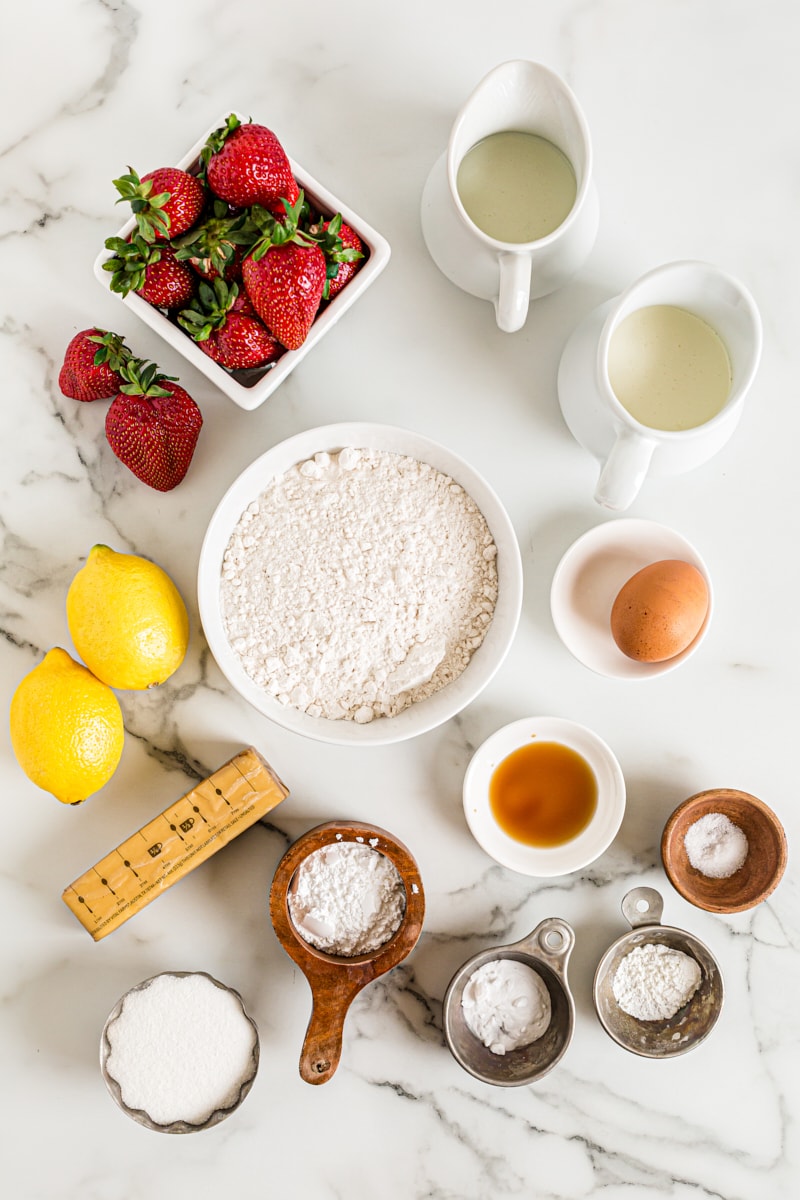 What You'll Need
Scroll down to the recipe card below this post for ingredient quantities and full instructions.
For the cake:
All-purpose flour – Learn more: How to Measure Flour
Granulated sugar
Baking soda
Baking powder
Salt
Egg – Let this sit on the counter at room temperature while you gather up the rest of your ingredients.
Buttermilk – You can also let the buttermilk come to room temperature. If you don't want to buy it, you can use a homemade buttermilk substitute.
Unsalted butter – Melt this in the microwave or in a small saucepan on the stovetop.
Lemon juice
Grated lemon zest – Zest the lemon before you juice it! Learn more: How to Zest and Juice Lemons
Vanilla extract
Fresh strawberries – Frozen strawberries have more moisture and will have an adverse effect on the texture of the cake.
For the topping:
Fresh strawberries
Lemon juice
Granulated sugar
Heavy whipping cream
Confectioners' sugar
How Do You Pick the Best Strawberries?
Unlike many other fruits, strawberries don't get any sweeter once they're picked. The best way to choose strawberries at the grocery store is to smell them—if they have a strong, sweet smell, they're ripe. Look carefully to make sure there are no moldy berries in the package, and avoid strawberries that look wilted or have mushy spots.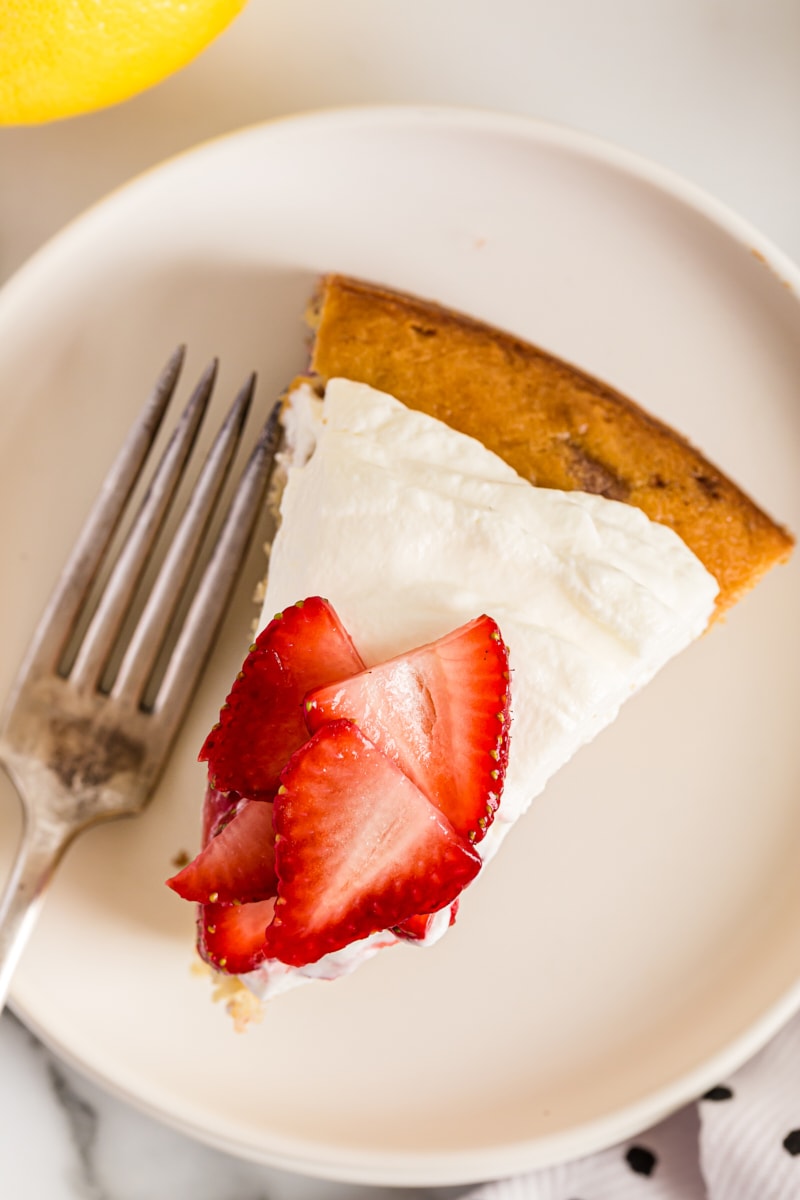 How to Make Lemon-Strawberry Shortcake Cake
This is the kind of easy, no-fuss cake you can make on a weekend afternoon and have ready by the time dinner rolls around. Here's what you'll need to do.
Make the cake:
Prepare. Preheat your oven to 350°F and grease and flour a 9-inch round cake pan, tapping out any excess.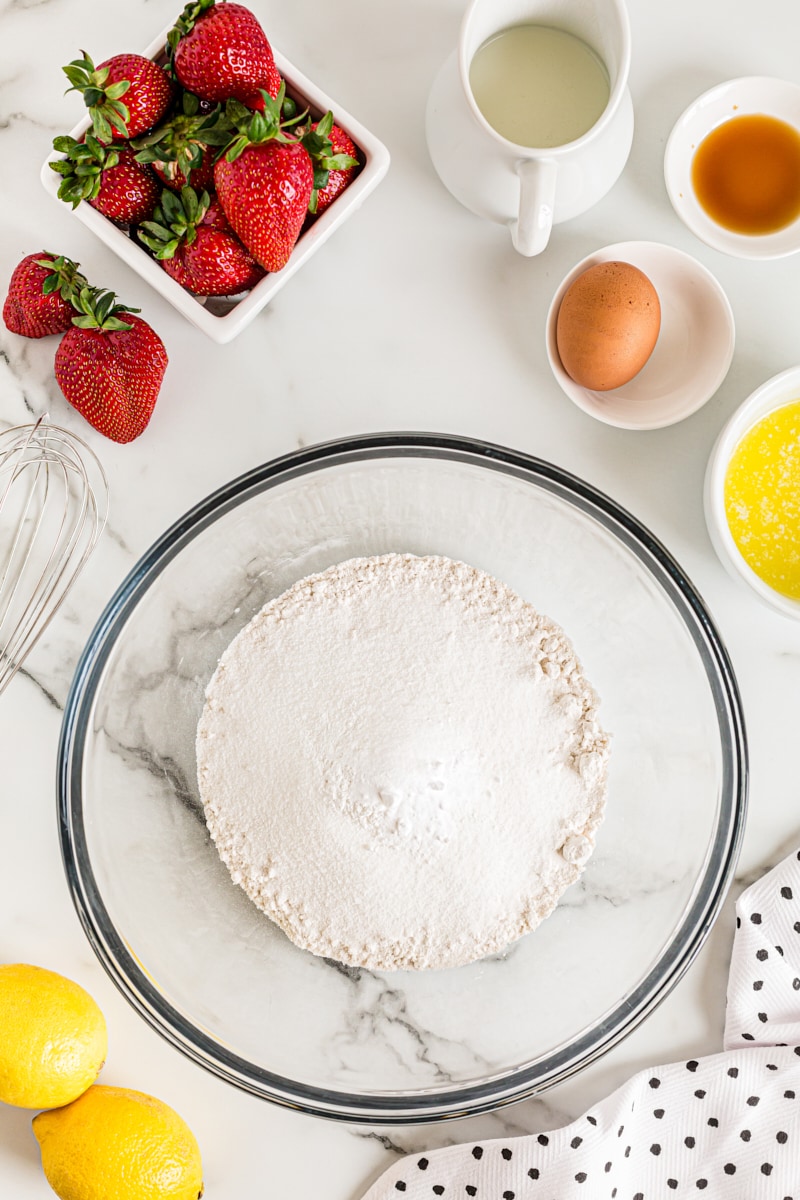 Mix the dry ingredients. In a large mixing bowl, whisk together the flour, sugar, baking soda, baking powder, and salt.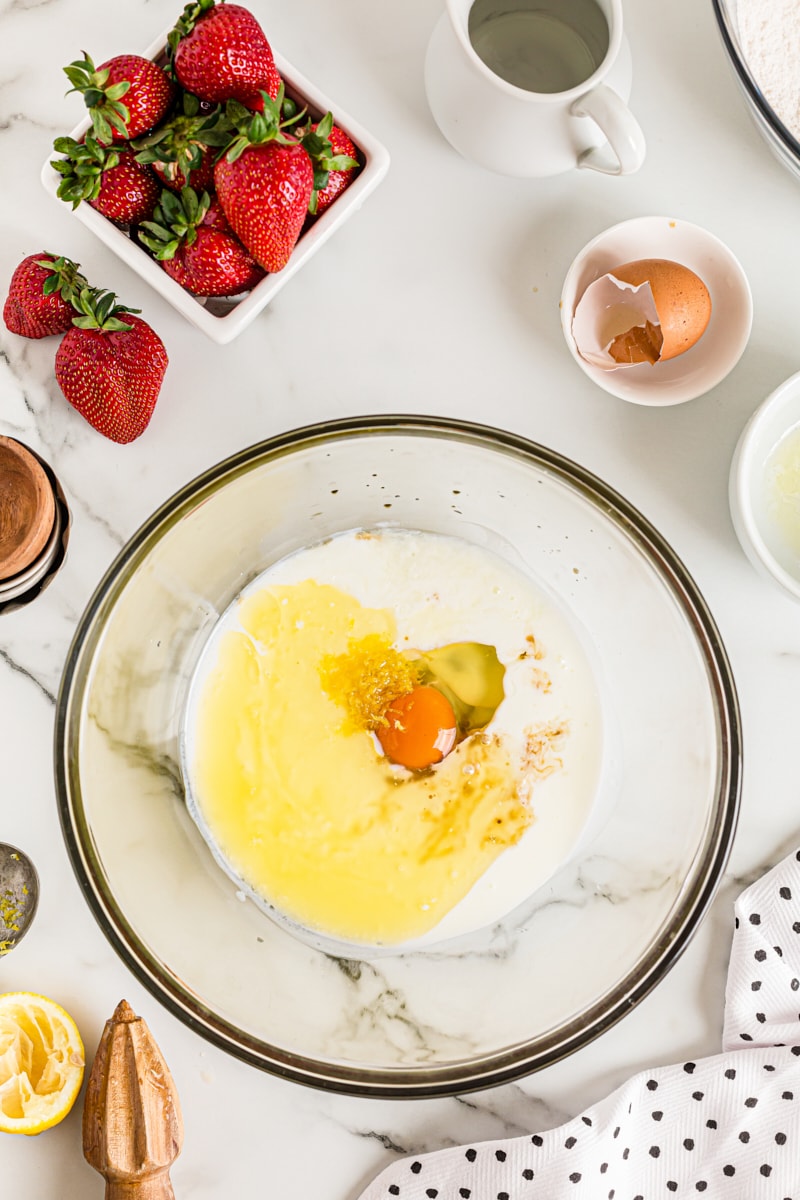 Mix the wet ingredients. Stir together the egg, buttermilk, butter, lemon juice, lemon zest, and vanilla in another bowl.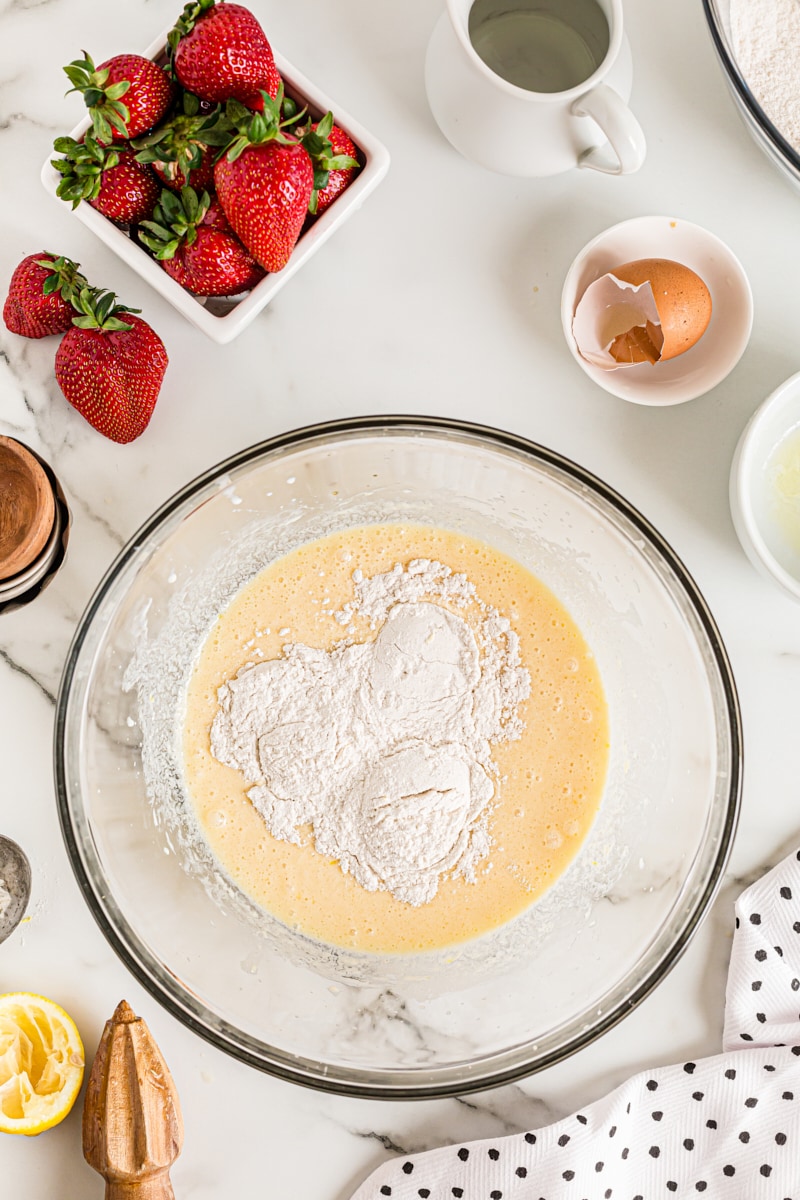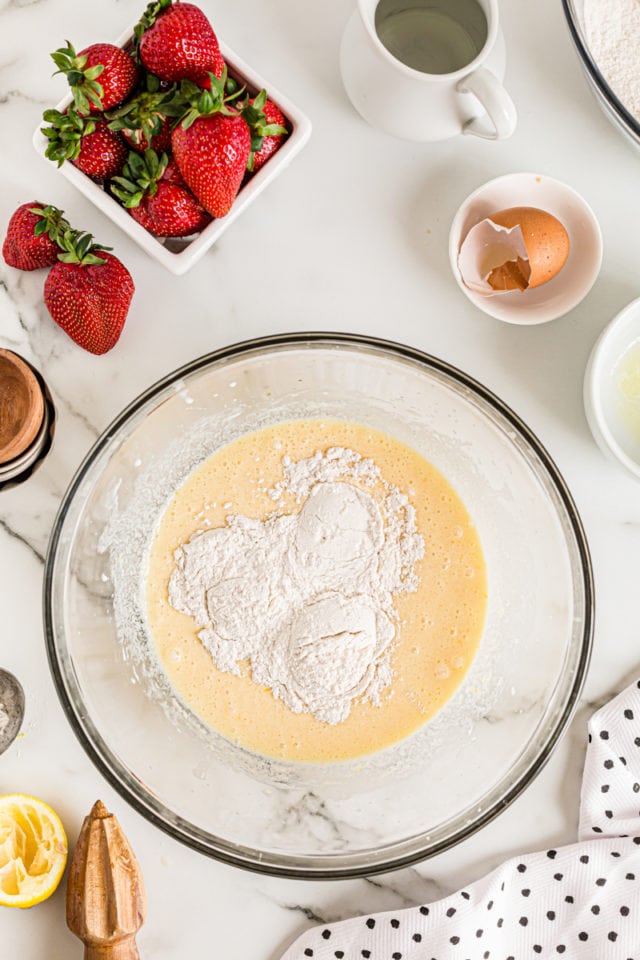 Combine the wet and dry ingredients. Slowly add the wet ingredients to the bowl with the flour mixture, stirring just until moistened. Gently fold in the strawberries.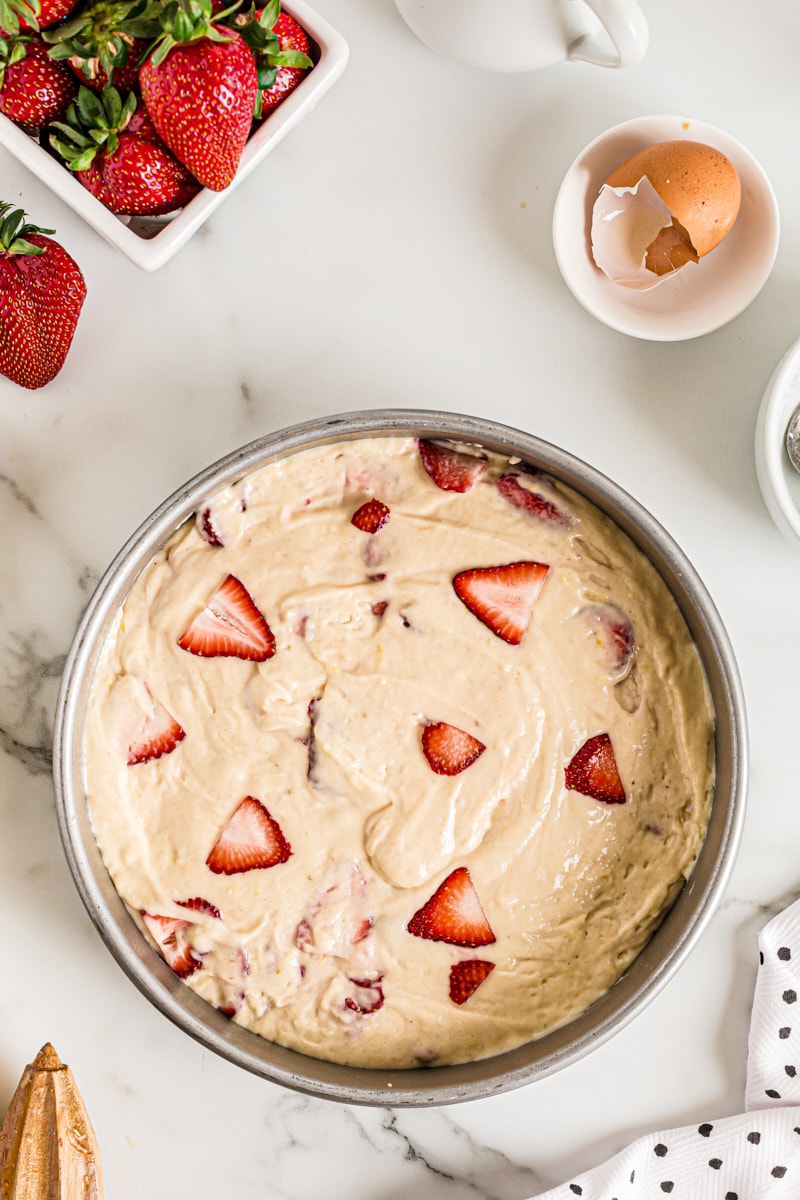 Bake. Pour the cake batter into the prepared pan and use a spatula to spread it evenly. Bake for 20 to 25 minutes, or until a toothpick inserted into the center comes out clean.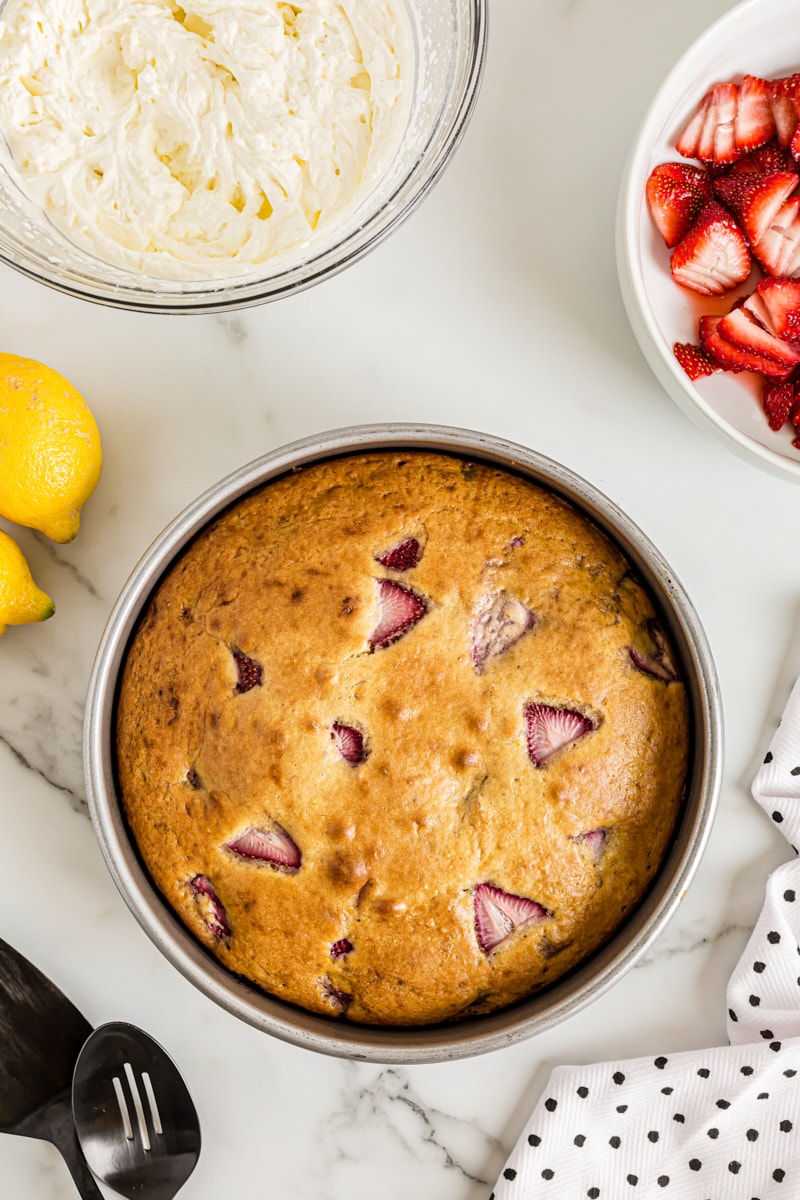 Cool. Let the cake cool in the pan on a wire cooling rack for 10 minutes, then carefully remove the cake from the pan and put it directly on the wire rack to finish cooling. (Learn more: Why Every Baker Needs Wire Cooling Racks)
Make the topping and assemble: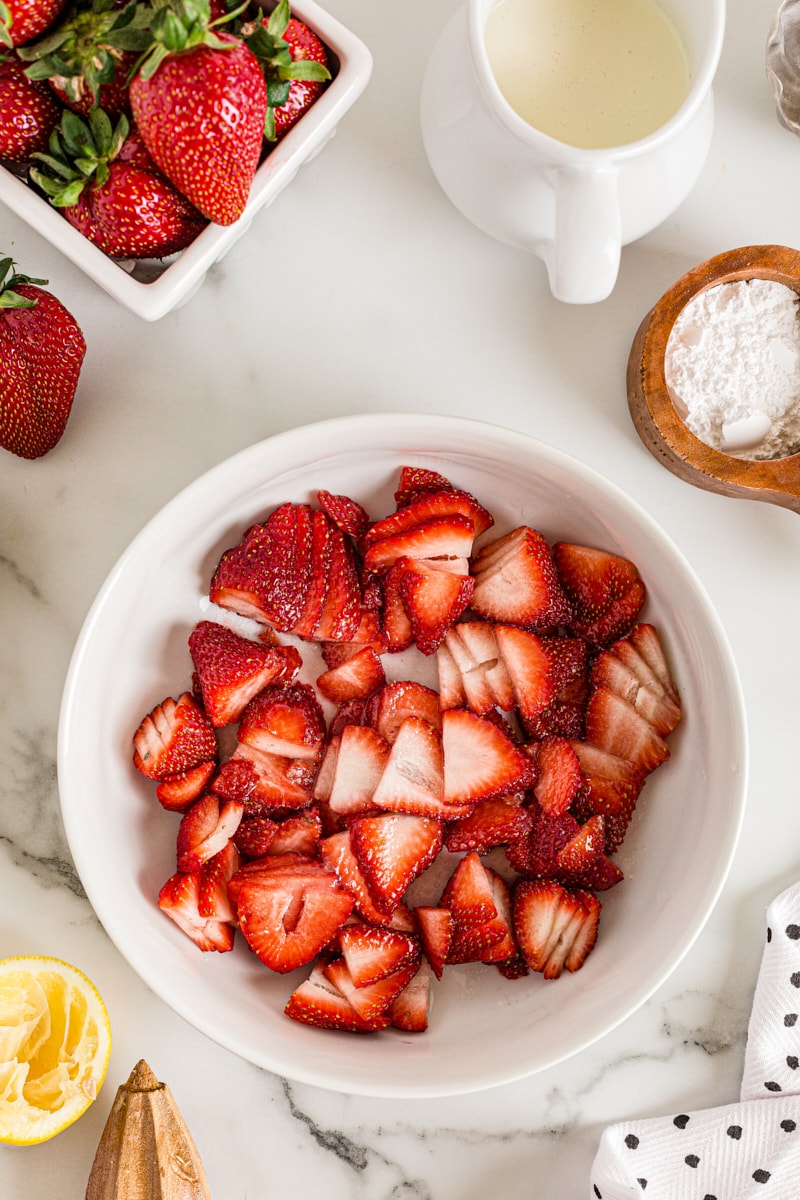 Macerate the strawberries. Combine the strawberry slices, lemon juice, and sugar in a bowl. Cover and chill.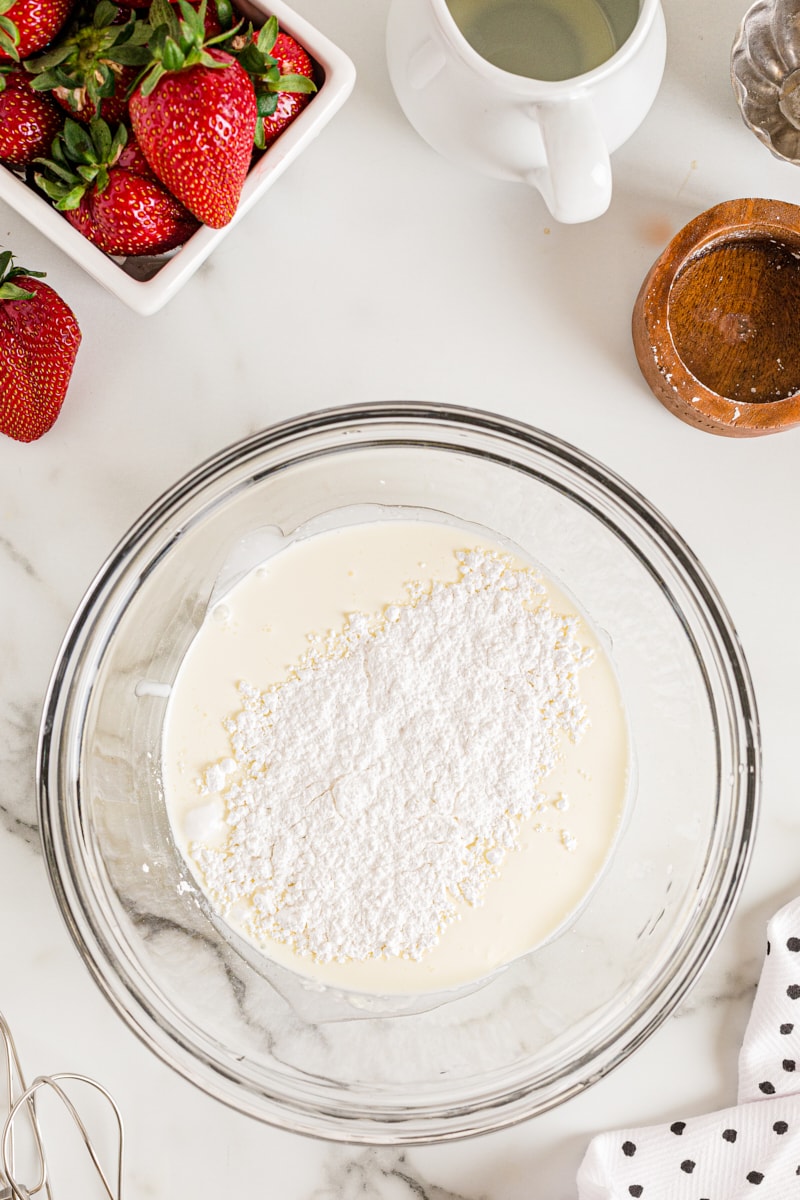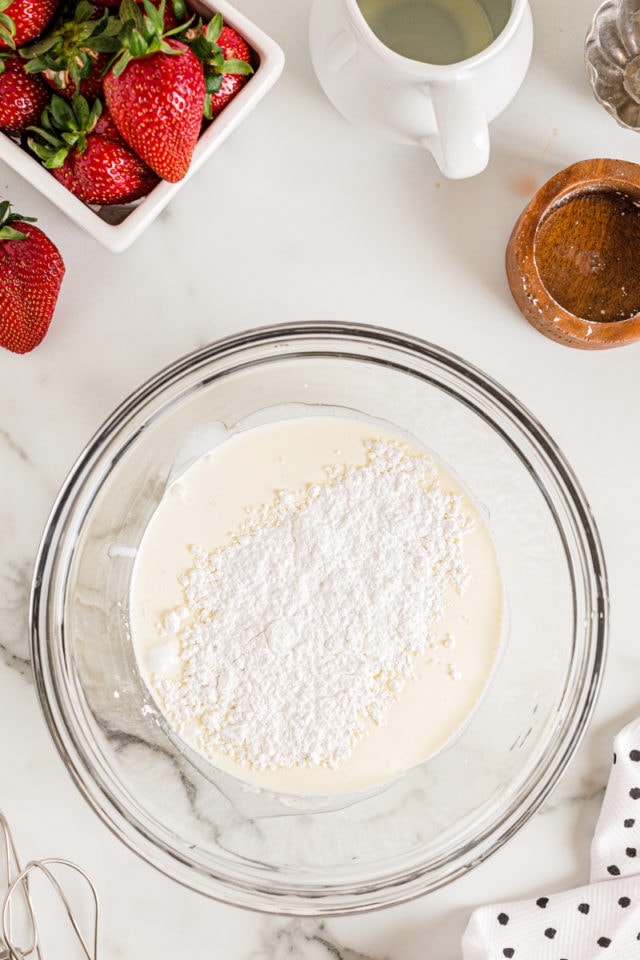 Make the whipped cream. Combine the heavy cream and confectioners' sugar in a large bowl. Whisk by hand or with an electric hand mixer or stand mixer fitted with the whisk attachment, until soft peaks form.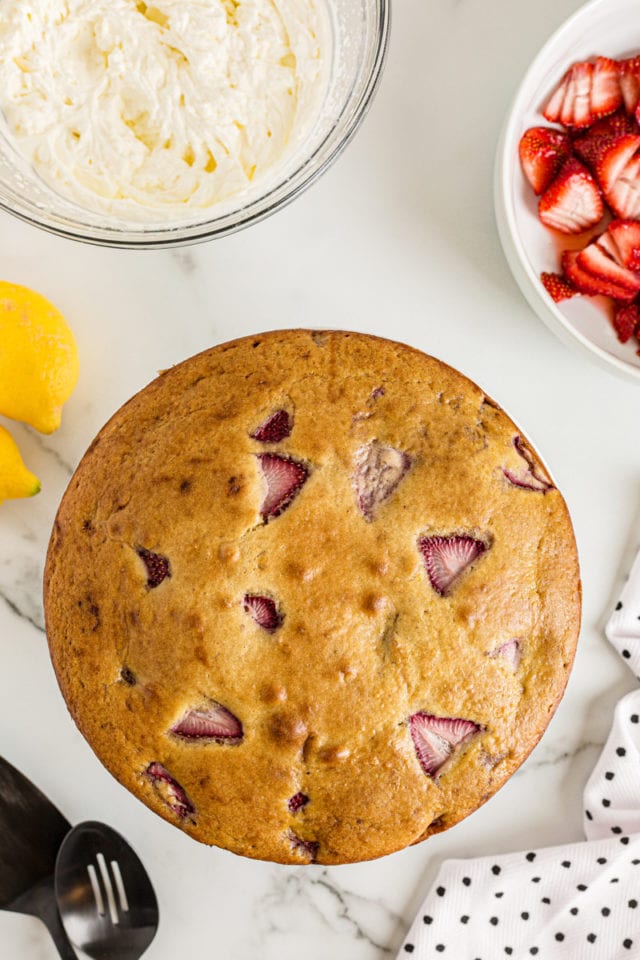 Assemble. Use an offset spatula to spread the whipped cream on top of the cooled cake. Drain off the liquid from the strawberries and arrange them on top of the cake, then serve.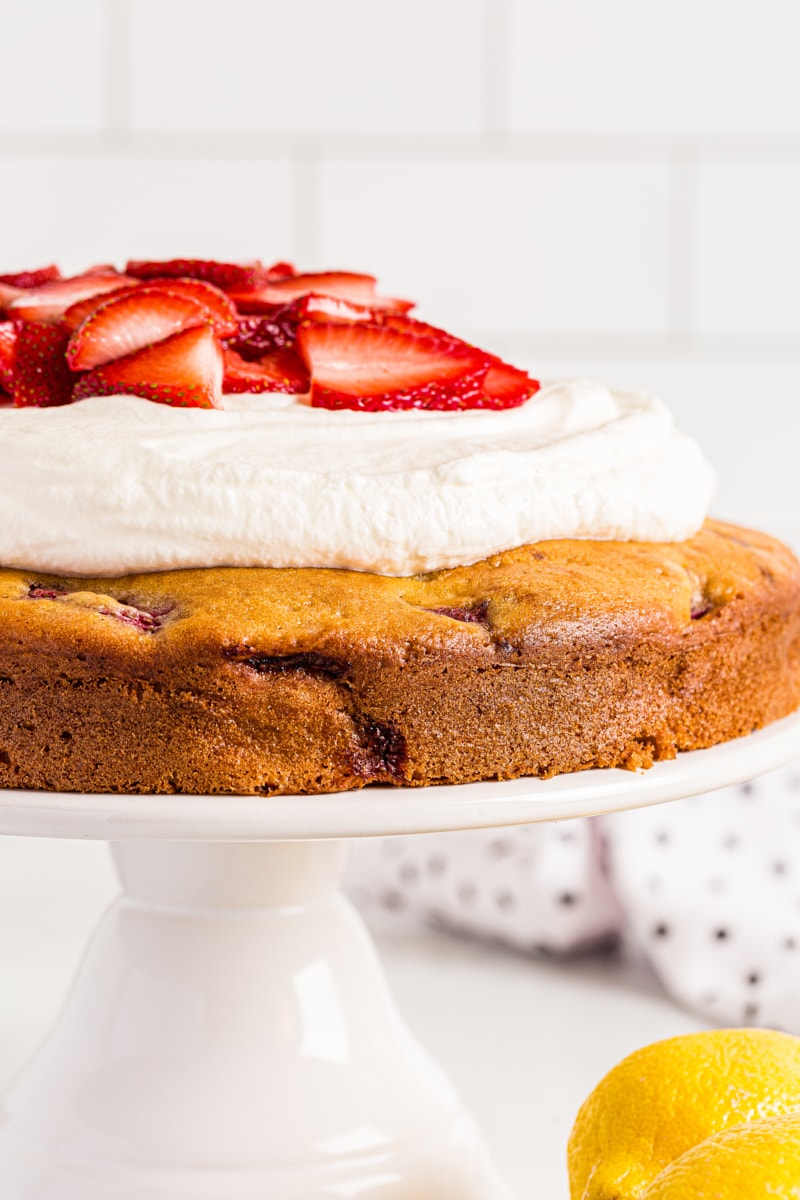 Tips for Success
Even though this Lemon-Strawberry Shortcake is easy, these hints and tips will make it even better!
Use a light-colored pan. Dark pans have a tendency to get hotter in the oven, over-baking the exterior of your cake before the inside is done.
Let the cake cool completely. If it's still warm when you add the whipped cream, it will melt.
Make a strawberry syrup for serving. You can spoon the liquid from the strawberries over the slices of cake when serving it, or even simmer it in a saucepan until it thickens a bit to give it a more syrupy consistency.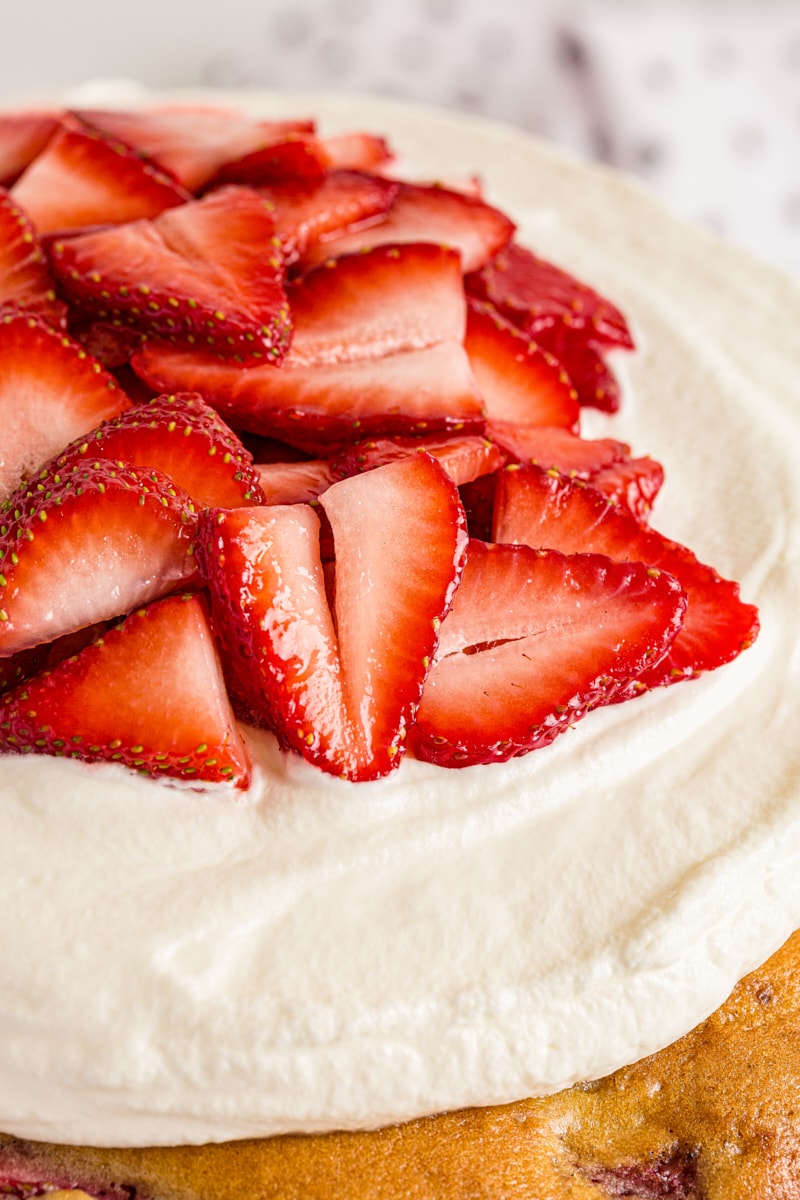 How to Store
Because this cake is made with fresh whipped cream, it won't last long in the refrigerator. Leftovers will keep in an airtight container for about 2 days.
If you want to make your Lemon-Strawberry Shortcake Cake in advance, I recommend making the whipped cream the day you plan on serving it. Without the whipped cream topping, the cake can be stored at room temperature for 2 to 3 days.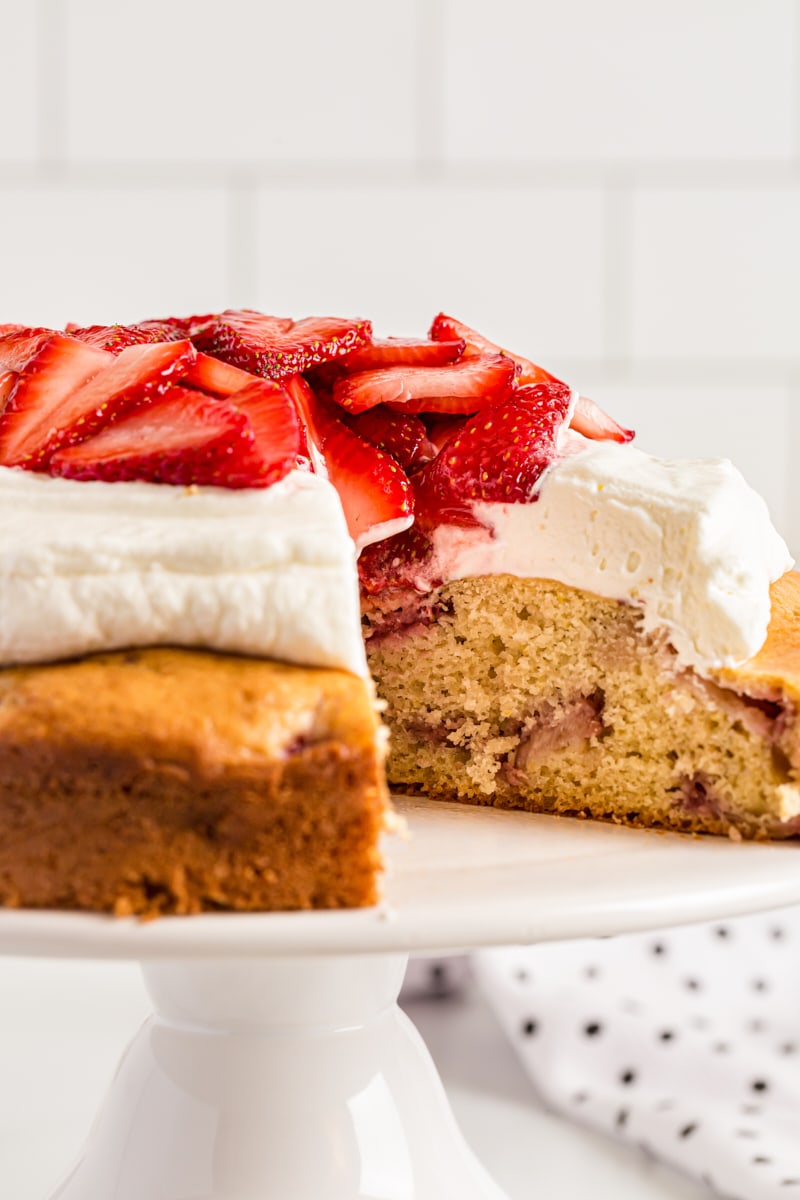 Can This Recipe Be Frozen?
Once assembled, this Lemon-Strawberry Shortcake Cake won't freeze well. When you thaw it, the strawberries will release liquid into the whipped cream, resulting in a soggy cake.
You can freeze the cake without the whipped cream and strawberry topping, though. Wrap it well and store it for up to 3 months in the freezer. Let it thaw at room temperature before serving.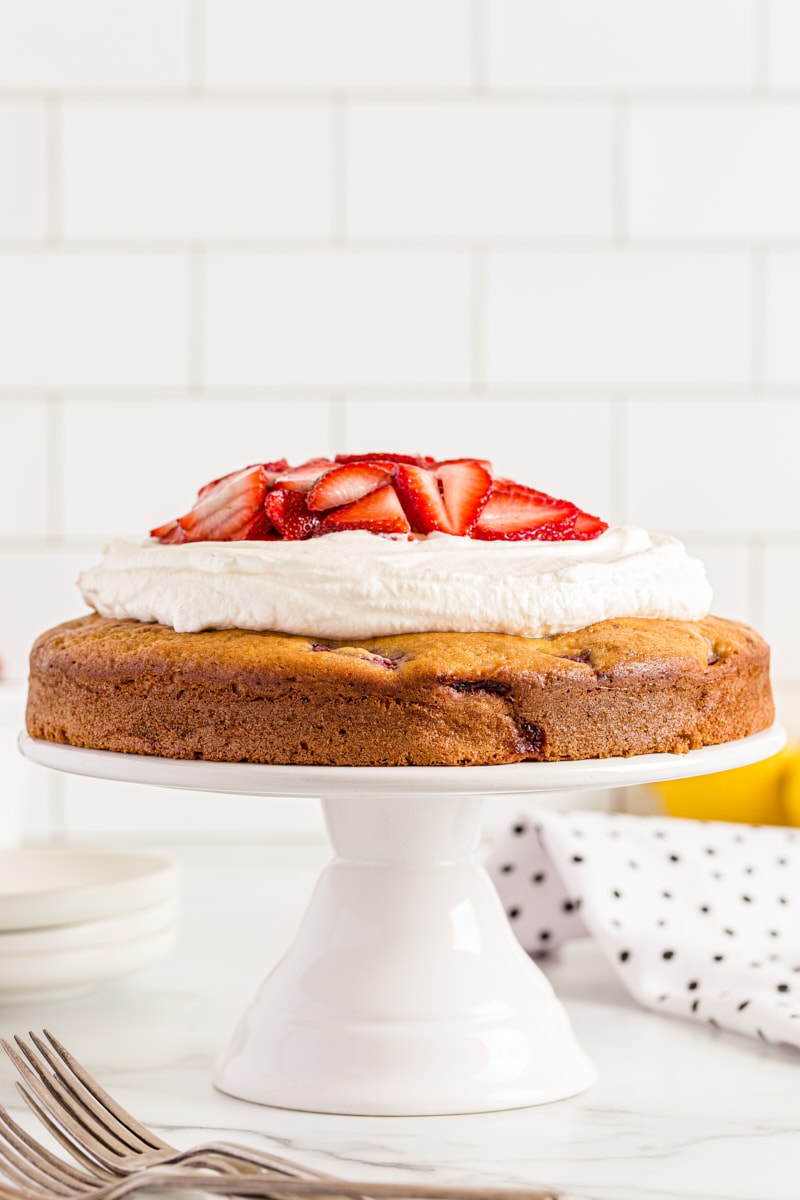 More Strawberry Recipes