May 1, 2019
Vanilla Scones
These quick and easy Vanilla Scones feature vanilla in a big way in a simple scone that's perfect for brunches and tea times!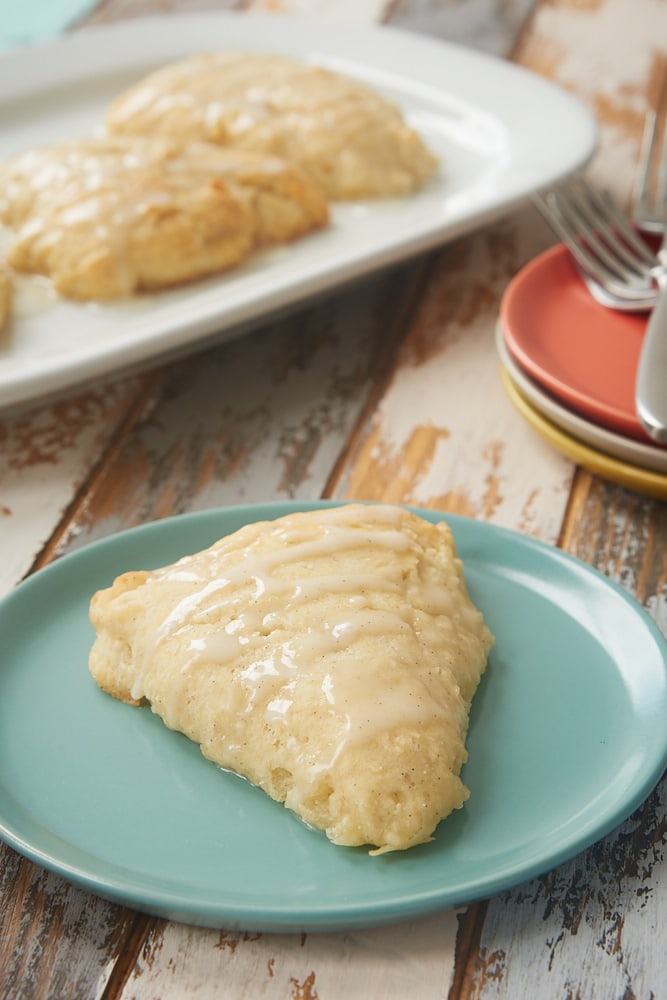 Two things that don't always get as much love as they deserve in the baking world are vanilla and scones. Of course, vanilla is fairly ubiquitous in baking with the frequent presence of vanilla extract in recipes. But, on its own, it tends to live in the shadow of other flavors.
Scones have gotten the unfortunate label as being way too dry and uninteresting. Some scones are definitely one or the other, if not both. We've likely all experienced that first hand.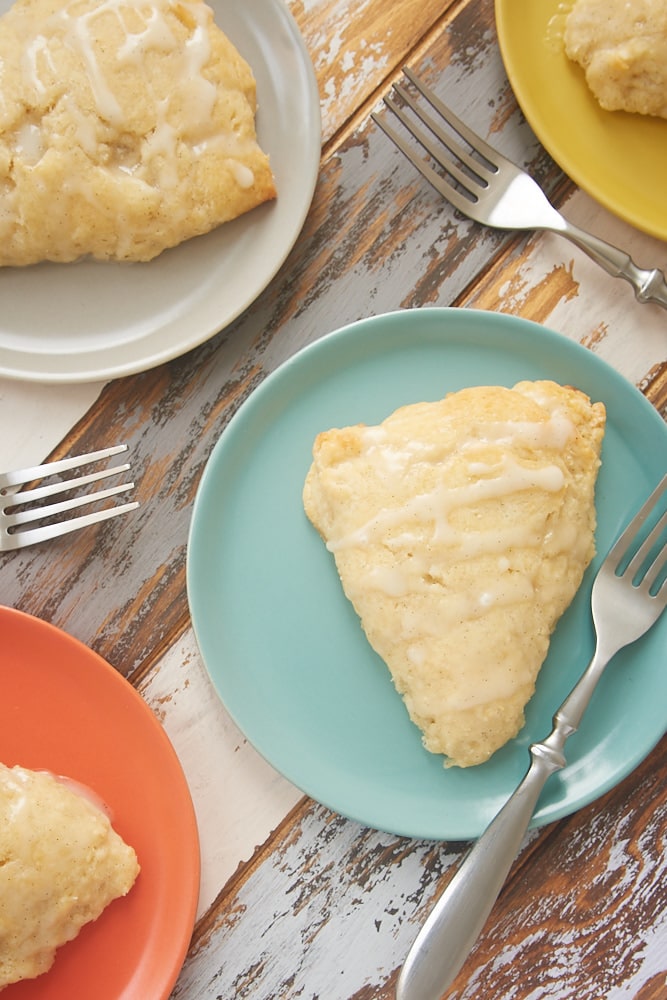 These Vanilla Scones, however, overcome all of that to be wonderfully flavorful with a nice, soft texture. There's vanilla in both the scones and the glaze for plenty of flavor. And the slightly sticky dough means that these scones will be nicely sturdy and dense without being too dry.
I like to use vanilla bean paste when vanilla is the starring flavor. I almost always keep it in my pantry. It gives you a similar effect as using fresh vanilla beans but in a more shelf-stable form. Vanilla extract or fresh vanilla beans will work as well. To use either of those, see my notes in the recipe.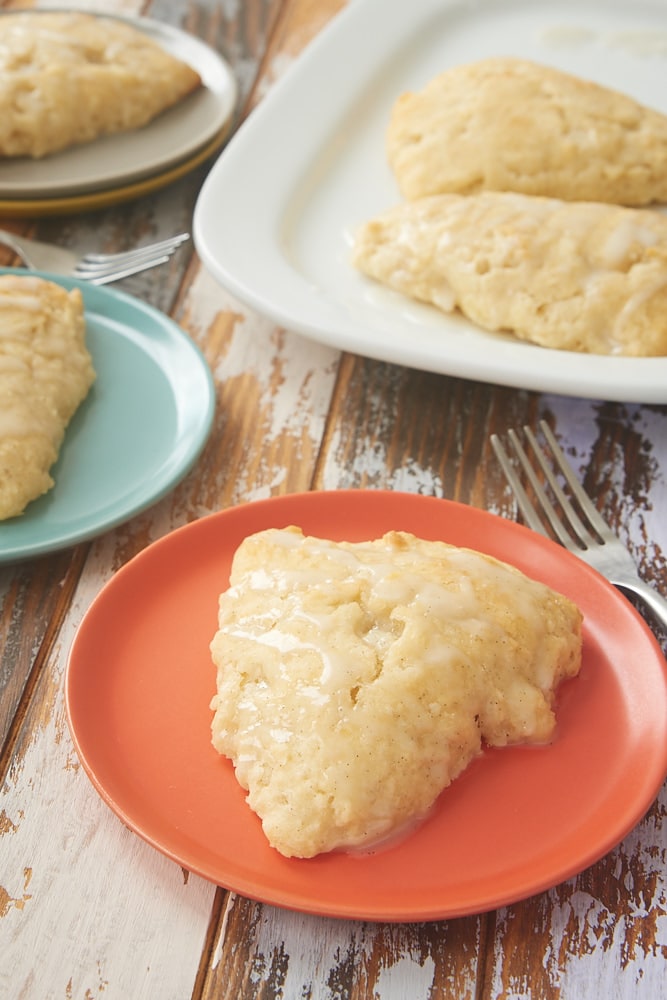 I find that these scones are best served fresh, although they'll keep for a few days in an airtight container. If you want to make them in advance, wait to glaze them until you're ready to serve if possible. Letting the glaze sit too long on the scones can make them a little soggy. As an alternative, skip the glaze in favor of a sprinkling of sanding sugar on the scones before baking.
These Vanilla Scones are such a lovely treat for brunch or to go alongside your afternoon coffee or tea. They're really easy to make, too. You just need one bowl and a pastry blender or fork for mixing. You'll have these mixed and in the oven in short order!
Find more vanilla treats in the Recipe Index.
More Scone Recipes
Vanilla Scones
Yield: 6 scones
Prep Time: 15 minutes
Cook Time: 20 minutes
Add these scones to your next brunch menu or whip up a batch for an easy anytime treat!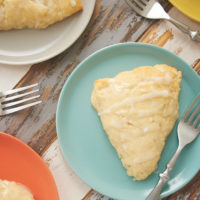 Ingredients:
For the scones:
2 & 1/4 cups (270g) all-purpose flour

2 tablespoons granulated sugar

2 teaspoons baking powder

1/4 teaspoon salt

1/2 cup (113g) unsalted butter, cold and cut into 1/2-inch cubes

3/4 cup (177ml) milk

1 tablespoon vanilla bean paste*
For the glaze:
3/4 cup (83g) confectioners' sugar, sifted

1 to 2 tablespoons milk

1/2 teaspoon vanilla bean paste**
Directions:
To make the scones:
Preheat oven to 400°F. Line a baking sheet with a silicone liner or parchment paper.

Place the flour, sugar, baking powder, and salt in a large bowl. Whisk to combine.

Add the butter and use a pastry blender or a fork to mix until the largest pieces of butter are about the size of small peas.

Add the milk and vanilla bean paste, and stir just until combined. 

Gather the dough into a ball and transfer to a lightly floured surface. (The dough will be slightly sticky. If the dough is too sticky to handle, sprinkle a small amount of flour over the dough and mix just until combined.) Using lightly floured hands, gently pat the dough into a disk about 7 inches in diameter. Cut into 6 wedges.

Carefully transfer the wedges to the prepared pan, leaving about an inch of space between wedges.

Bake 15 to 20 minutes, or until golden brown. Cool in pan on a wire rack.
To make the glaze:
Combine the confectioners' sugar, 1 tablespoon milk, and vanilla bean paste. Stir until smooth.
Add more milk, a small amount at a time, until the glaze is thick but pourable.
Drizzle the glaze over the cooled scones.
Notes:
*May substitute an equal amount of vanilla extract or the seeds of 1 vanilla bean.
**May substitute an equal amount of vanilla extract or a few seeds from a vanilla bean.