February 5, 2014
Strawberry Cream Cheese Cookies
Strawberry Cream Cheese Cookies combine fruity bursts of strawberry flavor with a soft, cake-like cookie for a sweet treat that's just delightful!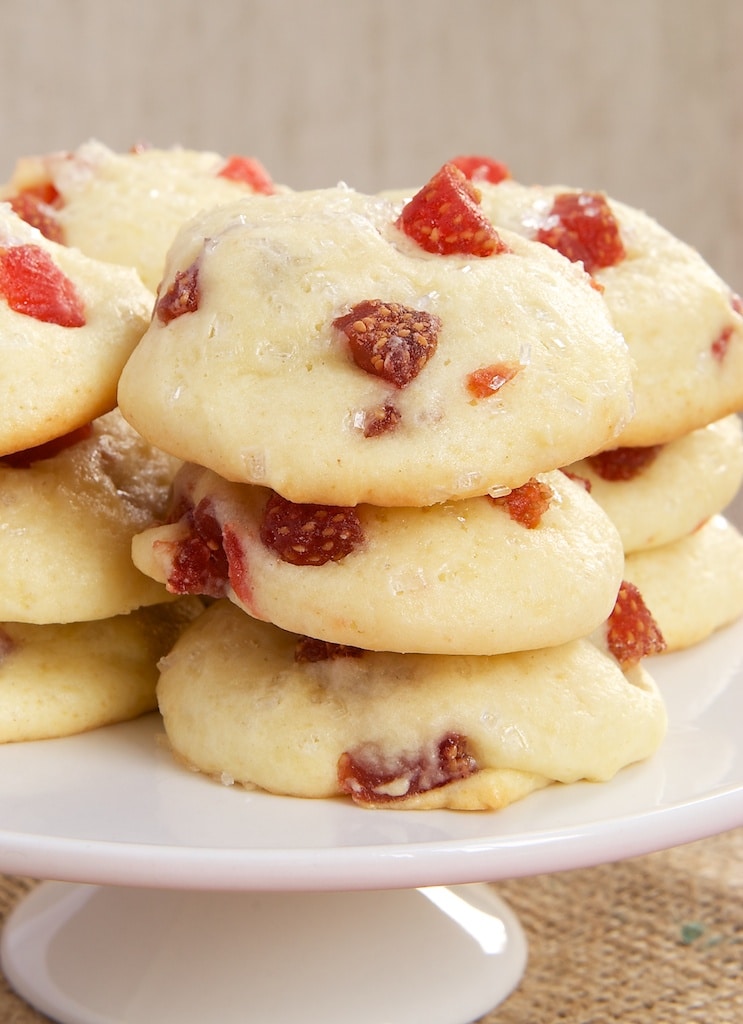 Pay close attention, my baking friends, because these cookies are the closest you're likely to see to a red or pink Valentine's Day dessert here on BoB. All the usual fanfare is just not my thing. You're not likely to see any heart-shaped desserts around here.
Instead, I give you these lovely cream cheese cookies dotted with sweet strawberries. You don't often see recipes for cookies with strawberries, but these Strawberry Cream Cheese Cookies are an easy way to incorporate some berry flavor into your cookies!

I got the idea for these cookies a while back when I got a free sample of dried strawberries. Honestly, I'd never tried them, but it was love at first bite. Then, I thought about those Cream Cheese Chocolate Chip Cookies and knew that cookie dough would be a great way to feature sweet, slightly tart dried strawberries. After all, what's better with strawberries than cream cheese?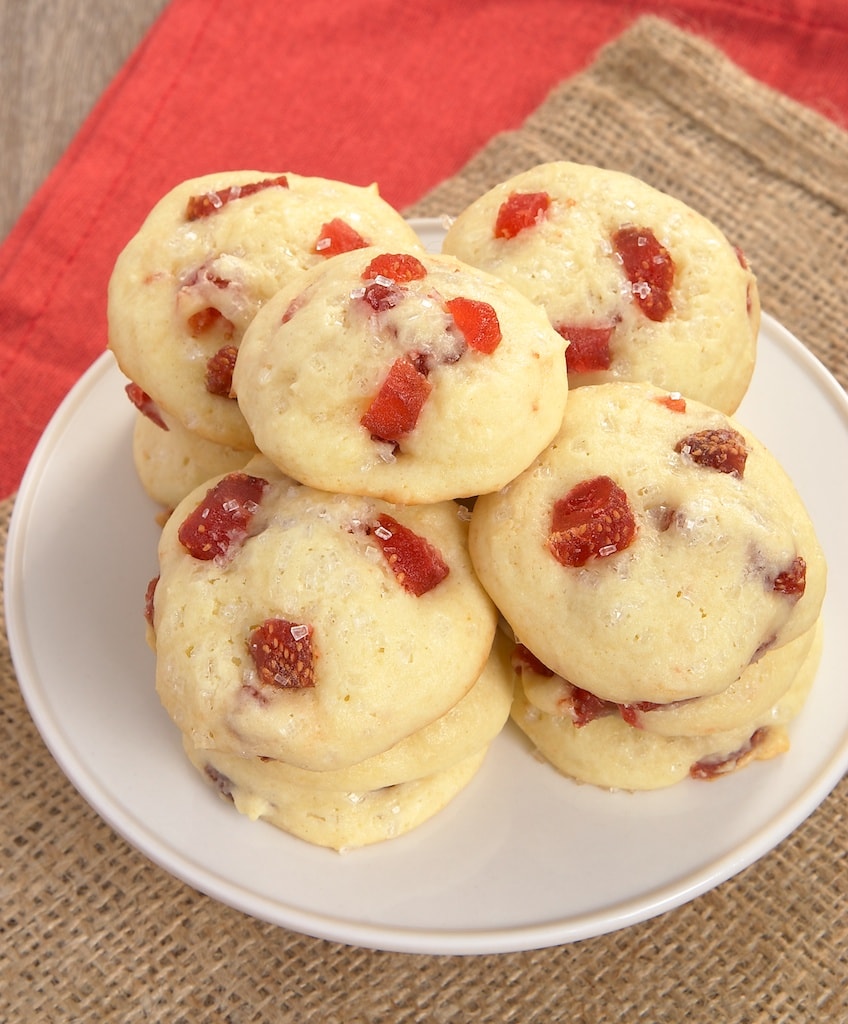 I was so right! These dried strawberry cookies are cake-like and just the right amount of sweet, with a little extra burst of sweet in the strawberries. I also added a generous sprinkling of sanding sugar to give them a little sparkle and an extra bit of sweetness.
If you can't find dried strawberries, or just want some variety, try another dried fruit. Use cherries or cranberries to stick with the red theme, or go a different route with blueberries. Or, use a combination for a mixed berry version.
Of course, you don't have to relegate these to Valentine's Day baking. They're great any time. And using dried strawberries means you don't have to wait for berry season!
Find more cookie recipes in the Recipe Index.
More Strawberry and Cream Cheese Desserts
Bake or Break is a participant in the Amazon Services LLC Associates Program, an affiliate advertising program designed to provide a means for us to earn fees by linking to Amazon.com and affiliated sites.
Strawberry Cream Cheese Cookies
Yield: about 48 cookies
Prep Time:20 minutes
Cook Time:15 minutes
Strawberry Cream Cheese Cookies combine sweet dried strawberries with soft cookies made with cream cheese.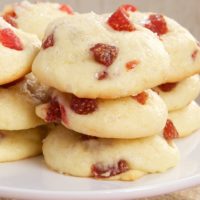 Ingredients:
2 & 1/2 (300g) cups all-purpose flour
1 teaspoon baking powder
1/4 teaspoon salt
1/2 cup (113g) unsalted butter, softened
8 ounces (227g) cream cheese, softened
1 & 1/2 cups (300g) granulated sugar
2 large eggs
1 & 1/2 teaspoons vanilla extract
1 & 1/2 cups chopped dried strawberries
sanding sugar, optional
Directions:
Preheat oven to 350°F. Line baking pans with parchment paper or silicone liners.
Whisk together the flour, baking powder, and salt. Set aside.
Using an electric mixer on medium speed, beat the butter, cream cheese, and sugar until fluffy. Add the eggs, one at a time, mixing well after each addition. Mix in the vanilla.
Reduce mixer speed to low. Gradually add the flour mixture, mixing until almost combined. Add the strawberries, stirring until the dough is thoroughly mixed. The dough will be sticky.
Drop the dough by tablespoonfuls onto prepared pans. Sprinkle each cookie with sanding sugar.
Bake, one pan at a time, 12-15 minutes, or until the edges are lightly browned. (These cookies will not brown like classic chocolate chip cookies.) Refrigerate the dough between batches.
Cool the cookies completely on the pan on a wire rack.