September 30, 2013
Chocolate Peanut Butter Granola Cookies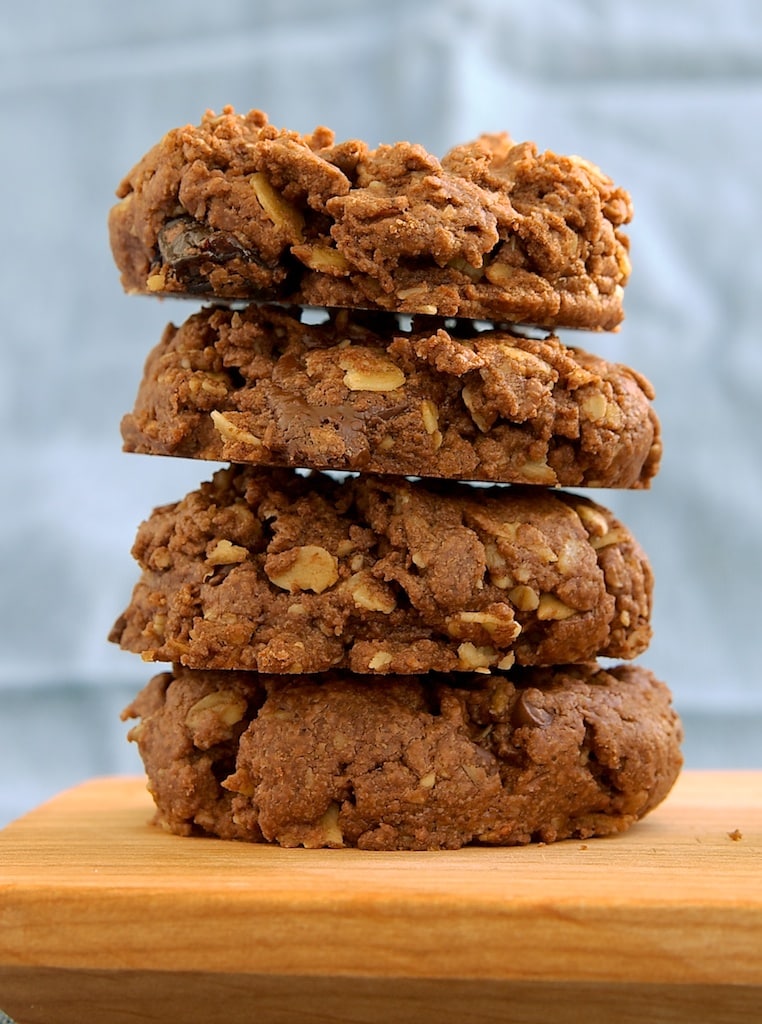 Granola is a beautiful thing. And, it has become a staple around here. It's a rare day that I don't start things off with a bowl of yogurt and granola. I have almost as many varieties of granola in my pantry as I do peanut butter. Those two facts came in quite handy for making these cookies.
So, here's a really great thing. You only need four ingredients to make these cookies. That's right. Four.
And, I don't mean there's a mix and three more things. Or a roll of refrigerated cookie dough, some mini candy bars, and a couple of other ingredients. No, there are four ingredients – peanut butter, granola, egg, salt. Seriously.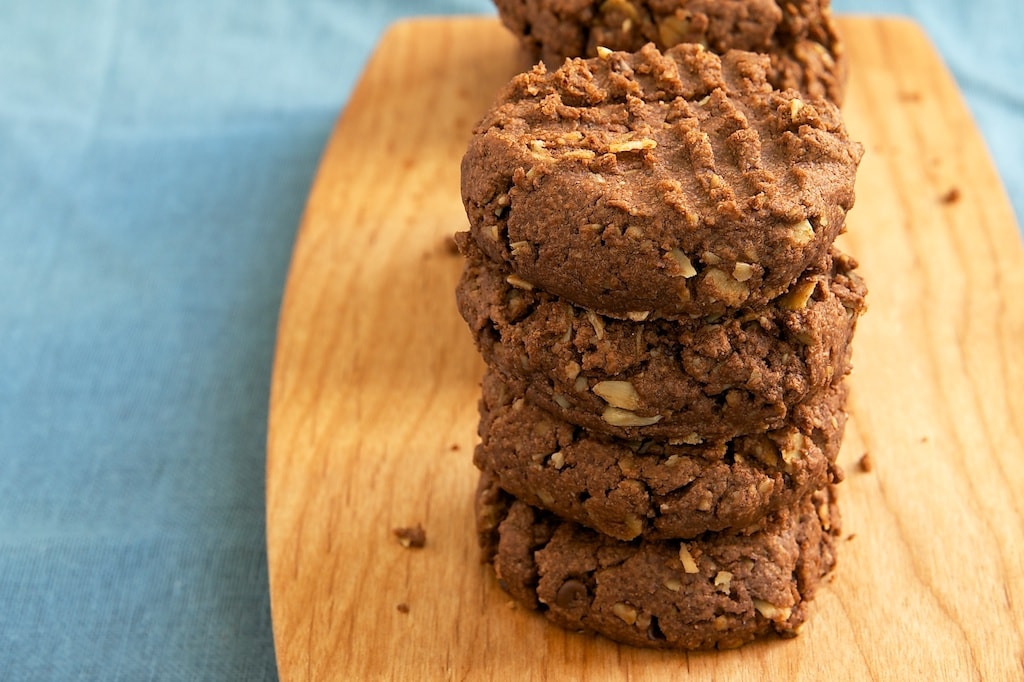 If there's a catch, it's that one of the ingredients is granola, which is, of course, a whole slew of ingredients in one handy package. Part of the granola is finely ground so that it acts much like flour. The remainder is stirred into the dough to add a lovely crunchy texture to the cookies.
Most any kind of granola will work. Just choose one that you think will go well with chocolate and peanut butter. I chose to use one of my favorite brands of granola, Early Bird, for these cookies. Specifically, I used their Choc-a-Doodle-Do granola, which features chocolate and coconut.
I also used Peanut Butter & Co.'s Dark Chocolate Dreams for the peanut butter. There are several other brands of chocolate peanut butter, so just use your favorite. Or, if you prefer, use standard peanut butter without the chocolate element.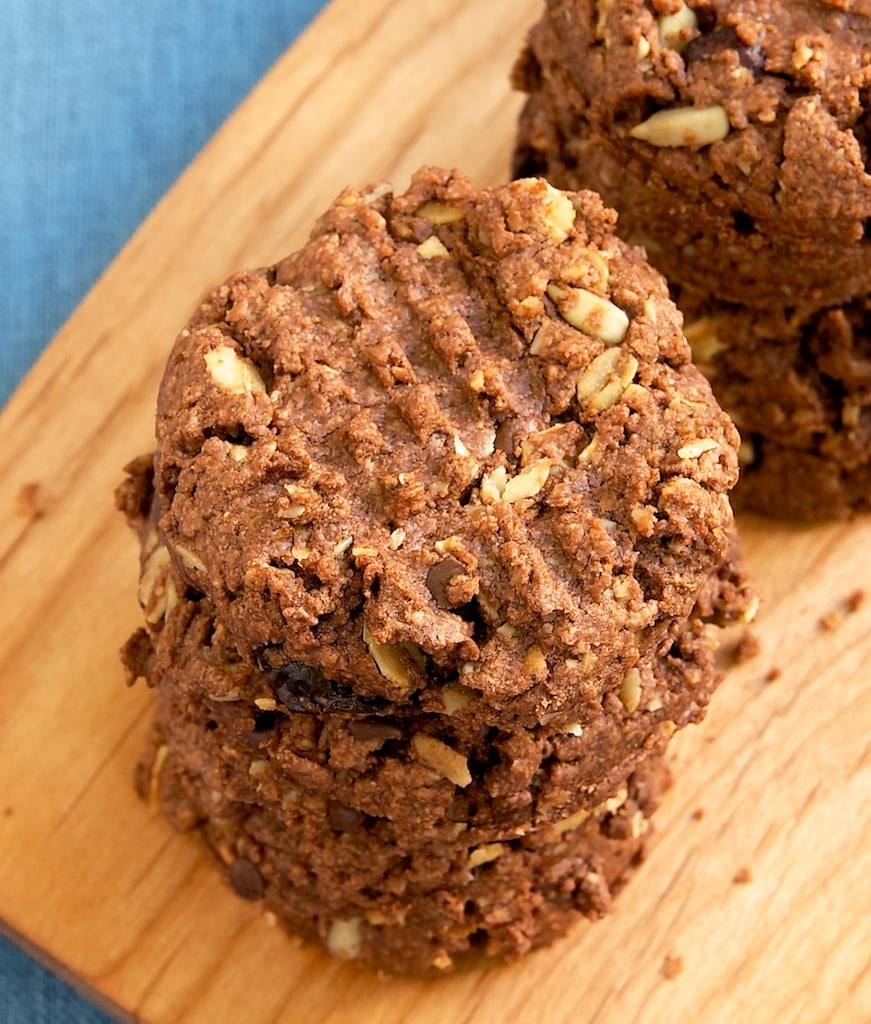 Not only are these cookies amazingly quick to make, they're also really, really good. They are soft and chewy and a little crunchy. They are just the right amount of sweet to satisfy a little sweet craving.
Chocolate Peanut Butter Granola Cookies
Yield: 15 cookies
Prep Time:15 minutes
Cook Time:15 minutes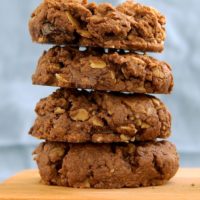 Ingredients:
2 cups granola
1 cup chocolate peanut butter
1 large egg
pinch of salt
Directions:
Preheat oven to 350°. Line baking sheets with parchment paper or silicone liners.
Separate the granola into two 1-cup portions. If using granola with dried fruit, remove the fruit from one portion and add it to the other portion.
Place the granola without fruit into the bowl of a food processor. Pulse until finely ground.
Transfer the ground granola to a mixing bowl. Add peanut butter, egg, and salt. Using an electric mixer on medium speed, beat just until smooth. Add remaining granola and mix just until combined.
Using two tablespoons of dough at a time, form the dough into balls. Place the dough balls on prepared baking sheets.
Use a fork to flatten the cookies to about 3 inches in diameter.
Bake cookies, one pan at a time, for 15 to 18 minutes, or until cookies are set and lightly browned around the edges.
Cool cookies completely on pans on wire racks.