You're only a few minutes and four ingredients away from these thick, chewy chocolate peanut butter granola cookies! They're so easy to make, they're sure to become a go-to recipe whenever you're looking for a quick treat.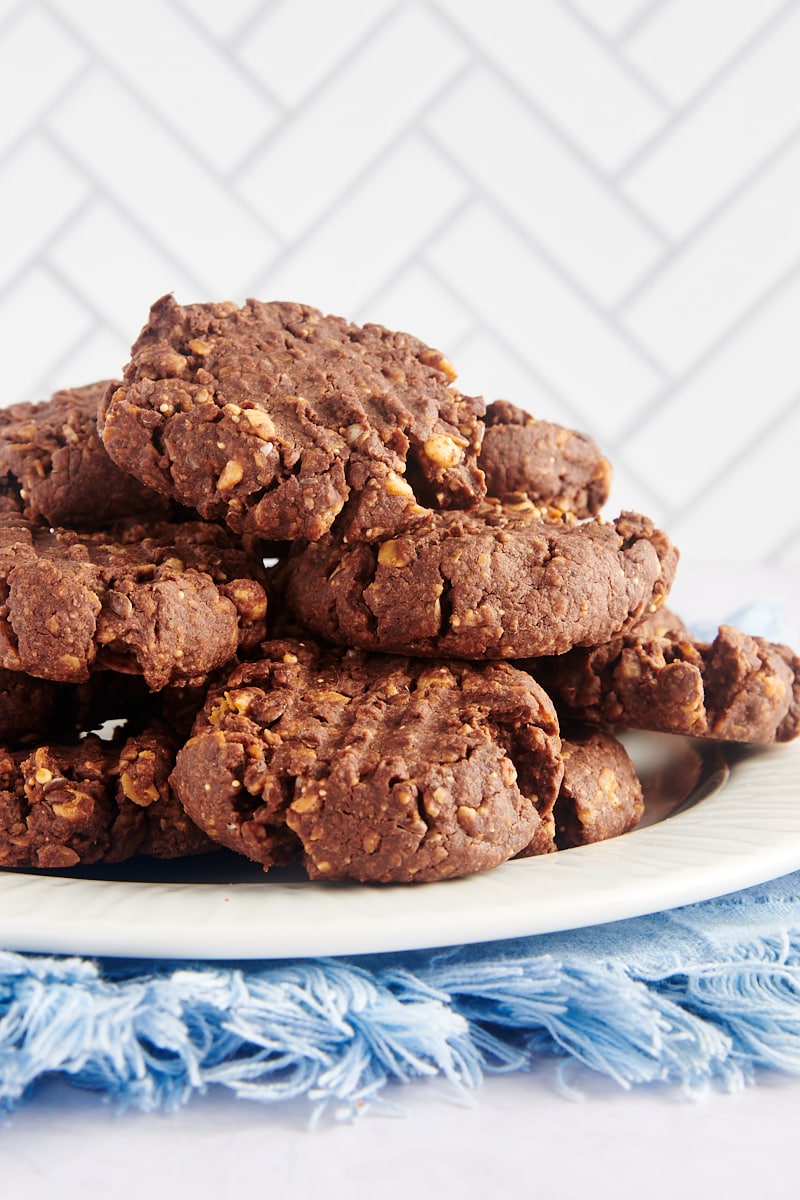 4-Ingredient Granola Cookies
It's a rare day that I don't start things off with a bowl of yogurt and granola. I have almost as many varieties of granola in my pantry as I do peanut butter—and both of these ingredients come in handy for these chocolate peanut butter granola cookies.
In fact, you only need four ingredients to make these cookies. That's right. Four. Peanut butter, granola, egg, salt. Seriously.
If there's a catch, it's that one of the ingredients is granola, which is, of course, a whole slew of ingredients in one handy package. Part of the granola is finely ground so that it acts like flour. The remainder is stirred into the dough to add a lovely texture to these granola cookies.
Not only are these granola cookies amazingly quick to make, they're also really, really good. They are soft and chewy like a good peanut butter cookie and a little crunchy, with just the right amount of sweetness to satisfy a craving. In other words, you get a big payoff for a small amount of effort.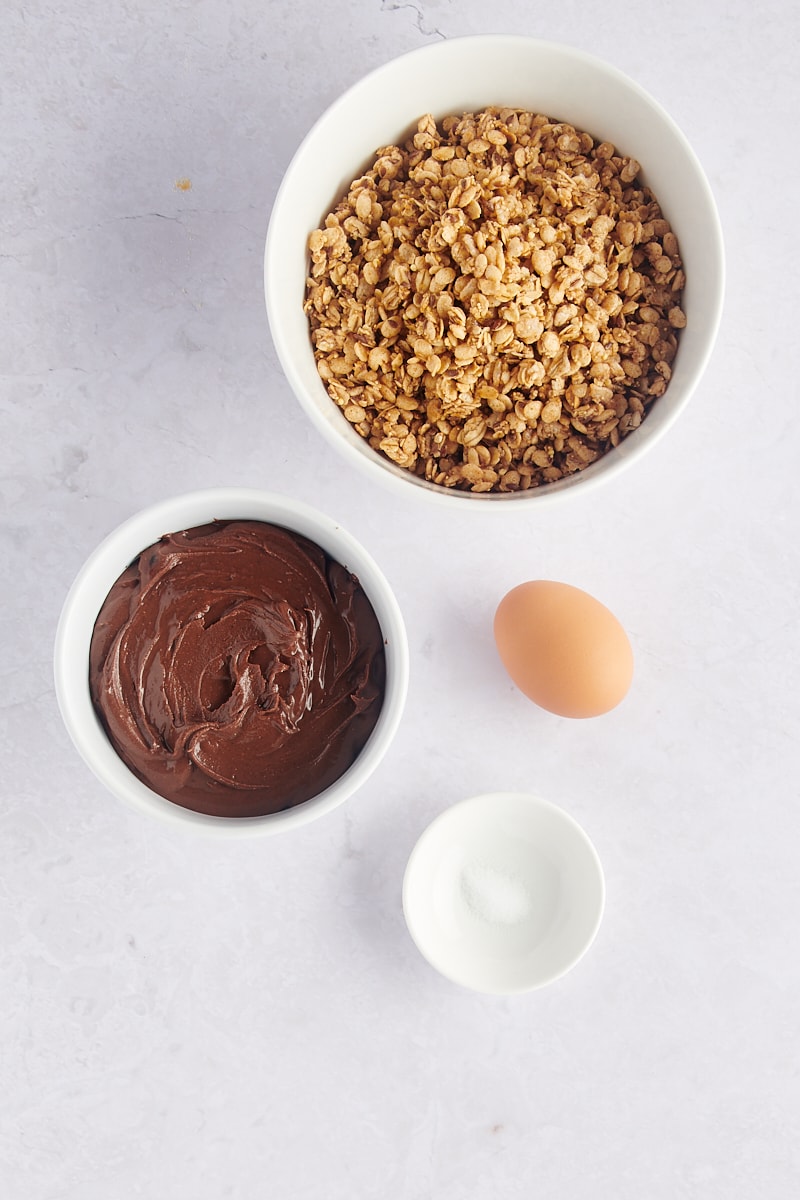 What You'll Need
Scroll down to the recipe card to find the ingredient quantities and recipe instructions.
Granola – If you'd like to make your own, I have a recipe for homemade granola here on Bake or Break.
Chocolate peanut butter or regular peanut butter – I like to use Peanut Butter & Co.'s Dark Chocolate Dreams for the peanut butter, but a regular peanut butter works quite well, too.
Egg
Salt
What Is the Best Granola to Use for This Recipe?
Most any kind of granola will work. Just choose one that you think will go well with chocolate and peanut butter. I've used a few different kinds making these cookies, including a chocolate and coconut variety and a honey almond granola. Changing the granola is a fun way to alter the flavor profile of these cookies.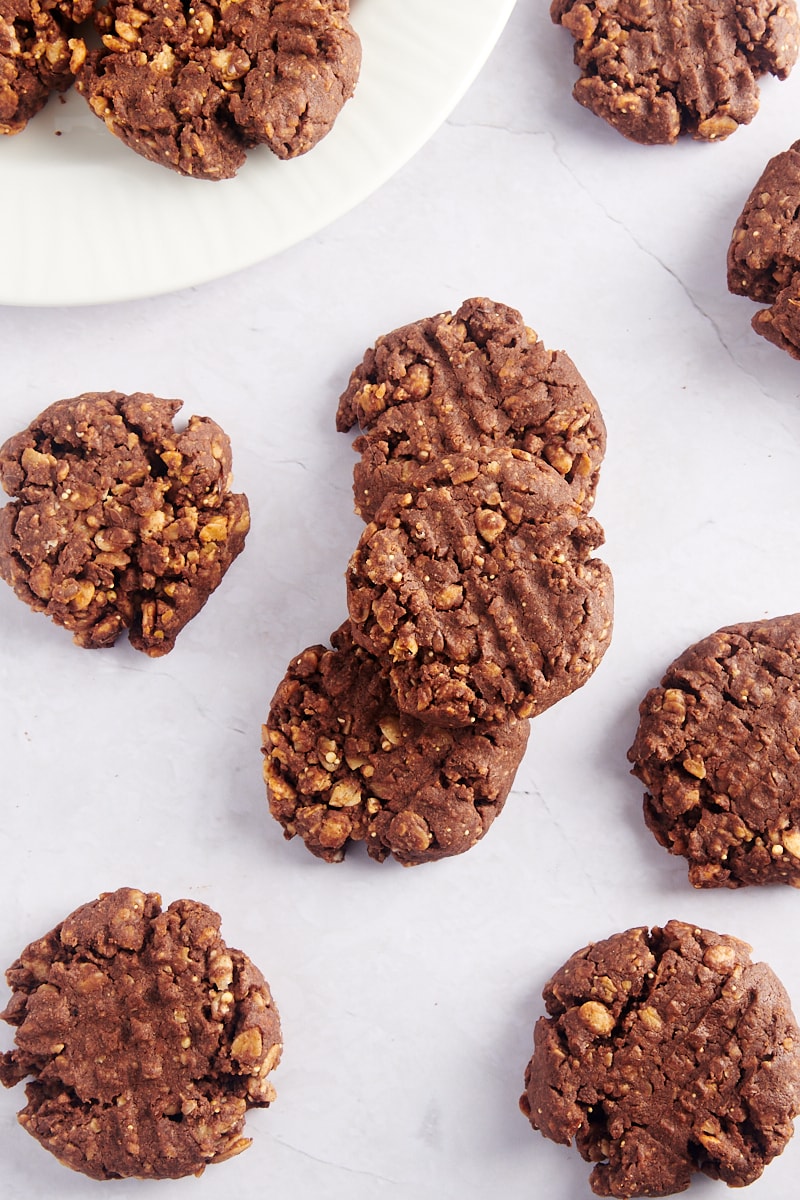 How to Make Chocolate Peanut Butter Granola Cookies
Once you've gathered up the four simple ingredients you need for this recipe, you're ready to go! Here's what you'll need to do.
Prepare. Preheat your oven to 350°F and line baking sheets with parchment paper or silicone liners.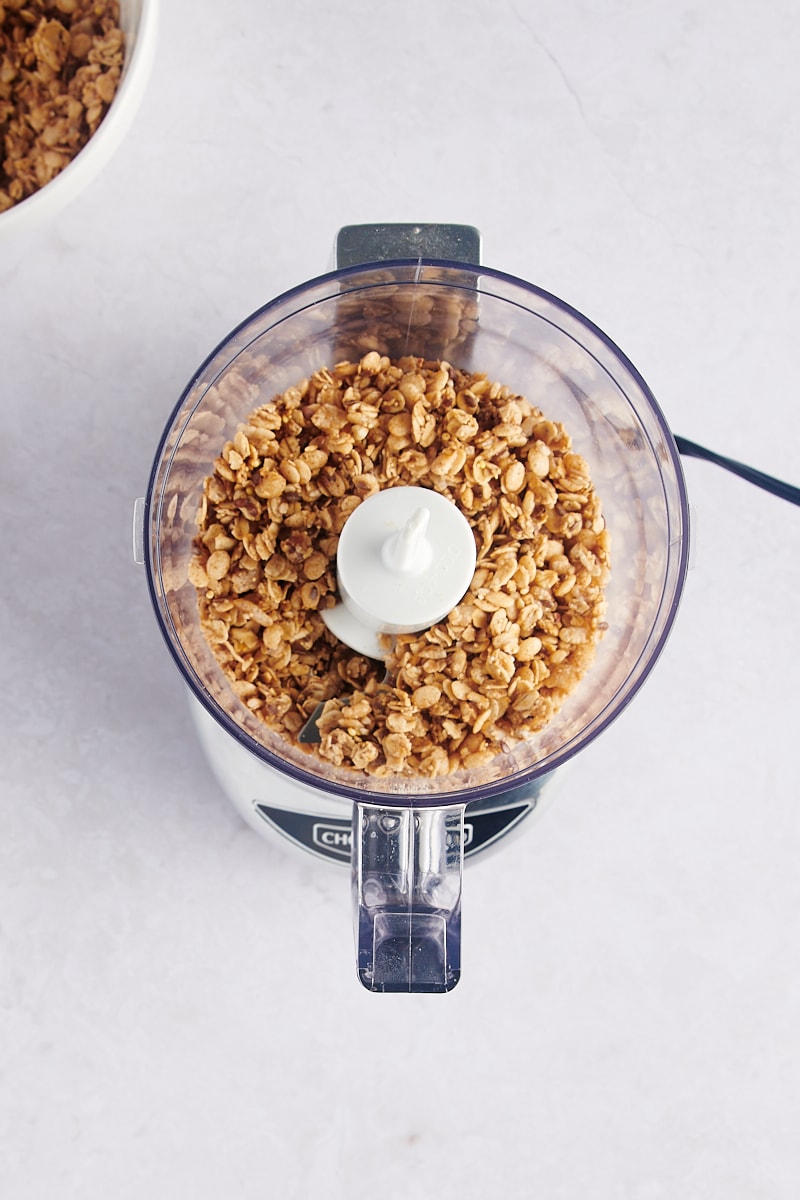 Divide the granola. Separate the granola into two 1-cup portions. If the granola has dried fruit in it, pick the fruit out of one of the portions and add it to the other portion.
Make the granola "flour." Place the granola without fruit into the bowl of a food processor. Pulse until it's finely ground.
Make the dough. Transfer the ground granola to a mixing bowl with the peanut butter, egg, and salt. Use an electric mixer on medium speed to beat the ingredients until they're smooth. Fold in the remaining granola.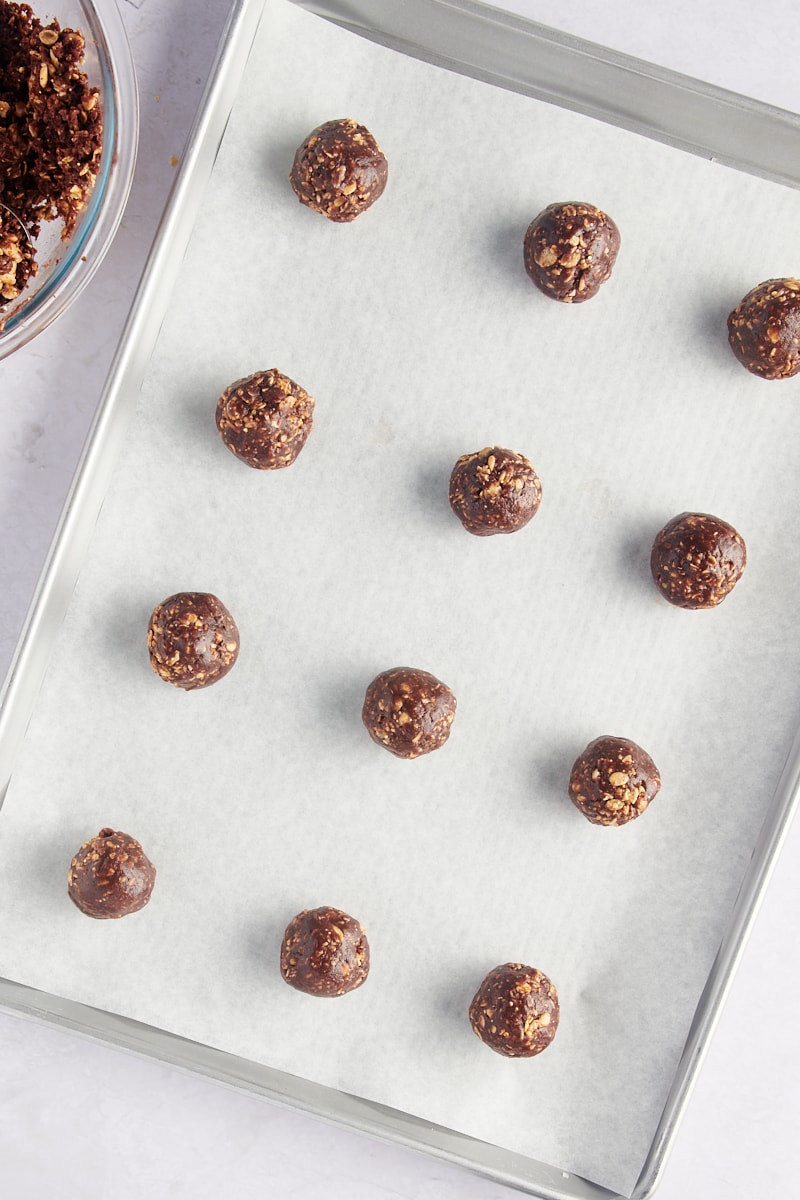 Form the cookies. Using two tablespoons of dough at a time, squeeze the dough together and roll it into balls. Set the dough balls on the prepared baking sheets, then flatten them with a fork until they're about 2 inches in diameter.
Bake. One pan at a time, bake the granola cookies for 15 to 18 minutes, or until they're set and lightly browned around the edges.
Cool. Let the cookies cool completely on the pans on wire racks. (Learn more: Why Every Baker Needs Wire Cooling Racks)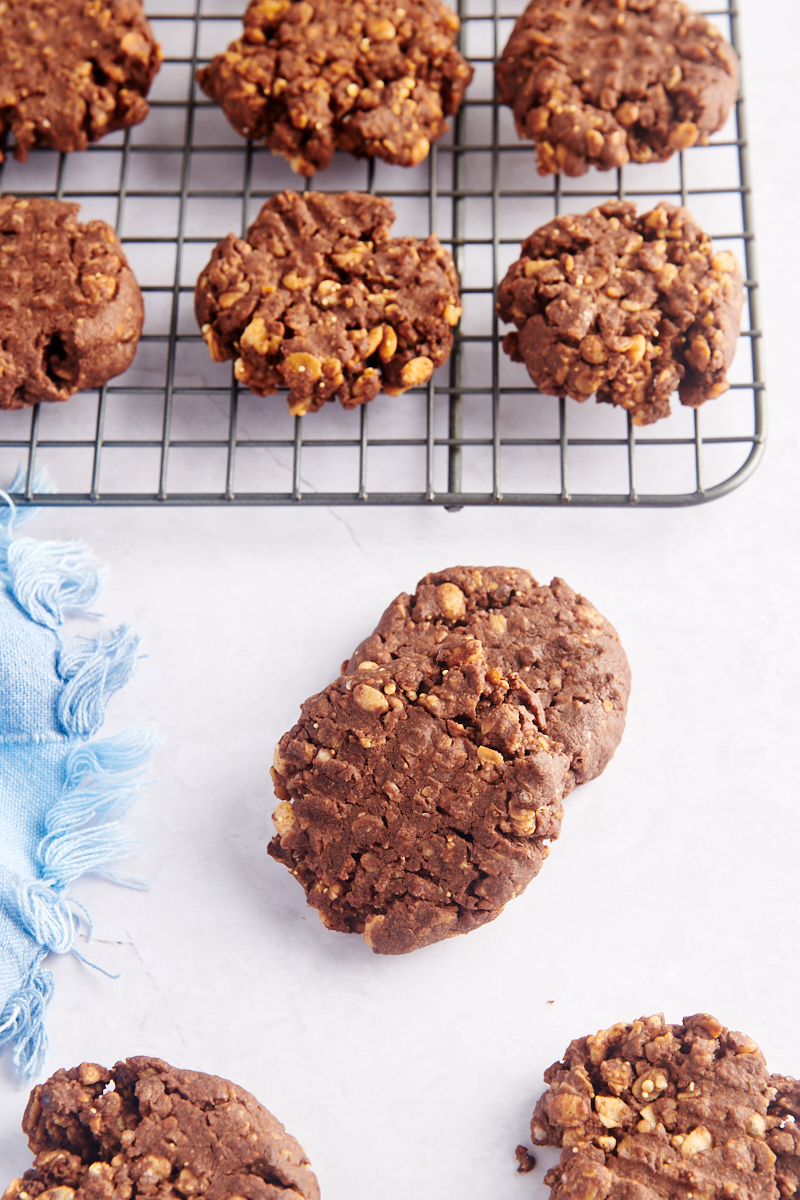 Tips for Success
Read over my tips for beginning bakers, then follow these additional pointers for perfect granola cookies:
Don't use natural peanut butter. You'll need the kind of peanut butter that doesn't have to be stirred before you use it. Natural peanut butter performs inconsistently in baking recipes, so it's best to reserve it for toast and sandwiches.
Bake in batches. If you don't have enough baking sheets to accommodate all of the dough, make sure your baking sheet cools before starting the next batch. Setting dough on a hot pan can result in cookies that spread or that are burnt on the bottoms.
Let the granola cookies cool completely before storage. They're prone to breaking if you transfer them too soon.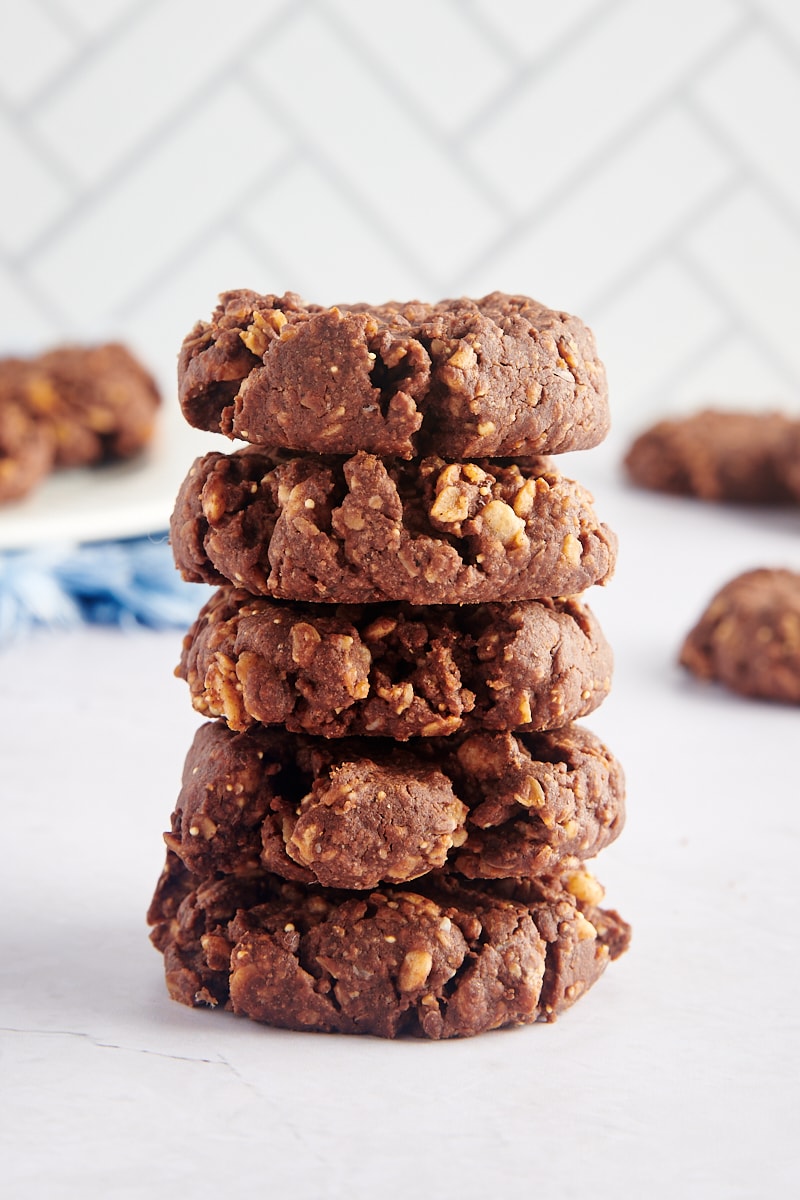 Variations
These easy granola cookies are delicious as they are, but you can vary the recipe to suit your tastes. Here are a few ideas:
Substitute almond butter, cashew butter, or sunflower seed butter for the peanut butter.
Add some mini chocolate chips in with the second cup of granola; just make sure that the volume of the granola and chocolate chips still equals one cup.
Sprinkle flaky sea salt on top of the cookies before you bake them.
How to Store
Granola cookies will keep in an airtight container at room temperature for up to one week.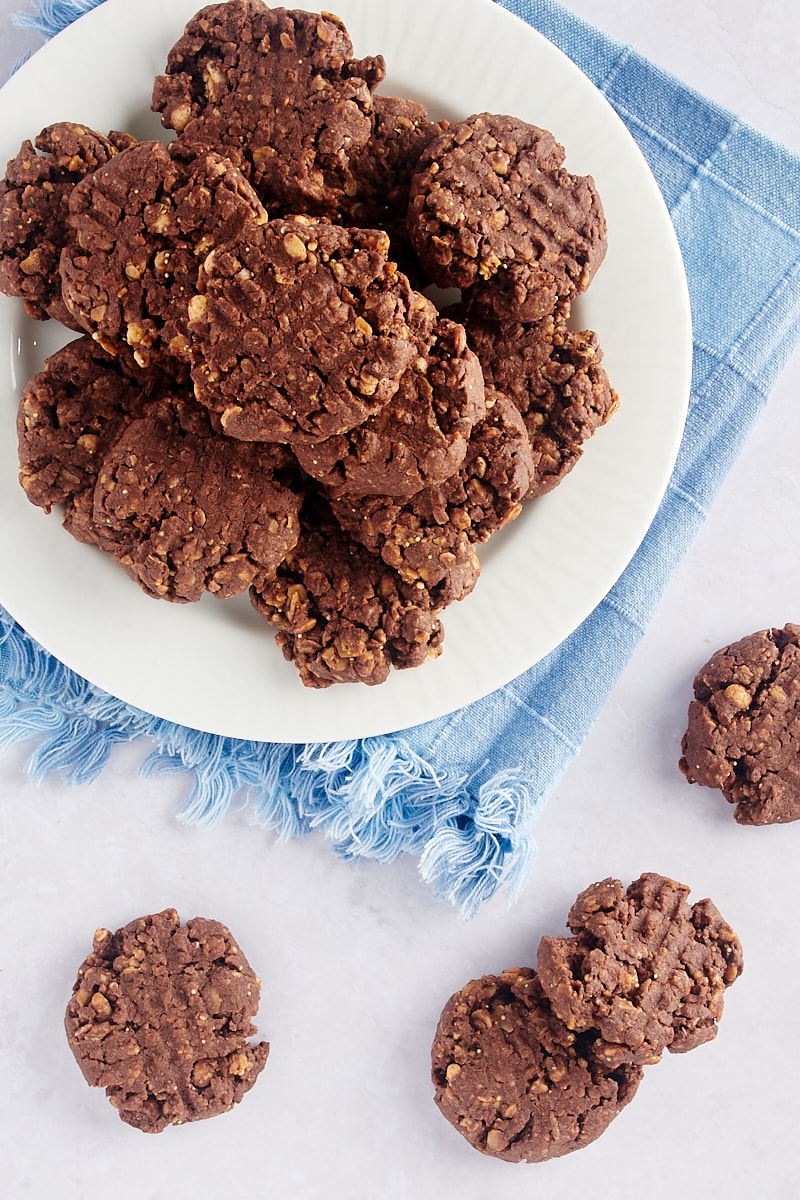 Can This Recipe Be Frozen?
Yes, these granola cookies can be frozen. Place them in an airtight container and freeze for up to 3 months. Thaw the cookies at room temperature before serving.
More Recipes for Granola Lovers