Fragrant toasted coconut makes this Coconut Buttermilk Pound Cake a winning twist on a classic dessert! It's dense and moist, with a tangy buttermilk glaze as the perfect finishing touch.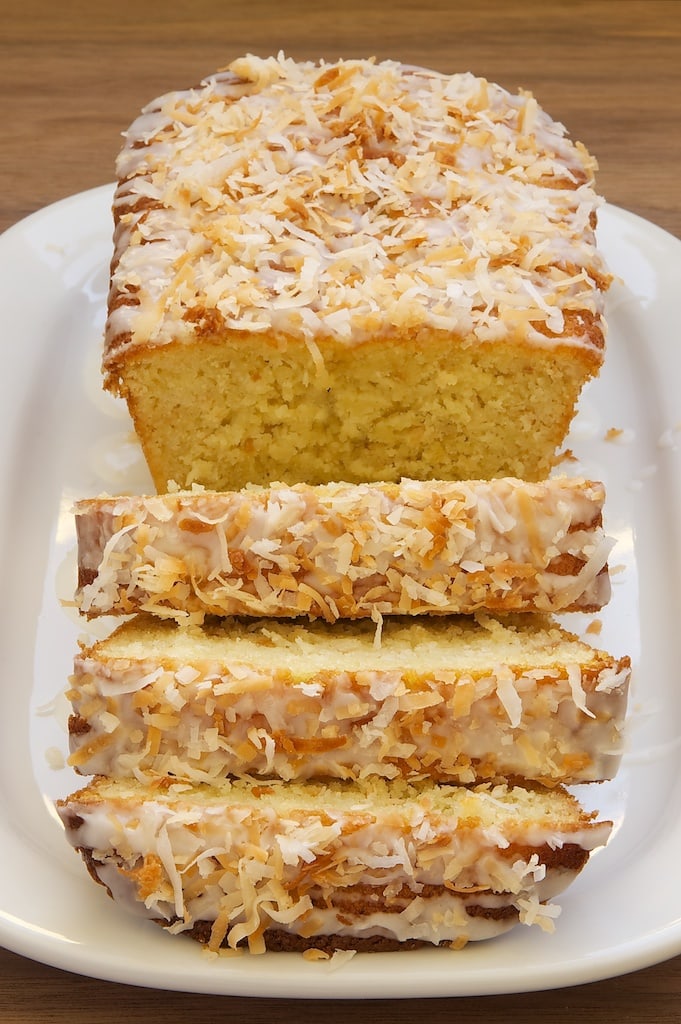 Buttermilk Pound Cake With Coconut
Pound cake is always a treat—it's made with plenty of butter, eggs, and sugar, so how could it not be? But when you add buttermilk and coconut to the mix, you end up with something even better! The buttermilk gives the pound cake a hint of tanginess and a tender crumb, while the toasted coconut delivers that signature tropical flavor. So good!
The pound cake itself is fairly simple. It's essentially a pound cake with toasted coconut mixed into the batter—over a cup of coconut in the batter and another 1/4 cup to garnish, so this is definitely the cake to make for coconut lovers! But the other thing that makes this pound cake special is the buttermilk glaze. While only made with two ingredients, the glaze is thick, rich, and tangy, with a more complex flavor than a glaze made with water or milk and confectioners' sugar.
What You'll Need
While you can make your own buttermilk by combining an acid and milk, it's hard to make 2 tablespoons' worth, which is what's needed for the glaze. For this reason, I recommend buying a bottle of buttermilk for this recipe.
For the cake:
Sweetened shredded coconut
All-purpose flour – Measure by weight for best results. Otherwise, use the spoon and sweep method to help avoid over-measuring.
Baking powder
Baking soda
Salt
Unsalted butter – The butter needs to be softened, so let it sit on the countertop for about half an hour before you start baking.
Granulated sugar
Eggs – The eggs should be room temperature for best results.
Vanilla extract
Buttermilk – Let the buttermilk sit on the counter with the butter and eggs so it warms up a bit.
For the glaze:
Confectioners' sugar – This is also known as powdered sugar.
Buttermilk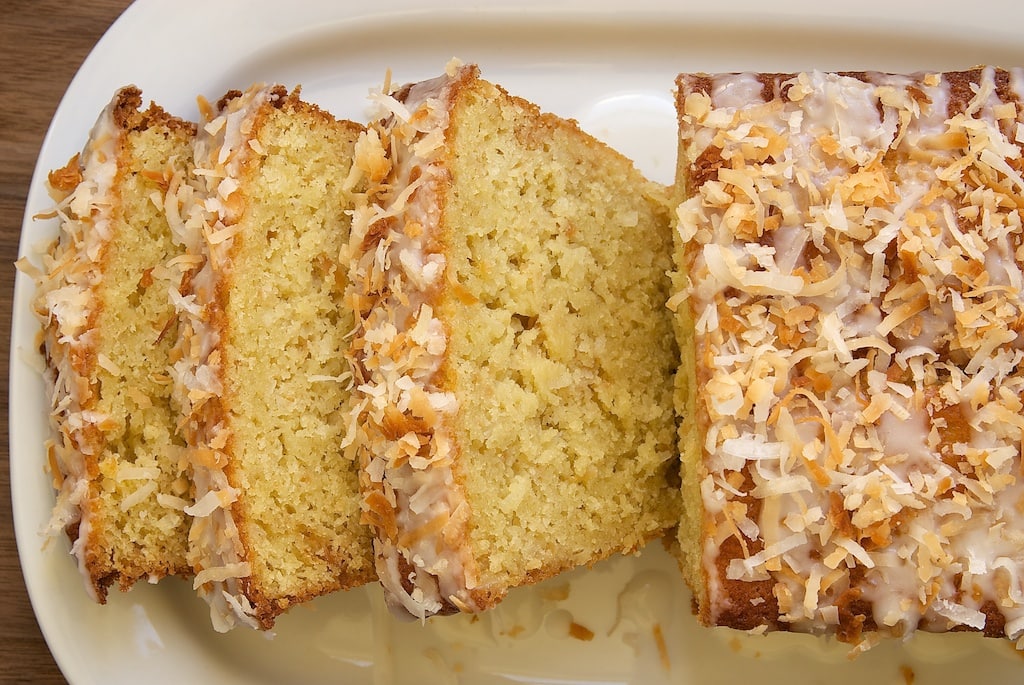 How to Make Coconut Buttermilk Pound Cake
If you've made a traditional pound cake before, this recipe is very similar in terms of process! Here's what you'll need to do.
To make the cake:
Prepare. Preheat your oven to 350°F and grease a 9″x 5″ loaf pan with butter or non-stick cooking spray. Make sure your pan is the correct size, as this batter fills the pan quite full as it bakes.
Toast the coconut. Line a small sheet pan with aluminum foil or parchment paper, then spread the coconut in an even layer on the pan. Toast in the oven for 6 to 8 minutes, stirring a few times to prevent the coconut from burning. Set aside 1/4 cup of the coconut; this will be used for the topping. Alternatively, you can toast the coconut on the stovetop in a skillet. (Learn more: How to Toast Coconut)
Mix the dry ingredients. In a large mixing bowl, whisk the flour, baking powder, baking soda, and salt.
Mix the butter, sugar, eggs, and vanilla. In another mixing bowl, use an electric mixer on medium speed to beat the butter and sugar until they're light and fluffy. Beat in the eggs one at a time, followed by the vanilla.
Combine the wet and dry ingredients. Reduce the mixer speed to low and add the flour in three portions, alternating with two portions of the buttermilk. Beat just until combined, then fold in the toasted coconut.
Bake. Transfer the batter to the loaf pan and use a spatula to spread it evenly. Bake for about an hour, or until a toothpick inserted into the center comes out mostly clean, with just a few moist crumbs.
Cool. Let the pound cake cool in the pan on a wire rack for an hour, then carefully remove the cake from the pan and allow it to finish cooling on the rack. (Learn more: Why Every Baker Needs Wire Cooling Racks)
To make the glaze and finish:
Make the glaze. Whisk the confectioners' sugar and buttermilk in a medium bowl until the mixture is smooth.
Finish the cake. Drizzle the glaze over the cooled cake, then sprinkle with the reserved toasted coconut while the glaze is still wet.
Tips for Success
While this recipe is simple, here are some tips that can help ensure that it's a success.
Mind your butter. Butter is such an integral ingredient in pound cake, so make sure you buy a high-quality butter. Then, ensure that it's softened before you start the recipe. Don't rush it! Soft butter and room temperature eggs and dairy are important for baking cakes and breads. (Learn more: How to Soften Butter)
Sift the confectioners' sugar. It's an extra step, but it helps ensure that you don't have lumps of sugar in your glaze.
Serving suggestions. I love serving this with a dollop of sweetened whipped cream, but if you want to fancy things up and make an epic dessert, serve it with roasted or grilled pineapple and a scoop of vanilla ice cream.
How to Store
Store this Coconut Buttermilk Pound Cake by wrapping it well or by placing it in an airtight storage container. It will keep for 3 to 4 days at room temperature, or up to a week in the refrigerator.
Can This Recipe Be Frozen?
You can wrap the pound cake, place it in a freezer bag, or transfer it to an airtight storage container and freeze it for up to 3 months. Let it thaw at room temperature before serving.
More Coconut Cake Recipes