January 29, 2015
My Favorite Homemade Granola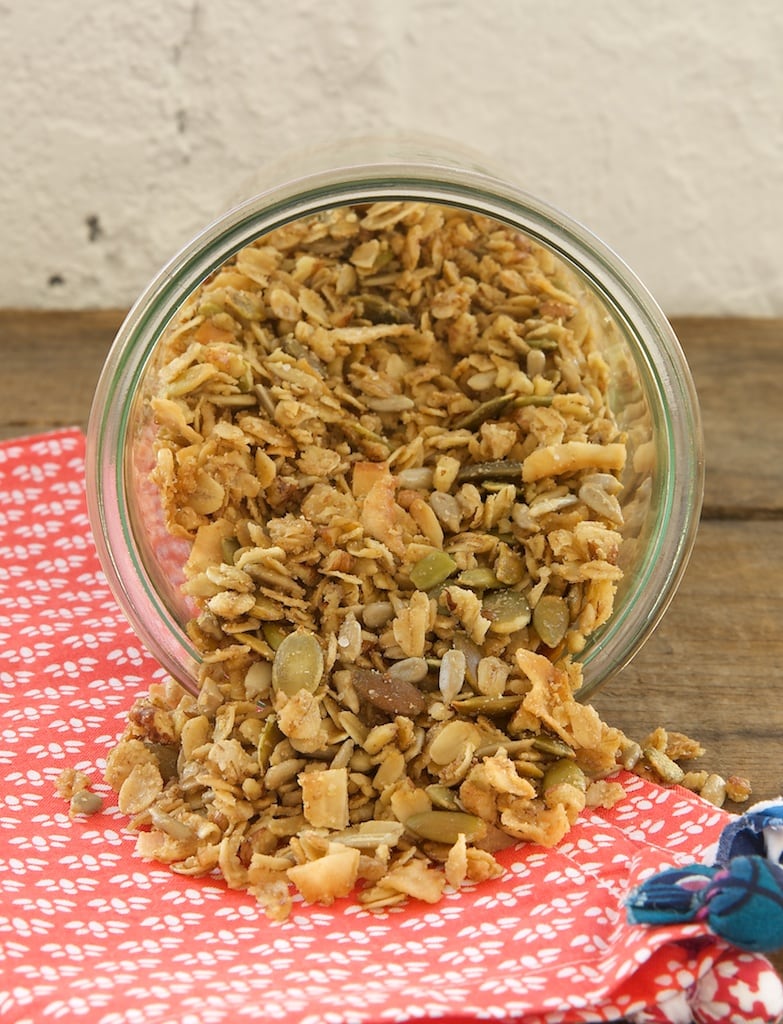 After I shared that Granola Banana Bread earlier this week, I received several requests for the recipe for my favorite granola that I used in that bread. This delicious granola is full of oats, seeds, nuts, and coconut, and sweetened with brown sugar and maple syrup.
A couple of years ago, I was on the hunt for a good granola to add to my morning yogurt habit. I was looking for a nutty granola with great flavor. As much as I like using dried fruits in baking, I really don't like them in granola. I wanted my granola to focus more on oats and nuts, and be sweet and crunchy.
I tried several varieties, but I knew I'd found *the* granola when I opened up a bag of Early Bird Farmhand's Choice that I found at one of our neighborhood markets. That became my go-to granola, but I often found that my market would run out right when I needed more. So, I took to the internet to see if I could find a way to make my own.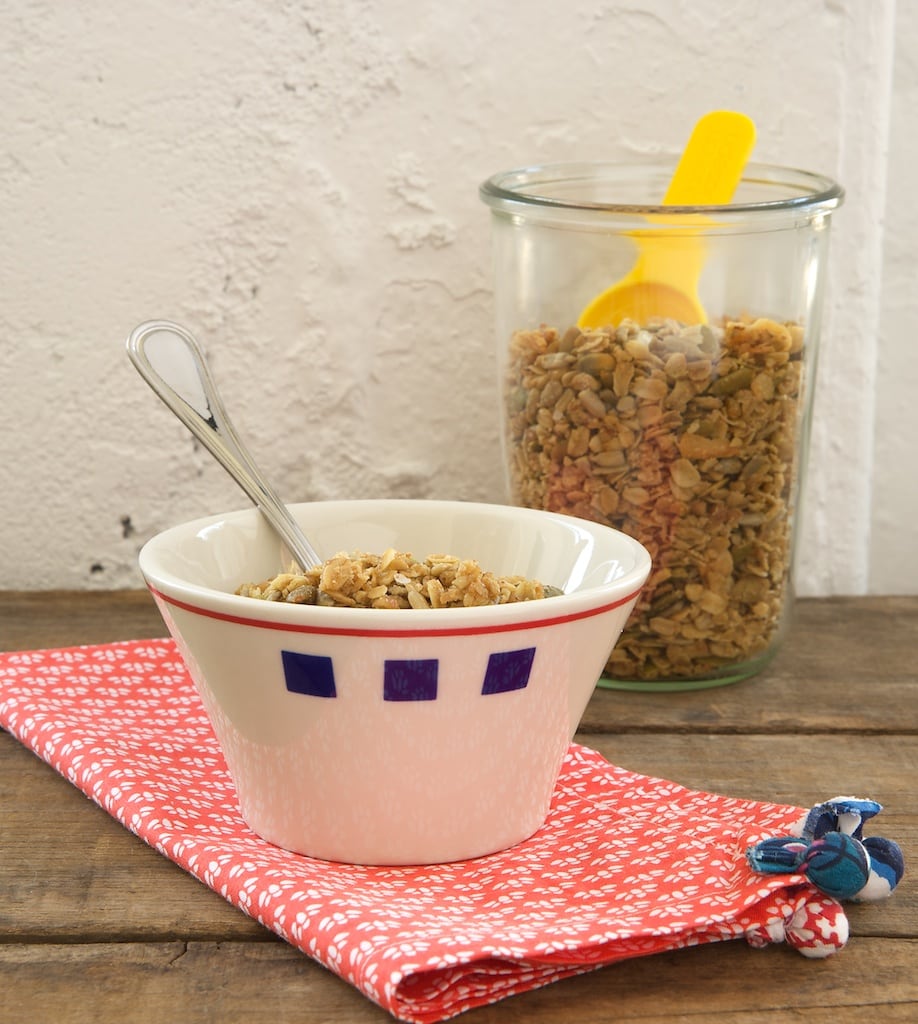 As luck would have it, I found that Early Bird had shared their recipe with Martha Stewart. That was a happy day, let me tell you. I make my granola pretty much exactly according to this recipe. I might add more nuts or coconut, depending on whatever my current whim is. I do occasionally set aside some of the mixture and mix in some of Quinn's favorite additions like dried cherries and currants. Then, because his dislike of coconut is epic, I mix in the coconut to my part of the batch.
This recipe makes a big batch, but it will keep for about a month in a tightly sealed container. I usually make a full recipe because I eat it pretty much every morning. If you're trying it out for the first time or trying some variations, you may want to start with a half or quarter batch.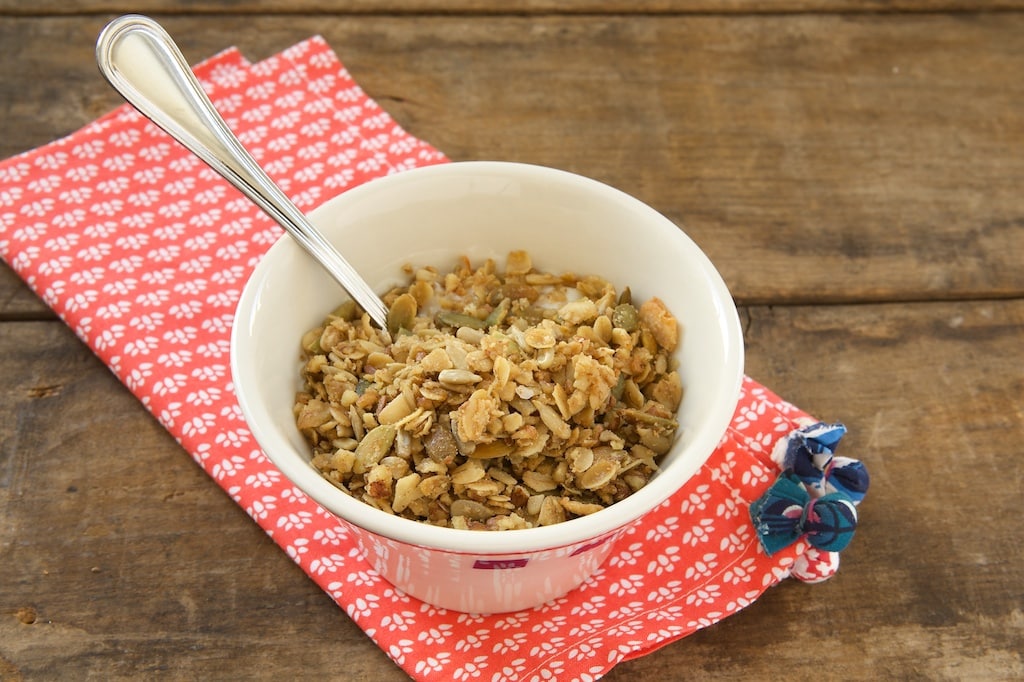 Don't just limit your granola enjoyment to yogurt and snacking. Granola is a great addition to your baking. Along with that Granola Banana Bread, don't forget Yogurt and Granola Muffins and Granola Cookies!
My Favorite Homemade Granola
Yield: about 7 & 1/2 cups
Prep Time:10 minutes
Cook Time:45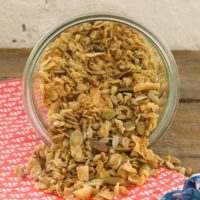 Ingredients:
3 cups old-fashioned rolled oats
1 & 1/2 cups chopped raw pecans
1 cup hulled raw pumpkin seeds
1 cup hulled raw sunflower seeds
1 cup unsweetened coconut chips
1 teaspoon coarse salt, plus more for finishing
3/4 cup maple syrup
1/2 cup extra-virgin olive oil
1/2 cup packed light brown sugar
Directions:
Preheat oven to 300°. Line a rimmed baking sheet with aluminum foil or parchment paper.
Stir together oats, pecans, pumpkin seeds, sunflower seeds, coconut chips, and 1 teaspoon salt. Add maple syrup, olive oil, and brown sugar, and stir until thoroughly combined.
Spread mixture evenly in prepared pan. Bake about 45 minutes or until toasted, stirring about every 10 minutes.
Remove pan from oven. Sprinkle the granola with salt to taste. Cool completely before transferring to an airtight container, where it can be stored for up to a month.