Juicy, sweet cherries and almonds make a perfect duo in this rustic cherry almond sheet cake. It's the kind of simple summer dessert that will quickly become an annual tradition!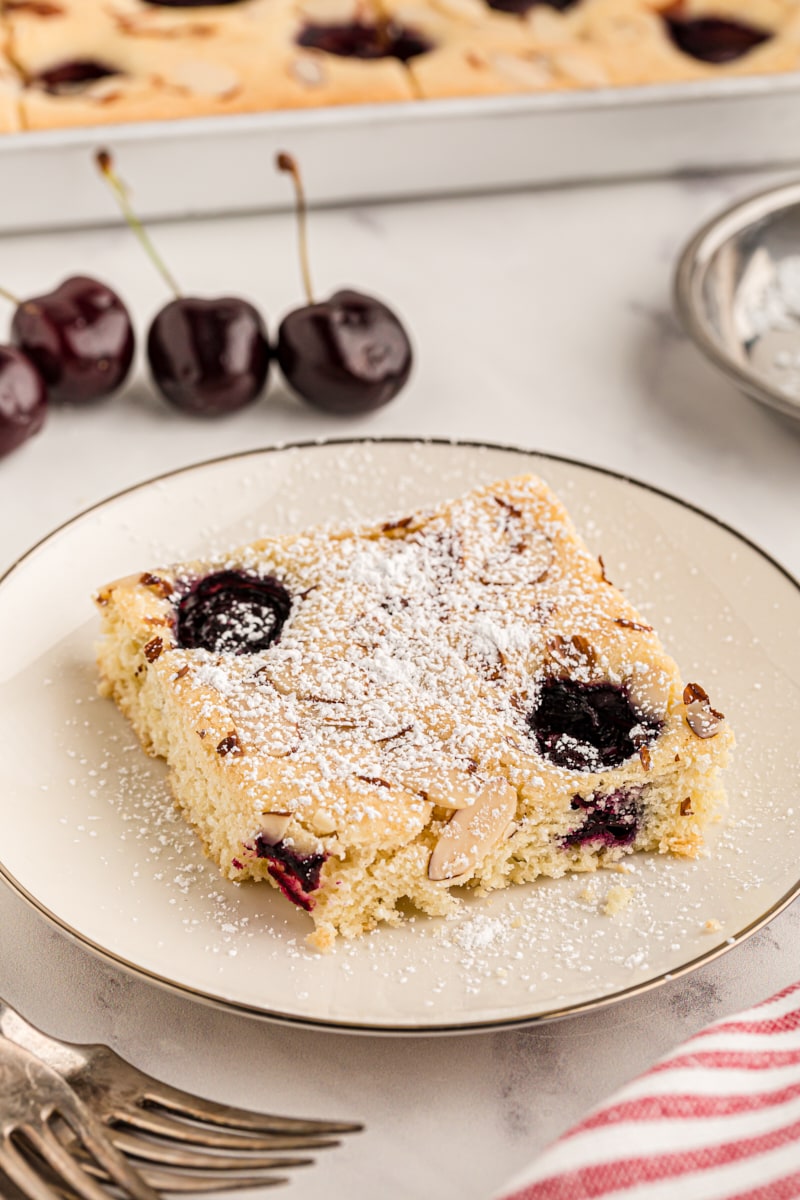 Easy Cherry Cake With Almonds
I spotted some gorgeous cherries at our neighborhood market and just couldn't resist. I had bookmarked a few cherry recipes at the beginning of the summer in anticipation of fresh cherries. So, I rifled through my saved recipes and decided to bake this simple cake.
Because I like to put my own spin on the recipes I find, I added some sliced almonds; they make such a fantastic pairing with cherries, as you can see in my cherry almond blondies, cherry-almond crumble, and almond cherry cake. You can toast the almonds a bit before you put them on the cake, but I let them just get a little toasty as the cake baked.
This is a nice, sturdy cake that's quite up to the task of holding up all those cherries—and there's no need to press the cherries into the batter, either. They will sink a bit and the cake will also rise around them. When all is said and done, you'll have a beautifully rustic cake sized perfectly for a big summer get-together!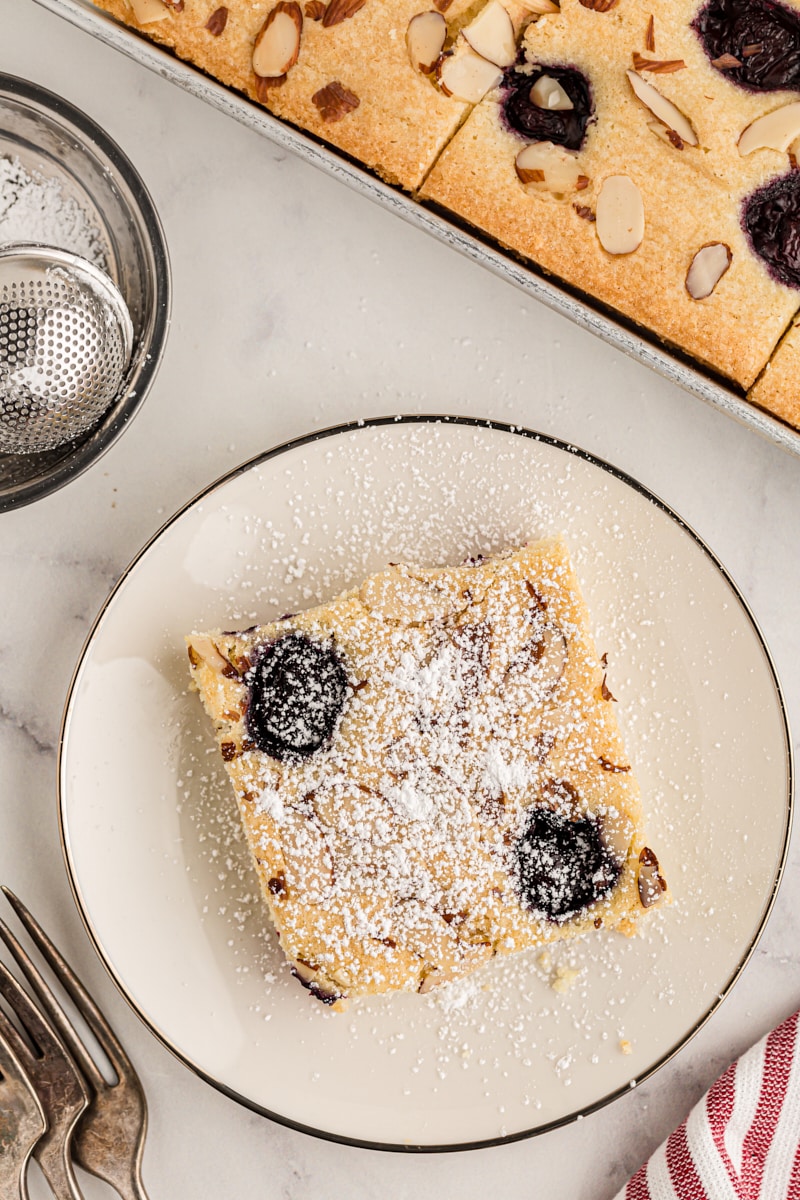 Why You'll Love This Cherry Almond Sheet Cake Recipe
Here's what makes this cherry almond sheet cake so special:
Everyday ingredients. This is a cake made with simple ingredients, and if you bake often, you likely already have most of them in your kitchen.
A study in subtlety. It's thin and a bit delicate, and it's full of lovely flavors that aren't too bold. This is not a cake that will overwhelm you.
Summer perfection. This cake is an excellent choice for summer gatherings or just as a sweet snack on a hot day. The juicy cherries make you wish summer lasted just a little bit longer.
Minimal fuss. No layers, no fancy techniques—this cherry almond sheet cake is your basic, everyday kind of cake recipe. Plus, unlike so many other sheet cake recipes, there's no frosting here, which saves you a step.
Is a Sheet Cake the Same as a Regular Cake?
Sheet cakes are no different from regular cakes except in shape and size—they're baked in a sheet pan, which means they're much thinner than your typical cake, and they're also much bigger. They're great for serving a crowd after a big potluck meal.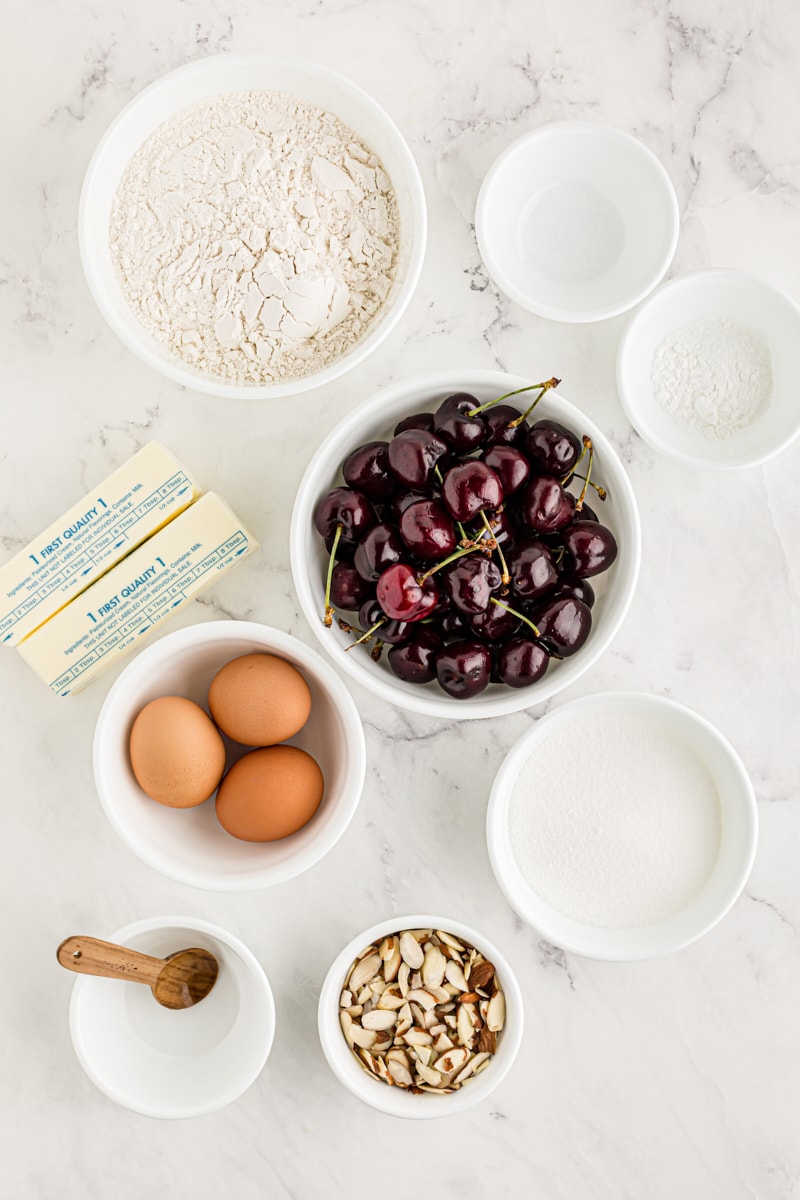 What You'll Need
Scroll down to the recipe card to find the ingredient quantities and recipe instructions.
All-purpose flour – Here's how to measure flour for baking.
Baking powder
Salt
Unsalted butter – Learn more: Unsalted or Salted Butter: Which is Better for Baking?
Granulated sugar
Eggs – Let these come to room temperature before starting the recipe, along with the butter.
Almond extract – If you don't have almond extract on hand, vanilla extract works, too.
Cherries – Rinse and pit the cherries. If you don't have a cherry pitter, you can use a stainless steel straw or a chopstick to push the pits out.
Sliced almonds – Blanched, slivered almonds are another option here.
Confectioners' sugar – This is also labeled as powdered sugar.
Sweetened whipped cream – Store-bought or homemade whipped cream.
Why Does Almond Extract Taste Like Cherry?
Almond extract is made from bitter almonds, which gives it a very distinct—and not at all nutty—flavor. Interestingly, the compound that gives almond extract its sweet, fruity aroma is also present in cherries, which is why almond extract is often described as tasting like cherry.
How to Make Cherry Almond Sheet Cake
This simple cherry sheet cake is ideal for making on a weekend afternoon. Here's what you'll need to do.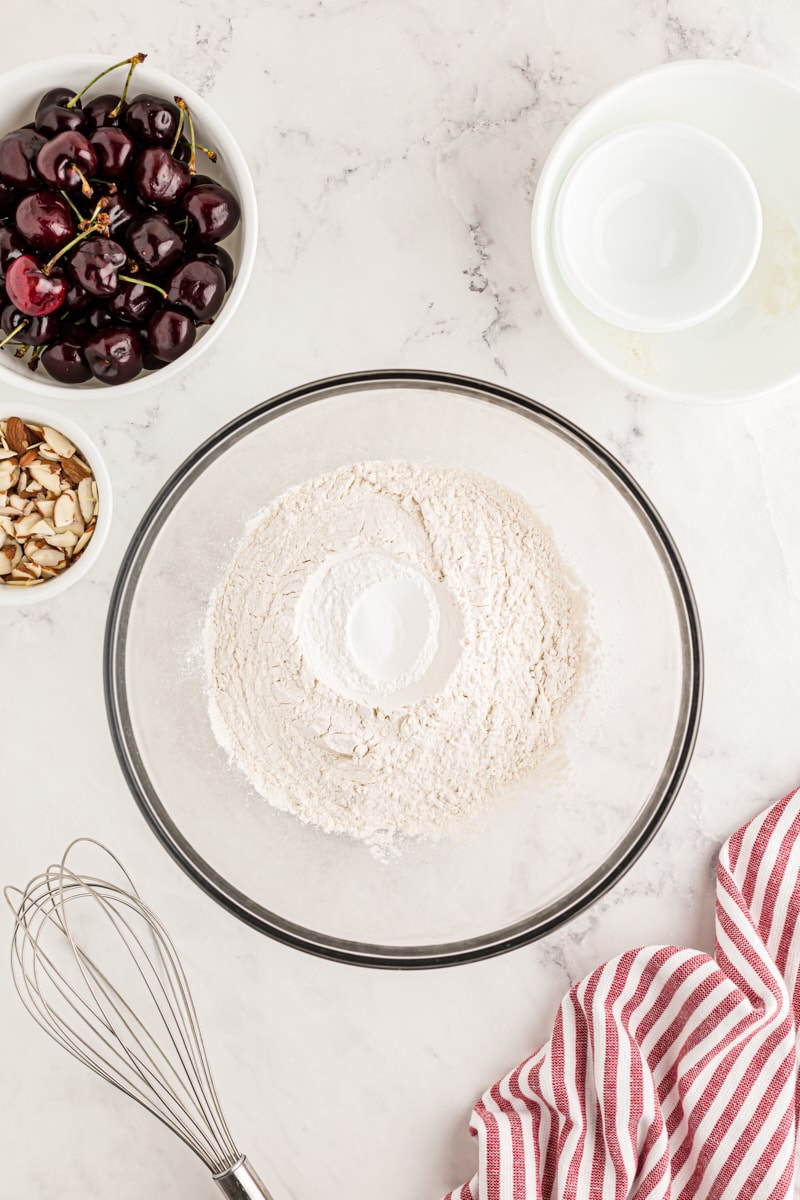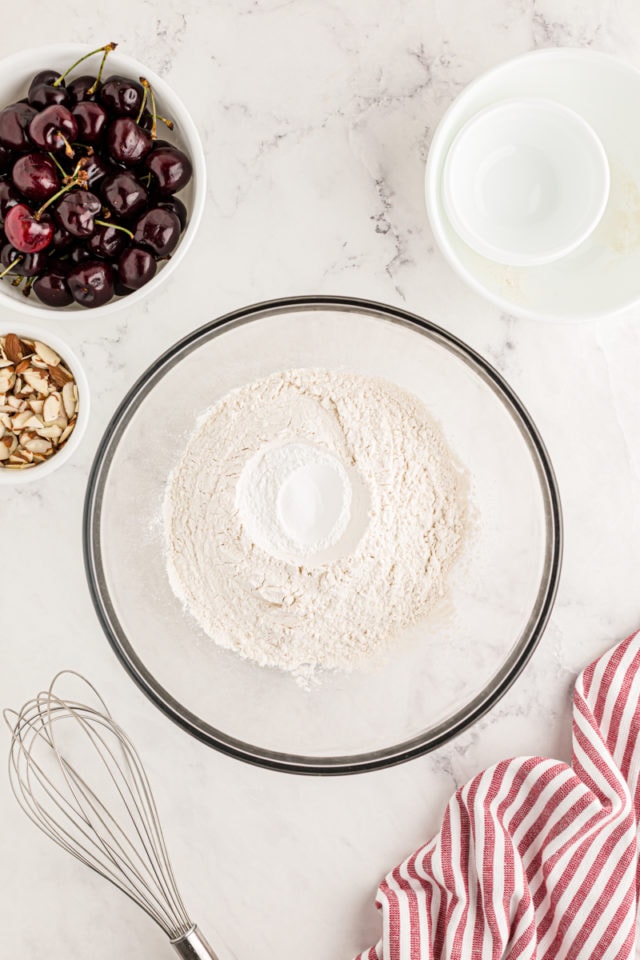 Prepare. Preheat your oven to 325°F and butter a 10″ x 15″ rimmed baking sheet. Line the bottom of the pan with parchment paper, then butter the paper.
Mix the dry ingredients. Whisk the flour, baking powder, and salt in a mixing bowl.
Mix the wet ingredients. Use an electric mixer on medium speed to beat the butter and sugar until they're light and fluffy. Beat in the eggs one at a time, followed by the almond extract.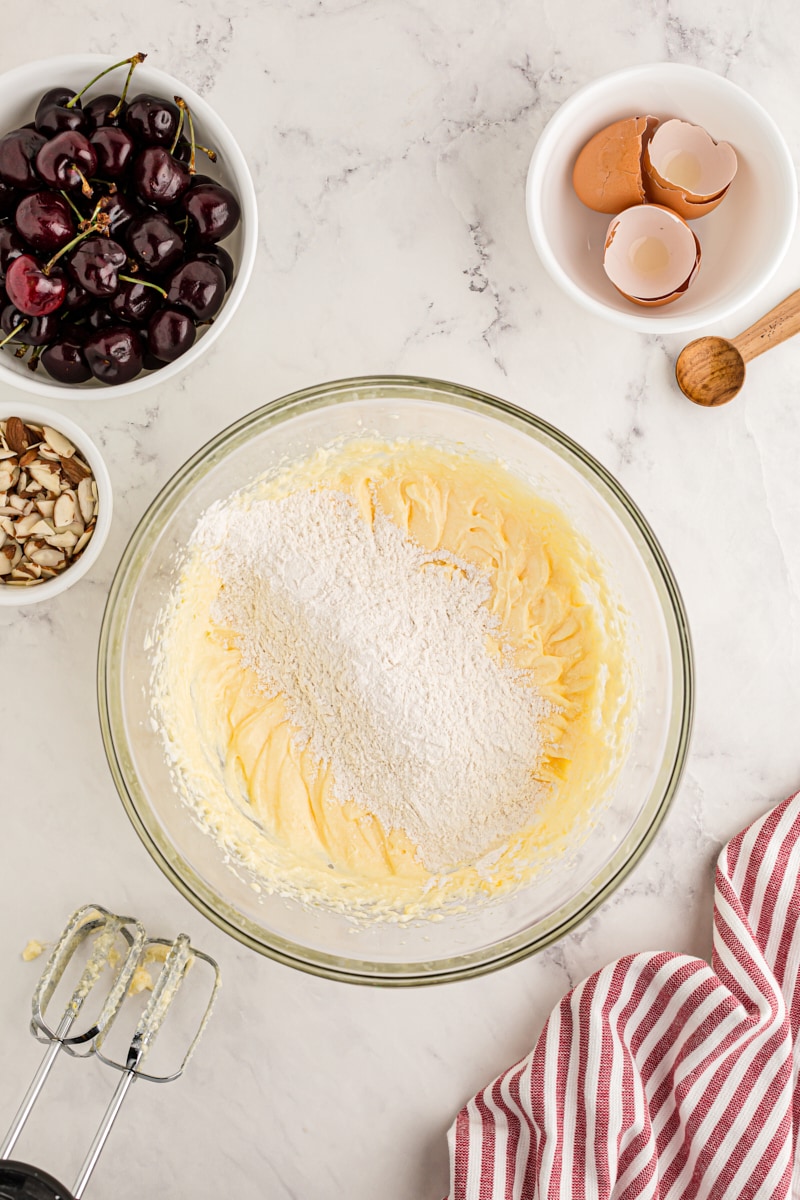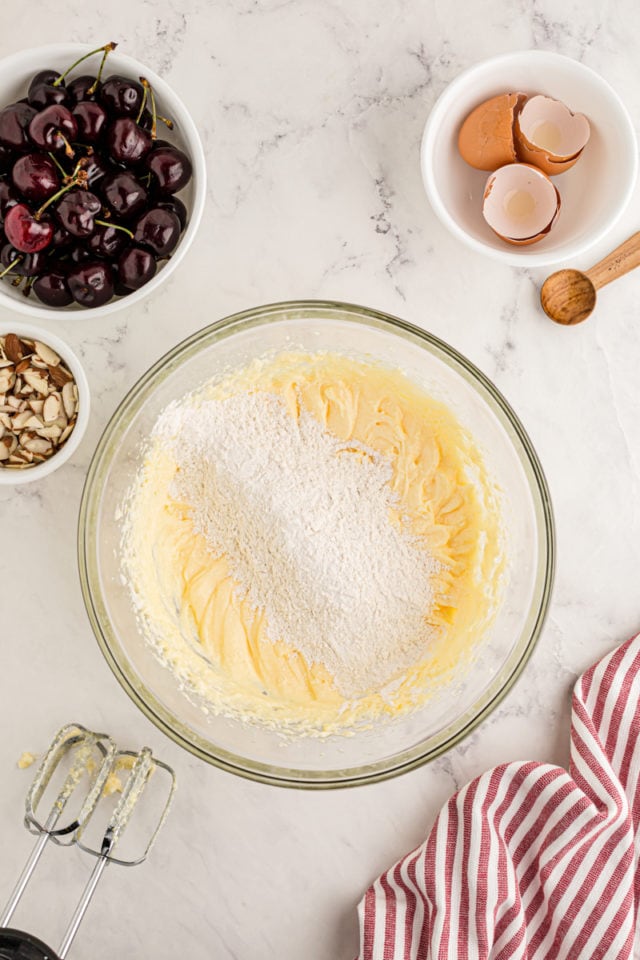 Combine wet and dry ingredients. Reduce the mixer speed to low and slowly beat in the flour mixture until just combined.
Assemble. Spread the batter evenly into the prepared pan, then scatter the cherries and almonds over the batter.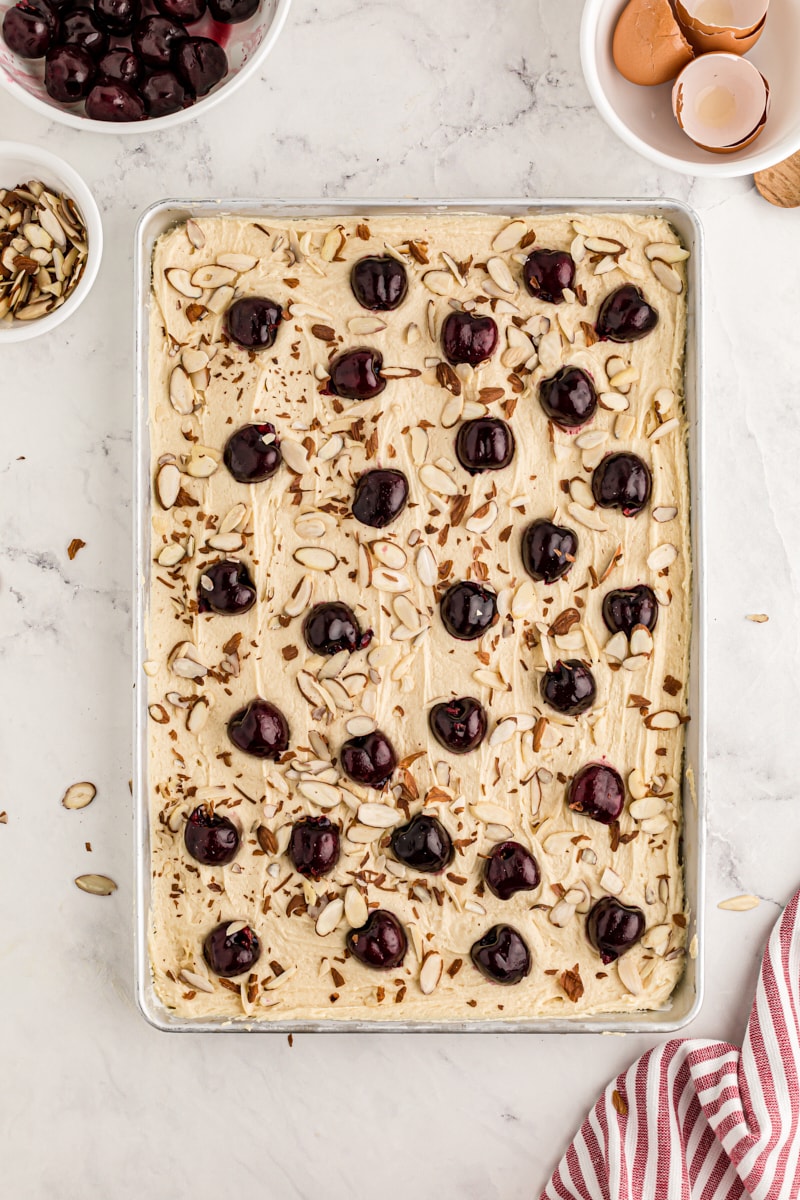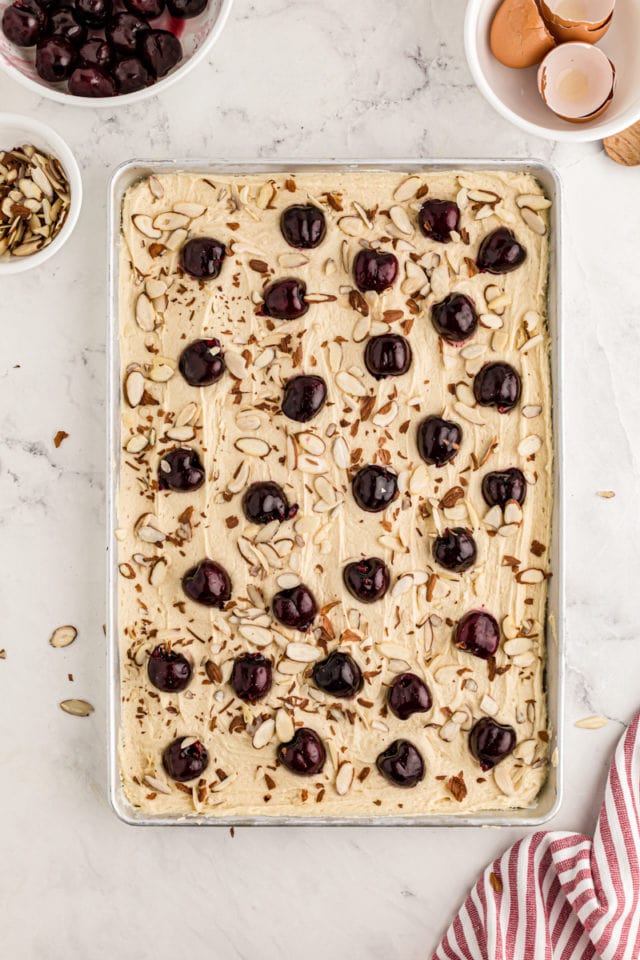 Bake. Place the pan in the oven and bake for 35 to 40 minutes, or until the cake is golden and a pick inserted into the center comes out clean.
Cool. Let the cake cool in the pan for 10 minutes, then carefully invert it onto a wire rack and remove the parchment paper. Invert it again onto another rack and cool completely before slicing.
Tips for Success
Read over my baking tips for beginners, then follow these additional tips for a perfect cherry almond sheet cake:
Use the right cherries. I recommend sweet cherries like Bing or Rainier, but if you prefer tart cherries, you can certainly substitute those. Want to use frozen cherries? Learn more here: Fresh vs Frozen Fruits in Baking
Make sure your butter is softened. If the butter is too cold, it won't blend evenly into the batter and your cake won't be as tender and fluffy.
Don't over-mix. Use a light touch when stirring in the flour to ensure a tender crumb.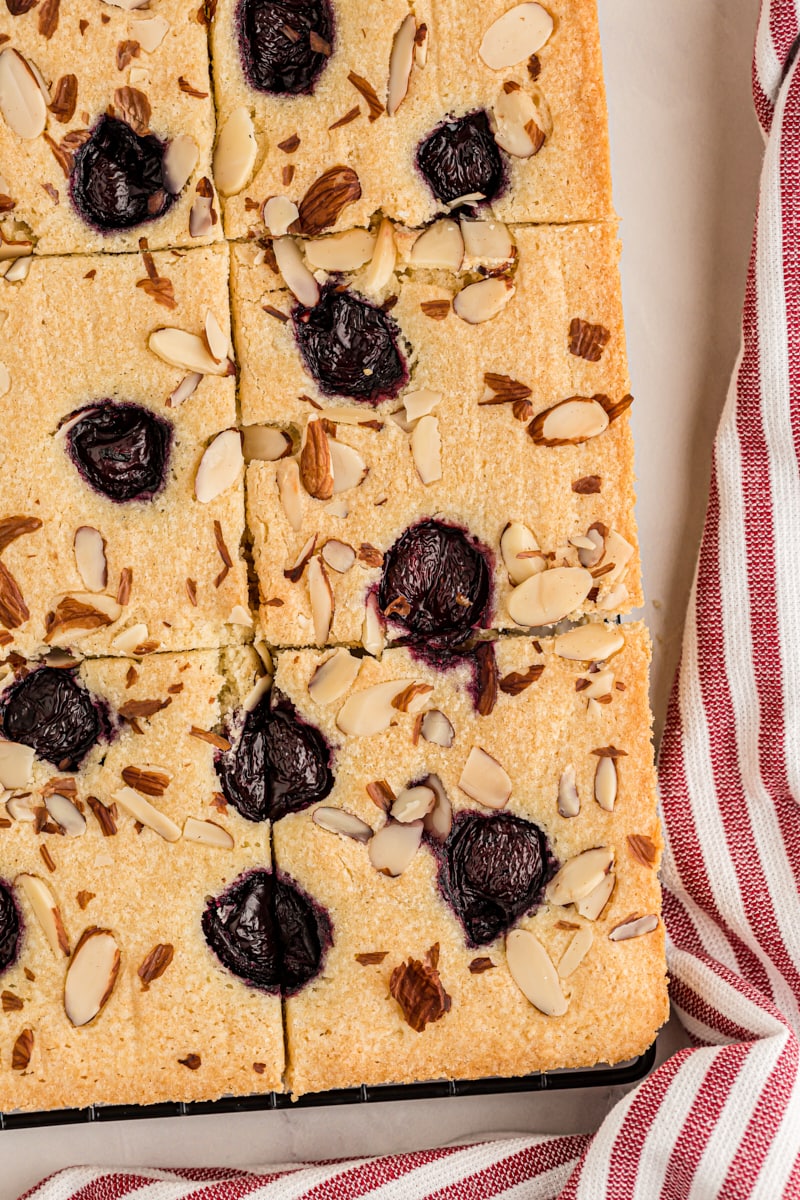 Variations
The brilliance of this recipe is that it's highly adaptable. You can use blueberries, blackberries, or raspberries instead of cherries; use half the amount of cherries and substitute the other half with slices of ripe peaches or nectarines, or play around with other combinations of summer fruits. As long as you keep the proportion of fruit to batter the same, you should have good results.
Serving Suggestions
I serve this cherry almond sheet cake with a dusting of confectioners' sugar, a dollop of whipped cream, or both. A cherry compote would also be lovely on top, especially with a scoop of vanilla ice cream.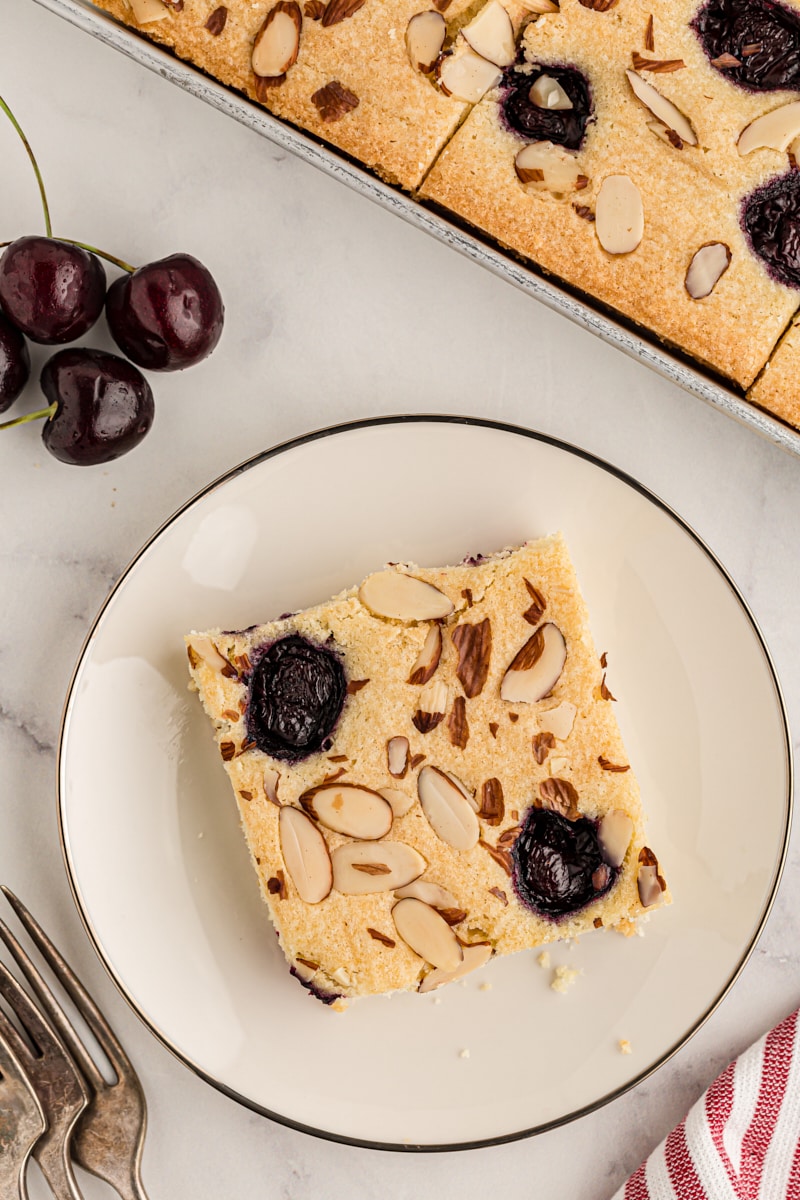 How to Store
If you're not serving your cherry almond sheet cake right away, wrap it tightly once it cools to keep it moist. Store leftovers in an airtight container at room temperature for up to 4 days.
Can I Freeze This Recipe?
I like to freeze leftover cherry almond sheet cake by wrapping individual slices and placing them in a large freezer bag or airtight container. They'll keep for 2 to 3 months in the freezer; thaw them at room temperature or in the microwave until they're heated through.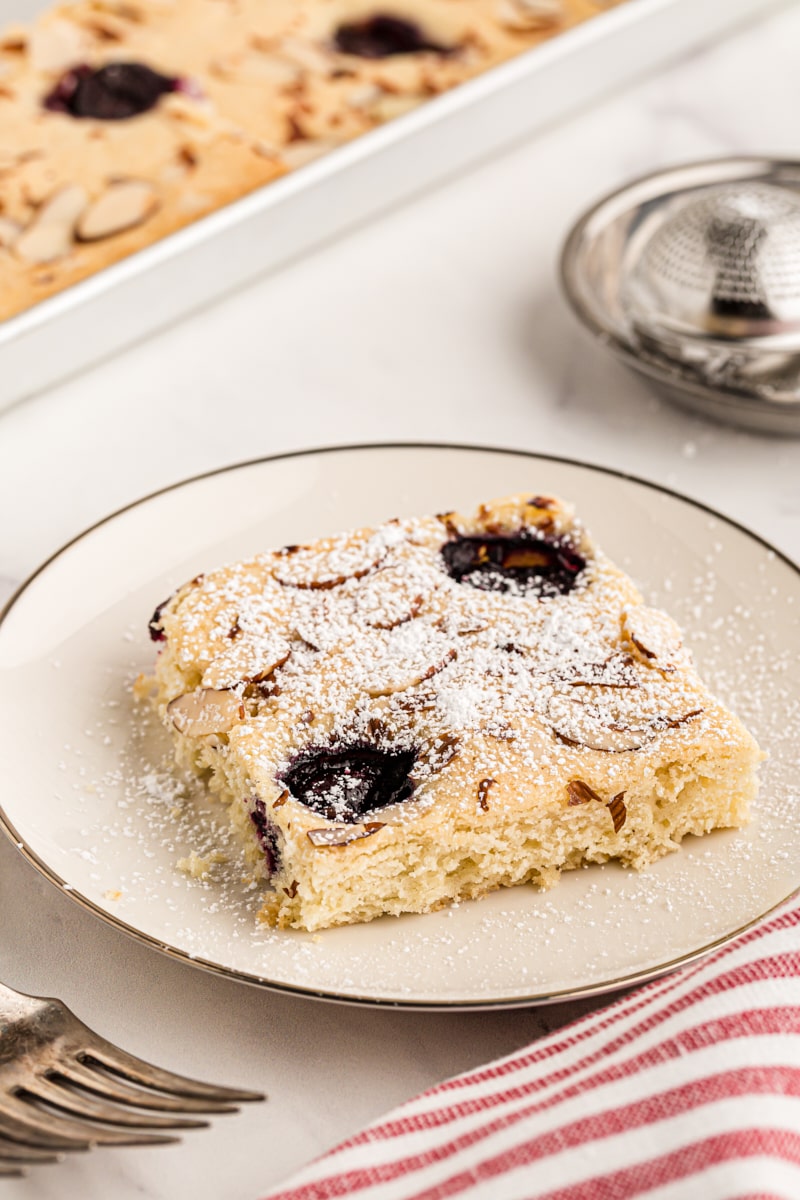 More Cherry Recipes