July 24, 2013
Cherry Almond Sheet Cake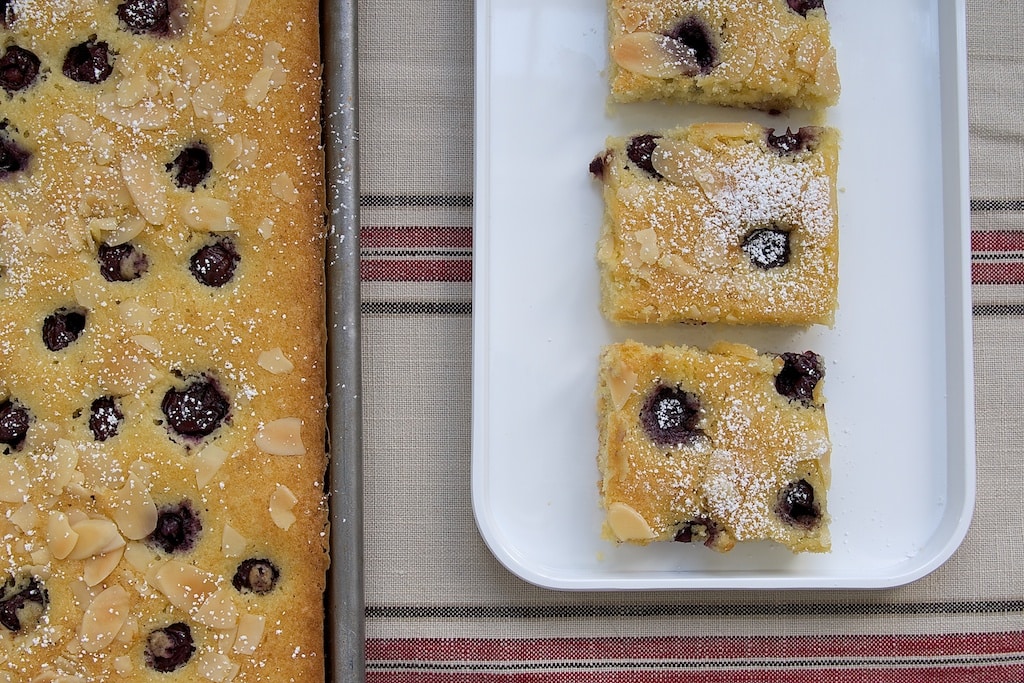 This has been the summer of baking with fruit here in the BoB kitchen. Between our CSA and local markets, I have had so much fruit that I feel like I just have to keep baking!
I spotted some gorgeous cherries at our neighborhood market and just couldn't resist. I had bookmarked a few cherry recipes at the beginning of the summer in anticipation of fresh cherries. So, I rifled through my saved recipes and decided to bake this simple cake.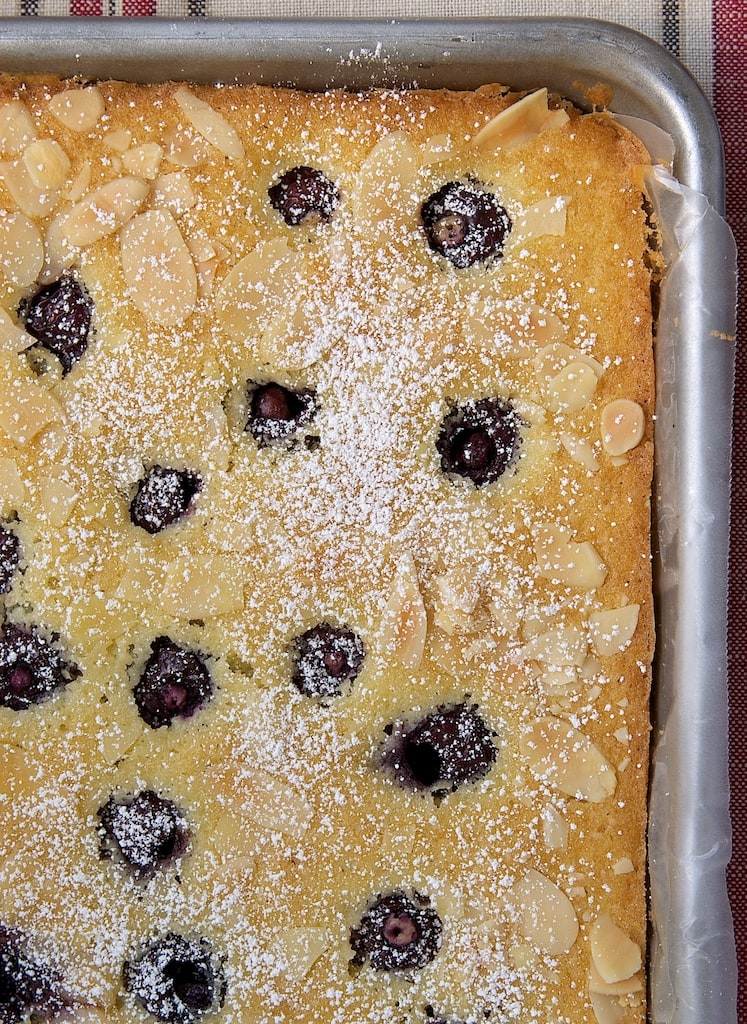 This is a nice and sturdy cake that's quite up to the task of holding up all those cherries. There's no need to press the cherries into the batter. They will sink a bit and the cake will also rise around them.
I added some sliced almonds because, well, I really like cherries and almonds together. You can toast the almonds a bit before you put them on the cake, but I let them just get a little toasty as the cake baked.
This cake is a study in subtlety. It's thin and a bit delicate, and it's full of lovely flavors that aren't too bold. This is not a cake that will overwhelm you. It's an excellent choice for a summer dessert or a snack. Top with a dusting of confectioners' sugar or a dollop of whipped cream.
Cherry Almond Sheet Cake
Yield: 20-25 servings
Prep Time:20 minutes
Cook Time:40 minutes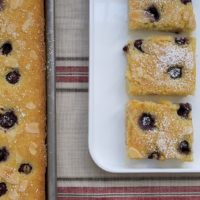 Ingredients:
2 cups all-purpose flour
2 & 1/2 teaspoons baking powder
1/4 teaspoon salt
1 cup unsalted butter, softened
1 cup granulated sugar
3 large eggs
1 teaspoon vanilla extract
1 pound cherries, rinsed and pitted
1/2 cup sliced almonds
confectioners' sugar for dusting
Directions:
Preheat oven to 325°. Butter a 10″ x 15″ rimmed baking sheet. Line bottom of pan with waxed paper. Butter paper.
Whisk together flour, baking powder, and salt. Set aside.
Using an electric mixer on medium speed, beat butter and sugar until light and fluffy. Add eggs, one at a time, mixing well after each addition. Mix in vanilla.
Reduce mixer speed to low, and gradually add flour mixture. Mix just until combined. Dough will be thick.
Spread batter evenly in prepared pan. Scatter cherries and almonds over the top of the batter.
Bake 35-40 minutes, or until cake is golden and a pick inserted into the center comes out clean.
Cool in pan 10 minutes. Invert onto wire rack and remove waxed paper. Invert again onto another rack to cool completely before slicing.
Dust with confectioners' sugar, if desired.