August 18, 2016
Brandied Cherry Trifles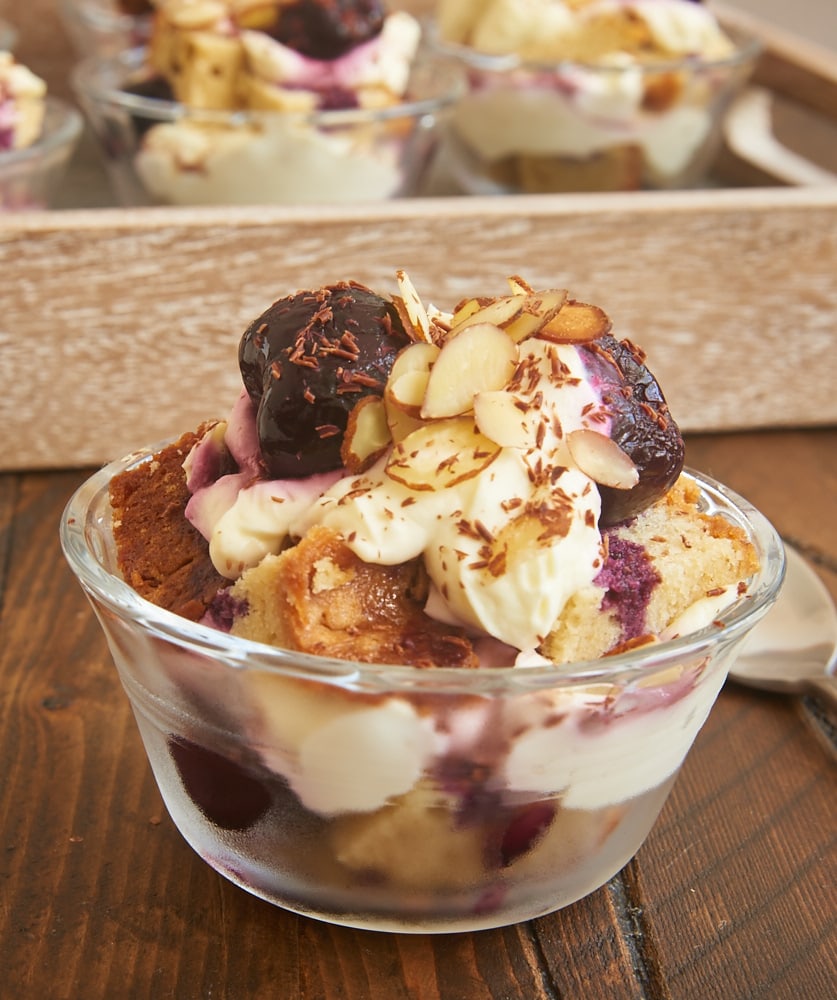 Please forgive me for being on a mini dessert kick. With mini pies and pudding cups showing up here recently, it seems I've got individual desserts running through my head. And now I'm sharing these mini Brandied Cherry Trifles.
I recently rediscovered a recipe for a cherry trifle that I'd saved ages ago. Pair that with the gorgeous cherries I'd just gotten, and these little guys were meant to be.
As is the case with most any trifle, these are made with several layers of good stuff. It starts with pound cake, followed by a fantastic creamy filling, simple brandied cherries, almonds, and chocolate. Are you sold yet?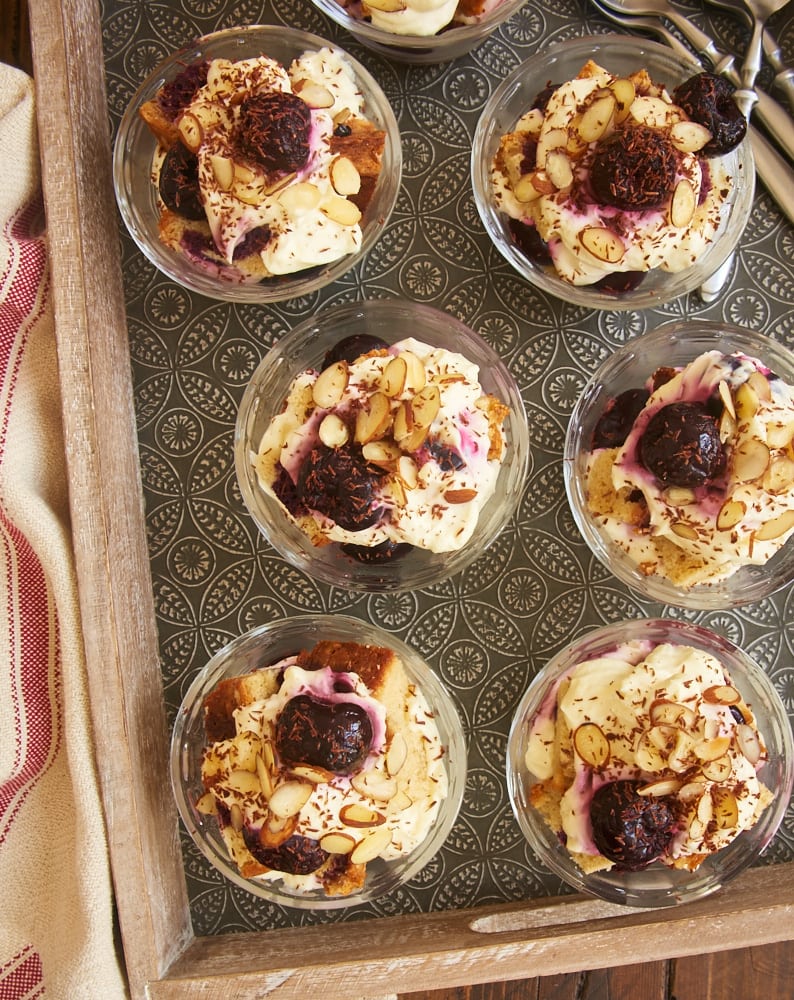 Here's the real talk of this recipe. I made a half recipe of one of my favorite pound cakes the day before I wanted to assemble the trifles. I am blessed with time to bake, but I know not everyone is. If you want to use a store-bought pound cake to simplify things, that's just fine. A loaf-size pound cake should be just right.
The filling is a really wonderful combination of cream cheese and whipped cream. I could eat that stuff with a spoon. It's really quick and easy to make, too, as it only has three ingredients and takes just a few minutes of mixing.
The cherries are the star here, though. They are made very simply with just cherries and brandy. The flavor is quite amazing, too. They really make these trifles extra good and completely irresistible. Be sure to save every drop of the juices from the cherries to use when assembling! Those juices run all through the trifle, soaking into the cake and the filling. So. Good.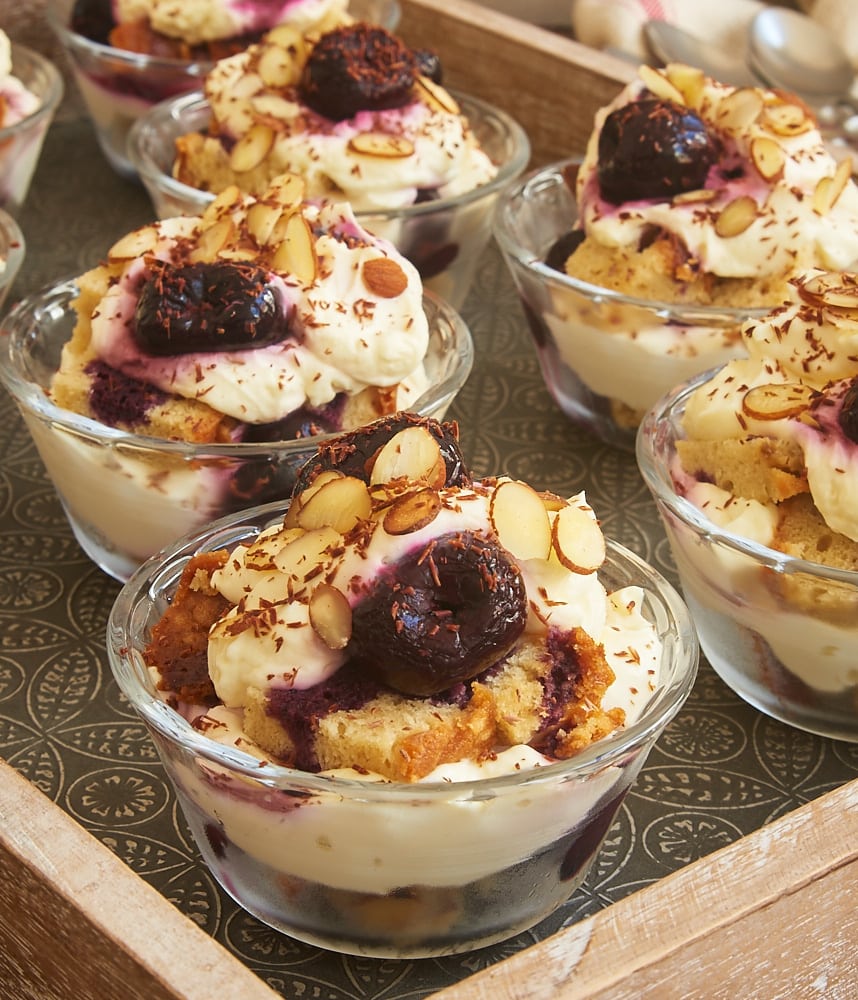 If you like, you can make assemble the trifle in one dish and serve individual portions from there. I made mine in custard cups that hold about 6 ounces. As you can see, mine are overfilled, so a larger capacity cup or glass will work, too.
There is likely to be some variance in how much of each component you'll need when you start layering. I didn't quite use all of the pound cake, but I didn't pack the layers as tightly as I could have. That's a personal preference, so feel free to layer however you like. I figure a little leftover pound cake is not a bad problem to have, right?
These trifles are such a lovely dessert for a special dinner. They're simple to make. They're made in advance. And they're absolutely delicious!
Find more cherry recipes in the Recipe Index.
Brandied Cherry Trifles
Yield: about 8 servings
Prep Time: 20 minutes
Cook Time: 10 minutes
Layers of pound cake, cream cheese whipped cream, brandied cherries, nuts, and chocolate make these Brandied Cherry Trifles irresistible!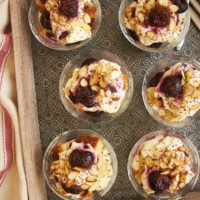 Ingredients:
1/2 recipe Cream Cheese Pound Cake*
1 pound (3 to 4 cups) sweet cherries, pitted
1/3 cup brandy
8 ounces cream cheese
2 cups heavy cream
1/2 cup confectioners' sugar
about 1/2 cup sliced almonds, toasted
about 1/2 cup grated dark chocolate
Directions:
Cut the baked and cooled pound cake into bite-size pieces. Set aside.
Place the cherries and brandy in a medium saucepan. Bring to a simmer over medium heat. Cook until the cherries have softened, about 7 minutes. (Don't overcook. You want the cherries to hold their shape.) Set aside to cool to room temperature.
Using an electric mixer on medium speed, beat the cream cheese until smooth. Add the cream and sugar, and mix on low speed until combined. Increase the mixer speed to medium-high and whip until the mixture forms firm peaks.**
Place half of the pound cake pieces in 8 serving cups or glasses***. Alternately, place half the pieces in the bottom of a 2- to 2 & 1/2-quart bowl.
Top the cake with half of the cherries and their juices. Sprinkle half of the almonds and half of the chocolate. Top with half of the cream cheese mixture. Repeat the layers. (I reserved some cherries, almonds, and chocolate for garnish.)
Cover and refrigerate at least 3 hours before serving.
Notes:
*I made a half recipe in a standard loaf pan, substituting almond extract for the vanilla. If you prefer, you can use a store-bought pound cake.
**I recommend switching your regular mixer beaters to a whisk attachment for whipping the cream.
***I used 6-ounce cups and overfilled quite a bit. 8-ounce cups/glasses/dishes would work well, too.
This post contains affiliate links.