June 19, 2012
Black Cherry Sour Cream Coffee Cake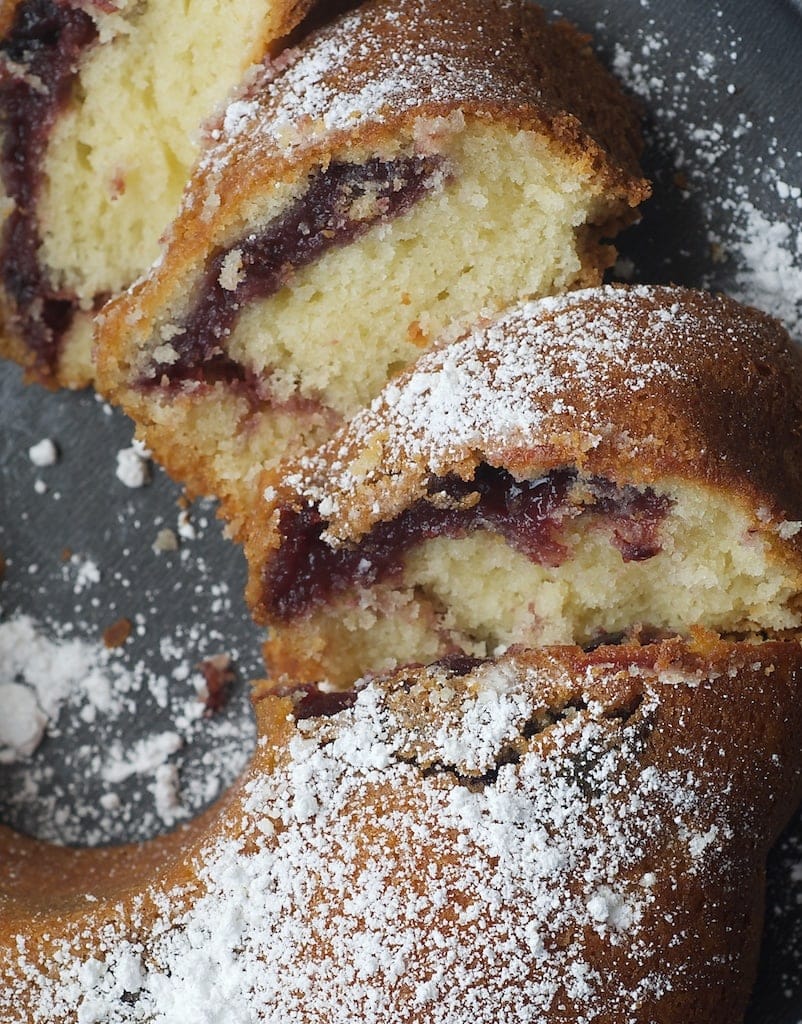 Despite how frequently I bake, my saved and bookmarked recipes keep growing at a ridiculous rate. I shudder to think how long it would take me to try them all, even if I stopped collecting them right now. There are some recipes I've had for years that shuffle up and down my to-bake list but somehow never get made. Until today, this was one of those recipes.

As much as I like baking with fresh fruit, I usually keep several varieties of jams and preserves on-hand. They're great for adding to all kinds of things – from breakfast treats to bars to cheesecakes. I still have dreams of making my own preserves, but that's a post for another day.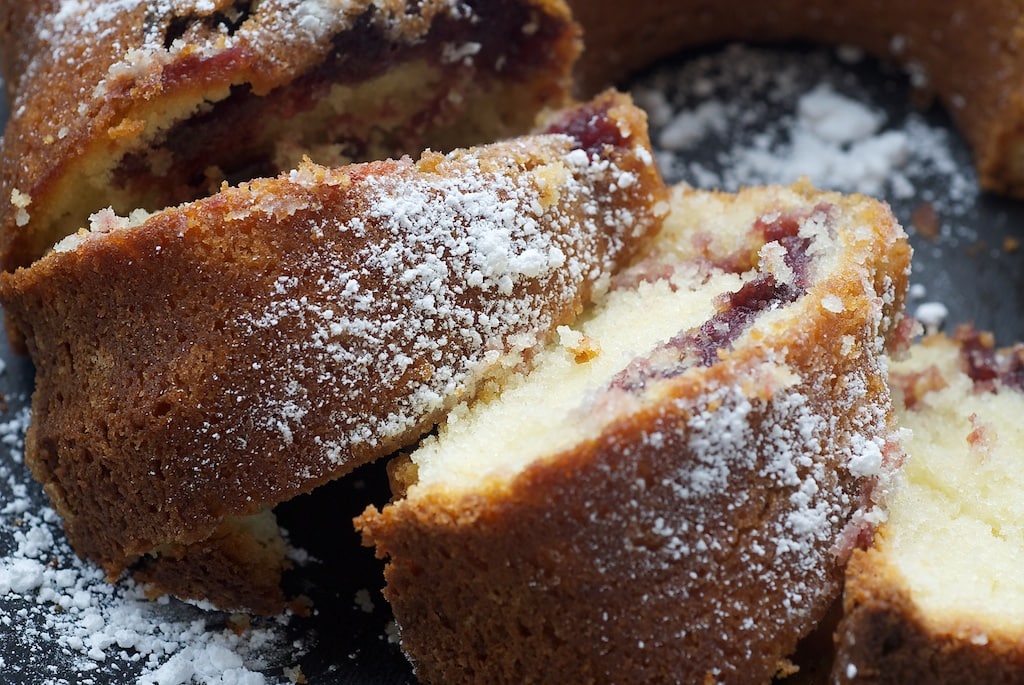 This is one of those all-occasion, anytime cakes. It's called a coffee cake, so it has a built-in excuse to be eaten early in the day. Plus, it would serve proudly as a dessert for most any meal.
Now that I've made it, I'm wishing it hadn't taken me so long to try it. It's a lovely, delicate cake with a just-right amount of black cherry sweetness to make it even better. Of course, you can easily personalize this cake by substituting your favorite variety of jam. What's your favorite?
Black Cherry Sour Cream Coffee Cake
Yield: 10-12 servings
Cook Time:60 minutes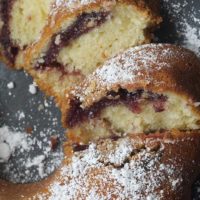 Ingredients:
2 cups all-purpose flour
1 tablespoon baking powder
1/2 teaspoon salt
1 cup unsalted butter, softened
1 & 1/2 cups granulated sugar
2 large eggs, at room temperature
1 cup sour cream
1 teaspoon vanilla extract
3/4 cup black cherry jam
confectioners' sugar
Directions:
Preheat oven to 350°. Grease and flour a 10-inch Bundt pan.
Whisk together flour, baking powder, and salt. Set aside.
Beat butter until light and creamy. Add sugar and beat until fluffy. Add eggs, one at a time, mixing well after each addition. Mix in sour cream and vanilla, beating until smooth. Gradually add flour mixture, mixing just until blended.
Transfer 1/2 cup of batter to a small bowl. Stir in jam, mixing well. Set aside.
Pour remaining batter into prepared pan and smooth top. Make a 1-inch trough in the center of the batter all the way around the pan. Spoon batter/jam mixture into trough, spreading evenly.
Bake for 1 hour, or until a pick inserted into the center comes out clean and the cake begins pulling away from the edges of the pan.
Cool cake in pan for about 15 minutes. Then, invert onto a wire rack to cool completely.
Dust with confectioners' sugar before serving.