This Black Cherry Sour Cream Coffee Cake offers a fruity twist on coffee cake with a ribbon of sweet cherry jam running through it. Perfect for a sweet snack any time of day!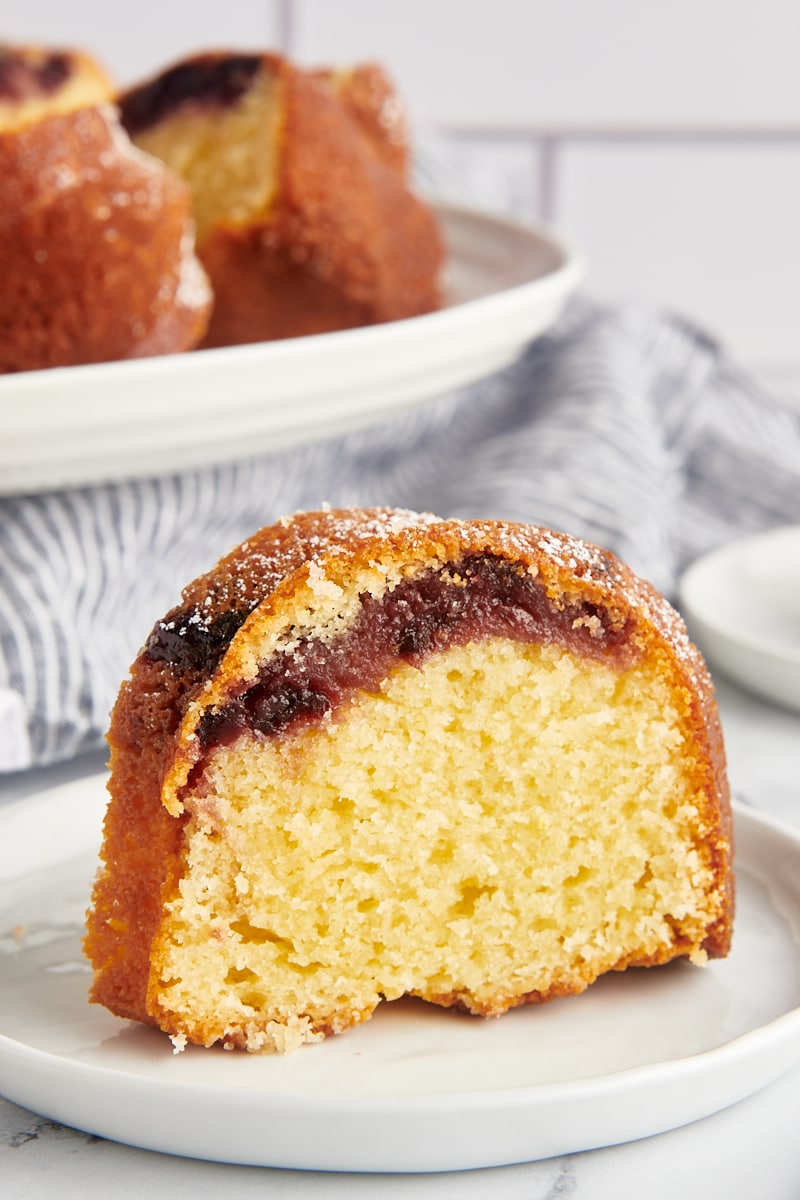 Easy Cherry Coffee Cake Bundt
As much as I like baking with fresh fruit, I usually keep several varieties of jams and preserves on-hand. They're great for adding to all kinds of things – from breakfast treats to bars to cheesecakes.
This is one of those all-occasion, anytime cakes. It's called a coffee cake, so it has a built-in excuse to be eaten early in the day. Plus, it would serve proudly as a dessert for most any meal.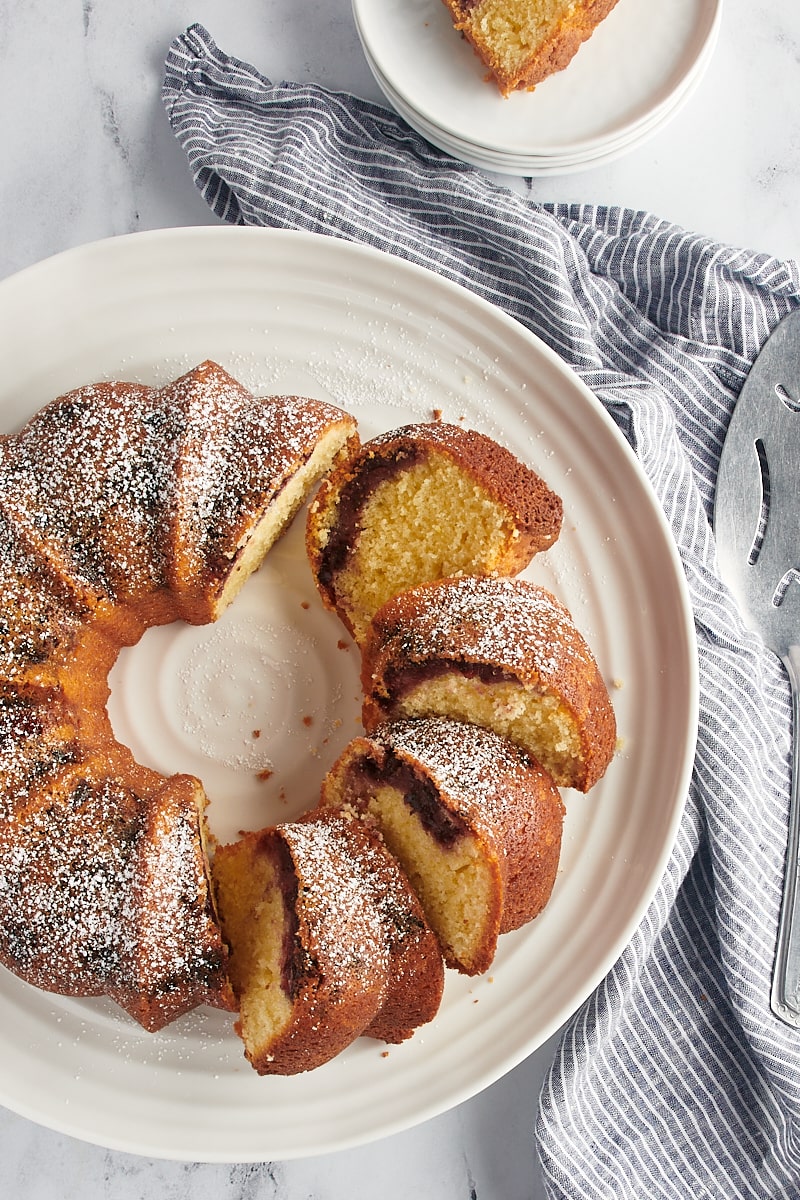 Why You'll Love This Cherry Coffee Cake Recipe
Here are just a few reasons to love this cherry cake:
Delicate. Unlike a lot of coffee cakes, this isn't a heavy cake. Instead, it has a lovely, delicate texture.
Flavorful. The addition of cherry adds a nice burst of flavor.
Versatile. This cake is great for anything from brunch to dessert!
What You'll Need
If you've got jam, then you've likely got everything else you need to whip up this cherry cake. See the recipe card at the bottom of this post for ingredient quantities and full instructions.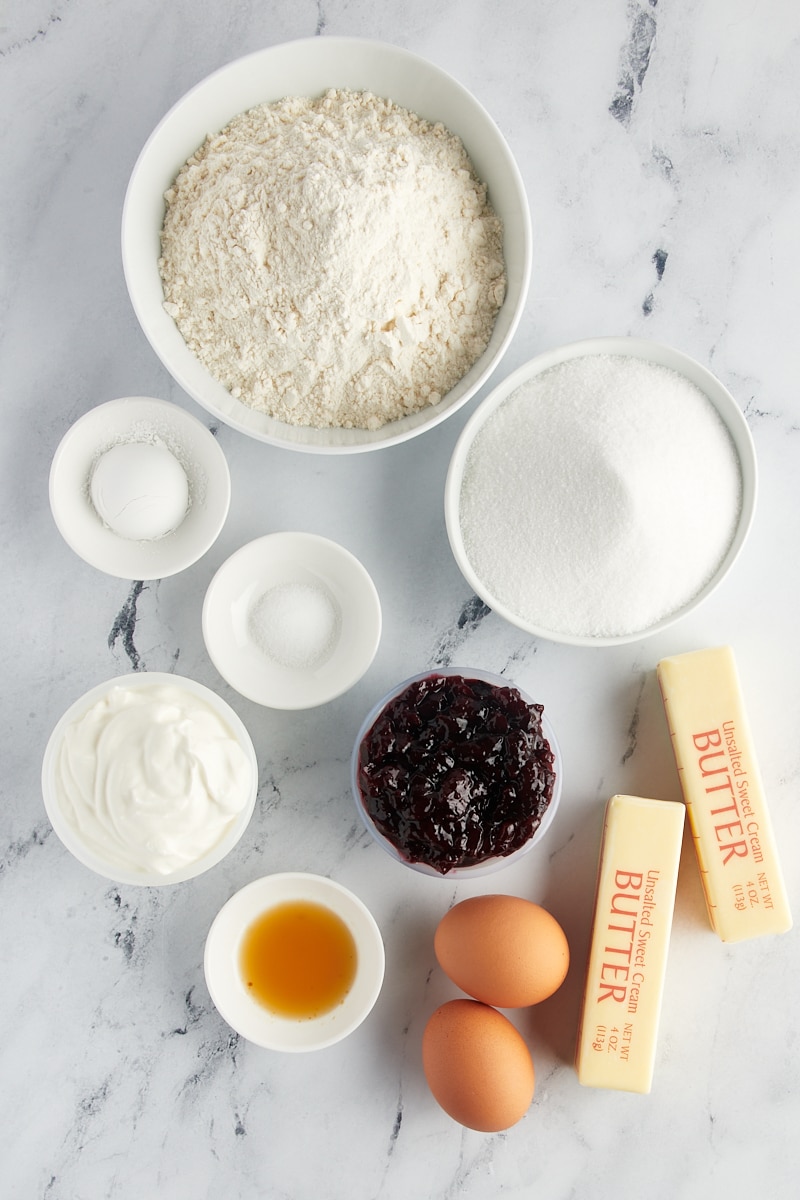 All-purpose flour – Measure by weight or use the spoon and sweep method. Learn more: How to Measure Flour
Baking powder
Salt
Unsalted butter – Let the butter soften at room temperature. It should still be cool and hold a thumbprint when pressed. Learn more: How to Soften Butter
Granulated sugar
Eggs – Set these out along with the butter to let them come to room temperature.
Sour cream – Bring this to room temperature, too.
Vanilla extract
Black cherry jam – Black cherry flavor is slightly sweeter than regular sweet red cherries. The "black" part of the name simply refers to how dark they are versus other red cherries.
Confectioners sugar – If you like, sprinkle some powdered sugar over the top of the cake before serving.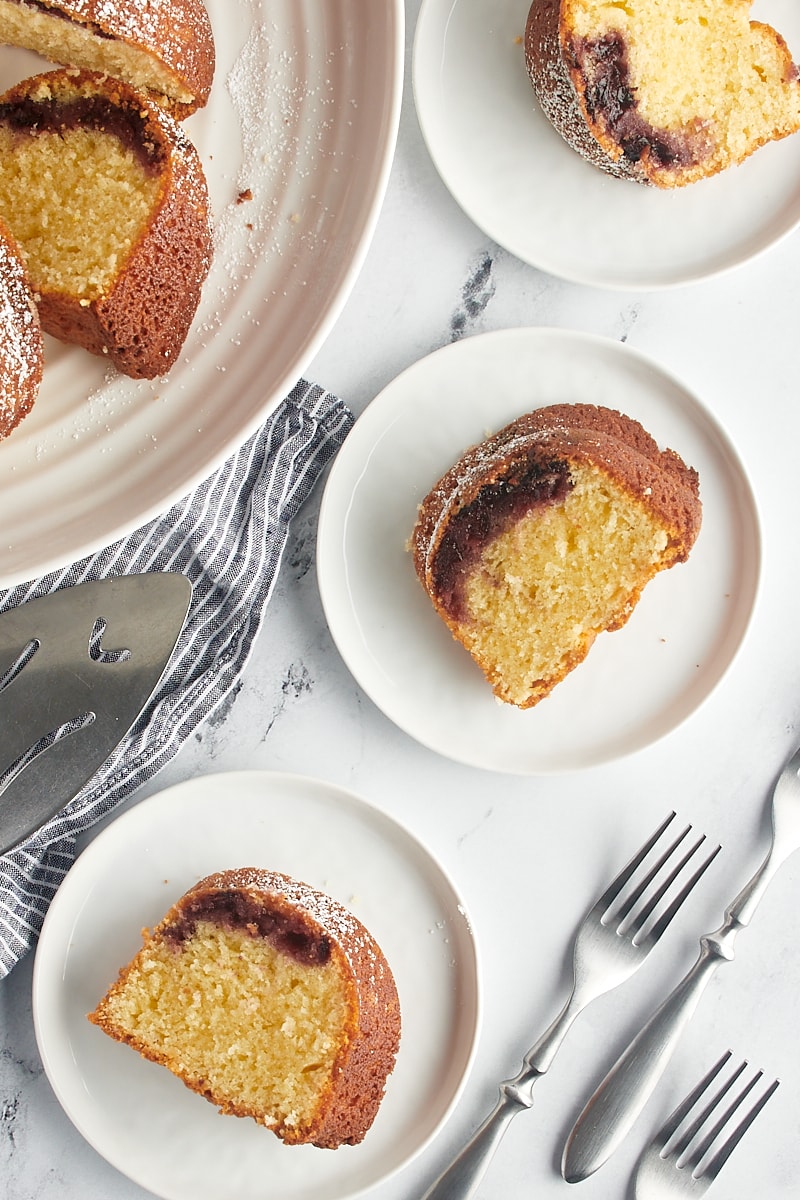 How to Make Black Cherry Sour Cream Coffee Cake
This cake mixes quickly and easily for a simple baking project. Here's what you'll need to do:
Prepare for baking. Heat the oven to 350°F. Grease and flour a 10-inch Bundt pan, which should have about a 12-cup capacity.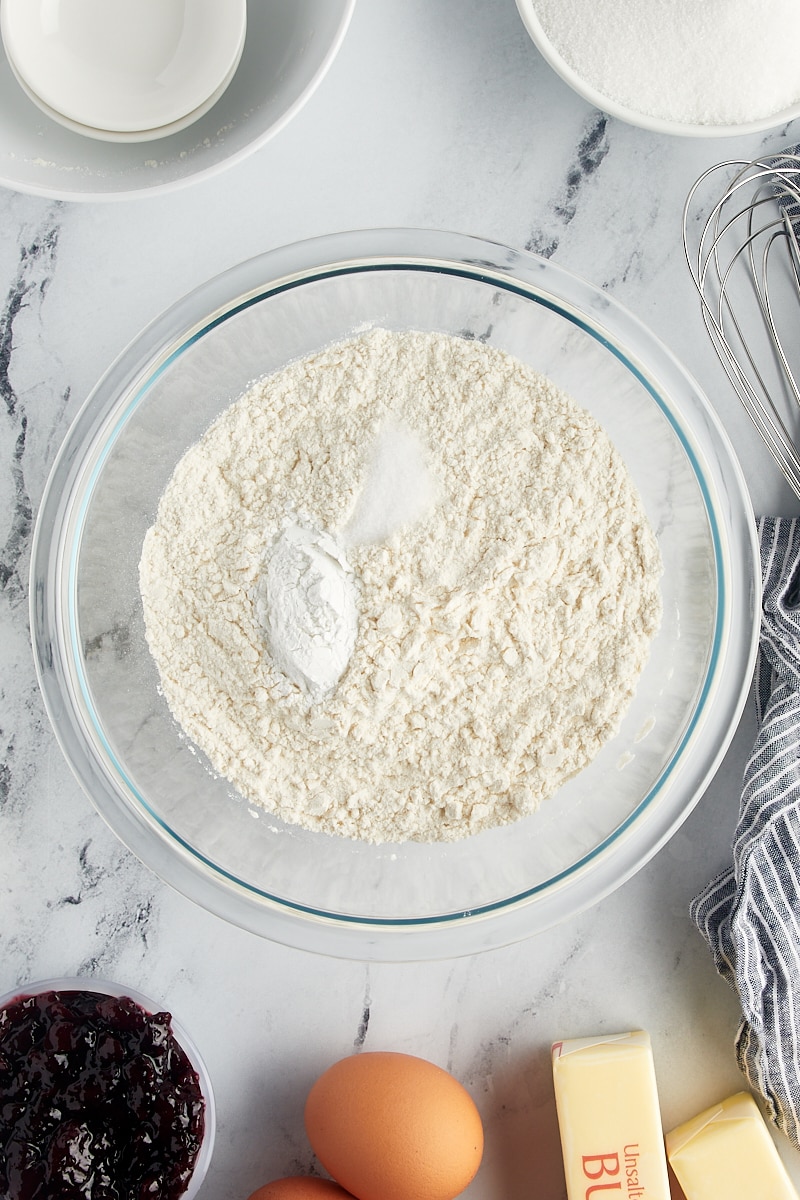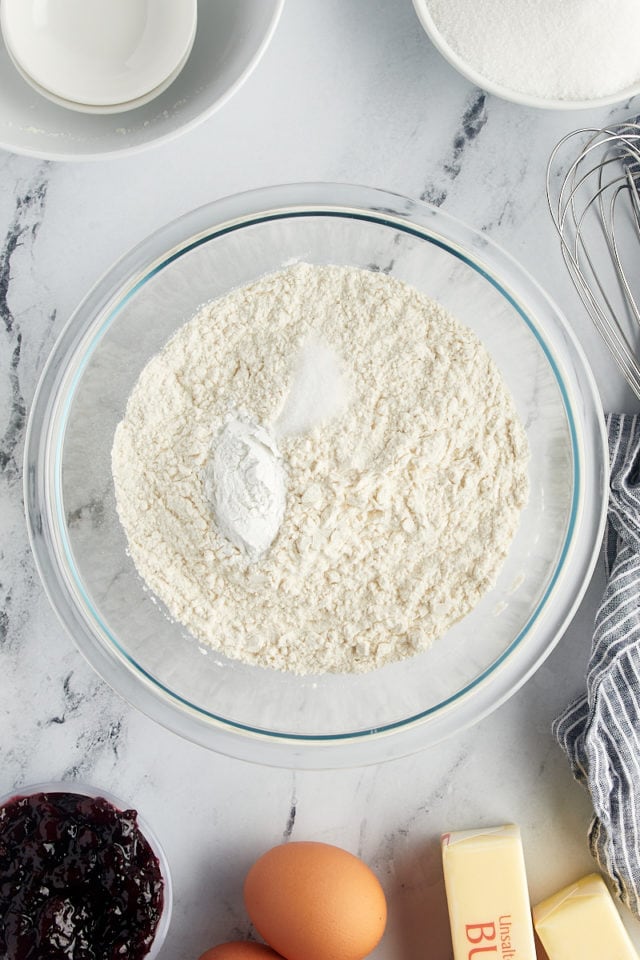 Combine the dry ingredients. Whisk together the flour, baking powder, and salt.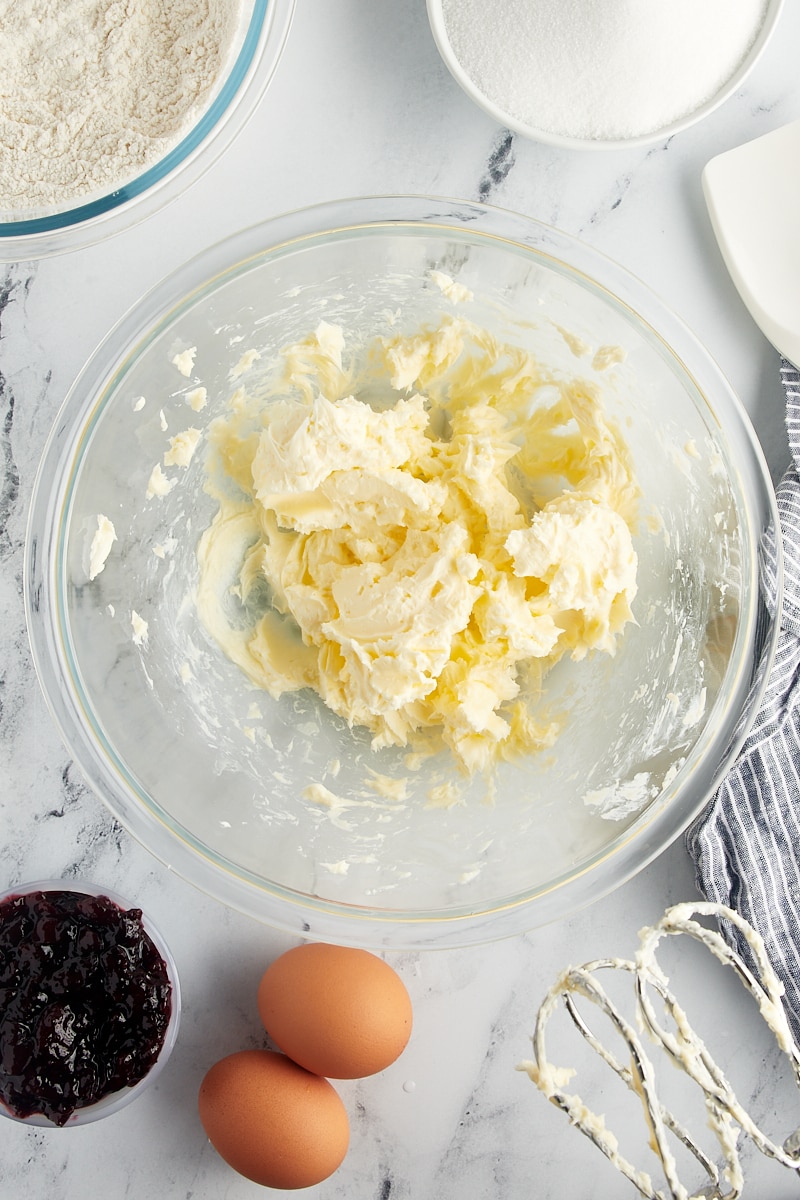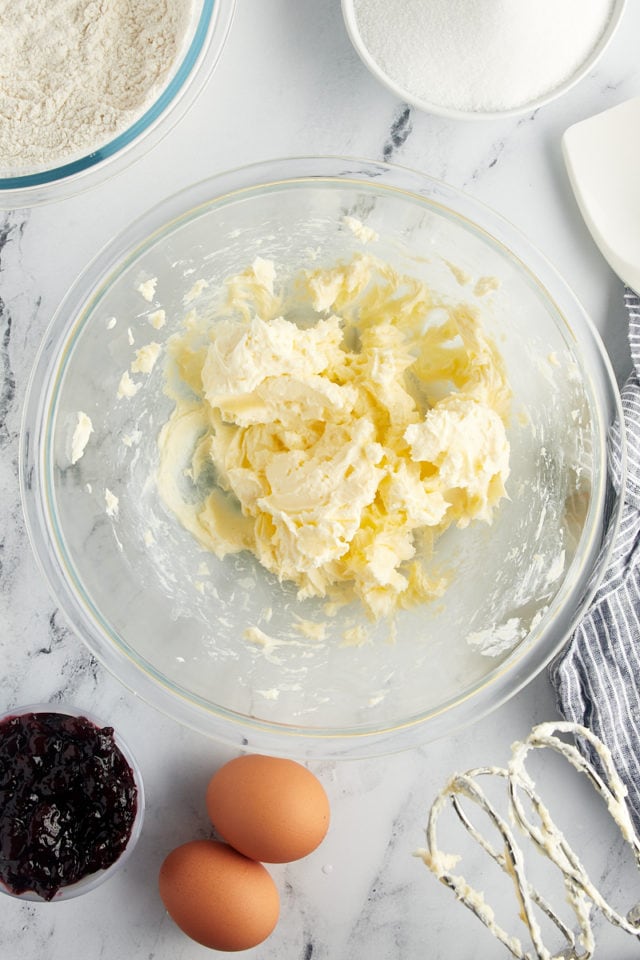 Combine the wet ingredients. With an electric mixer on medium speed, beat the butter until light and creamy. Add the sugar and keep beating until fluffy. Mix in the eggs one at a time, and mix well after adding each. Then, mix in the sour cream and vanilla.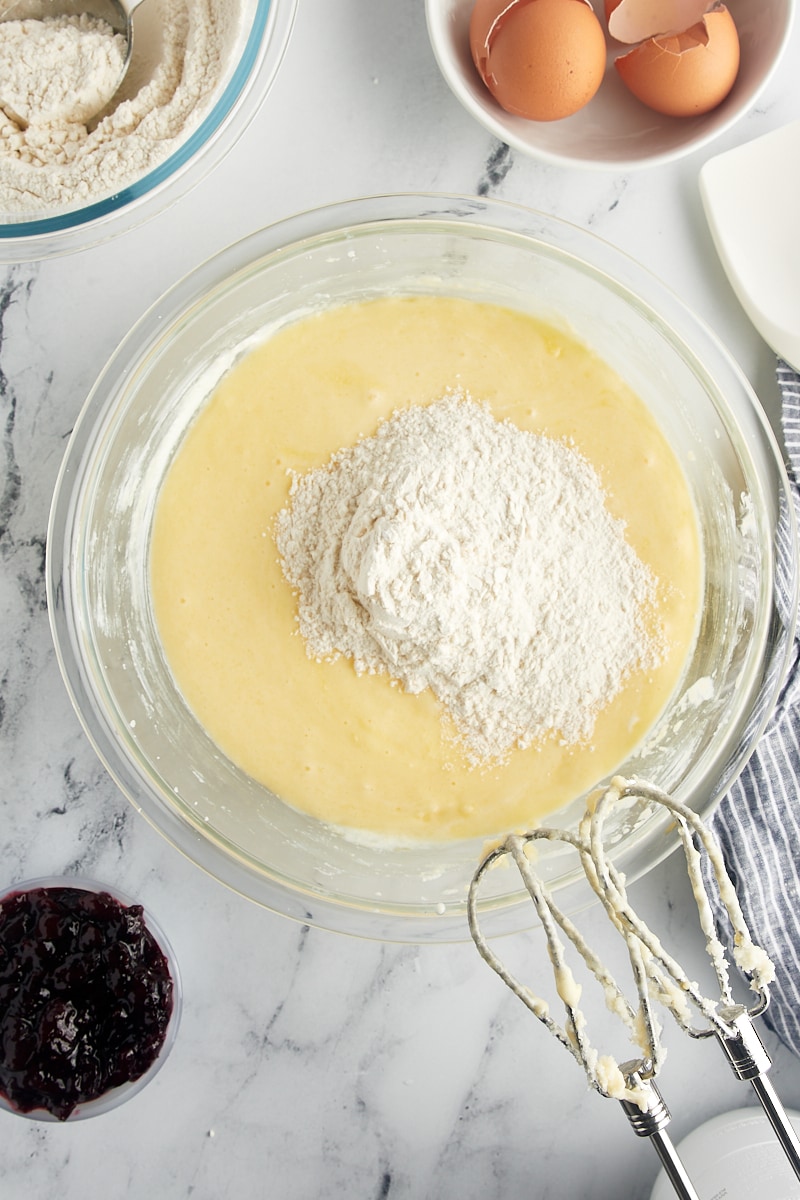 Add the dry ingredients to the wet ingredients. With the mixer on low speed, gradually add the flour mixture to the butter mixture. Mix just until combined.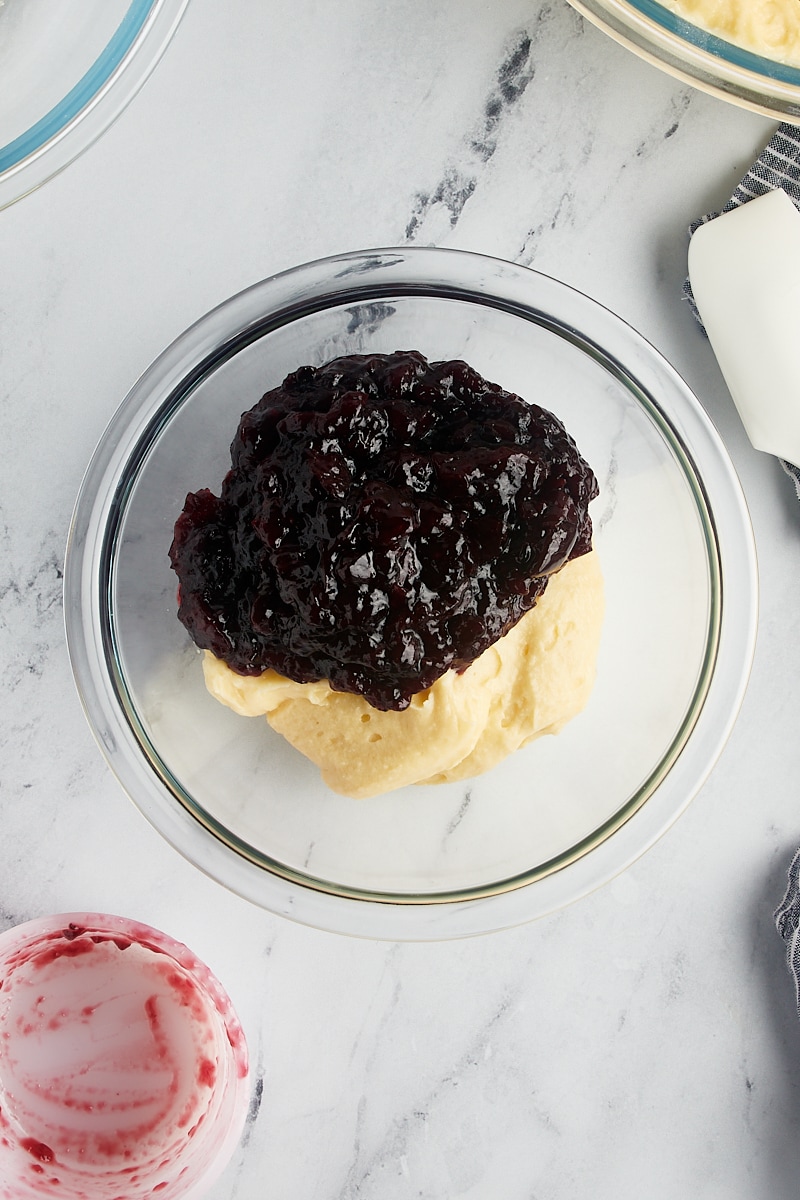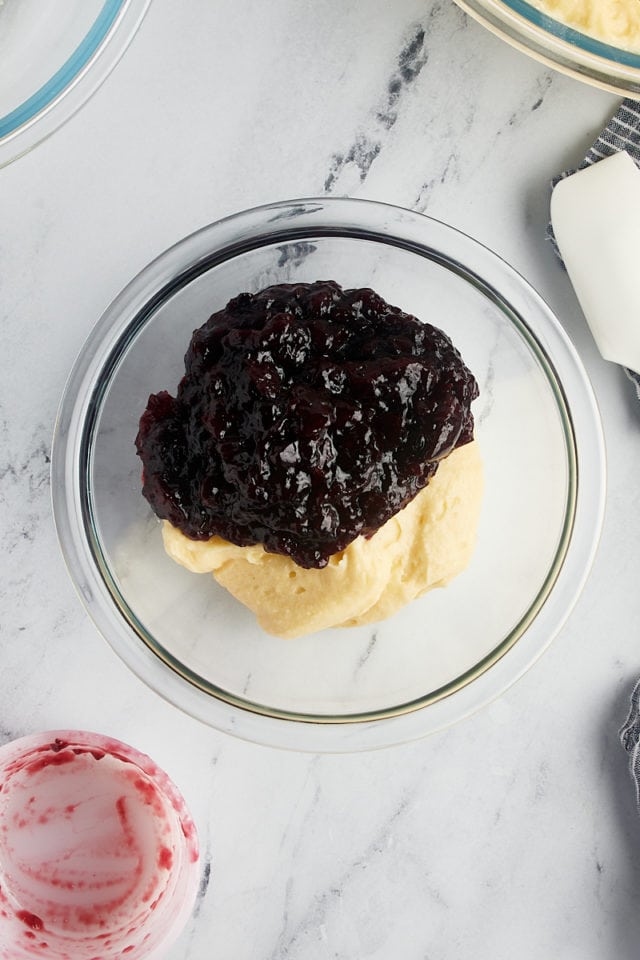 Make the cherry filling. In a separate bowl, combine 1/2 cup of the cake batter with the cherry jam.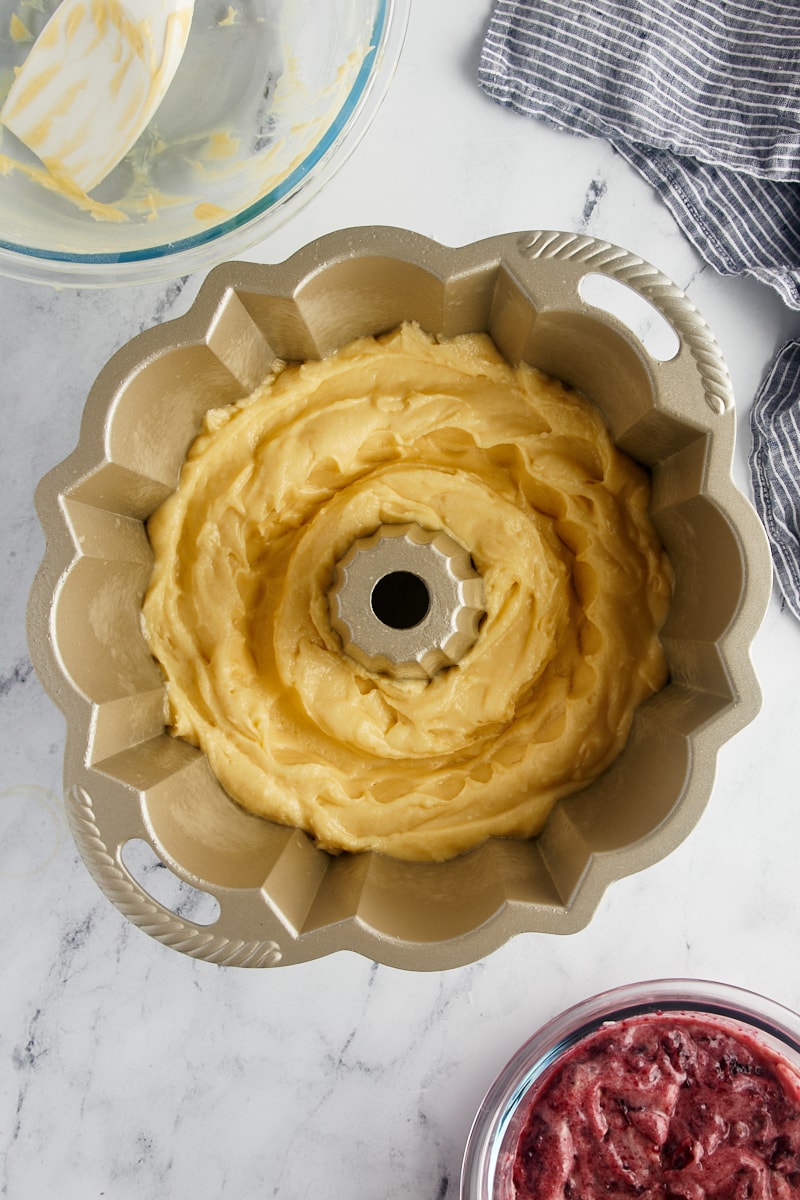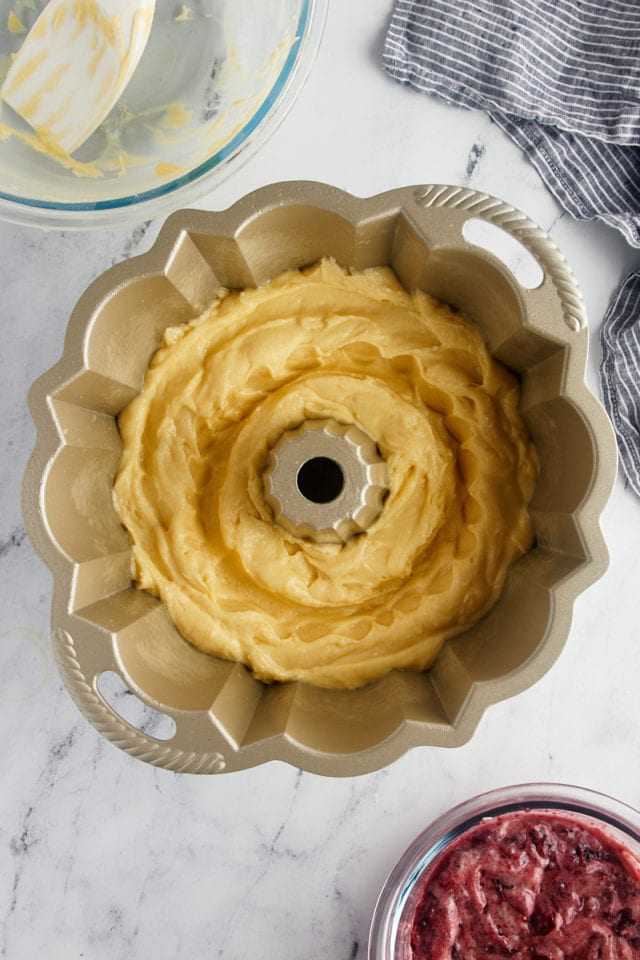 Assemble the cake. Transfer the remaining cake batter to the prepared pan. Make a 1-inch trough in the center of the batter all the way around the pan. Spoon the cherry filling into the indentation.
Bake. Place the pan in the heated oven, and bake for 60 to 70 minutes. The top should be golden brown, the cake will have begun pulling away from the sides of the pan, and a pick inserted into the center should come out clean.
Cool. Place the pan on a wire rack, and allow the cake to cool for 15 minutes. Then invert the cake onto a rack to cool completely. If you like, sprinkle confectioners' sugar on top of the cake before serving.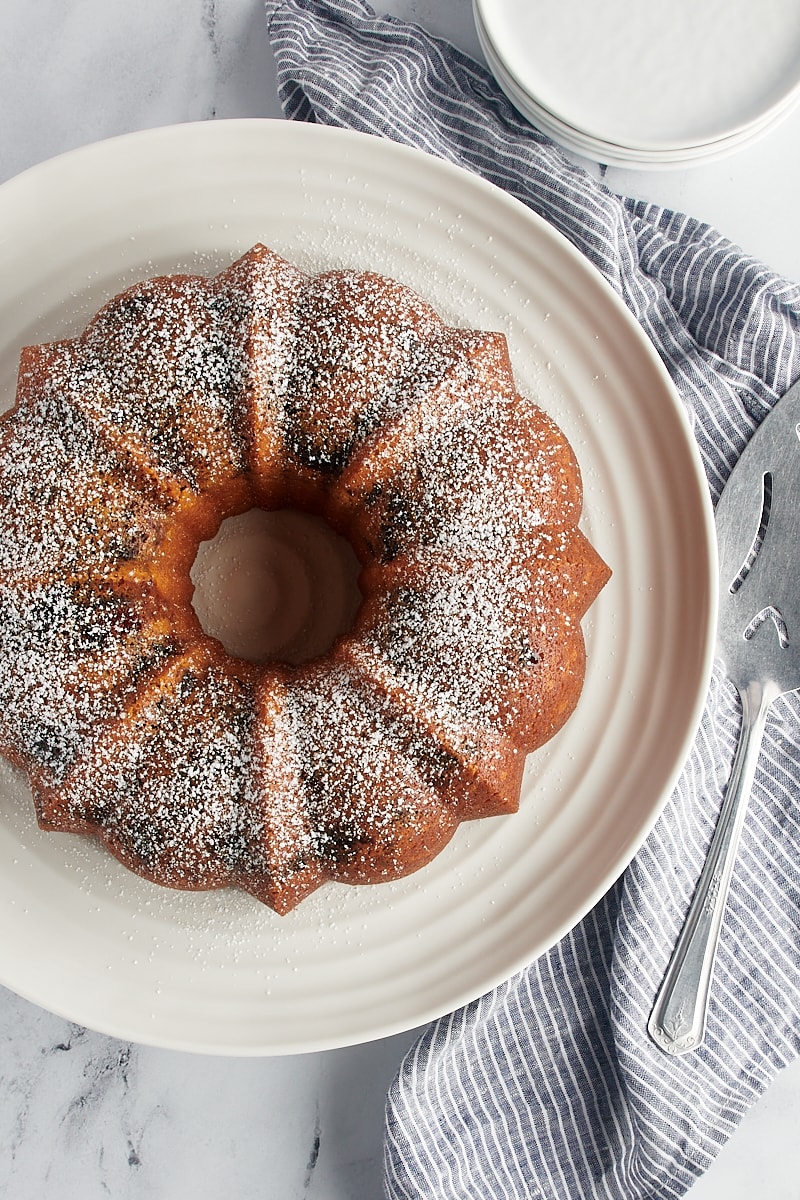 Tips for Success
Here are a few tips to help make sure you cherry coffee cake turns out perfectly:
Thoroughly grease the pan. I recommend using a cooking spray with flour, like Baker's Joy or Pam Baking. Make sure to get all the nooks and crannies in your Bundt pan. Wait to spray the pan until you're ready to fill the pan so the spray won't settle at the bottom.
Don't over-mix. Too much mixing means tough, dense cake.
Make a trough for the cherry mixture. Nothing elaborate – you can simply use a spoon to do this. This may seem like a fussy step, but it helps to keep the filling from over-spreading.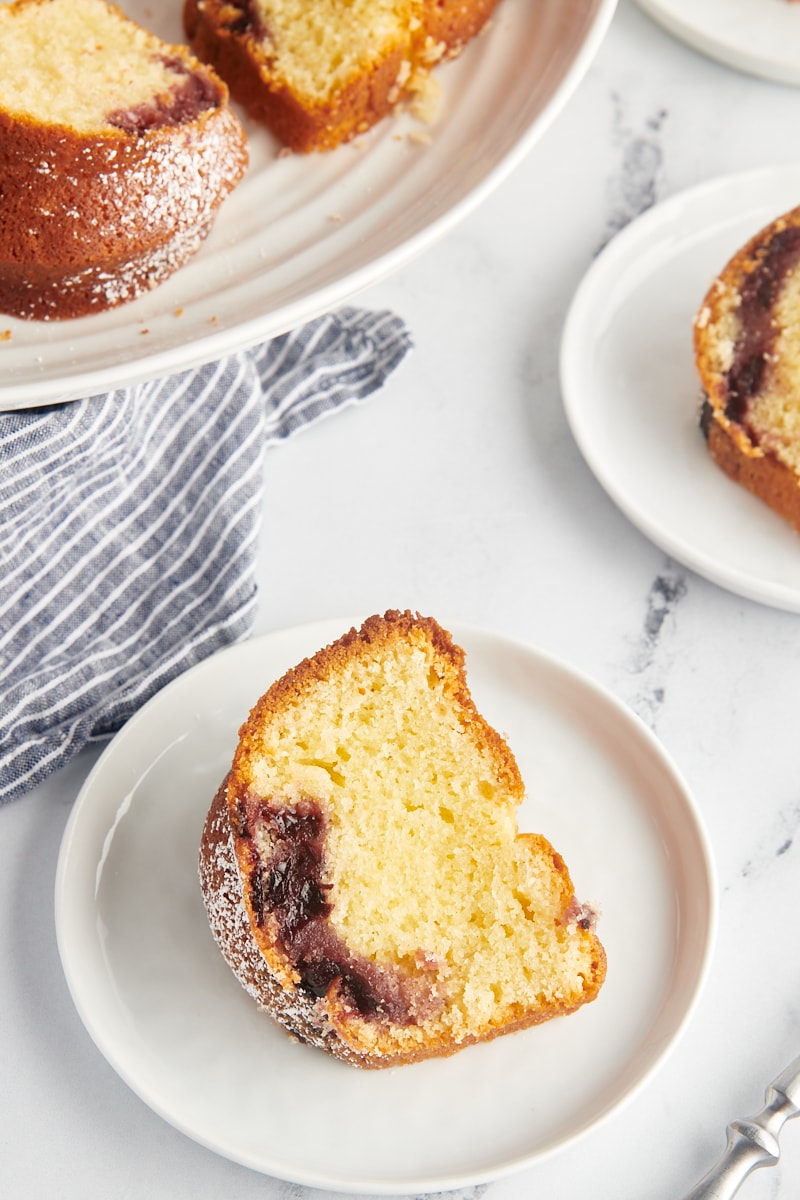 Ideas for Variations
While this cherry version is delicious, you can easily substitute another flavor of jam for a different flavor option. Try strawberry, blueberry, peach, or any flavor you like!
Cherries and almonds are a great pair, too, so try using almond extract instead of vanilla extract.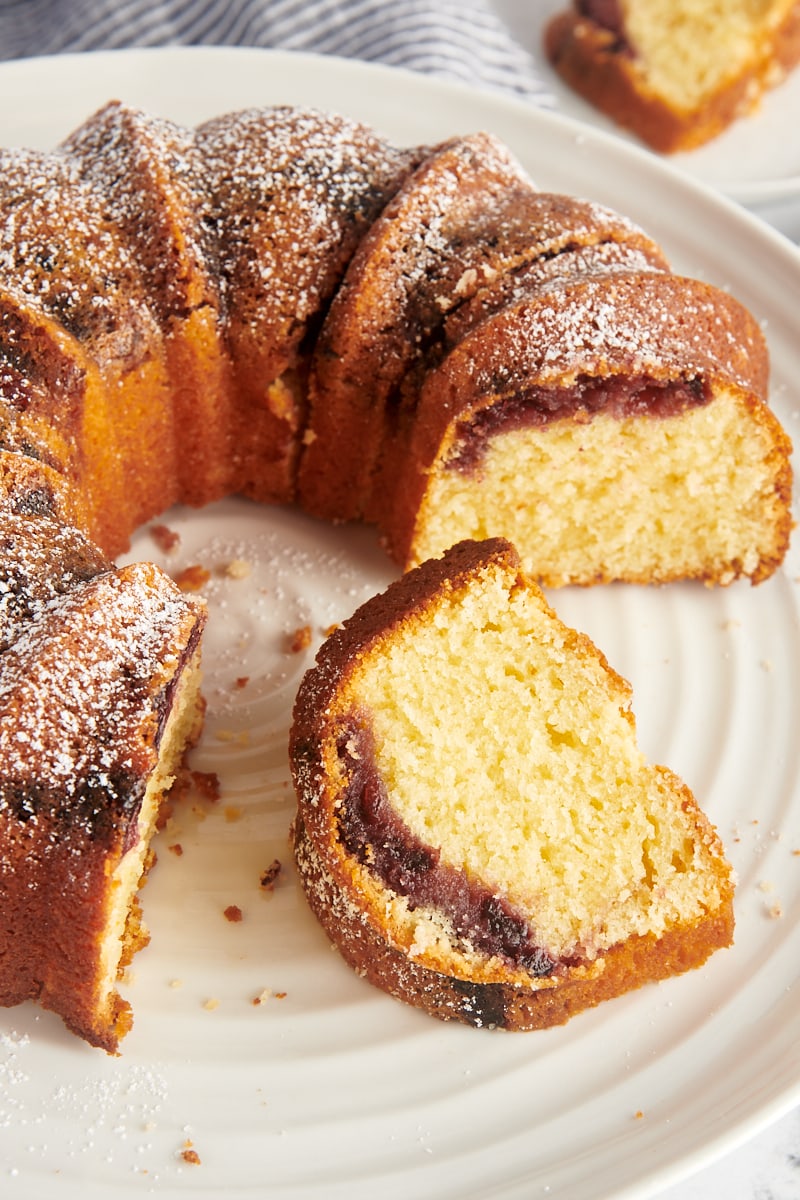 How to Store
Place the cooled cake in an airtight container and store at room temperature up to 3 days. You can extend that by a couple of days by placing it in the refrigerator, but just make extra sure the container is well-sealed or it may become dry.
Can This Coffee Cake Be Frozen?
Absolutely! I like to wrap individual slices in plastic wrap and store in a zip-top freezer bag. You can also wrap the entire cake or a section of remaining cake, and then place in a freezer container or wrap again in aluminum foil. Properly stored, the cake should keep in the freezer up to 3 months. Thaw at room temperature.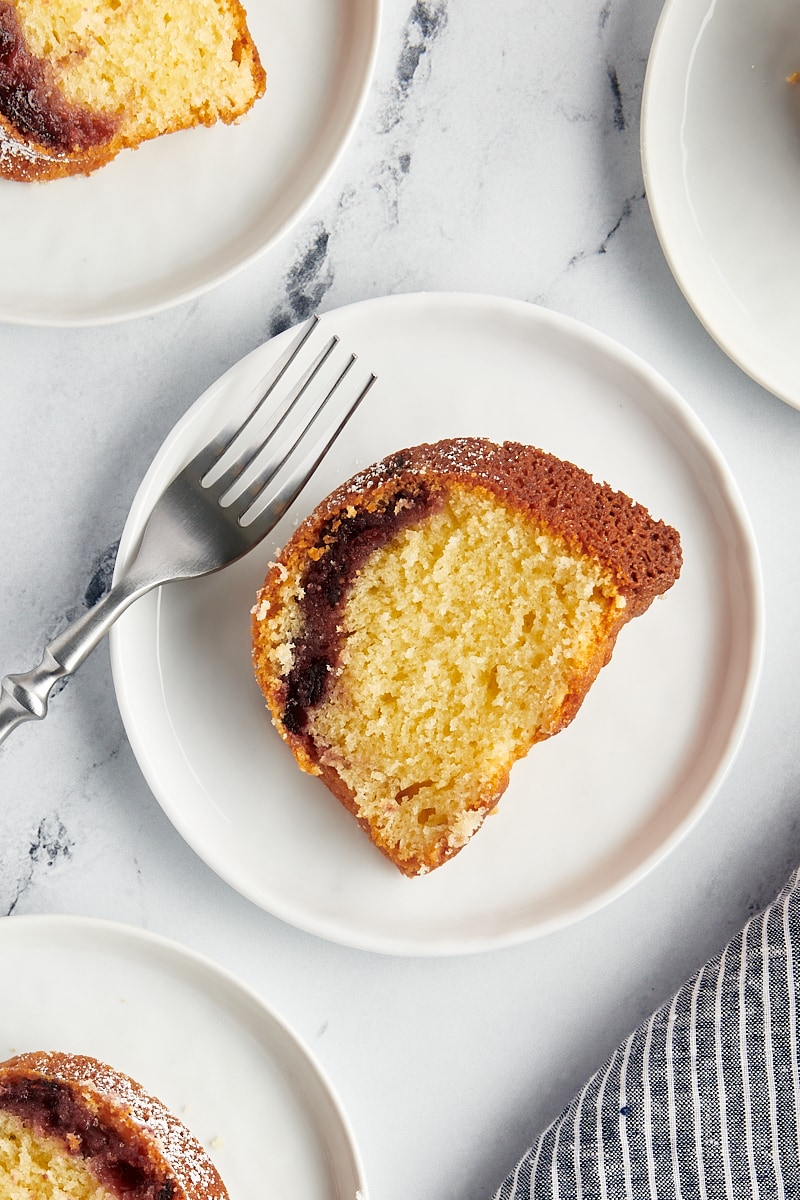 More Coffee Cake Recipes