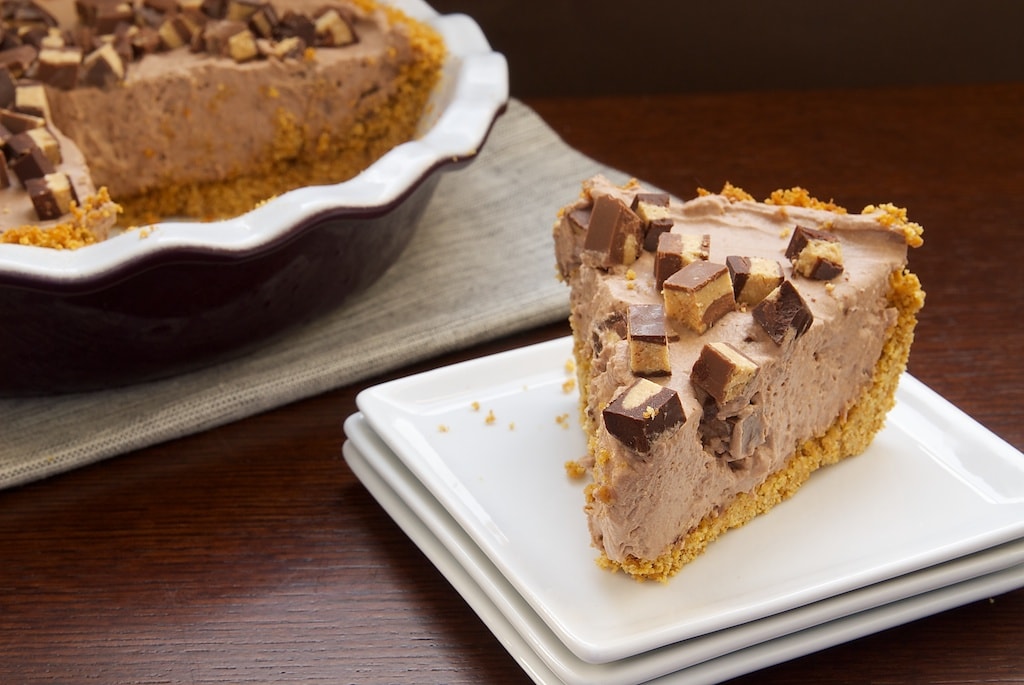 It's been almost two months since I shared some chocolate and peanut butter love with you. You know I love that combination, but I do try for a bit of variety around here.
Recently, the good people of Justin's sent me some of their amazingly delicious peanut butter cups in their new 100 calorie packs. After sampling one or a few, I thought I should put them to good use in a dessert. With warmer weather sneaking in here, I thought it was not a bit too early to start icebox pie season.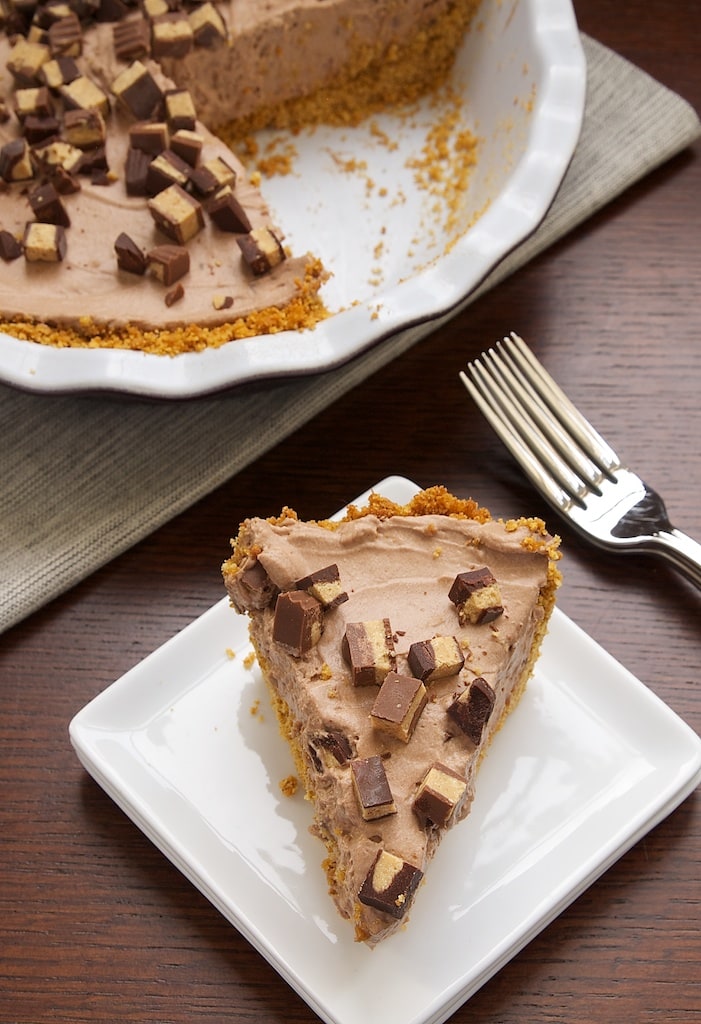 My mother used to make a chocolate icebox pie that I absolutely loved. I just knew that it was the perfect vehicle for those peanut butter cups. I couldn't find her recipe, but I felt pretty confident about recreating a reasonably similar version with a few changes.
First of all, I altered the traditional graham cracker crust with a little bit of peanut butter. With all that chocolate filling, the little extra taste of peanut butter really stands out. Then, of course, I mixed some chopped peanut butter cups into the filling and tossed some on top of the pie for good measure.
I am a big fan of icebox pies in general, and this one did not disappoint. The chocolate filling is cool and creamy. The peanut butter cups give the pie a lot of flavor. And, who doesn't love eating cold peanut butter cups?
Find more no-bake recipes in the Recipe Index.
Yield: 8 to 10 servings
Prep Time: 20 minutes
Cook Time: 10 minutes
Chocolate-Peanut Butter Cup Icebox Pie is a sweet celebration of all things chocolate and peanut butter!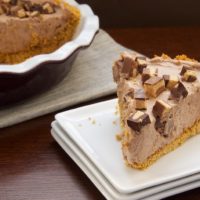 For the crust:
2 cups graham cracker crumbs
1/3 cup granulated sugar
3 tablespoons creamy peanut butter
2 tablespoons unsalted butter, melted
1 to 3 tablespoons water
For the filling:
8 ounces cream cheese, softened
1/2 cup granulated sugar
1 teaspoon vanilla extract
1/4 cup milk
1/4 cup unsweetened cocoa powder
1 cup heavy whipping cream
4 ounces peanut butter cups, chopped plus more for garnish
Directions:
To make the crust:
Preheat oven to 350°F. Lightly grease a 9-inch pie plate.
Combine the graham cracker crumbs, sugar, peanut butter, and butter until combined. Add water, 1 tablespoon at a time, until the mixture holds together when pinched.
Press the mixture into the bottom and up the sides of the prepared pan. Bake 10 minutes or until the edges of the crust are lightly browned.
To make the filling:
Using an electric mixer on medium speed, beat the cream cheese and sugar until fluffy. Mix in the vanilla. Add the milk in three portions, alternating with the cocoa powder, and mix until combined. Begin and end with the milk.
In a large bowl, beat the whipping cream with a whisk or with an electric mixer with the whisk attachment. Whisk until soft peaks form.
Gently fold the whipped cream into the chocolate mixture. Gently stir in the chopped peanut butter cups.
Transfer the filling to the pie crust. Spread evenly and smooth the top. Garnish with peanut butter cups.
Refrigerate at least 6 hours. Alternately, place in freezer for at least 4 hours.
Notes:
For an even quicker dessert that's no-bake, use a pre-made graham cracker crust. You can also use 2 cups of whipped topping if you want to skip the cream whipping step.
Disclosure: Justin's provided me with samples of their products. No other compensation was received. All opinions written are my own.