Lemon Icebox Pie with Toasted Coconut Crust offers a delicious coconut twist on a classic dessert! Such wonderful lemon flavor!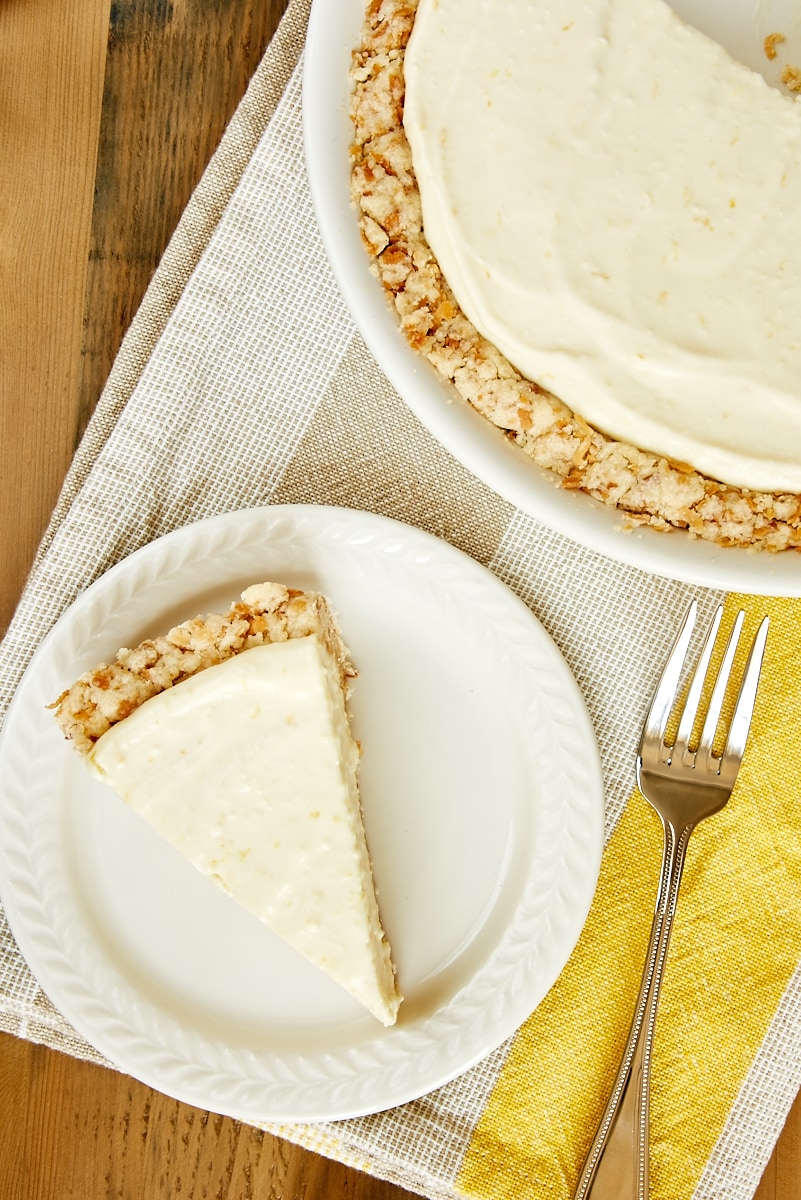 Lemon Icebox Pie
A while back, I was asked for a recipe for Lemon Icebox Pie. I was a bit surprised to realize that I'd not shared one with you in all these years! I knew that had to be remedied as soon as possible.
The trick with sharing a classic recipe is that it is sometimes so good in its traditional form that you don't want to change much about it. So, it's no surprise that the filling of this pie is the same one I've been making for years. It's so perfectly sweet and tart, with the added advantage of being so very simple to make.
This pie strays a bit from tradition with its crust. While you'll usually find a graham cracker crumbs crust underneath all that lemony filling, this one has a buttery shortbread crust that features sweet, crispy, nutty toasted coconut. It adds a nice bit of flavor and a little different texture than usual. (See my tips for toasting coconut.)
Of course, if you're feeling a bit more traditional, just swap out the crust with a graham cracker crust or maybe a vanilla wafer crust or any kind of cookie crumb crust you like. Changing the crust with different cookie crumbs is a simple way to give a little twist to a favorite pie!
What is an Icebox Pie?
An icebox pie is a chilled pie that's named as it is because of its being stored in the refrigerator, or icebox. The fillings of these pies are generally creamy and are made with whipped cream. They are often made with a cookie crumb crust but can also be made in a pastry crust. Here, the crust I use is a bit of a departure with a coconut shortbread crust.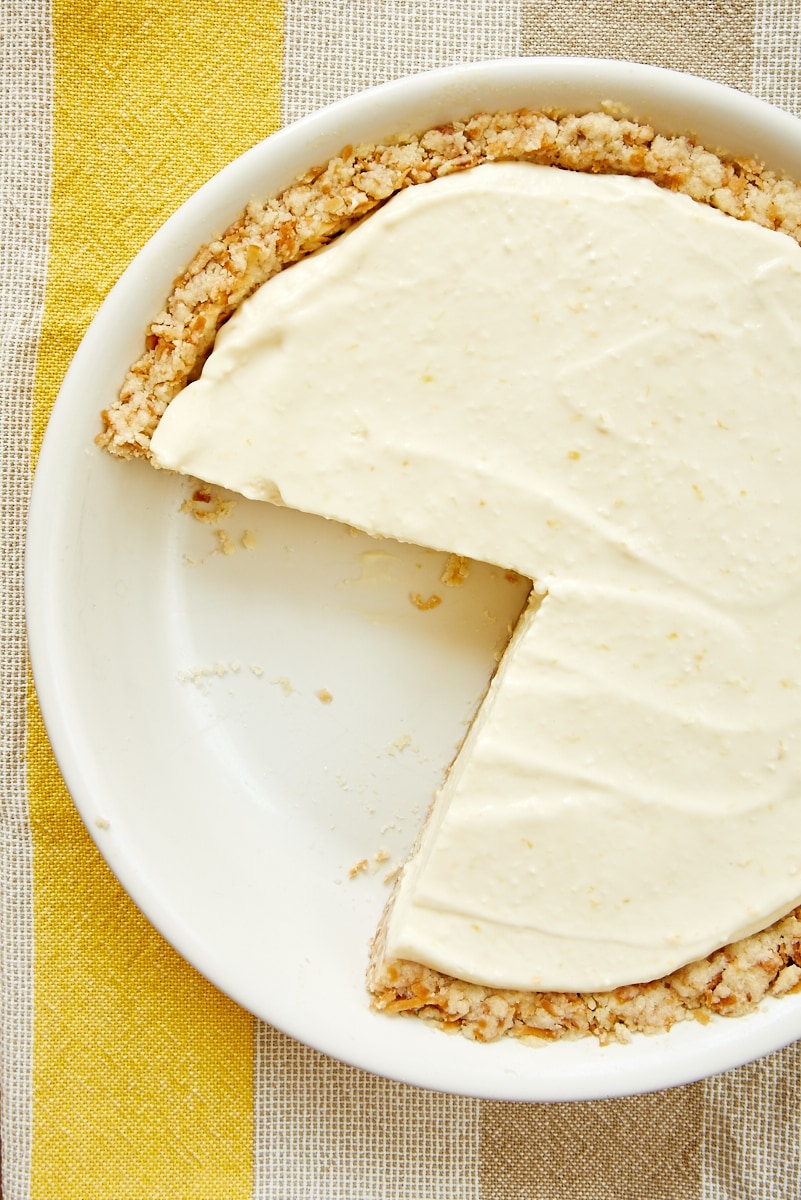 What You'll Need
This fantastic Lemon Icebox Pie is made with a short list of ingredients. It's wonderfully simple!
For the crust:
See my notes and links above for alternative pie crust options.
Sweetened flaked coconut – You can also use sweetened shredded coconut.
All-purpose flour
Granulated sugar
Salt
Unsalted butter – The butter needs to be cold for mixing. Cut it into 1/2-inch cubes and return it to the refrigerator while you gather the other ingredients.
For the filling:
Sweetened condensed milk – Look for this with the baking ingredients. Make sure your condensed milk is sweetened.
Cream cheese – Full-fat cream cheese works best. Let it come to room temperature so it will mix smoothly.
Lemons – You'll need both zest and juice for the filling. Learn more: How to Zest and Juice Lemons
Heavy cream – Either heavy cream or heavy whipping cream will work. Leave it in the refrigerator until you're ready to whip it.
Topping Ideas:
While this pie is perfectly lovely all on its own, here are some garnish ideas for adding a little something extra when you serve it.
Sweetened whipped cream – Add an extra sprinkle of toasted coconut on top!
Fresh berries – Your favorite kind or a mixture
Candied lemon peel
Lemon cookie pieces or crumbs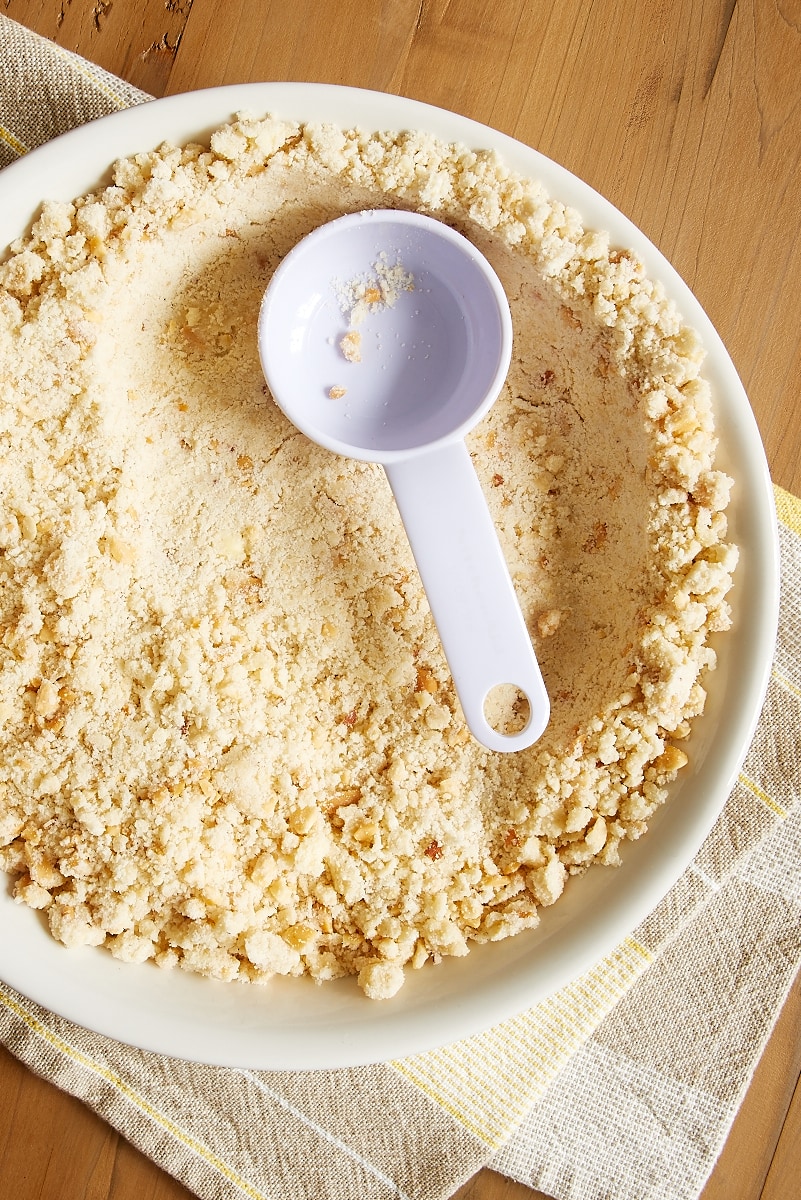 How to Make Lemon Icebox Pie
To Make the Crust:
Prepare for baking. Heat the oven to 350°F.
Toast the coconut. Either place the coconut in a single layer on a rimmed baking sheet and bake for 10 to 12 minutes, stirring every few minutes until toasted, or place the coconut in a skillet and cook over medium-low heat until toasted. Set aside to cool. Learn more: How to Toast Coconut
Mix the dry ingredients and sugar. Stir together the flour, sugar, and salt. Add the cooled coconut, and mix well.
Finish mixing. Add the butter and mix with a pastry blender, a fork, or your fingers until the mixture is thoroughly combined. It will be crumbly but should hold together when pinched.
Bake the crust. Transfer the crust mixture to a 9-inch pie plate, and press it evenly into the bottom and up the sides of the pan. You can use a measuring cup, a spoon, or your fingers to press it into the pan. Bake 15 to 18 minutes, or until golden brown. Allow to cool completely.
To Make the Filling:
Mix everything but the cream. With an electric mixer on medium speed, beat the sweetened condensed milk and cream cheese until thoroughly combined and smooth. Add the lemon zest and juice, and mix well.
Whip the cream. In a separate bowl, whip the cream with an electric mixer with a whisk attachment until soft peaks form. With soft peaks, the cream should fold over when the whisk is lifted out of the cream. Learn more: How to Make Whipped Cream
Add the cream to the cream cheese mixture. Gently fold the whipped cream into the cream cheese mixture. You may want to add about a quarter of it first and mix to loosen the mixture; then add the remaining whipped cream and gently fold it into the filling.
Fill the crust and chill. Transfer the filling to the cooled crust, spreading evenly. Cover and chill the pie for at least 6 hours before serving.
Tips for Success
While this Lemon Icebox Pie is quite easy to make, here are a few tips to help make yours the best it can be!
Use fresh lemon juice. Bottled lemon juice may be an easy shortcut now and then, but not here where lemons are the star of the show!
Use a cold bowl for whipping the cream. Placing the mixing bowl (and even the whisk attachment!) in the refrigerator before you begin making this pie will give you a better result.
Don't over-mix. When adding the whipped cream to the rest of the filling, fold it gently using as few turns of your mixing spoon as possible. Too much mixing, and your whipped cream will deflate, losing the light, fluffy texture you want in this pie.
How to Store Lemon Icebox Pie
Keep this Lemon Icebox Pie covered and refrigerated. It should keep for 2 to 3 days in the refrigerator.
Some people prefer this type of pie served frozen. If you go that route, wrap it very well and place in an airtight, freezer-safe container. It should keep up to 3 months if stored properly.
More Lemon Pie Recipes
This recipe was developed in partnership with Go Bold with Butter.