March 24, 2016
Peanut Butter Cake with Chocolate Frosting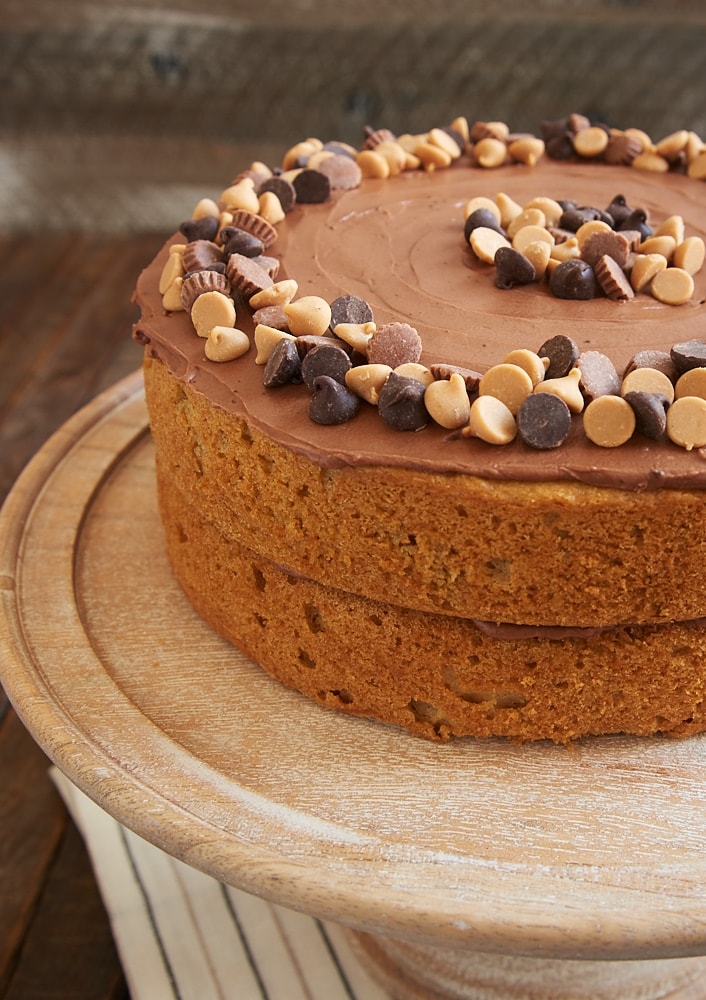 A few months ago, Quinn suggested that I make a peanut butter cake with chocolate frosting. I mentally noted that and went about with various other baking plans. I held on to his suggestion until this past week when he celebrated his birthday.
I waited until he left for work and then got in the kitchen and made it as a surprise for him. I even got it photographed the same day so I wouldn't do that annoying food blogger thing where I have some awesome dessert made but won't let him eat any of it until I can photograph it. Bless him, he learned a long time ago to eat the ugliest cookie on the cooling rack.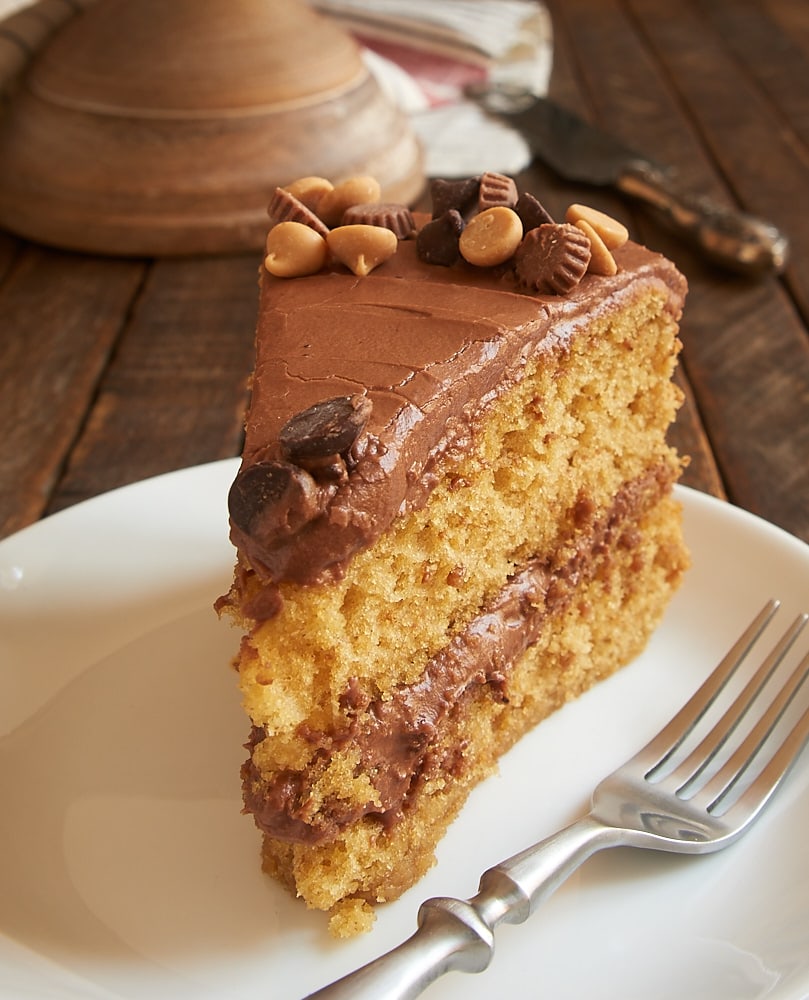 But let's get back to this amazing cake. The layers are so nice and tall. And they have a lovely peanut butter flavor. But the best part, at least to me, is the texture of the cake. It's so soft and moist. I'd be happy with a piece of that cake unadorned. Just slice it up and hand me a fork!
Of course, the frosting is what makes it extra special. What better to pair with peanut butter than chocolate? The frosting is a simple one with big, fabulous chocolate flavor. It pairs perfectly with the cake.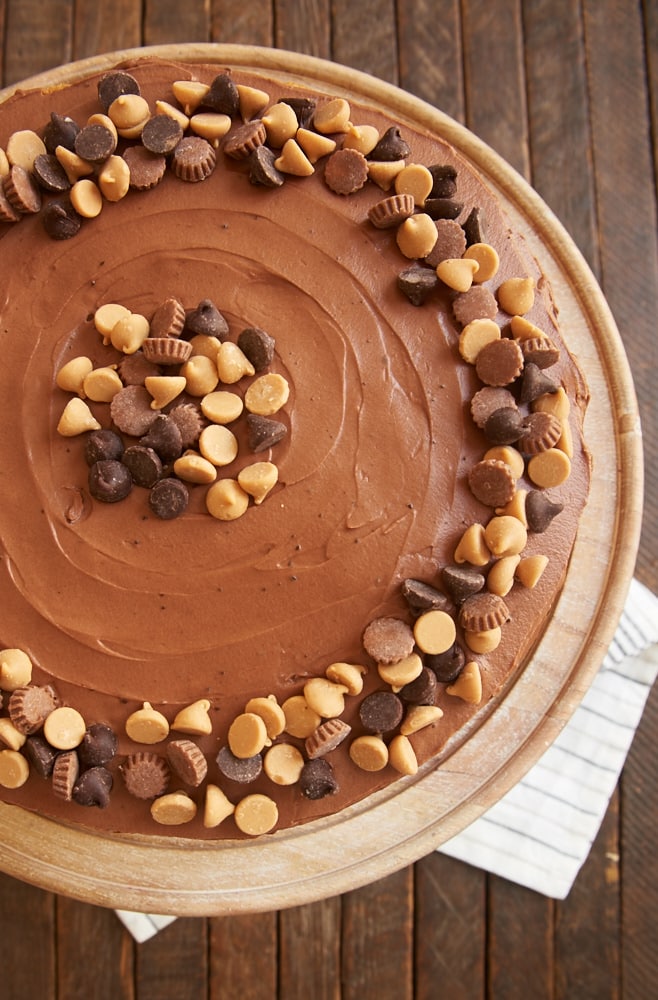 The lack of frosting on the sides of the cake isn't purely an aesthetic choice. Quinn and I both prefer a higher cake to frosting ratio, so I usually dial back the frosting and limit it to the tops of the layers. Of course, if you are a big frosting fan, just increase the frosting recipe by half or even double to cover the sides.
The sweetness level here is a bit higher than the things I usually bake. But birthdays are a great reason for a full-tilt dessert, right? And I'm happy to tell you that the birthday boy thoroughly enjoyed his cake!
Visit the Recipe Index for more cake recipes!
Peanut Butter Cake with Chocolate Frosting
Yield: 12 to 14 servings
Prep Time:35 minutes
Cook Time:30 minutes
Fans of chocolate and peanut butter will be wowed by this beautiful, sweet, delicious Peanut Butter Cake with Chocolate Frosting!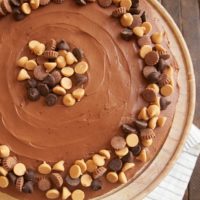 Ingredients:
For the cake:
2 & 1/4 cups all-purpose flour
1 & 1/2 teaspoons baking powder
1 teaspoon baking soda
1/2 teaspoon salt
3/4 cup creamy peanut butter
3/4 cup firmly packed light brown sugar
1/2 cup granulated sugar
1/2 cup unsalted butter, softened
3 large eggs
1 teaspoon vanilla extract
1 cup buttermilk
For the frosting:
1/4 cup unsalted butter, softened
1/4 cup plus 1 tablespoon unsweetened cocoa powder, sifted*
1/2 teaspoon vanilla extract
1/4 cup milk (plus more if necessary)
3 cups confectioners' sugar, sifted*
chocolate chips, peanut butter chips, mini peanut butter cups for garnish
Directions:
To make the cake:
Preheat oven to 350°F. Grease two 9-inch round cake pans. Line the bottom of each pan with parchment paper.
Whisk together the flour, baking powder, baking soda, and salt. Set aside.
Using an electric mixer on medium speed, beat the peanut butter, brown sugar, sugar, and butter until fluffy. Add the eggs, one at a time, mixing well after each addition. Mix in the vanilla.
Reduce mixer speed to low. Add the flour mixture in three portions, alternating with two portions of buttermilk. Mix just until combined.
Divide the batter evenly between the prepared pans. Spread evenly.
Bake 25 to 30 minutes, or until a pick inserted into the center comes out clean.
Cool the cakes in the pans on a wire rack for 15 minutes. Then remove the cakes from the pans to a wire rack, remove the parchment paper, and allow them to cool completely.
To make the frosting:
Using an electric mixer on medium speed, beat the butter, about half of the cocoa powder, and the vanilla until light and fluffy. Gradually add 1/4 cup milk, and mix well. Add the remaining cocoa powder, and mix well.
Gradually add the confectioners' sugar** and continue mixing until thoroughly combined.
If necessary, add a bit more milk (about a teaspoonful at a time) until the frosting is the desired consistency for spreading onto the cake.
Place one cooled cake layer on a serving plate. Frost the top with about half of the frosting.
Place the other cake layer on top of the frosted layer. Frost the top with the remaining frosting. Garnish if desired.
Notes:
*I'm not a big fan of sifting, but sifting these two ingredients will make your frosting much smoother.
**Confectioners' sugar added during mixing can make a really big mess. To keep the mess to a minimum, I recommend spooning the sugar into the mixing bowl in small increments. I add about a tablespoon or so at a time while continuing to mix.