I'm a little late with this, but I had to brag on my birthday cake. I think many bakers are left to make their own birthday cakes. I, however, have Quinn, who always comes through at the end of August.

Quinn picked this one out all by himself from Junior's Cheesecake Cookbook. The most impressive thing about this whole process is that he loathes coconut. So much so, that he resorted to handling it with gloved hands. Brave, huh?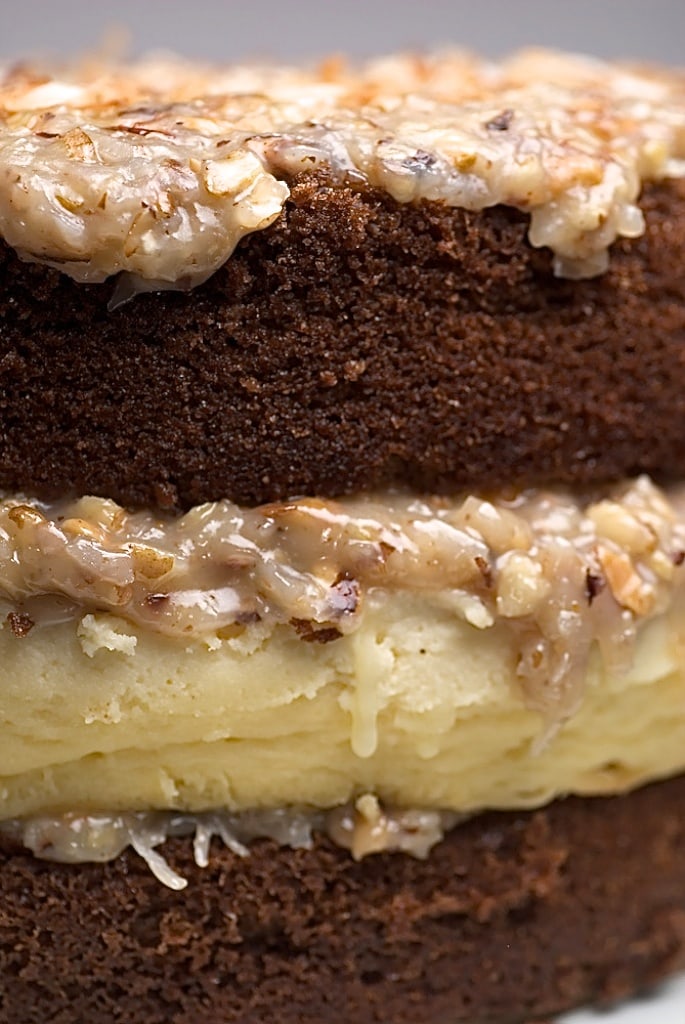 So, I came home from work to find this glorious dessert just for me. (Well, he did save a little bit of cheesecake for himself.) It's a wonderfully delicious combination of German chocolate cake and cheesecake. It's way over the top – definitely a special occasion kind of dessert. Honestly, the cheesecake alone is worthy of any special event.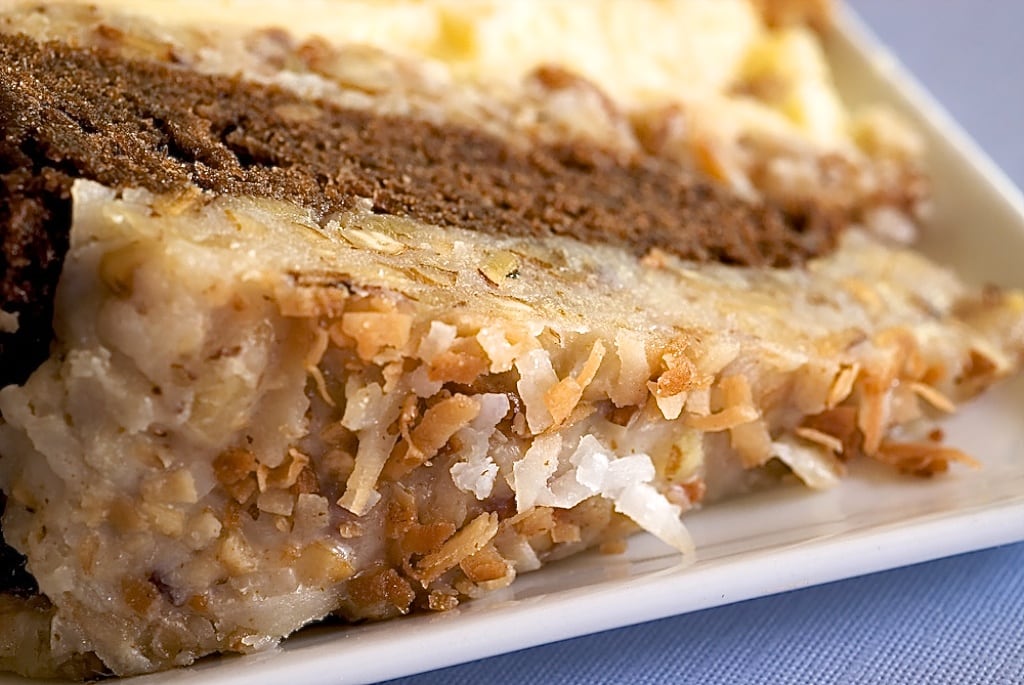 Obviously, there was a whole lot left after I ate my little piece of cake. My co-workers benefited from the remainder. There were plenty of rave reviews, both for the cake and for Quinn.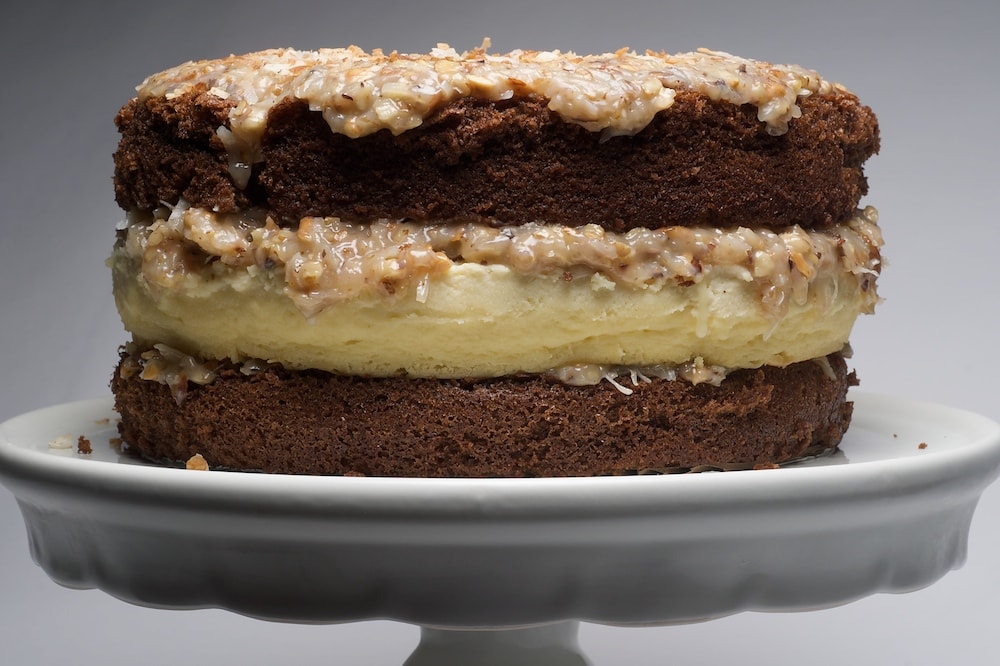 Get the Recipe:
German Chocolate Cheesecake
Cook Time
1 hour
50 minutes
Total Time
8 hours
20 minutes
This German Chocolate Cheesecake features a layer of rich cheesecake between layers of chocolate cake. So decadent!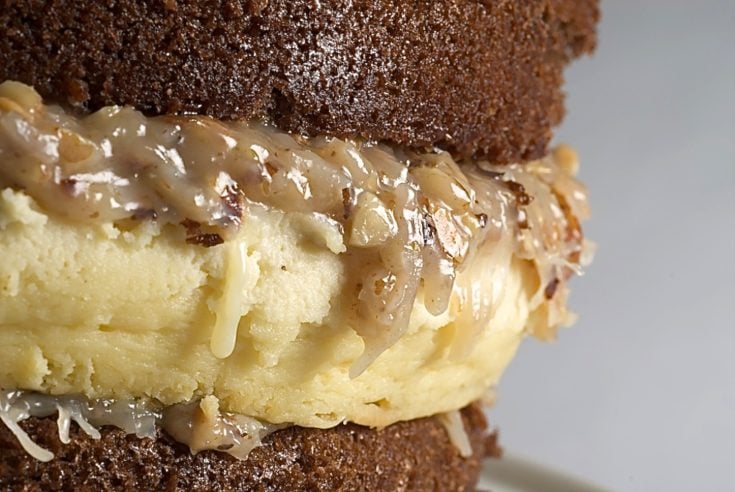 Ingredients
For the cheesecake:
24 ounces cream cheese, at room temperature
1 & 1/3 cups granulated sugar
3 tablespoons corn starch
1 tablespoon vanilla extract
2 large eggs
2/3 cup heavy cream
For the cake:
1 & 1/2 cups sifted cake flour
1 teaspoon baking powder
1/2 teaspoon baking soda
1/2 teaspoon salt
4 ounces German sweet chocolate
1/3 cup water
3/4 cup unsalted butter, at room temperature
1 & 1/2 cups granulated sugar
3 large eggs, separated
1 teaspoon vanilla extract
3/4 cup buttermilk
1/2 teaspoon cream of tartar
For the frosting:
1 & 1/2 cups coarsely chopped pecans
1/2 cup sliced almonds
1/2 cup chopped hazelnuts
4 cups flaked coconut, plus extra for sprinkling
2 cups granulated sugar
2 tablespoons all-purpose flour
1 cup heavy cream
1 cup milk
1 cup unsalted butter, at room temperature
1 tablespoon vanilla extract
Instructions
To make the cheesecake:
Preheat oven to 350°. Butter the bottom and sides of a 9-inch springform pan. Wrap the outside and the sides of the pan with aluminum foil.
Using a mixer on low speed, beat 8 ounces of cream cheese, 1/3 cup sugar, and cornstarch until creamy (about 3 minutes). Add remaining cream cheese, 8 ounces at a time, scraping the sides of the bowl after each. On medium speed, beat in remaining 1 cup of sugar and vanilla. Add eggs, one at a time, beating well after each. Beat in cream just until blended. Do not overmix.
Spoon the batter into the springform pan. Place pan in a large shallow pan of hot water. Water should come about 1 inch up the sides of the pan. Bake about 1 & 1/4 hours, unitl the edges are light golden brown and the top is slightly golden tan.
Remove pan from water bath and transfer to a wire rack. cool in pan for 2 hours. Cover with plastic wrap and refrigerate about 4 hours. Place in freezer overnight until ready to assemble the cake.
To make the cake:
Butter the bottom and sides of two 9-inch round cake pans. Line the bottom of both pans with parchment paper.
Sift flour, baking powder, baking soda, and salt in a small bowl. Melt chocolate in water in the microwave and set aside to cool. Beat butter and sugar on medium speed of an electric mixer. The mixture should be light yellow and creamy. Add egg yolks, one at a time, beating well after each. Mix in melted chocolate and vanilla. Using a wooden spoon, stir in flour mixture, alternating with buttermilk, blending well after each.
Beat egg whites and cream of tartar on high speed until stiff peaks form. Fold about a third of the whites into the chocolate batter, then the remaining whites.
Divide the batter evenly between the two cake pans. Bake about 30 minutes, until a toothpick inserted in the center comes out with a moist crumb. Cool cakes in pans on a wire rack for 15 minutes. Turn onto a cooling rack and peel off paper liners. Let cakes cool completely, about 2 hours. Cover with plastic wrap and refrigerate until ready to assemble the cake.
To make the frosting:
Preheat oven to 350°. Spread nuts on a large rimmed baking sheet. Toast until golden, about 5 minutes, tossing a couple of times. Set aside to cool.
Toast 1/4 cup of coconut in the same way. Set aside.
Mix sugar and flour in a large saucepan. Add cream, milk, butter, and vanilla. Stir until well combined. Cook, stirring constantly, over medium heat until thick and golden brown, about 12 minutes. Remove from heat and stir in toasted nuts and untoasted coconut. Refrigerate about 30 minutes, until thick enough to spread.
To assemble the dessert:
Remove the cheesecake from freezer and let stand at room temperature for about 10 minutes.
Place one chocolate cake layer, top side down, on a cake plate. Spread with some of the frosting. Remove the springform ring from the cheesecake. Place cheesecake top side down on the forsted cake layer. Spread with frosting.
Top with remaining chocolate cake layer, top side up, and frost the top of the cake and the sides of only the top cake layer with the remaining frosting. Sprinkle top with toasted coconut. Refrigerate at least two hours until ready to serve.
Cut cake with a sharp straight-edge knife, not a serrated knife.
Leftover cake can be covered and refrigerated, or wrapped and frozen for up to a month.
Notes
Recipe adapted from Junior's Cheesecake Cookbook.
Recommended Products
Bake or Break is a participant in the Amazon Services LLC Associates Program, an affiliate advertising program designed to provide a means for us to earn fees by linking to Amazon.com and affiliated sites.
Share this: