These chocolate mousse mini cupcakes take four simple ingredients and turn them into an indulgent little bite that's perfect for a party!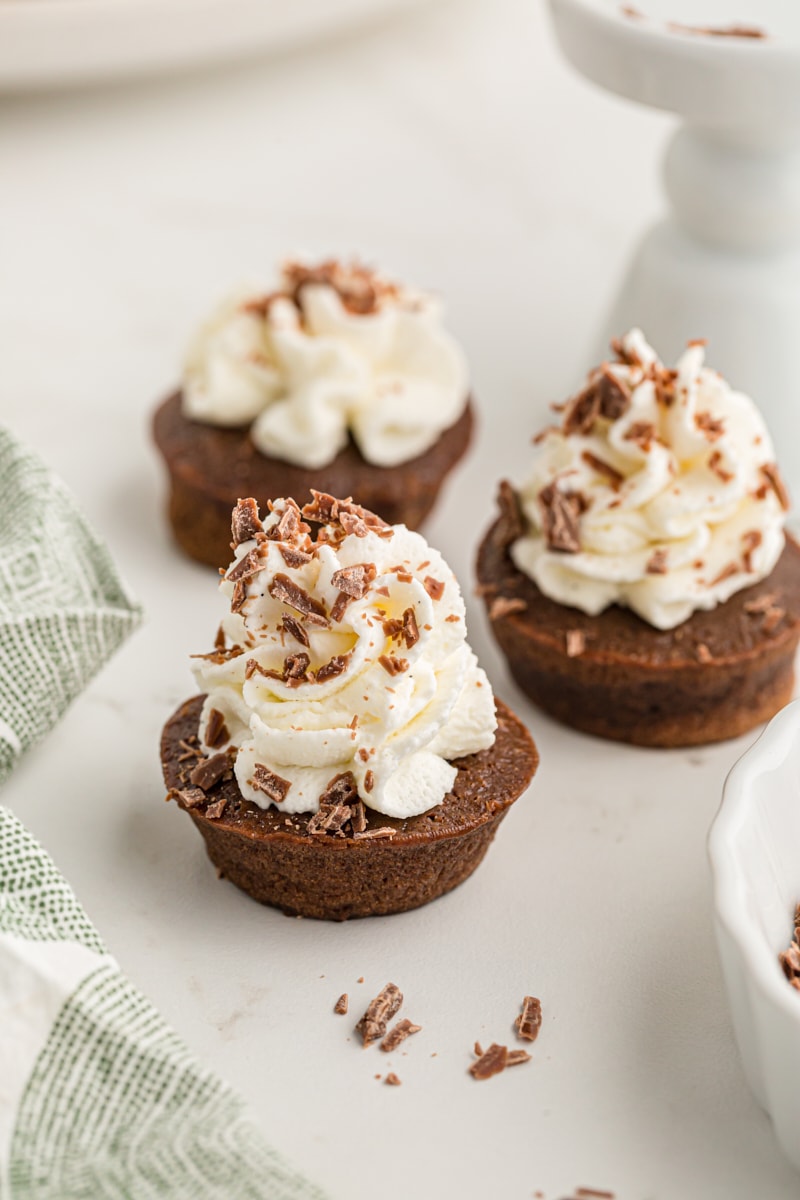 Baked Milk Chocolate Mousse Cups
Consider these chocolate mousse mini cupcakes a marriage of traditional chocolate mousse and a chocolate cupcake, all in a convenient bite-sized form. They've got the richness of mousse, but instead of being served whipped and chilled, they get baked in the oven like mini cupcakes.
The most amazing thing is that you can make these with just four ingredients. If you're busy like I am this time of year, these kinds of recipes can be life-savers. Just top them off with some sweetened whipped cream, and you've got a beautiful plate of tiny, lovely desserts.
When I make desserts for a gathering, I like to make mini treats like these chocolate mousse mini cupcakes so there's no slicing and serving to be done—and so everyone feels free to try a few different desserts. These cupcakes are so easy, you'll have plenty of time to make some other mini muffin pan dessert recipes to pair with them!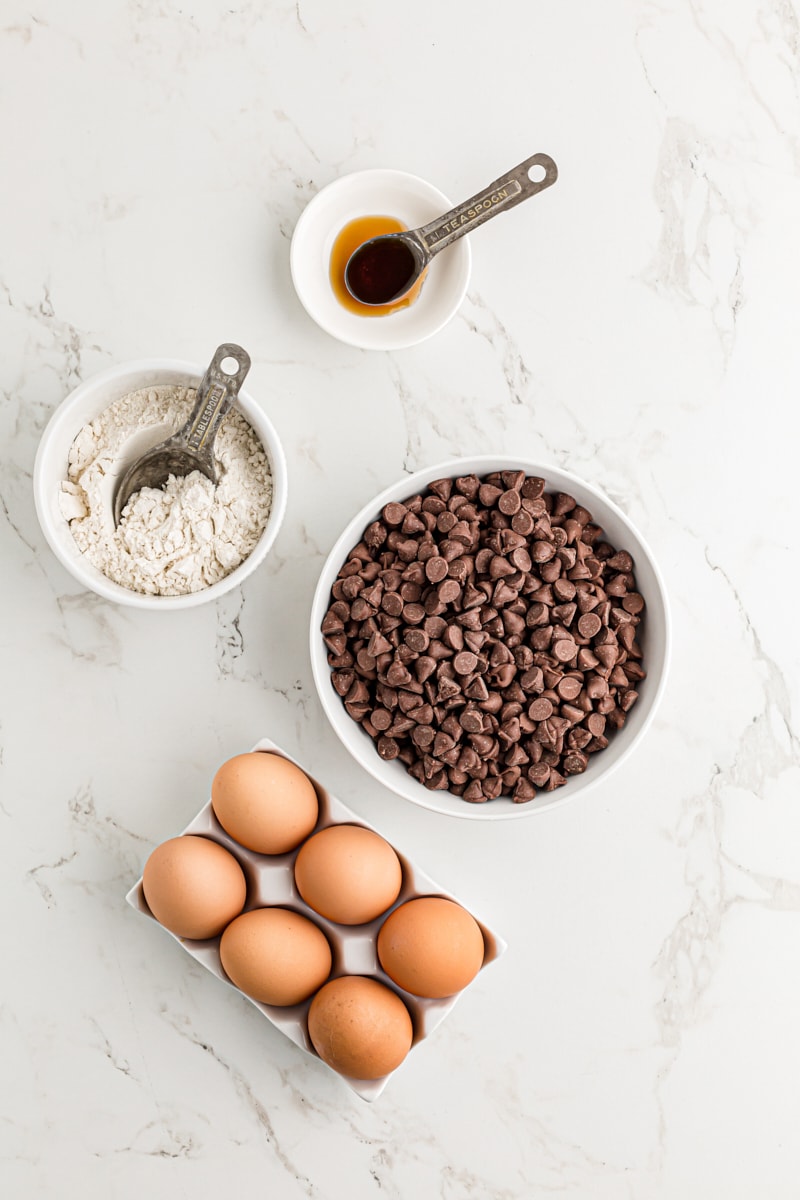 What You'll Need
Scroll down to the recipe card to find the ingredient quantities and recipe instructions.
Milk chocolate – You can certainly use another type of chocolate, but because there's no dairy or cream in this recipe, I appreciate the flavor of milk chocolate here.
Eggs – Just like with traditional chocolate mousse, eggs are a key player in this recipe.
All-purpose flour – Learn more: How to Measure Flour
Vanilla extract – Use store-bought or homemade vanilla extract.
Whipped cream and chocolate shavings – Use these or choose your own garnishes for the perfect finishing touch.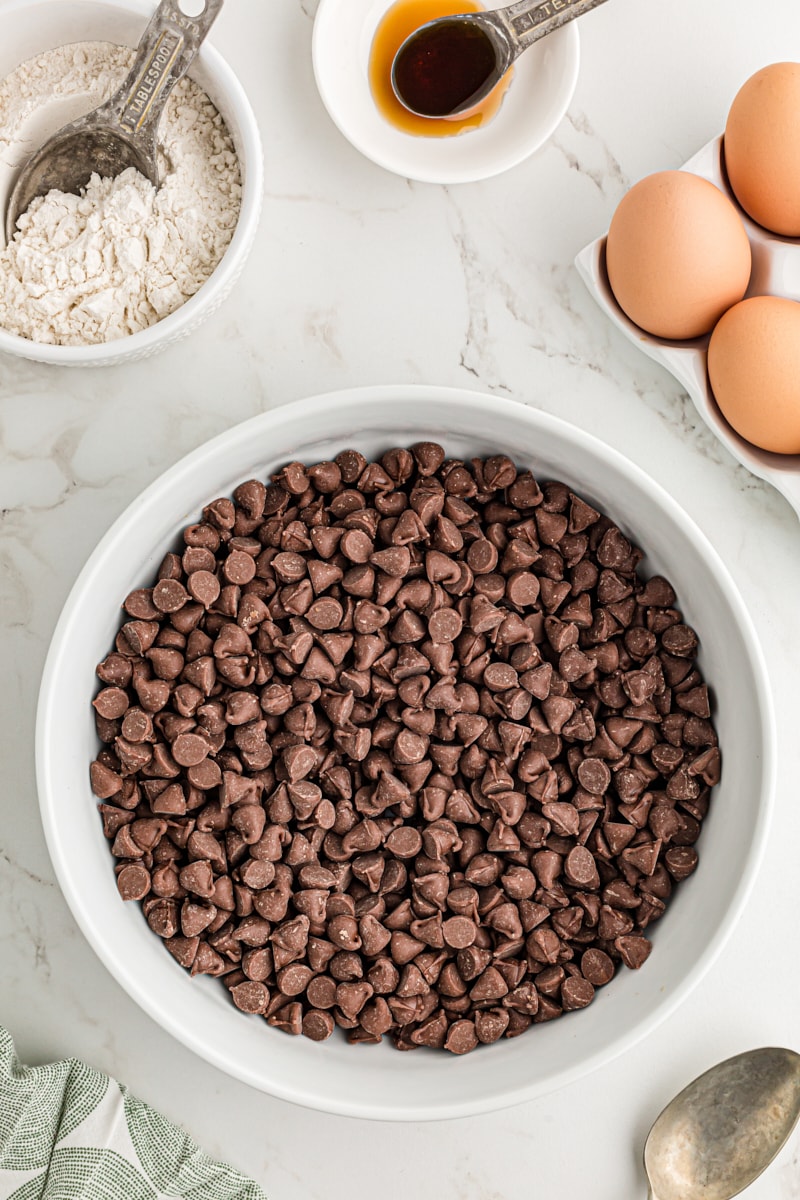 Do You Need Special Chocolate for Baking?
You can use any type of milk chocolate in this recipe, whether it's a bar you grab from the checkout lane at the grocery store or milk chocolate chips sold in the baking section. Just make sure it's high quality!
How to Make Chocolate Mousse Mini Cupcakes
These chocolate mousse mini cupcakes are quite easy to make—in fact, cracking all the eggs is probably the hardest part! Here's what you'll need to do.
Prepare. Preheat your oven to 325°F and grease 48 mini muffin cups with non-stick spray.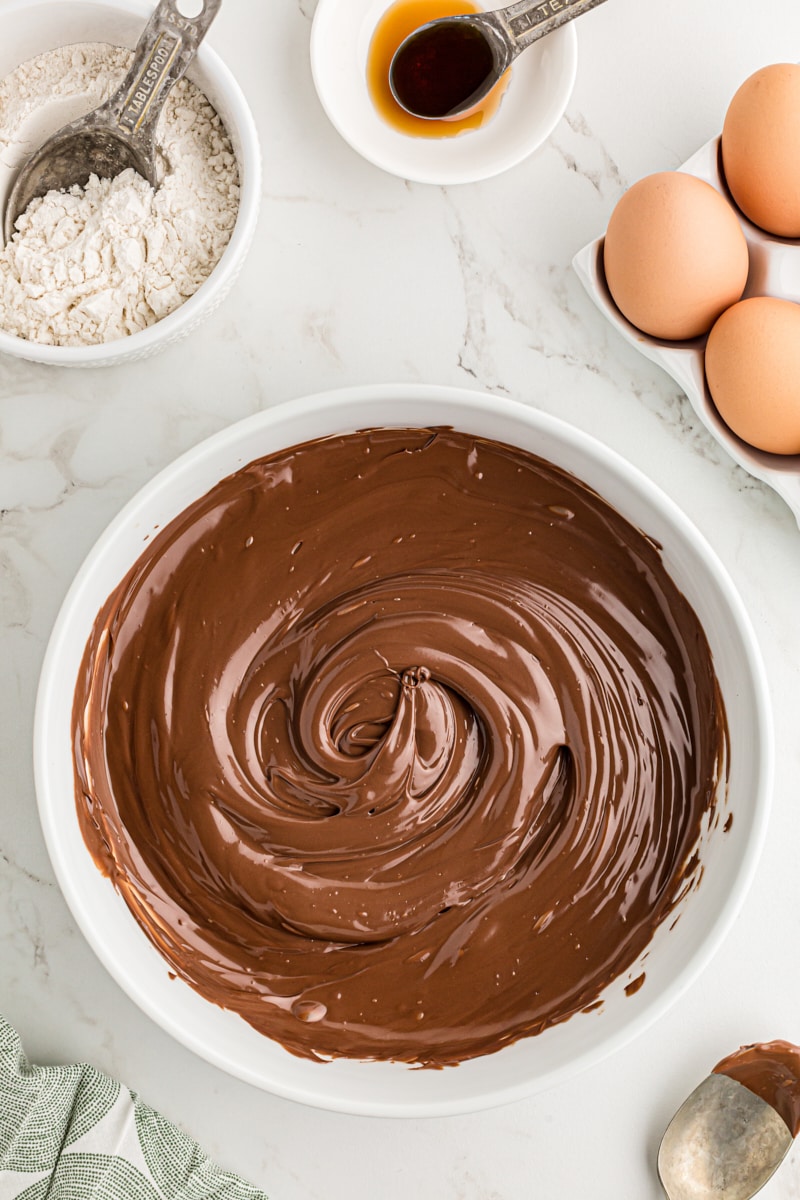 Melt the chocolate. Place the chocolate in a microwave-safe bowl. Heat the chocolate at half power in 30-second intervals until the chocolate melts when you stir it. Keep stirring until it's smooth, then set it aside to cool slightly.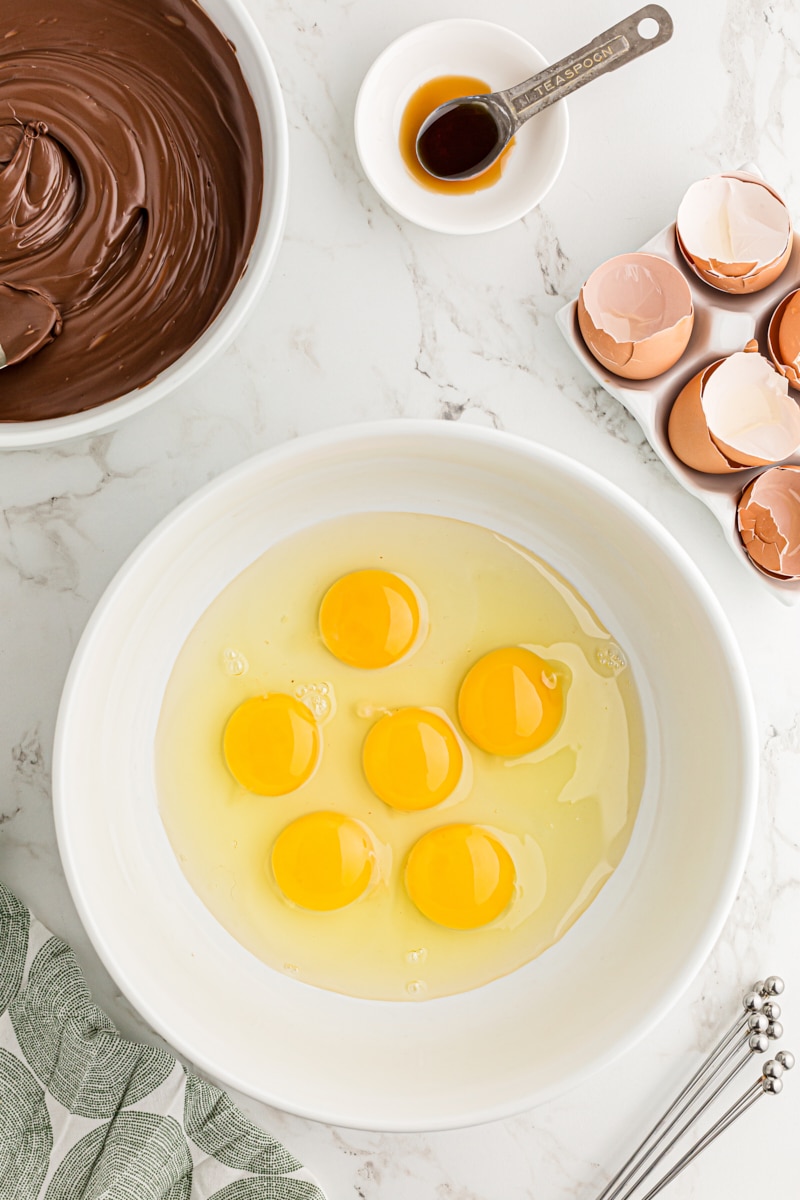 Finish the batter. Beat the eggs and flour in a large bowl until combined, then beat in the chocolate, followed by the vanilla.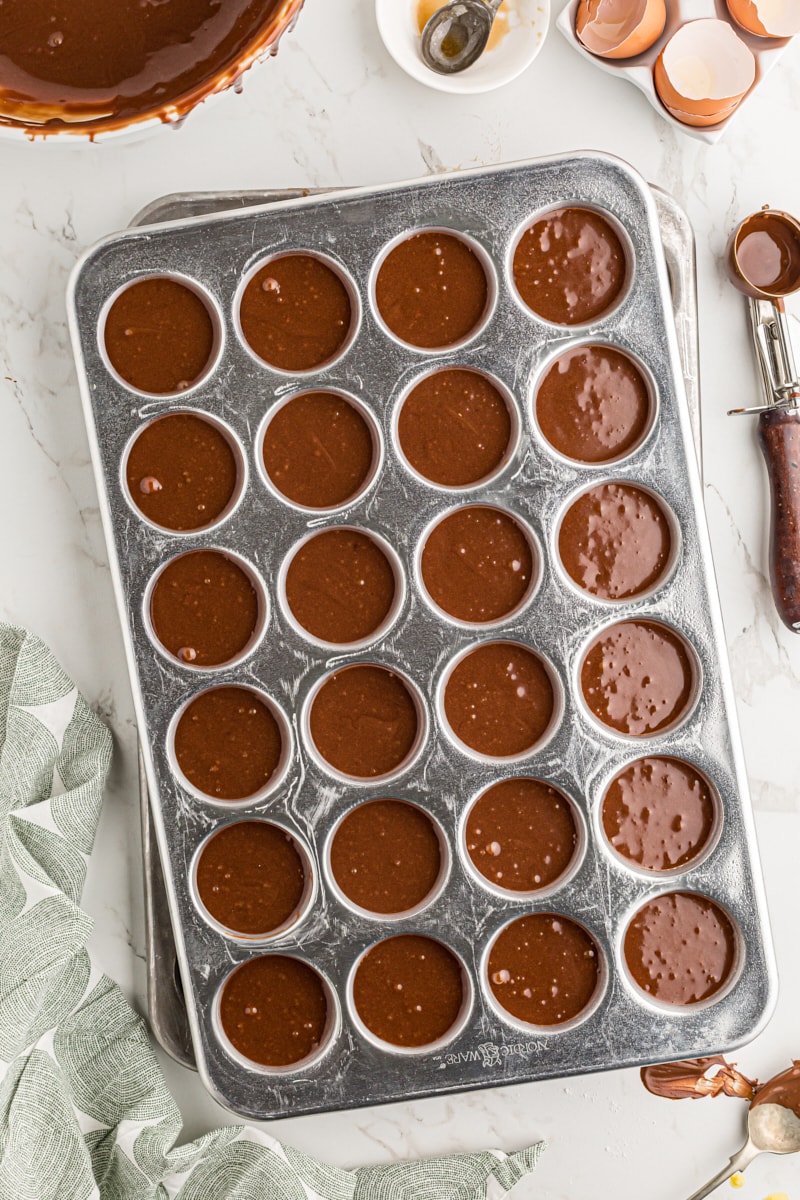 Bake. Divide the batter into the muffin cups, filling each about 2/3 full. Bake for 8 to 10 minutes, or until the edges of the cupcakes are browned and the centers jiggle slightly.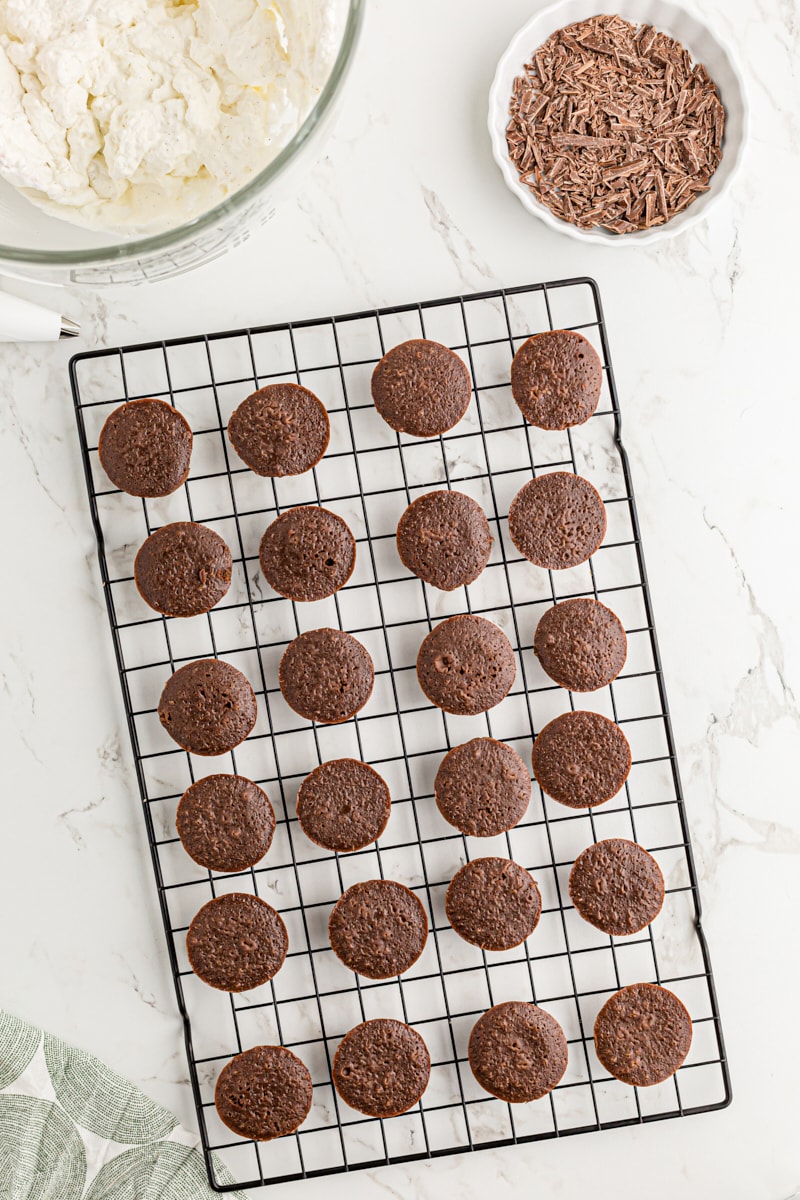 Cool. Let the mini cupcakes cool in the pan on a wire rack for 20 minutes. Then, carefully remove the cupcakes from the pans to finish cooling.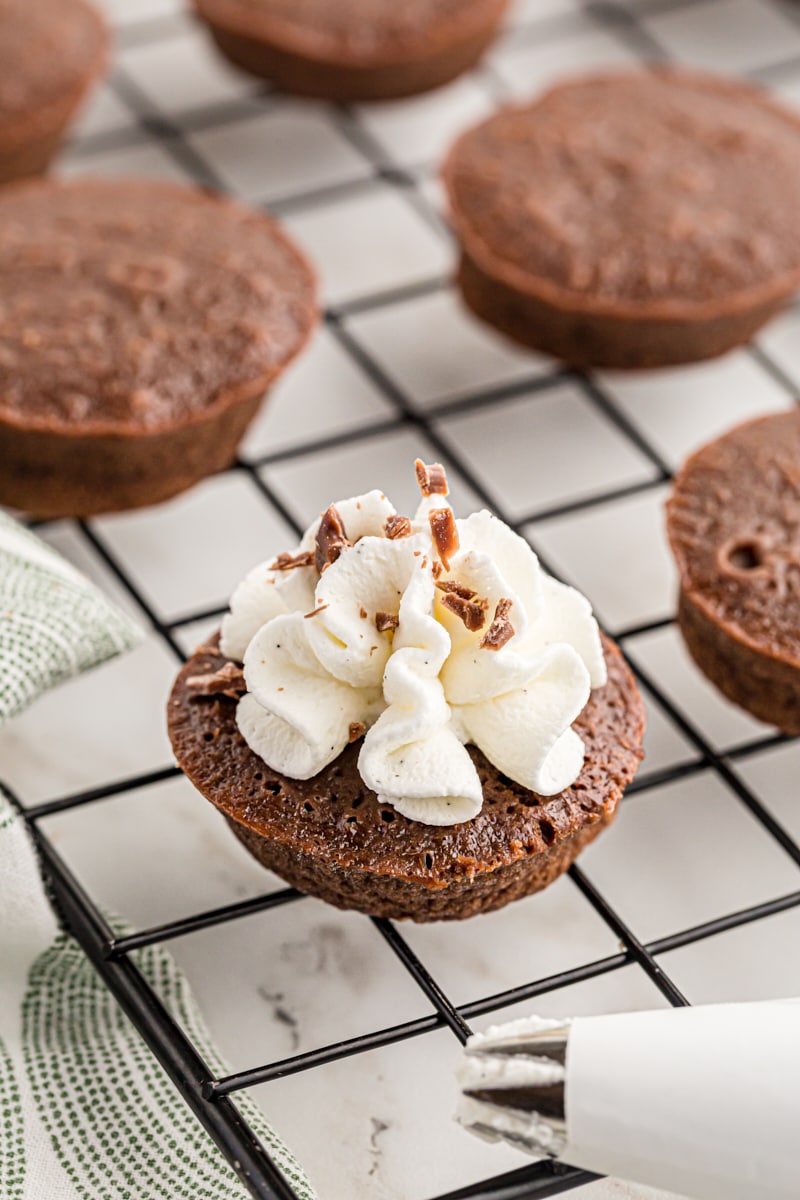 Garnish. Add a dollop of whipped cream to each mini cupcake and sprinkle chocolate shavings over the top before serving.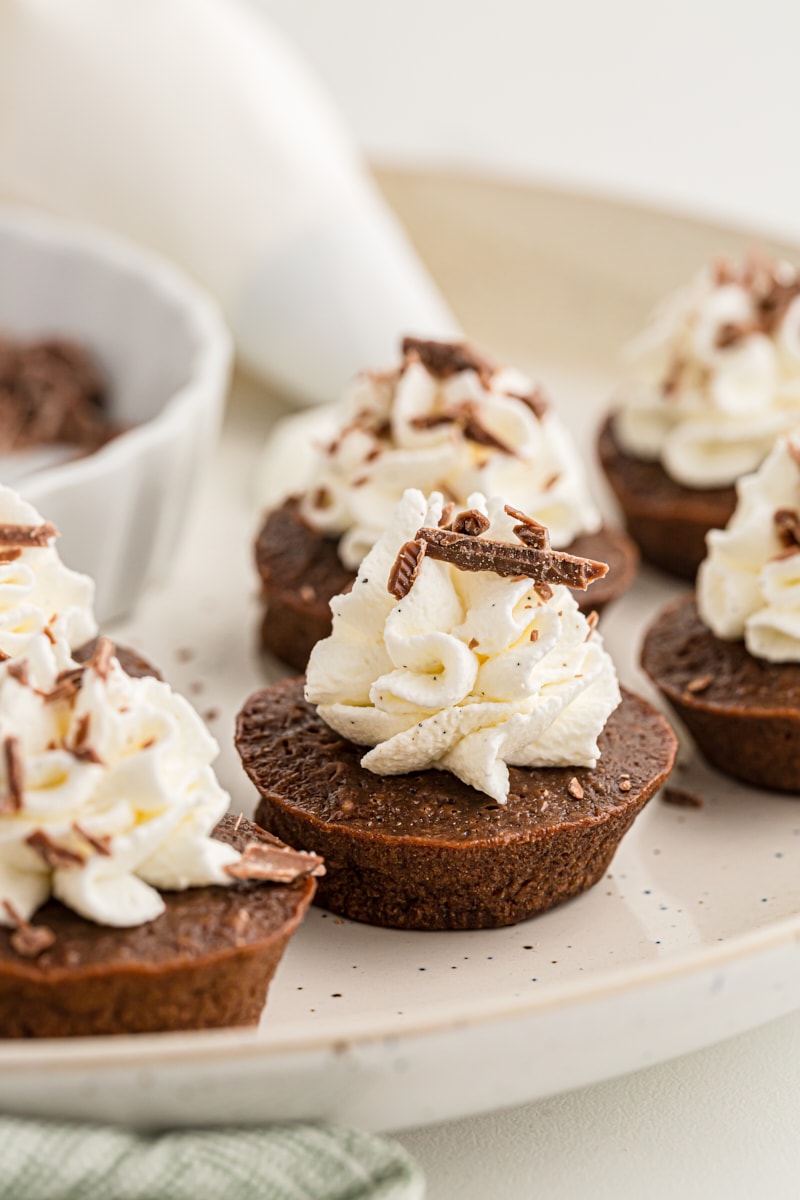 Tips for Success
If you're new to baking, look over my baking tips for beginners to make sure you've got the basics down. Here are some additional tips to help you with these chocolate mousse mini cupcakes.
Use high-quality chocolate. In other words, it should be something you'd want to snack on. Chocolate is a key ingredient, so these will only be as good as the chocolate you put in them.
Let the chocolate cool a bit after melting. Otherwise, it will cook the eggs in the batter.
Don't use paper liners. I've made these with and without liners, and I found that the cupcakes tended to lose their shape in the liners.
Loosen carefully. Run a knife between the pan and the cupcake to loosen the mousse cakes if necessary.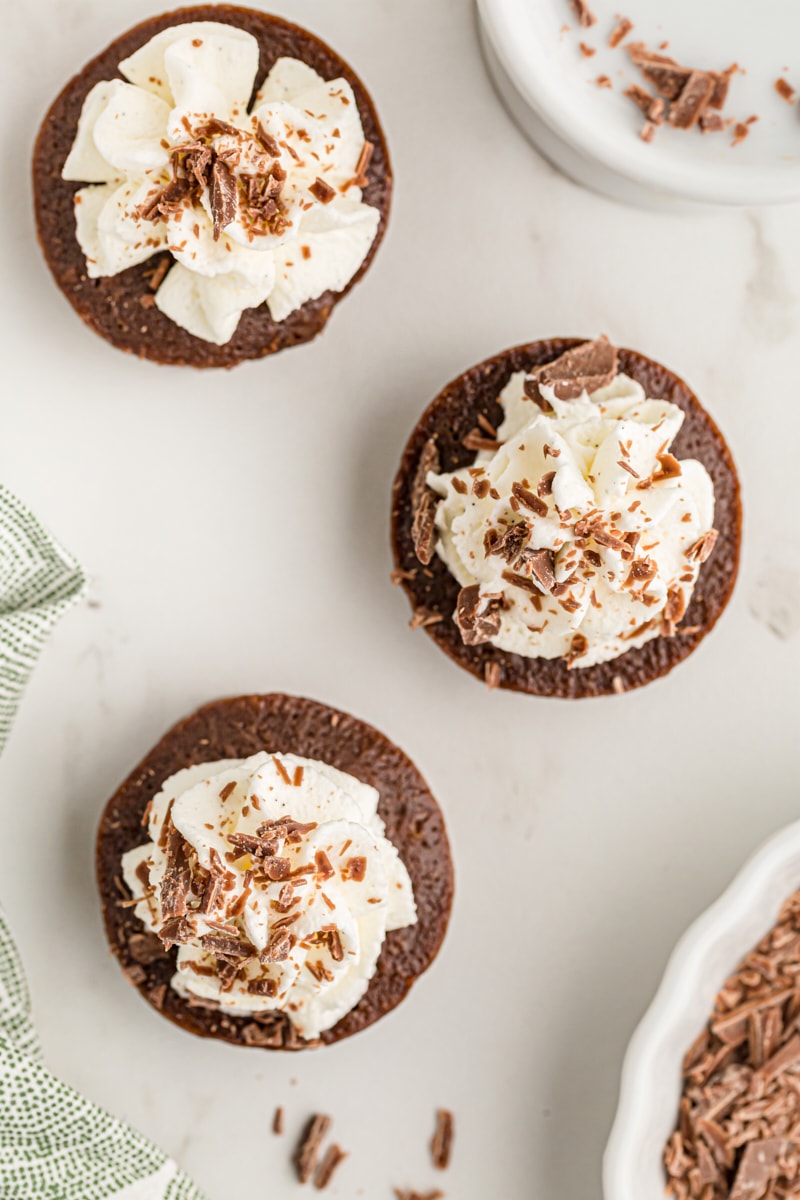 Variations
Try swapping the vanilla extract with a coffee liqueur or hazelnut liqueur. To garnish, you can swap the chocolate shavings for a raspberry or slice of strawberry.
How to Store
Once you've added the whipped cream on top, these chocolate mousse mini cupcakes will need to be stored in the refrigerator. Place them in an airtight container and store them for up to 3 days.
If you'd like to store these before adding the garnish, you can keep them at room temperature in an airtight container for 4 to 5 days.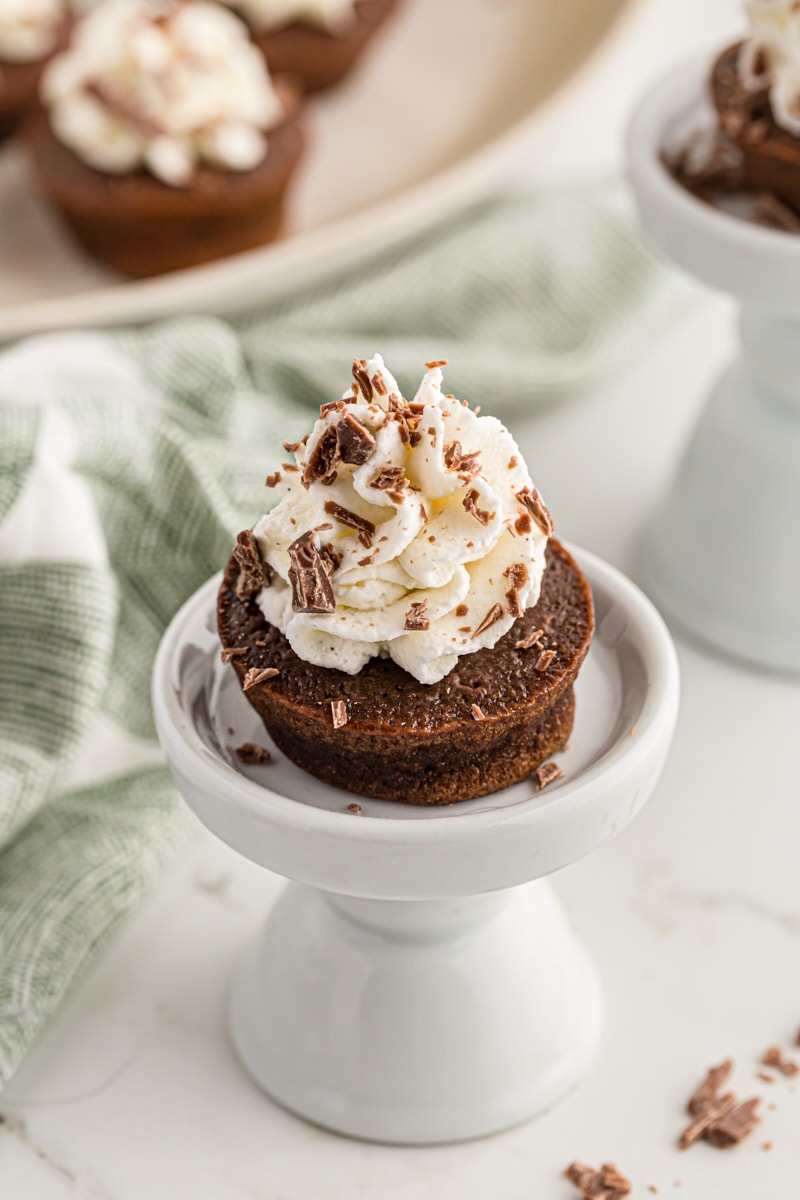 Can This Recipe Be Frozen?
You can freeze chocolate mousse mini cupcakes in an airtight container for up to 2 months. Let them thaw in the refrigerator before garnishing and serving.
More Bite-Sized Dessert Ideas