December 4, 2013
Chocolate Mousse Mini Cupcakes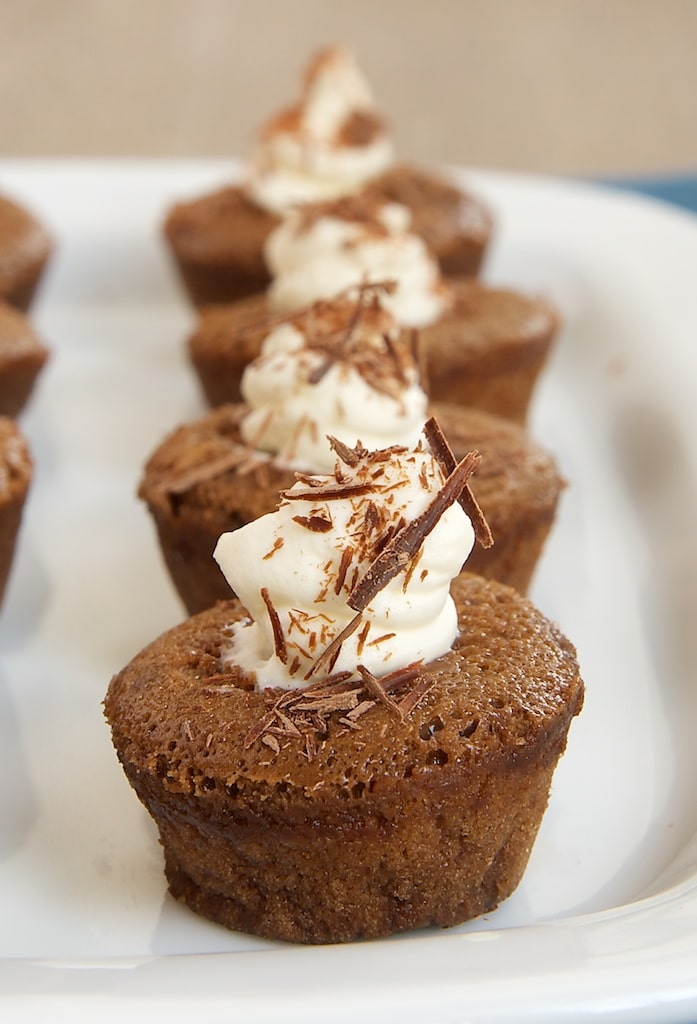 As you might imagine, food blogging can be a bit solitary. I work from home. I have no co-workers, unless you count my cats. Some days it's just me and the kitchen and the internet. But, food blogging also has allowed me to meet some lovely people who share my passion for baking, cooking, and good food.
Today, I'm so excited to be celebrating with one of my blogger friends. Some fellow bloggers and I are having a surprise baby shower for Audra of The Baker Chick. Surprise, Audra! She's expecting a baby boy in January, and I couldn't be more thrilled for her and her husband.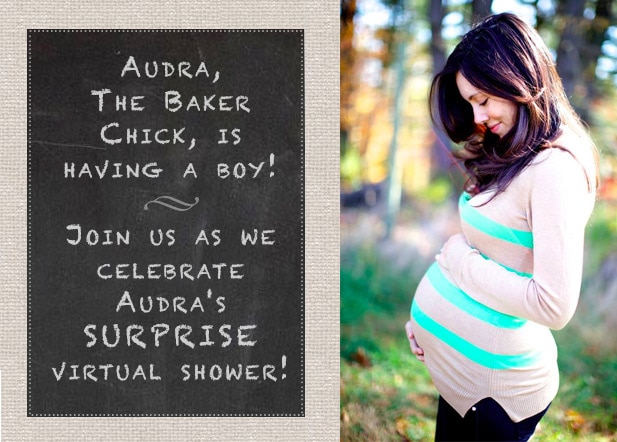 Okay, now on to my contribution to this virtual shower. It's probably not surprising that I'm the girl who shows up to the party with chocolate. What can I say? I aim to please. Anyway, when I make dessert for a gathering, I like to make mini treats so there's no slicing and serving to be done.
I hesitate calling these cupcakes. They aren't actually much like cupcakes, but the presentation is there so we'll go with it. As the rest of the name implies, these are like little bites of chocolate mousse. Hard to argue with that.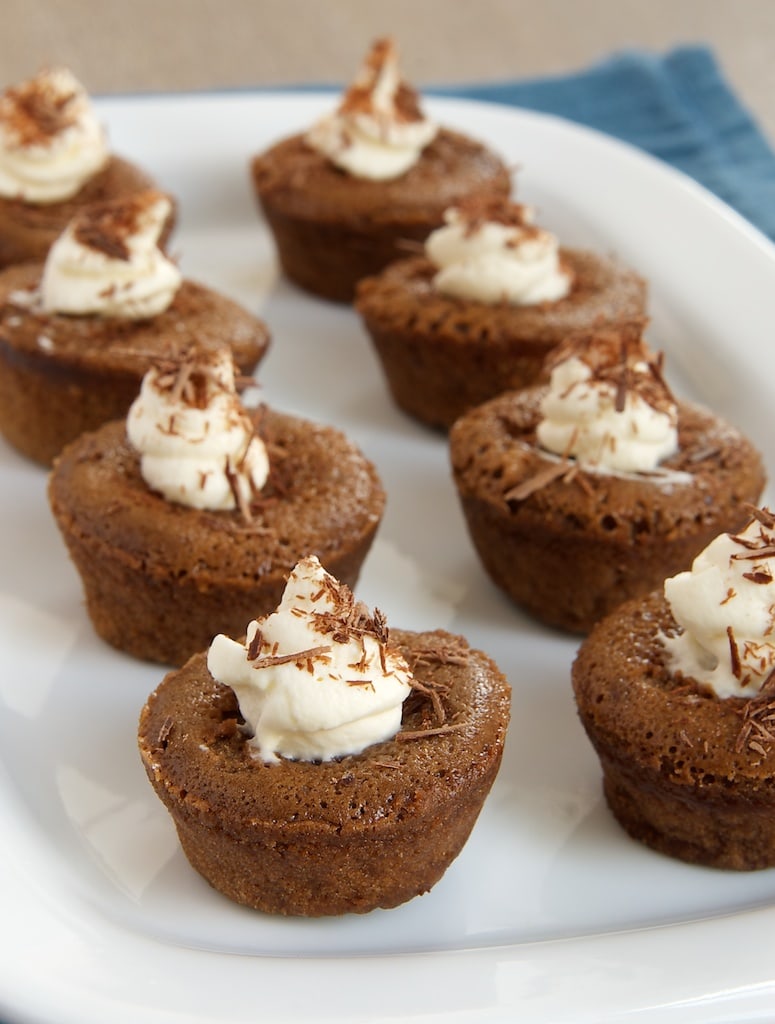 The most amazing thing is that you can make these with just four ingredients. If you're busy like I am this time of year, these kinds of recipes can be life-savers. Just top them off with some sweetened whipped cream, and you've got a beautiful plate of tiny, lovely desserts.
I added a bit of vanilla extract, although I really wanted to use a little liqueur. This being a baby shower, I thought vanilla was the safer choice. But, I think these would be just lovely with a coffee liqueur or hazelnut liqueur.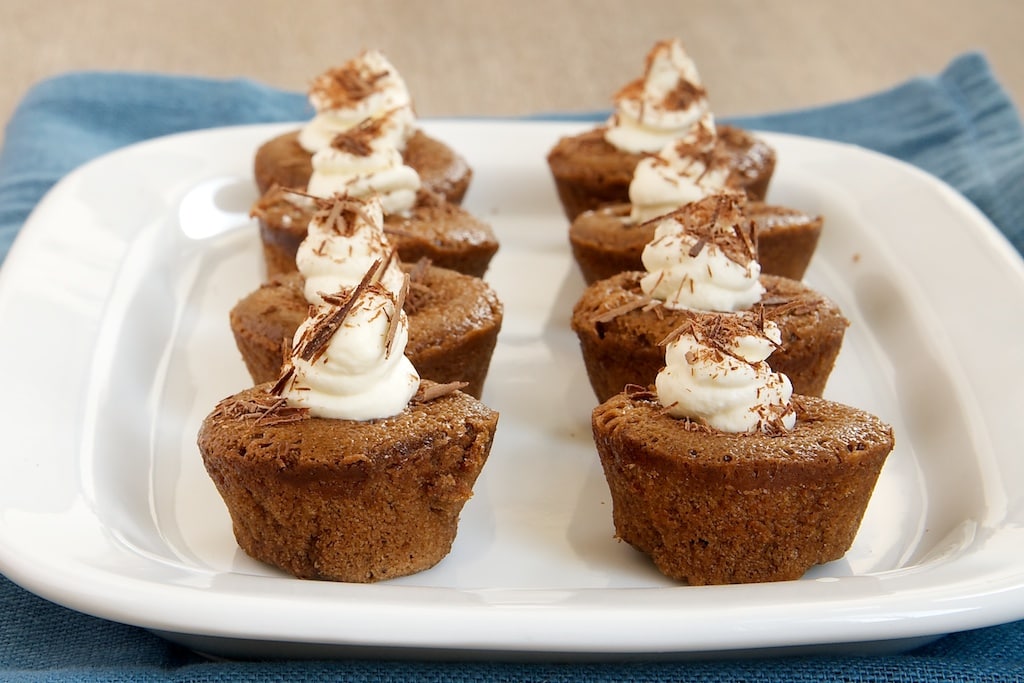 I have a couple of bits of advice for you. First and foremost, these will only be as good as the chocolate you put in them. Secondly, the original recipe recommended lining the muffin cups with paper liners. I made them both with and without liners, and I found that the cupcakes tended to lose their shape in the liners.
Stop by The Baker Chick to congratulate Audra. And, click the links below to see what everyone else made to help Audra celebrate. Oh, how I wish we were all really getting together to share all of this deliciousness!
Congratulations, Audra and Andy!
Cocktails:
Grapefruit, Rosemary, and Sage Spritzer from Brandy at Nutmeg Nanny
Small Bites:
Sausage and Cheese Wonton Cups from Erin at The Spiffy Cookie
Honey and Tangerine Whipped Goat Cheese Crostini from Liz at The Lemon Bowl
Desserts:
Bananas Foster Cupcakes from Meriem at Culinary Couture
Chocolate-Caramel Tart with Sea Salt from Joanne at Eats Well with Others
Chocolate Chip Oatmeal Cookies with Brown Butter from Katrina at Warm Vanilla Sugar
Cinnamon Nut Stuffed Persimmons from Gina at Running to the Kitchen
Coconut-Cream Meringue Cupcakes from Tracey at Tracey's Culinary Adventures
Espresso Salted Caramel Buttercream Brownie Bites from Lauren at Keep It Sweet Desserts
Gluten-Free Cranberry Bread from Jacqueline at The Dusty Baker
Mini Eggnog Bundt Cakes with Salted Caramel Icing from Kelli at The Corner Kitchen
Mini Gingerbread Whoopie Pies from Julie at Table for Two
Mini Vanilla Cupcakes with Peppermint Buttercream from Rachel at Baked by Rachel
Sugar & Spice Layer Cake from Stephanie at Girl Versus Dough
Chocolate Mousse Mini Cupcakes
Yield: 48 mini cupcakes
Prep Time:15 minutes
Cook Time:10 minutes per pan
Chocolate Mousse Mini Cupcakes take the popular classic and turn it into little bites of baked chocolate goodness made with just four ingredients.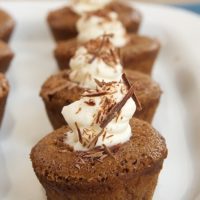 Ingredients:
15 ounces milk chocolate (about 2 & 1/3 cups)
6 large eggs, beaten
1/4 cup plus 2 tablespoons all-purpose flour
1/2 teaspoon vanilla extract
sweetened whipped cream and chocolate shavings, for garnish
Directions:
Preheat oven to 325°F. Grease 48 mini muffin cups.
Place the chocolate in a microwave-safe bowl. Heat at half power in the microwave in 30-second increments until the chocolate melts when stirred. Stir until smooth. Set aside to cool slightly.
Place the eggs and flour in a large bowl. Beat until combined. Add the chocolate and beat until thoroughly mixed and smooth. Mix in the vanilla.
Fill muffin cups about 2/3 full of batter.
Bake 8 to 10 minutes, or until the edges are browned and centers shake slightly.
Cool in the pan on a wire rack for 20 minutes. Then, carefully remove from pans and cool completely. Run a knife between the pan and the cupcake to loosen the cupcake if necessary.
Garnish with whipped cream and chocolate shavings before serving.