Coconut cake is a classic Southern dessert that pairs two layers of coconut-infused cake with rich frosting and even more shredded coconut. It's always a hit with coconut lovers!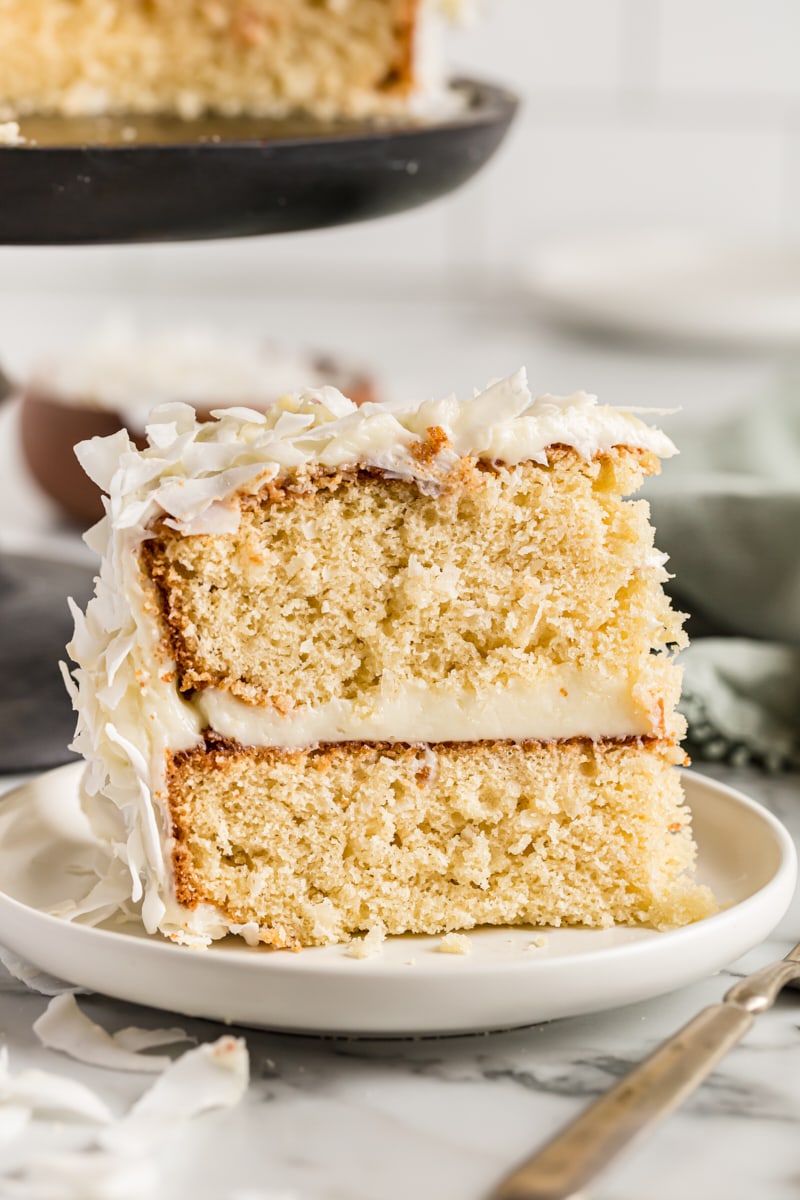 Coconut Cake with Cream Cheese Frosting
Coconut cake ranks up there in the pantheon of old-fashioned Southern cake recipes, alongside Hummingbird Cake, German Chocolate Cake, and Caramel Cake.
I found this particular recipe in Ina Garten's Barefoot Contessa at Home. With my love of cream cheese, I was instantly smitten with the idea of using a cream cheese frosting on a coconut cake. It's a break from the traditional, but hard to resist—cream cheese frosting works for carrot cake and red velvet, so why not coconut cake, too?
The coconut cakes I've had in the past have always been very light and moist. This cake is a bit more dense than usual, but it still has a nice, tender crumb. The dense, moist cake is the perfect foil to that ethereal cream cheese frosting, making for a coconut cake that's a little unexpected, but every bit as delicious as the classic!
If you're looking for a simpler, old-fashioned take on coconut cake, try my Coconut Sheet Cake.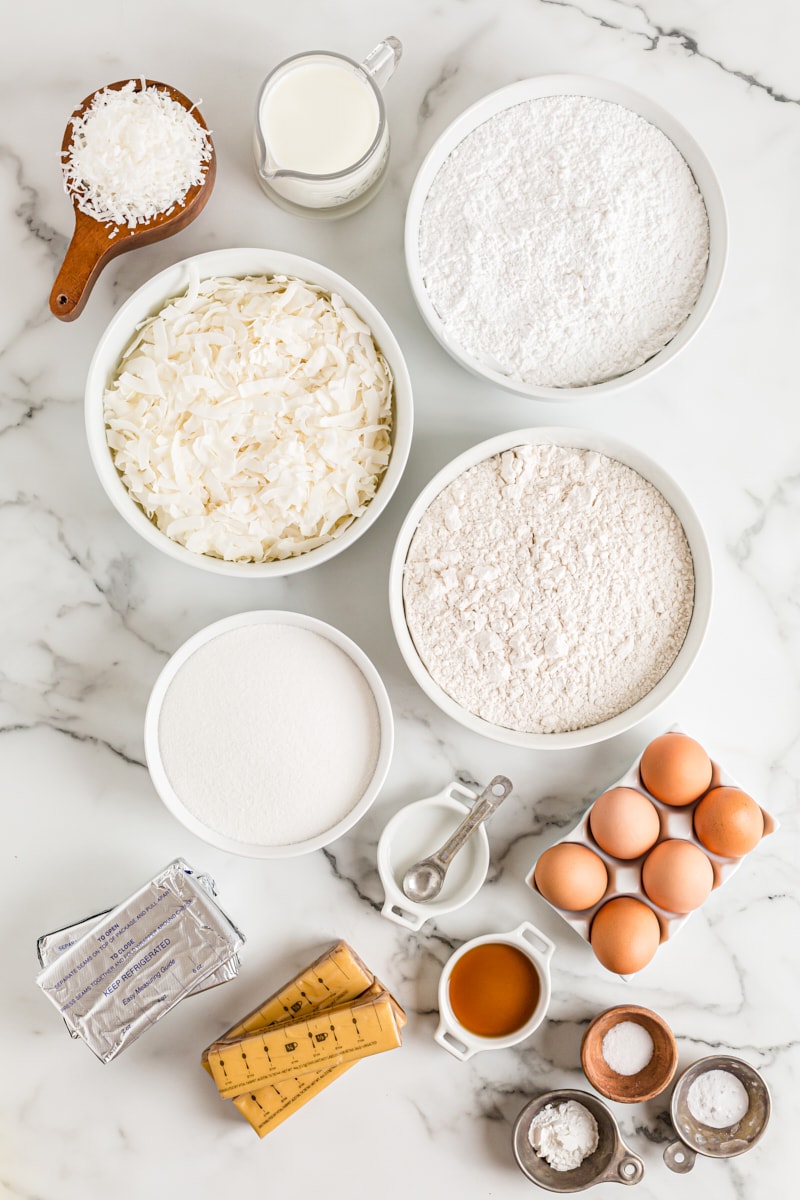 What You'll Need
If you bake often, you probably have many of the ingredients for this coconut cake on hand in your kitchen!
For the cake:
Unsalted butter – Let this sit room temperature for about half an hour to allow it to soften properly.
Granulated sugar
Eggs – These should be left on the counter to come to room temperature.
Vanilla extract
Almond extract
All-purpose flour – Here's how to measure flour for baking.
Baking powder
Baking soda
Kosher salt
Milk – Whole milk is always best for baking, but reduced fat (2%) will do in a pinch.
Sweetened shredded coconut
For the frosting:
Cream cheese – Let this come to room temperature so it's easy to beat into a creamy frosting.
Unsalted butter – The butter should also be room temperature.
Vanilla extract
Almond extract
Confectioners' sugar – Sift this first to ensure there are no lumps in your frosting!
Sweetened shredded coconut
What Can I Substitute for Almond Extract?
If you don't have almond extract on hand, have an allergy, or can't find it at your grocery store, you can use more vanilla extract instead. I do recommend using almond extract if you can find it, though—it adds a unique flavor and aroma to recipes that's one-part cherry, one-part floral, and all-around amazing!
Is Shredded Coconut the Same as Coconut Flakes?
No, coconut flakes are much larger pieces than shredded coconut. While you can use coconut flakes to decorate the outside of the cake, you'll need shredded coconut for the cake batter.
How to Make Coconut Cake
Although this recipe strays from the traditional with a cream cheese frosting, the method of preparing this coconut cake is very much the same.
To make the cake:
Prepare. Preheat your oven to 350°F and grease two 9-inch round cake pans, then line them with parchment paper. Grease the paper and dust it with flour to ensure easy cake removal.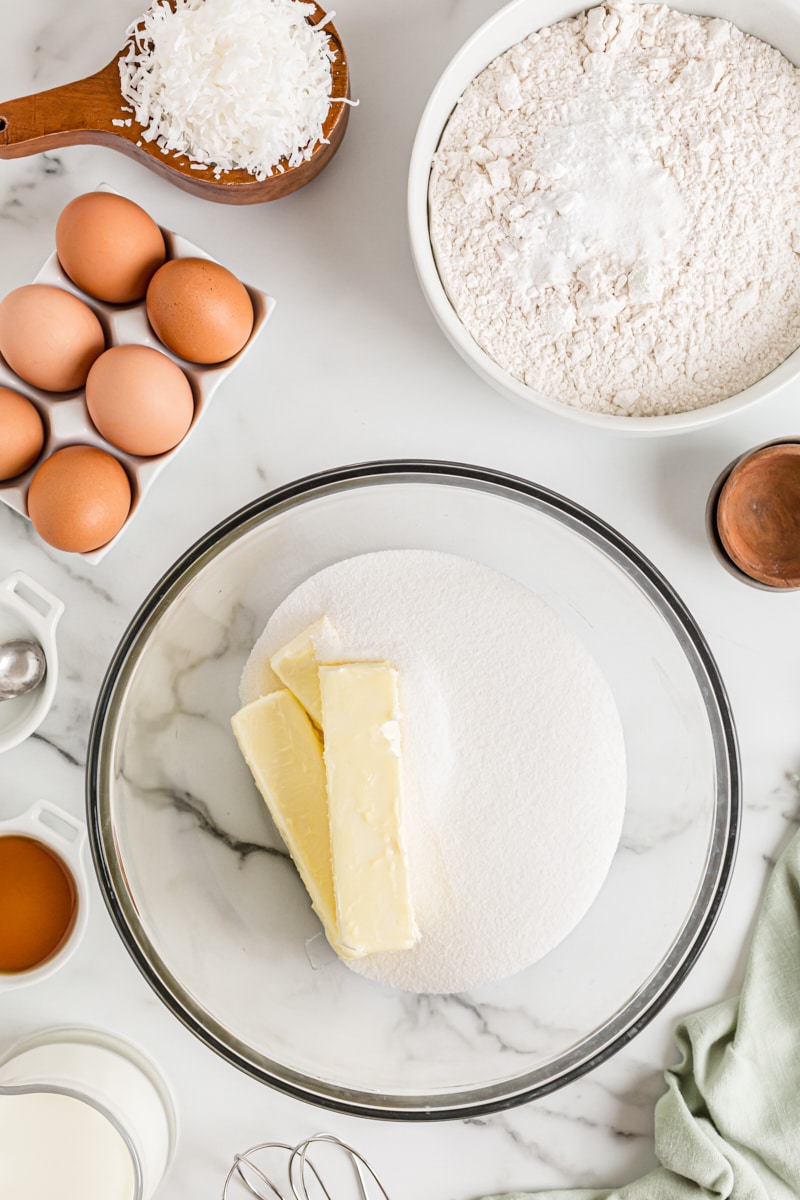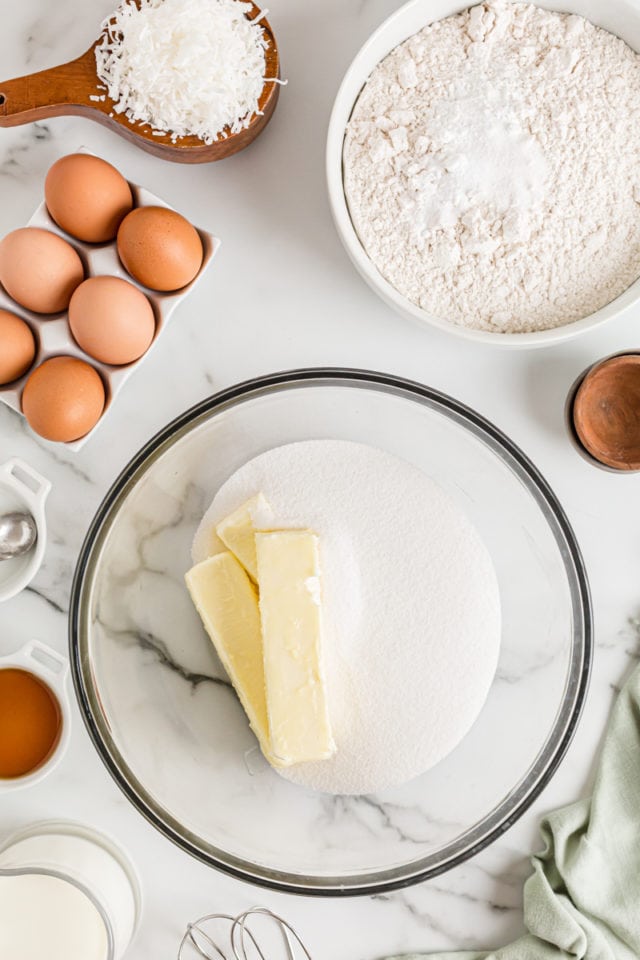 Mix the wet ingredients. In a large mixing bowl, beat the butter and sugar with an electric mixer on medium-high speed, until they're light and fluffy. Beat in the eggs one at a time, followed by the extracts. The mixture will look a bit lumpy and curdled, but this is fine!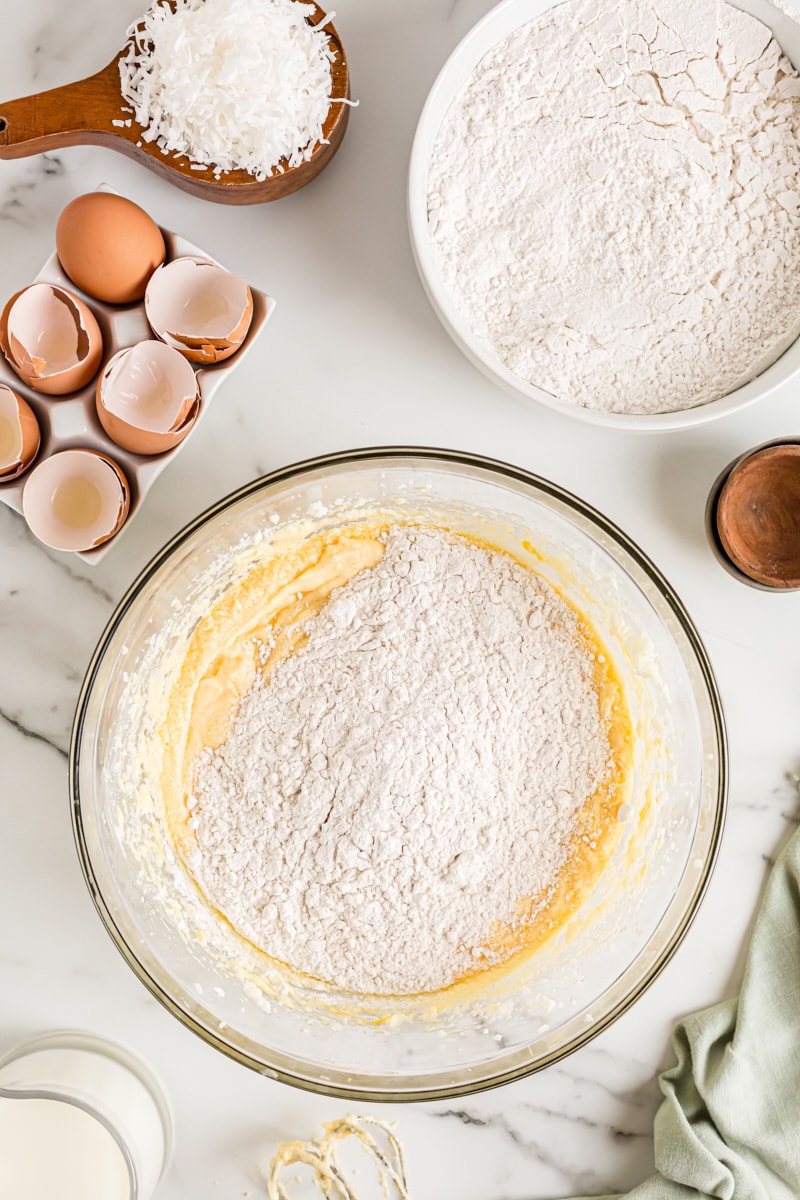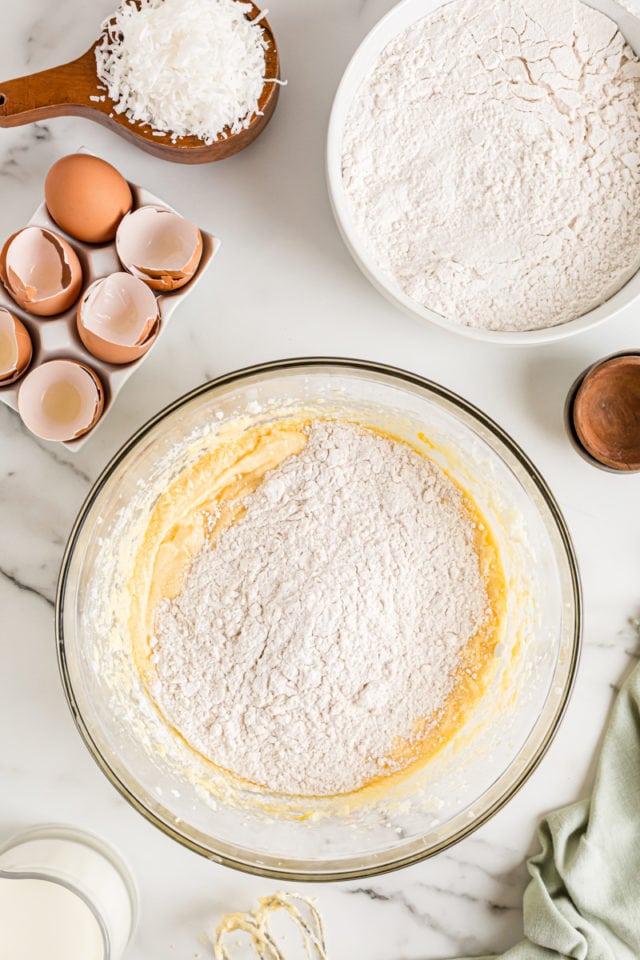 Finish the batter. Sift the flour, baking powder, baking soda, and salt into another mixing bowl. With the mixer on low speed, add the dry ingredients to the wet ingredients in three portions, alternating with two portions of the milk. Fold in the coconut.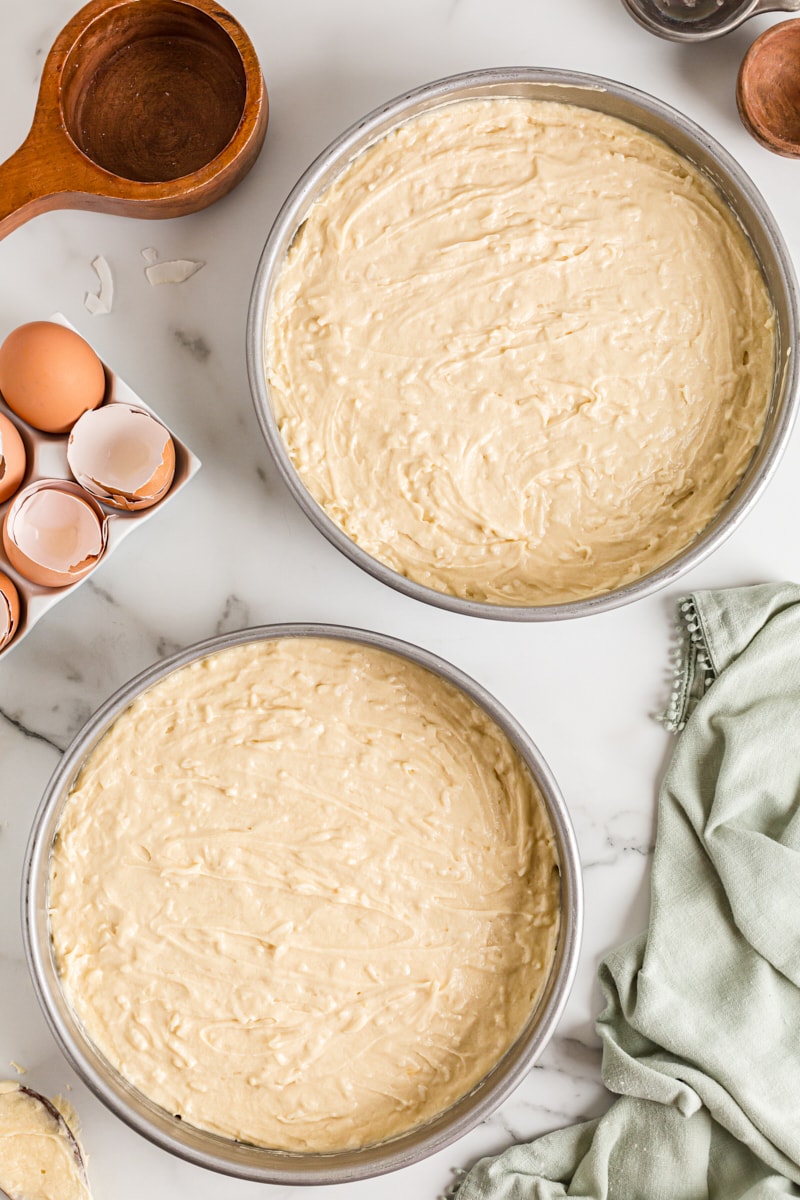 Bake. Divide the batter among the prepared pans, smoothing the tops with a rubber spatula. Bake for 45 to 55 minutes, or until the tops of the cakes are browned and a toothpick inserted into the center comes out clean.
Cool. Cool the cakes in the pans for 30 minutes, then carefully remove them and let them finish cooling on wire racks. (Learn more: Why Every Baker Needs Wire Cooling Racks)
To make the frosting and assemble: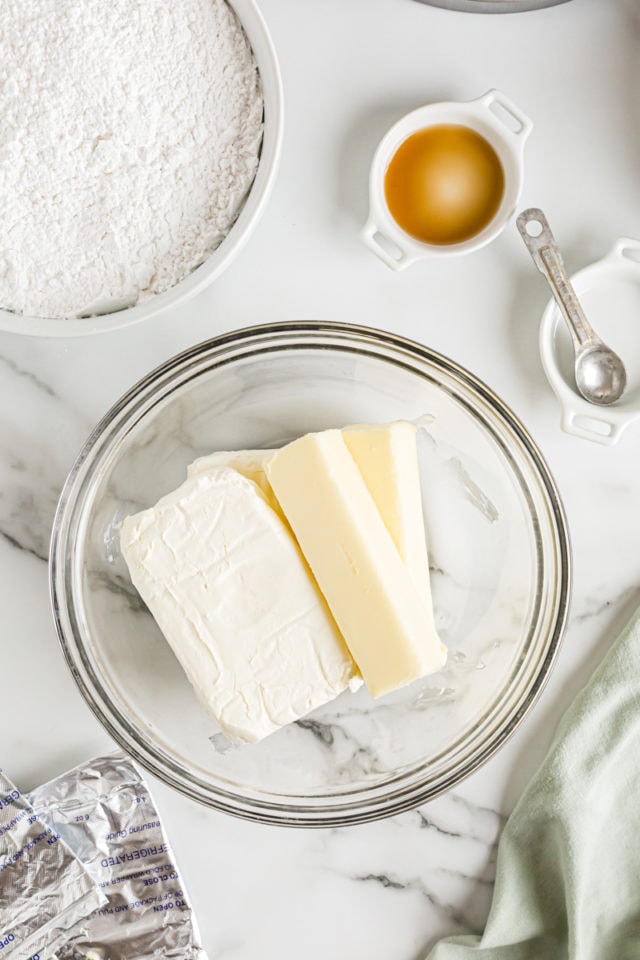 Make the frosting. Use an electric mixer on low speed to beat together the cream cheese, butter, and extracts. Add the confectioners' sugar and beat until the frosting is smooth.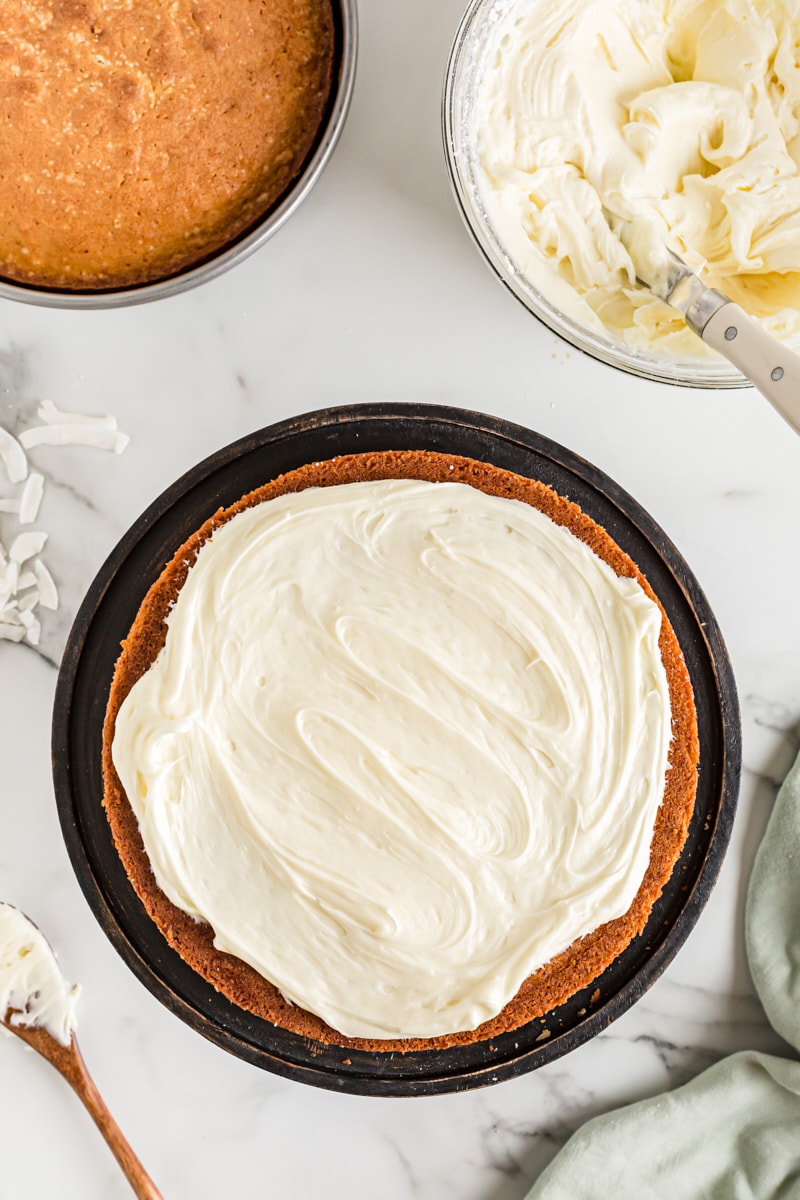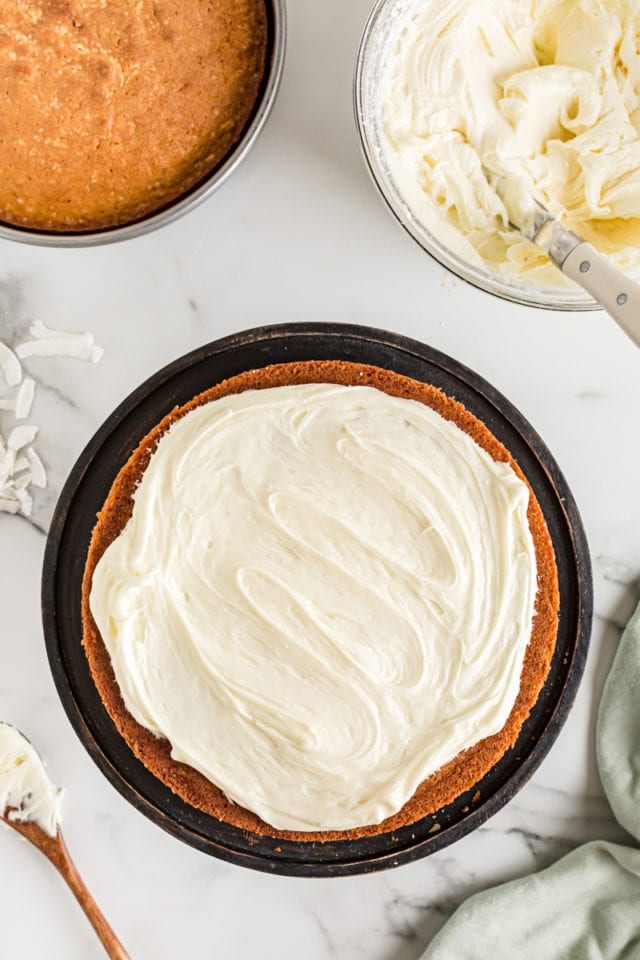 Frost the cake. Spread the frosting on the top of the first layer. Place the second layer on top of the first and frost the top and sides. Sprinkle coconut over the top of the cake and gently press it into the sides.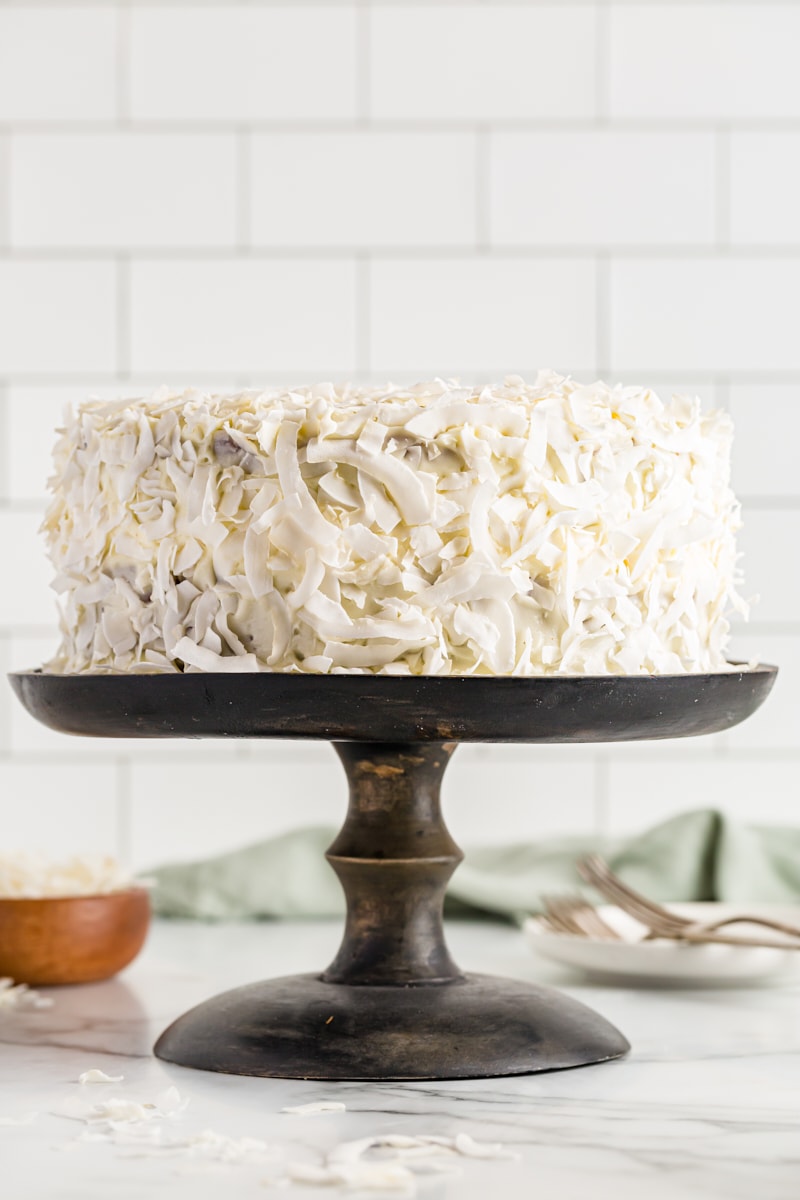 Should I Refrigerate Cake Before Frosting?
You don't have to refrigerate coconut cake layers before you frost them, but you do need to wait until they are completely cool. Your cream cheese frosting will melt (or slowly fall off the sides of the cake) if the cake layers aren't cool enough.
Tips for Success
Here are some hints and tips to help you make the perfect coconut cake!
Weigh the batter. If you want to ensure your layers are perfectly even, you can weigh your mixing bowl before starting the recipe, then weigh it again once the batter is done. Take the difference between the two numbers, divide it by two, and that's how much batter should go in each pan.
Evening out the cake layers. If your cakes are a little bit domed in the center after baking, you can use a serrated knife to shave off the excess and create a flat surface for frosting.
Use a lazy Susan for assembly if you have one! Frosting the sides of a cake is effortless when you have a lazy Susan that you can slowly turn as you frost.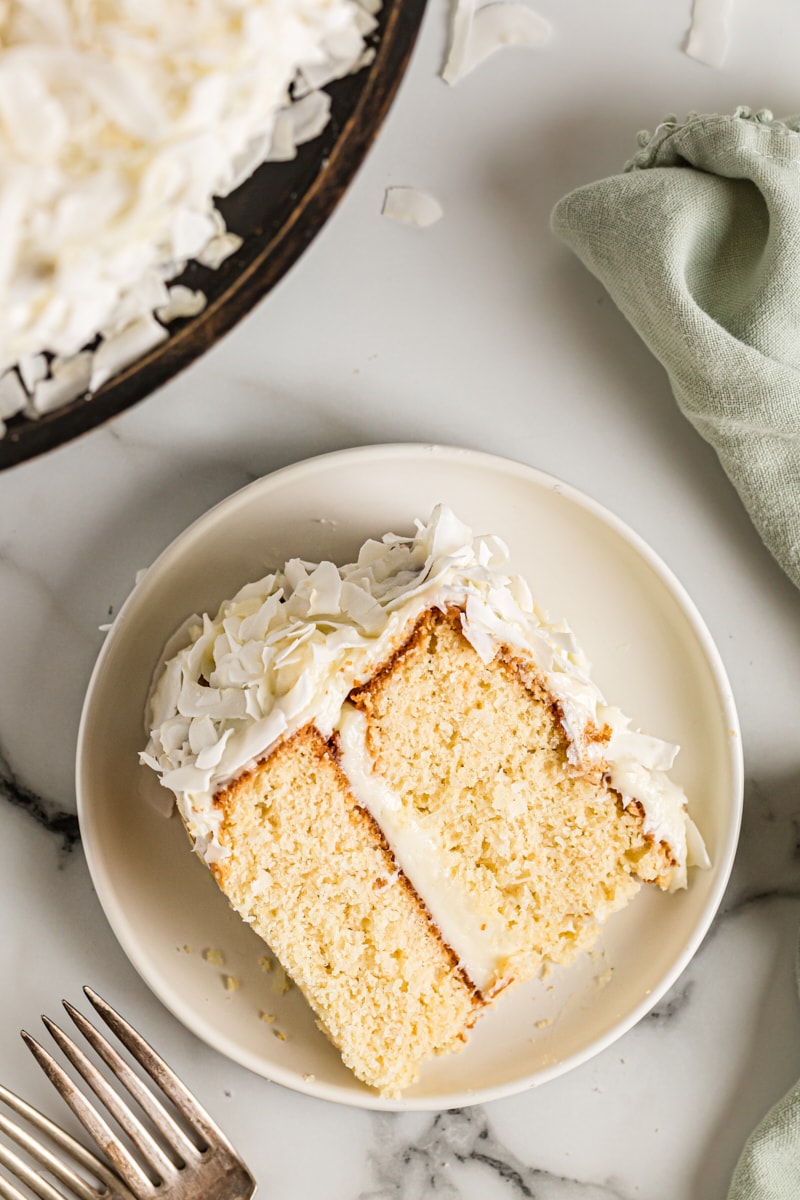 How to Store
Because this coconut cake has cream cheese frosting, it will need to be stored in the refrigerator. Cover it loosely with plastic wrap or transfer leftovers to an airtight storage container. The cake will keep for 3 to 4 days.
Can This Cake Be Frozen?
You can freeze coconut cake for up to 3 months. If you want to freeze a whole cake or a large portion of leftovers, I recommend placing it on a parchment-lined baking sheet and freezing it uncovered. Once the frosting has frozen through, wrap the cake tightly with a few layers of plastic wrap. Leftovers can be frozen in an airtight container.
Let the cake thaw in the refrigerator before serving.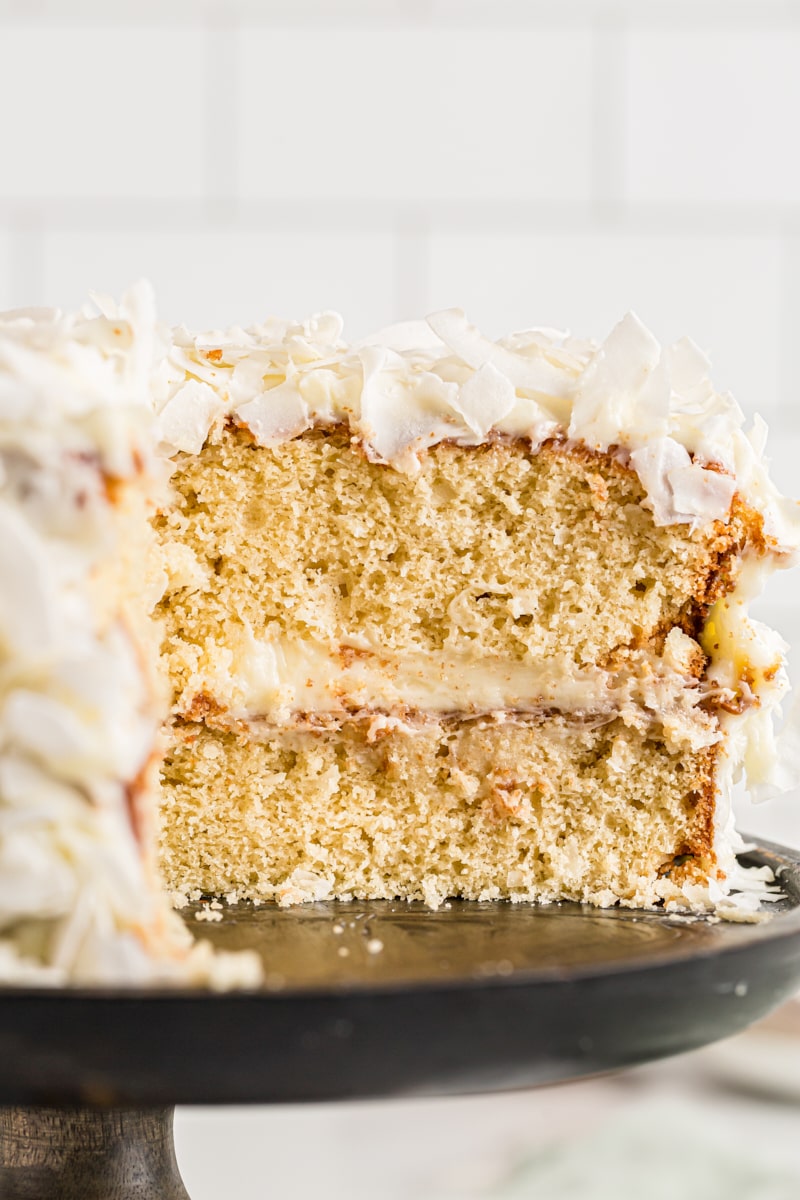 More Coconut Desserts