September 10, 2007
German Chocolate Cake with Coconut-Pecan Sauce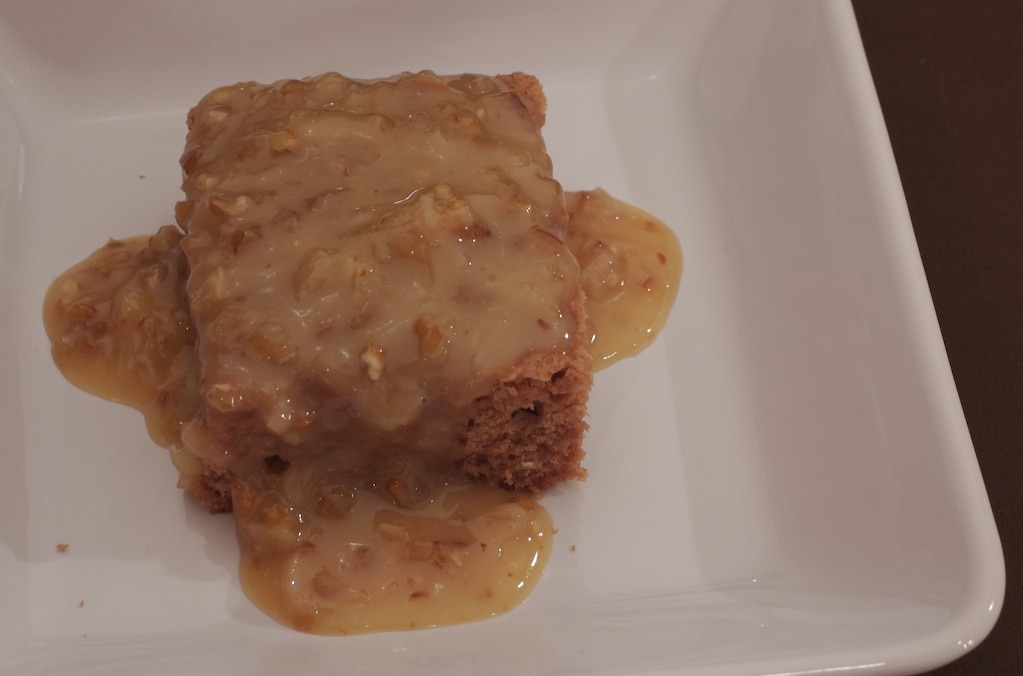 Despite the title you've just read, I'd like to talk about ricotta cheesecake for a minute. One of my favorite places to eat in New York is Becco, and that is mostly because of their ricotta cheesecake. When Quinn asked what I wanted for dessert on my recent birthday, I really wanted to try to duplicate it. After a quite thorough search of the web, my cookbooks, and the bookstore's cookbooks, I never found a recipe that seemed quite right. So, we dove in and made one anyway. It was not good. At all.
That's how we ended up with this German chocolate cake for my little birthday celebration. Quinn did most of the work on my behalf, but I couldn't resist helping out. He whipped up the cake, and I made the sauce.
This kind of cake is one of my very favorites. Coconut and pecans are two of my favorite things, and to have them combined together on top of chocolate cake… Well, how can you go wrong? I'll tell you how. Not everyone likes coconut and pecans. With some encouragement from my dear friend Tonya (thanks, by the way), I came up with a solution in the form of this recipe from Southern Living.
The coconut-pecan component is a sauce that can be ladled onto the cake when it's served. So, in deference to the non-coconut-ers and non-pecan-ers, there were alternative toppings. Quinn made some kind of caramel sauce. Honestly, I wasn't in the kitchen at the time, and I have no idea how he did that. I also made one of my stand-by sauces, a white chocolate-raspberry sauce that's shown up on this little blog before.
The result? I got the cake I wanted for my birthday (if we're not counting my initial quest for the ricotta cheesecake), and everyone else got something they liked, too.
By the way, if anyone has recommendations for a ricotta cheesecake recipe (preferably like the one at Becco), I would love to hear about them.