December 30, 2007
Caramel Cake with Cream Cheese Frosting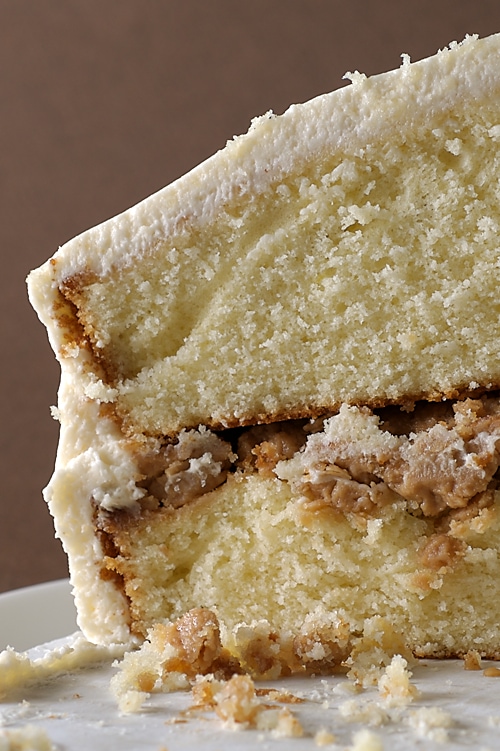 Quinn is a big fan of caramel. I've talked about making him a caramel cake for ages. I like caramel, too, but in small doses. The idea of a cake whose primary flavor is caramel doesn't really appeal to me. But, I aim to please, so I thought for Christmas I would try my hand at making one.
That's when my plans took a little detour. Caramel cake being a popular dessert in the South, I figured Southern Living was a good place to start looking for recipes. Of the recipes I found on their recipe site, I was most intrigued by this one from another of their publications, Cottage Living, that has a caramel cream cheese frosting instead of the traditional caramel frosting.

I have made no secret about my adoration of all things cream cheese. Quinn also being a fan, I thought this cake would be just the thing. And was I ever right. The cake is delicious. No, it's beyond delicious. In my mind, it was the highlight of our Christmas desserts.
My only problem was with the caramel layer. It didn't set like I thought it should have. It became a little too hard and crumbly for my liking. I envisioned it being a lot smoother. I think that I messed that up somewhere along the way. Regardless, I still loved the cake.
And the caramel cream cheese frosting? Honestly, I would have been more than happy to have had just the frosting for my Christmas dessert. I will certainly be using that recipe again. I'm sure I can come up with all manner of things that would go with it wonderfully.
Caramel Cake with Cream Cheese Frosting
Yield: 10-12 servings
Prep Time:45 minutes
Cook Time:60 minutes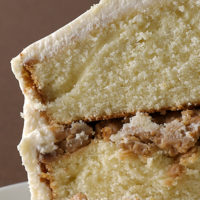 Ingredients:
For the cake:
3 & 1/2 cups sifted cake flour
2 teaspoons baking powder
1/4 teaspoon salt
1 & 3/4 cups granulated sugar
1/4 cup light brown sugar
1 cup unsalted butter, softened
6 large eggs
1 teaspoon vanilla extract
1 cup milk
For the caramel:
1 & 1/2 cups light brown sugar
1/2 cup evaporated milk
1/4 cup unsalted butter
For the frosting:
1/4 cup light brown sugar
10 tablespoons unsalted butter, divided
1/3 cup heavy whipping cream
8 ounces cream cheese, softened
1/2 teaspoon vanilla extract
Dash of salt
1 & 3/4 cups confectioners' sugar
Directions:
To make the cake:
Preheat oven to 350°. Grease 2 9-inch round cake pans. Line with parchment or wax paper, and grease paper.
Whisk together flour, baking powder, and salt. Set aside.
Using an electric mixer on medium speed, beat sugar, brown sugar, and butter until well mixed (about 5 minutes). Add eggs, 1 at a time, beating well after each addition. Mix in vanilla.
Reduce mixer speed to low. Add flour mixture, alternating with milk. Begin and end with flour.
Divide batter evenly and pour into prepared pans. Tap pans on counter to remove air bubbles. Bake 35 minutes, or until a pick inserted into the center comes out clean. Cool in pans on wire rack for 10 minutes. Remove from pans and cool completely on wire racks.
Place one cooled layer on a cake plate.
To make the caramel:
Combine brown sugar, milk, and butter in a heavy saucepan. Cook over medium heat until sugar has dissolved. Cook, without stirring, until a candy thermometer reads 238°. Transfer to a heat-resistant bowl. Beat 3 minutes or until thick enough to spread.
Immediately spread caramel over cake layer on cake stand. Cover loosely with plastic wrap. Refrigerate until set (about 15 minutes).
To make the frosting:
Place brown sugar and 4 tablespoons butter in a heavy saucepan. Cook and stir over medium heat until sugar has dissolved. Bring to a boil. Whisk in cream and mix well. Transfer to a heat-resistant bowl to allow caramel to cool to room temperature. Stir occasionally.
Using an electric mixer, beat 6 tablespoons butter and cream cheese on medium-high speed until smooth. Mix in vanilla and salt.
While mixer is still running, slowly add caramel and beat until smooth. Gradually add confectioners' sugar, and beat until well combined. Chill frosting until thickened for spreading. Stir occasionally.
To assemble the cake:
Spread a thin layer of frosting over caramel filling. Place second cake layer on top. Frost top and sides of cake.
Chill until frosting has set (about 20 minutes). Cover cake and chill at least 4 hours. Let stand at room temperature for about 10 minutes before serving.