April 6, 2008
Sour Cream Hazelnut Bundt Cake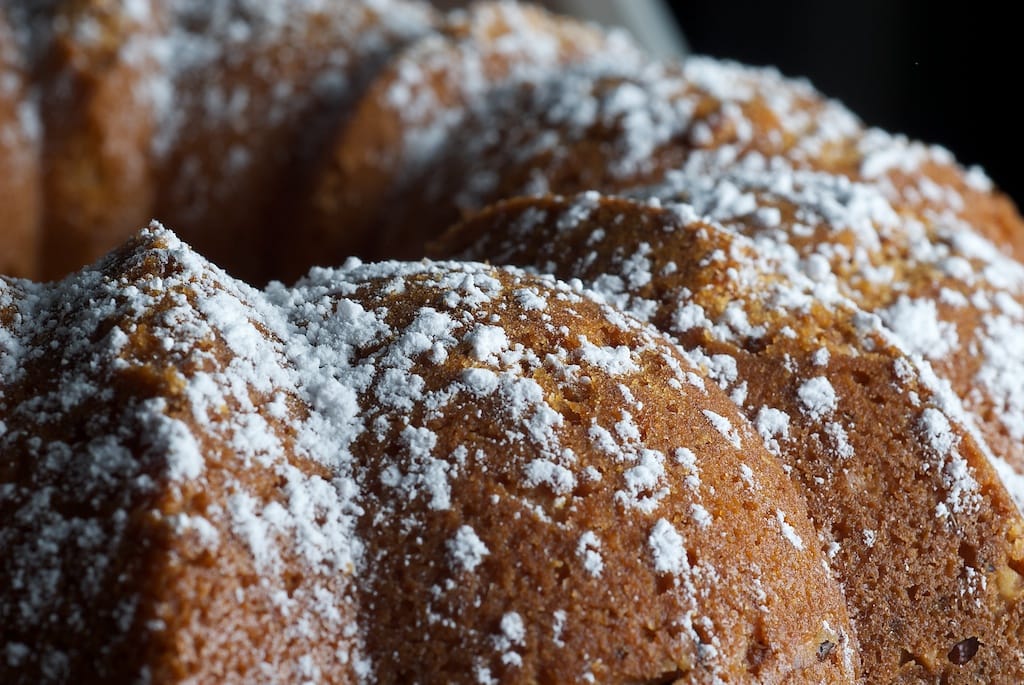 For years, I had no luck with Cooking Light's recipes. Nothing ever turned out the way I had envisioned. I don't know if they've changed or if I have, but I find myself enjoying their creations more and more. I stopped my subscription to their magazine years ago, but I have renewed and am enjoying it more than ever.

This recipe is not a new one, but from their 2004 archives. I accidentally found it online while I was hunting down a Nutella brownie recipe (which I still haven't found). I've had it bookmarked for a while, but my chocolate/hazelnut love was recently stirred up again and I couldn't get this recipe off my mind.
I love the texture of this cake. It's a tad crunchy on the outside, and soft and moist and just wonderful on the inside.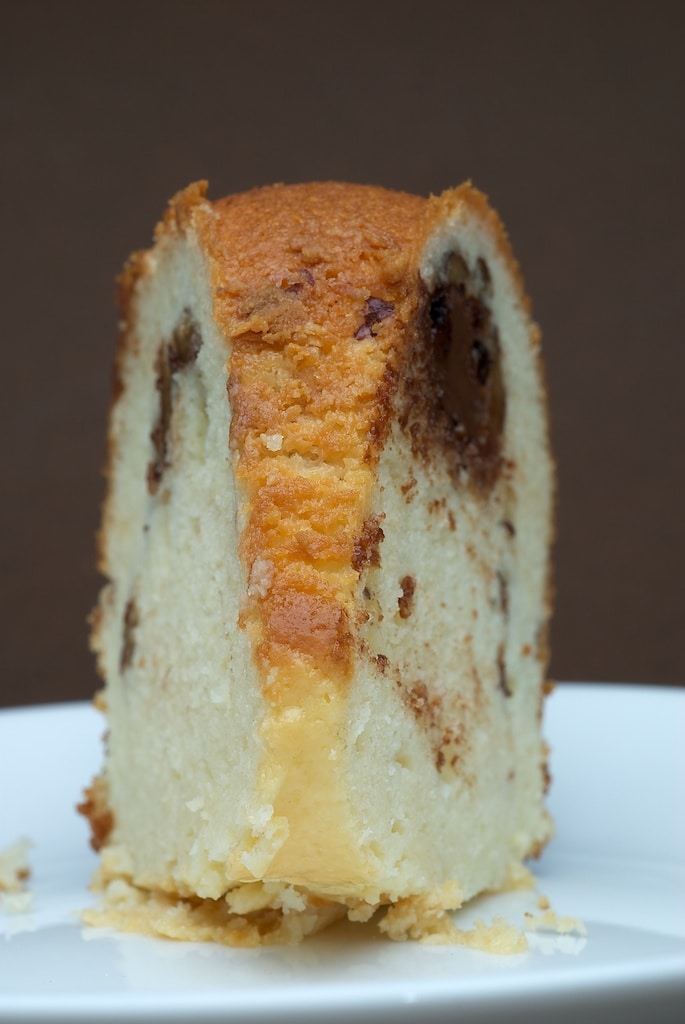 When Quinn and I had our servings, I started with the non-chocolate portion while Quinn started with the chocolate part. I really wanted to work my way up to the chocolate and hazelnuts. The chocolate and hazelnuts inside are just enough to give the cake a little added burst of flavor.
This is the kind of cake that you can eat any time of day, from breakfast to a midnight snack. And, for those of us still trying to stick to our diets, you can take comfort in eating a Cooking Light recipe.
Sour Cream Hazelnut Bundt Cake
Yield: 12-16 servings
Prep Time:25 minutes
Cook Time:1 hour
Ingredients:
1 tablespoon dry breadcrumbs
2 & 1/2 cups all-purpose flour
1 teaspoon baking powder
1/2 teaspoon baking soda
1/4 teaspoon salt
1 & 1/2 cups granulated sugar
1/2 cup unsalted butter, softened
2 large eggs
1 teaspoon vanilla extract
16 ounces carton fat-free sour cream
1/4 cup chopped hazelnuts, toasted
2 tablespoons Nutella
1 teaspoon confectioners sugar
Directions:
Preheat oven to 350°. Spray a 12-cup Bundt pan with cooking spray. Dust with breadcrumbs.
Whisk together flour, baking powder, baking soda, and salt. Set aside.
Using an electric mixer on medium speed, beat sugar and butter until light and fluffy. Add eggs, one at a time, mixing well after each addition. Mix in vanilla and sour cream.
Gradually add flour mixture, mixing just until combined.
Transfer half of the batter evenly into prepared pan. Sprinkle evenly with hazelnuts. Drop Nutella by small spoonfuls on top of nuts. Spoon remaining cake batter over Nutella. Using a knife, swirl the batter and Nutella.
Bake for 55-60 minutes, or until a pick inserted into the center comes out clean.
Cool in pan on wire rack for 15 minutes. Then, remove cake from pan to wire rack to cool completely. Sprinkle with confectioners sugar.