Inside this supremely moist Sour Cream Hazelnut Bundt Cake is a ribbon of rich, creamy Nutella. So good!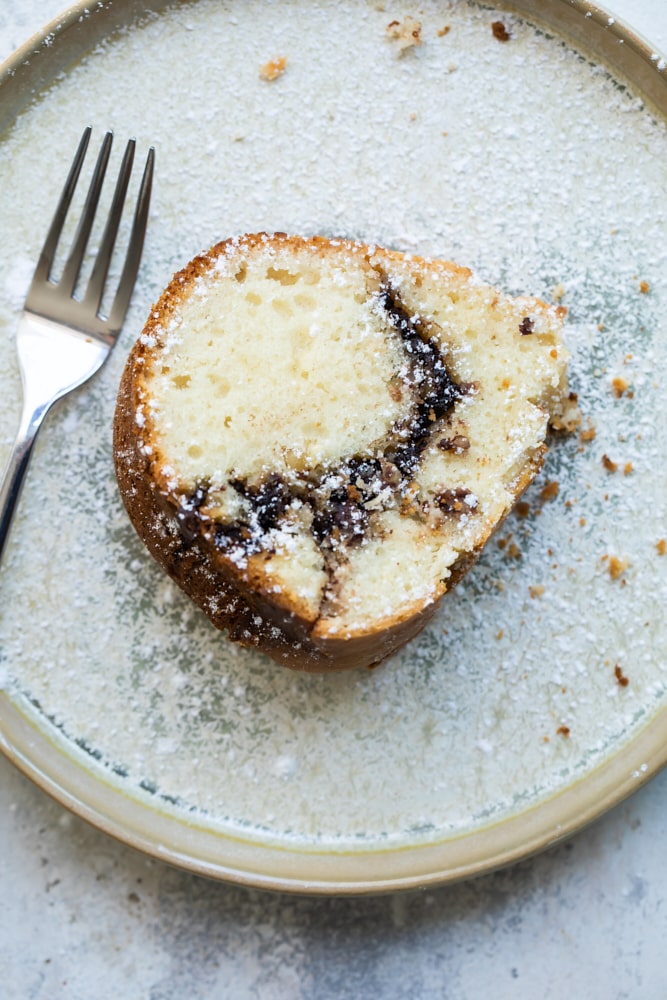 Sour Cream Bundt Cake with Nutella Swirl
This Sour Cream Hazelnut Bundt Cake is an oldie but a goodie from the archives of one of my favorite magazines, Cooking Light. The cake itself is soft, moist, and delightfully nutty thanks to the addition of toasted hazelnuts, but what really makes it special is the ribbon of Nutella running through the center.
Not only is the ribbon delicious (I mean, how could it not be?), it also adds some visual appeal—cut into the cake and it's hard not to ooh and ahh over each slice! And the good news is that even if you're a novice baker, you can nail this Sour Cream Hazelnut Bundt Cake because it's so simple to make.
Whether you make it for breakfast, dessert, or a snack in between, this bundt cake is sure to be a hit!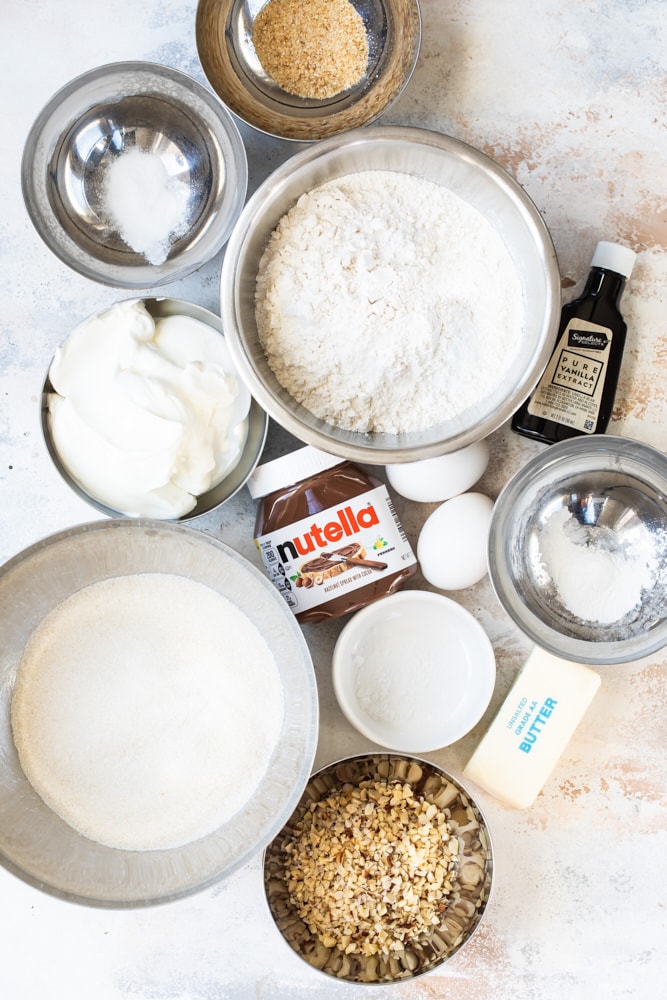 What You'll Need
Here's everything you'll need to make a moist, tender sour cream bundt cake.
Dry breadcrumbs – Surprised? I was too, but it works! This cake uses breadcrumbs instead of flour to keep the cake from sticking to the pan.
All-purpose flour
Baking powder
Baking soda
Salt
Granulated sugar
Unsalted butter – Let the butter sit at room temperature for about half an hour to allow it soften.
Eggs – Your eggs should be room temperature for best results.
Vanilla extract
Fat-free sour cream
Chopped hazelnuts
Chocolate-hazelnut spread – Nutella is the most popular brand, but don't be afraid to give another a try!
Confectioners' sugar
What Does Sour Cream Do in Cake?
The sour cream makes this bundt cake moist and tender without thinning the batter by introducing extra liquid. It's pretty magical! I also use sour cream in my Sour Cream Pound Cake and Sour Cream Banana Coffee Cake recipes.
How to Toast Hazelnuts
You can toast the chopped hazelnuts on a large sheet pan in a 350ºF oven for 8 to 10 minutes, watching them closely to prevent burning. Or, you can toast the nuts in a skillet set over medium heat, which allows you to keep a closer eye on them. They're done when they're lightly browned and fragrant.
How to Make Sour Cream Hazelnut Bundt Cake
As mentioned above, this cake is sweet and simple! Here's how to make it.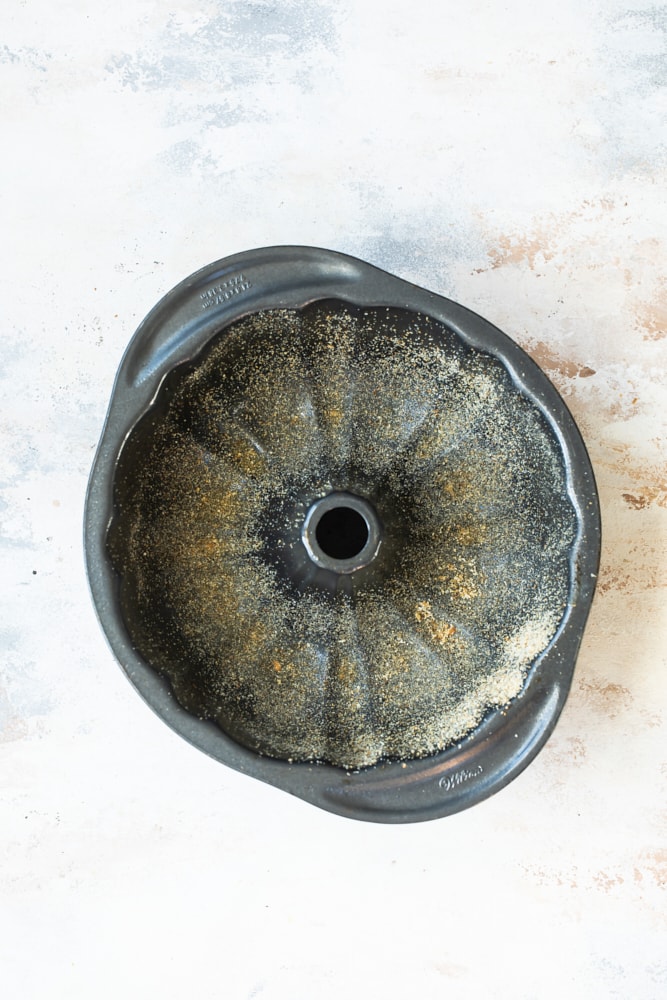 Prepare. Preheat your oven to 350°F. Spray a 12-cup Bundt pan with cooking spray, then dust it with breadcrumbs. Tap out any excess crumbs.
Mix the dry ingredients. Whisk the flour, baking powder, baking soda, and salt in a mixing bowl.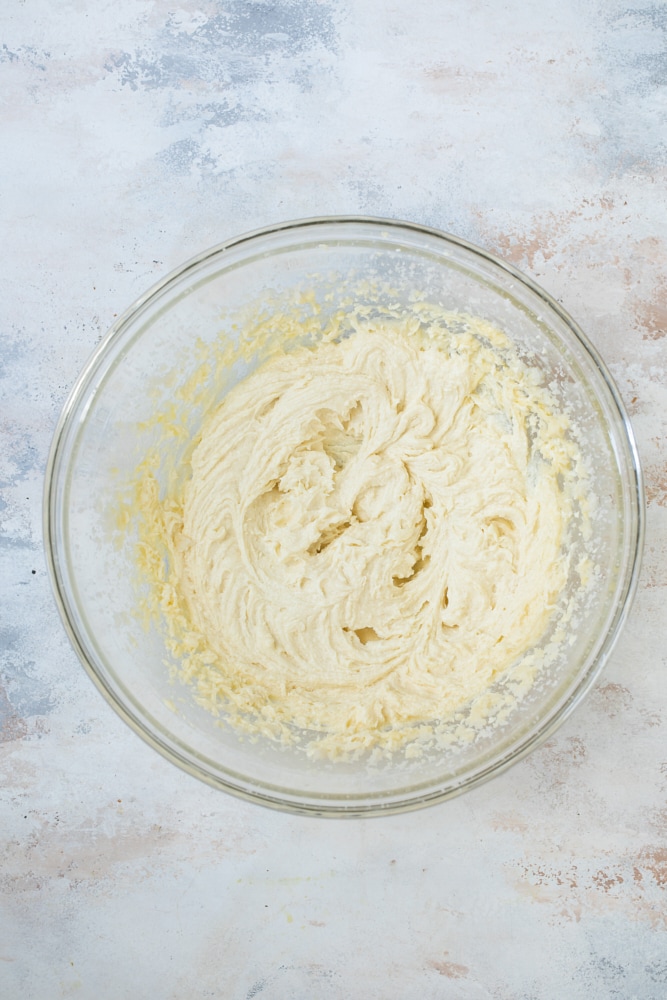 Mix the wet ingredients. Use an electric mixer on medium speed to cream the sugar and butter until they're light and fluffy. Beat in the eggs one at a time, followed by the vanilla and sour cream.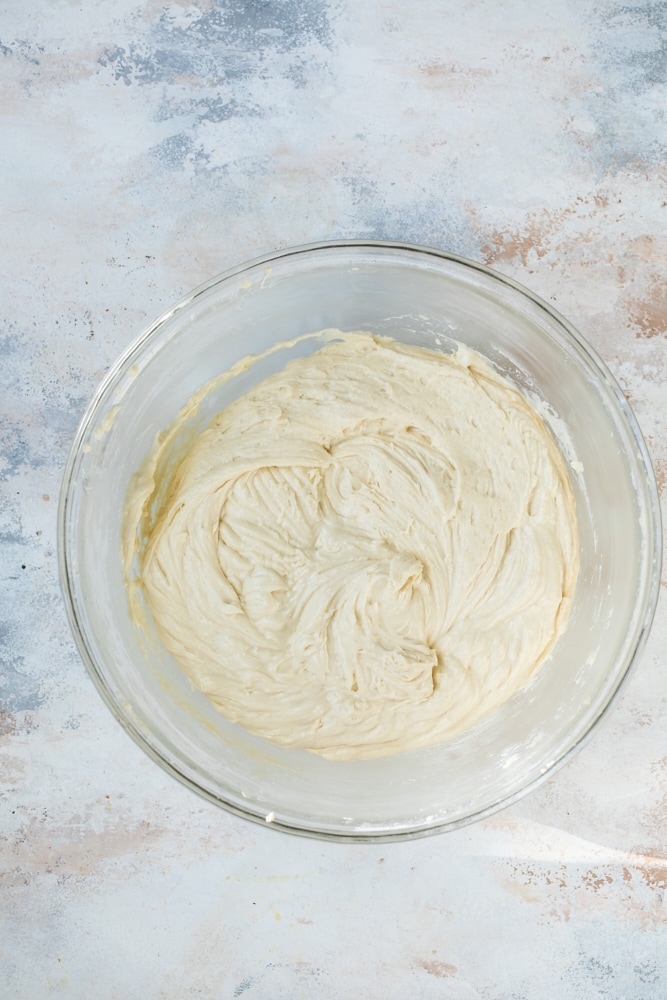 Combine the wet and dry ingredients. Slowly add the flour mixture to the wet mixture, beating until just combined.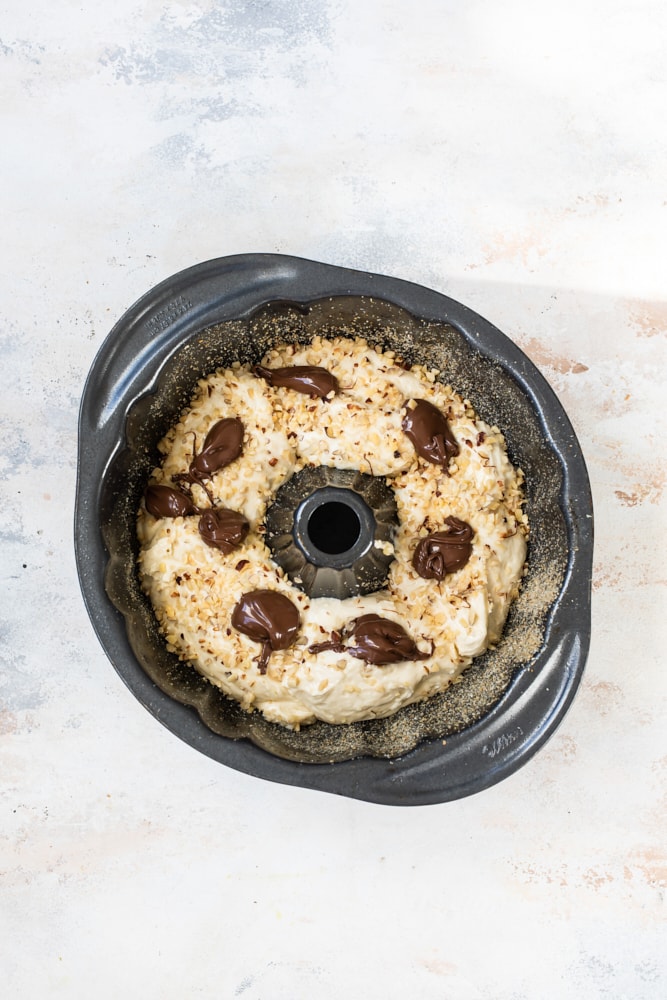 Assemble. Pour half of the batter into the prepared pan, and spread it evenly over the bottom. Sprinkle the hazelnuts over the batter, then drop small spoonfuls of the Nutella over the nuts. Spoon the remaining cake batter over the Nutella and use a knife to swirl the batter and Nutella.
Bake. Place the pan in the oven and bake for 55 to 60 minutes, or until a toothpick inserted into the center comes out clean.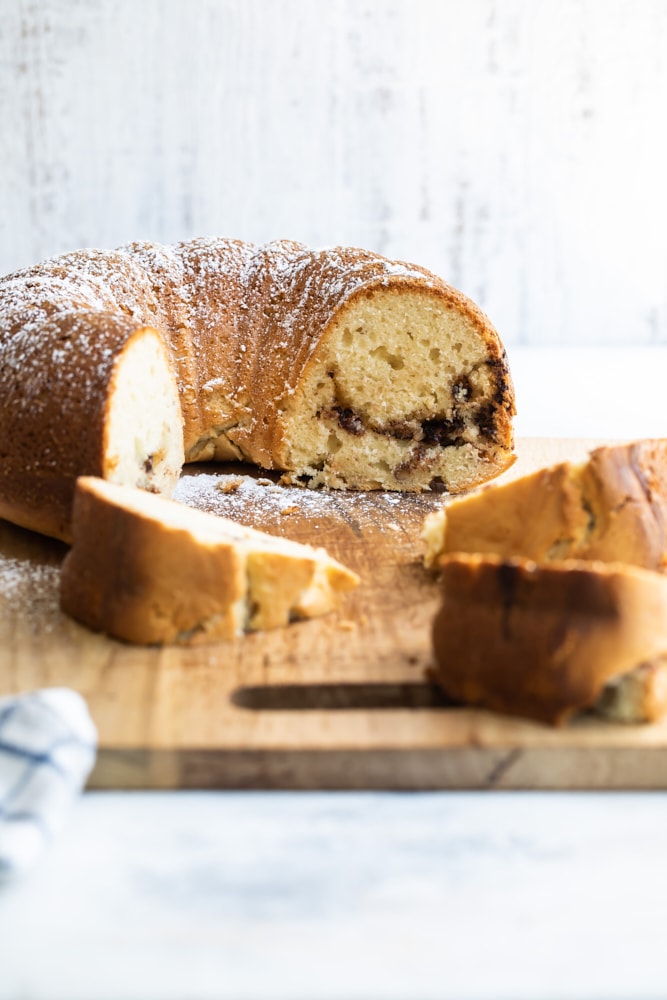 Cool and finish. Cool the cake in the pan on a wire rack for 15 minutes. (Learn more: Why Every Baker Needs Wire Cooling Racks.) Carefully remove the cake from the pan and let it finish cooling on the wire rack. Sprinkle with confectioners' sugar, then serve.
Should You Let a Bundt Cake Cool Before Flipping It?
Yes! The cake will continue to bake from the residual heat of the pan, so it's not just about cooling. Your cake is more likely to come out in one piece with that resting time, so don't skip it.
Tips for Success
Make sure you read over my tips for baking Bundt cakes before making this recipe. Here are some additional tips:
Measure accurately. Use a scale to measure by weight if possible. Otherwise, use the spoon and sweep method to avoid over-measuring. Learn more: How to Measure Flour.
Don't use a dark-colored pan. Dark pans tend to cook the outside edges faster, leaving the center under-baked.
Thoroughly grease the pan. I recommend a cooking spray with flour, like Baker's Joy or Pam for Baking. If you don't usually get things mixed quickly, you may want to wait to spray the pan until you're ready to add the batter. That will keep the spray from settling at the bottom of the pan.
Use fat-free sour cream. This is one of the few times I will recommend not using full-fat sour cream in baking! This recipe is designed to use the fat-free version.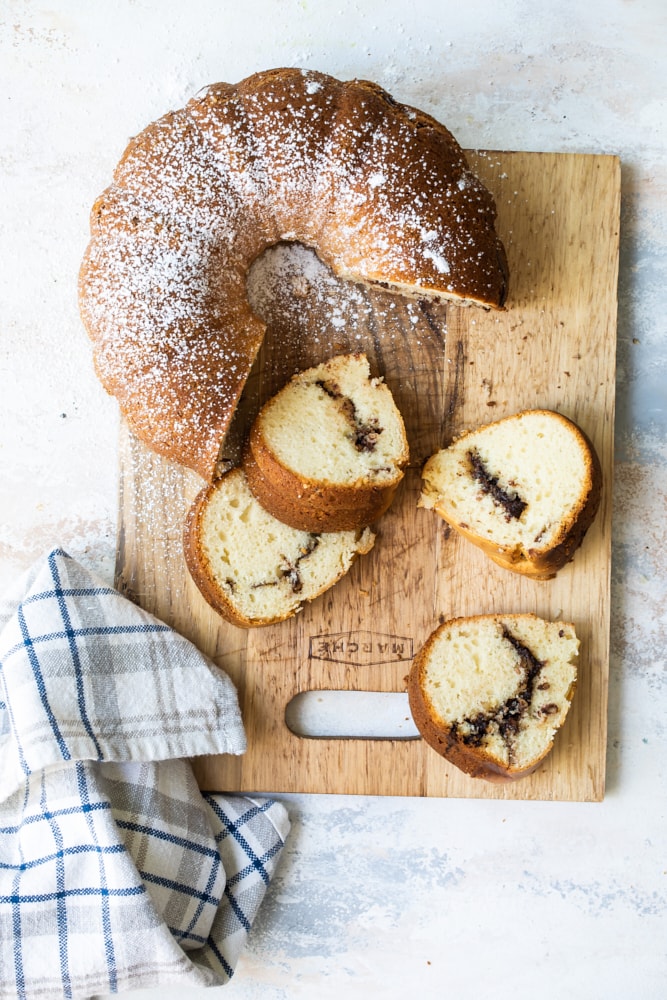 How to Store
Wrap the cake or transfer it to an airtight container and store it at room temperature for up to 4 days.
Can This Recipe Be Frozen?
Yes, you can freeze Sour Cream Hazelnut Bundt Cake for up to 3 months in an airtight container or freezer bag. Let it thaw at room temperature overnight before serving.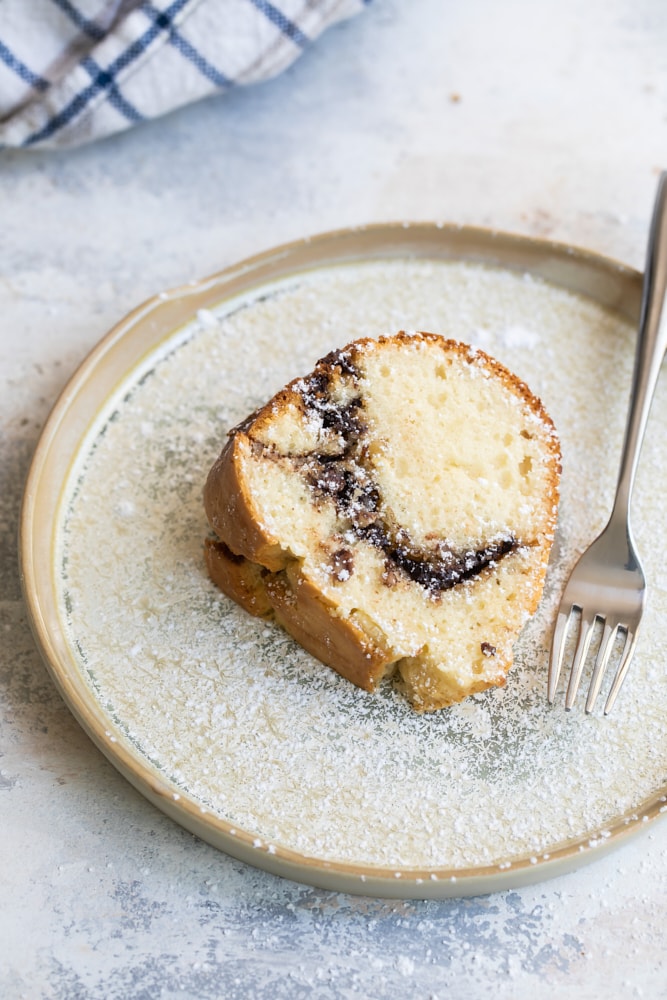 Find more Bundt cake recipes in the Recipe Index.
More Nutella Recipes