This easy Sour Cream Pound Cake recipe makes a rich and moist cake that's perfect with fresh berries and a dollop of whipped cream!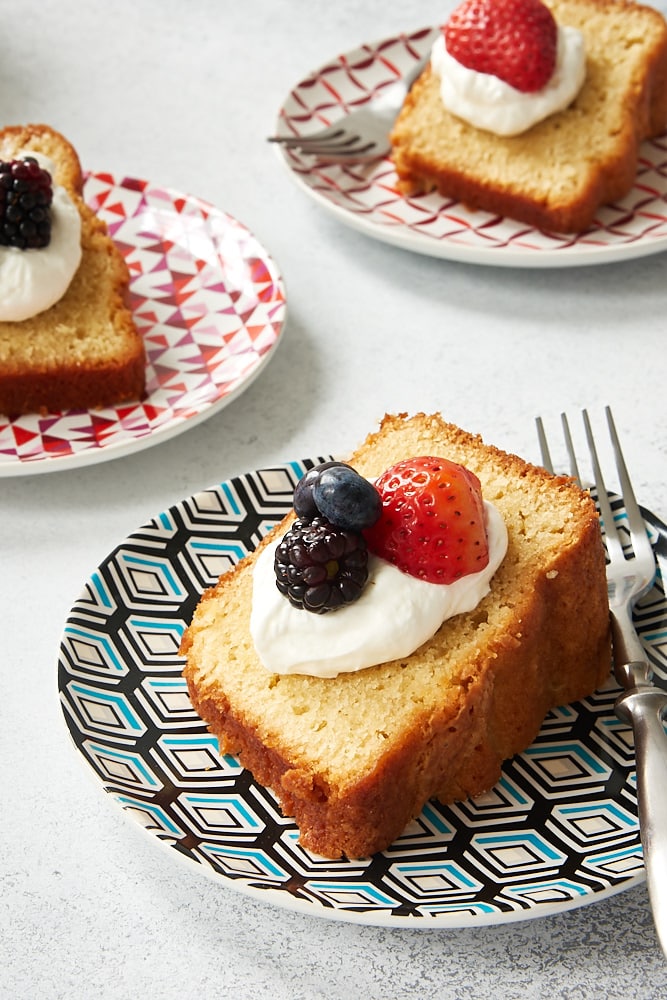 Tender Sour Cream Pound Cake Recipe
The beauty of this Sour Cream Pound Cake is its simplicity. With just some basic baking ingredients and few minutes of mixing, you get this wonderfully delicious cake! This is truly a no-fuss recipe at its finest.
There's something just so irresistible about a really good pound cake. Put up against more elaborate cakes, it's often one I'd choose for my dessert. It's one of those recipes that all bakers need in their baking arsenal. And if you're looking for a good one to add to your repertoire, then I highly recommend this one.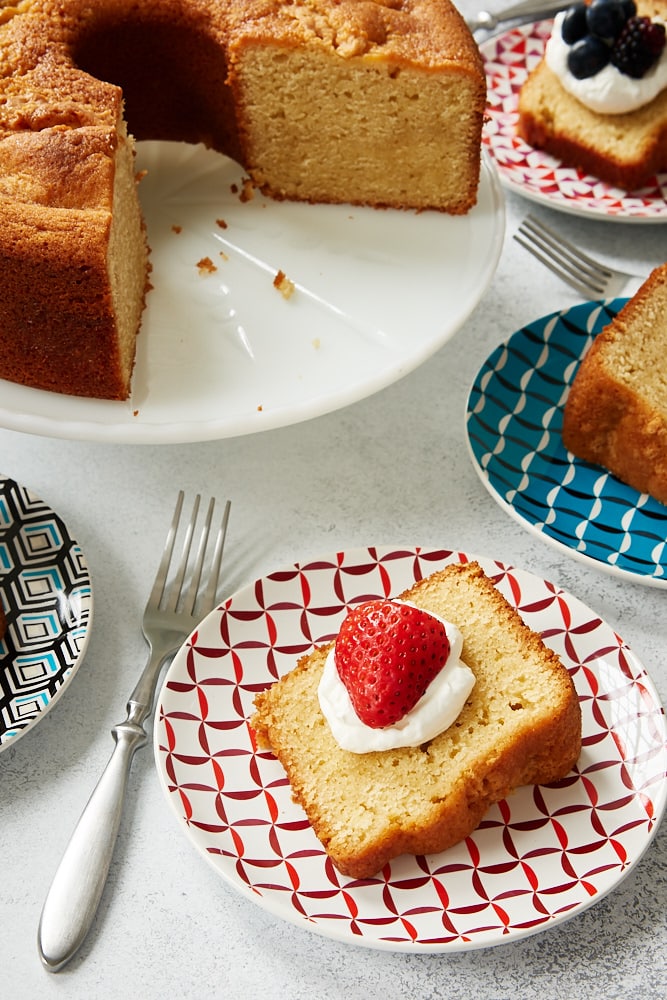 What You'll Need
If you keep a well-stocked baking pantry, then you very likely have everything you need to make this cake. And even better, you can have it mixed and in the oven in short order. Add this one to your go-to list of easy desserts that always impress!
Here is a quick rundown of what you'll need. Be sure to scroll down to the recipe card for specific amounts and full instructions.
All-purpose flour – Measure by weight or use the spoon and sweep method to avoid over-measuring. Learn more: How to Measure Flour
Salt
Baking soda
Unsalted butter – Soften the butter before mixing so that it's still cold but holds a thumbprint when pressed. Learn more: How to Soften Butter
Granulated sugar
Light brown sugar – You could also use dark brown sugar if that is what you have on hand. Learn more: Light vs Dark Brown Sugar
Eggs – Allow these to come to room temperature for easier mixing and a fluffier texture. I recommend baking with large eggs.
Vanilla extract – You can also substitute the same amount of another extract if you prefer. Almond extract is lovely in this recipe!
Sour cream
What Does Sour Cream Do in a Pound Cake?
Besides all the basics like flour, sugar, and eggs, this cake is made with sour cream. Sour cream, as you may already know, makes cakes moister than just using milk. It also creates a richer flavor. It's one of my favorite baking ingredients and one I almost always keep on-hand in my refrigerator. If you want to try using sour cream in other baking recipes, I recommend this easy sour cream coffee cake.
Incorporating it into traditional pound cake definitely dials it up a few notches. It's a great way to change up your normal pound cake routine. The texture and the flavor are really just lovely!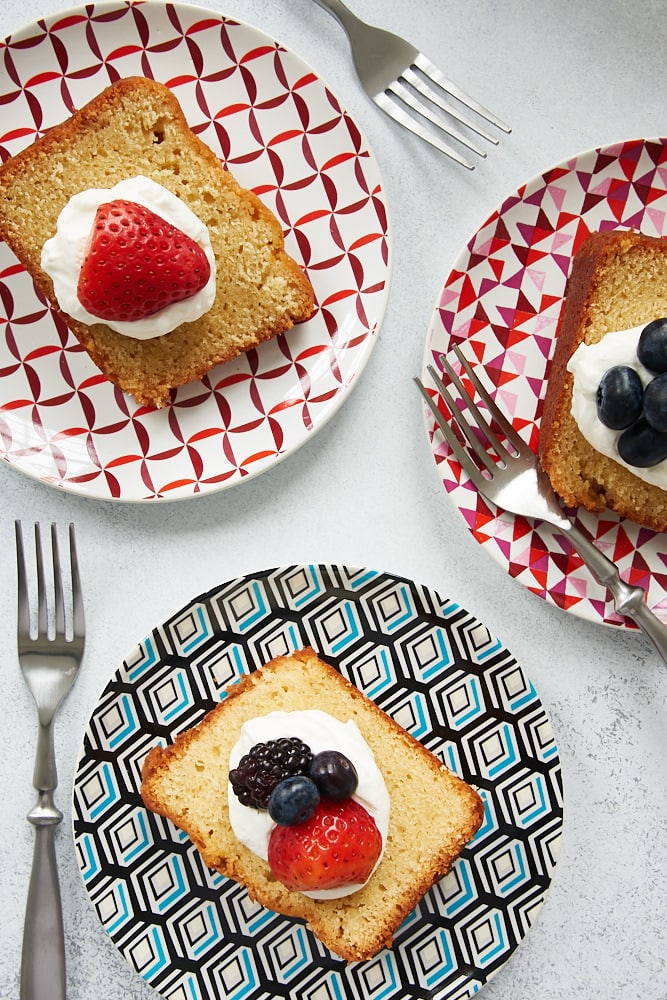 How to Make Sour Cream Pound Cake
One of the best things about this cake is how easy it is to make it. Here's how:
Prep your tools. Preheat oven to 325°F. Generously grease a 12-cup tube or Bundt pan. I highly recommend using a cooking spray with flour, like Baker's Joy or Pam for Baking.
Combine dry ingredients. Whisk together the flour, salt, and baking soda. Set aside.
Cream butter and sugars. Using an electric hand mixer or stand mixer on medium speed, beat the butter, sugar, and brown sugar until light and fluffy.
Add the eggs, two at a time. Mix well after each addition.
Mix in the vanilla.
Add the dry ingredients and sour cream. With the mixer on low speed, add the flour mixture in three portions, alternating with two portions of sour cream.
Bake. Transfer the cake batter to the prepared pan, and spread evenly. Bake 80 to 90 minutes, or until the top is golden brown and a pick inserted into the center comes out clean.
Cool in the pan for 15 minutes. Place the pan on a wire rack, and then remove the cake from the pan directly onto a cooling rack to let the cake cool completely.
Serve. Garnish, if desired, with sweetened whipped cream and berries, or use your favorite toppings.
Tube Pan vs Bundt Pan
A tube pan is technically any cake pan with a hole in the middle. For the purposes of most bakers, however, a tube pan is specifically that type of pan but with a flat bottom and straight sides. It may or may not be in two pieces. A Bundt pan generally has a more fluted design with lots of nooks and crannies.
You can use either type of pan for this recipe. In my experience, the flat bottom and sides of a tube pan will create more of that browned pound cake crust that we know and love. If you're using a Bundt pan, you may not get quite as much of the same look, but the flavor will be unaffected.
Also, because of the different shapes of the two pans, it may take a bit longer to bake this cake in a Bundt pan.
Serving Suggestions
Serve this Sour Cream Pound Cake plain or add a topping. I like to add a dollop of sweetened whipped cream and some fresh berries or whatever fruit we're craving. You could also go with ice cream, nuts, and your favorite syrup like chocolate or caramel. Or how about serving it with a buffet of topping options so everyone can make it their own? It's just so versatile!
You can also use extra pound cake to make a trifle! Simply cut the pound cake into cube, then layer it with whipped cream and macerated berries. I also like to add vanilla ice cream when I go this route! Why not?
How to Store
Once your pound cake has come to room temperature you can store it on the counter, covered, for 4-5 days. I like to place it on a glass plate and then cover it with plastic wrap. You can also slice it and put the pieces in an airtight container, but I find the cake stays more moist when it has not been sliced.
To freeze the cake, first make sure it has cooled completely. Then wrap any remaining cake or individual slices in two layers of plastic wrap. Wrap again in aluminum foil or place in an airtight, freezer-safe container or bag. Stored properly, this cake should keep in the freezer up to 3 months. Thaw overnight in the refrigerator or for an hour or two at room temperature.
Video Tutorial: Sour Cream Pound Cake
More Pound Cakes to Try