No-Churn Chocolate Brownie Ice Cream is the ultimate in chocolate ice cream. Rich and chocolatey with little bits of fudgy brownies throughout!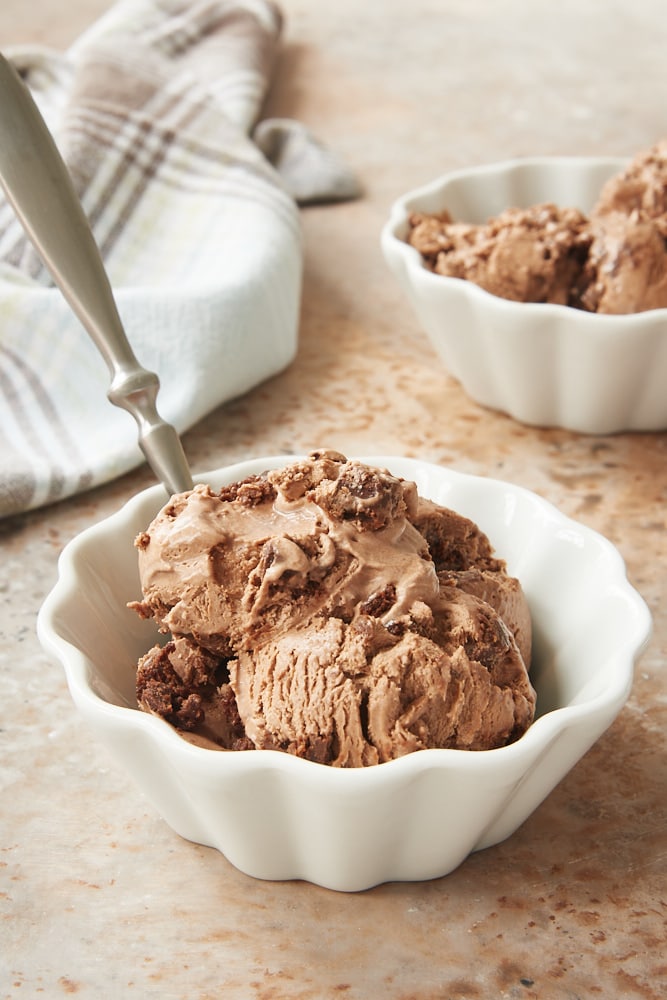 Chocolate Brownie Ice Cream Without a Machine
Sometimes only a big dose of chocolate will do. And that's just what you'll get with No-Churn Chocolate Brownie Ice Cream. This rich, creamy chocolate ice cream is studded with little bites of fudgy brownies for an indulgent chocolate dessert experience. When it comes to chocolate ice cream, this no-churn version is just the absolute best. Seriously, the best.
Little pieces of fudgy brownies are mixed into all that chocolate goodness to put this ice cream over the top. You'll need roughly 2 cups of chopped brownies. I do think that a dense, fudgy brownie will hold up best here. Make your own (Try Salted Fudge Brownies or Amy's Brownies.) or use store-bought for a shortcut in an already easy recipe.
And just as good as the flavor is, this ice cream is equally as awesome for how easy it is to make. This recipe is absolute winning with a short list of ingredients and easy prep. No ice cream maker needed! You'll have this ice cream mixed and in the freezer in mere minutes. You only need to plan ahead to give it sufficient time in the freezer.
If you're craving chocolate in a big way but don't want a lot of fuss, this No-Churn Chocolate Brownie Ice Cream is just the thing. With its rich chocolate flavor, it's sure to satisfy even your biggest chocolate cravings!
And if you're looking to try more no-churn ice cream recipes, try my Dulce de Leche Biscoff Ice Cream, Blackberry Ice Cream, All the Cookies Ice Cream, and Stracciatella Ice Cream next!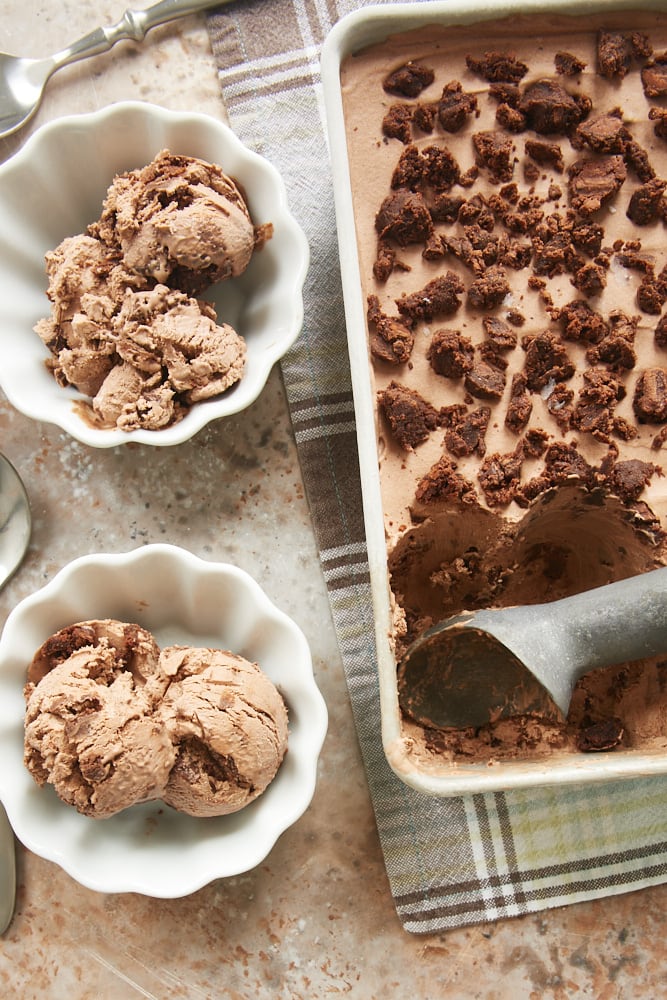 What You'll Need
Scroll to the recipe card at the bottom of this post for ingredient quantities and full instructions. Here are some helpful notes about the ingredients.
Sweetened condensed milk – Look for this alongside the other baking ingredients. Be sure to get the sweetened variety.
Unsweetened cocoa powder – I prefer regular cocoa powder for this ice cream, but you can use Dutch process if you prefer.
Vanilla extract
Heavy cream
Brownie pieces – Use leftover homemade brownies, box mix brownies, or go with store-bought if you want a shortcut that lets you skip heating up the oven. A fudgy, dense brownie will likely work best. Cut them into bite-size brownie chunks.
How to Make No-Churn Chocolate Brownie Ice Cream
This homemade chocolate ice cream comes together so quickly and easily. You'll just need a couple of mixing bowls and a container for storing. Let's make some ice cream!
Prepare the pan. Place the pan or container you're using in the freezer. See my note below about choosing a container.
Begin mixing. Whisk together the condensed milk, cocoa powder, and vanilla in a large bowl.
Whip the cream. Use an electric mixer on medium-high speed to whip the cream until soft peaks form.
Fold in the cream. Add about a cup of the whipped cream to the chocolate mixture, and fold until mixed. Transfer that mixture to the remaining whipped cream and gently fold until mixed.
Stir in the brownies. Gently stir the brownie pieces into the ice cream. If you like, you can reserve a handful of the brownie pieces to sprinkle on top of the ice cream.
Freeze. Transfer the ice cream to the cold pan. Sprinkle any reserved brownie pieces on top. Cover the pan or container tightly, and freeze for at least 5 hours.
What Kind of Container Should I Use for No-Churn Ice Cream?
There are lots of options here. I find that it's simplest to use a standard 9″ x 5″ metal loaf pan. The long shape of it makes scooping a breeze. But any freezer-safe pan or container with a similar capacity is fine. You'll need something with about a 1.5- to 2-quart capacity.
An airtight, freezer-safe food storage container works great. If you've got a clean, empty container from store-bought ice cream, that will work, too. And if you make ice cream frequently, you might want to try reusable ice cream container. (See product links below the recipe.)
No matter the container you use, make sure it's sealed well. For an extra layer of protection, you can place a layer of plastic wrap directly on the ice cream before sealing the container. That will help prevent ice crystals from forming on the surface.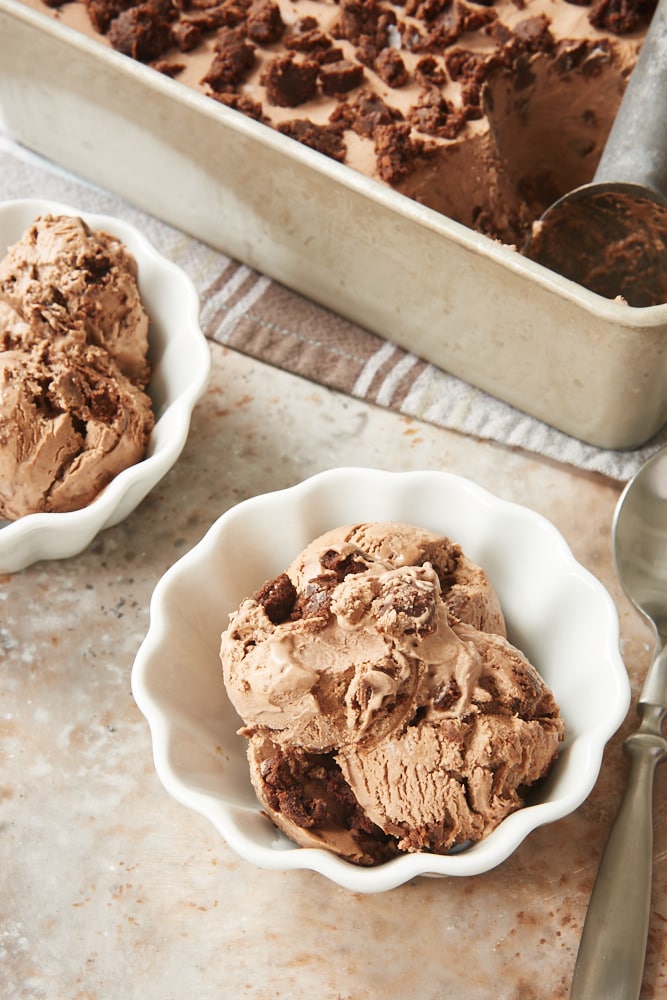 Tips for Success
Use a good quality cocoa powder. Your end result will definitely reflect the quality of ingredients here. You don't have to spend a lot to get a good one. If you have one you really enjoy using for baking, it will likely be just fine.
Don't over-mix. When it's time to add the whipped cream to the other ingredients, be sure to mix just until combined. Too much mixing will deflate the cream and affect the texture of the ice cream. Learn more: How to Make Whipped Cream
Customize! It's easy to change this recipe to suit your tastes. Add nuts, chopped candy bars, a swirl of chocolate sauce, or most anything that sounds good. Want something simpler? Leave out the brownies and just enjoy some really good chocolate ice cream.
How to Store
Keep the ice cream frozen. It can be stored in an airtight, freezer-safe container. It can also be stored in a loaf pan if it's wrapped well. Add a layer of plastic wrap directly on top of the ice cream to help prevent ice crystals from forming. Stored properly, the ice cream should keep in the freezer for a couple of weeks, although it will be at its best within the first week.
More No-Churn Ice Cream Recipes