May 30, 2017
No-Churn Stracciatella Ice Cream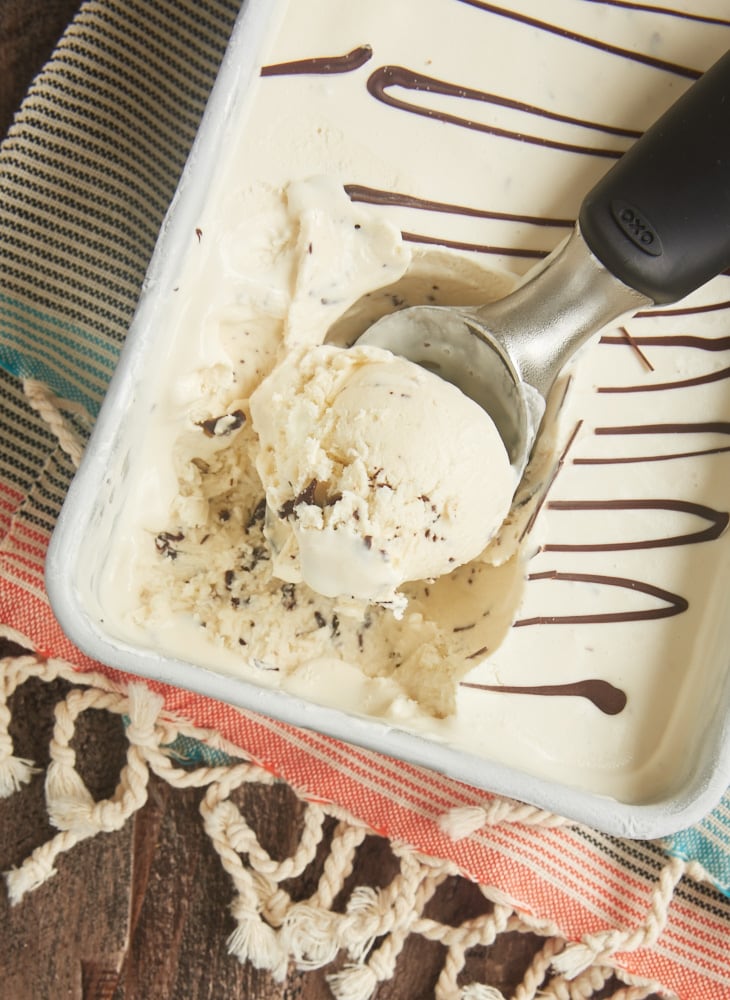 I have a goal for this summer to make lots of ice cream. And with how quick and easy the no-churn variety is to make, I don't think I'll have much trouble meeting that goal. Kicking things off is this simplified No-Churn Stracciatella Ice Cream.
If you're not familiar with stracciatella, it's simply ice cream with plenty of chocolate shards mixed into it. The word itself is derived from an Italian word which means ripped or torn up. You may be thinking that just means stirring some chopped chocolate into the ice cream, but it's so much more than that.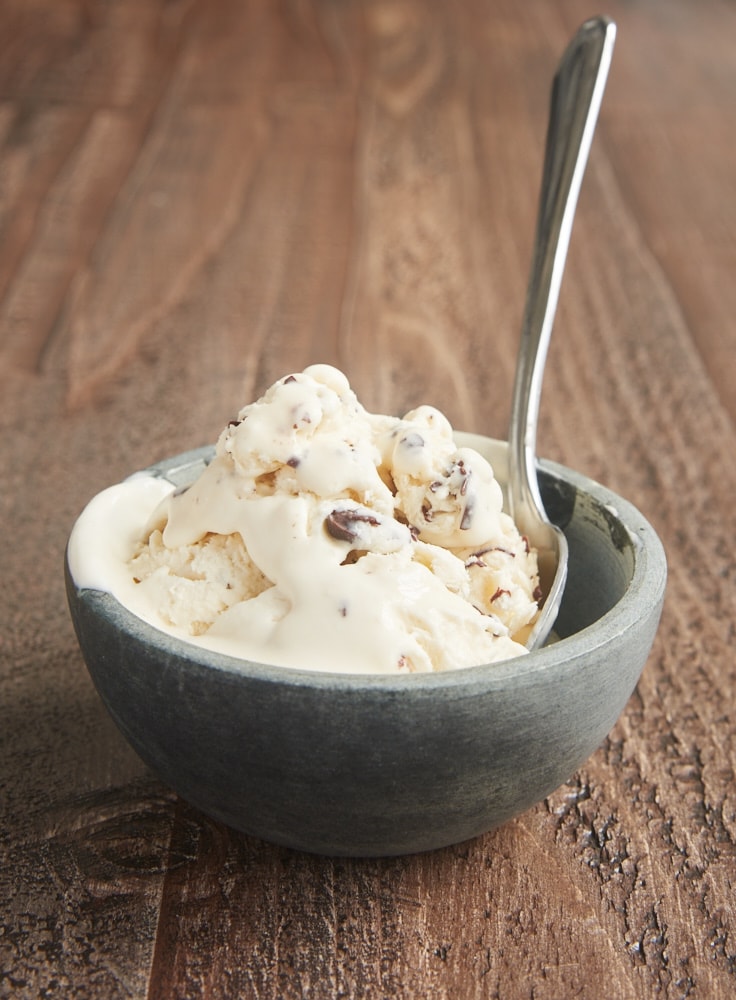 You've probably had chocolate chip ice cream, which has chocolate chips mixed into it. Stracciatella takes a different approach by adding melted chocolate to partially frozen ice cream. The chocolate hardens quickly when it comes into contact with the cold ice cream. Then you can simply start stirring, and the chocolate will break up into little shards.
Not only does that create a really pretty ice cream, but it also means that you get little bites of chocolate all throughout every bite. And there's no biting into a big, hard, frozen chocolate chip. Instead, those little bits of chocolate offer plenty of flavor with just a little crunch.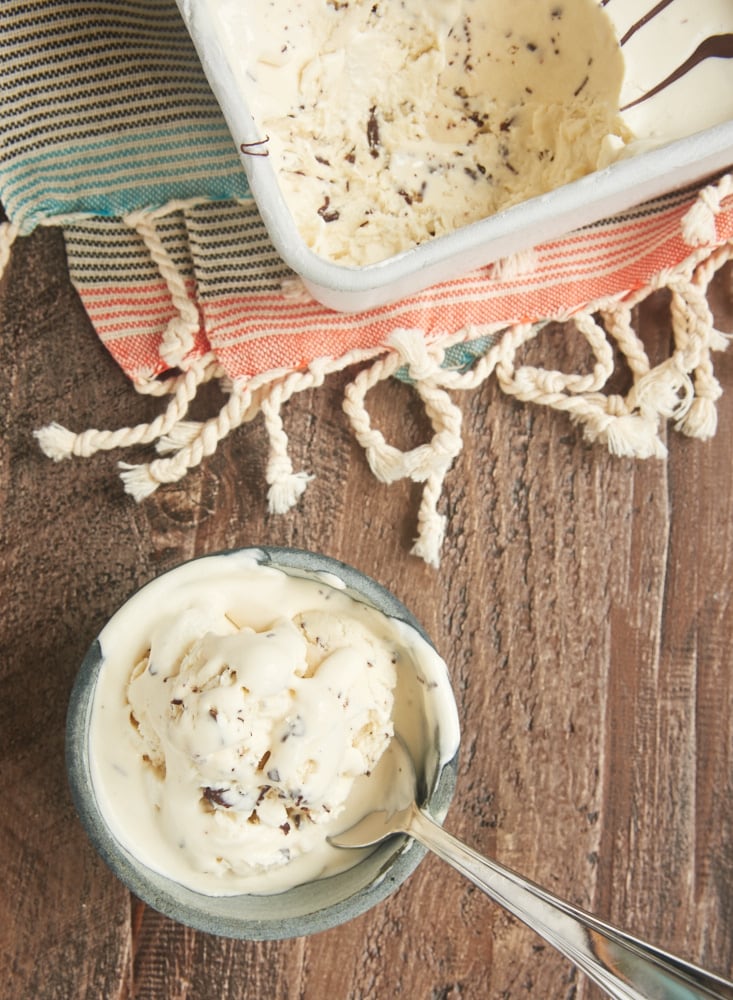 You know that I'm going to tell you to use the best chocolate you can for this ice cream. You'll get better results from a good chocolate that melts smoothly. I've listed it in the recipe as dark chocolate. I tend to prefer semisweet chocolate in this ice cream, but a darker chocolate is good, too. Also, the amount of chocolate you use is a preference thing, too. I usually melt an amount on the higher end of the given range and then add it until I like the amount of chocolate I see in the ice cream.
I have to say that the simple flavors of this ice cream are a big, big winner with Quinn and me. And I'm a huge fan of how quick and easy it is to make. I feel confident that this summer and many summers after this one will feature this No-Churn Stracciatella Ice Cream in heavy rotation.
Find more no-bake treats in the Recipe Index.
This post contains affiliate links. If you make a purchase through one of the links, I'll receive a
small commission at no additional cost to you.
No-Churn Stracciatella Ice Cream
Yield: 10 to 12 servings
Prep Time: 15 minutes
Total Time: 5 hours 15 minutes
Every bite of this quick and easy No-Churn Stracciatella Ice Cream is filled with lots and lots of little shards of dark chocolate.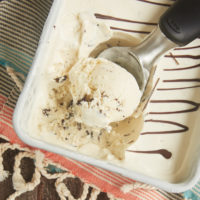 Ingredients:
14 ounces sweetened condensed milk
2 teaspoons vanilla extract
1/4 teaspoon salt
2 cups heavy cream
3 to 4 ounces (1/2 to 2/3 cup) dark chocolate
Directions:
Place a 9″x 5″x 3″ metal loaf pan in the freezer.
Whisk together the condensed milk, vanilla, and salt in a large bowl.
Place the cream in a separate bowl. Use an electric mixer with a whisk attachment to whip the cream at medium-high speed until firm peaks form.
Fold about 1 cup of the whipped cream into the condensed milk mixture. Transfer that mixture to the whipped cream, and gently fold until combined.
Transfer the mixture to the chilled loaf pan, and cover tightly. Freeze for 2 hours.
Place the chocolate in a microwave-safe bowl. Heat at half-power in 30-second increments until the chocolate melts when stirred. Stir until smooth.
Drizzle the chocolate over the partially frozen ice cream. The chocolate should harden quickly. Stir into the ice cream, breaking the chocolate into small shards.**
Cover and return to the freezer for 3 hours, or until the ice cream has a scoopable texture.
Notes:
*Use as much chocolate as you like. I usually start with the greater amount and add it to the ice cream until I like the distribution of chocolate.
**In my experience, this works a bit easier if you place the chocolate in a zip-top bag with a corner snipped. Work in batches, squeezing the chocolate over the surface of the ice cream, stirring, and repeating with more chocolate.