You'll be surprised how easy it is to make homemade stracciatella ice cream! This simple recipe pairs creamy vanilla ice cream with shards of rich dark chocolate for a no-churn version of the Italian classic.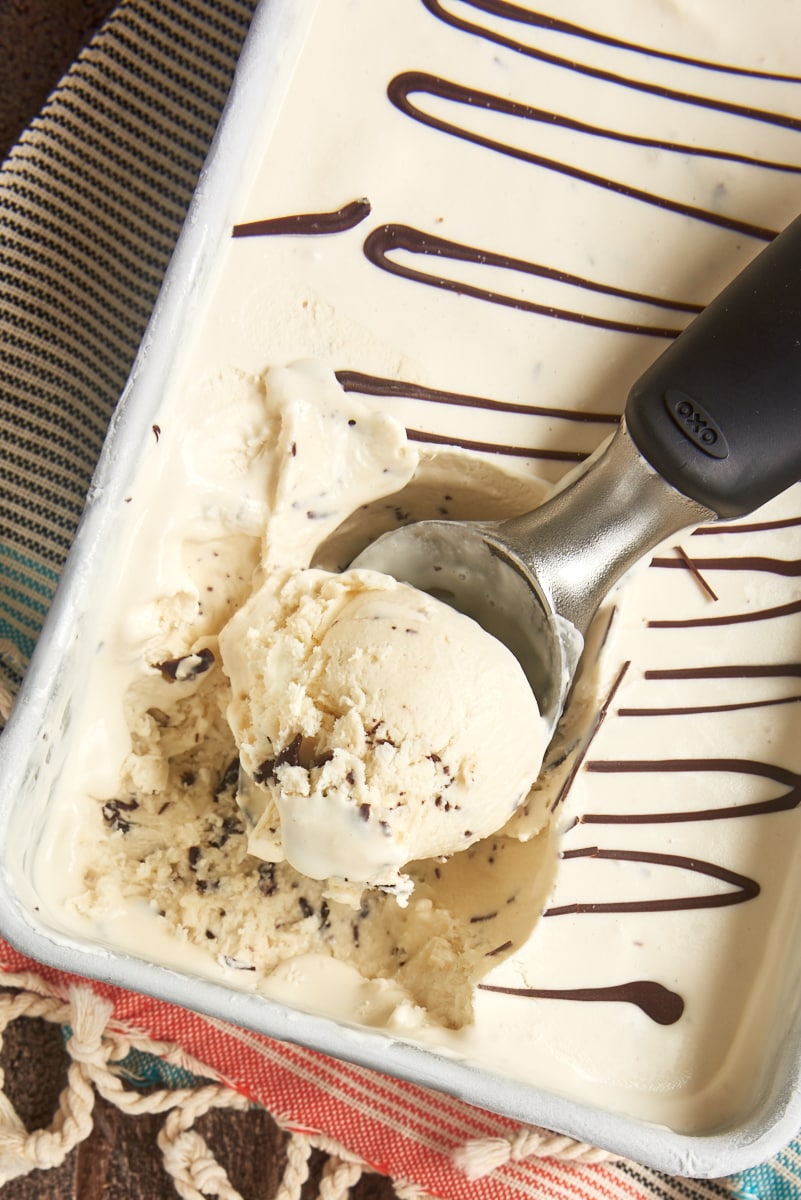 Easy No-Churn Ice Cream Recipe
If you're not familiar with stracciatella, it's simply vanilla ice cream with dark chocolate shards mixed into it. The word itself is derived from an Italian word which means ripped or torn up. You may be thinking that just means stirring some chopped chocolate into the ice cream, but it's so much more than that.
You've probably had chocolate chip ice cream, which has chocolate chips mixed into it. Stracciatella takes a different approach by adding melted chocolate to partially frozen ice cream. The chocolate hardens quickly when it comes into contact with the cold ice cream. Then you can simply start stirring, and the chocolate will break up into little shards.
Not only does the process create a really pretty ice cream, but it also means that you get little bits of chocolate all throughout every bite. And there's no biting into a big, hard, frozen chocolate chip. Instead, those little bits of chocolate offer plenty of flavor with just a little crunch.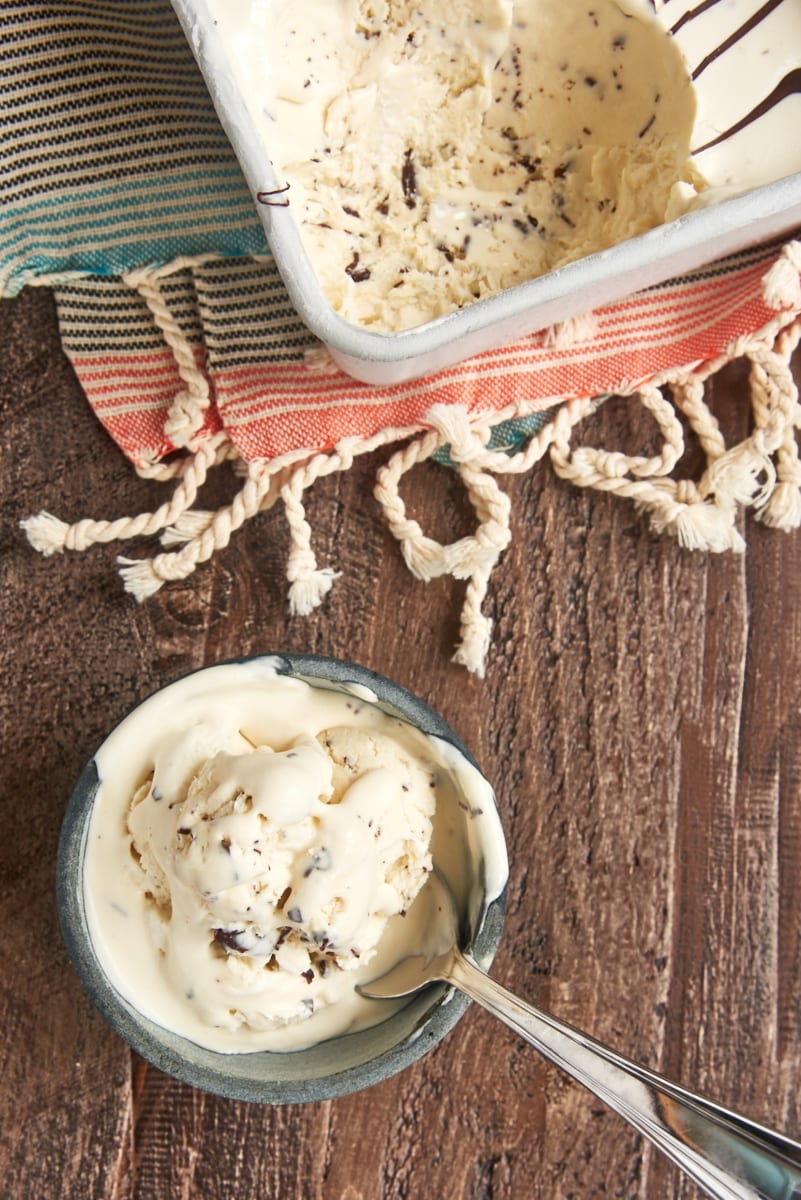 Why You'll Love This No-Churn Stracciatella Ice Cream Recipe
Here are some of the many reasons I love making this easy no-churn ice cream:
Simple. No ice cream maker needed, which means you don't need to remember to freeze the ice cream maker drum a few days in advance. You can make this no-churn stracciatella whenever the craving strikes!
Delicious. Chocolate and vanilla is a classic duo; use a high-quality vanilla extract and the best chocolate you can buy and their flavors will really shine here.
Extra-rich. No-churn ice cream has a rich, velvety texture that's quite different from traditional ice cream. For more no-churn ice cream ideas, try my no-churn chocolate brownie ice cream, no-churn chocolate peanut butter swirl ice cream, and all the cookies no-churn ice cream.
What You'll Need
Scroll down to the recipe card to find the ingredient quantities and recipe instructions.
Sweetened condensed milk – Because this is already heavily sweetened, you don't need to add any additional sugar to the recipe.
Vanilla extract – Use a high-quality store-bought brand, or make your own vanilla extract. You can instead use vanilla bean paste if you like.
Salt
Heavy cream – Don't substitute half-and-half or whole milk; the recipe won't work without heavy cream.
Dark chocolate – You'll get the best results from a good chocolate that melts smoothly. Learn more: Types of Chocolate: A Home Baker's Guide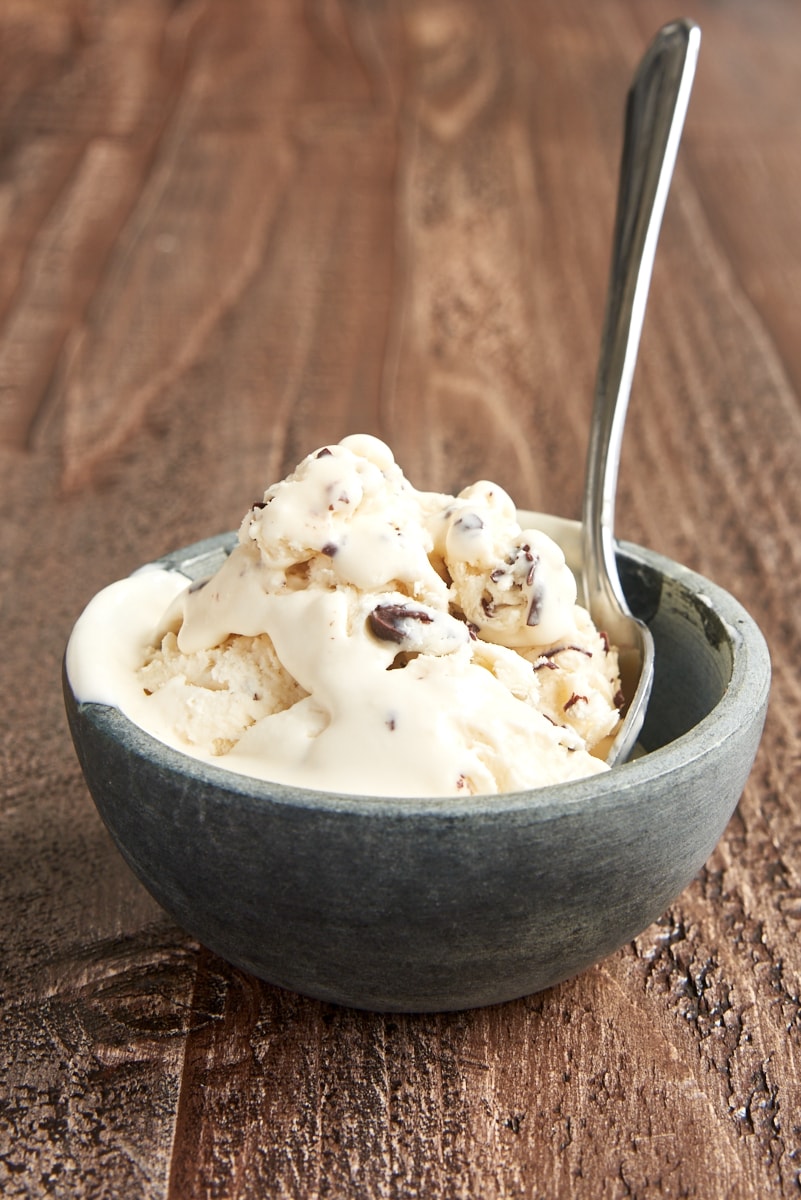 How to Make No-Churn Stracciatella Ice Cream
While there are a few different methods of making no-churn ice cream floating around the internet, this is my favorite by far, as it doesn't require frequent stirring. Here's what you'll need to do.
Prepare. Place a 9″x 5″x 3″ metal loaf pan (or another freezer-safe container with a similar volume) in the freezer.
Mix the first 3 ingredients. Whisk the condensed milk, vanilla, and salt in a large bowl.
Beat the cream. Use an electric mixer with a whisk attachment to whip the cream at medium-high speed in a second mixing bowl, until stiff peaks form.
Combine the whipped cream with the milk mixture. Fold about 1 cup of the whipped cream into the bowl with the condensed milk mixture. Transfer that mixture to the whipped cream and continue to gently fold until combined.
Freeze. Transfer the mixture to the chilled loaf pan. Cover tightly and freeze for 2 hours.
Melt the chocolate. Place the chocolate in a microwave-safe bowl. Heat at half-power in 30-second increments until the chocolate melts when stirred. Continue to stir until the chocolate is completely smooth.
Add the chocolate to the ice cream. Drizzle the chocolate over the partially frozen ice cream; the chocolate will harden. Stir the chocolate into the ice cream, breaking it into small shards.
Freeze and serve. Cover the stracciatella ice cream and return it to the freezer for 3 hours, or until the ice cream is solid and can be scooped.
Tips for Success
No-churn ice cream is a cinch to make, but here are some additional tips to help you make perfect stracciatella.
Know when you have stiff peaks. It's important to wait until you have stiff peaks in the whipped cream before adding it to the rest of the ingredients.You'll know you have stiff peaks when they stand straight up when you lift the beater, without the tips folding over.
Adjust the chocolate as desired. Feel free to add more or less. I usually continue to add more to the ice cream until I like the distribution of chocolate.
Make adding the chocolate easier. I like to transfer the melted chocolate to a zip-top bag with a corner snipped off. I squeeze the chocolate over the surface of the ice cream, then stir and repeat.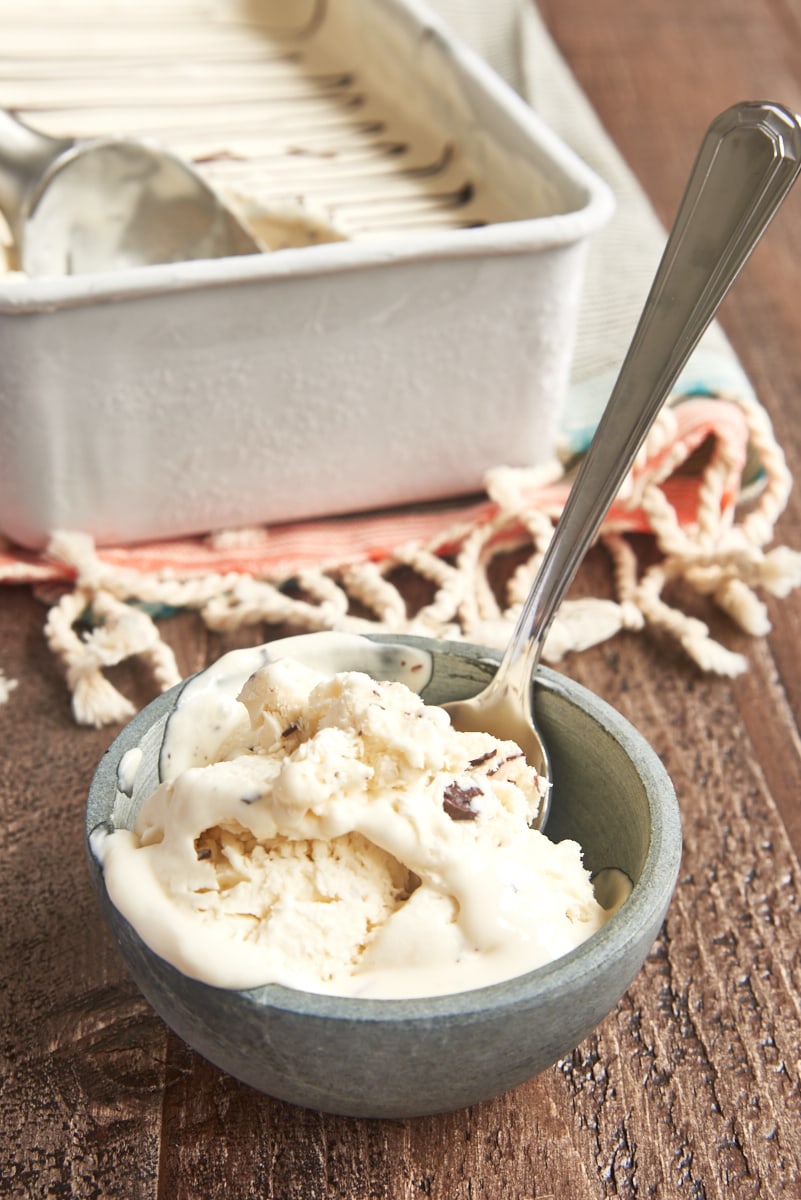 Serving Suggestions
All you really need is a bowl or an ice cream cone to enjoy this no-churn stracciatella, but the simple flavors here mean it pairs well with all kinds of desserts.
Sandwich it between two chocolate-chocolate chip cookies for a decadent ice cream sandwich, serve it with a slice of chocolate loaf cake, or make a brownie sundae with dark cocoa powder brownies.
How to Store
Store your no-churn stracciatella ice cream tightly covered in the loaf pan for up to two weeks.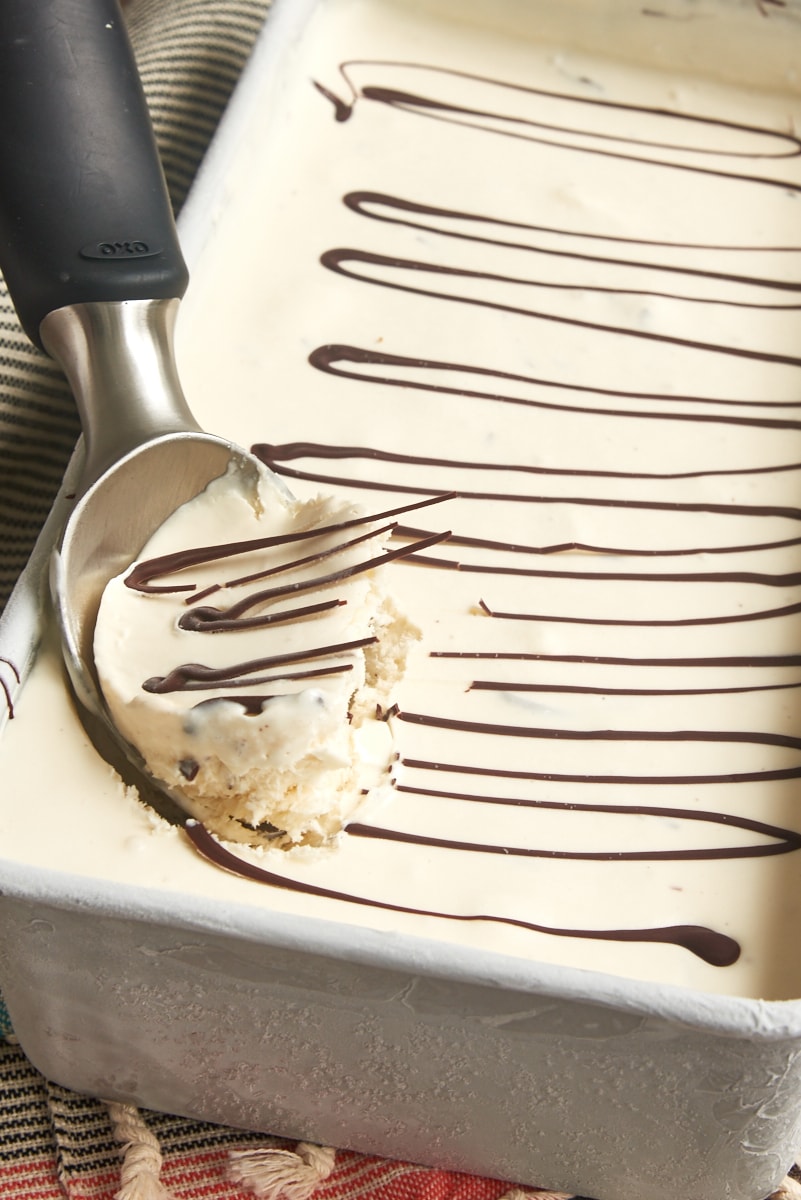 Video Tutorial: No-Churn Stracciatella Ice Cream
More Creamy and Cool Desserts