Rocky Road Ice Cream combines a creamy chocolate ice cream base with gooey marshmallows, crunchy nuts, and even more chocolate for an irresistible summer treat!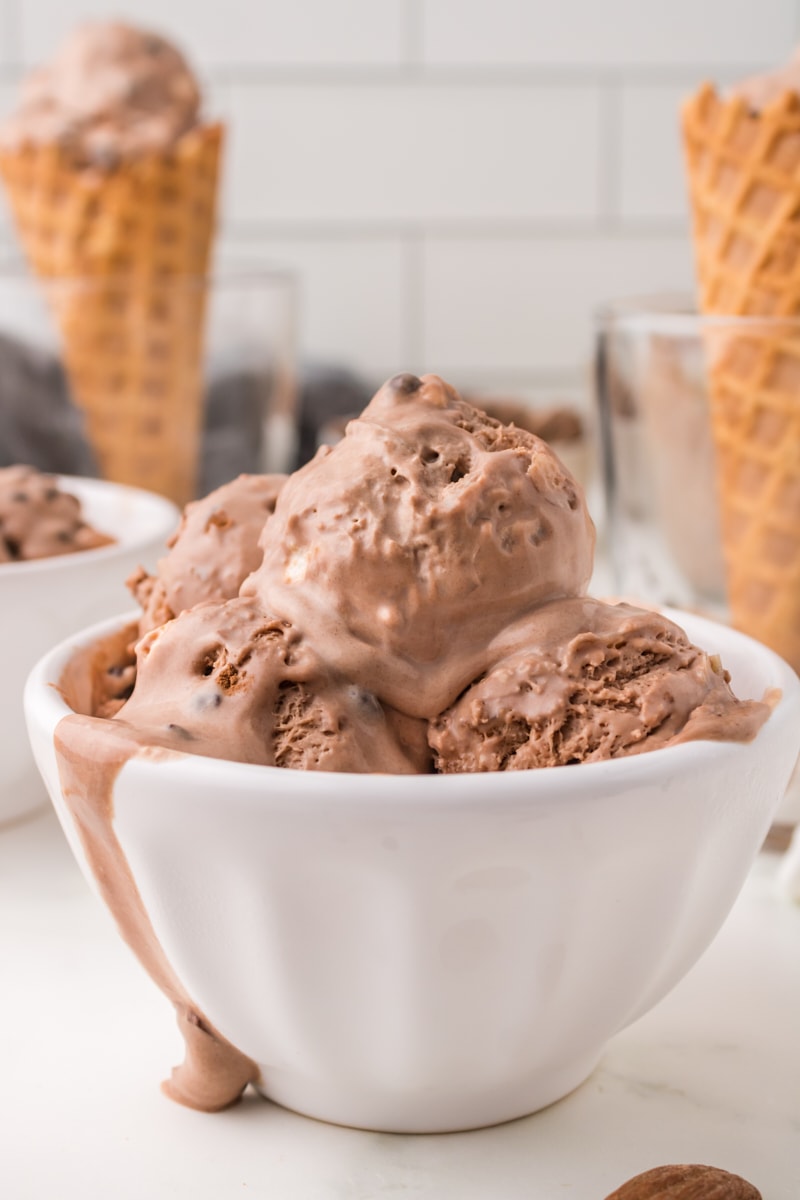 No-Churn Rocky Road Ice Cream
Homemade ice cream is one of the very best things about summertime. And this rocky road version is sure to become a favorite for my fellow chocolate lovers!
The combination of creamy chocolate ice cream with crunchy almonds, chewy marshmallows, and dark chocolate chips is nothing short of fantastic. It's just the thing to satisfy a sweet craving on a hot day. Scoop it into a bowl or top off your favorite ice cream cone for a tasty treat!
What Is It Called Rocky Road Ice Cream?
Rocky road ice cream is a chocolate ice cream that's mixed with marshmallows, almonds, and often chocolate chips. The name "rocky road" may be a reference to the lumpy, bumpy texture of the ice cream, although it's also thought that the name may have been a metaphorical reference to the tough times experienced during the Great Depression in the U.S.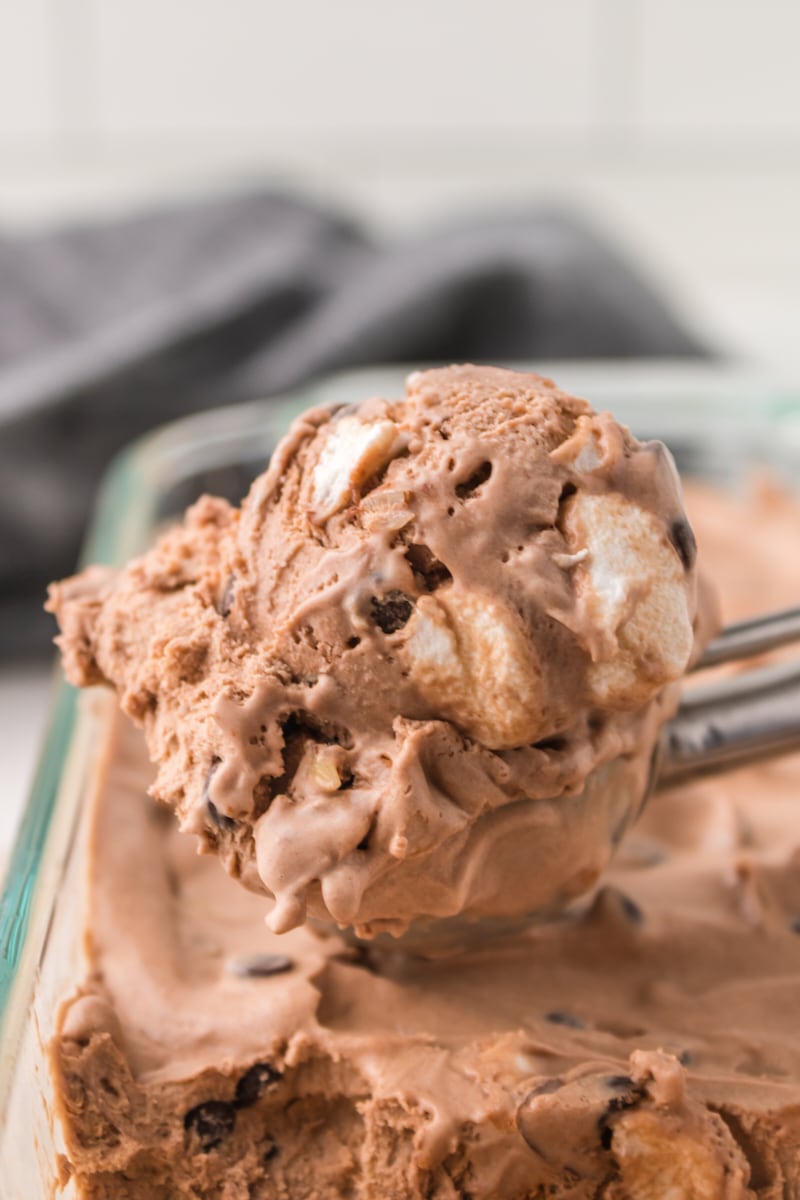 Why You'll Love This Rocky Road Ice Cream Recipe
There are plenty of reasons to love this recipe!
Easy. With a short list of ingredients and very little hands-on time, this is an easy treat to whip up in a hurry!
No-churn. No ice cream maker needed! You just need your mixer to whip everything together.
Flavorful. There's no shortage of flavor here, from the ice cream to all its add-ins!
Make-ahead. The ice cream needs a stint in the freezer so it sets up nicely, so it's great for making a day or two in advance.
What You'll Need
See the recipe card at the bottom of the post for ingredient quantities and full instructions. Here are some notes about the ingredients you'll need to make homemade rocky road ice cream.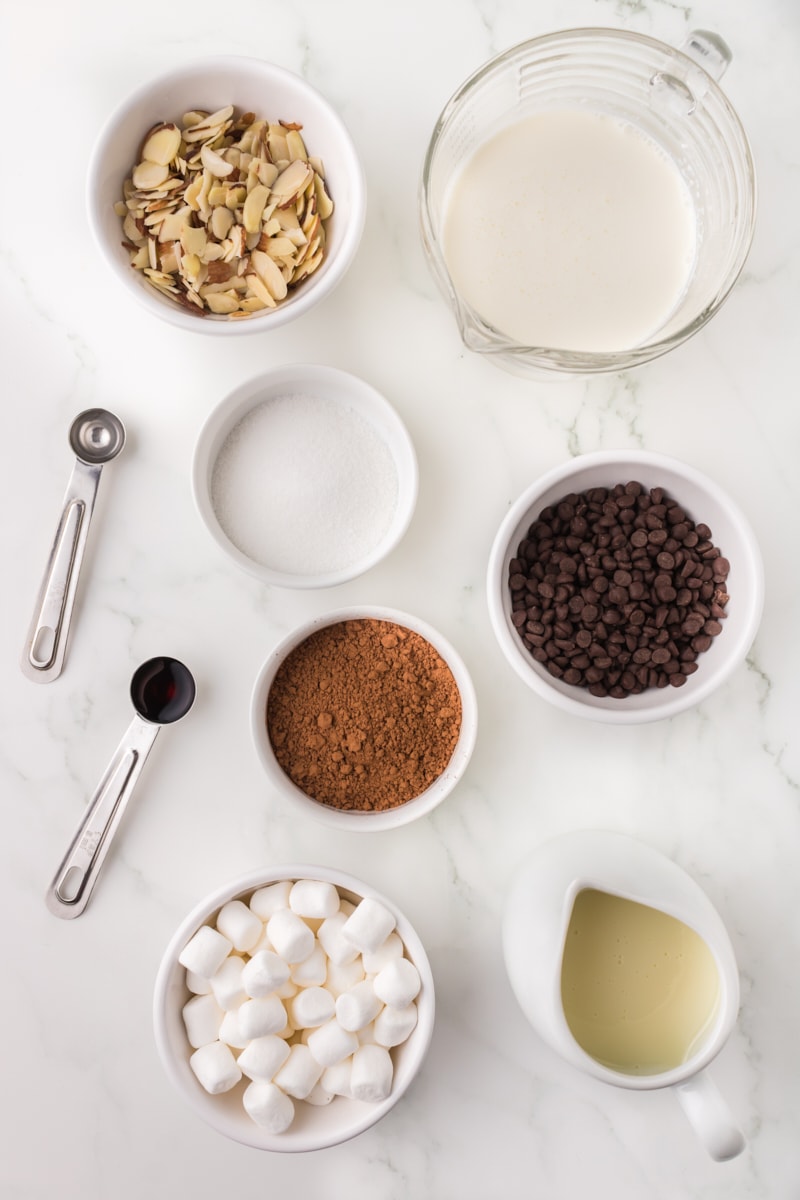 Heavy cream – Use heavy cream or heavy whipping cream.
Sweetened condensed milk – Don't confuse this with evaporated milk, which isn't sweetened.
Cocoa powder – Be sure to use unsweetened cocoa powder. I prefer natural cocoa powder here, but you can use Dutch process if you want a more mellow flavor.
Granulated sugar
Vanilla extract
Almond extract – This adds a strong almond flavor, so feel free to omit it if you don't want that additional flavor.
Mini marshmallows – The small size of these is perfect for this ice cream.
Mini chocolate chips – Like the marshmallows, mini size is ideal. If you don't have mini chocolate chips, you can chop chocolate or chocolate chips to use instead.
Sliced almonds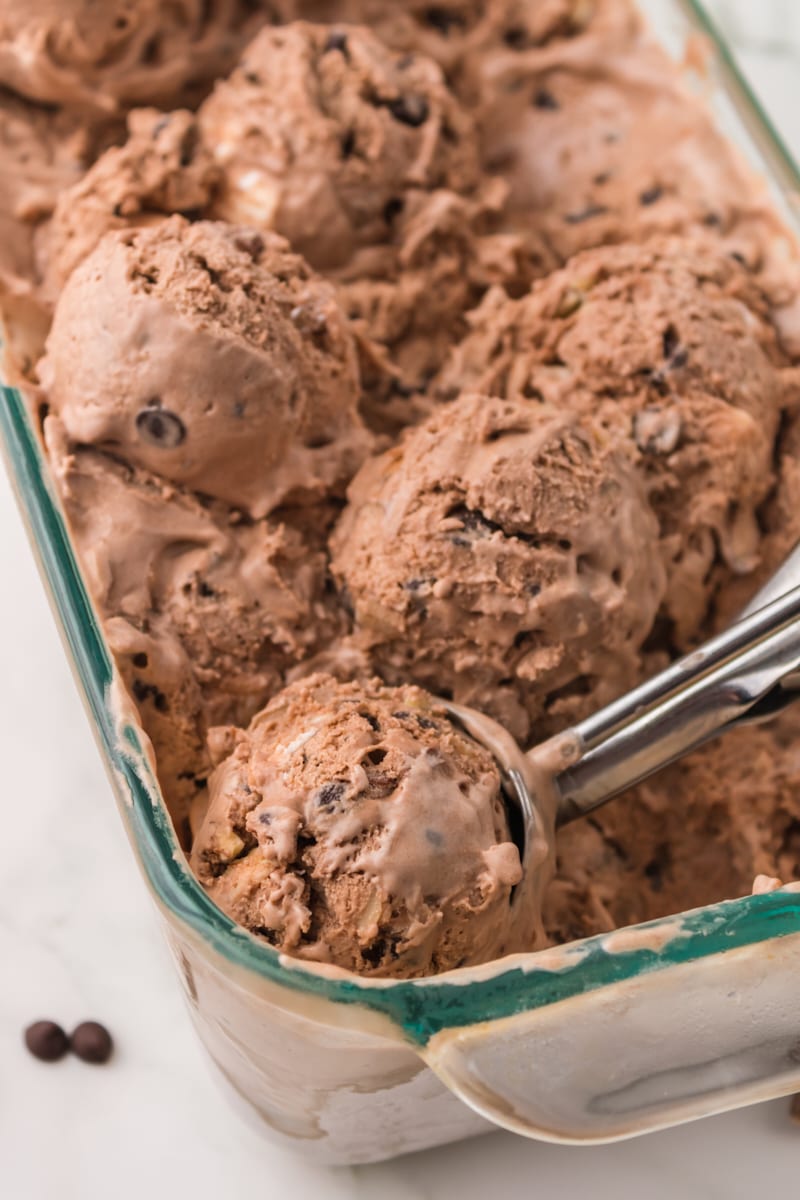 How to Make Rocky Road Ice Cream
This delicious chocolate ice cream recipe is quite simple to make. There's no need for an ice cream machine; you'll only need your hand mixer or stand mixer! Just be sure to factor the freezer time into your planning.
Chill the pan. Place a standard loaf pan in the freezer while you make the ice cream.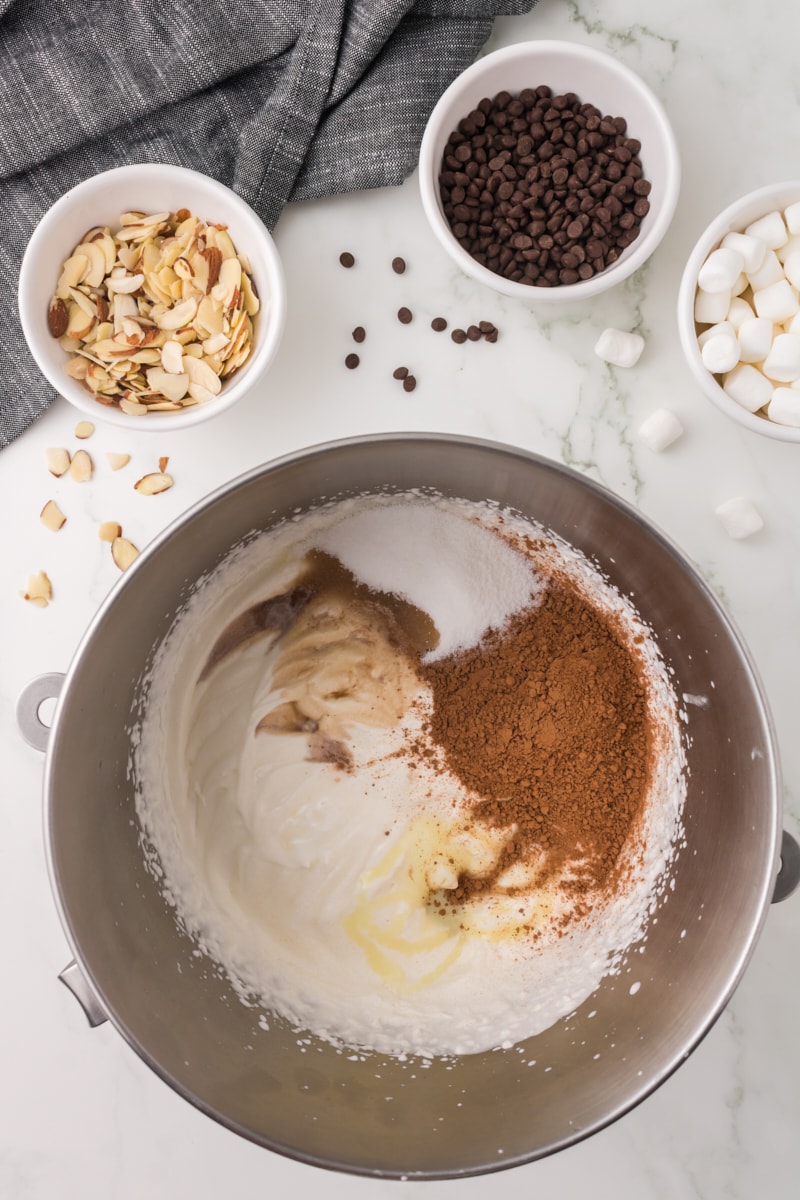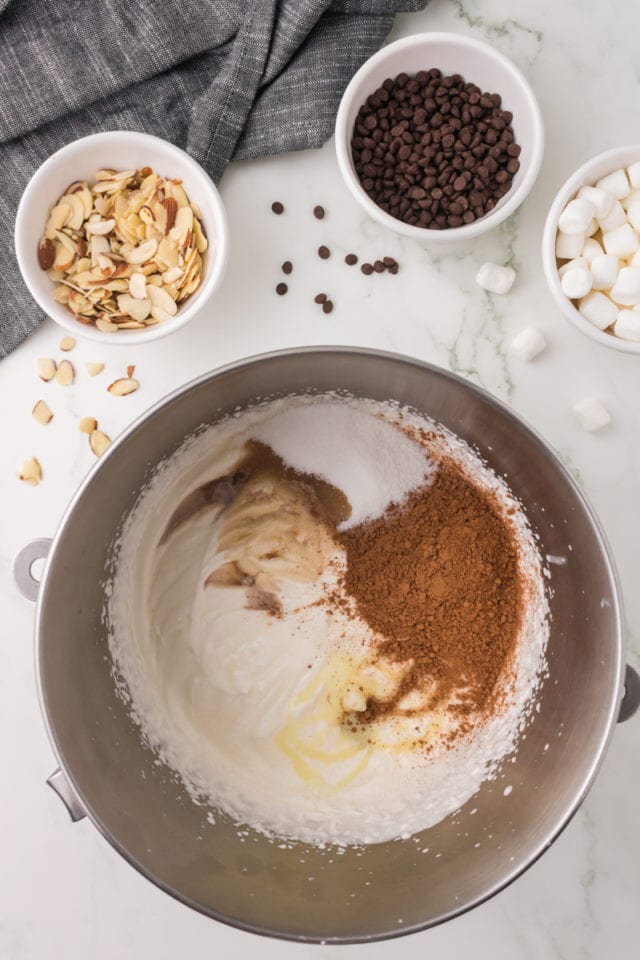 Begin whipping the cream. Place the heavy cream in a large mixing bowl. Use an electric mixer to whip until the mixture thickens.
Finish mixing. Add the cocoa powder, sugar, and both extracts. Continue mixing until firm peaks form.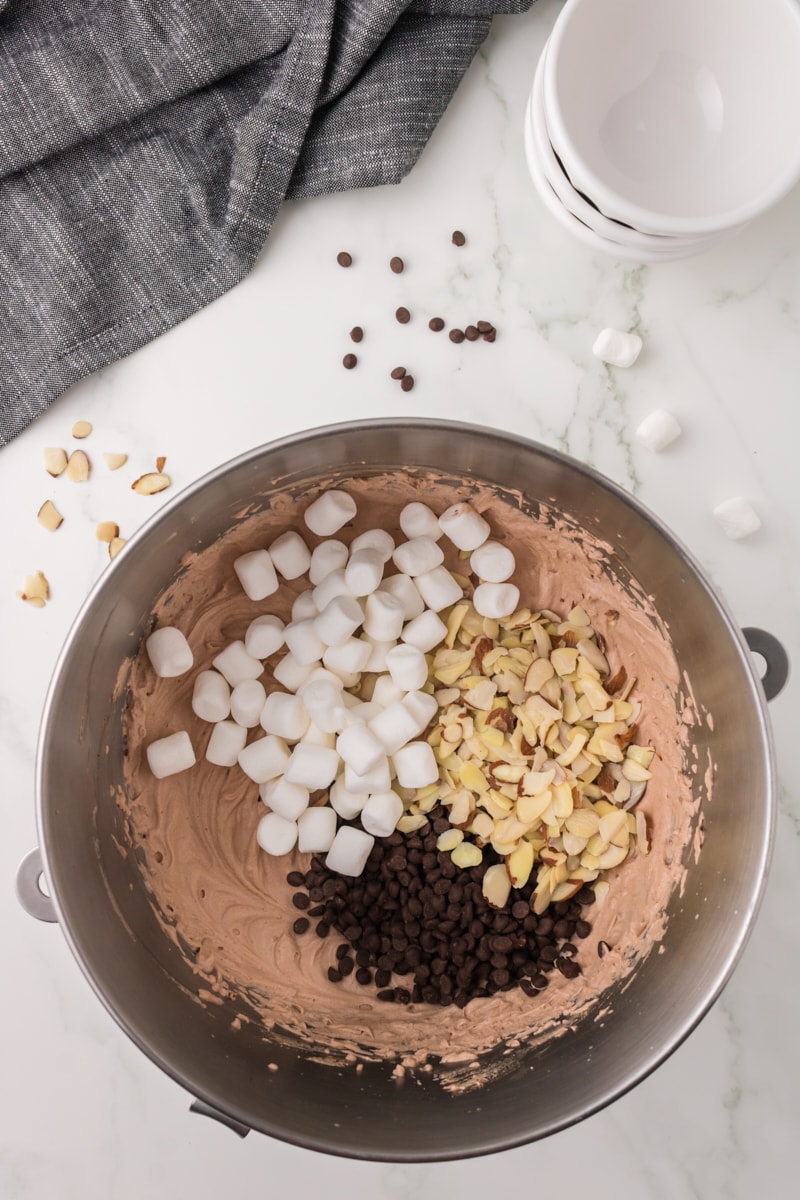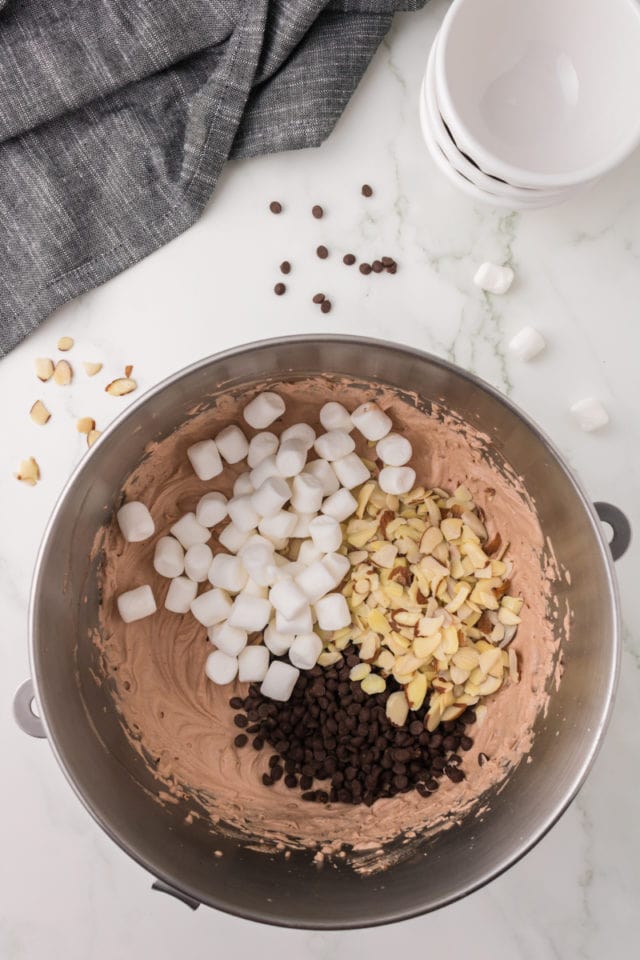 Stir in the add-ins. Gently stir the marshmallows, chocolate chips, and almonds into the chocolate mixture. Be sure not to over-mix.
Freeze. Cover the pan and place it in the freezer for at least 5 hours to let it become firm enough to be scooped.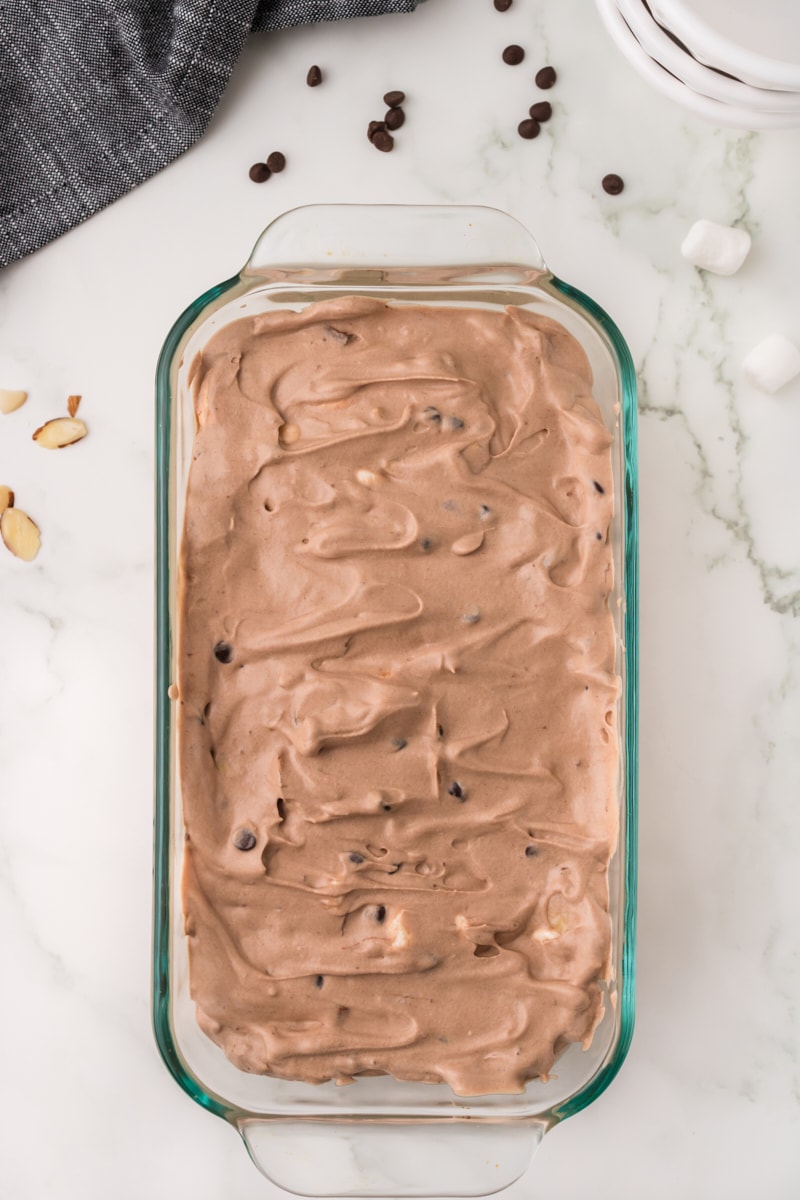 Tips for Success
Make sure your cream is cold. Keep it in the refrigerator until you're ready to start mixing. You can even chill your mixing bowl and mixer attachment before you get started to help your cream stay cool while mixing.
Mini is best. For the marshmallows and chocolate chips, miniature size will distribute more evenly and make the ice cream easier to serve and eat. If you don't have the mini versions, you can chop them to make them smaller.
Don't over-mix. When mixing the add-ins, be gentle and take care not to over-mix or you'll deflate the whipped cream. Some deflating is inevitable, but stir only as much as needed to combine.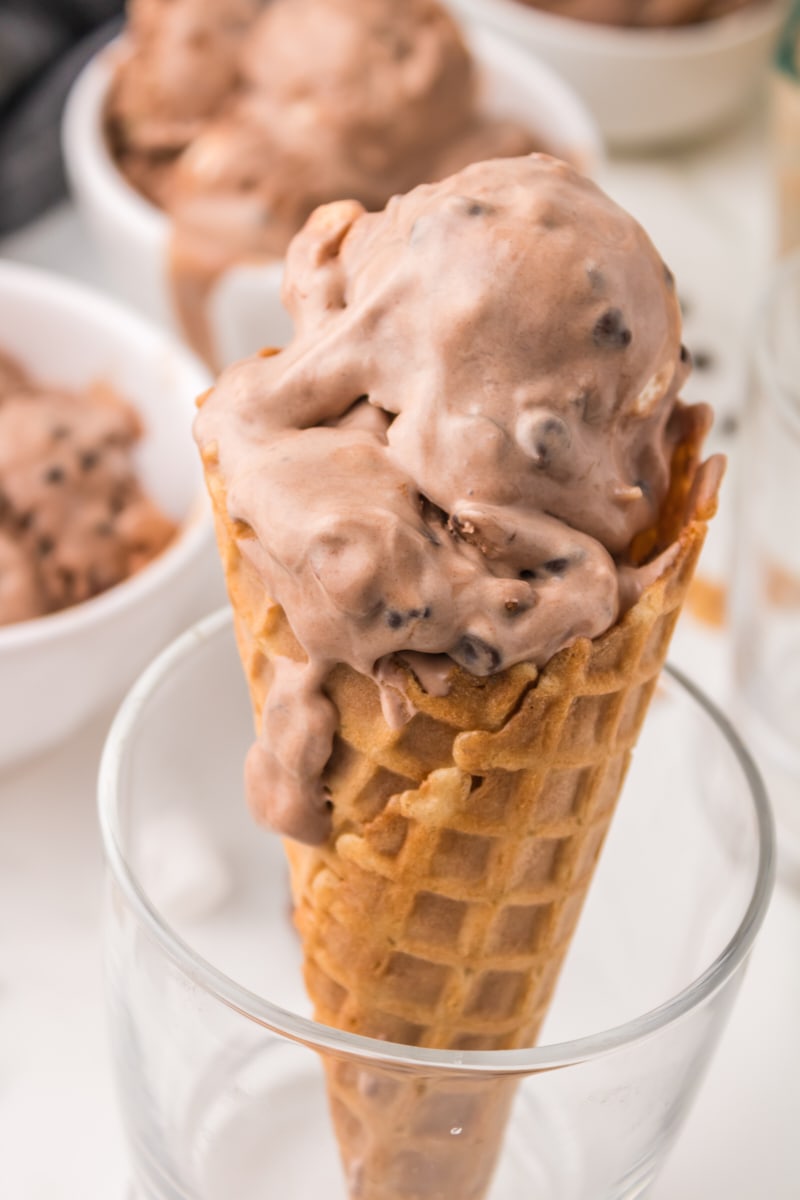 Variations
If you'd like to stray a bit from the traditional rocky road flavors, you can swap the add-ins for other favorite flavors. Instead of semisweet chocolate, try white chocolate or a combination of chocolates. Another type of nut (like walnuts, pecans, peanuts, or hazelnuts) will work, too. Just keep the total amount of add-ins the same.
Serving Suggestions
This rocky road ice cream is so flavorful and has such varied textures that it's pretty darn good just as it is. If you want to dress it up a bit, serve it with a drizzle of chocolate sauce or caramel sauce. Sprinkle more almonds, marshmallows, and chocolate over the top.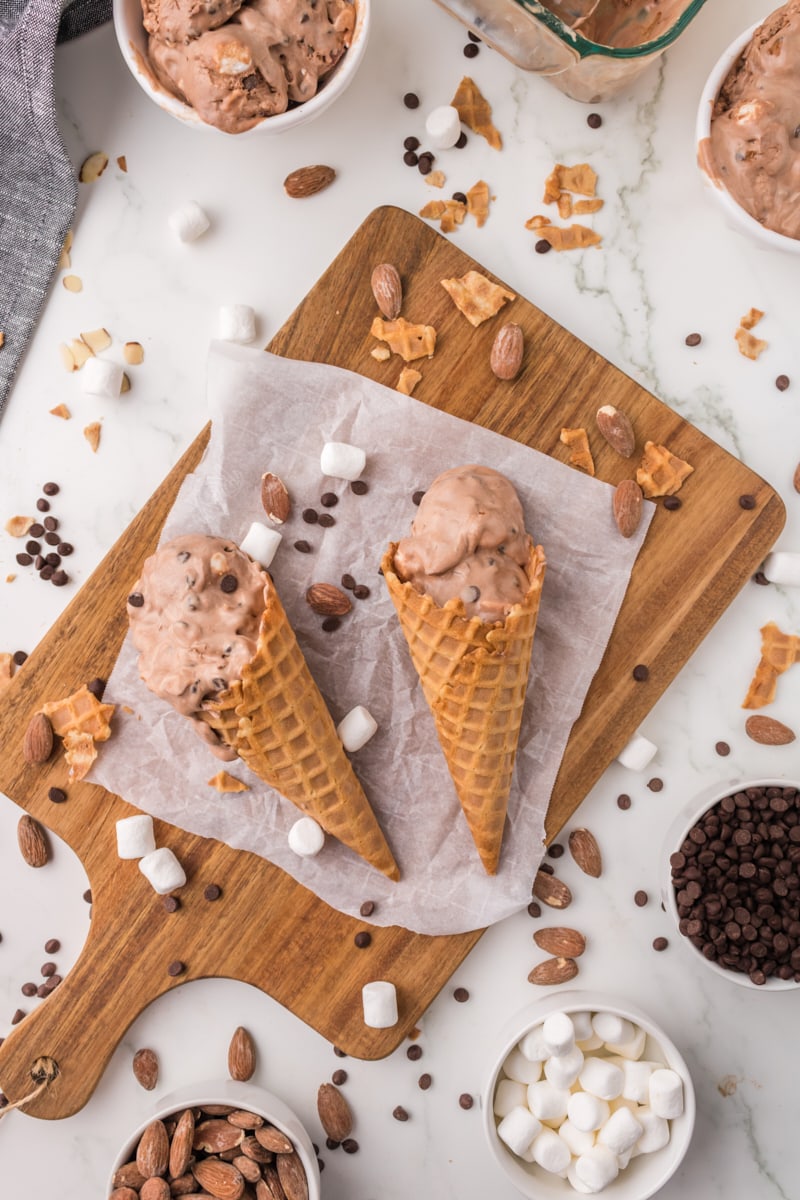 How to Store
Keep the ice cream tightly covered in the freezer. If you won't be serving it within a week or so, I recommend storing it in a freezer-safe container with a tight-fitting lid. Properly stored, it should keep in the freezer up to 3 months.
More No-Churn Ice Cream Recipes