Enjoy the sweet flavor of summer in every blissful bite of this blackberry ice cream! The delicate tang and natural sweetness of blackberries make this easy recipe a summertime must-make.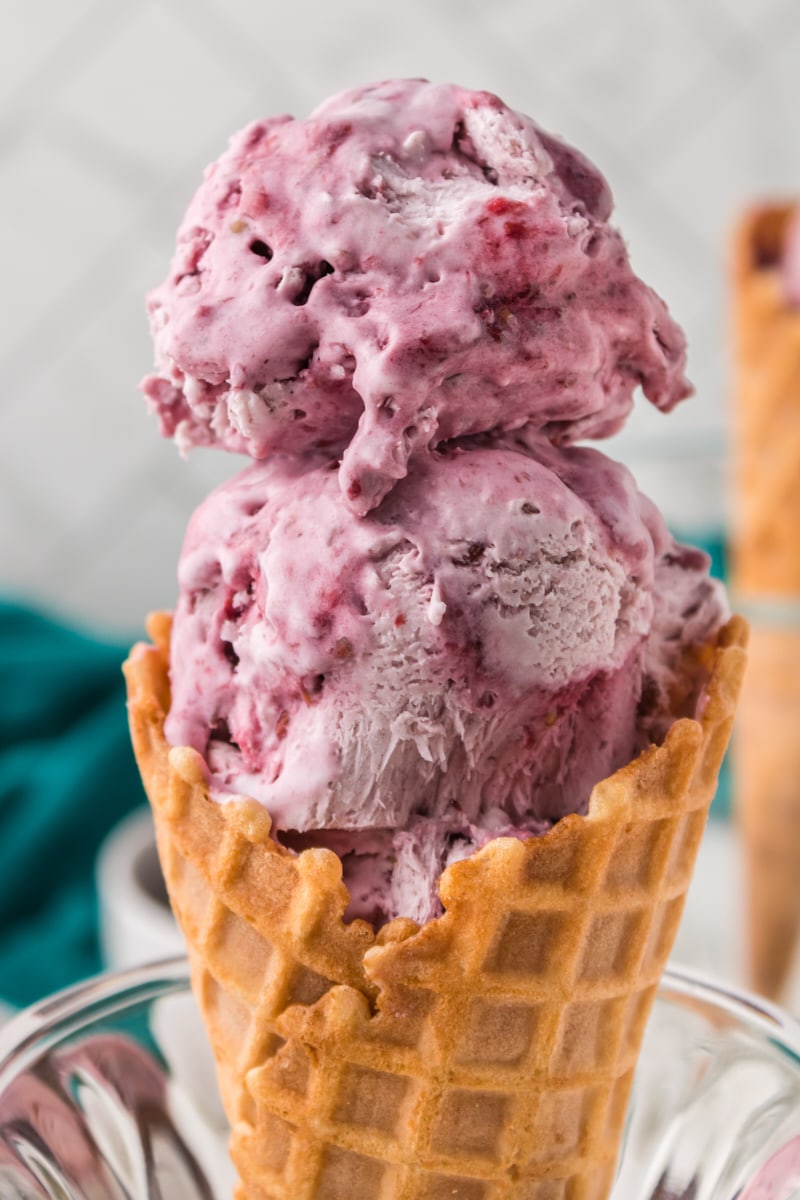 No-Churn Blackberry Ice Cream
While summer weather isn't my favorite, I do love enjoying summer flavors like blackberries. And this easy ice cream is a fantastic way to enjoy a taste of summer!
Unlike most no-churn ice cream recipes, there's no sweetened condensed milk here. The sweetness comes from a simple blackberry purée. Mixing that into freshly whipped cream creates a delicious treat that you'll make again and again throughout the summer. It's soft and rich and creamy and downright irresistible!
That simplicity means you're always about 10 minutes away from having homemade ice cream made and chilling in the freezer!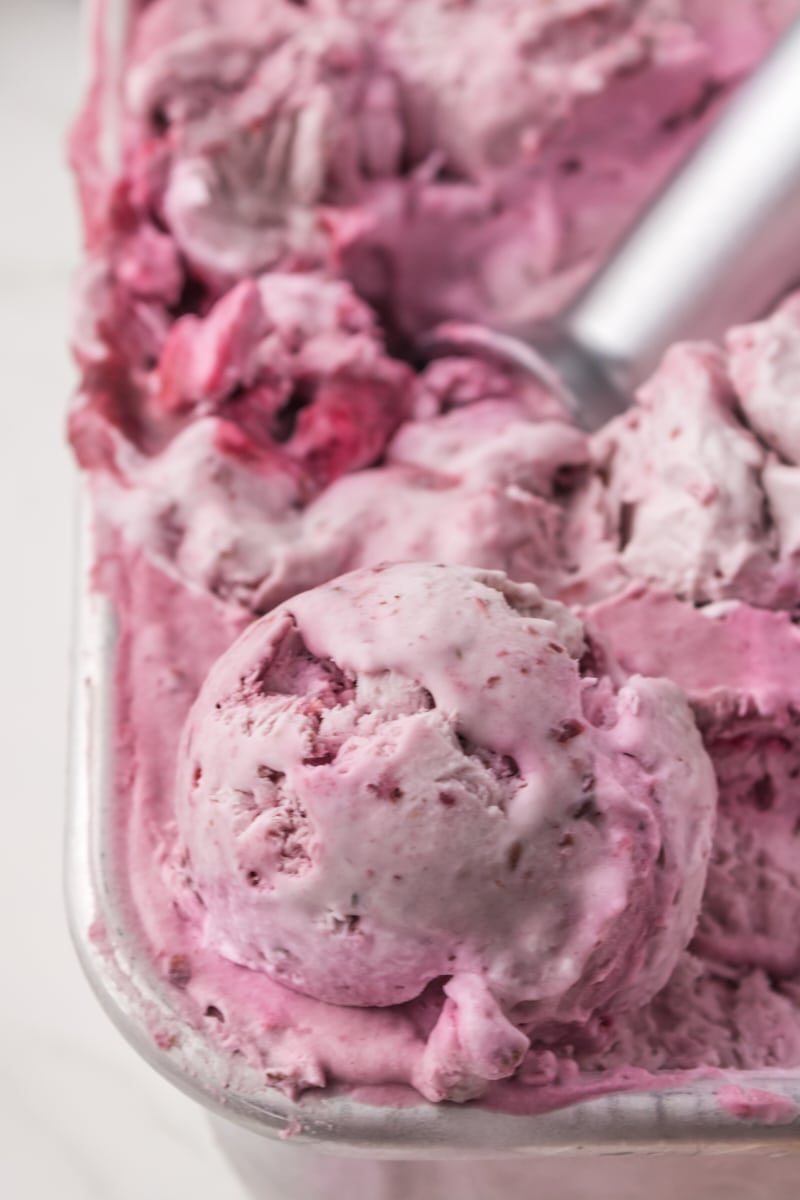 Why You'll Love This Blackberry Ice Cream Recipe
Here are just a few of the reasons you'll enjoy this ice cream recipe:
Short ingredient list. You only need five ingredients to make this easy blackberry ice cream. (And no eggs!)
No ice cream maker. Skip the churning in favor of a little blending and whipping.
Soft and creamy! With its whipped cream base, this ice cream is so wonderfully creamy.
What You'll Need
See the recipe card at the bottom of this post for ingredient quantities and full instructions. Here are some notes about the ingredients you'll need to make your homemade blackberry ice cream.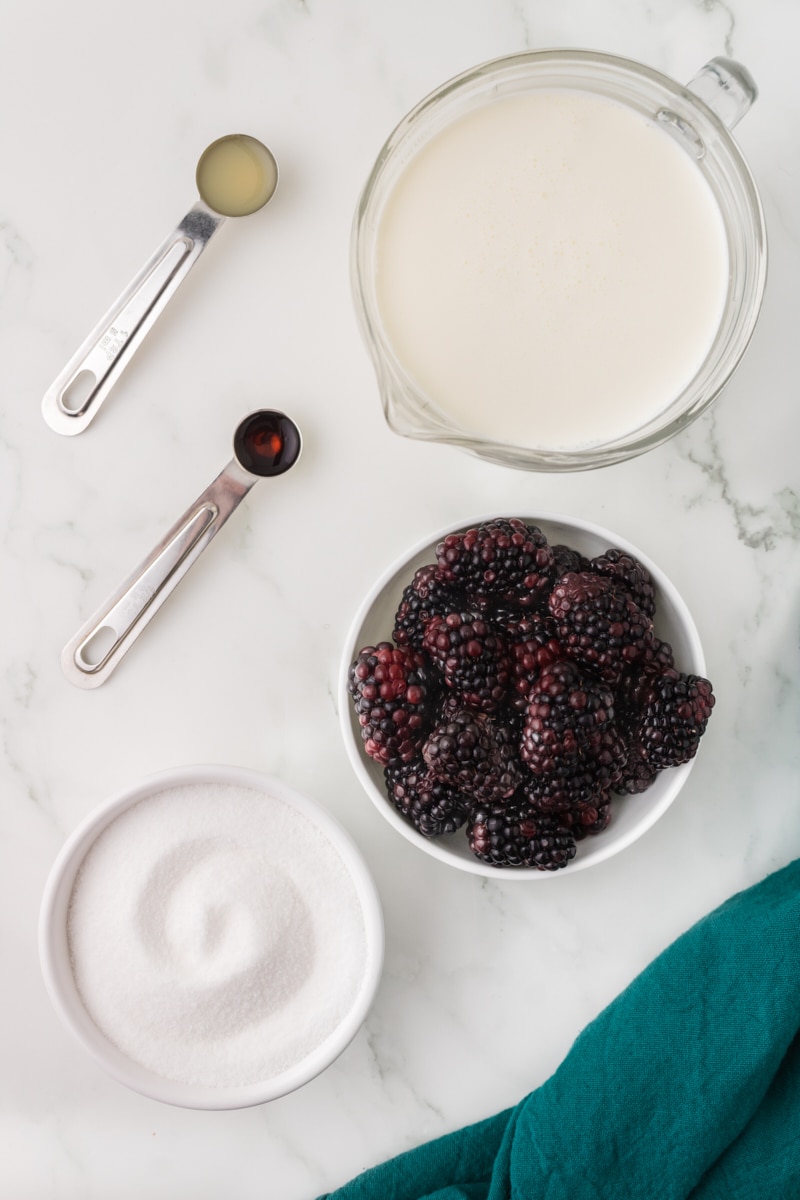 Blackberries
Granulated sugar
Lemon juice – Use fresh lemon juice instead of the bottled variety if possible.
Vanilla extract – You can use store-bought or homemade vanilla extract.
Heavy cream – Be sure to use heavy cream or heavy whipping cream.
Tips for Choosing Blackberries
When shopping for blackberries, look for plump, firm blackberries with a rich, dark color. Avoid berries that are mushy, dull, or have any signs of mold. They should have a sweet and slightly earthy aroma.
While you may find blackberries available year-round, they'll be more fresh and flavorful in the summer when they're in season.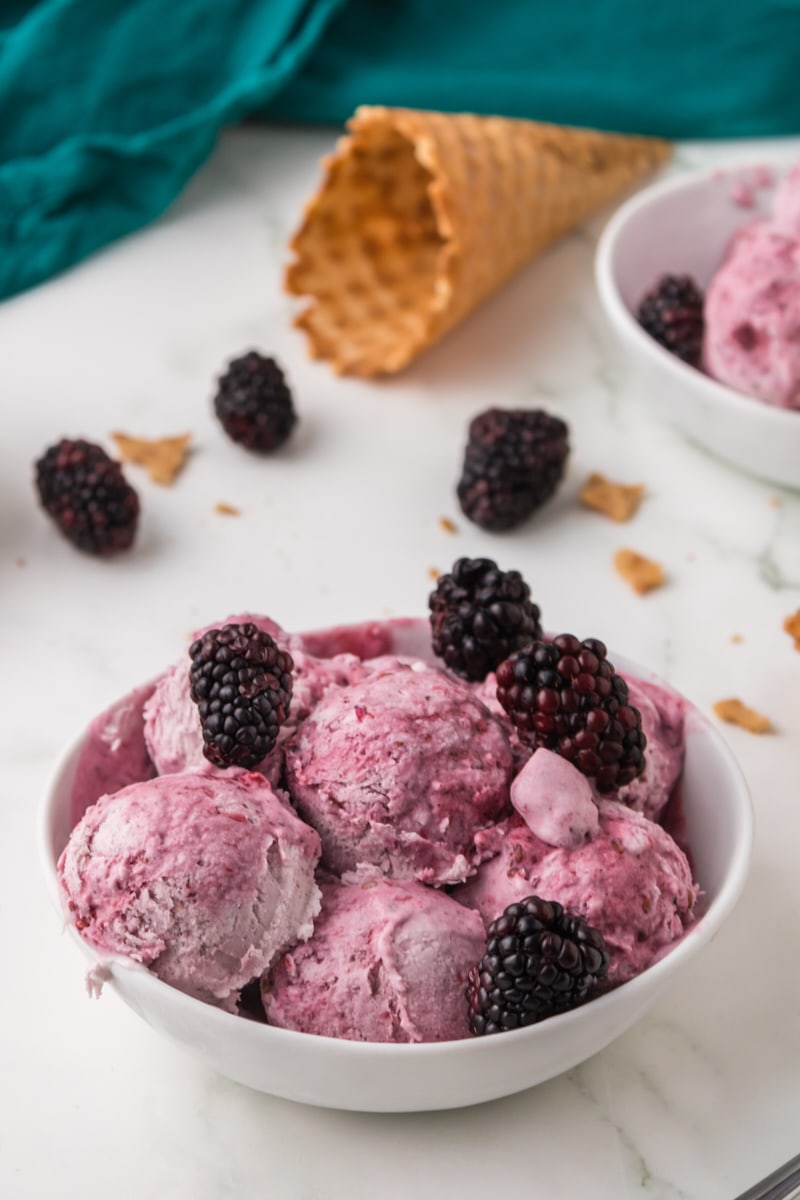 How to Make Blackberry Ice Cream
You'll love how quickly you can get this ice cream mixed and into the freezer! Here's what you'll need to do:
Prepare the pan. Place a standard 9″ x 5″ loaf pan or other similarly sized freezer-safe container in the freezer.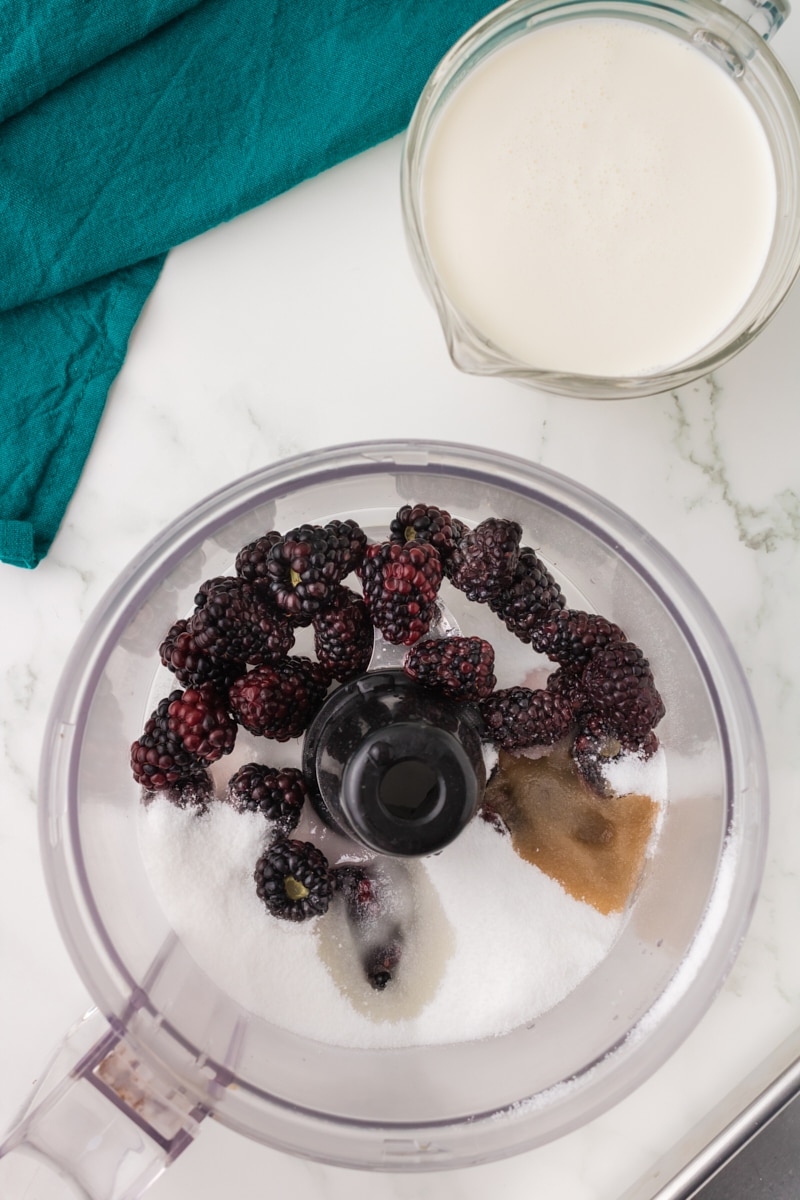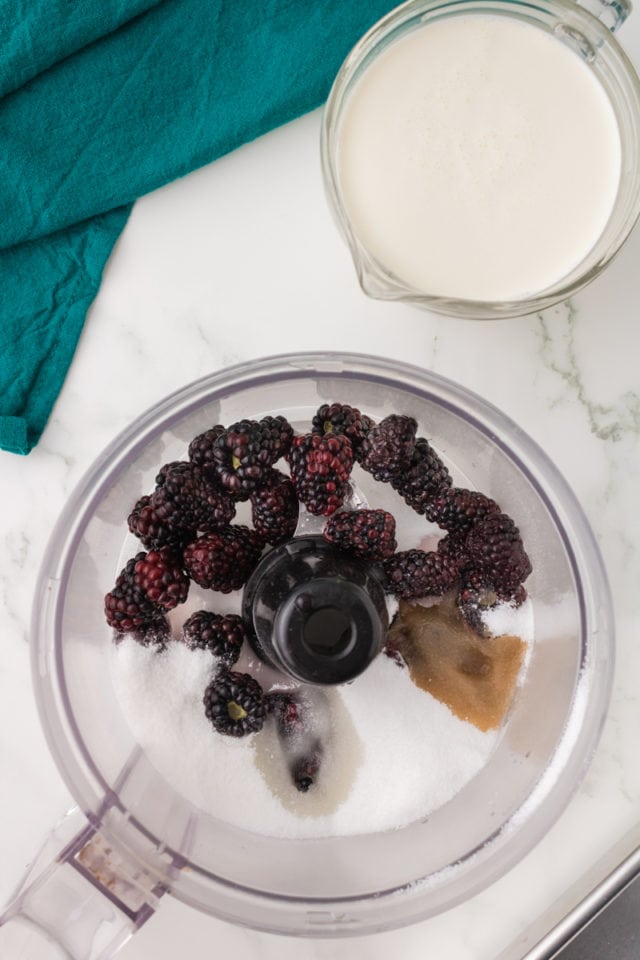 Make the blackberry purée. Place the blackberries, sugar, lemon juice, and vanilla in the bowl of a food processor. Pulse until smooth. If you like, strain the mixture through a fine mesh strainer to remove the seeds.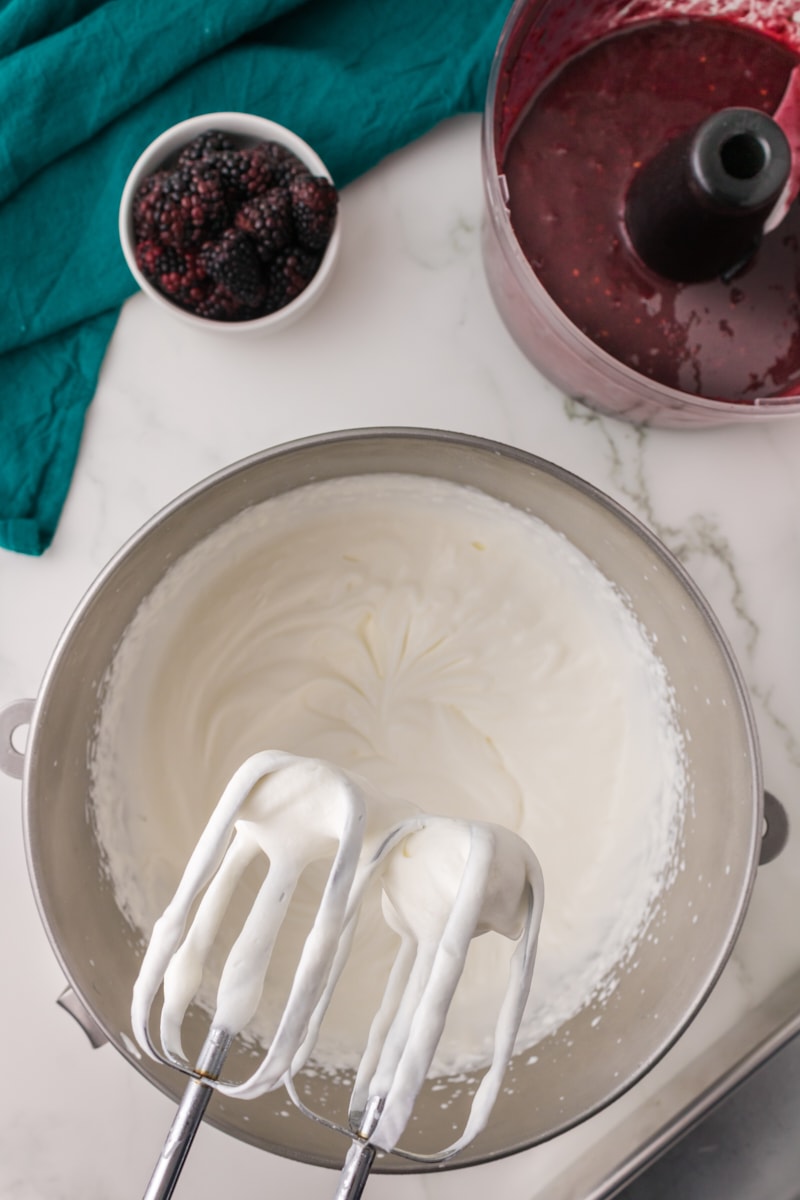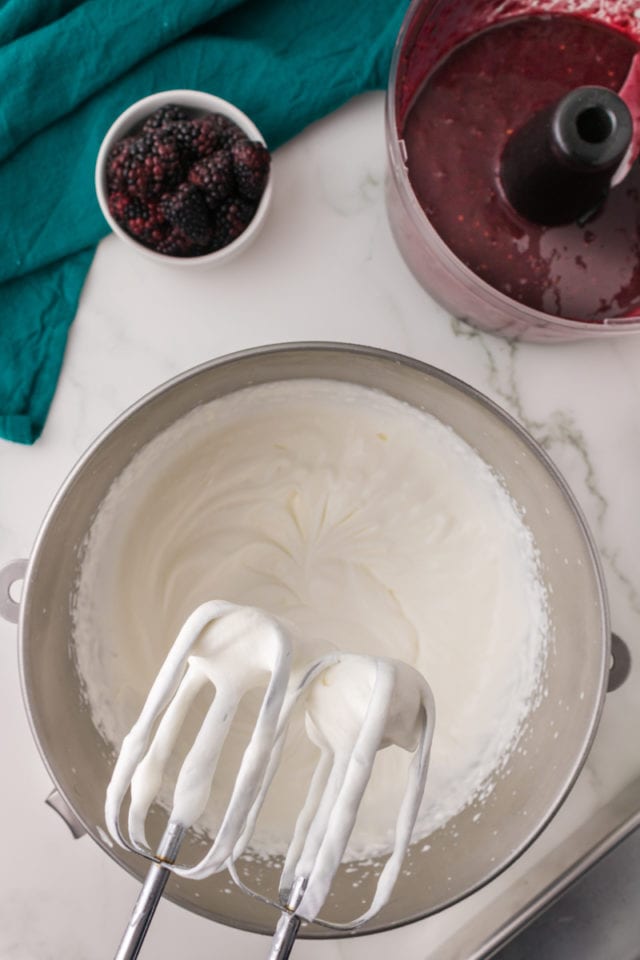 Whip the cream. Place the cream in a cold mixing bowl, and use an electric mixer with a whisk attachment to whip the cream to soft peaks.
Finish mixing. Add the blackberry mixture to the cream, and continue whipping just until combined.
Freeze. Transfer the ice cream to the prepared pan. Cover and freeze at least 5 hours before serving.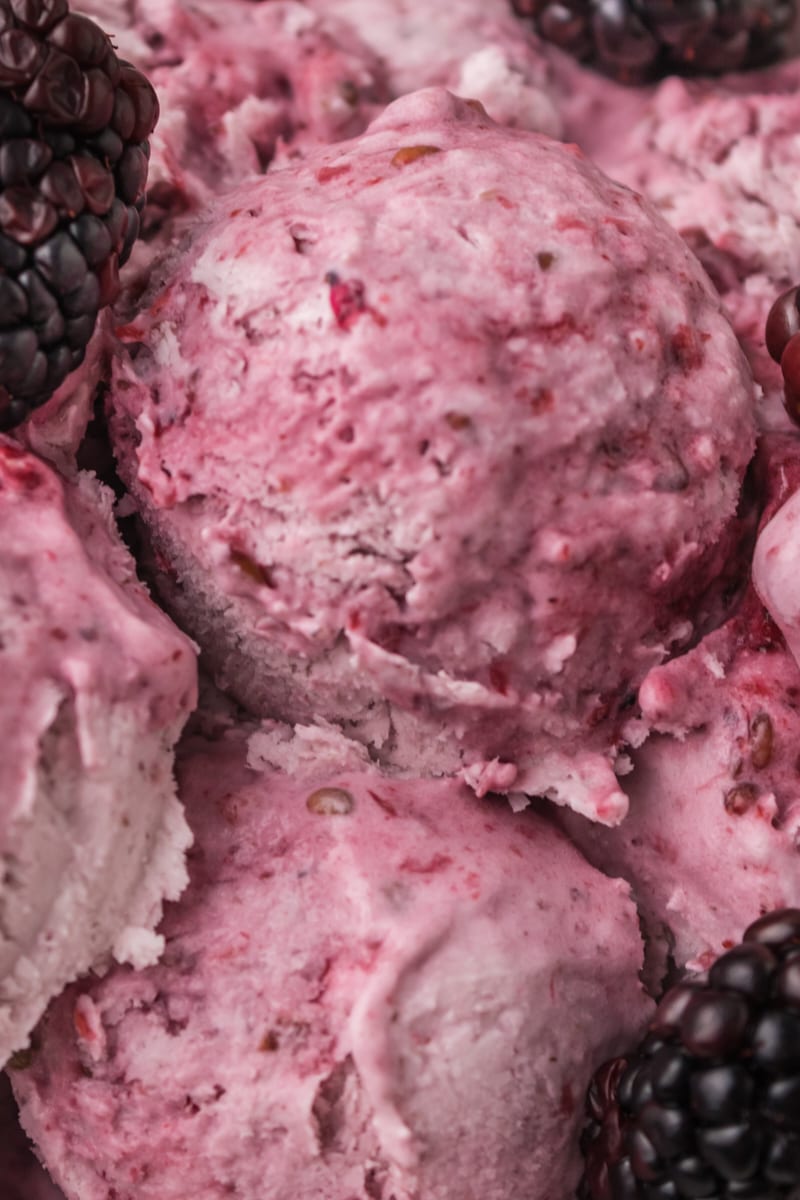 Tips for Success
I think you'll find that this blackberry ice cream is an easy, no-fuss dessert. Here are some tips to help make sure yours turns out perfectly:
Don't over-mix. Mix only just until combined. If some of the blackberry purée remains in the bottom of the bowl, just drizzle it over the ice cream in the pan and give it a swirl.
Strain the purée. This is optional, but you can use a fine mesh sieve to strain the blackberry mixture to remove the seeds.
Don't skimp on the freezer time. It needs the full time to become scoopable.
Ideas for Variations
This ice cream recipe lends itself well to easy variations. Try a different berry (like raspberries or blueberries) or a mixture of berries in the purée. You can substitute lime juice for the lemon juice, or almond extract for the vanilla. Add a heavy pinch of cinnamon or ginger, or stir in a handful of chopped dark chocolate or white chocolate for a fun flavor kick.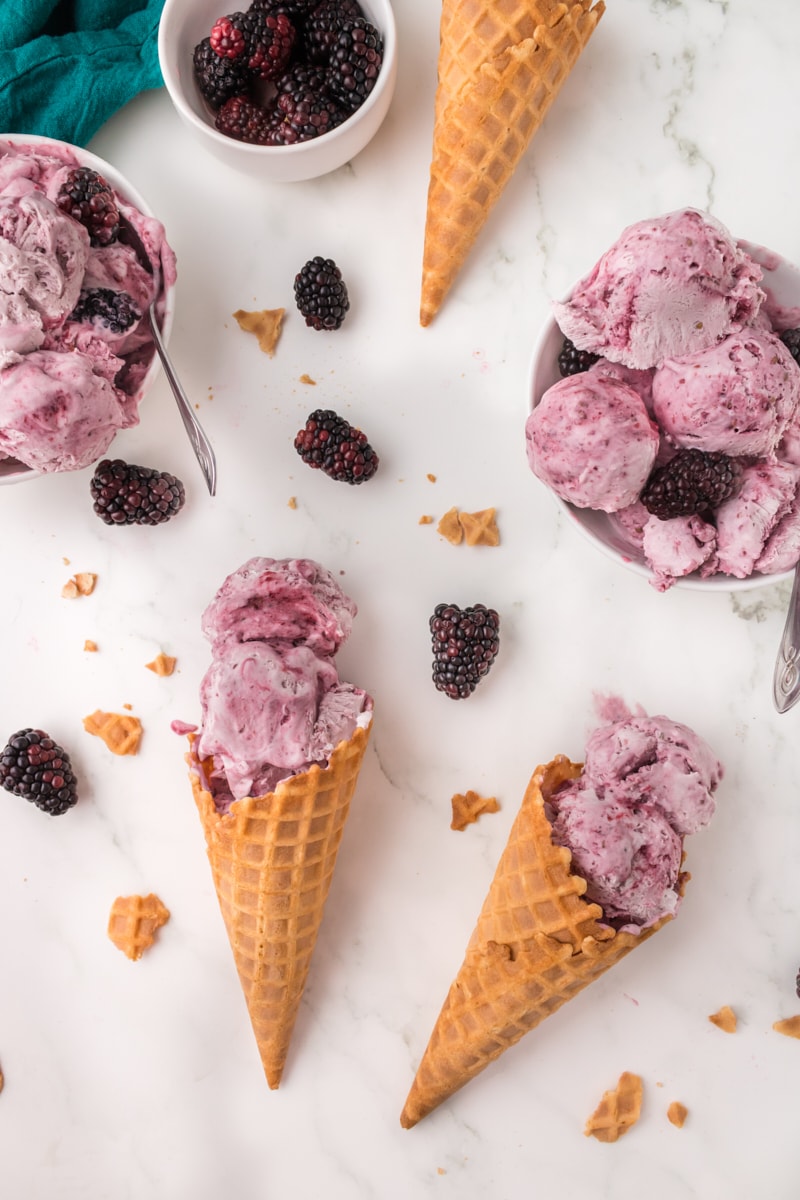 Serving Suggestions
Serve this ice cream in bowls or in your favorite ice cream cones. Top with fresh blackberries for a simple garnish. Toasted hazelnuts or almonds are also a great topping option.
This blackberry ice cream is also a great topping for other desserts. Add a scoop to a slice of pound cake or chocolate torte. A simple shortbread is a great pairing, too.
How to Store
Keep the ice cream covered in a freezer-safe container in the freezer. It should keep up to 2 months but will be at its best within about 2 weeks.
More No-Churn Ice Cream Recipes