September 26, 2016
Milk Chocolate Brownies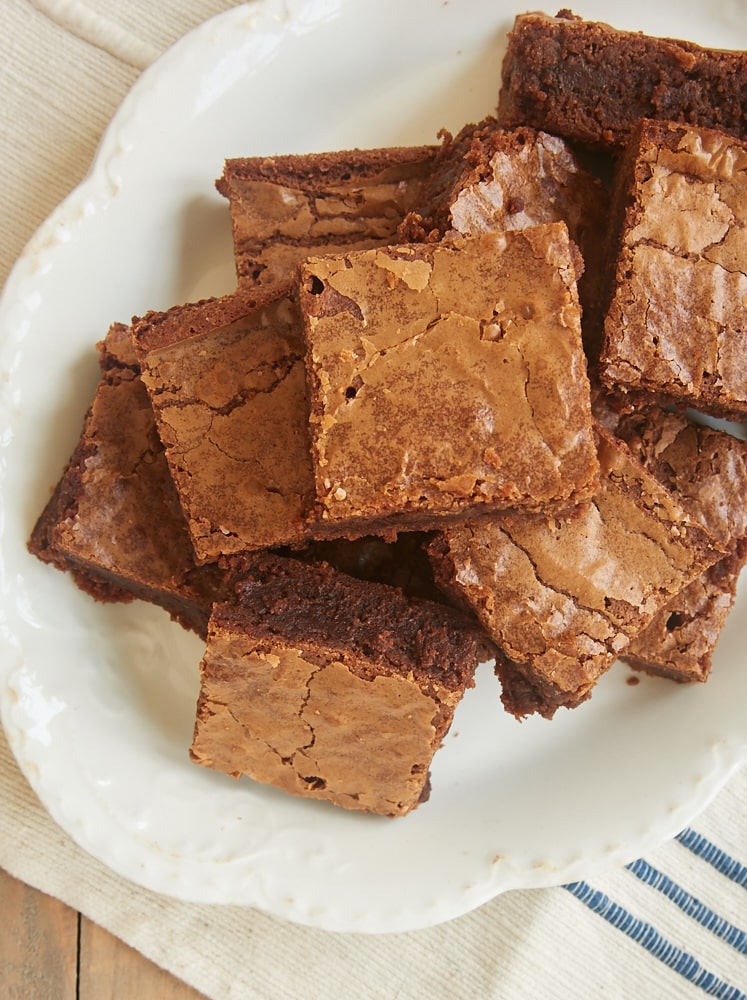 Are you a milk chocolate or dark chocolate fan? I like both, although I usually prefer dark chocolate. Quinn, on the other hand, will choose milk chocolate most any day. Combine that with how much he likes brownies, and I can't believe it's taken me this long to make Milk Chocolate Brownies.
Using milk chocolate versus dark or unsweetened chocolate really changes up the usual flavor of traditional brownies. As you would expect, they are a bit sweeter than your average brownie. That smooth taste of milk chocolate is there, too, making these pretty irresistible!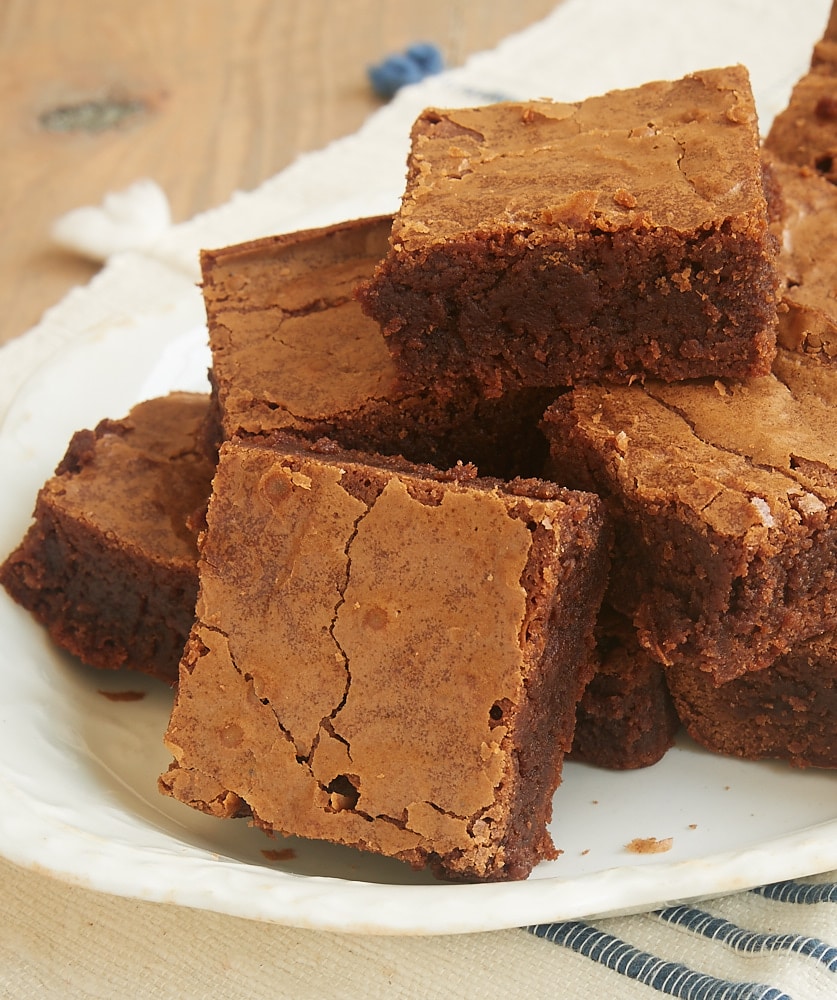 This recipe is a variation on my go-to brownie recipe, which uses bittersweet chocolate. I swapped the bittersweet for milk chocolate and also decreased the sugar, as milk chocolate has more sugar than dark chocolate. I also added just a bit of cocoa powder to bump up the chocolate flavor just a bit.
Any time chocolate is the star of a recipe, you can be sure that I'm going to advise you to use good quality chocolate. We won't all like the same brands of chocolate, so just be sure to use a chocolate that you would happily eat all on its own.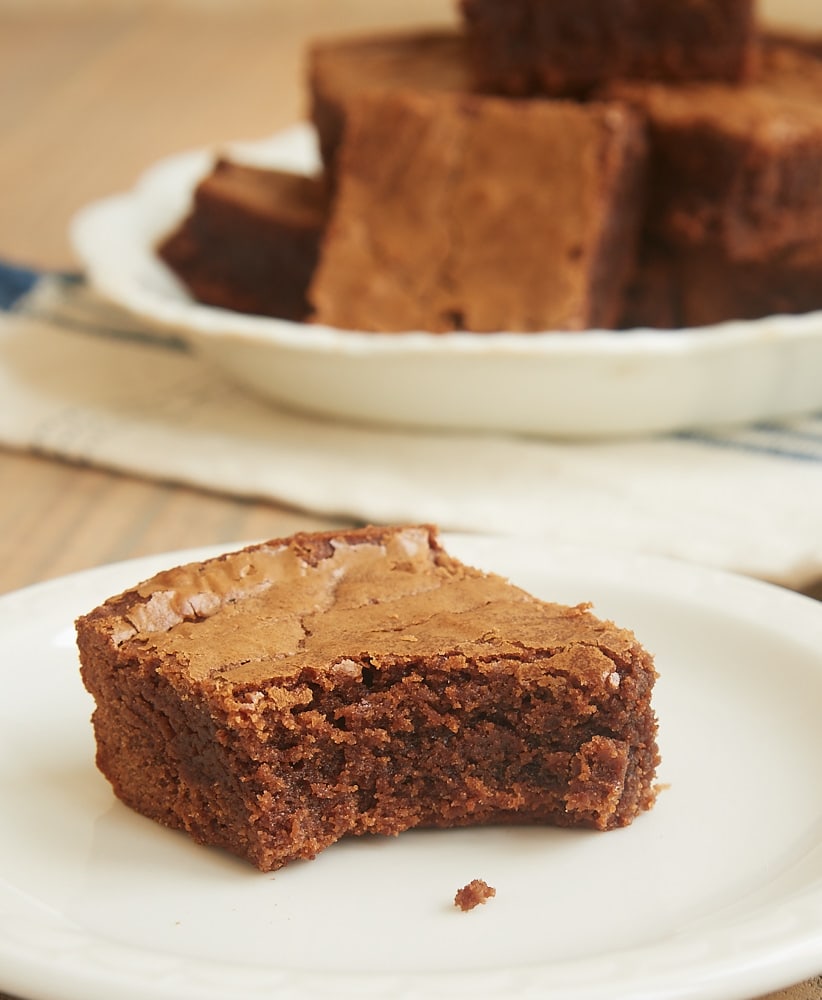 If you're looking for something just a bit different in the brownie world or you're just a big fan of milk chocolate, then give these brownies a try. The flavor is fantastic, and the texture is wonderfully soft and fudgy. And they're quick and easy to make, too. A winner all the way around!
Find more brownie recipes in the Recipe Index.
Milk Chocolate Brownies
Yield: 16 2-inch brownies
Prep Time: 15 minutes
Cook Time: 40 minutes
Sweet, smooth milk chocolate offers a tasty twist on a classic dessert with Milk Chocolate Brownies.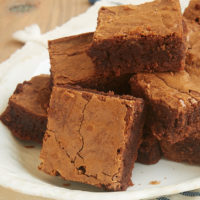 Ingredients:
6 ounces (1 cup) milk chocolate
1/2 cup unsalted butter
1/2 cup granulated sugar
1/4 cup firmly packed light brown sugar
2 large eggs
2 teaspoons vanilla extract
1 cup all-purpose flour
1 tablespoon unsweetened cocoa powder
1/2 teaspoon salt
Directions:
Preheat oven to 350°F. Line an 8-inch square baking pan with parchment paper so that the paper overhangs by a few inches on two opposite sides.
Place the chocolate and butter in a microwave-safe bowl. Heat in the microwave at half power in 30-second increments until the butter is melted and the chocolate melts when stirred. Stir until smooth. Set aside to cool slightly.
Mix the sugar, brown sugar, eggs, and vanilla until well-blended. Add the chocolate-butter mixture, and mix until smooth.
Add the flour, cocoa powder, and salt, and mix just until combined.
Transfer the batter to the prepared pan and spread evenly. Bake 35-40 minutes, or until a pick inserted into the center comes out with a few moist crumbs attached. Run a knife along the non-lined sides of the pan. Cool in the pan on a wire rack.
Using the overhanging parchment paper, lift the cooled brownies out of the pan and onto a cutting board. Use a sharp knife to cut into bars.