Made with smooth milk chocolate and a little kick of cocoa powder to round out the chocolate flavor, these Milk Chocolate Brownies are sweeter than traditional brownies but just as fudgy. Enjoy these moist and flavorful treats warm, with a cold glass of milk to wash them down.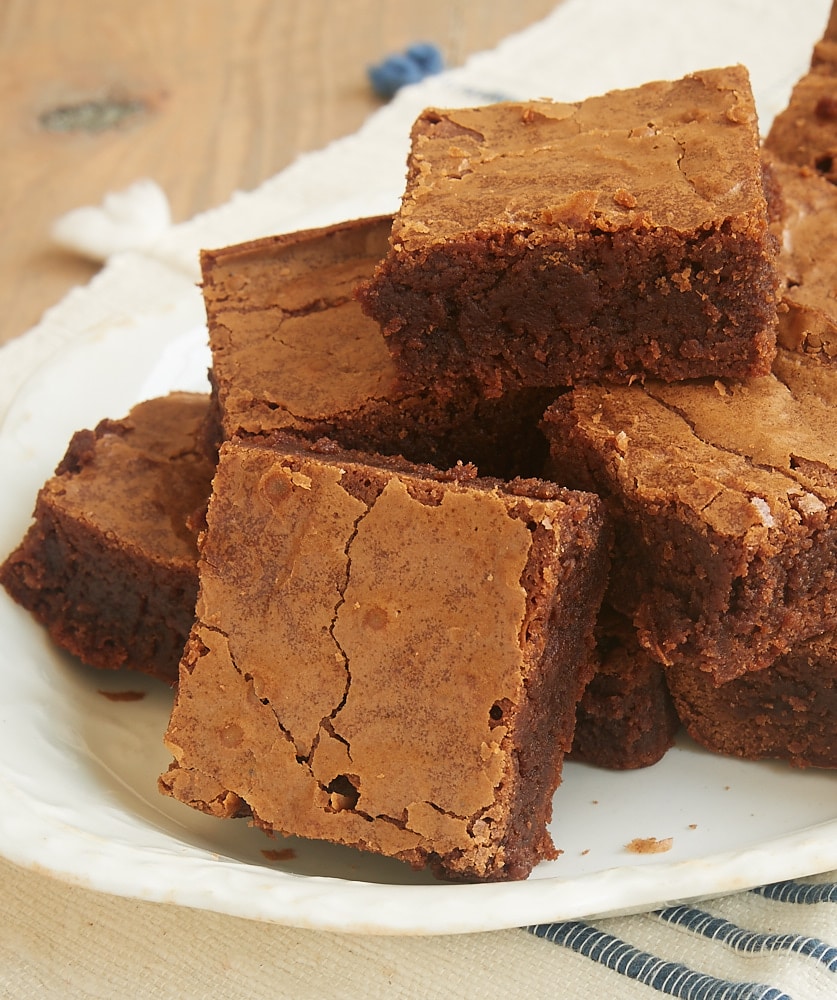 Super Easy Milk Chocolate Brownie Recipe
These milk chocolate brownies really hit the spot when you want something fudgy but not quite as rich as traditional brownies. Their lighter, sweeter flavor is perfect for picky eaters. Plus, they make a great backdrop that doesn't overpower any add-ins you want to toss into the batter.
They're especially good as an alternative option to darker chocolate brownies at bake sales and potlucks. There's usually more than one pan of brownies to be found on the table, and switching it up gives people more options.
What You'll Need
The milk chocolate in the batter is what makes this brownie recipe unique. You can find exact amounts for all the ingredients in the printable recipe card below.
Milk chocolate: In the form of baking squares, discs, or chips.
Unsalted butter
Granulated sugar
Light brown sugar: Tightly packed.
Eggs
Vanilla extract
All-purpose flour
Unsweetened cocoa powder
Salt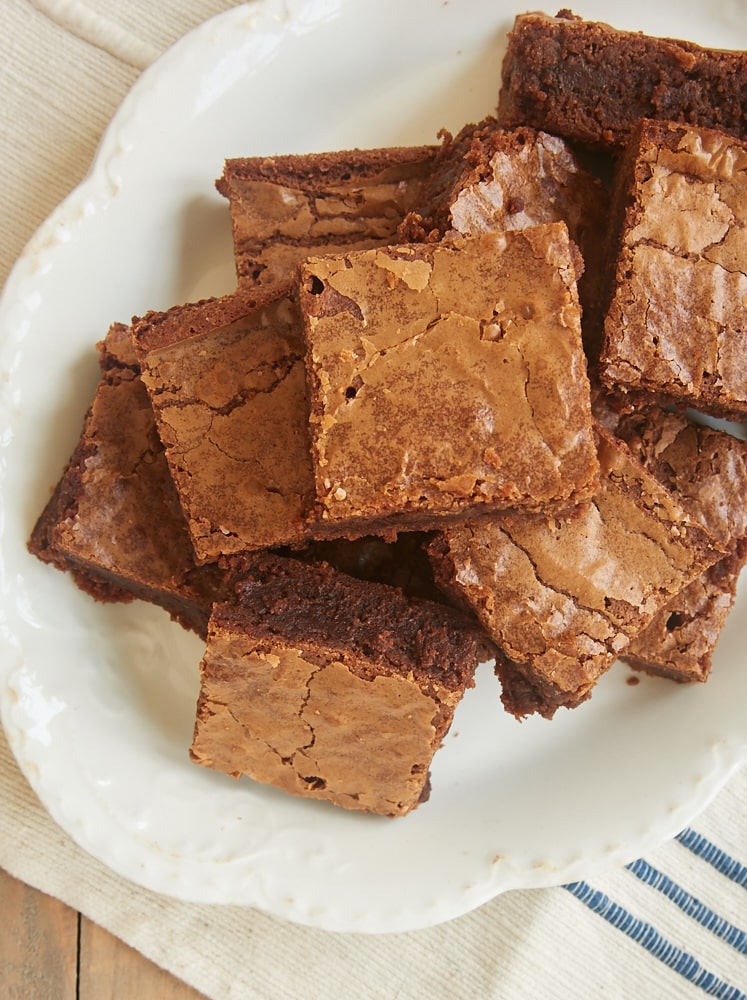 How to Make the Best Milk Chocolate Brownies
In just 6 simple steps, you'll have a batch of delightfully sweet milk chocolate brownies ready to go. Recipes don't get much easier than this.
Prep Your Materials: Preheat the oven to 350°F. Line an 8-inch square baking pan with parchment paper so that the paper overhangs by a few inches on two opposite sides.
Melt the Chocolate: Place the chocolate and butter in a microwave-safe bowl. Heat them in the microwave at half power in 30-second increments until the butter melts completely and the chocolate melts when stirred. Stir them together until the mixture smooths out. Set the bowl aside to cool slightly.
Start the Batter: Mix the sugar, brown sugar, eggs, and vanilla until they're well-blended. Add the chocolate-butter mixture, and mix until everything becomes smooth.
Mix In the Dry Ingredients: Add the flour, cocoa powder, and salt, and mix it all together until everything is just combined.
Bake: Transfer the batter to the prepared pan and spread it out evenly. Bake the brownies for 35-40 minutes, or until a pick inserted into the center comes out with a few moist crumbs attached.
Let Cool and Serve: Run a knife along the non-lined sides of the pan. Cool the brownies in the pan on a wire rack. Using the overhanging parchment paper, lift the cooled brownies out of the pan and onto a cutting board. Use a sharp knife to cut them into bars, then serve them.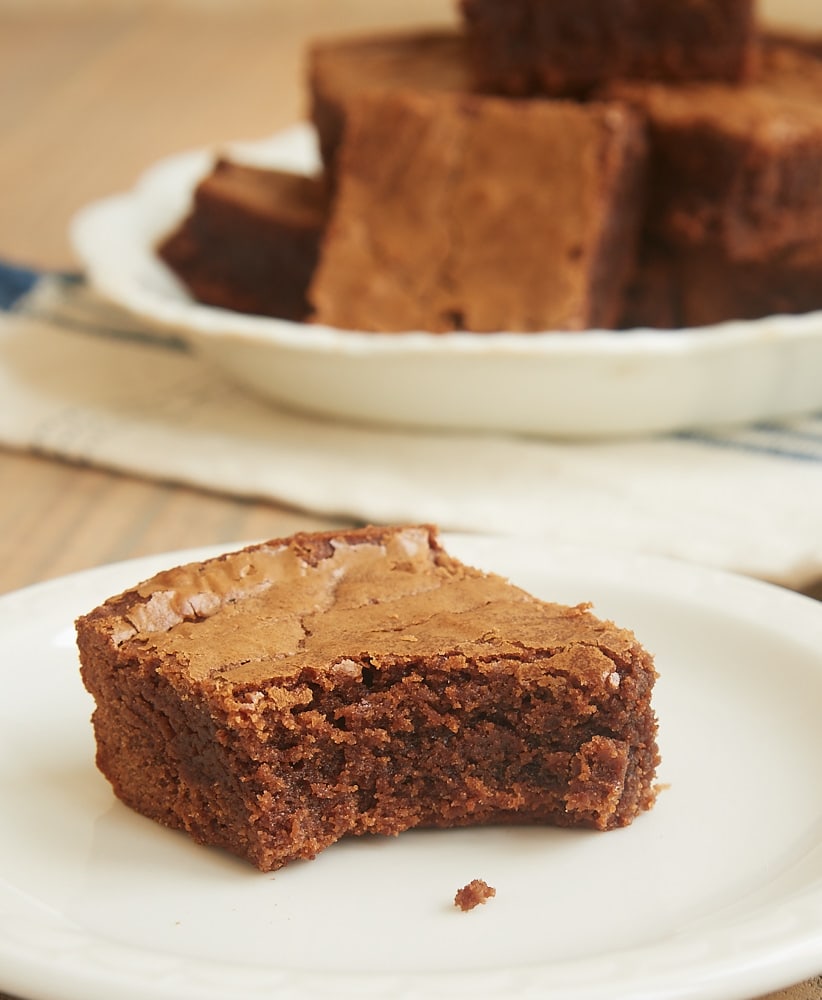 Tips for Success
These super easy brownies are practically impossible to mess up. Follow these helpful tips to get them just right every time.
Use High-Quality Chocolate: You don't necessarily have to use gourmet chocolate in this recipe, but you don't want to use store-brand either. Just be sure to use a chocolate that you would happily eat all on its own.
Don't Overdo the Sugar: These brownies have less sugar than your average recipe, but it's that way by design. Since milk chocolate is already higher in sugar, these brownies don't require quite as much to be added.
Adjust the Cocoa Powder: I added just a little cocoa powder to increase the chocolate taste of these brownies. You can add more for a richer flavor, or skip it entirely if you want to keep things sweet and simple.
In addition to the above, check out my tutorial about how to make brownies from scratch.
Mix-In Ideas
I love adding chocolate chips to this recipe. They offer a meltiness to balance the fudgy texture of the brownie, and they boost the chocolate flavor of the recipe. Stick with milk chocolate, or try dark chocolate chips for a more complex flavor profile. You can also mix in candy, crushed pretzel bits, chopped and toasted nuts, or anything else that strikes your fancy!
Storage Instructions
Keep these brownies sealed tightly in an airtight container or zip-top bag at room temperature for up to 3 days. Just keep in mind that the longer you wait to eat them, the more they'll dry out. Giving them a quick 5 to 10-second zap in the microwave can help unlock the moisture.
Do These Freeze Well?
Yes, you can freeze these brownies. Place them in an airtight, freezer-safe container or bag. Properly stored, they should keep in the freezer up to 3 months. Thaw for an hour or two at room temperature, or warm briefly in the microwave.
More Fudgy Brownies to Enjoy