September 7, 2011
Cream Cheese Banana Nut Bread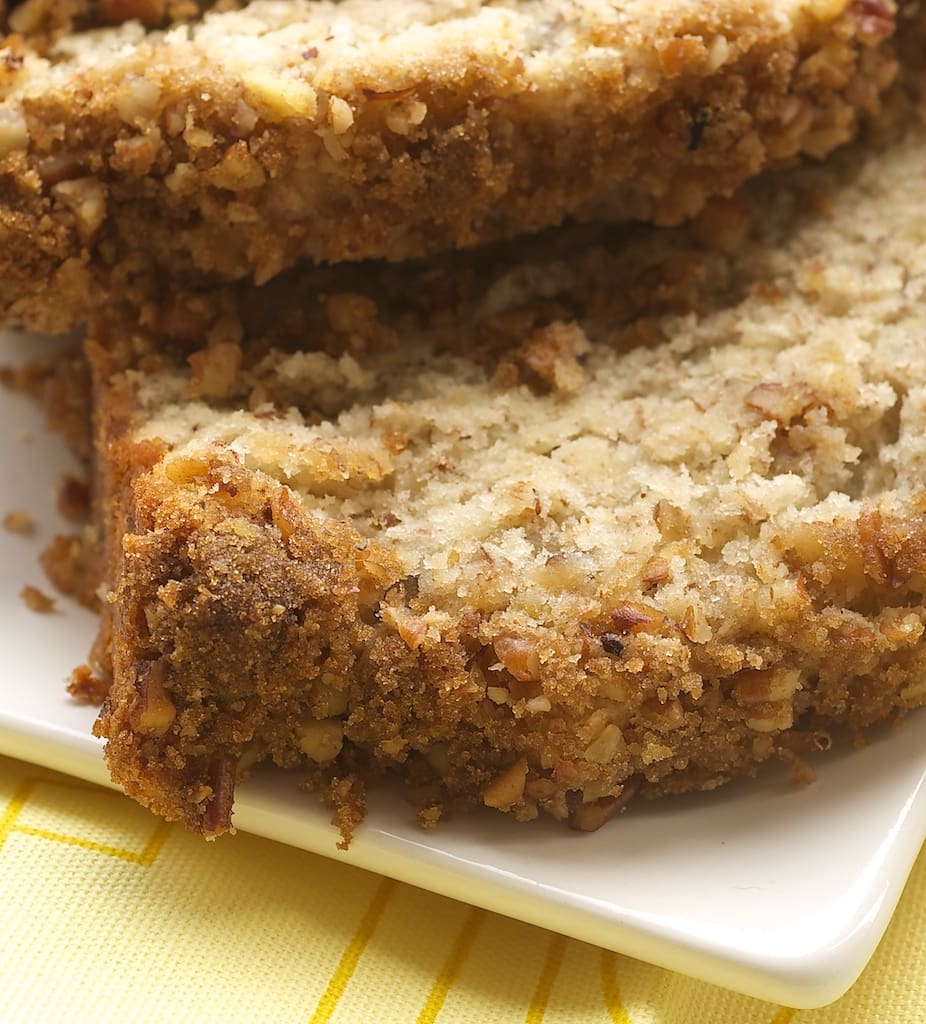 The sight of over-ripe bananas on my kitchen counter always makes me want to make banana bread. Sadly, I don't always follow through with it. In those cases, it is most definitely not the thought that counts.
Recently, however, I decided enough was enough and ventured into the kitchen with this recipe in hand. I have a tremendous weak spot for cream cheese, and the thought of adding it to banana bread was more than enough to motivate me.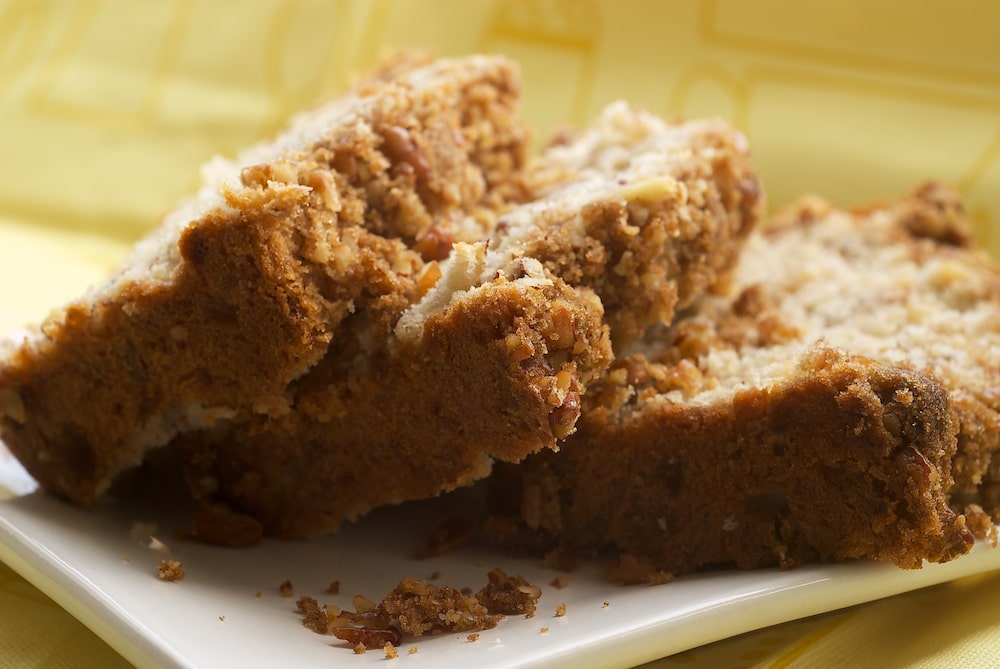 I think it may be safe to say that this is my favorite banana bread that I've ever made. Maybe it's the cream cheese. Maybe it's the cinnamon crumb topping. Either way, it is even better than I had hoped.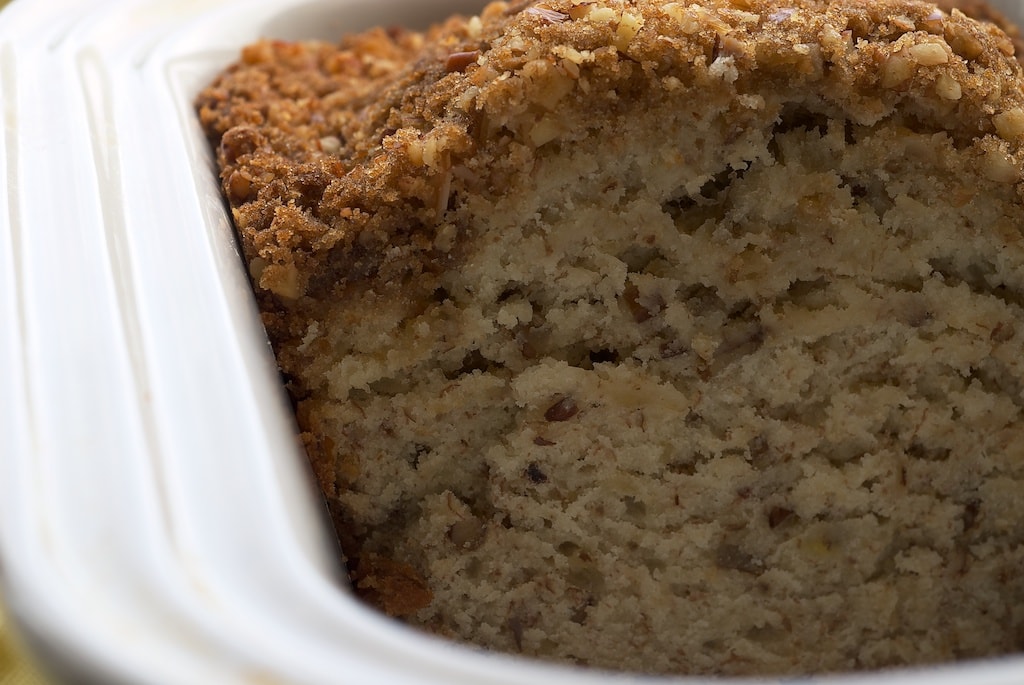 This recipe makes two loaves, so I sent Quinn off to work with one in tow to share with his co-workers. I got word of its disappearance within the first couple of hours. And, I'm glad to say I was not alone in the proclaiming of this as the best banana bread ever!
Cream Cheese Banana Nut Bread
Yield: 10 to 12 servings
Prep Time:30 minutes
Cook Time:1 hour
Cream Cheese Banana Nut Bread may very well be your new favorite banana bread!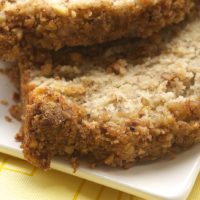 Ingredients:
For the bread:
3 cups all-purpose flour
1/2 teaspoon baking powder
1/2 teaspoon baking soda
1/2 teaspoon salt
3/4 cup butter, softened
8 ounces cream cheese, softened
2 cups granulated sugar
2 large eggs
1 & 1/2 cups mashed bananas (about 4 medium bananas)
1 cup chopped pecans, toasted
1/2 teaspoon vanilla extract
For the topping:
1/2 cup packed brown sugar
1/2 cup chopped pecans, toasted
1 tablespoon all-purpose flour
1 tablespoon melted butter
1/8 teaspoon ground cinnamon
Directions:
To make the bread:
Preheat oven to 350°F. Grease and flour two 8″x 4″ loaf pans.
Combine the flour, baking powder, baking soda, and salt. Set aside.
Using an electric mixer on medium speed, beat together the butter and cream cheese until creamy. Gradually add the sugar, mixing until light and fluffy. Add the eggs, 1 at a time, mixing just until blended.
Gradually add the flour mixture to the butter mixture, beating at low speed until blended. Stir in the bananas, pecans, and vanilla extract.
Divide the batter evenly and spoon into prepared loaf pans.
To make the topping:
Combine all the topping ingredients in a small bowl. Sprinkle evenly over batter in both loaf pans.
Bake for 1 hour, or until a wooden pick inserted in the center comes out clean. If necessary, cover the pans loosely with aluminum foil for the last 15 minutes to prevent excess browning.
Cool the bread in pans on wire racks for 10 minutes. Remove from pans to wire racks to cool completely.