June 20, 2019
White Chocolate Raspberry Bundt Cake
White Chocolate Raspberry Bundt Cake features sweet raspberries in a soft, moist cake that's topped with white chocolate ganache. Delicious!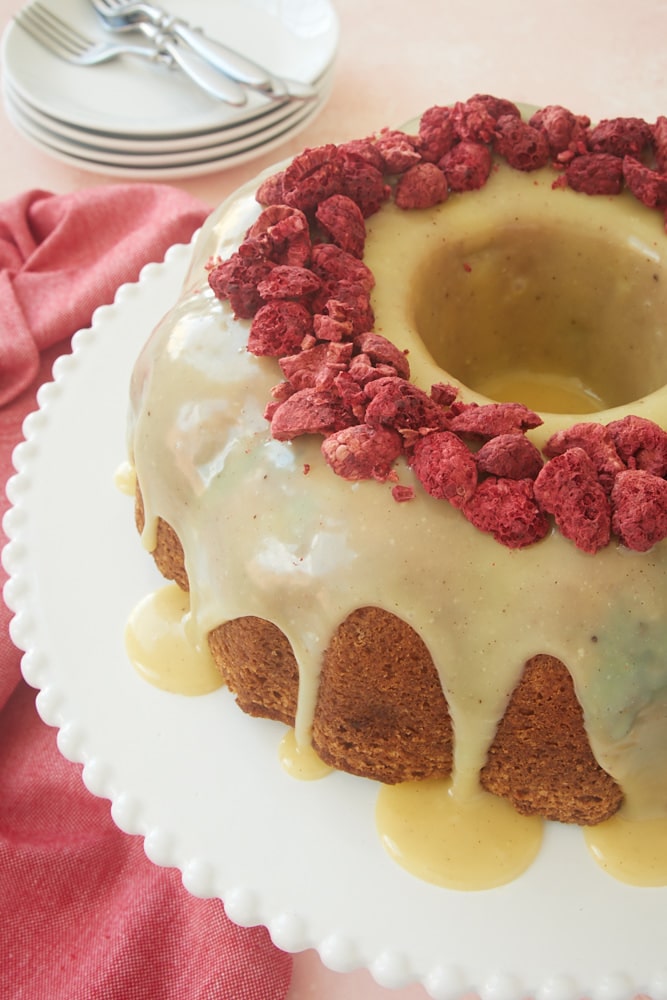 I feel like raspberries get a little lost in the berry season spotlight. I know I'm guilty of showing a preference for blueberries and strawberries. But raspberries should definitely not be missed!
This White Chocolate Raspberry Bundt Cake celebrates those sweet raspberries by adding them to a simple cake that's flavored with a bit of lemon. Top that off with plenty of white chocolate, and you've got yourself a beautiful and delicious dessert!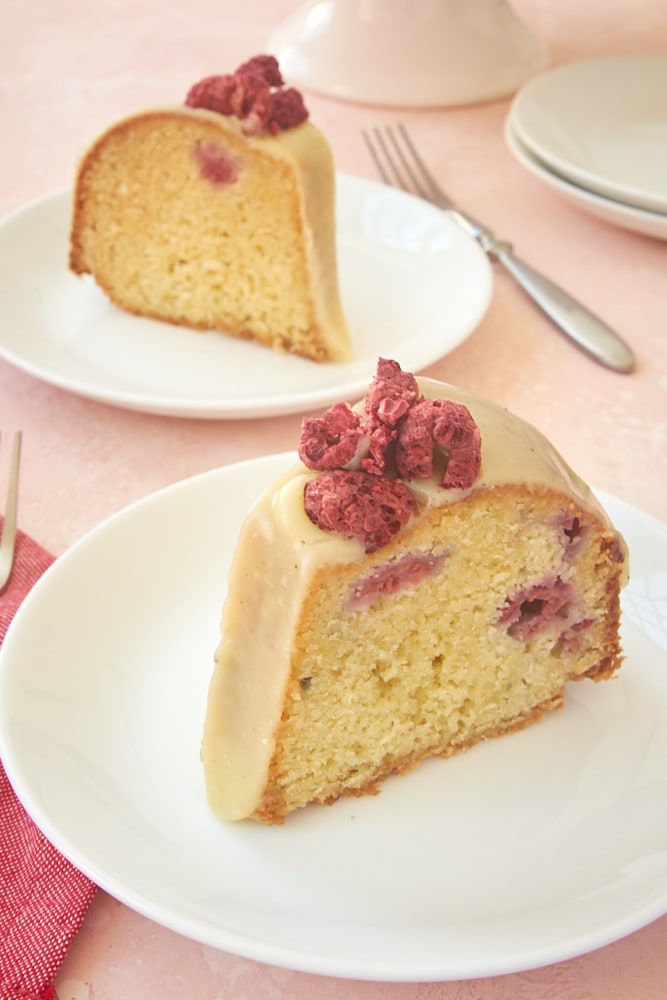 The base cake of this beauty is so, so good. It's nicely soft and moist while still being sturdy enough to hold all those raspberries. You can thank sour cream for contributing to the thickness of the batter. The presence of sour cream also adds a bit of an acidic component to work with the sweetness of the berries and the topping.
The cake's topping is a simple two-ingredient white chocolate ganache. As you likely have experienced first-hand, white chocolate doesn't melt as easily as regular chocolate, so be more mindful of your process when making the ganache. When it's time to stir, start with a small circular stirring motion in the center and gradually work your way out in bigger circles until the ganache is smooth. It's a little fussier than making a standard chocolate ganache, but it's necessary to get the right consistency.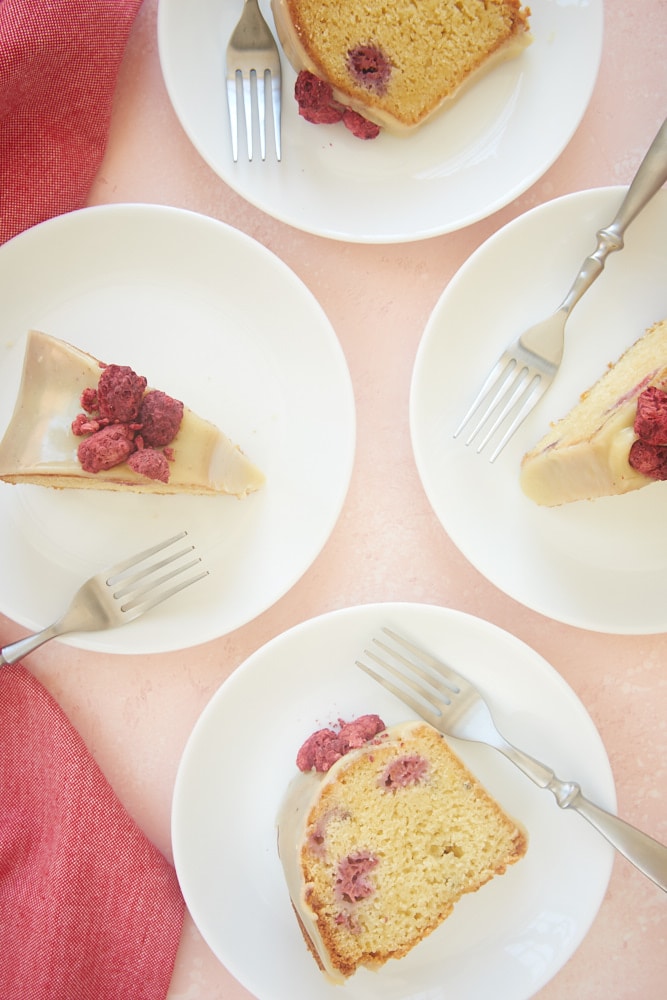 For a burst of color, I like to top this cake with chopped freeze-dried raspberries. They're a fun garnish that adds an interesting crunch and even more raspberry flavor. You could also crush them and use the powder as garnish. Look for freeze-dried fruits alongside the dried fruits in your supermarket.
You can, of course, skip any extra garnish and just enjoy the cake and glaze. Or how about adding some chopped nuts like almonds or pecans? Fresh raspberries are a great garnish, too. If you go that route, I recommend garnishing just before serving.
However you serve this beautiful White Chocolate Raspberry Bundt Cake, I hope you'll enjoy it as much as we do. It's such a great dessert that takes advantage of fresh berries this time of year!
Find more cake recipes in the Recipe Index.
More Raspberry Recipes
Bake or Break is a participant in the Amazon Services LLC Associates Program, an affiliate advertising program designed to provide a means for us to earn fees by linking to Amazon.com and affiliated sites.
White Chocolate Raspberry Bundt Cake
Yield: 12 to 16 servings
Prep Time: 25 minutes
Cook Time: 55 minutes
Sweet raspberries and an amazingly easy white chocolate ganache make this White Chocolate Raspberry Bundt Cake irresistible!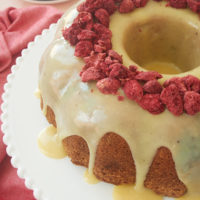 Ingredients:
For the cake:
3 cups (360g) all-purpose flour

1 & 1/2 teaspoons baking powder

1 teaspoon baking soda

1/2 teaspoon salt

zest of 1 medium lemon

1 cup (226g) unsalted butter, softened

2 cups (400g) granulated sugar

3 large eggs

juice of 1 medium lemon (about 2 tablespoons)

1 cup (227g) sour cream

1 cup (120g) raspberries
For the glaze:
1 cup (170g) white chocolate, roughly chopped

1/4 cup heavy cream

chopped freeze-dried raspberries, for garnish
Directions:
To make the cake:
Preheat oven to 350°F. Generously grease and flour a 12-cup Bundt pan. (I use a cooking spray with flour, like Baker's Joy or Pam for Baking.)

Whisk together the flour, baking powder, baking soda, salt, and zest. Set aside.

Using an electric mixer on medium speed, beat the butter and sugar until light and fluffy. Add the eggs, one at a time, mixing well after each addition. Mix in the lemon juice.

Add the flour mixture in 3 portions, alternating with 2 portions of sour cream, mixing just until combined. Gently stir in the raspberries.

Transfer the batter to the prepared pan and spread evenly.

Bake 50 to 55 minutes, or until the edges are browned and a pick inserted into the center comes out clean.

Cool the cake in the pan on a wire rack for 20 minutes. Then, carefully invert the cake onto a wire rack to cool completely.
To make the ganache:
Place the white chocolate in a heat-safe bowl.
Heat the cream on the stovetop or in the microwave just until it starts to bubble around the edges.
Pour the cream over the white chocolate. Let sit for 5 minutes.
Begin stirring in small circles at the center of the bowl. Gradually stir in larger circles until the mixture is smooth.
Pour the ganache over the cooled cake. If desired, garnish with chopped freeze-dried raspberries.