Chocolate Loaf Cake is sure to satisfy your chocolate cravings. This easy-to-make cake is a must-bake for chocolate lovers!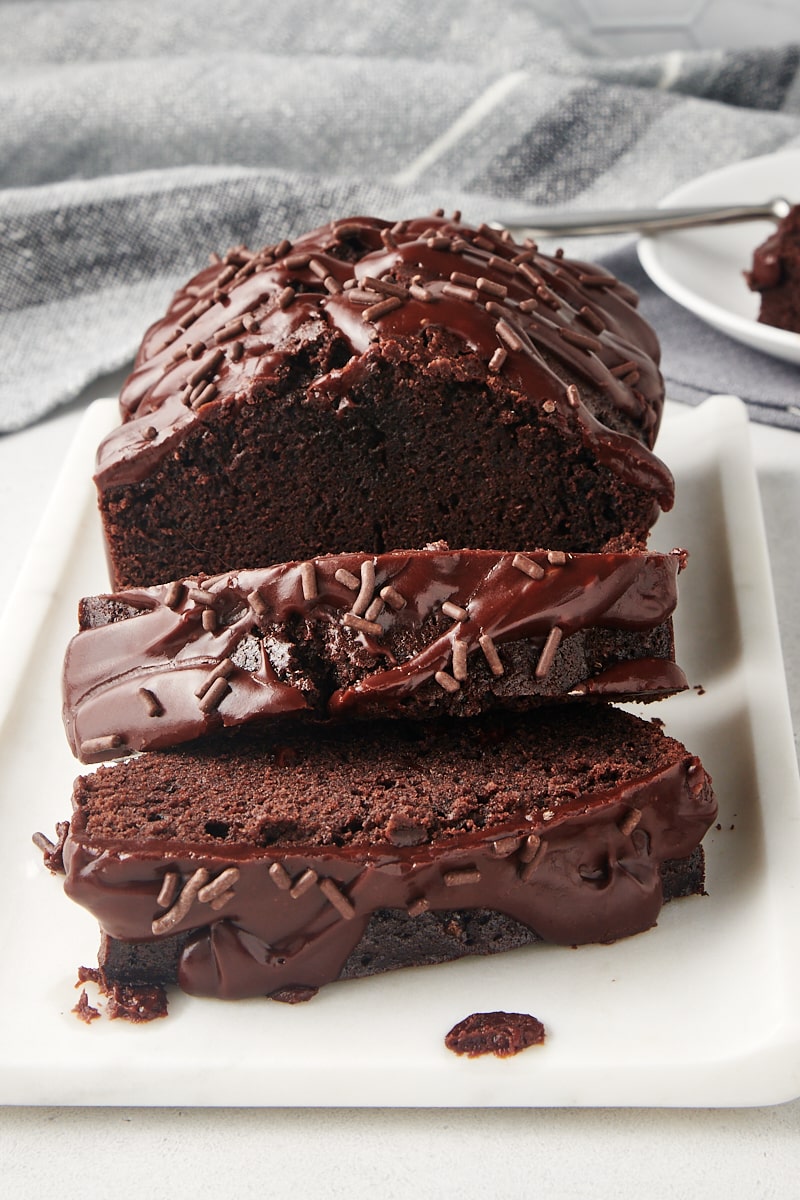 Chocolate Loaf Cake with Chocolate Glaze
Chocolate is not likely to be unseated as my go-to dessert flavor, and my latest obsession is this Chocolate Loaf Cake. It's so wonderfully easy to make, and the rich chocolate flavor is just fantastic.
The cake is pretty great all on its own, but adding a simple chocolate glaze really turns it into a chocolate lovers' dream. That glaze is one of my favorite quick and easy toppings that only needs a few ingredients and a few minutes of effort. (You can see it in action on this Graham Cracker Cake, too!)
This is the kind of cake that's just as well suited for an anytime cake as it is for a special occasion with a few friends and family. It's baked in a standard loaf pan, so it's great for baking a dessert without a lot of leftovers.
If you love all things chocolate, then I highly recommend this Chocolate Loaf Cake. It has wonderful, uncomplicated chocolate flavor in a soft, moist cake that's sure to satisfy any chocolate craving.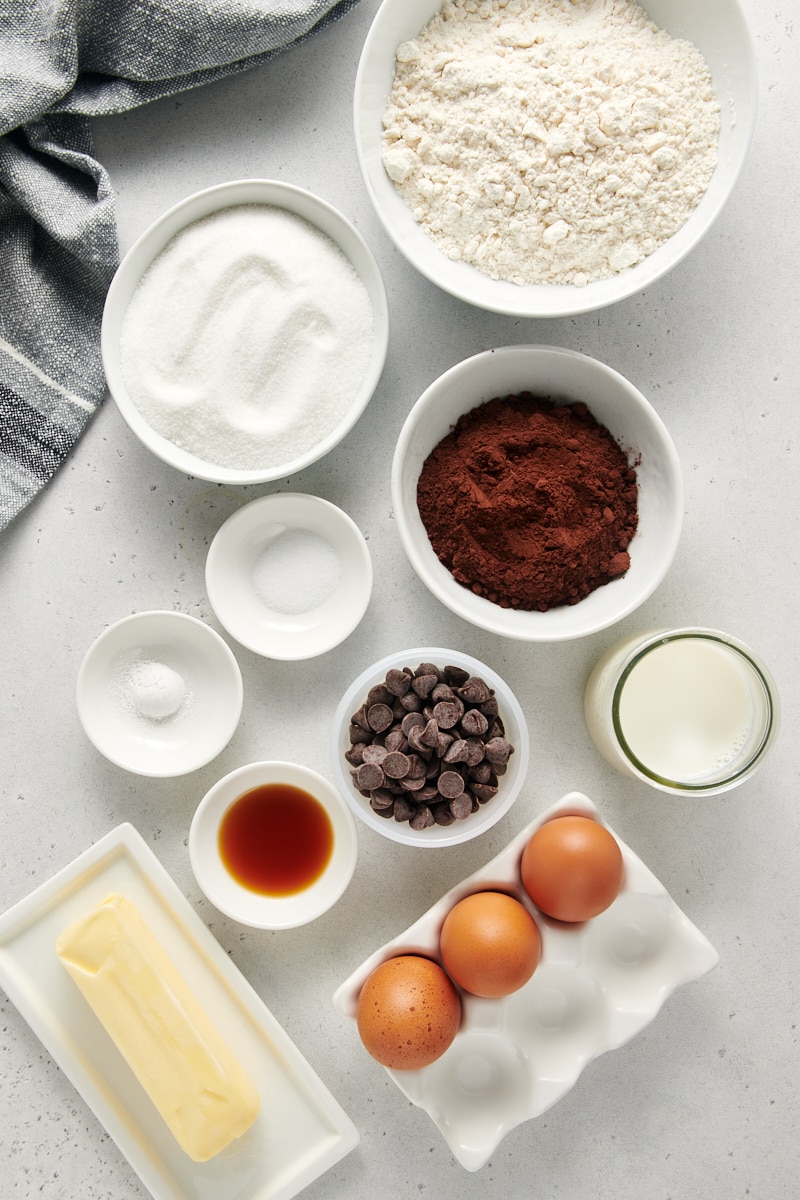 What You'll Need
This is one of those recipes that turns basic baking ingredients into something really special. You're likely to have what you need on-hand most any time you're craving a chocolate dessert!
For the cake:
All-purpose flour – Measure by weight if possible. Otherwise, use the spoon and sweep method.
Cocoa powder – You'll need unsweetened natural cocoa powder, not the sweetened kind used for hot cocoa. Dutch-process cocoa can also be used, but expect a slightly different flavor and texture.
Baking powder
Salt
Unsalted butter – Set out the butter about half an hour before baking to allow it to soften.
Granulated sugar
Eggs – Set out the eggs along with the butter.
Vanilla extract
Milk – I recommend whole or 2% milk. While I've not tried it myself, non-dairy milks should work, too. Set out the milk with the butter and eggs.
Chocolate chips – I like semisweet chocolate chips in this cake, but you can go a bit darker with bittersweet if you prefer.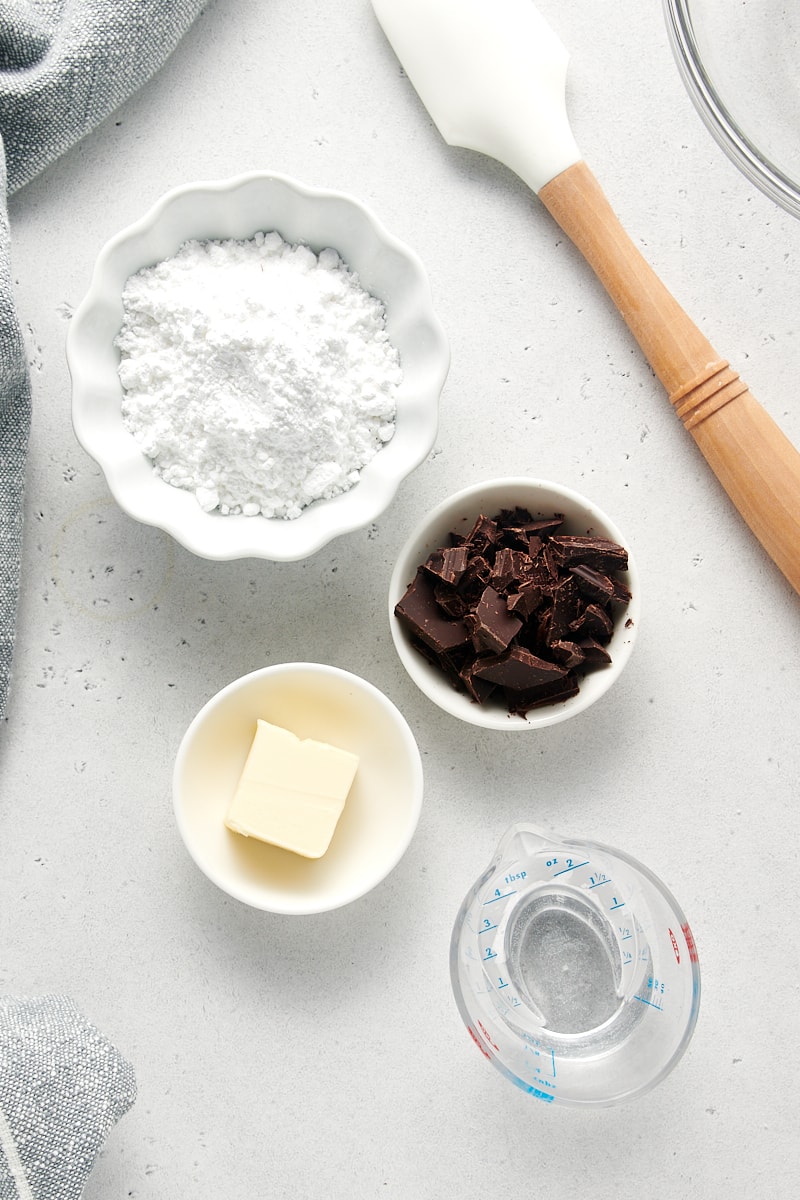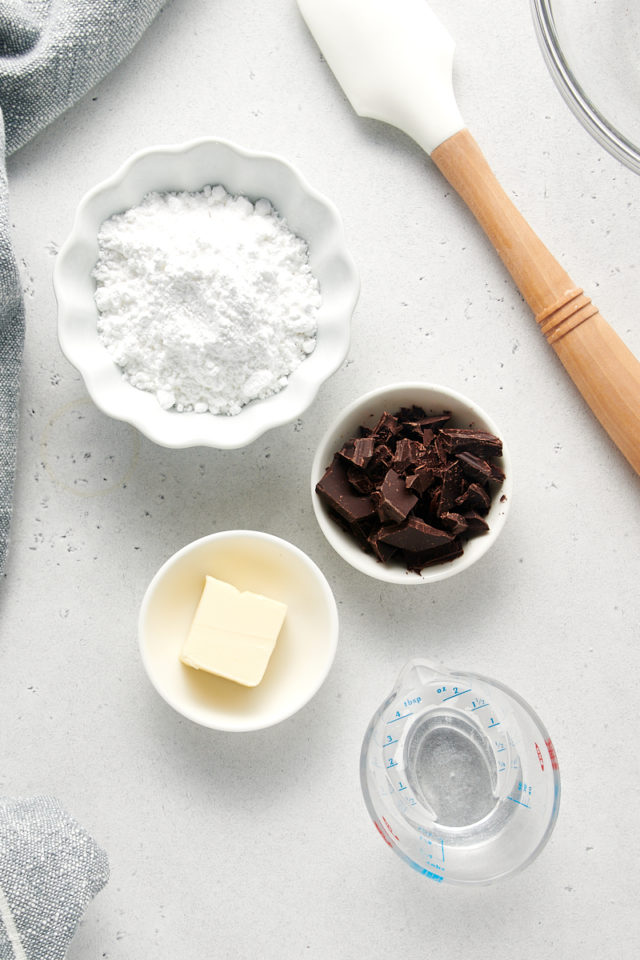 For the glaze:
Unsalted butter
Unsweetened chocolate – Chop it roughly so it will melt more easily.
Confectioners' sugar – Sift it for a smooth glaze.
Water – You'll need a bit of boiling or nearly boiling water to help make the glaze smooth and glossy.
Topping ideas
Serve this Chocolate Loaf Cake with just the glaze, or add a garnish. You can even skip the glaze if you like and serve the cake as it is or with a simple dusting of confectioners' sugar. It's lovely served with fresh raspberries or strawberries, too. I can't resist that glaze, though! These are some of my favorite toppings to add along with the glaze.
Mini chocolate chips
Chocolate sprinkles
Toasted sweetened coconut
Chopped toasted nuts
Chocolate curls or grated chocolate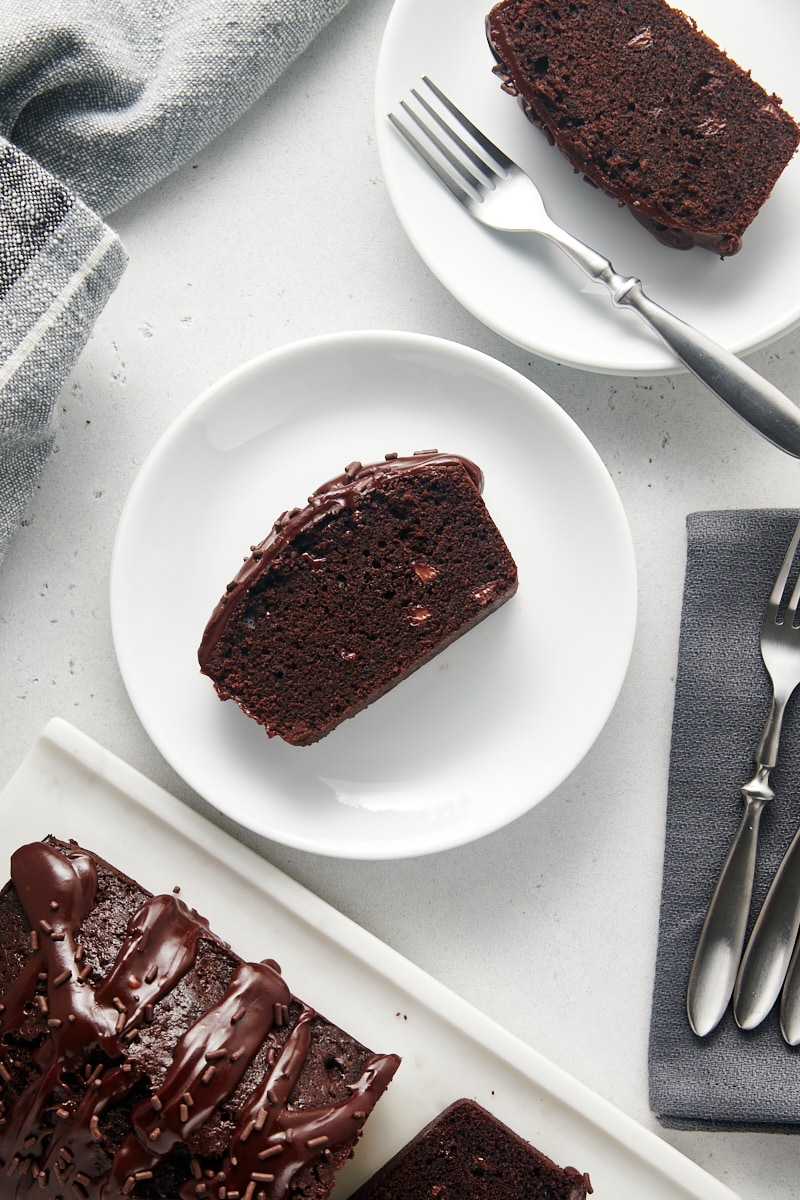 How to Make Chocolate Loaf Cake
You'll love how quickly and easily this cake mixes. And the simple, no-fuss glaze is even easier!
To make the cake:
Prepare for baking. Heat the oven to 350°F. Grease a 9″ x 5″ loaf pan. If you like, line the pan with parchment paper and grease the paper.
Combine the dry ingredients. Whisk together the flour, cocoa powder, baking powder, and salt.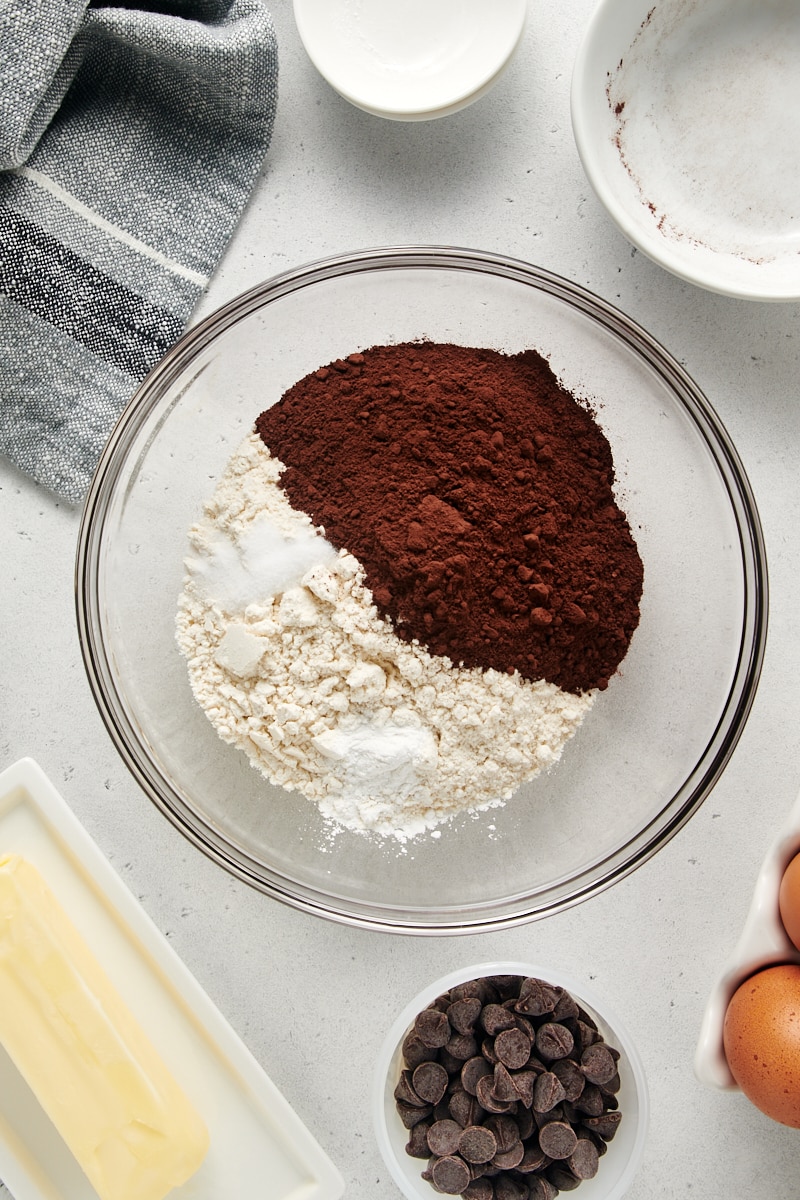 Combine the wet ingredients. With an electric hand mixer or stand mixer, beat the butter and sugar until fluffy and lightened in color. Add the eggs one at a time, and mix well after adding each. Mix in the vanilla.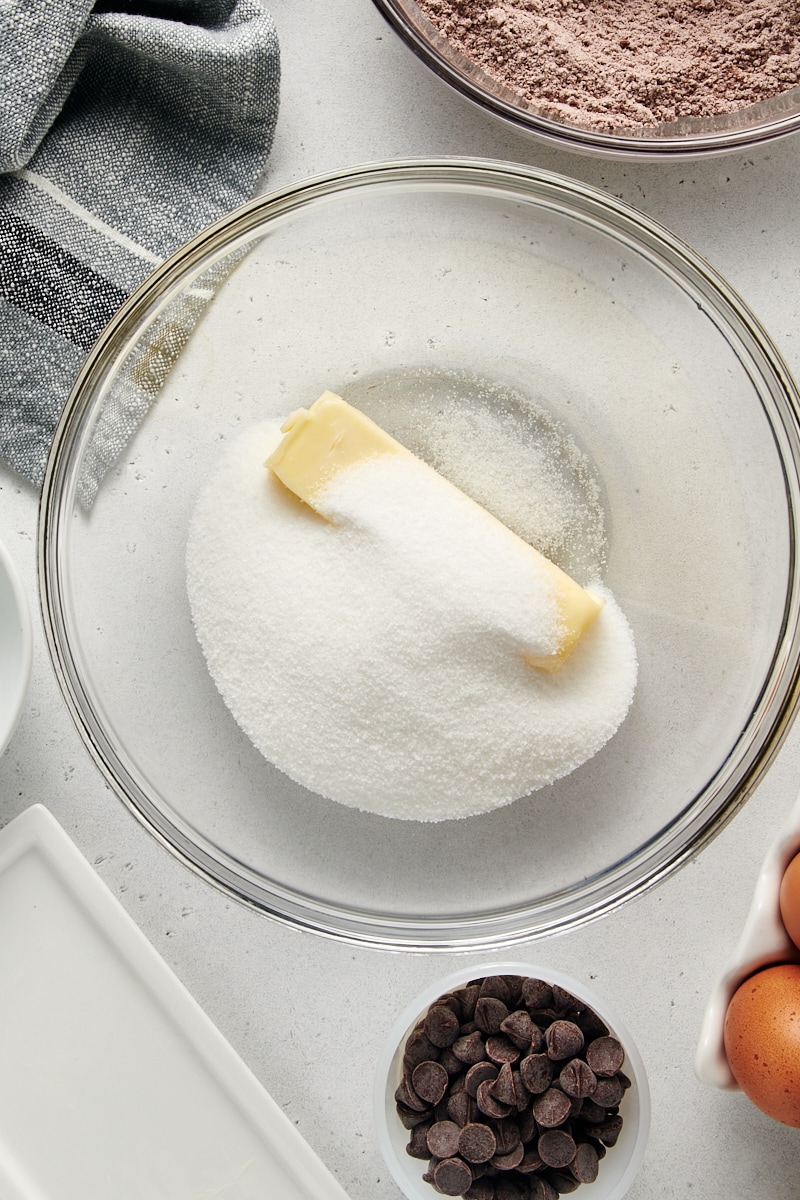 Add the dry ingredients and milk to the wet ingredients. With the mixer on low speed, add the flour mixture in three portions, alternating with two portions of the milk. Mix just until combined or a few streaks of flour remain. Stir in the chocolate chips.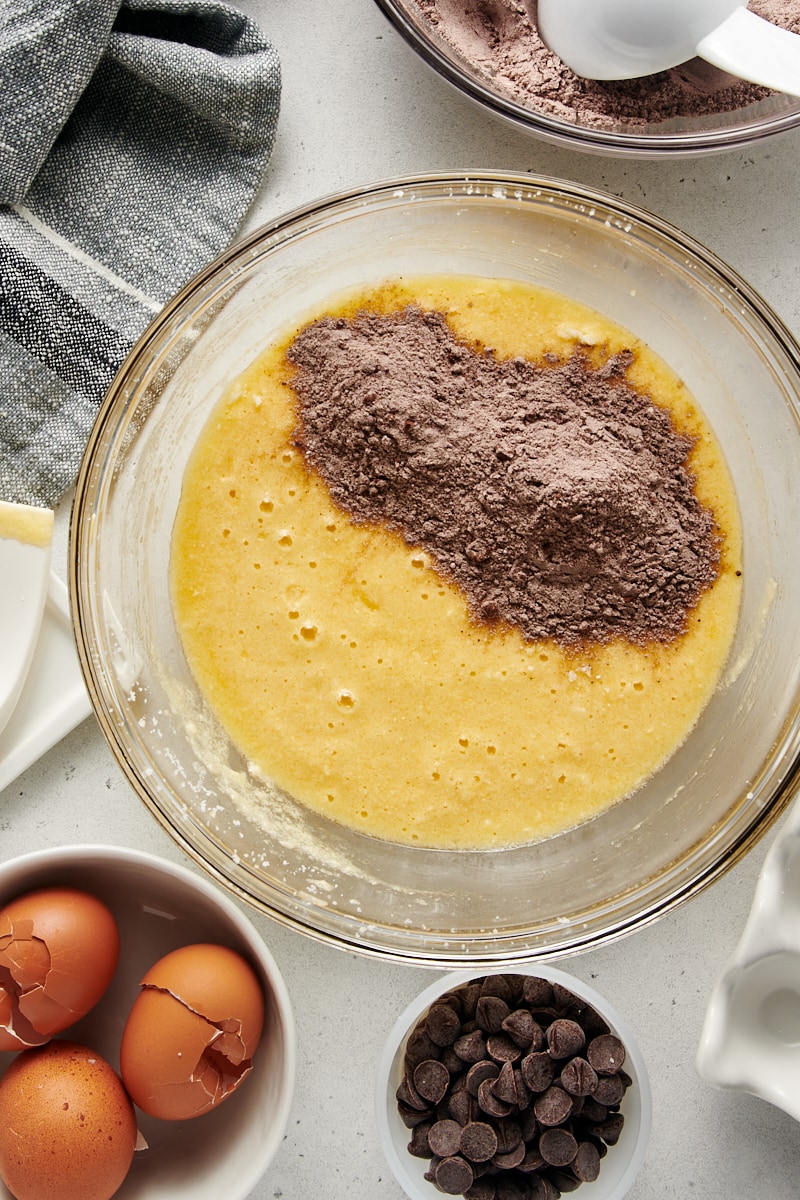 Bake. Transfer the batter to the prepared pan and spread evenly. Bake the cake 60 to 65 minutes, or until a pick inserted into the center comes out clean.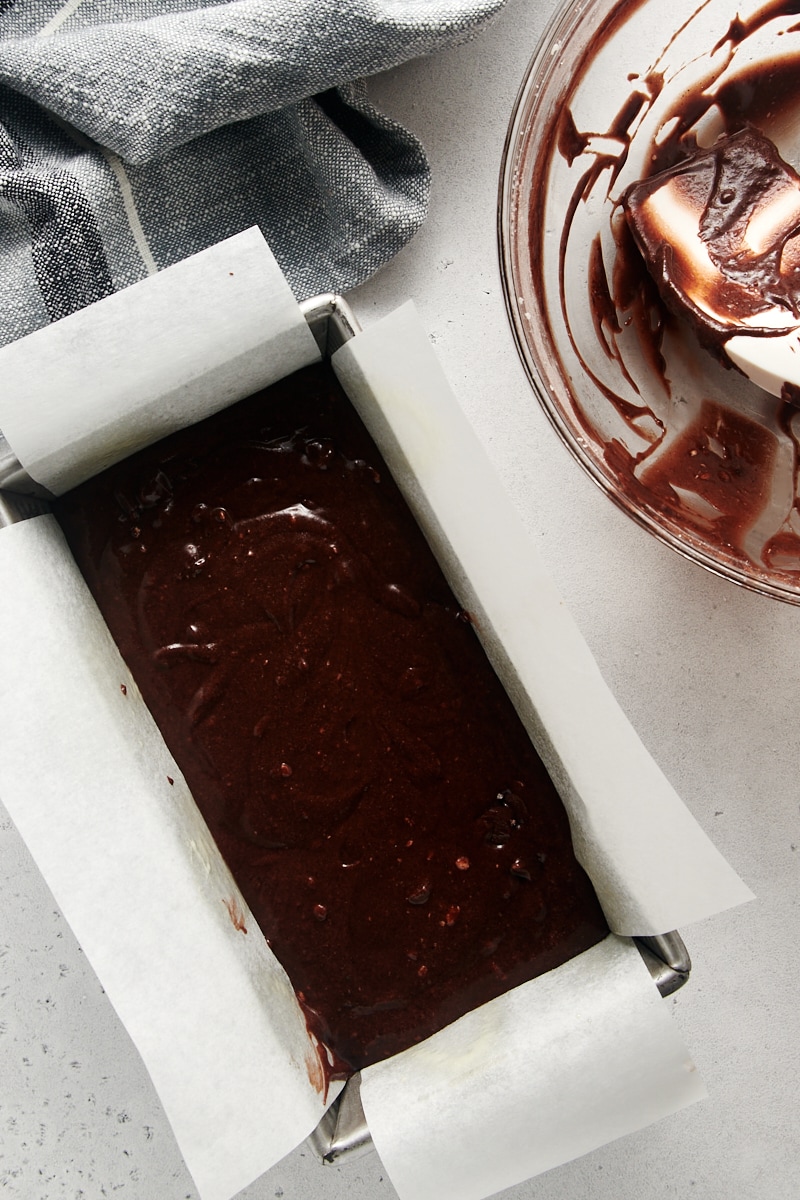 Cool the cake. Place the pan on a wire rack and allow the cake to cool about 10 minutes. Then remove the cake from the pan and place on a wire rack to cool completely.
To make the glaze:
Melt the butter and chocolate. Place them in a microwave-safe bowl. Heat in 30-second increments at half-power in the microwave until the butter melts and the chocolate melts when stirred. Stir until smooth.
Add the sugar and water. Gradually mix the confectioners' sugar into the chocolate mixture, adding water as needed to make a smooth glaze. It should be thick but pourable.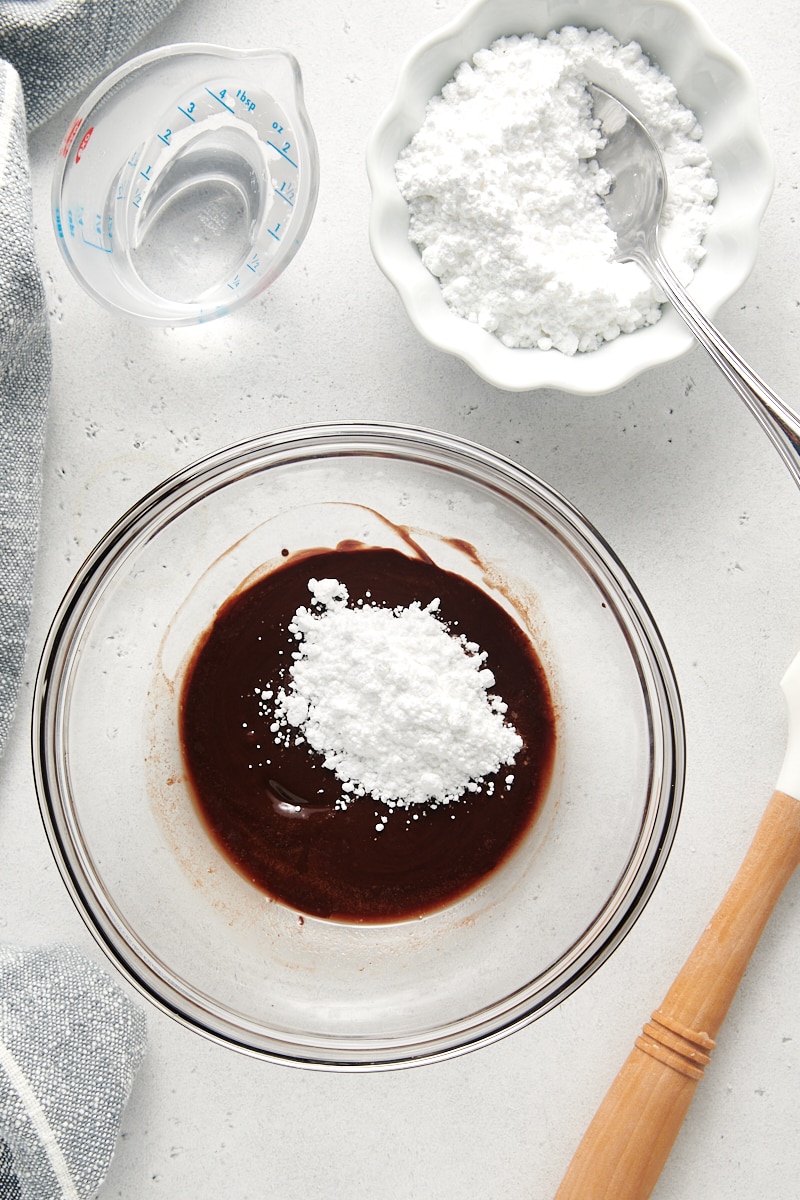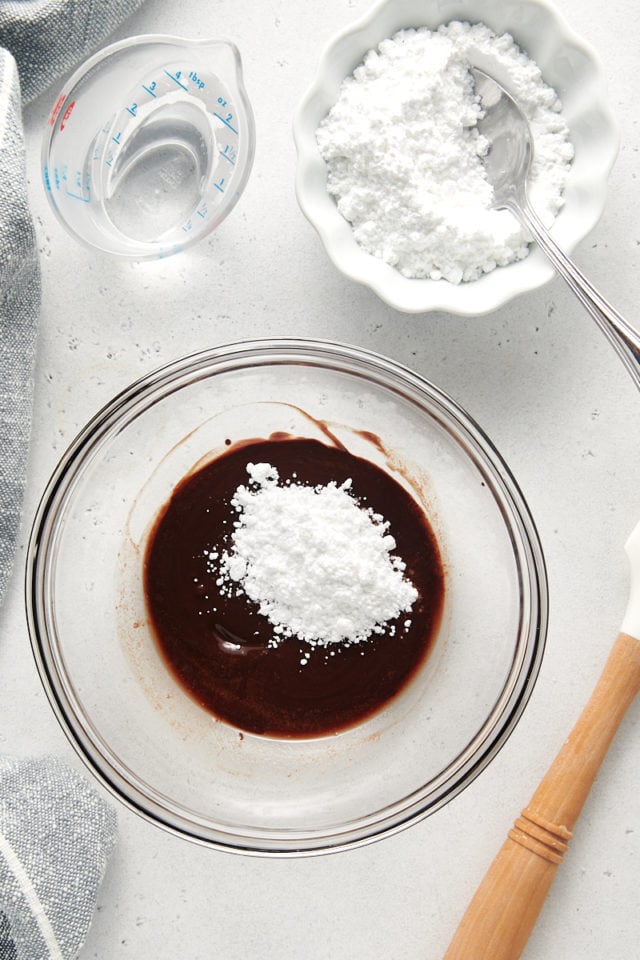 Glaze the cake. Immediately after making the glaze, drizzle it over the cooled cake. Garnish however you like. The glaze will set as it cools.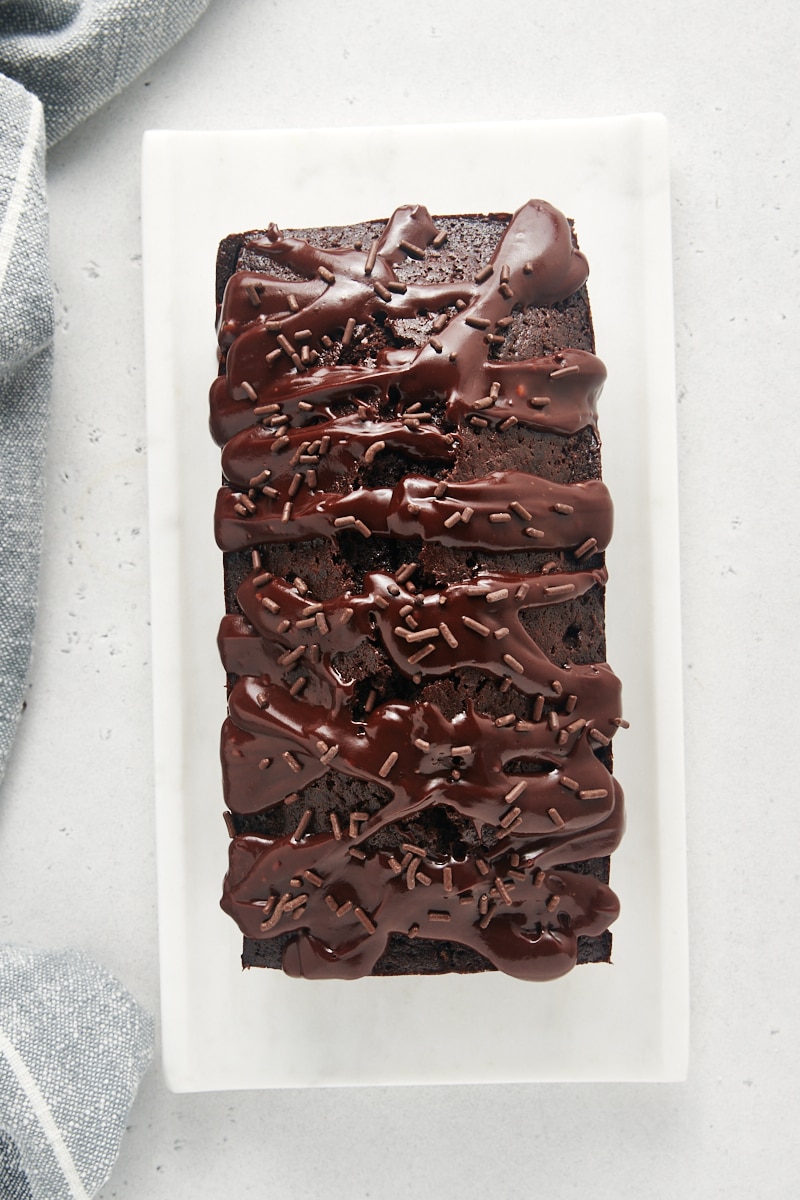 Tips for Success
This Chocolate Loaf Cake is simple to make, but here are a few tips to help make yours the best it can be.
Use good quality chocolate. Because chocolate is the star of the show here, be sure to use good quality cocoa powder and chocolate.
Line the pan. While not a necessity, lining the loaf pan will allow you to remove it easily from the pan for slicing and serving.
Add the glaze right after it's mixed. It will set as it cools, so be sure to drizzle it over the cake as soon as it's ready.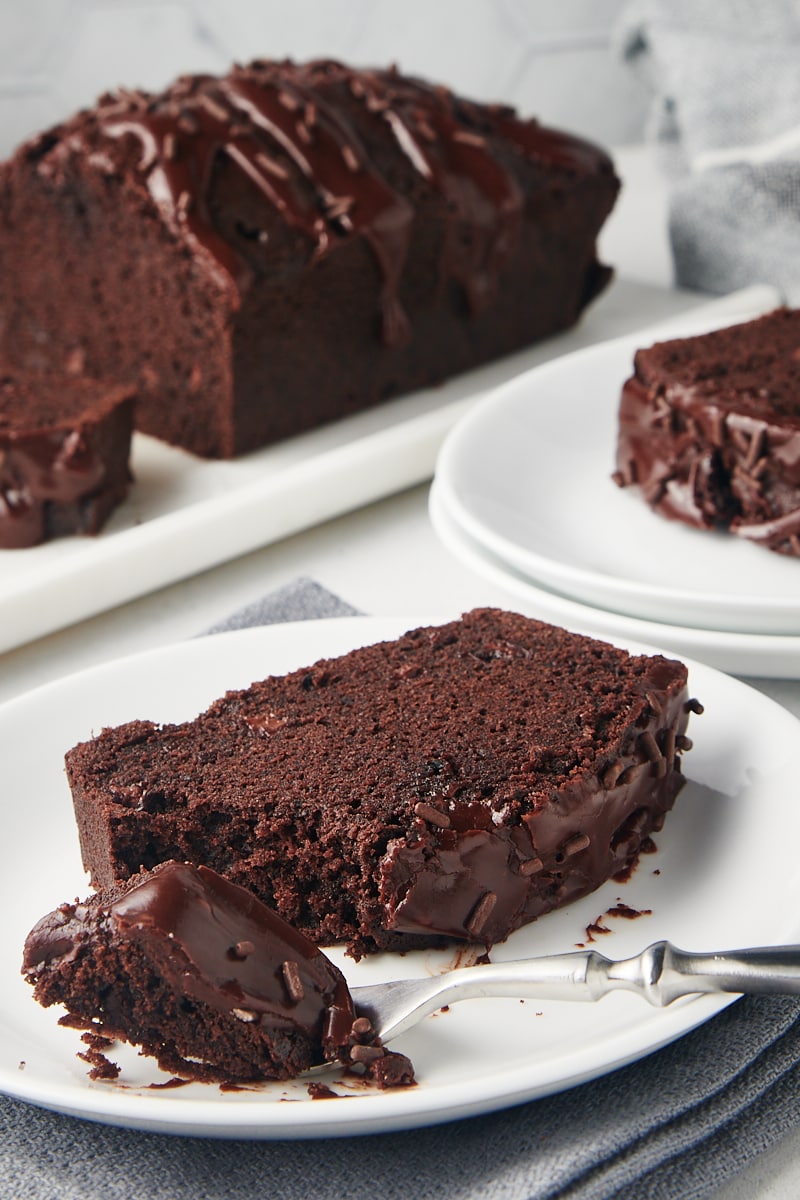 How to Store
Once the cake has cooled, store it in an airtight container at room temperature. It should keep up to 3 days. Placing the container in the refrigerator will extend that by a couple of days, but be extra sure the container is airtight as refrigerating tends to make cakes dry.
How to Freeze
To freeze the cake without the glaze, wrap it in two layers of plastic wrap and place in a freezer-safe bag or container.
To freeze the cake with the glaze, first place the remaining cake or slices of cake on a baking sheet. Place in the freezer long enough to allow the glaze to harden (about an hour or two). Then wrap the cake in two layers of plastic wrap and place in a freezer-safe bag or container.
Stored properly, the cake should keep up to 3 months in the freezer. Thaw overnight in the refrigerator or for an hour or two at room temperature. Be sure to remove the tight plastic wrap so the glaze won't stick to it once it's thawed.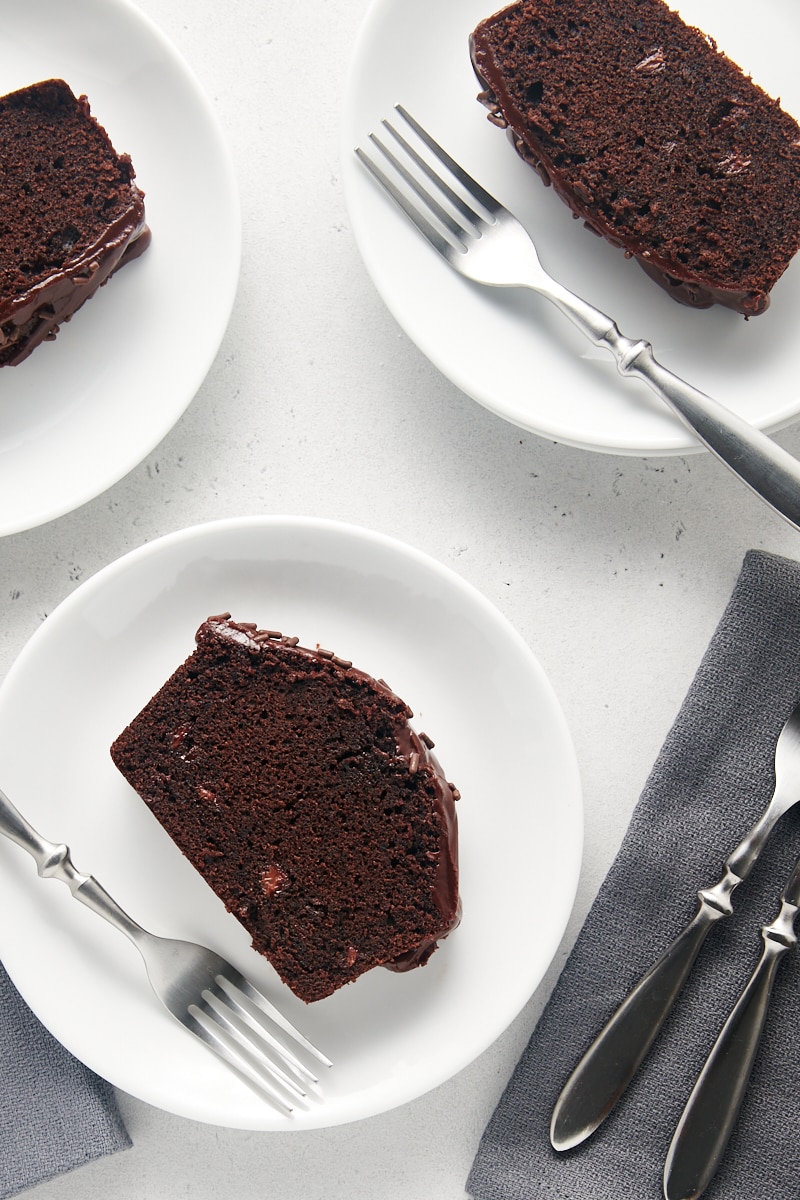 Video Tutorial: Chocolate Loaf Cake