October 28, 2013
Brown Butter Sour Cream Crumb Cake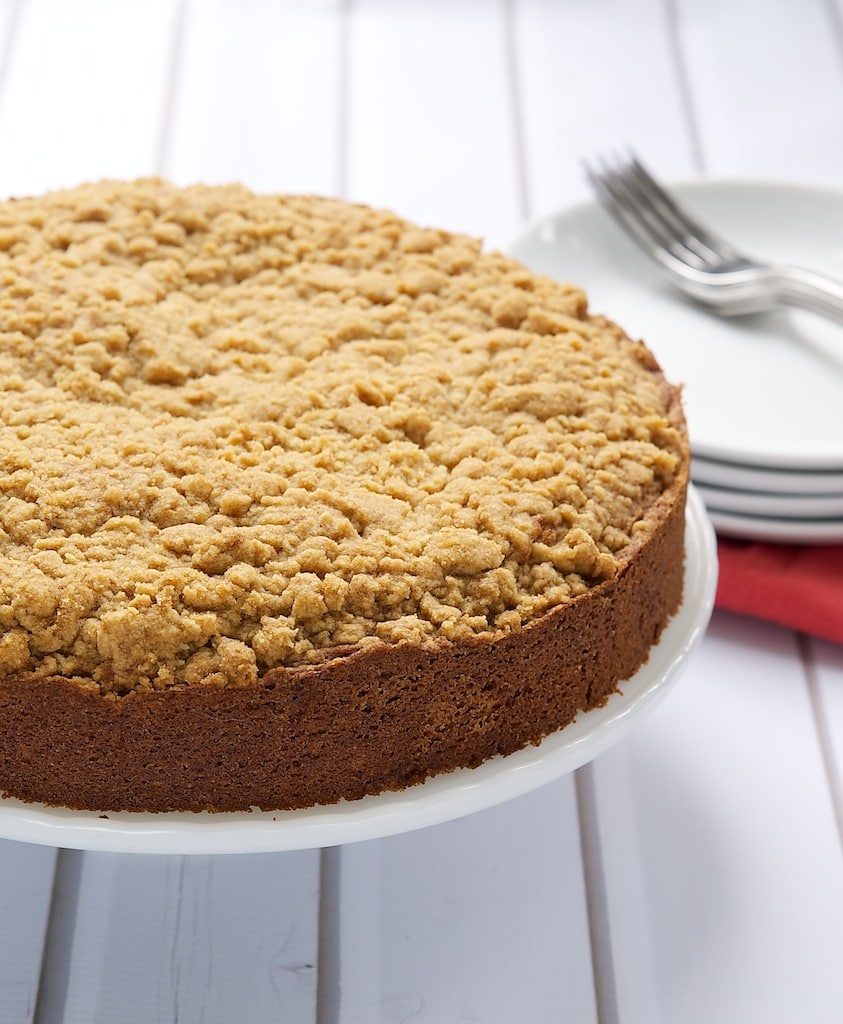 As someone who bakes a lot, I'm certainly no stranger to butter. It, along with cream cheese, has its very own little shelf in my refrigerator. But, put that butter in a saucepan and brown it, and I am utterly fascinated by its rich, nutty flavor.
Add to that a crumb topping, and I'm so there. This particular crumb topping is a bit on the salty side, and that's just how I like it. If you are less of a fan of sweet and salty, then just dial back the salt in the crumb a bit. But, really, that saltiness is pretty tough to beat.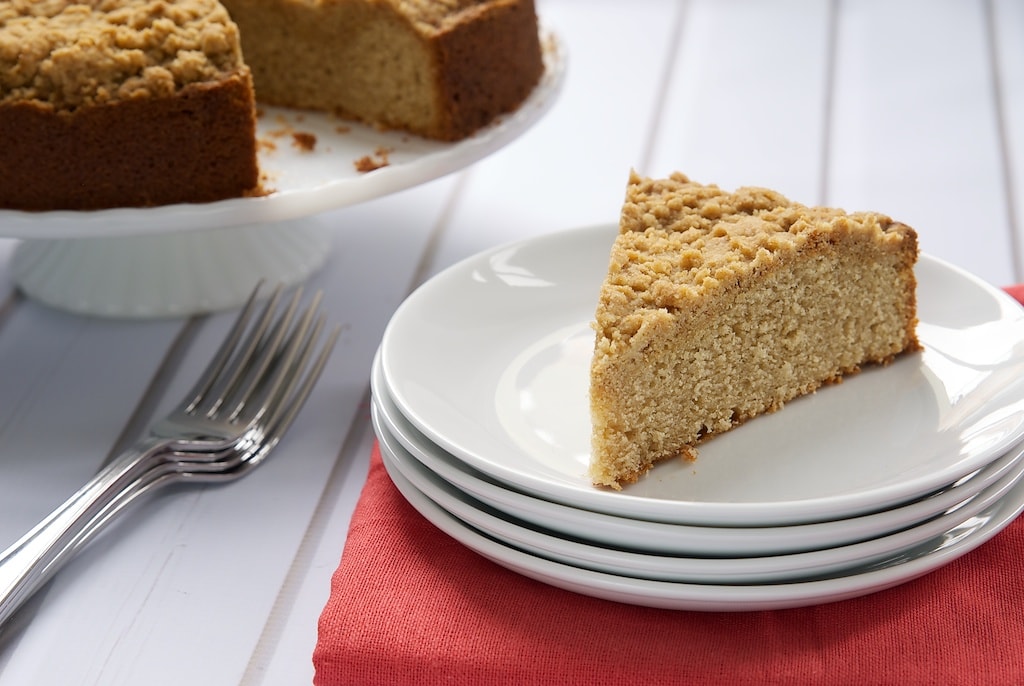 I've made several recipes with browned butter, but this was my first time freezing the butter to re-solidify it. Now, that may seem like a strange step, but it serves a purpose. You can't cream melted butter. But, firmer butter works just as it should. So, don't skip that step. It's not difficult, and those few minutes of freezer time give you a chance to clean up your baking-in-progress kitchen or just step away from the kitchen for a bit.
On first read, this may seem like a fussy recipe, but there's really nothing unnecessary in it. My one bit of advice concerns the step of pressing the crumb mixture into clumps. I spent 5 or so minutes pressing and clumping, but that's about it. You don't have to be obsessive about it, unless you just like that sort of thing. Crumb is crumb, whether it's perfectly clumped or not.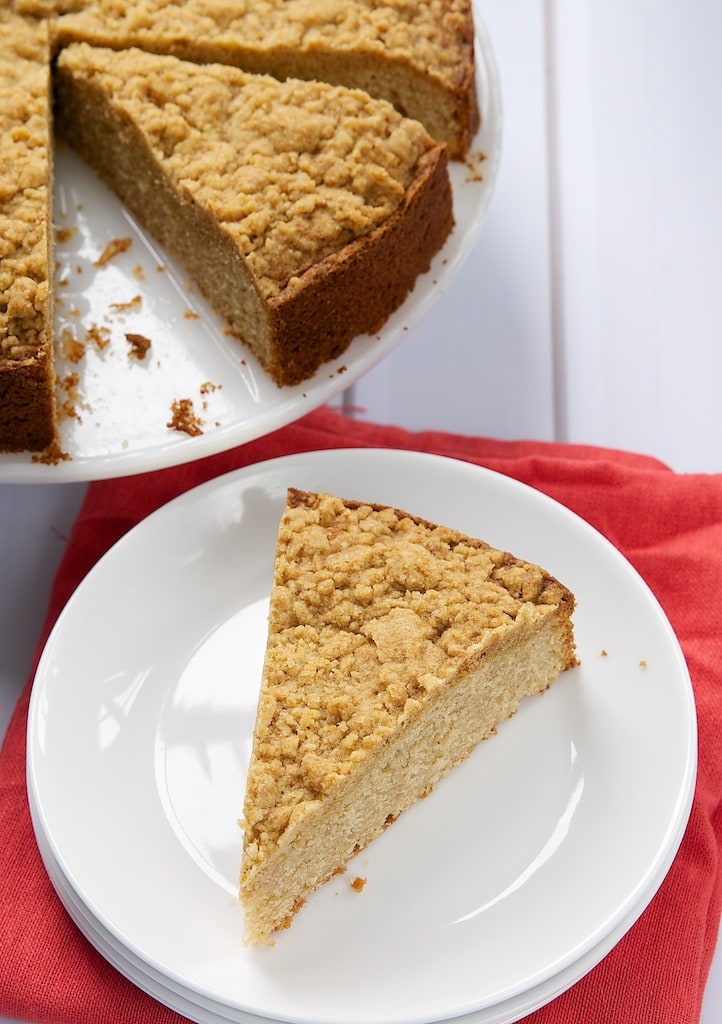 This is an absolutely lovely cake. I just love everything about it, from the sour cream cake to the brown butter to that wonderfully salty crumb. Serve this one up for a weekend brunch treat, an afternoon snack, an after-dinner dessert, or just sneak a little slice to enjoy when no one's looking.
Brown Butter Sour Cream Crumb Cake
Yield: 8 to 10 servings
Prep Time:30 minutes
Cook Time:1 hour 15 minutes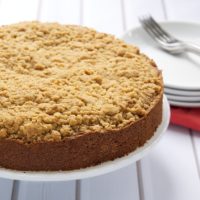 Ingredients:
For the crumb:
1/2 cup unsalted butter, cold and cut into 1/2-inch cubes
1/4 cup plus 2 tablespoons packed light brown sugar
1 cup all-purpose flour
1/2 teaspoon baking soda
1/2 teaspoon salt
For the cake:
3/4 cup unsalted butter
2 cups all-purpose flour
1 & 1/2 teaspoons baking powder
1 teaspoon ground cinnamon
1/4 teaspoon baking soda
1/2 teaspoon salt
pinch nutmeg
1/2 cup granulated sugar
1/2 cup packed light brown sugar
2 large eggs
1 & 1/2 teaspoons vanilla extract
1/2 cup sour cream
Directions:
To make the crumb:
Place the butter, brown sugar, flour, baking soda, and salt in the bowl of a food processor. Pulse until the mixture forms small crumbs.
Transfer crumbs to a plate or shallow pan. Press mixture into 1/2-inch clumps.
Refrigerate for 15 minutes.
To make the cake:
Place the butter in a small saucepan. Cook over medium heat until the butter has melted.
Continue cooking, whisking often to prevent burning. Butter will begin to foam. Brown specks will begin to form at the bottom of the pan, and the butter will have a nutty aroma.
Remove from heat and pour butter and browned solids into a shallow bowl. Place in the freezer for 15 minutes, or until butter is firm but not hard.
Preheat oven to 350°. Grease a 9-inch springform pan. Line the bottom with parchment paper. Grease the paper.
Whisk together flour, baking powder, cinnamon, baking soda, salt, and nutmeg. Set aside.
Scrape the browned butter into a large mixing bowl. Add sugar and brown sugar. Using an electric mixer on medium speed, beat until light and fluffy.
Add eggs and vanilla, mixing until smooth.
Add the flour mixture in three portions, alternating with two portions of sour cream. Mix just until combined.
Transfer batter to prepared pan. Sprinkle the crumbs over the top of the batter.
Bake 45 to 50 minutes, or until the cake is golden brown and a pick inserted into the center comes out clean.
Cool cake completely before removing the sides of the pan. Transfer to a serving plate, removing the parchment paper from the bottom of the cake.