This Triple Berry No-Bake Cheesecake is rich, creamy, and the prettiest shade of pink! No need to turn on the oven, just mix up the filling and pop it in the fridge!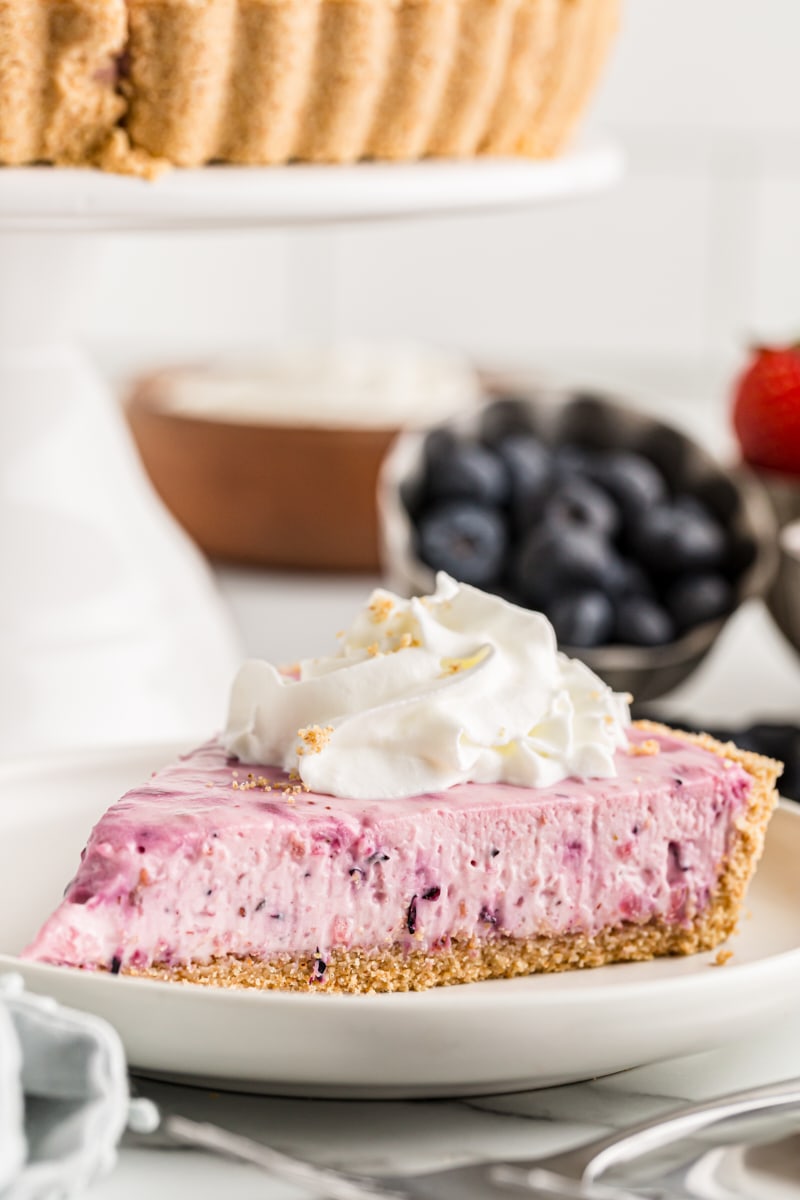 The Perfect No-Bake Dessert for Summer!
Have you ever thought about how many baked goods are some shade of beige or brown? As someone who photographs a lot of baked goods, you can believe that I've thought about it frequently. I think that's one of the reasons I wholeheartedly embrace berry season and its pretty colors.
This gorgeous Triple Berry No-Bake Cheesecake is made with pureed berries for a beautifully colored dessert. That color just makes me giddy! Added to that excitement is the fact that it's absolutely delicious. Creamy, tangy, and full of fresh berry flavor. Quick and easy, too. I think I've lost count of how many wins that is!
This no-bake cheesecake is really quite lovely unadorned. I like to show off that gorgeous color! If you like, you can garnish it with sweetened whipped cream and fresh berries before serving.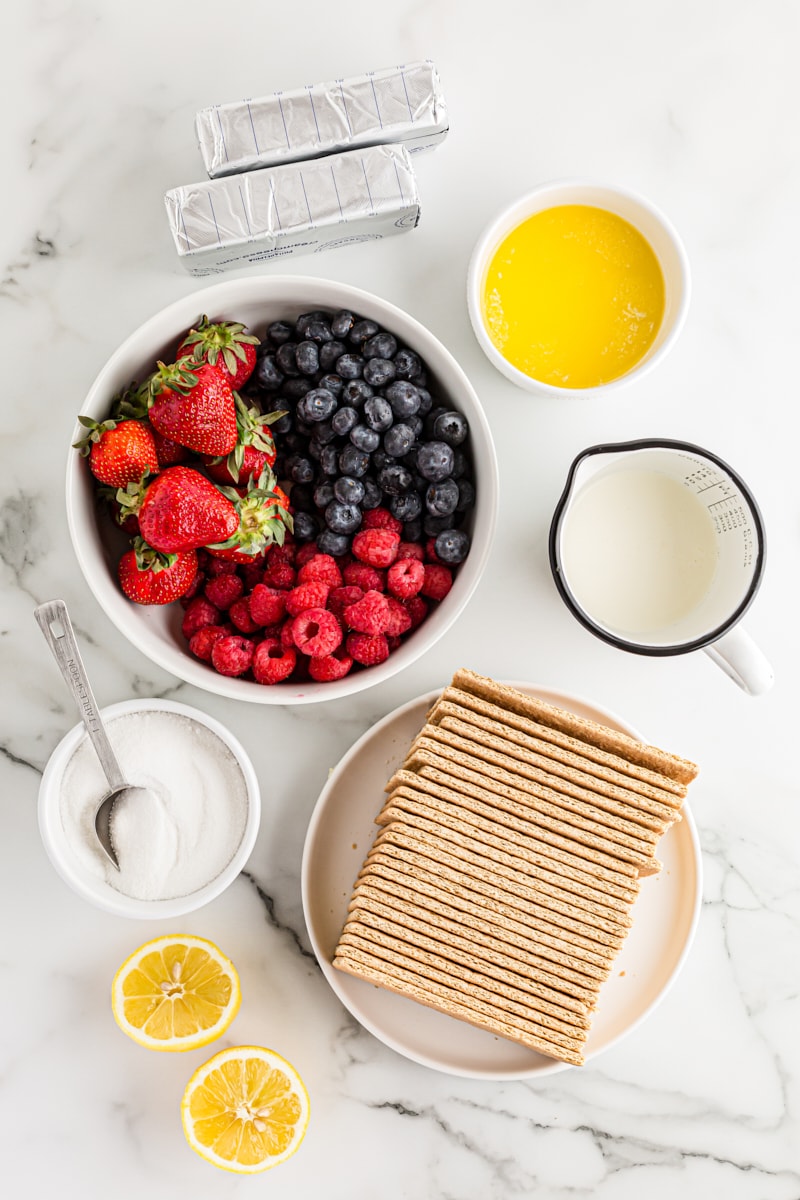 What You'll Need
Scroll down to the recipe card below this post for ingredient quantities and full instructions.
For the crust:
For the filling:
Berries – While I often use equal amounts of blueberries, raspberries, and strawberries for this cheesecake, feel free to use any ratio of berries you like.
Cream cheese – Be sure to use the full-fat cream cheese that comes in blocks.
Granulated sugar
Lemon juice – Learn more: How to Zest and Juice Lemons
Heavy cream
How Many Graham Crackers Make a Cup of Crumbs?
If you're using square graham crackers, about 14 of them will make a cup of graham cracker crumbs. If you're using the rectangular graham crackers that come perforated so you can break them apart, you'll need about 7 graham crackers for a cup of crumbs.
This recipe calls for 1 3/4 cups of graham cracker crumbs, so you'll need about 21 square graham crackers or 11 rectangular ones.
How to Make Triple Berry No-Bake Cheesecake
While this recipe takes only a few minutes to put together, keep in mind that it needs to chill for at least 8 hours before serving.
Make the crust:
Combine the crust ingredients. In a small bowl, stir together the graham cracker crumbs and butter.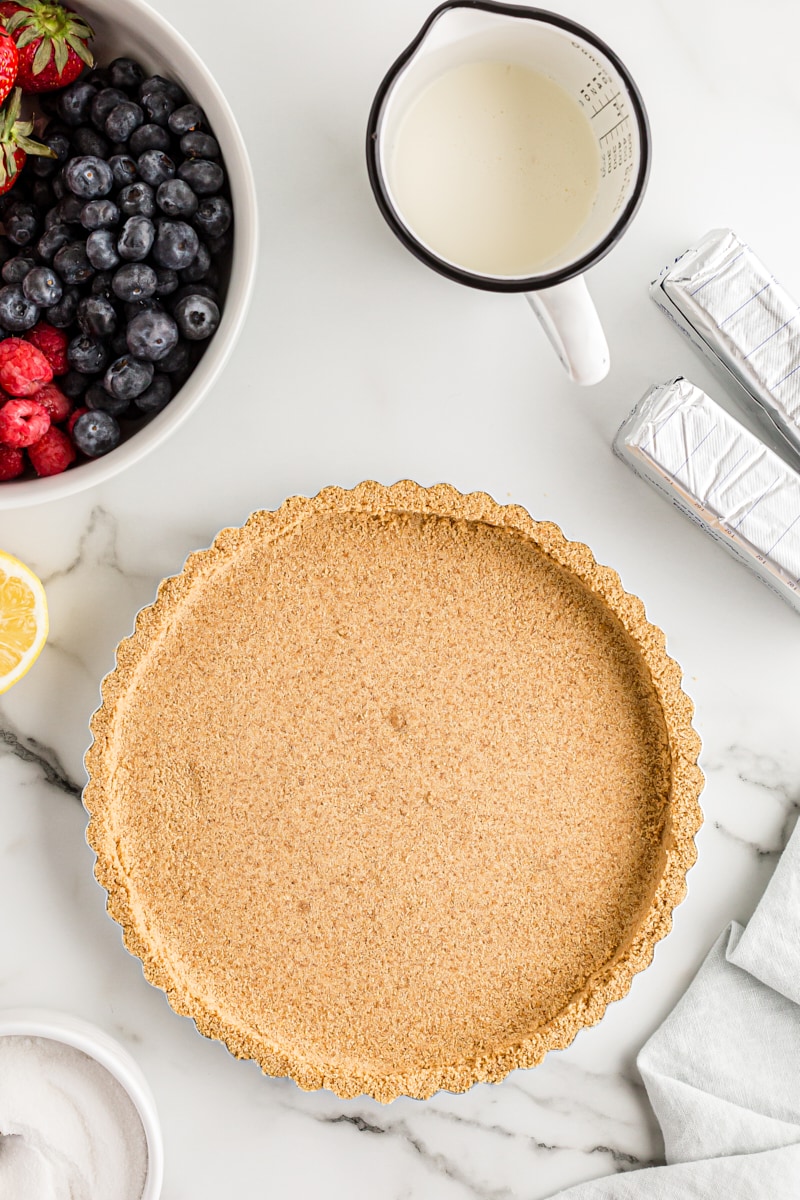 Form the crust. Press the crumb mixture into the bottom of a 9-inch pan. (A springform pan or a tart pan with a removable bottom will work best.) Chill the crust in the refrigerator while you work on the filling.
Make the filling: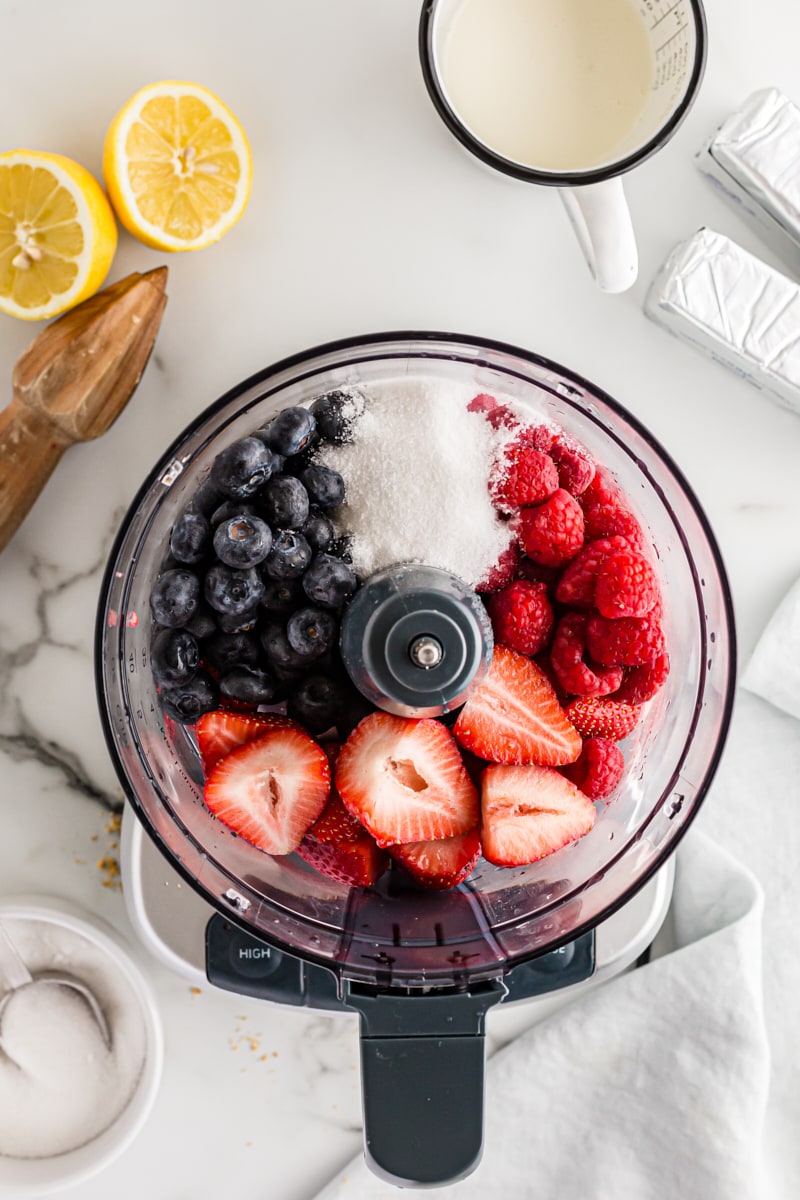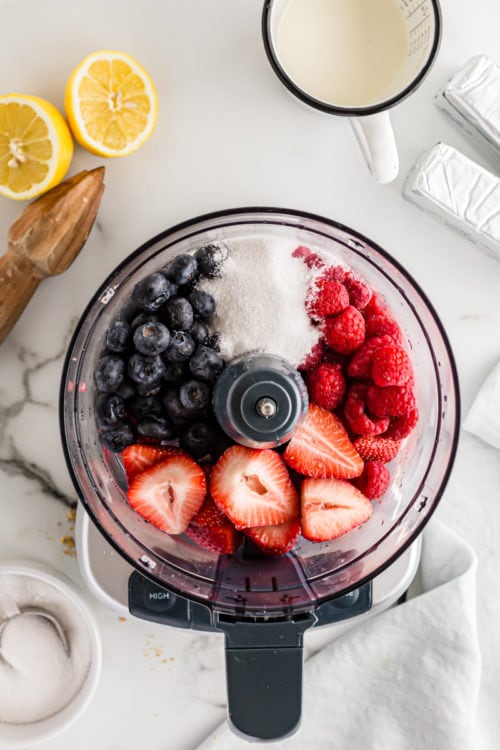 Puree the berries. Pulse the berries and 3 tablespoons of the sugar in a blender or food processor until they're blended, or mash the berries and sugar in a mixing bowl.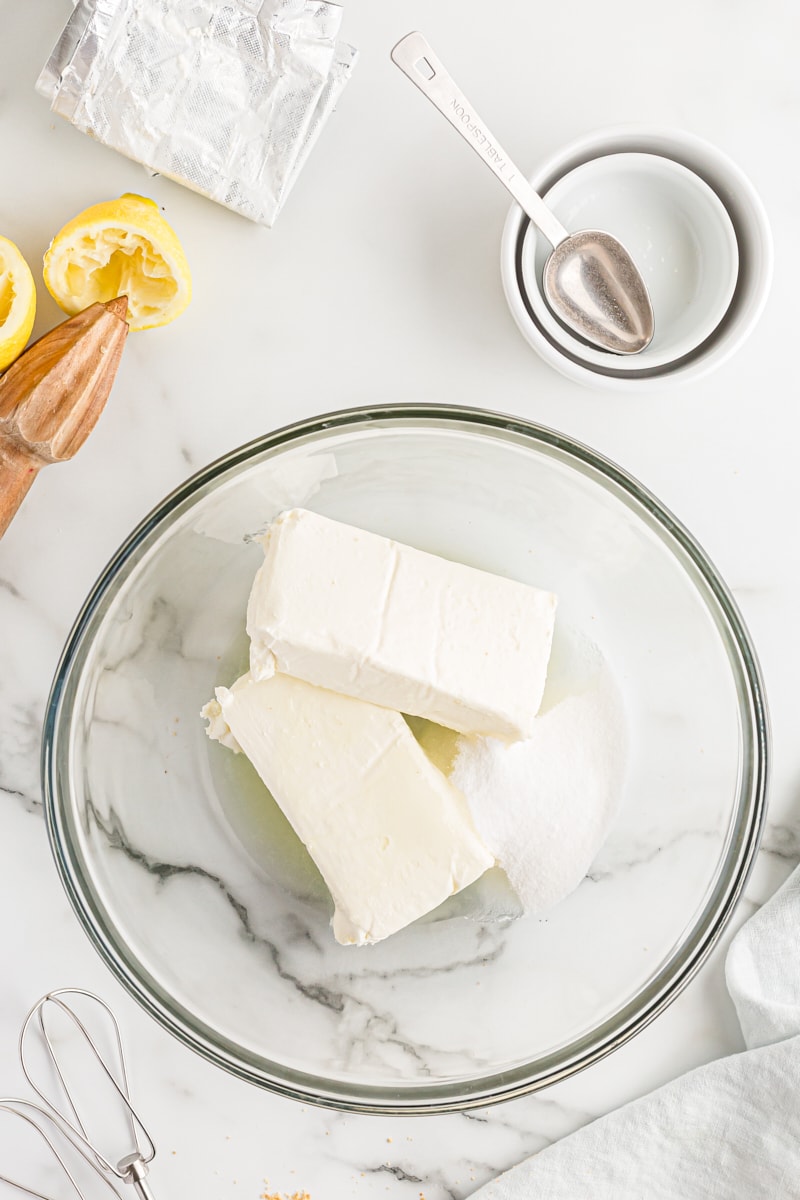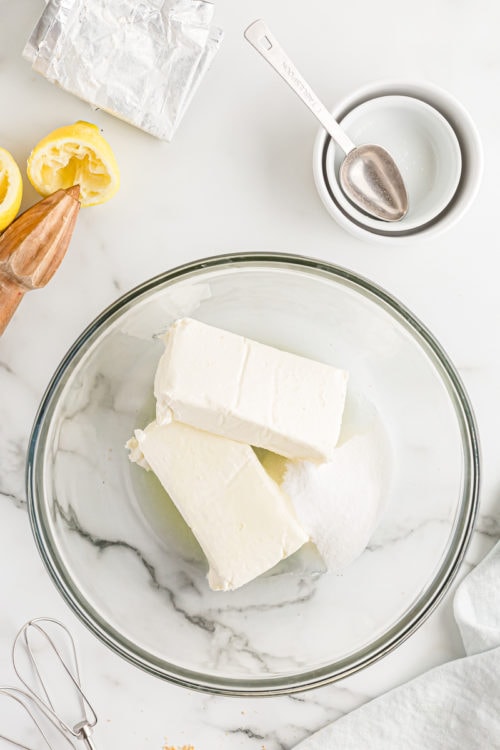 Beat the cream cheese. Use an electric mixer on medium speed to beat the cream cheese, the remaining sugar, and the lemon juice until the mixture is smooth. Add the berry mixture, then mix well.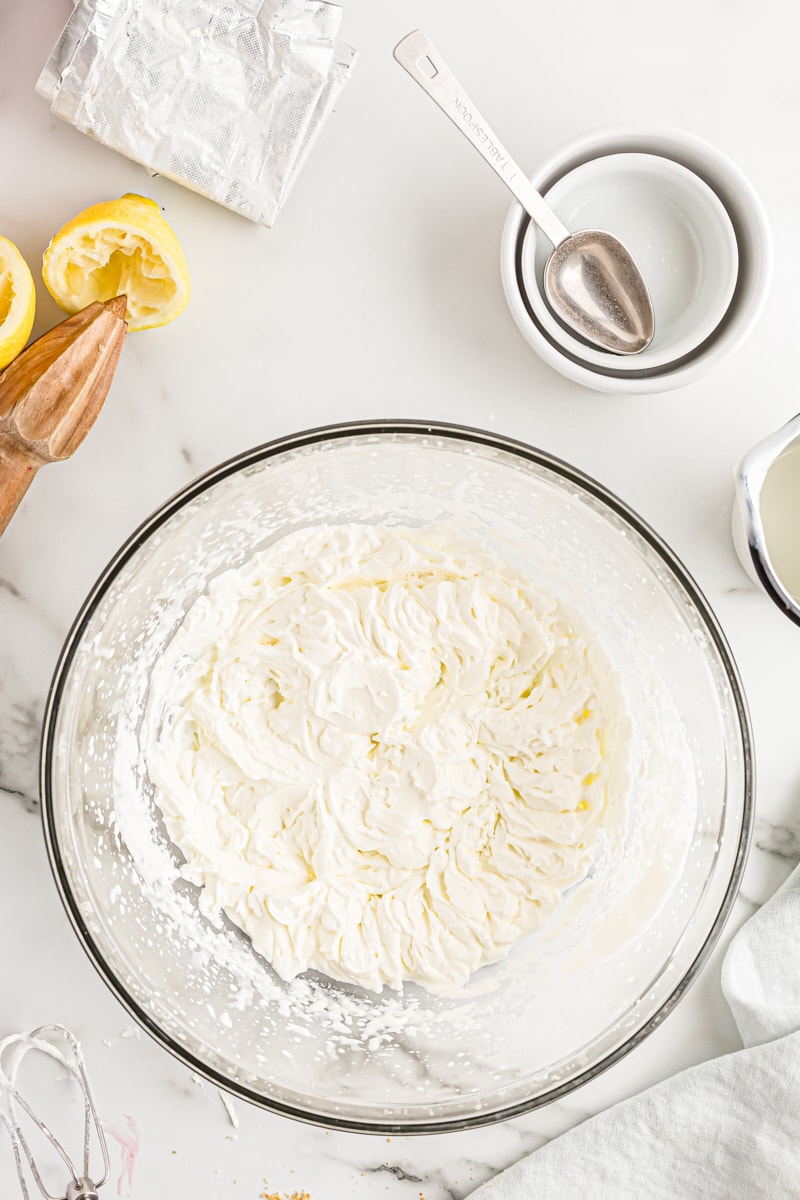 Whip the cream. Place the cream in a separate mixing bowl. Use an electric mixer with a whisk attachment to whip the cream until it forms soft peaks.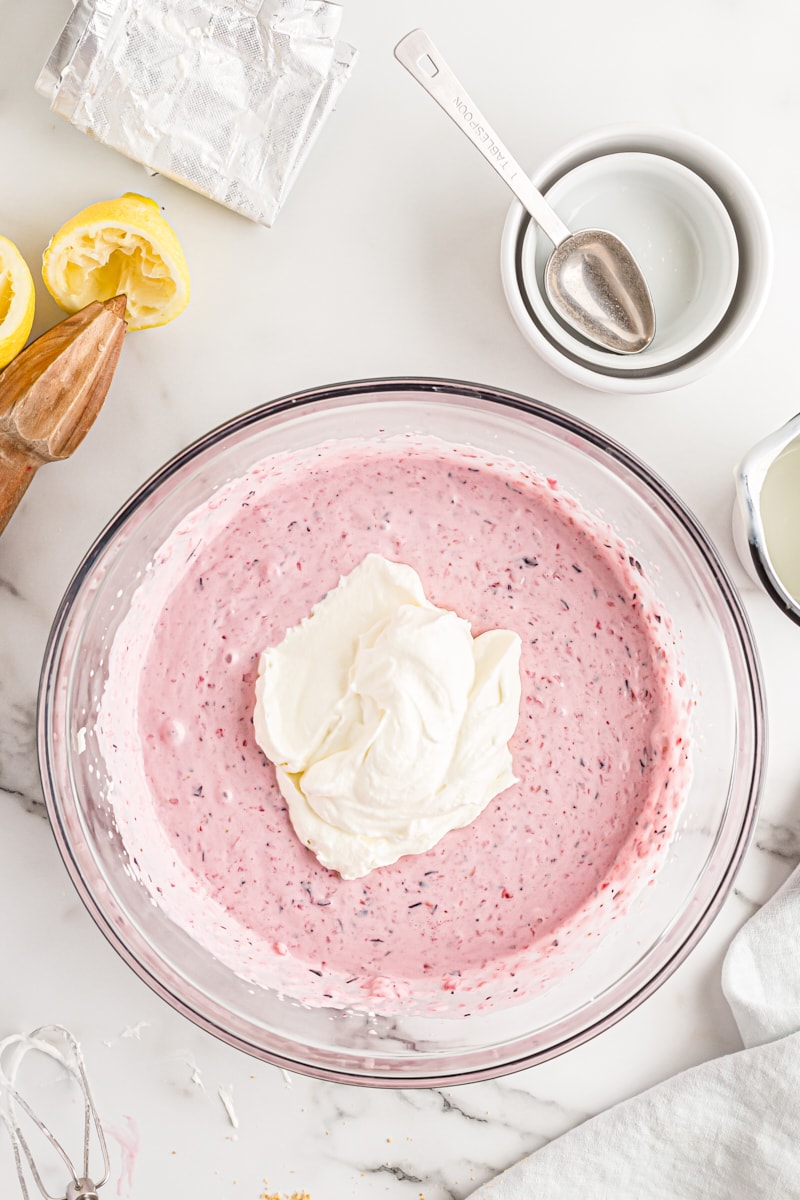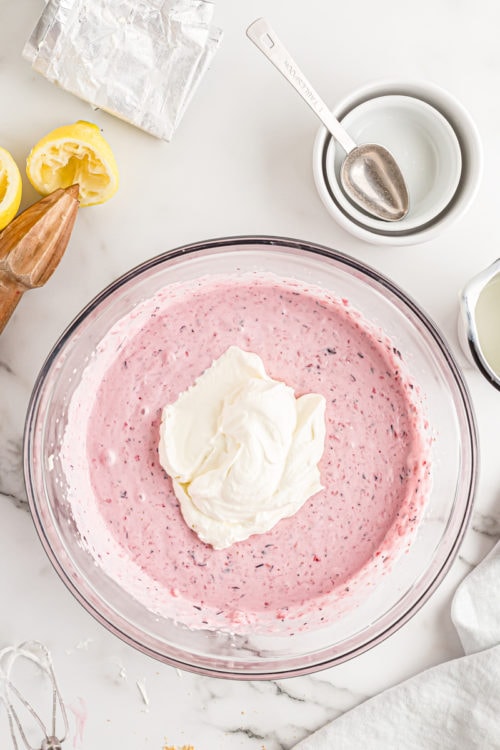 Assemble. Gently fold the whipped cream into the cream cheese mixture, then pour this into the prepared crust, smoothing the top so it's even.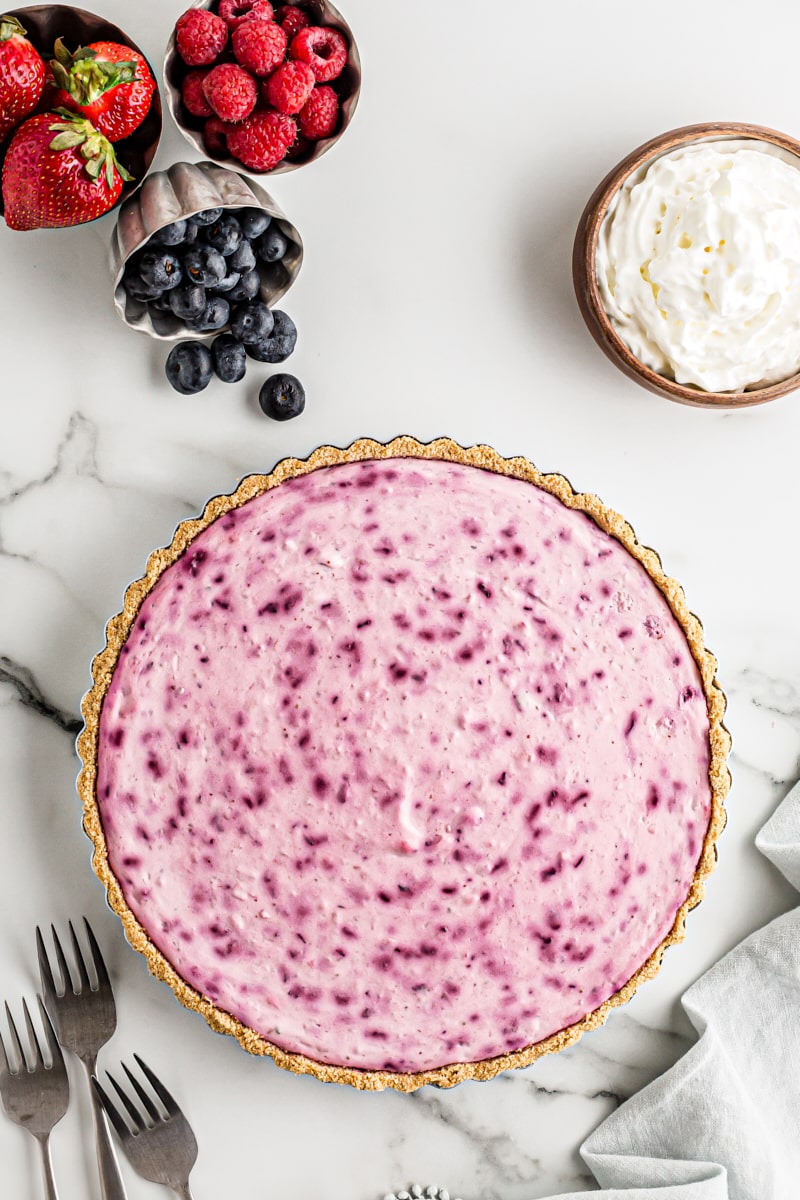 Chill. Loosely cover the cheesecake with plastic wrap and refrigerate it for at least 8 hours, or overnight, before serving.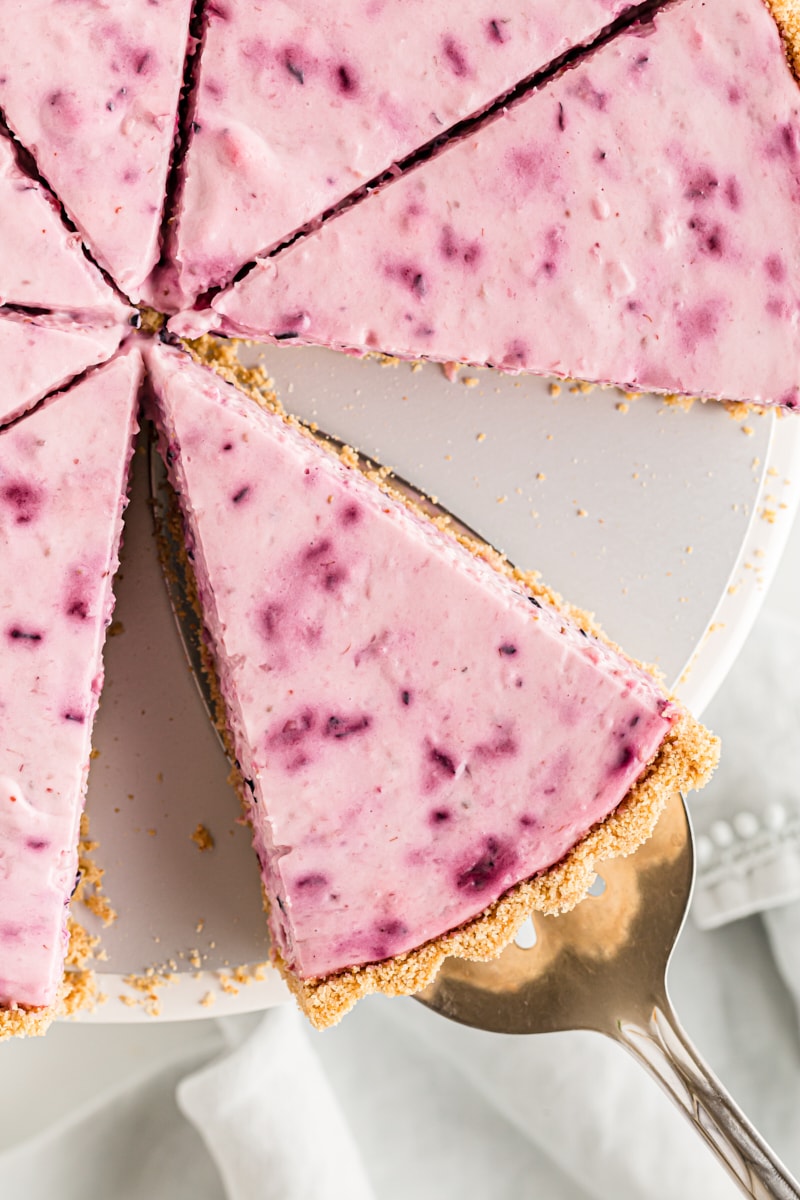 Serve. Slice and garnish with sweetened whipped cream and fresh berries, if desired.
Why Is My No-Bake Cheesecake Not Firm?
If your cheesecake doesn't seem firm enough, first, note that no-bake cheesecake has a different texture than baked cheesecake. It's creamier and because it's not baked, it doesn't firm up in the same way.
Once you know what to expect, if your no-bake cheesecake still doesn't seem firm enough, it may need more time in the fridge. It needs to chill a full 8 hours before serving.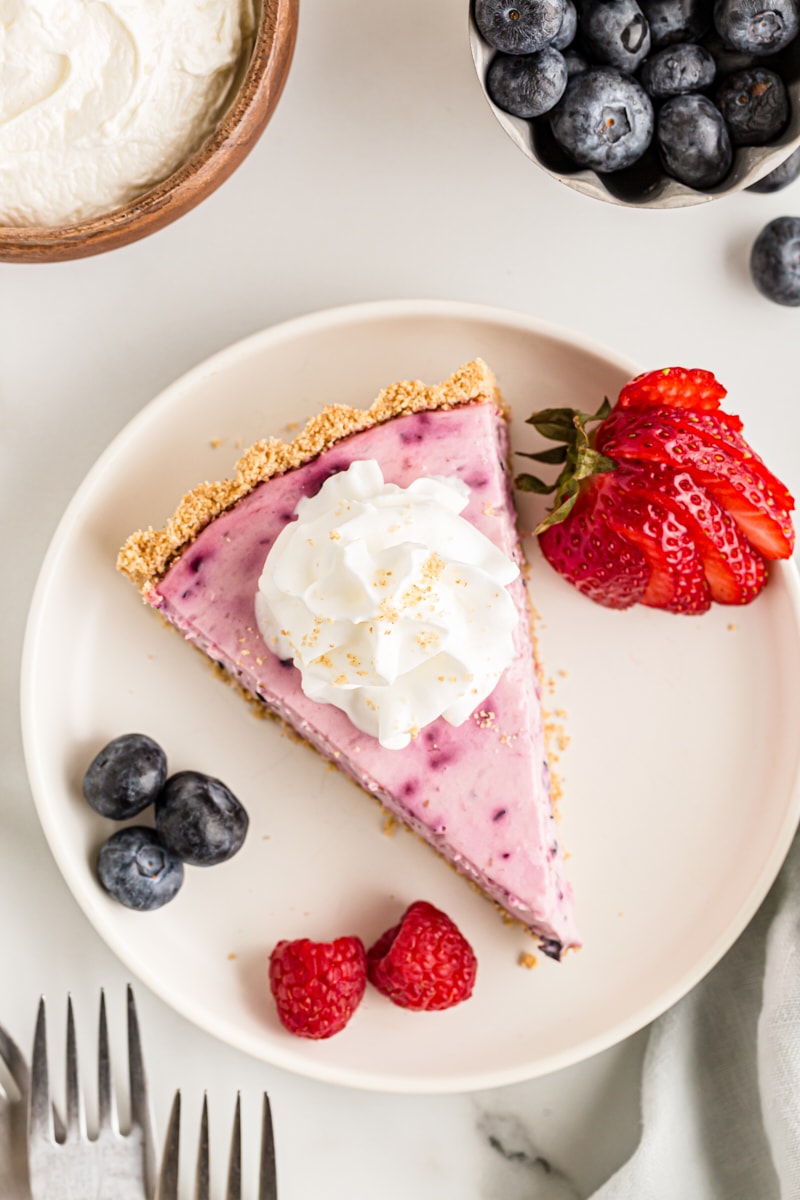 Tips for Success
Here's how to get a perfect Triple Berry No-Bake Cheesecake every time!
Don't make lower-fat swaps. Make sure you use full-fat cream cheese and heavy whipping cream, not half-and-half or milk. The lower fat content in reduced-fat or "light" dairy products will affect the texture of your cheesecake.
Use a springform pan, if possible. If you don't have one, a tart pan with a removable bottom is the next best thing. You can use a traditional pie pan, but it doesn't work quite as well.
Making the crust sturdier. To keep the oven off and your kitchen cool, the crust for this cheesecake doesn't get baked. A little chilling time helps it firm up a bit, but if you would like a sturdier crust, you can bake it at 350°F for 10-12 minutes. Just be sure to let it cool completely before filling it with the cheesecake mixture.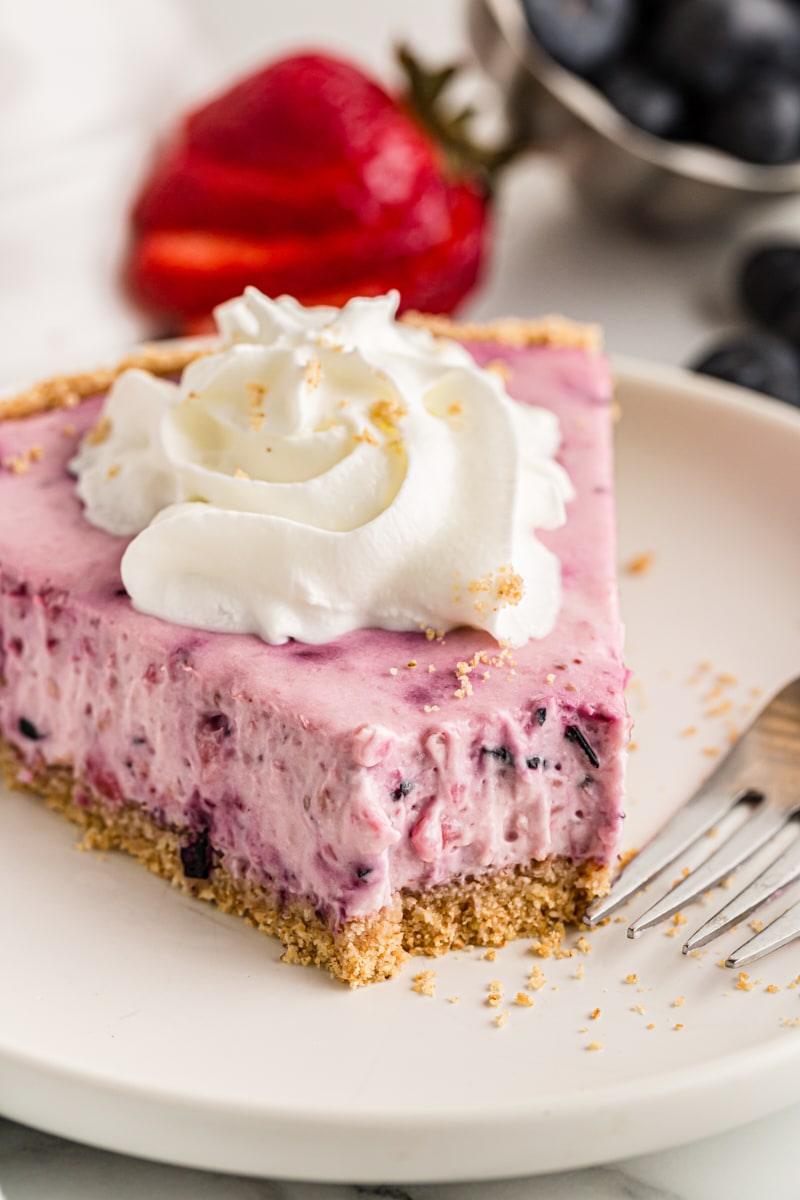 How to Store
This Triple Berry No-Bake Cheesecake can be stored in the refrigerator for 3-4 days. If you want to make it in advance for a party, I recommend making it no more than a day or two ahead of time so it's at peak freshness!
Can This Recipe Be Frozen?
Yes, you can wrap your Triple Berry No-Bake Cheesecake or transfer leftovers to an airtight container and freeze it for up to 3 months. Let it thaw in the refrigerator before serving.
More Berry Desserts
This recipe was originally developed for Go Bold with Butter, where I am a paid contributor.