May 31, 2016
Chocolate Coconut Pecan Sandwich Cookies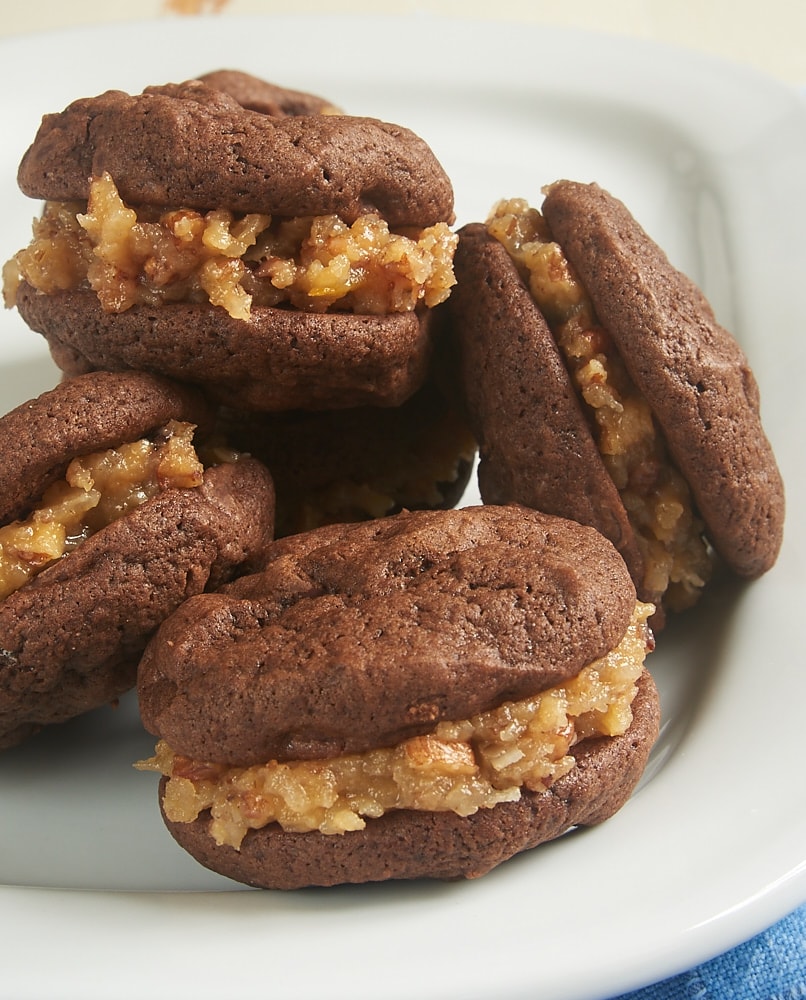 I've always loved German Chocolate Cake. More specifically, I've always loved that coconut pecan frosting that traditionally tops off the cake. It's so wonderfully sweet and nutty. And it's the perfect way to top off a chocolate cake.
So why not use that fantastic frosting to top off chocolate cookies? The thought of combining the two into a big, thick sandwich cookie was just too much to resist!

The cookies I used are one of my favorites. I first made them for those incredible Chocolate Blackout Cookies. And when I decided to make these sandwich cookies, I knew those were the perfect soft, fudgy cookies for the job.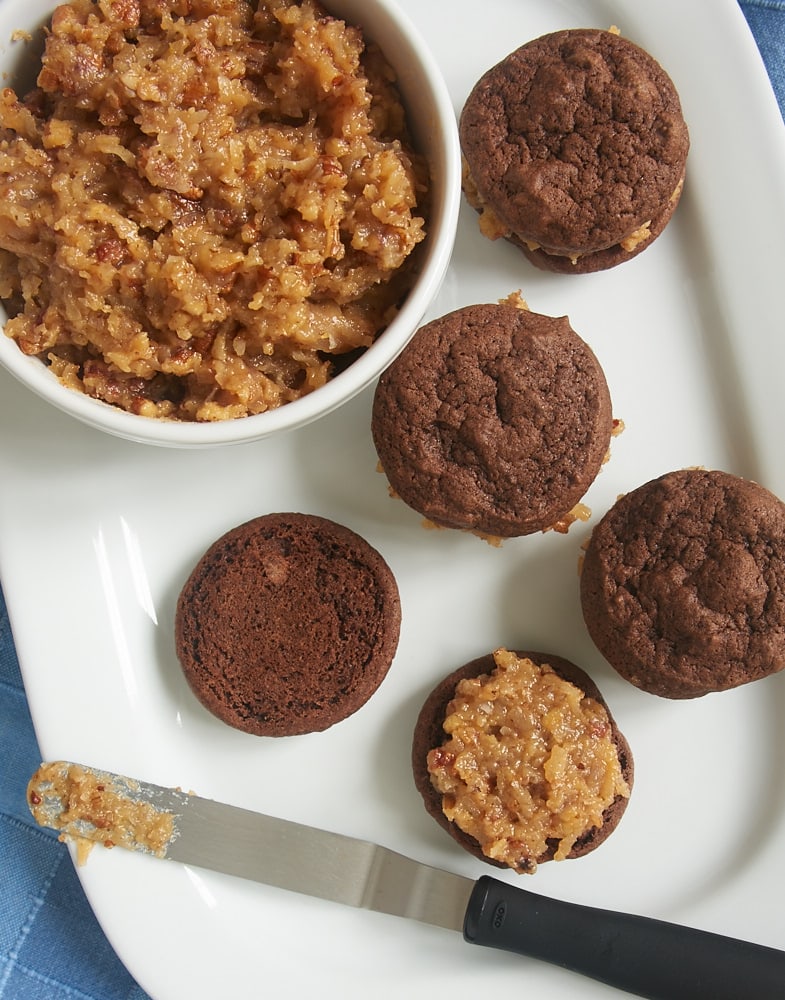 Making the frosting is simple enough. It needs a little stovetop time to make a caramel-like mixture. Once that's ready, just stir in some toasted pecans, coconut, and a bit of vanilla. It will thicken a bit as it cools, making it easy to spread on the cookies.
I was not shy in frosting these cookies. As good as that frosting is, I wanted plenty of it sandwiched between the cookies. This frosting recipe makes enough for you to frost the cookies generously.
There's so much to love about these cookies. The rich, fudgy cookies. The sweet, nutty frosting. And, of course, the whole package is even better than the sum of its parts. If you're a fan of the flavors of traditional German Chocolate Cake, then do yourself a favor and make these as soon as possible!
Find dozens more cookie recipes in the Recipe Index!
Chocolate Coconut Pecan Sandwich Cookies
Yield: 18 sandwich cookies
Prep Time:30 minutes
Cook Time:10 minutes per pan
If you love traditional German Chocolate Cake, these are the cookies for you!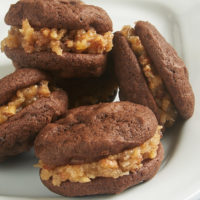 Ingredients:
For the cookies:
1 & 3/4 cups all-purpose flour
1/2 cup unsweetened cocoa powder, sifted
1/2 teaspoon baking soda
1/2 teaspoon salt
1/2 cup unsalted butter, softened
1/2 cup granulated sugar
1/2 cup firmly packed light brown sugar
2 large eggs
1 teaspoon vanilla extract
1/2 cup semisweet chocolate chips
1/2 cup milk chocolate chips
For the frosting:
4 ounces evaporated milk
1/2 cup granulated sugar
1/4 cup unsalted butter
2 large egg yolks, lightly beaten
2/3 cup chopped pecans, toasted and cooled
2/3 cup sweetened shredded coconut
1/2 teaspoon vanilla extract
Directions:
To make the cookies:
Preheat oven to 350°F. Line baking sheets with parchment paper or silicone liners.
Whisk together the flour, cocoa powder, baking soda, and salt. Set aside.
Using an electric mixer on medium speed, beat the butter, sugar, and brown sugar until light and fluffy. Add the eggs, one at a time, mixing well after each addition. Mix in the vanilla.
Reduce mixer speed to low. Gradually add the flour mixture, mixing just until combined. Stir in the chocolate chips.
Drop the dough by tablespoonfuls onto the prepared pans. Bake, one pan at a time, 8 to 10 minutes, or until the cookies are almost set with a soft center. Do not overbake.
Cool the cookies on the pans for 5 minutes. Then transfer the cookies to a wire rack to cool completely.
To make the frosting:
Combine the evaporated milk, sugar, butter, and egg yolks in a heavy saucepan. Cook over medium heat, stirring constantly, until the butter melts and the sugar dissolves.
Continue cooking, stirring constantly, until the mixtures is bubbly, thick like pudding, and turns a light caramel color. This should take 12 to 14 minutes.
Remove the pan from the heat. Stir in the pecans, coconut, and vanilla.
Transfer the frosting to a bowl and let it cool, stirring occasionally, until spreadable.
Spread the frosting on the bottoms of half of the cookies. Top with the other half of the cookies.