September 8, 2014
Favorite Fudgy Brownies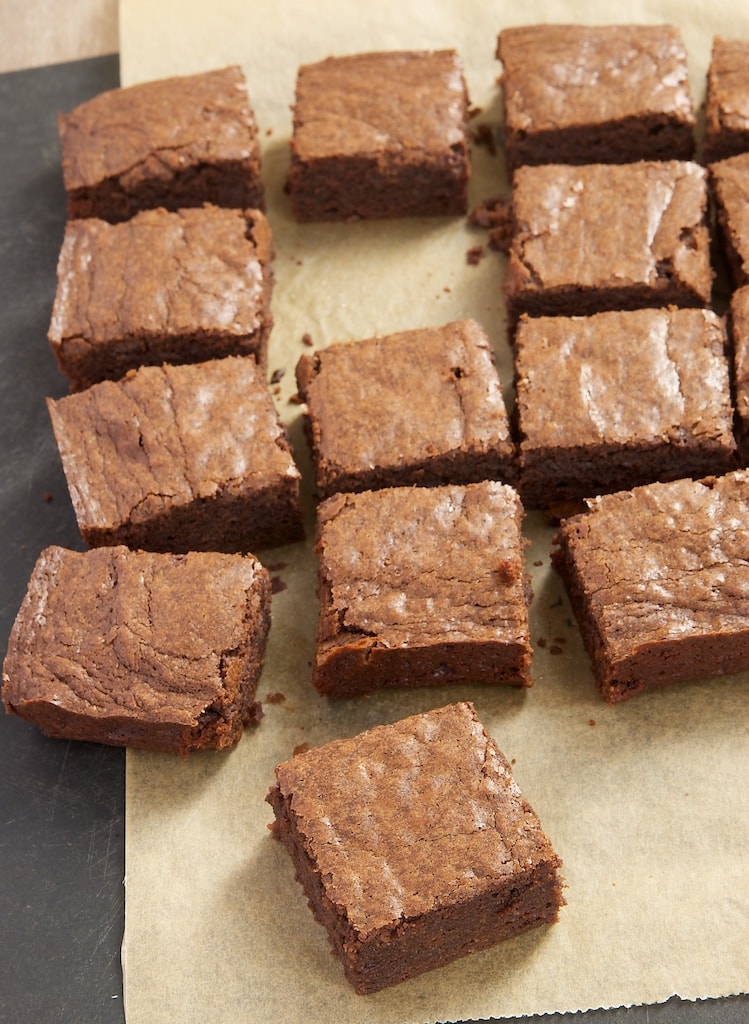 As far as I'm concerned, it's tough to beat a batch of homemade brownies. Sure, I like more elaborate things, too, but there's just something so perfect about a freshly baked brownie.
I've often said that brownies are a great starting point for new bakers. But, they're also a rewarding, delicious thing for more experienced bakers. I couldn't begin to count how many times I've whipped up a quick batch of brownies for friends or even just for a treat to keep all to ourselves.
This particular brownie recipe is my go-to for rich, dark, fudgy brownies. I've adjusted it here and there over the years to get it where it is. So, at least for now, this is just how I like to make a simple batch of brownies.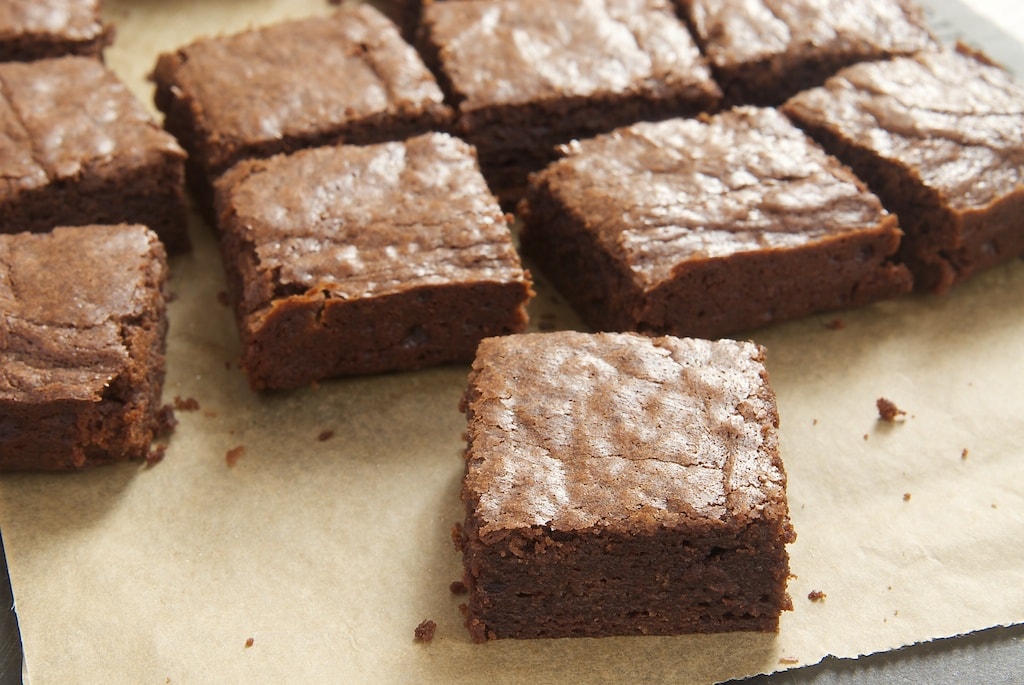 Of course, most of you know I'm going to get on my chocolate soapbox and tell you that you absolutely must use good chocolate for making brownies. With this much flavor focus on chocolate, it's time to break out the good stuff. It doesn't have to be expensive chocolate. Just pick one that you enjoy eating on its own, and it should translate well into brownie form.
I prefer a fudgy brownie most of the time. If you like yours a bit more cake-like, simply add another egg to the batter to alter the texture. You don't have to change another thing to attain cakey brownies.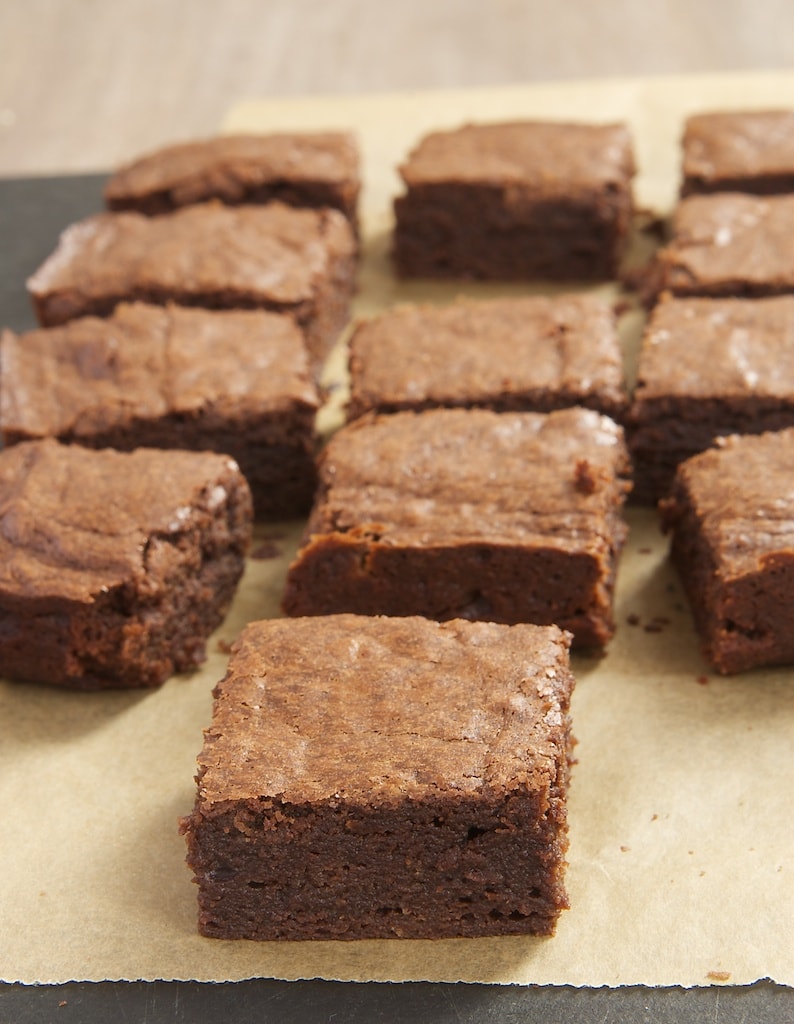 Years ago, I would have told you that I want brownies with some add-ins. I always wanted some nuts or some other ingredient mixed into the batter. These days, though, I'm more of a brownie purist when I have a real brownie craving. For the times I want something different, I simply add a little something extra to the batter.
Nuts or chocolate chips are simple additions that will keep things interesting. Dried cherries work well also. Or how about some toffee bits? If you're a sweet and salty fan, a sprinkling of coarse salt on top of the batter before baking will make you quite happy. However you choose to make them, just make them and enjoy!
Visit the Recipe Index for more brownie recipes!
Favorite Fudgy Brownies
Yield: 16 2-inch brownies
Prep Time:15 minutes
Cook Time:40 minutes
My Favorite Fudgy Brownies are dark, rich, and utterly delicious!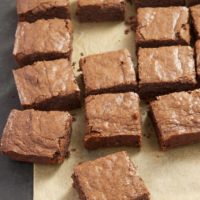 Ingredients:
6 ounces (1 cup) bittersweet chocolate (+/- 70% cacao)
1/2 cup unsalted butter
1/2 cup granulated sugar
1/2 cup packed light brown sugar
2 large eggs
2 teaspoons vanilla extract
1 cup all-purpose flour
1/2 teaspoon salt
Directions:
Preheat oven to 350°F. Line an 8-inch square baking pan with parchment paper so that the paper overhangs by a few inches on two opposite sides.
Place the chocolate and butter in a microwave-safe bowl. Heat in the microwave at half power in 30-second increments until the butter is melted and the chocolate melts when stirred. Stir until smooth. Set aside to cool slightly.
Mix the sugar, brown sugar, eggs, and vanilla until well-blended. Add the chocolate-butter mixture, and mix until smooth.
Add the flour and salt, and mix just until combined.
Transfer the batter to the prepared pan and spread evenly. Bake 35-40 minutes, or until a pick inserted into the center comes out with a few moist crumbs attached. Run a knife along the non-lined sides of the pan. Cool in the pan on a wire rack.
Using the overhanging parchment paper, lift the cooled brownies out of the pan and onto a cutting board. Use a sharp knife to cut into bars.
Notes:
If you like nuts or more chocolate with your brownies, stir 1 cup of chopped nuts or chocolate chips into the mixed batter before transferring it to the pan.
This recipe was originally developed in my continuing collaboration with Go Bold with Butter, where I am a paid contributor.