April 7, 2016
Chocolate-Dipped Hazelnut Shortbread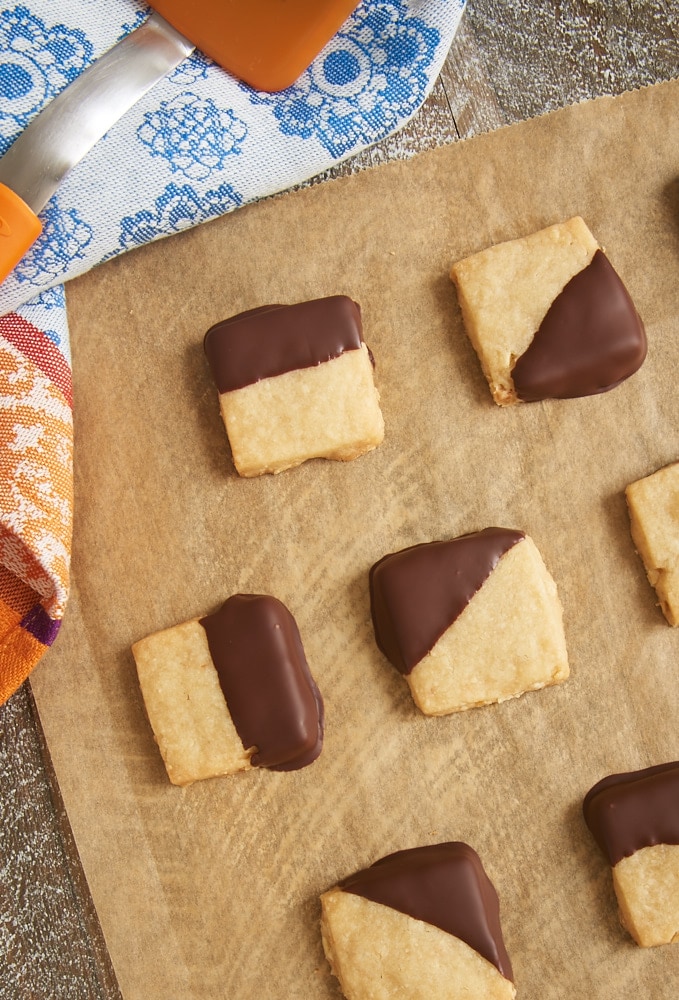 As simple desserts go, shortbread is one of my favorites. It mixes so quickly and easily. Plus, it's usually made with ingredients I already have in my kitchen. That makes them a great choice for when you're craving a homemade sweet treat.
For this shortbread recipe, I took a fairly basic shortbread and added some finely chopped toasted hazelnuts for a bit of flavor and crunch. The unadorned cookies are pretty fantastic all on their own. They're subtly sweet and delicate with an extra hint of saltiness.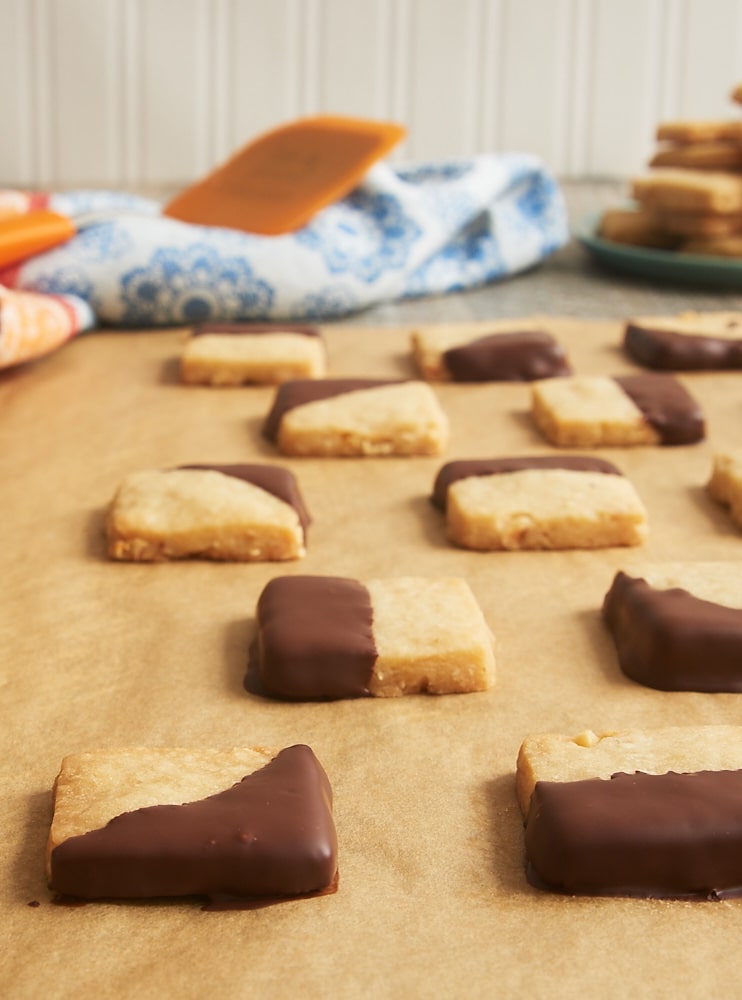 But, of course, chocolate is rarely a bad idea. Just melt a bit of semisweet chocolate, and dip them or drizzle the chocolate on top for a little bolder taste.
Some may argue that traditional shortbread should only be made with cold butter. But these days, it can be made with cold or softened butter. With recipes like this one that use softened butter, be sure not to skip chilling the dough. That little bit of refrigerator time will help you roll out and cut the dough much better. It also helps create that perfect crunchy on the outside, soft on the inside texture.
I find these little cookies so addicting! It's the combination of crispy, soft, nutty, and chocolate-y that I just can't resist. Luckily, they're so simple to make that I can whip up a batch whenever the craving strikes.
Find more cookie recipes in the Recipe Index!
Chocolate-Dipped Hazelnut Shortbread
Yield: about 40 cookies
Prep Time:15 minutes
Cook Time:15 minutes per pan
These quick and easy Chocolate-Dipped Hazelnut Shortbread are so addicting! The nutty, delicate shortbread combine perfectly with a bit of dark chocolate.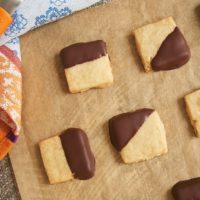 Ingredients:
3/4 cup (12 tablespoons) unsalted butter, softened
1/4 cup granulated sugar
1/4 cup packed light brown sugar
1 teaspoon vanilla extract
1 & 3/4 cups all-purpose flour
1 teaspoon salt*
1/2 cup toasted hazelnuts, finely chopped
4 ounces (2/3 cup) semisweet chocolate
Directions:
Using an electric mixer on medium speed, beat the butter, sugar, and brown sugar until light and fluffy. Mix in the vanilla.
Reduce mixer speed to low. Gradually add the flour and salt, and mix just until combined. Stir in the hazelnuts. The dough will be crumbly but should hold together when pinched.
Gather the dough into a disc and wrap in plastic wrap. Refrigerate for about 30 minutes.
Preheat oven to 350°F. Line baking sheets with parchment paper or silicone liners.
Roll out the dough into a disc about 1/4-inch thick. Use a cookie cutter or a sharp knife to cut out the cookies.** If necessary, gather and re-roll the dough once. Carefully transfer the cut cookies onto the prepared pans.
Bake, one pan at a time, for 12-15 minutes, or until the cookies are lightly browned. Cool on the pans for about 10 minutes. Then, transfer to wire racks to cool completely.
Place the chocolate in a microwave-safe bowl. Heat in the microwave at half power in 30-second increments until the chocolate melts when stirred.
Dip the cookies partially into chocolate or drizzle the chocolate over the cookies. Place the cookies on parchment paper or waxed paper, and allow the chocolate to set completely.
Notes:
*These cookies have a nice bite of saltiness, but feel free to reduce the amount of salt if you like.
**For the shortbread pictured, I used a 1 & 1/2-inch square biscuit cutter to make about 40 cookies. Cut them into any shape you like – squares, triangles, bars, etc.
This recipe was originally developed for Go Bold with Butter, where I am a paid contributor. This post contains affiliate links.