This chocolate sour cream Bundt cake is a chocolate lover's dream! Rich, moist, and supremely decadent, this is a recipe you'll make again and again.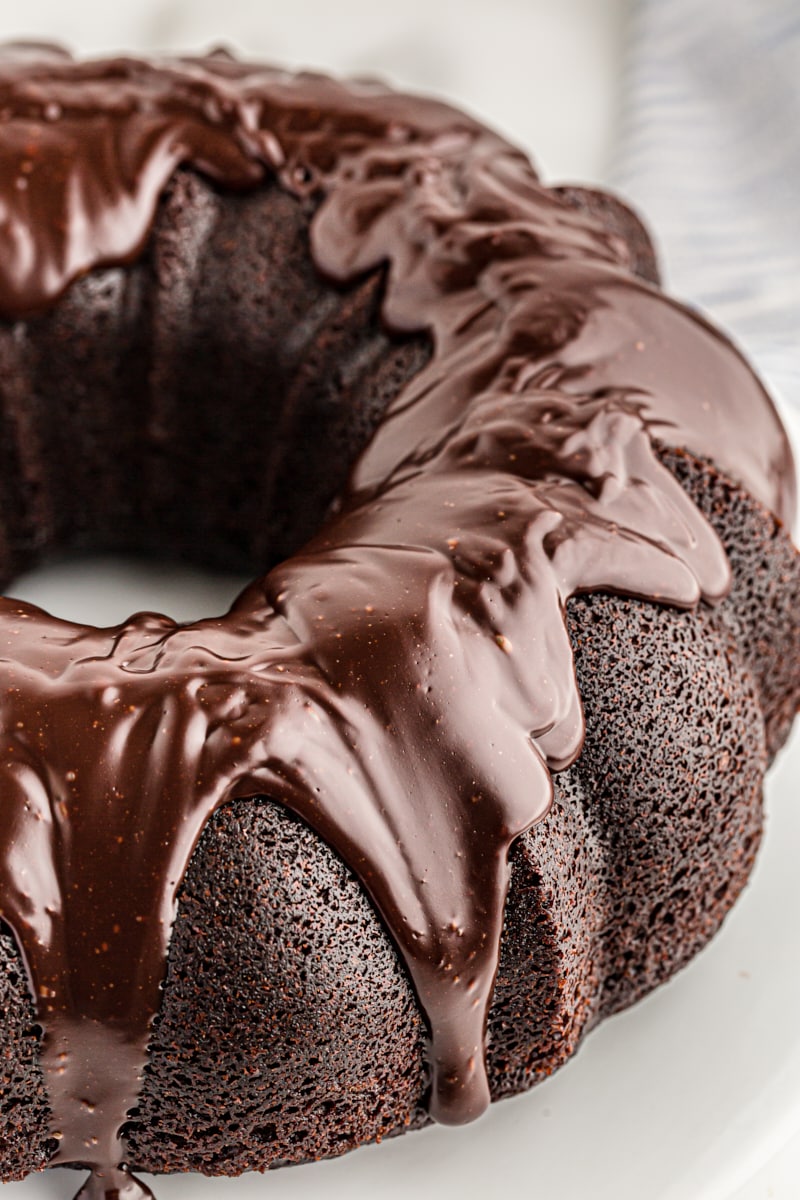 Moist, Decadent Chocolate Bundt Cake
In the early days of BoB, the vast majority of recipes I shared were ones I found in cookbooks, magazines, online, and from friends and family. Gradually, though, I became a recipe tinkerer. Those of you who bake frequently will know how you start to recognize things you want to change. Swapping out brown sugar for granulated sugar, adding a bit of spice, changing the flavor profile.
These days it's very rare for me to make a recipe exactly as it's written. It seems I just can't resist! But every once in a while, I find a recipe that's so amazingly perfect that I simply don't have the heart to alter it.
This chocolate sour cream Bundt cake is one of those recipes.
After reading about how wonderfully moist it is and how absolutely delicious it is, I knew I had to try it. Oh, my. Every good thing I read about it is absolutely true. It's rich and moist and soft and really just a pleasure to eat.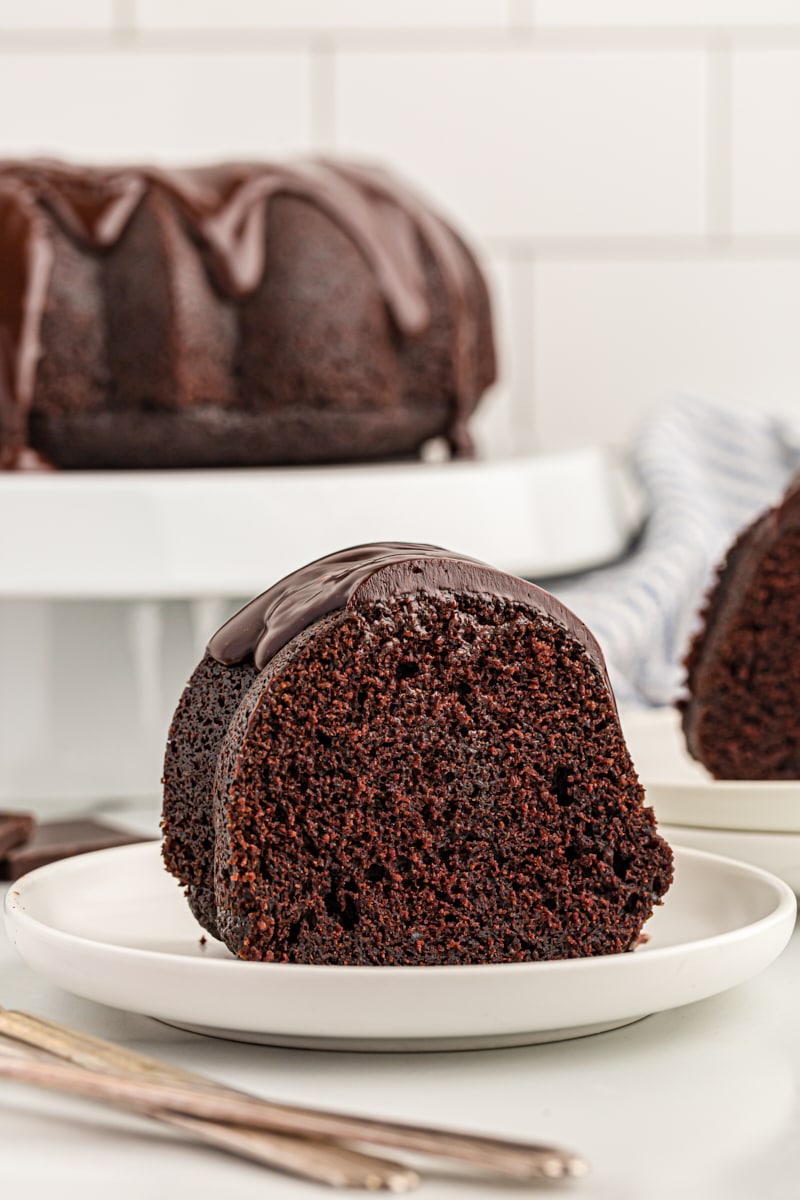 Why You'll Love This Chocolate Sour Cream Bundt Cake
Here's why this recipe ranks as one of my favorite chocolate Bundt cakes:
What You'll Need
Scroll down to the recipe card to find the ingredient quantities and recipe instructions.
For the Cake:
For the Glaze:
What Is the Difference Between Light Corn Syrup and Dark?
Dark corn syrup has added molasses, which gives it a richer, deeper flavor; in some recipes, that's a good thing, but in this chocolate sour cream Bundt cake, it would be a distraction. Light corn syrup is clear, a little less sweet, and has a mild vanilla flavor.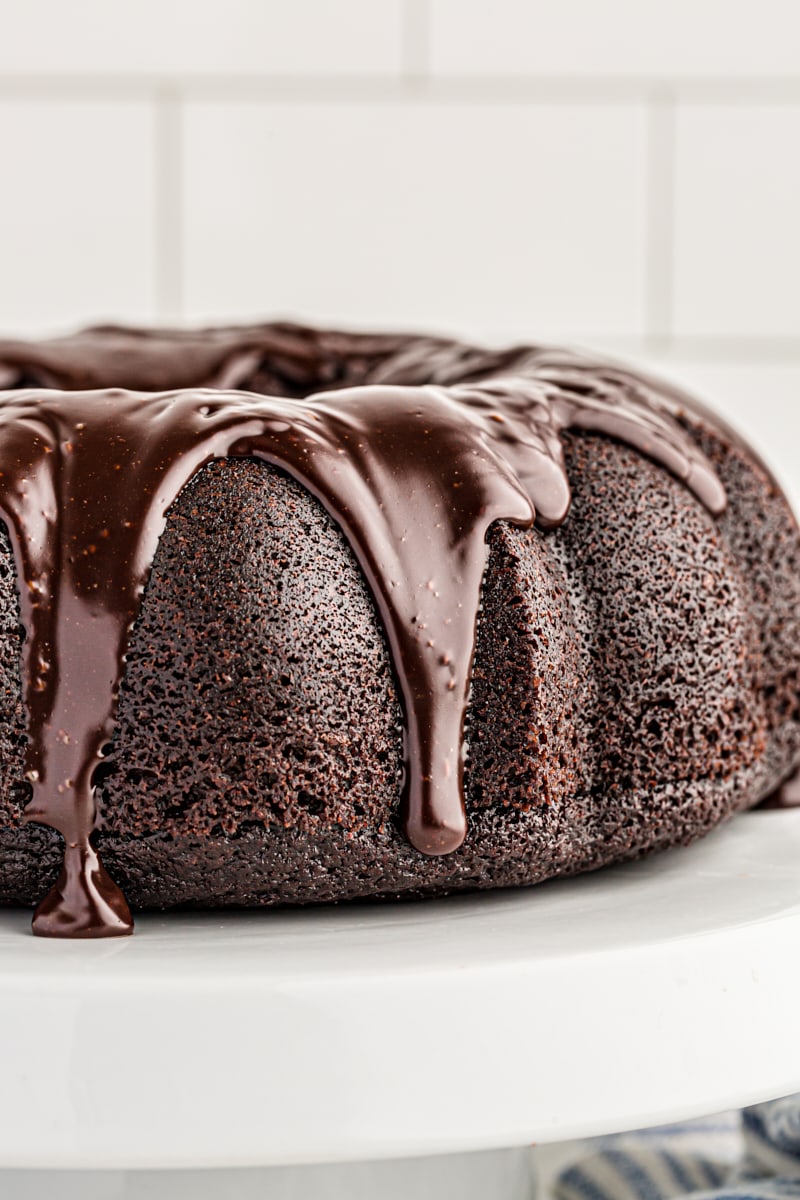 How to Make Chocolate Sour Cream Bundt Cake
This chocolate Bundt cake recipe is so easy, it's practically effortless. Here's what you'll need to do.
Prepare. Preheat your oven to 350°F and generously grease or butter and flour a 10- or 12-cup Bundt pan.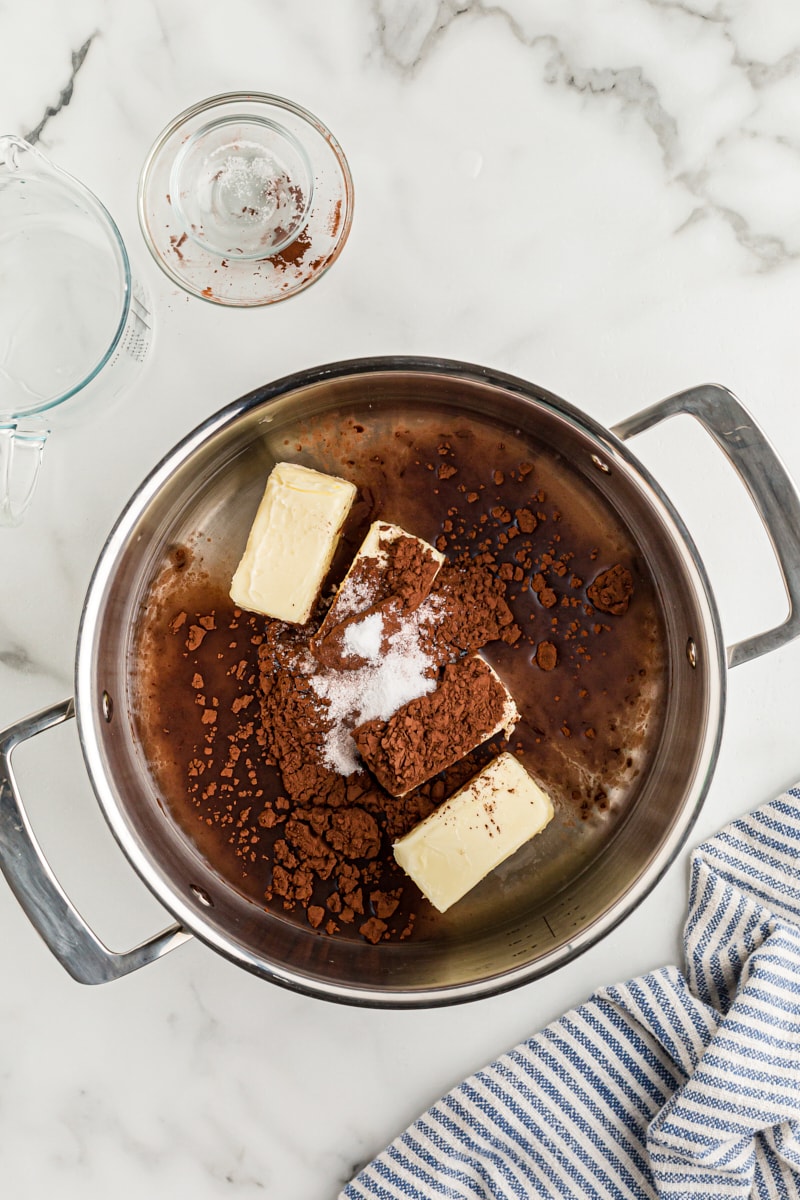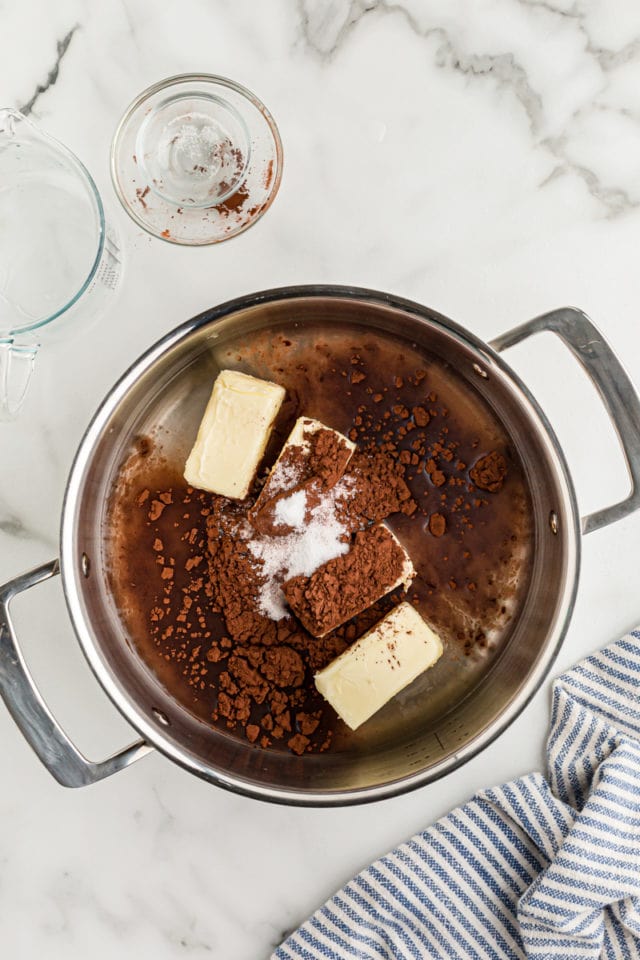 Heat the first four ingredients. Combine the butter, water, cocoa powder, and salt in a small saucepan and cook over medium heat, until the butter has melted and the mixture is combined, stirring frequently.
Mix the dry ingredients. Whisk the flour, sugar, and baking soda in a large mixing bowl.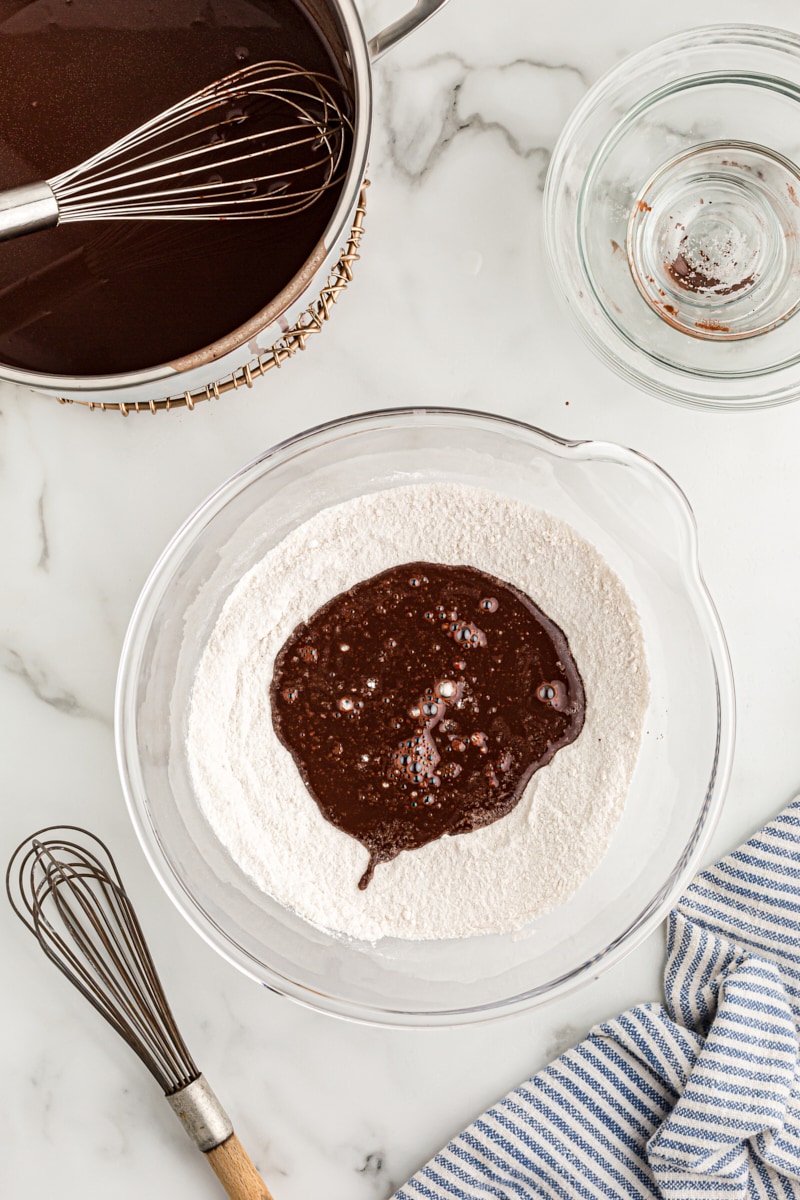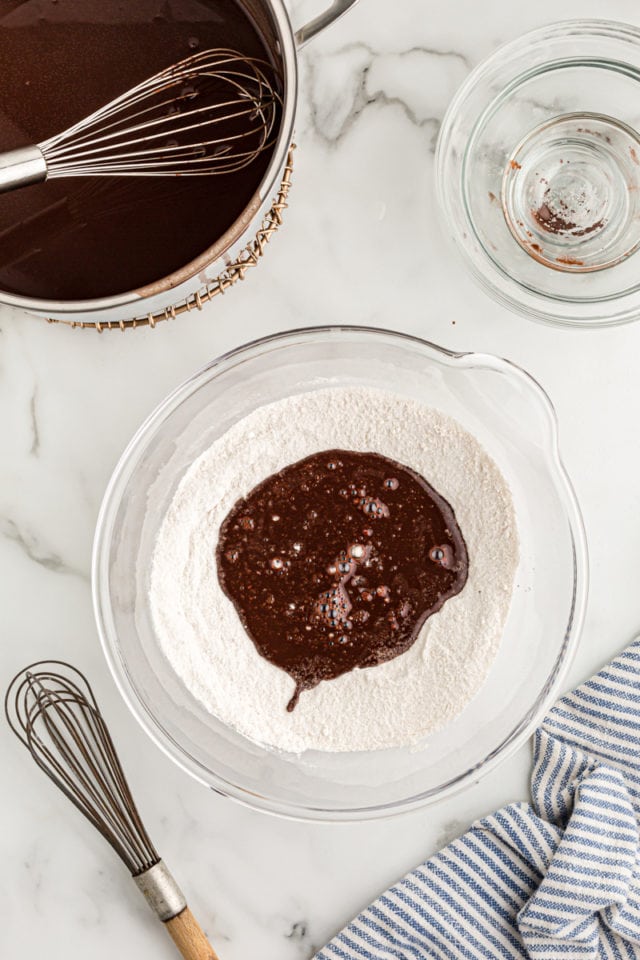 Finish the batter. Add half of the butter mixture to the bowl with the dry ingredients and whisk to combine. Pour in the remaining butter mixture and whisk again, then whisk in the eggs one at a time, followed by the sour cream and vanilla.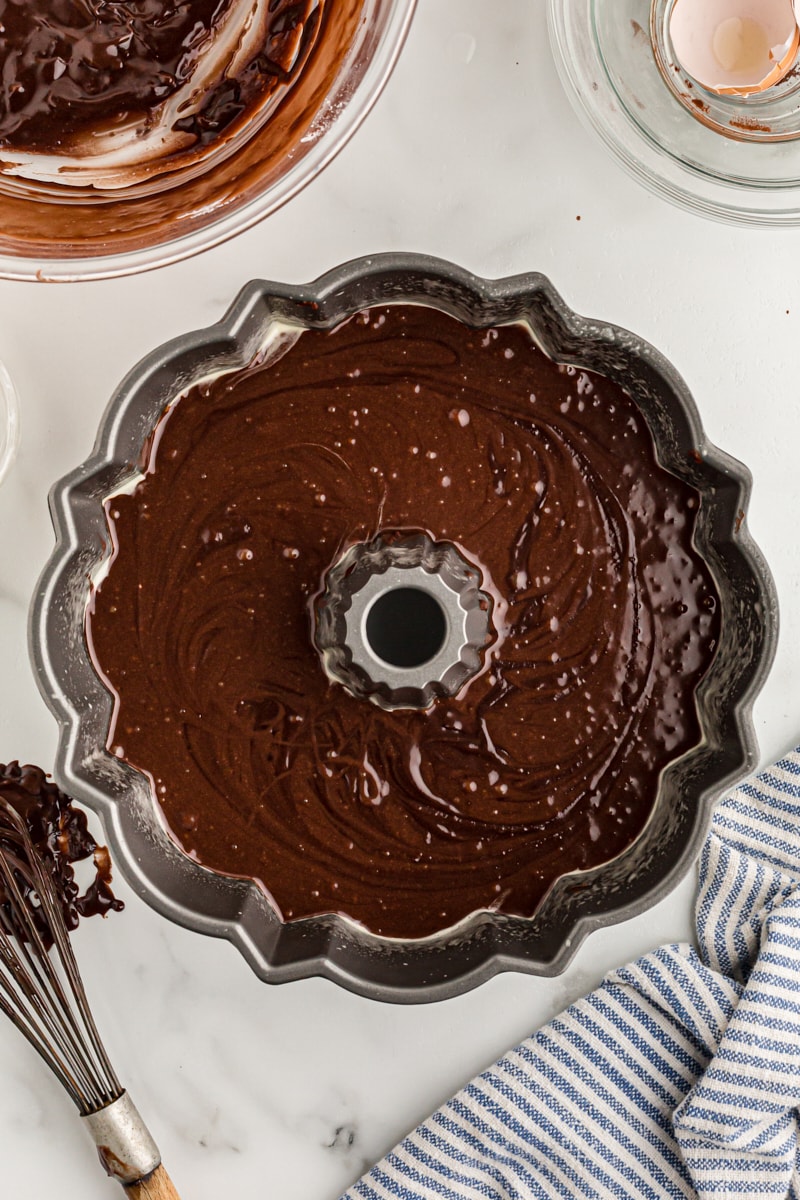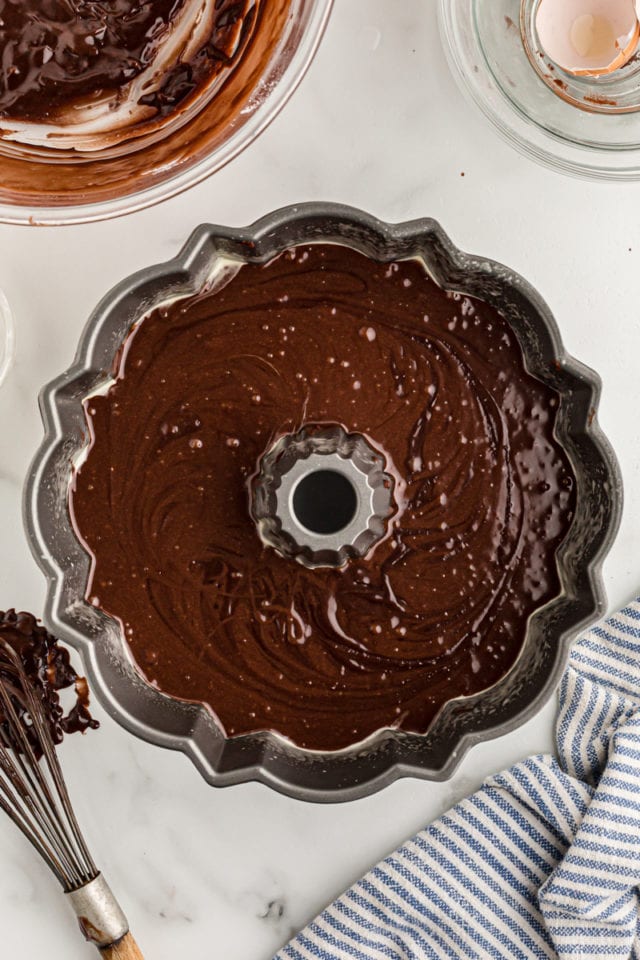 Bake. Pour the batter into the Bundt pan and spread it evenly. Bake for 40 to 45 minutes, or until a toothpick instead into the center comes out clean.
Cool. Let the cake cool in the pan for 15 minutes, then invert the cake onto a wire rack and let it finish cooling before adding the glaze.
Glaze and Finish: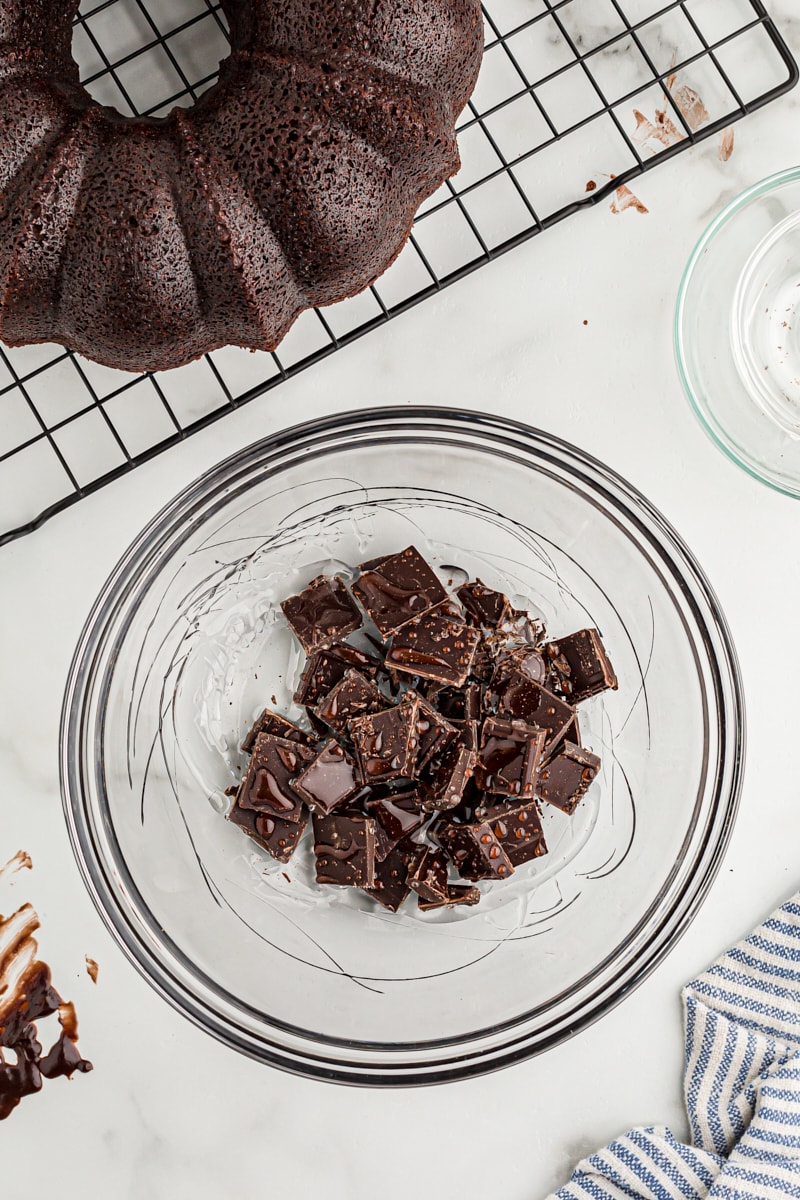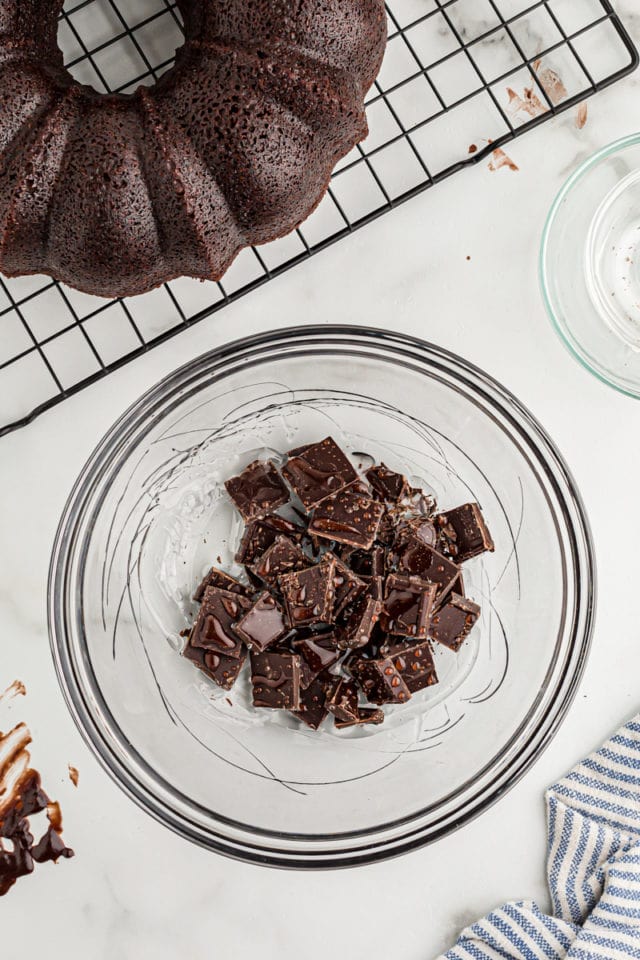 Combine. Add the chocolate and corn syrup to a medium bowl.
Warm the cream and sugar. Place the cream and sugar in a small saucepan set over medium heat, stirring occasionally. Heat until the sugar dissolves and the cream begins to bubble around the edges.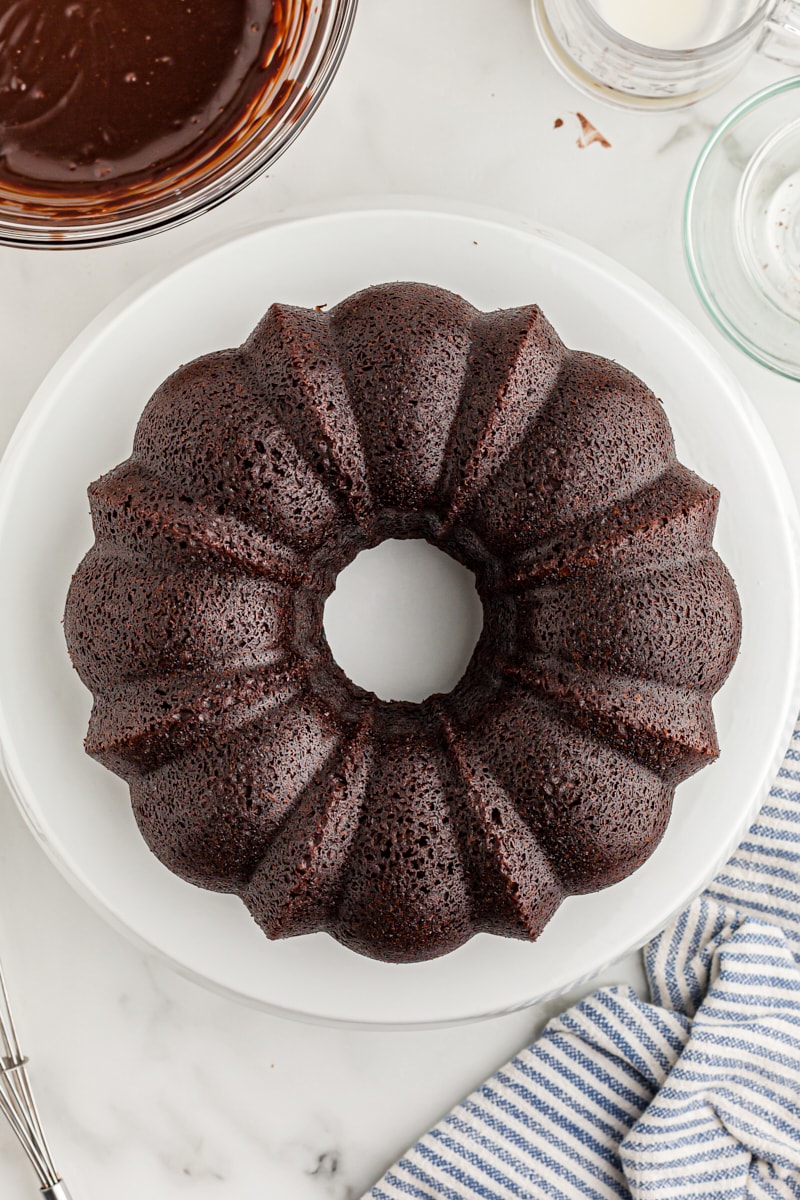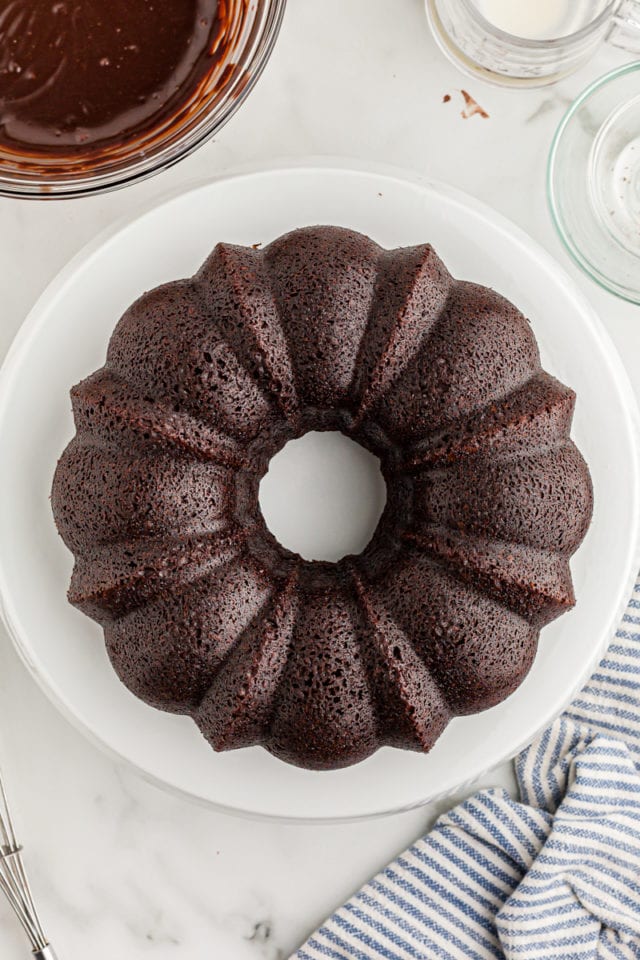 Glaze the cake. Pour the cream mixture over the chocolate mixture. Let this sit for 5 minutes, then whisk until it's smooth. Drizzle the glaze over the cooled cake.
Tips for Success
Read over my baking tips for beginners, then follow these additional tips for a perfect chocolate sour cream Bundt cake.
Measure accurately. Use a kitchen scale if possible. Otherwise, use the spoon and sweep method for the flour, and take care to measure all ingredients accurately.
Thoroughly grease the pan. There are lots of nooks and crannies in a Bundt pan, so you want to make sure you get them all. I prefer to use a baking spray with flour, like Baker's Joy or Pam for Baking.
Use good quality chocolate. Chocolate is the star here, so be sure to use the good stuff.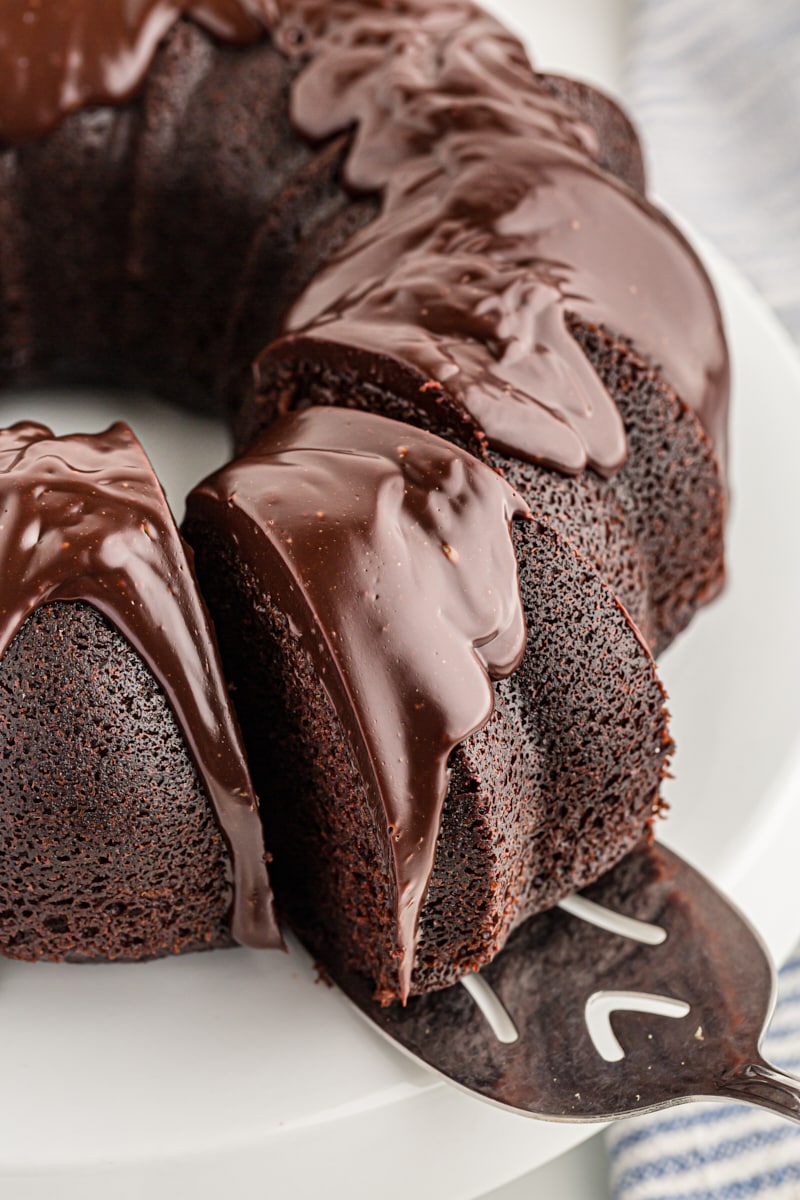 Variations
Instead of vanilla, you can use 2 or 3 tablespoons of coffee-flavored liqueur, which will add depth and a little extra richness. If you'd like, you can switch out the glaze for something different—try the vanilla bean glaze from my chocolate pound cake or the caramel glaze from my caramel Bundt cake.
Serving Suggestions
Serve chocolate sour cream Bundt cake with a dollop of sweetened whipped cream or a scoop of vanilla ice cream. Fresh strawberries or raspberries make a lovely (and delicious!) garnish, too.
How to Store
Wrap the cake in plastic wrap or store leftovers in an airtight container. Refrigerate your chocolate sour cream Bundt cake for 4 to 5 days. I recommend setting it out at room temperature for a bit before serving.
Can This Recipe Be Frozen?
You can freeze this chocolate sour cream Bundt cake for up to 2 months. Wrap it well or transfer it to an airtight container; let it thaw in the refrigerator before serving.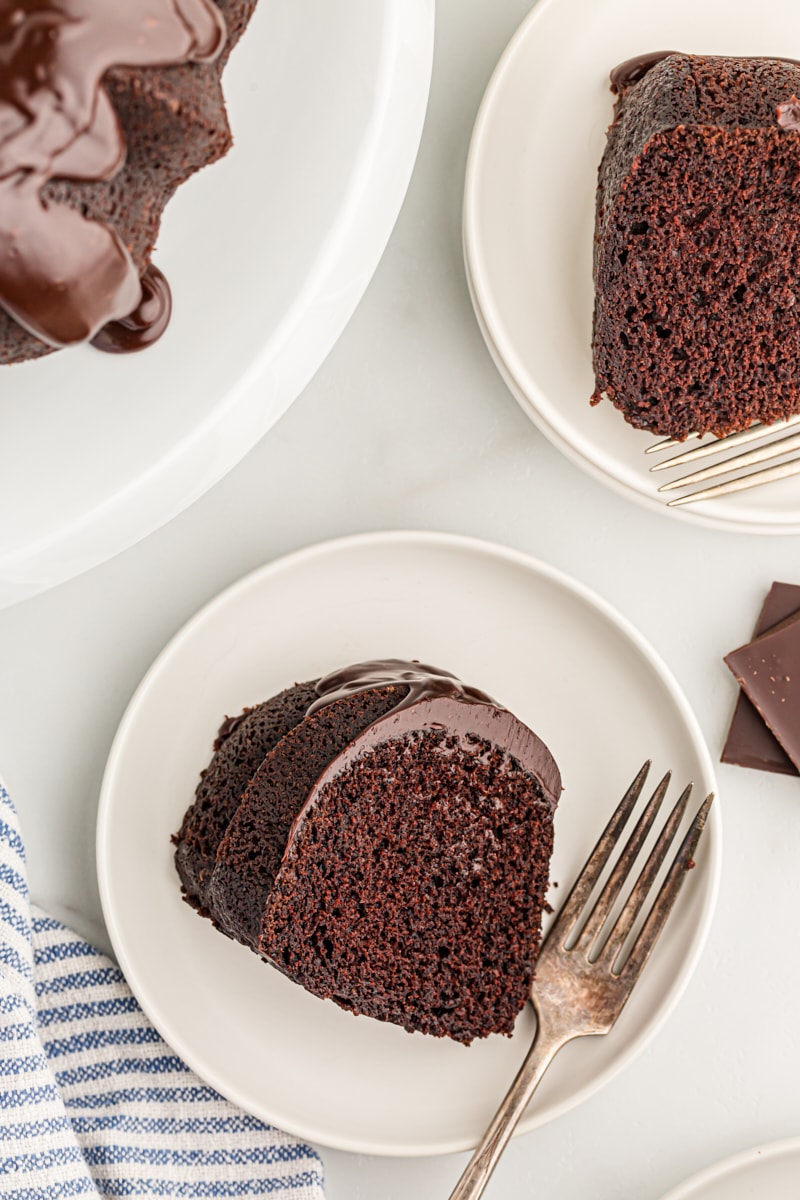 More Chocolate Cake Recipes