A while back, I got an email from a BoB reader asking for an oatmeal skillet cookie recipe. Oddly enough, I had been thinking about that very thing and even had it on my to-bake-soon list. That list is mighty long, though, and it took me a while to get around to baking them.
On a weekend when Quinn and I found ourselves with some free time and with no dessert at home, I decided it was high time to make these skillet cookies happen!
I opted to make these in my mini skillets. I will take most any excuse to put them to use. Anything mini is automatically even better, right?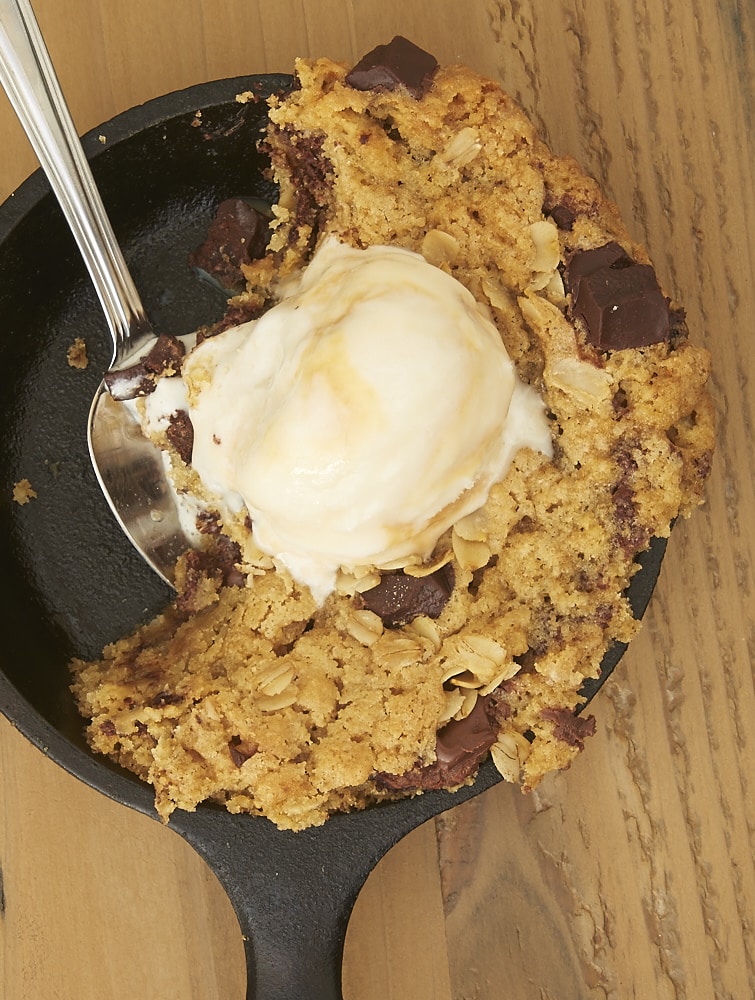 I'm sure I could have just made a simple oatmeal cookie dough, baked it in these wee skillets, and called it a day. But I couldn't resist making these an all-out indulgence. Hidden inside that oatmeal cookie is a dollop or two of Nutella to give them a burst of chocolate and hazelnut flavor.
There's also a nice sprinkling of chocolate chunks on top for even more chocolate. And since we are big sweet and salty fans, I sprinkled a bit of coarse salt on top as well.
These fellas are definitely spoon desserts, especially if you take them even further into dessert nirvana like we did with a scoop of ice cream. They're deliciously gooey and messy. Just the kind of dessert you'll want to share with someone who won't mind watching you make a mess as you dig in and enjoy every. single. bite.
Find more cookie recipes in the Recipe Index.
We are a participant in the Amazon Services LLC Associates Program, an affiliate advertising program designed to provide a means for us to earn fees by linking to Amazon.com and affiliated sites.