These simple Raspberry Bars are sweet and tart, with a little salty bite and a rich, buttery crust.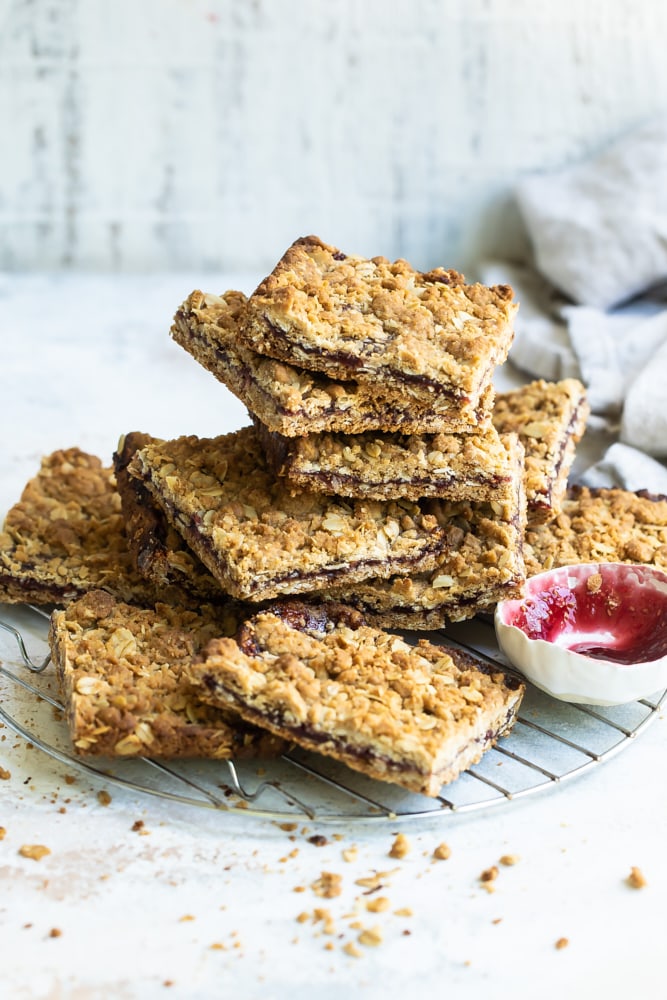 Easy Oatmeal Raspberry Bars
Oatmeal raspberry bars are a staple of bake sales and cookie trays, and for good reason—they're the perfect balance of sweet and tart, light and buttery, crispy and chewy. While you can use any type of preserves you like to make these kinds of bars, there's something special about raspberry!
These bars begin with a simple shortbread crust made with basic baking ingredients. You'll notice a little more salt than you might expect here, but that salty bite is a wonderful contrast to the sweetness of the raspberry preserves.
Some of the crust mixture is reserved for the topping, too, which means you get that sweet, buttery crust enveloping the chewy, jammy middle. It also makes this recipe easier because you don't have to get out another bowl to make a separate topping!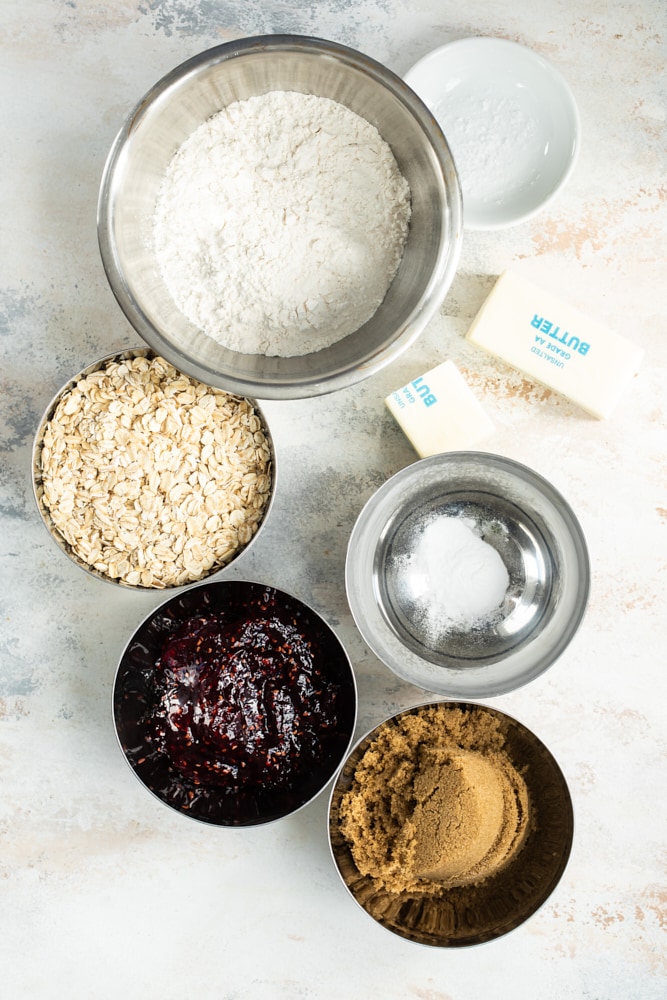 What You'll Need
You probably have most of these ingredients on hand already, if not all of them!
All-purpose flour – Learn more: How to Measure Flour
Salt
Baking soda
Quick-cooking oats
Unsalted butter – Let the butter soften before mixing. Make sure you don't use salted, since there's already a generous amount of salt in the crust.
Light or dark brown sugar – Dark brown sugar has a deeper, more molasses-y flavor.
Raspberry preserves – Strawberry, blueberry, or another variety of preserves can be substituted, of course, but I prefer raspberry.
Quick Oats vs. Old-Fashioned Oats
Quick oats are smaller and make for a smoother texture, but regular rolled or old-fashioned oats will work, too. Just be sure to substitute by volume, as regular oats don't weigh the same. (You'd need about 148g of regular oats.) Don't substitute steel-cut oats, as these aren't suitable for the crust in this recipe. If you'd like to learn more, read Rolled Oats vs Quick Oats.
How to Make Raspberry Bars
The hardest thing about this recipe is waiting for it to cool before you have a taste!
Prepare. Preheat your oven to 400°F and grease a 9″x 13″ pan or line the pan with parchment paper, then grease the paper.
Mix the dry ingredients. Whisk the flour, salt, and baking soda in a mixing bowl, then stir in the oats.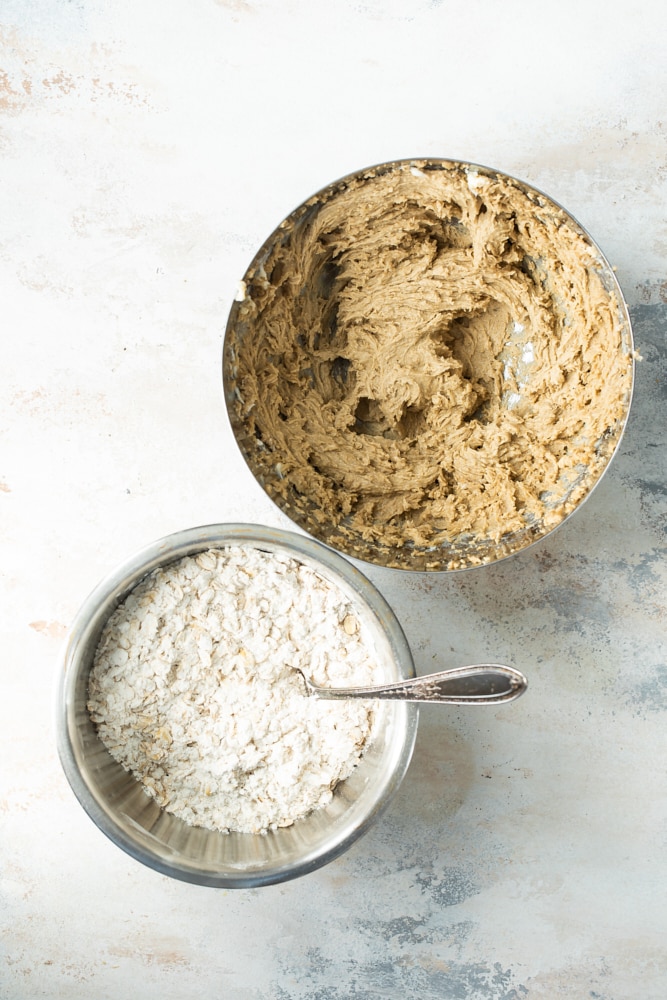 Cream the butter and sugar. Use an electric mixer on medium speed to beat the butter and brown sugar in a separate bowl until they're light and fluffy.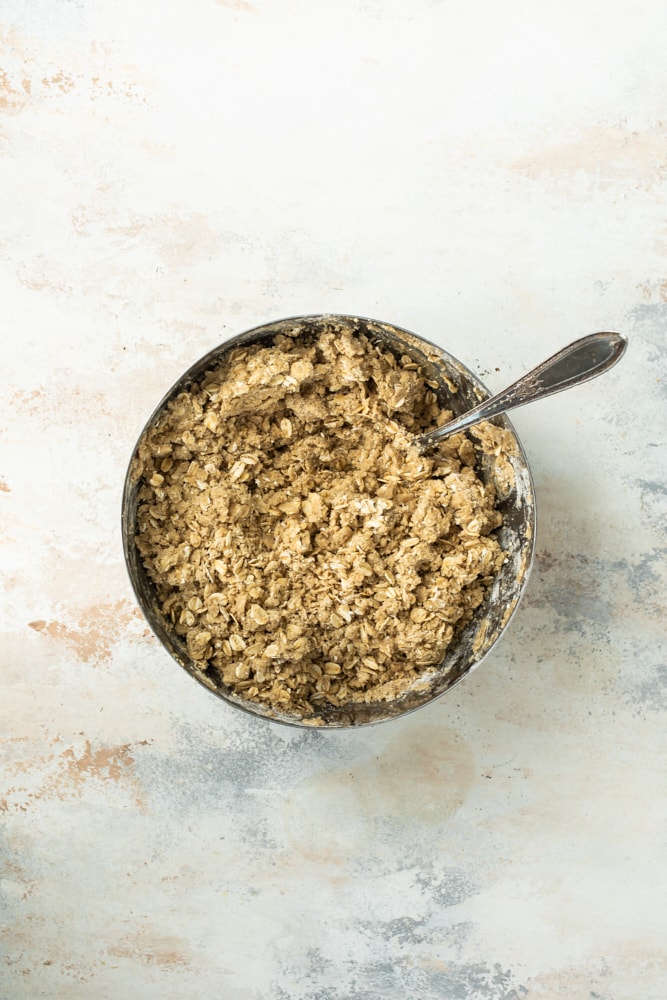 Finish the crust mixture. Reduce the mixer speed to low, then gradually add the dry mixture to the butter and sugar, mixing just until combined. The dough will be crumbly but should hold together when pinched.
Assemble. Press half of the crust mixture into the prepared pan, then spread the raspberry preserves on top. Sprinkle the remaining crust mixture over the preserves, like a crumble topping.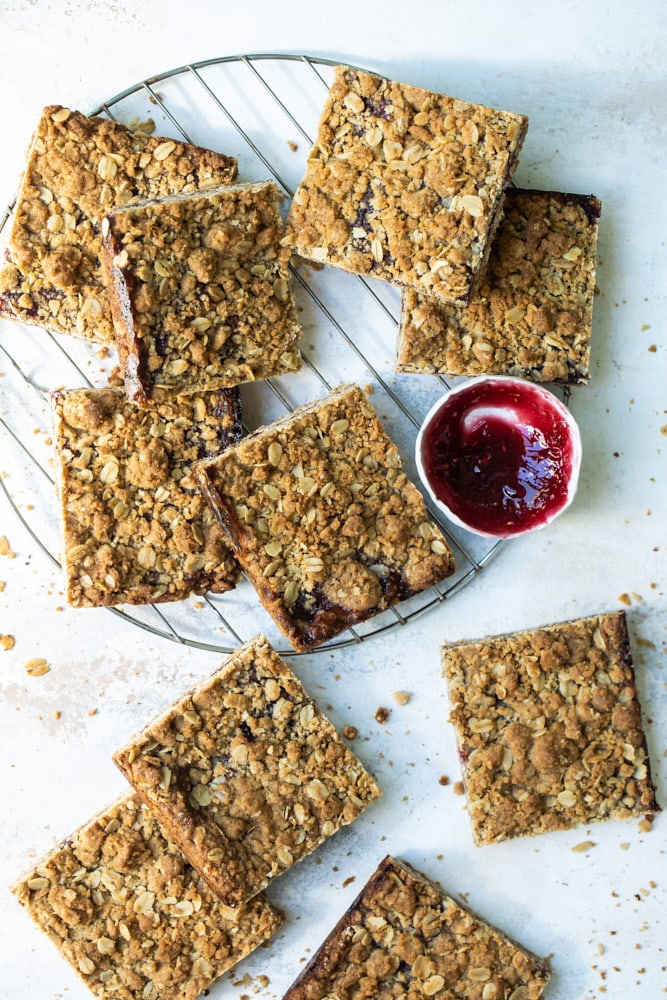 Bake and cool. Bake the bars for 18 to 20 minutes, or until they're golden brown and the filling is bubbly. Cool on a wire rack, then cut and serve.
Tips for Success
Here are my best tips for perfect raspberry bars.
Measure accurately. Use a kitchen scale to measure by weight if possible. Otherwise, spoon and sweep the dry ingredients and firmly pack the brown sugar to be as accurate as possible.
Adjust the salt if you want. The saltiness of the crust and topping go well with the sweet preserves, but you can dial it back if you aren't a sweet and salty fan.
Be diligent in mixing. Shortbread doughs can be a bit tricky. You should end up with a sandy dough that will hold together when it's pinched.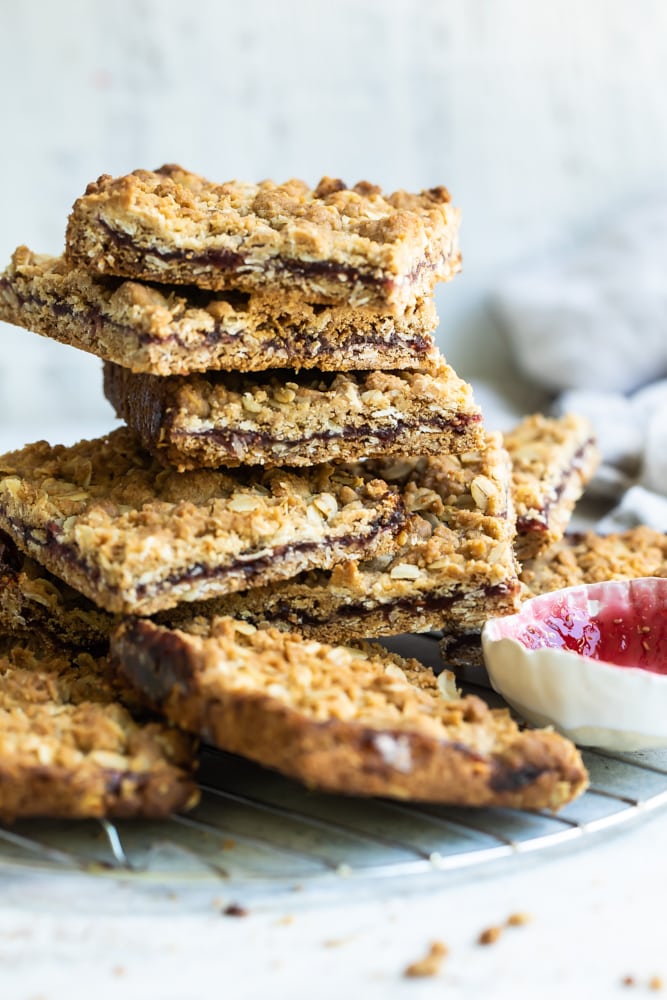 How to Store
Raspberry bars can be stored in an airtight container at room temperature for up to 5 days.
Can I Freeze This Recipe?
Yes, you can freeze raspberry bars in an airtight container or freezer bag for up to 3 months. Let them thaw at room temperature before serving.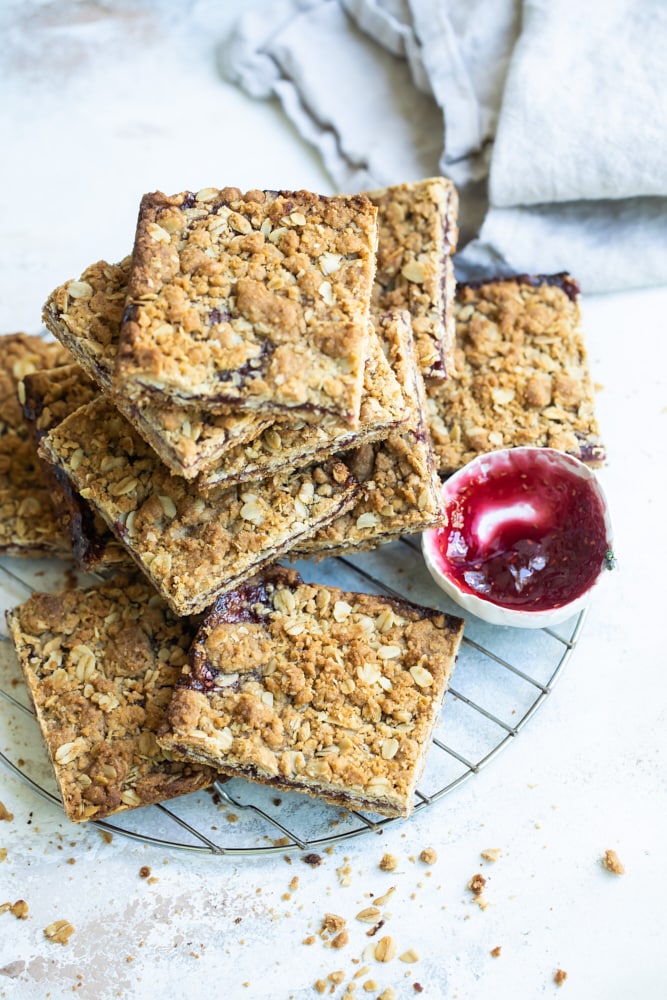 More Fruit Bar Recipes