Your favorite berries are the star of this oh-so easy Berry Pudding Cake. Make the most of berry season with this no-fuss dessert!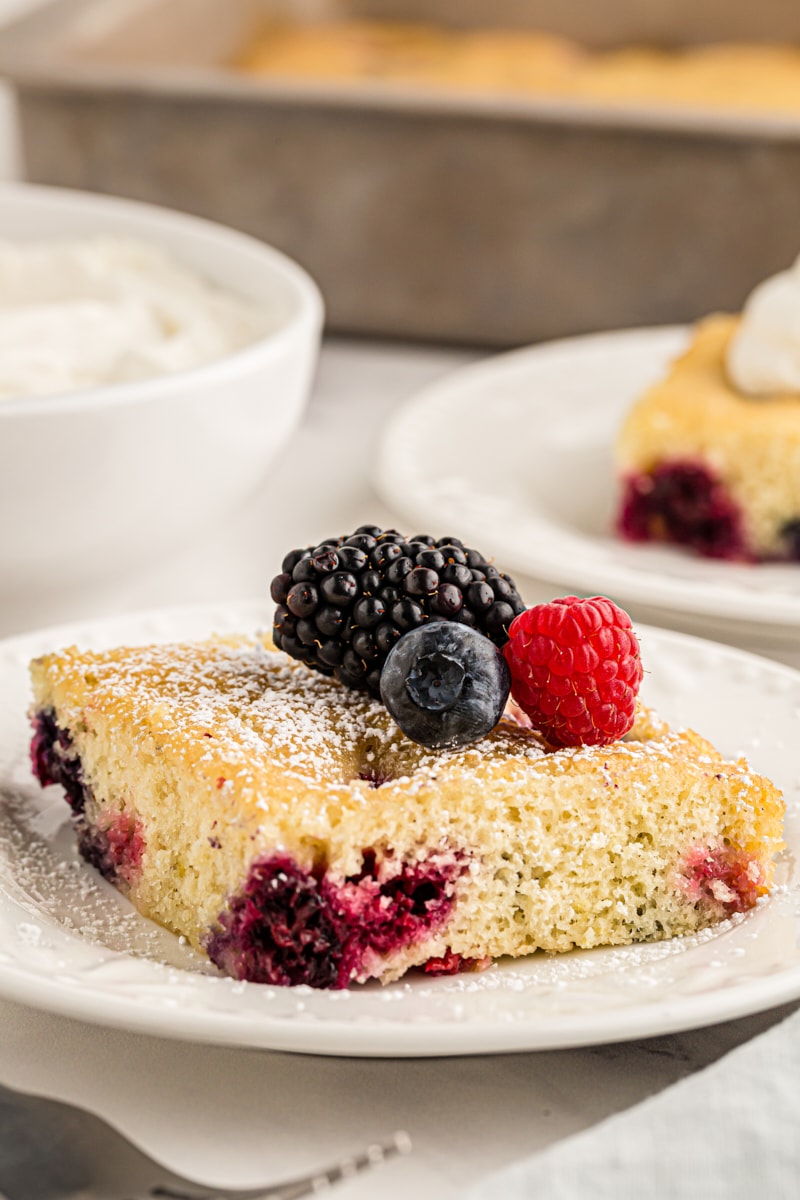 No-Fuss Pudding Cake with Mixed Berries
Fresh berries and longer days are just about the only things I like about summer, so I try to make the most of both. And this cake is a great example of making the most of berry season.
It's made with a combination of berries that can change along with the season. I usually go a little heavy on the blueberries because they're my favorite, but you can use any combination and ratio you like.
As you may know (and love!), pudding cakes create a soft, gooey layer topped with a simple cake. But all of that bakes all at once in the pan. Making that bottom layer all about the berries is a fresh, delicious twist on that idea, resulting in an irresistible cobbler-like dessert.
Serve this berry pudding cake for a casual summer gathering, a backyard barbecue, or a sweet weekday treat. It's just the kind of recipe you can whip up in short order when you want a great dessert without a lot of fuss.
If you love pudding cakes, try Brownie Chocolate Pudding Cake, Vanilla Pudding Cake, and Cinnamon Pudding Cake next!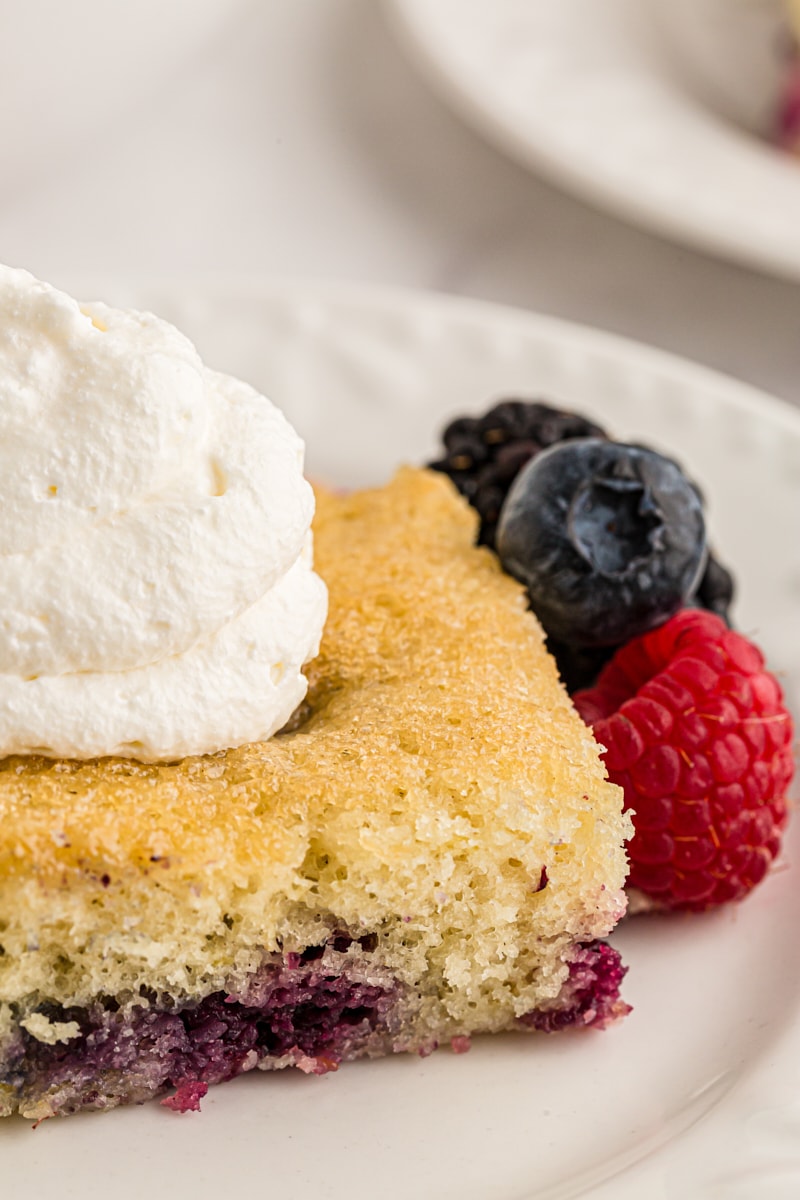 Why You'll Love This Berry Pudding Cake Recipe
There's a lot to love about this cake. Here are a few of the reasons it's a favorite:
Easy to make. One of the best things about this cake is how simple it is to make. You don't even need to get out your mixer for this one. You just need a bowl, a whisk, and a spoon to whip up the cake batter.
Adaptable. This cake can easily change as the summer fruit season progresses. You can use most any berries or stone fruits that are in season. The simple cake portion will complement most any summer fruit you chose.
Simply delicious. The flavor is focused on all those sweet berries without a lot of other flavors to detract from them. That makes this dessert a wonderful way to celebrate summer flavor!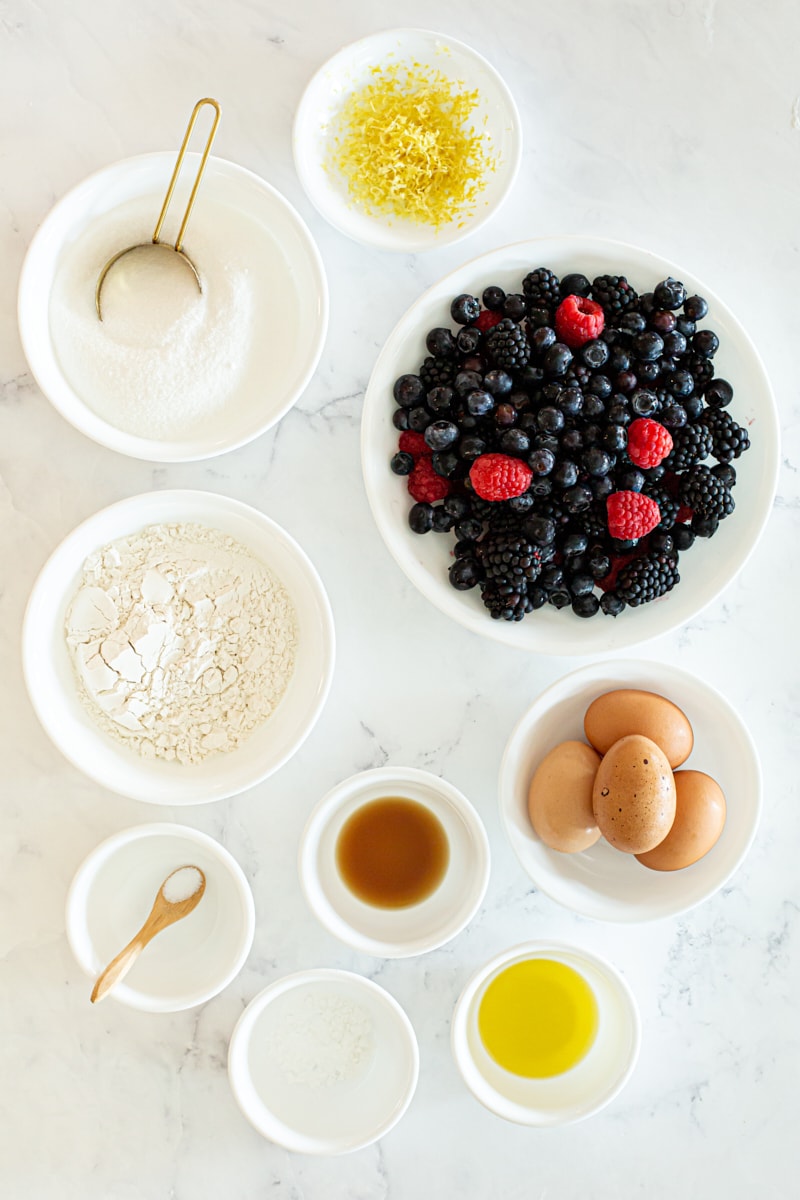 Notes on Ingredients
Let's talk about what you'll need to make this berry pudding cake. For ingredient quantities and full instructions, scroll to the recipe card at the bottom of the post.
Berries – Use any combination of berries you like, keeping the total volume the same.
Granulated sugar – You'll toss some of the sugar with the berries and use the rest in the cake batter.
All-purpose flour – Measure by weight or use the spoon and sweep method. Learn more: How to Measure Flour
Baking powder
Salt
Eggs – I recommend baking with large eggs.
Olive oil – There's not a lot of olive oil here, so its distinctive flavor isn't likely to be pronounced. However, you may prefer to use an olive oil that's labeled as mild.
Lemon zest – This adds a little bright flavor to the cake. Learn more: How to Zest a Lemon
Vanilla extract
Can I Use Frozen Berries?
Yes, you can use frozen berries, although I recommend using fresh berries if possible. Keep in mind that frozen fruits have more moisture, so the texture of your cake may be affected. Learn more: Fresh vs Frozen Fruits in Baking
How to Make Berry Pudding Cake
This berry cake is a cinch to make. No mixer required! Here's what you'll need to do:
Prepare for baking. Heat the oven to 350°F.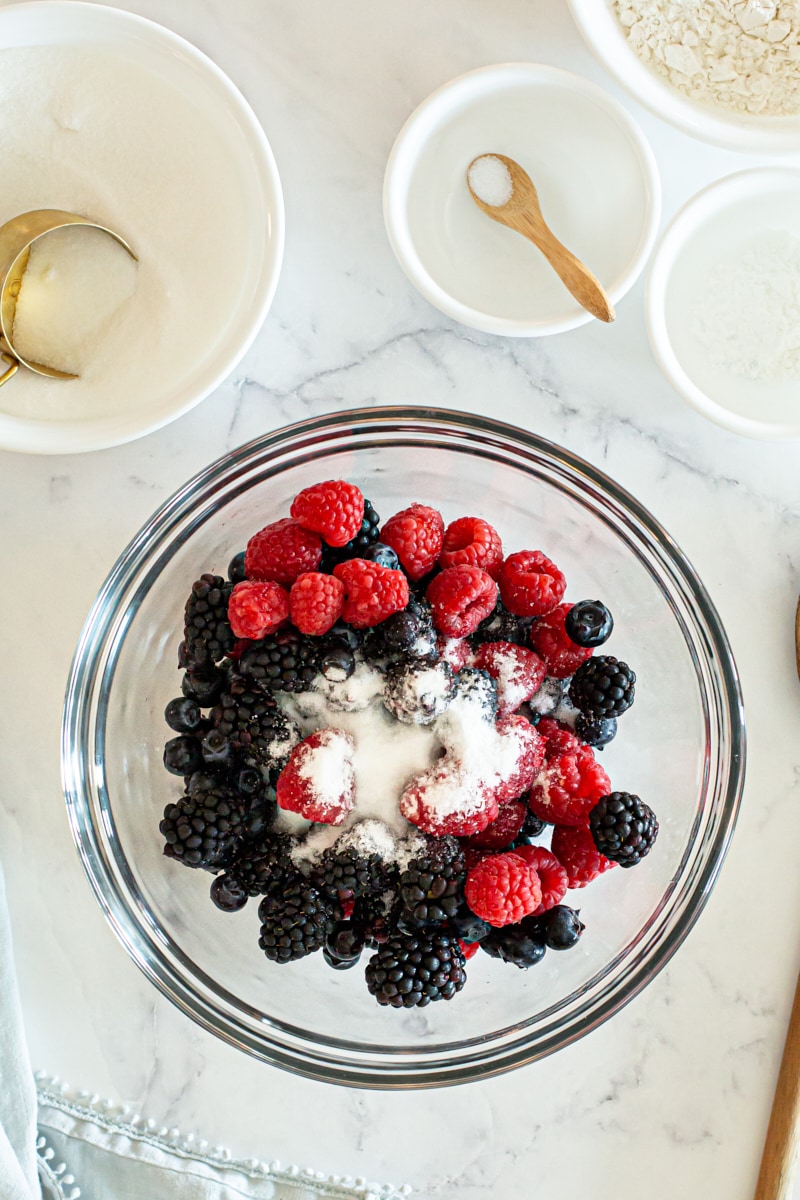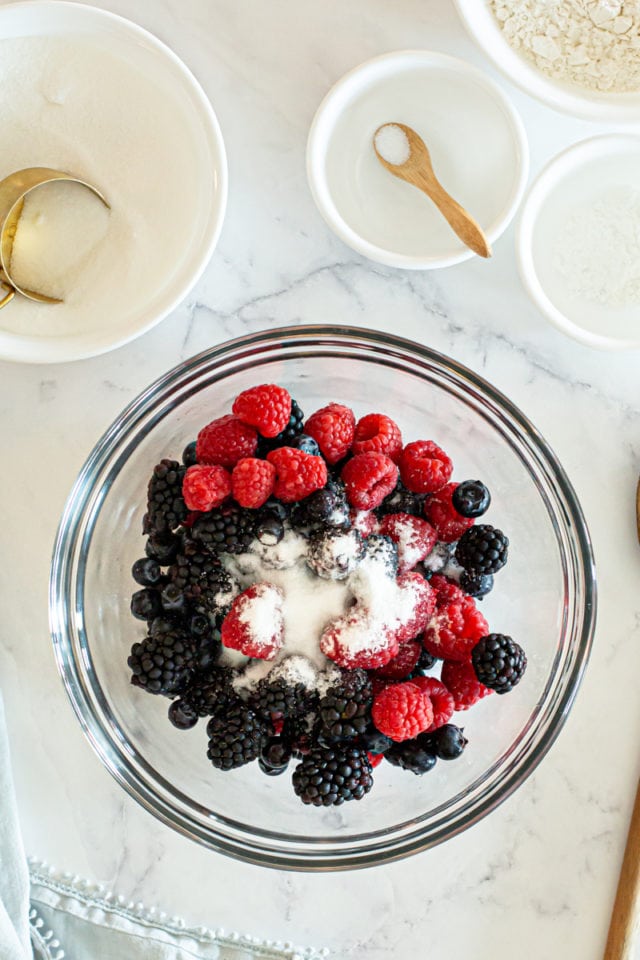 Prepare the berries. Toss the berries with 1/4 cup of the sugar. Spread them in an even layer in the bottom of a 9″ x 13″ x 2″ baking pan.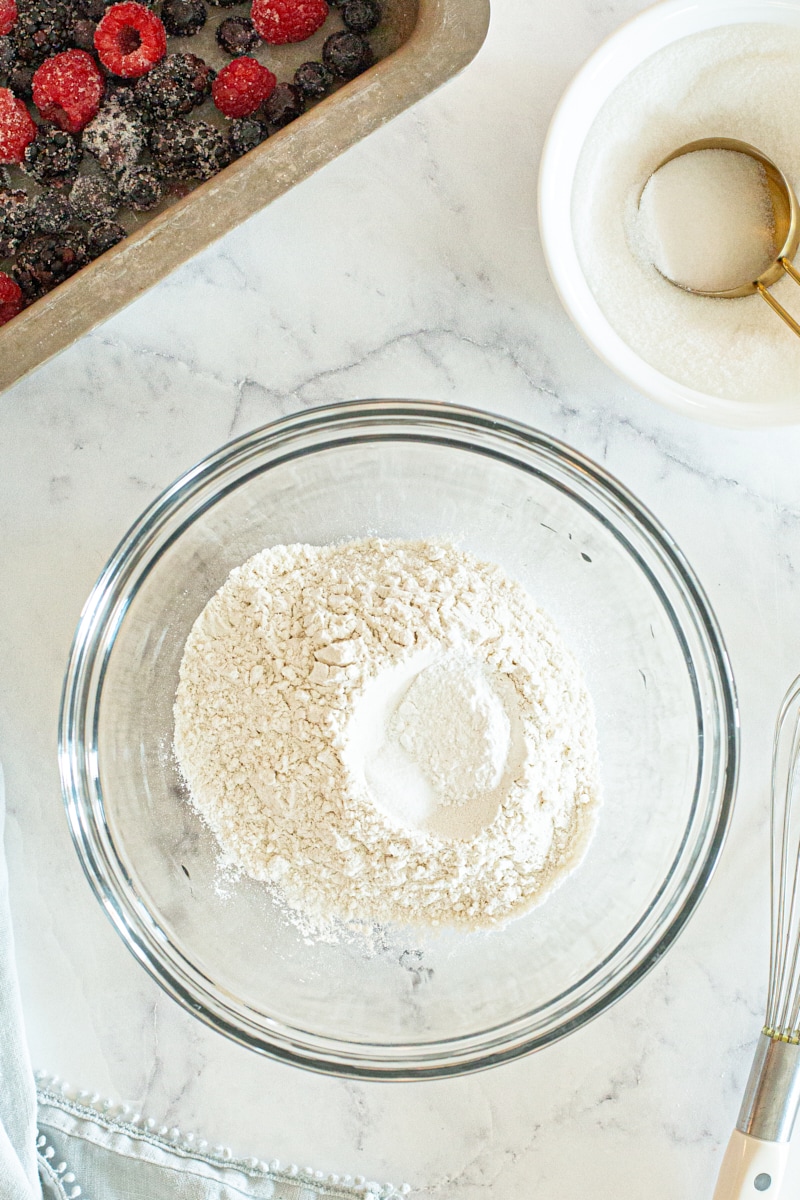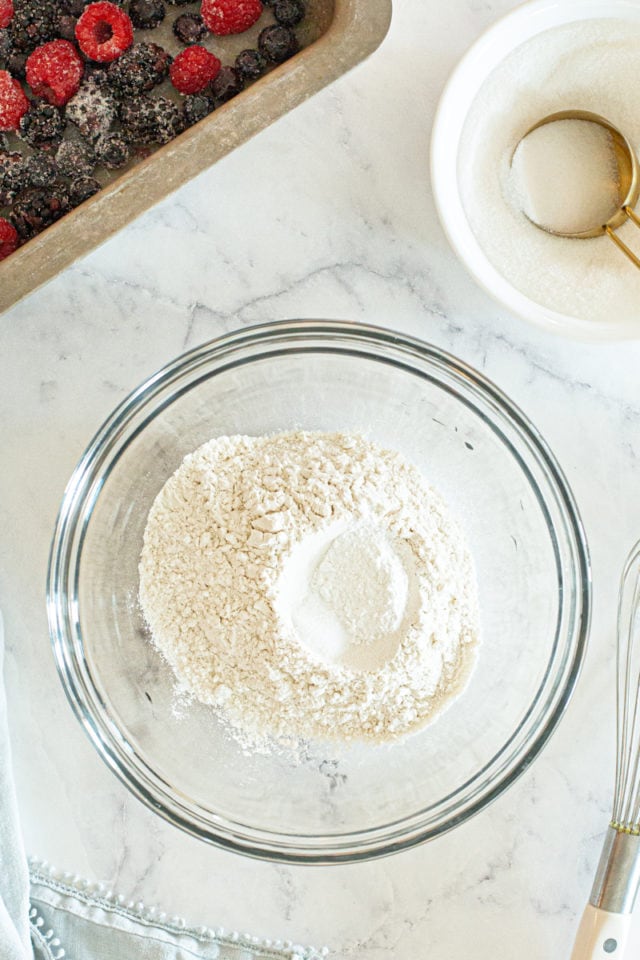 Mix the dry ingredients. Whisk together the flour, baking powder, and salt.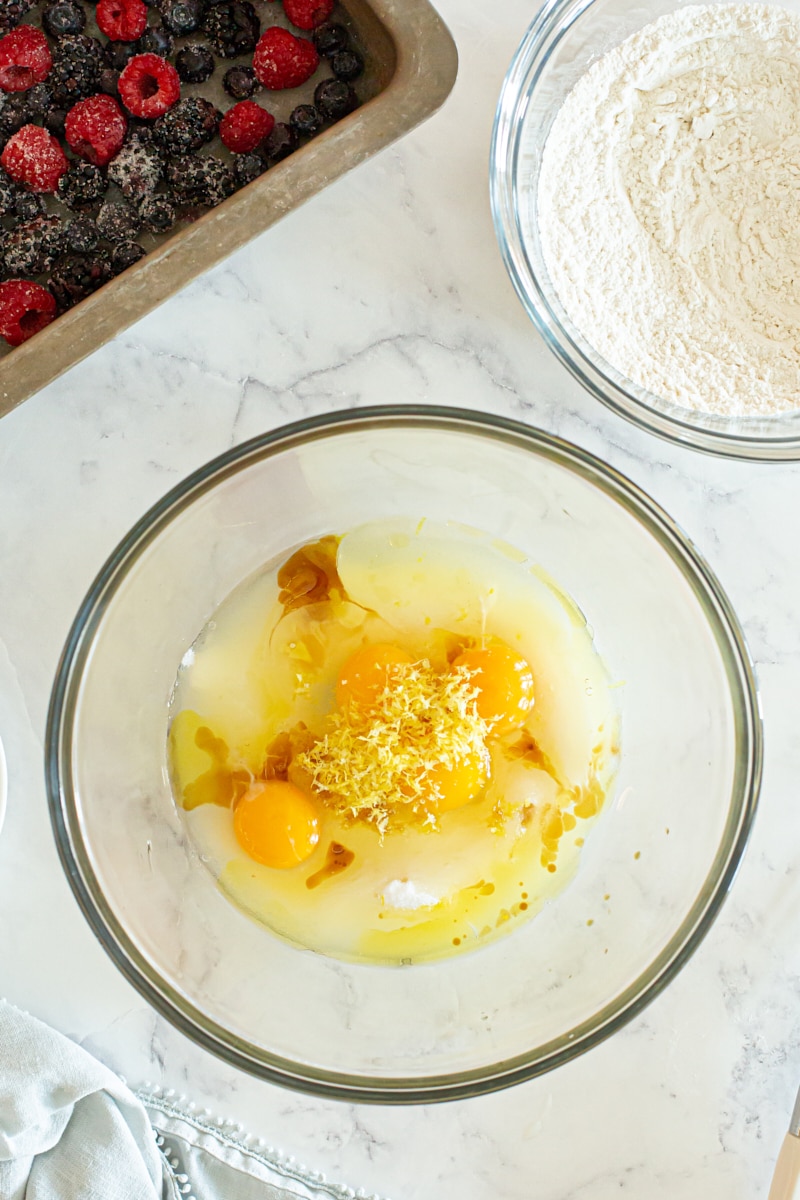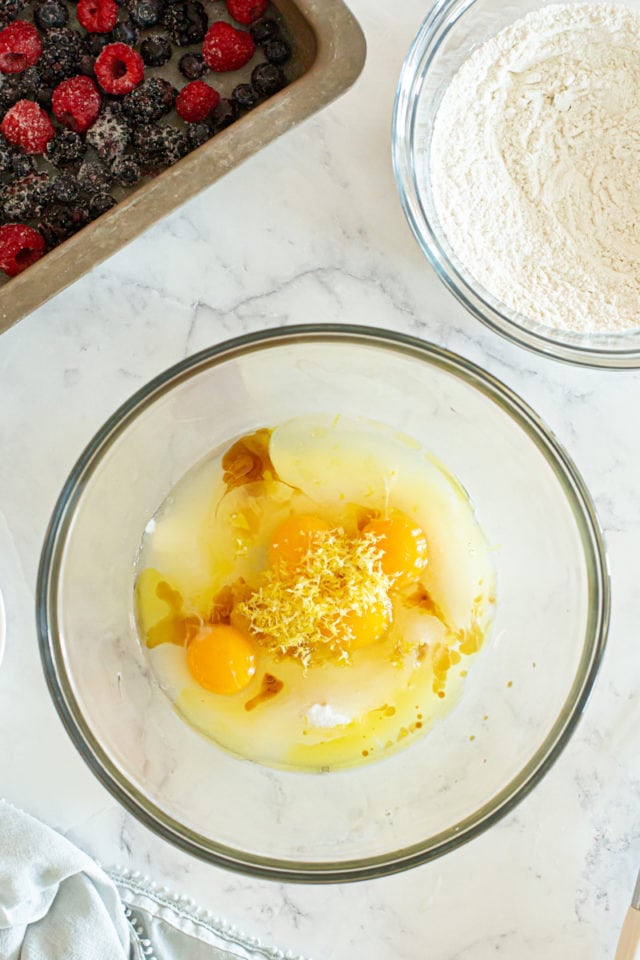 Mix the wet ingredients. Whisk together the eggs, olive oil, lemon zest, vanilla, and the remaining 1 cup of sugar.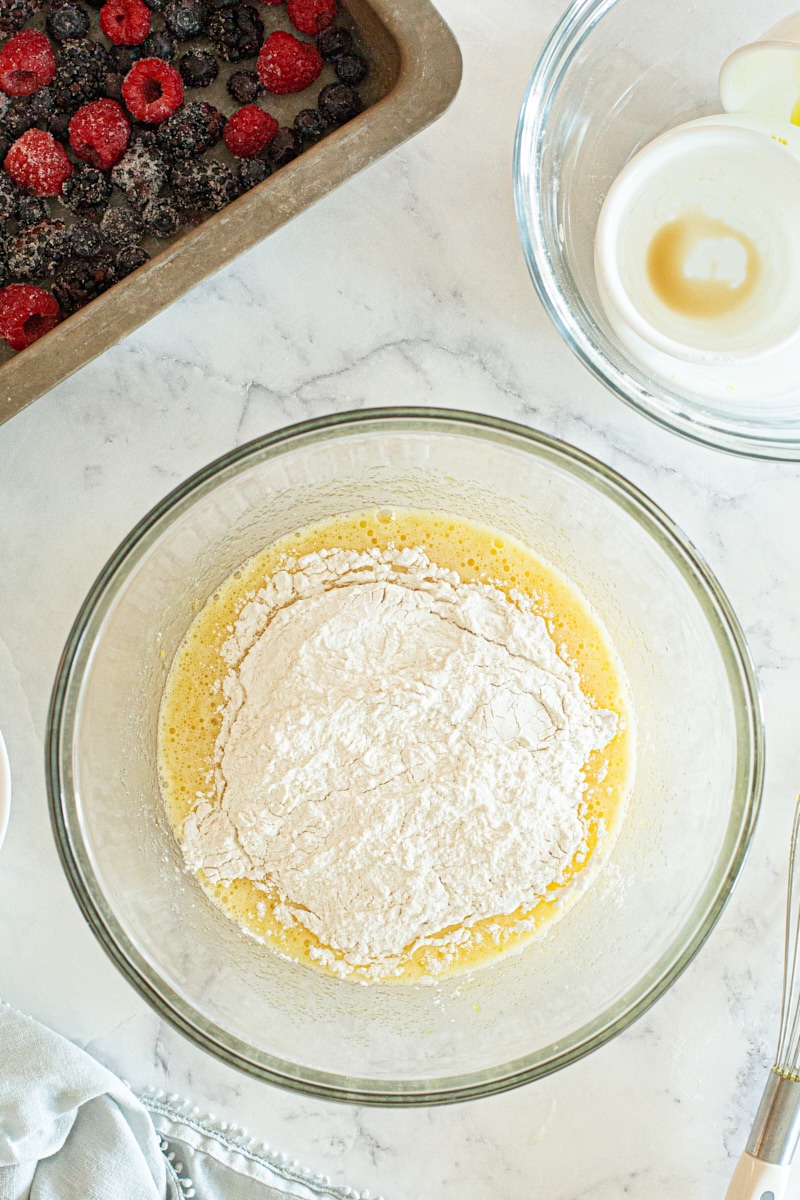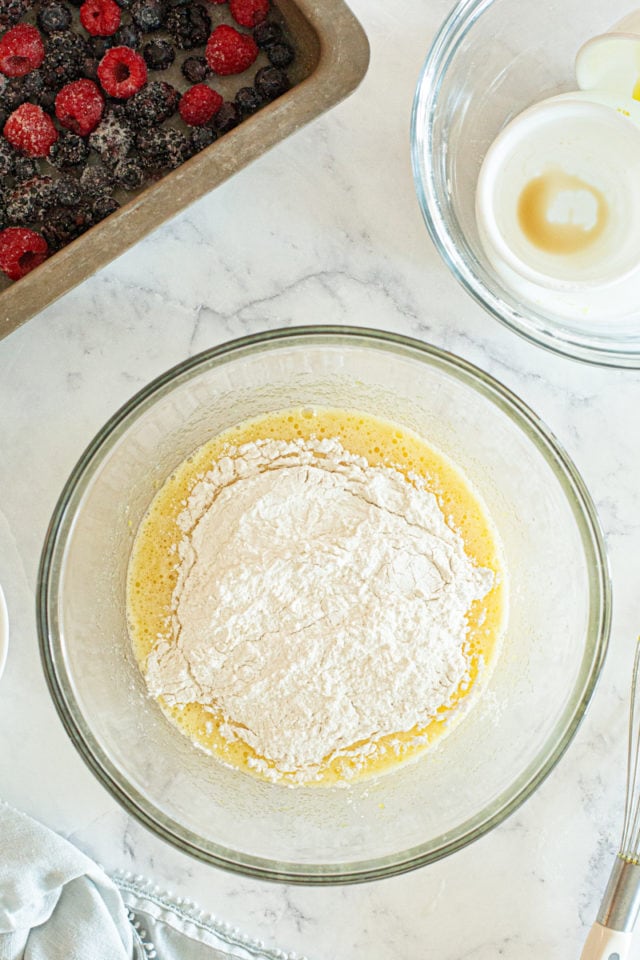 Finish mixing. Stir the flour mixture into the egg mixture. Don't over-mix; mix just until combined.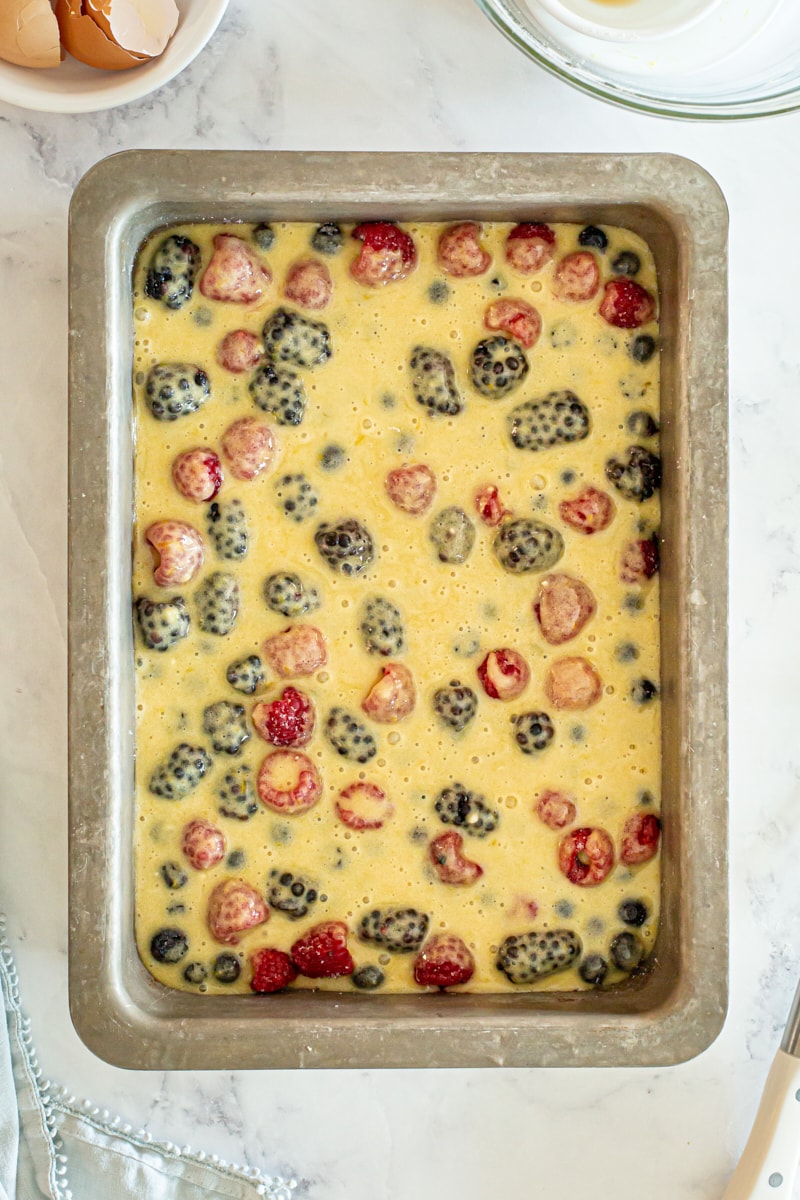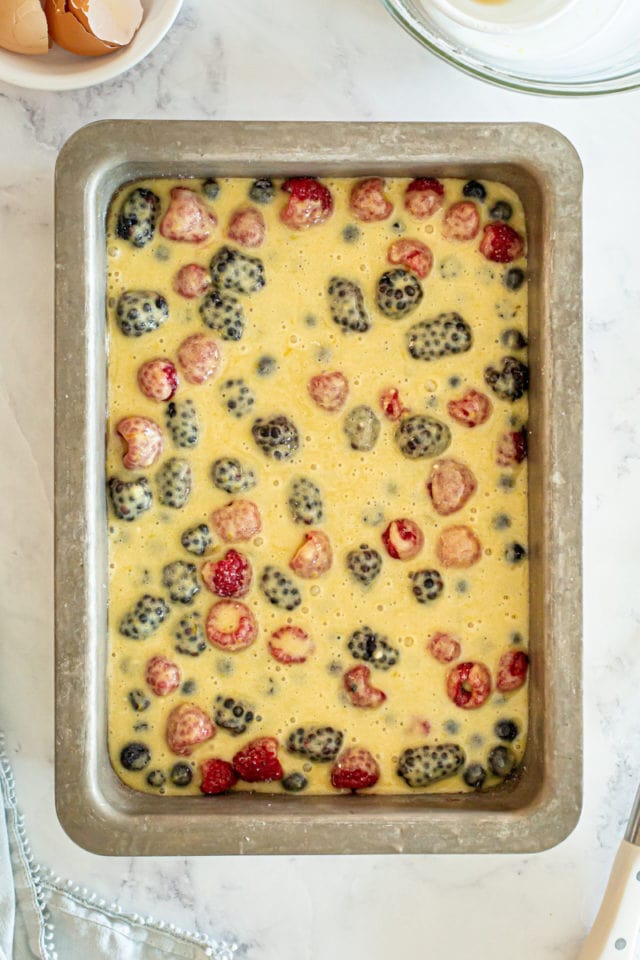 Bake. Pour the cake batter evenly over the berries in the pan. Bake for 30 to 35 minutes, or until the cake is lightly browned and springs back slightly in the center.
Cool. Let the cake cool at least 10 minutes before serving warm or at room temperature.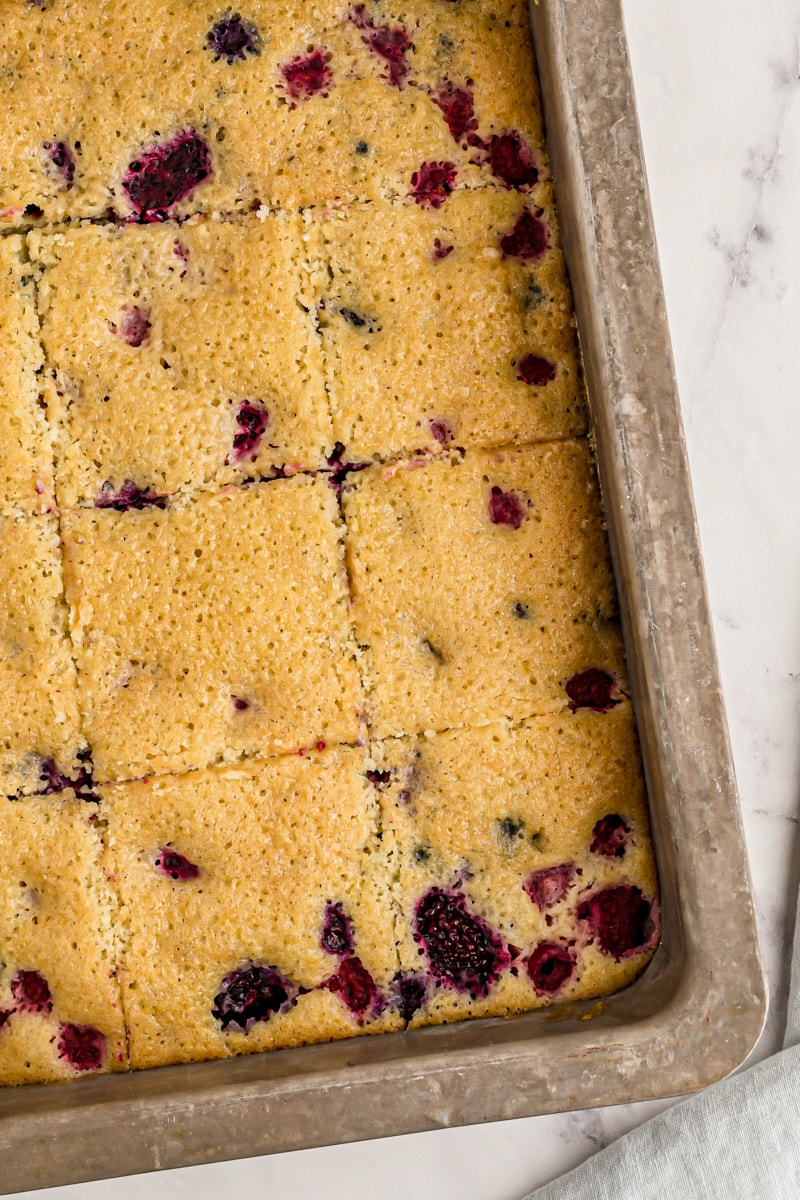 Tips for Success
This no-fuss cake comes together quickly and easily. Here are a few tips to help make sure your berry pudding cake turns out perfectly!
Use good quality berries. There's a lot of berry flavor here, so be sure to use the best berries you can.
Don't over-mix. Just mix the cake batter until everything's combined so your cake will have a soft, tender texture.
Don't have olive oil? You can use another oil like canola oil or vegetable oil.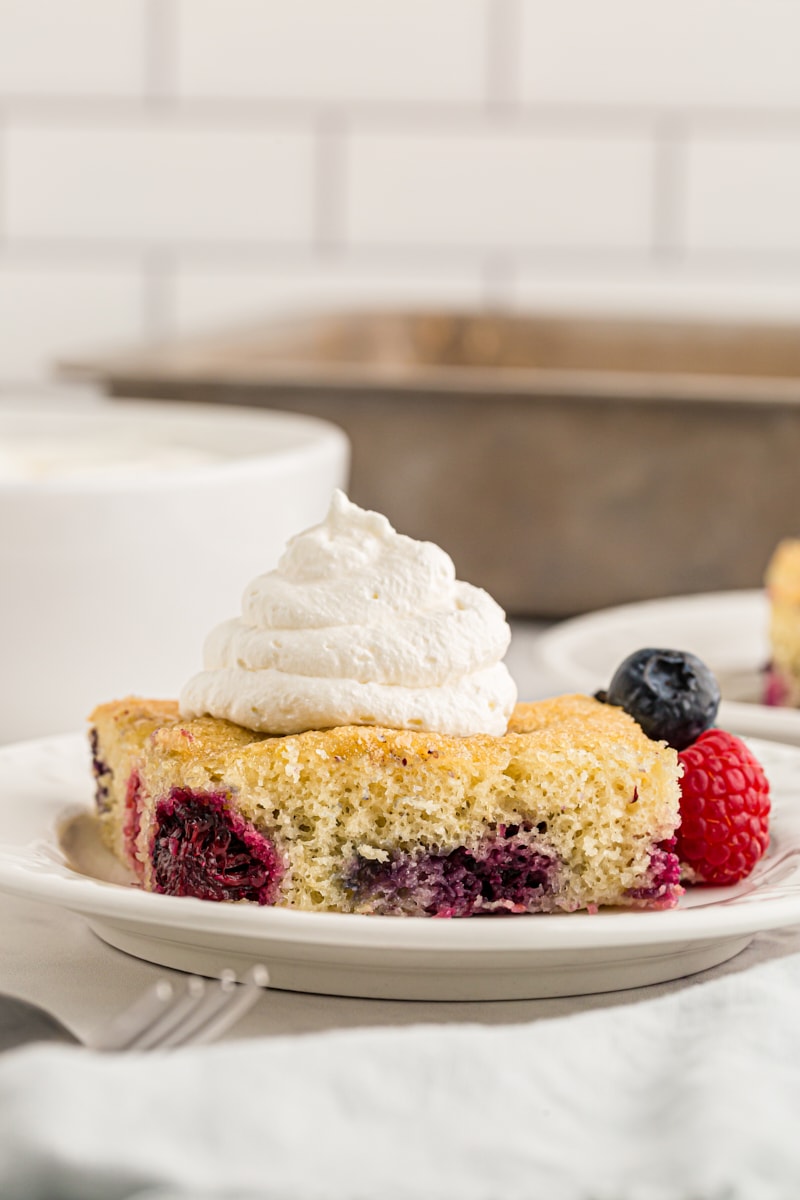 Ideas for Variations
The easiest way to vary this cake is by using a different combination of berries or even try peaches or a combination of summer fruits. It's a great way to use your favorites or just whatever is in season. Another flavor swap is to try orange zest in place of the lemon zest. If you'd like a bigger citrus flavor, use lemon juice instead of vanilla extract. Almond extract is also a good alternative.
Serving Suggestions
You can serve this berry pudding cake with a simple sprinkling of confectioners' sugar. For something a little extra, top servings with a scoop of whipped cream or ice cream.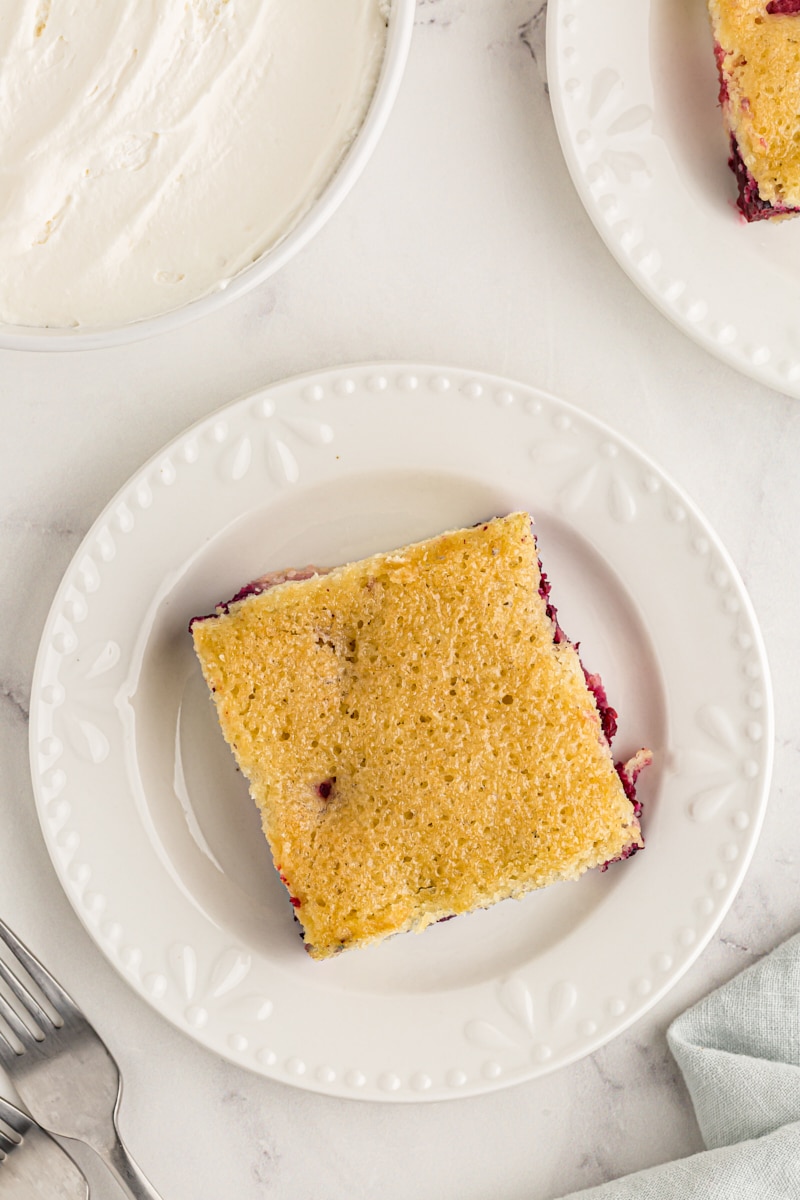 How to Store Leftovers
After the cake has completely cooled, cover tightly and store in the refrigerator. It should keep up to 5 days, but it will be at its best within the first couple of days. Serve chilled, at room temperature, or warmed. You can warm individual servings briefly in the microwave or in a low temperature oven.
Can This Cake Be Frozen?
Yes, you can freeze this berry pudding cake, although the texture and appearance may be affected. Place the cooled cake in an airtight, freezer-safe container. Properly stored, it should keep up to 3 months, but it will be at its best within the first month.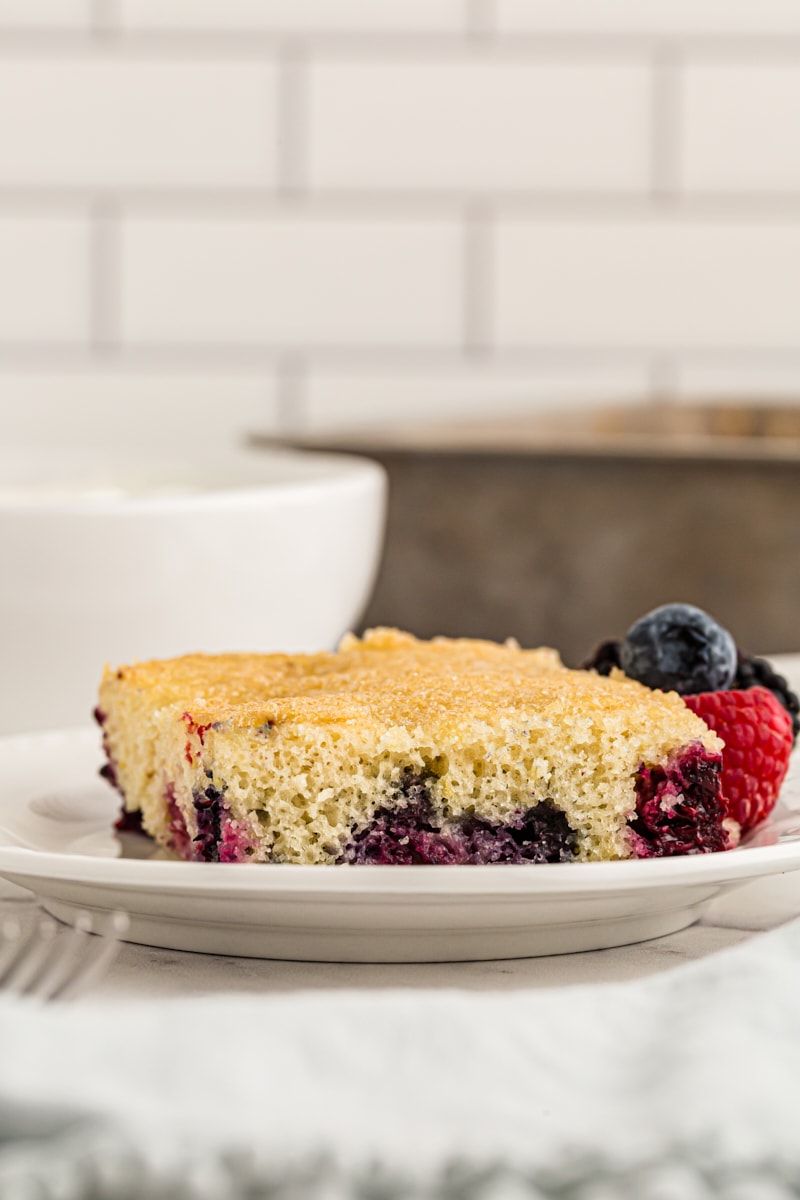 More Berry Desserts