Brownie Chocolate Pudding Cake is both amazingly delicious and amazingly easy to make. It's fudgy, moist, and rich enough to please any chocolate lover!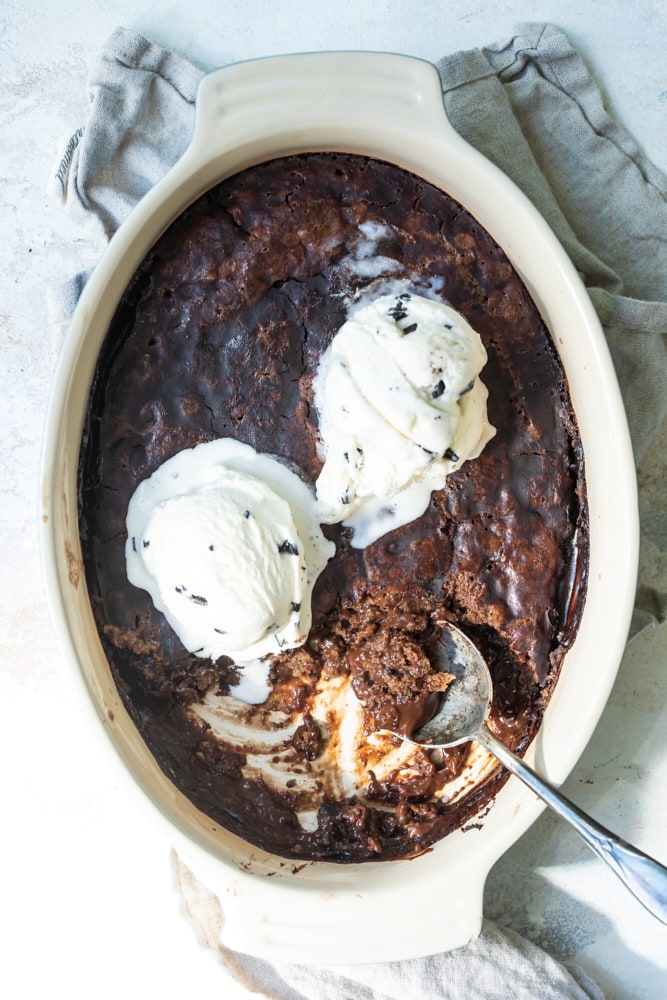 Fudgy Chocolate Pudding Cake
Pudding cakes are such a wonder. They are some kind of baking magic! Two separate mixtures come together to make both a cake and a sauce at the same time for a dessert that's moist, fudgy, and, in the case of this Brownie Chocolate Pudding Cake, supremely decadent.
Yes, Brownie Chocolate Pudding Cake has a good dose of chocolate, but I don't think you'll complain. If you're a fan of fudgy chocolate desserts, you'll want to make this one as soon as possible!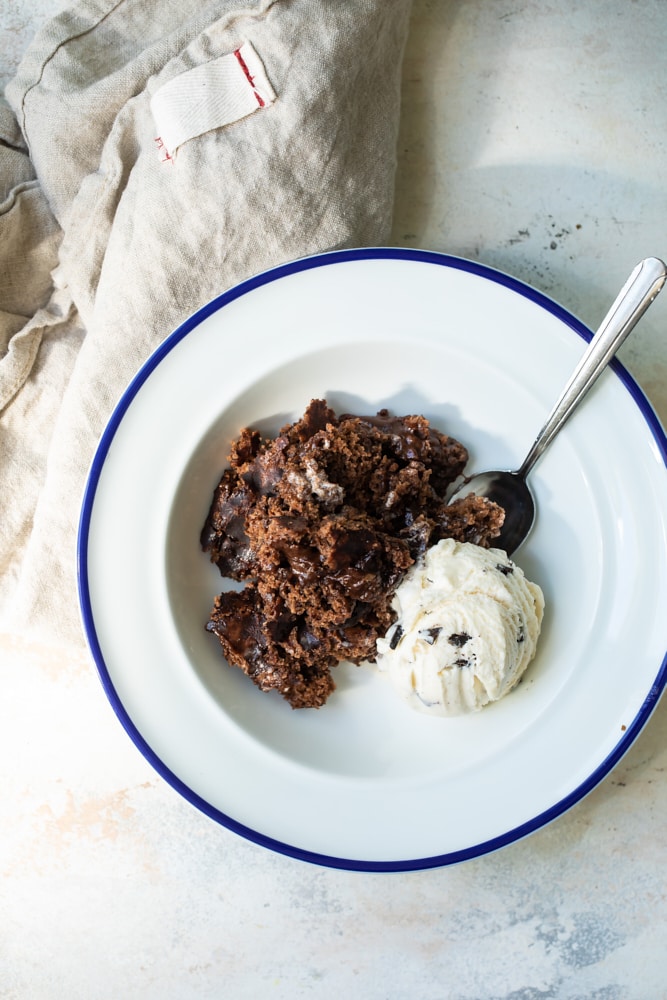 This cake is mixed as two separate components. As it bakes, the cake rises to the top, leaving a pudding layer on the bottom. The texture is somewhere between cake and brownie. No frosting is required, but ice cream is a perfect companion.
If you've made another BoB favorite, Chocolate Cobbler, you may be thinking this looks similar, and you're right. That one is also a pudding cake, but it's more cake-like and has a bit more sauce than this Brownie Chocolate Pudding Cake. They're both fantastic, so you can choose which texture you prefer.
(Want to try more pudding cake recipes? Check out my Vanilla Pudding Cake, Cinnamon Pudding Cake, and Berry Pudding Cake!)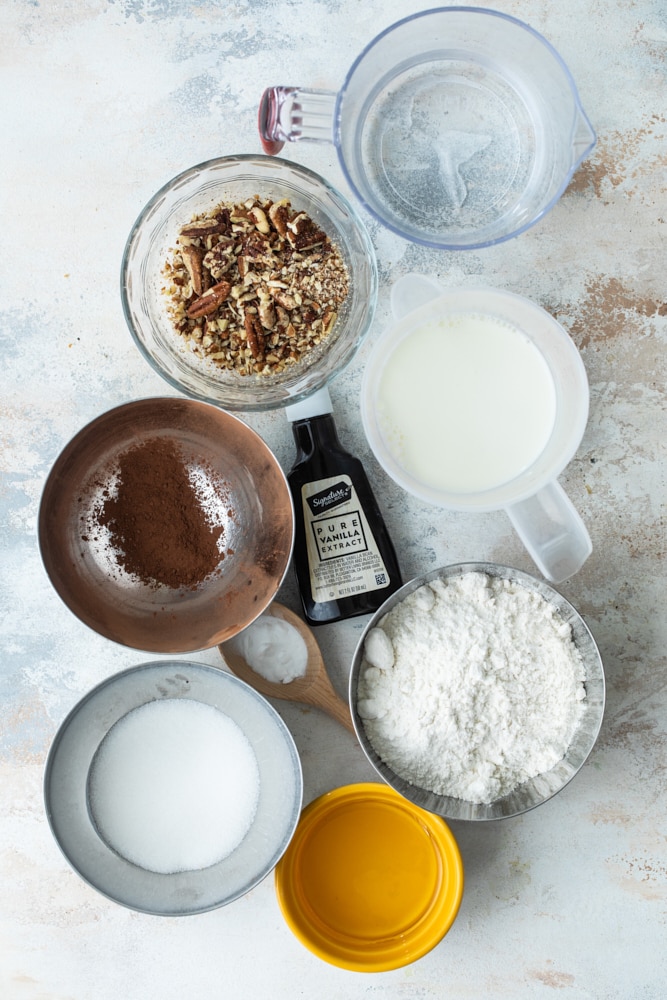 What You'll Need
Scroll down to the recipe card below this post for ingredient quantities and full instructions.
For the cake:
All-purpose flour – Learn more: How to Measure Flour
Granulated sugar
Unsweetened cocoa powder
Baking powder
Milk – I recommend using whole milk.
Vegetable oil – Canola oil will work in this recipe, too.
Vanilla extract
Chopped pecans or walnuts – Not a fan of nuts? You can certainly leave them out.
For the pudding:
Granulated sugar
Cocoa powder
Boiling water
Which Is Better, Dutch Processed or Natural Cocoa?
You can use either option for this recipe. Dutch process cocoa will give you a deeper, darker chocolate flavor, while natural cocoa tastes more like a classic brownie.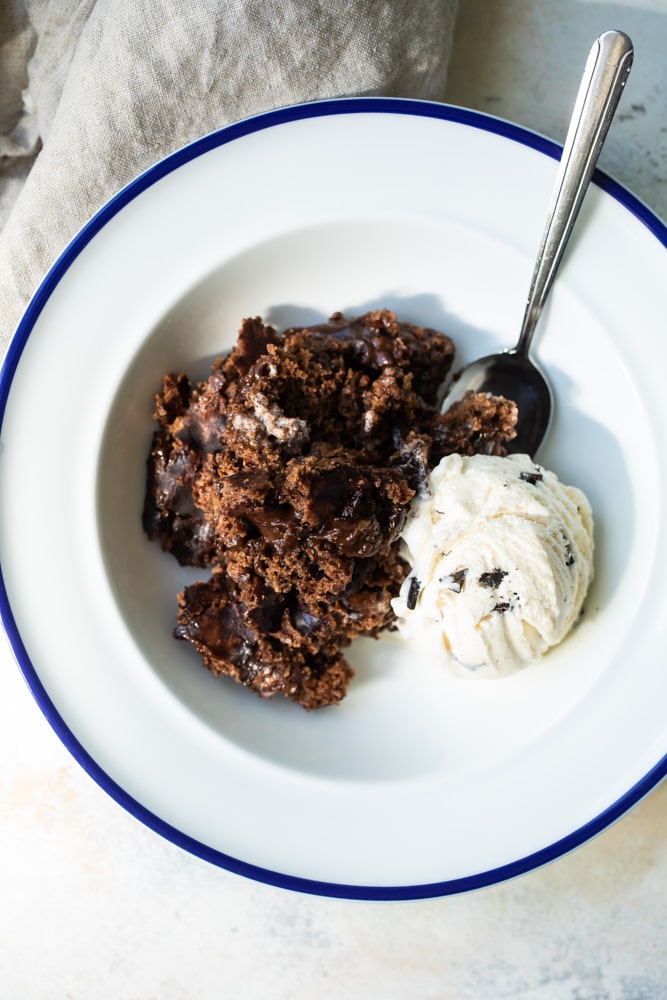 How to Make Brownie Chocolate Pudding Cake
With a dessert that sounds so elaborate, you might be surprised how easy it is to make! Here's what you'll need to do.
Make the cake layer:
Prepare. Preheat your oven to 350°F.
Mix the dry ingredients. Whisk the flour, sugar, cocoa powder, and baking powder in a mixing bowl.
Finish the cake batter. Stir in the milk, oil, and vanilla, then fold in the nuts. Pour the batter into a 1-quart baking dish.
Make the pudding and bake:
Mix the dry ingredients. Whisk the sugar and cocoa powder in a small bowl.
Add the water. Slowly stir the boiling water into the dry ingredients.
Top the cake batter. Carefully pour the pudding mixture over the cake batter in the pan.
Bake. Place the baking dish in the oven and bake for 30 minutes, or until a toothpick inserted into the center comes out clean.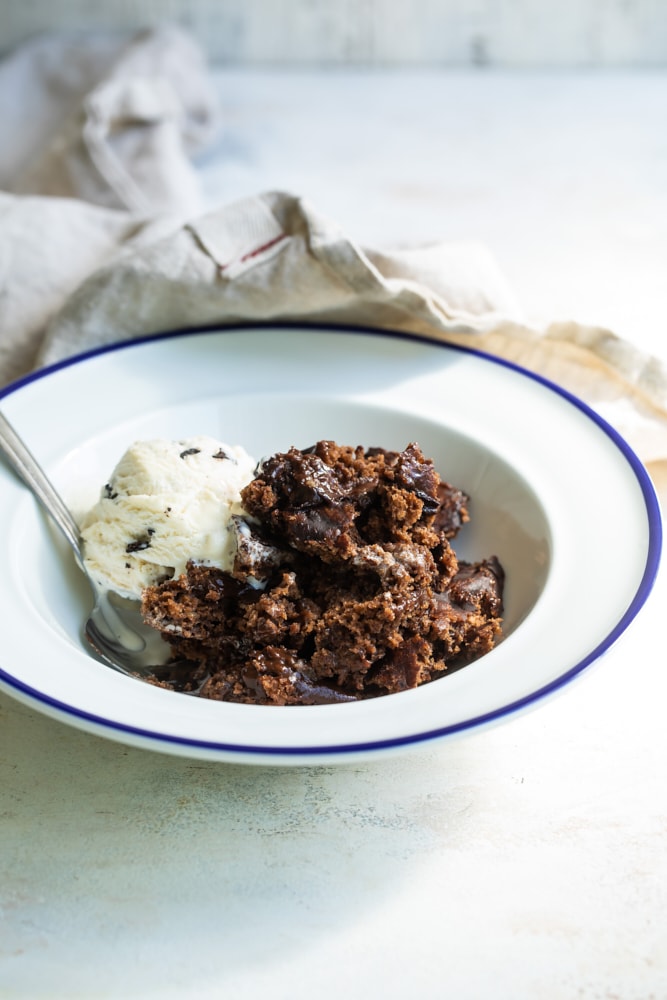 Tips for Success
These simple hints and tips will help you make a perfect Brownie Chocolate Pudding Cake!
Measure accurately. This recipe is fairly forgiving, but it's always a good idea to make accurate measurements for baking. Use a kitchen scale for dry ingredients and sugar if you can, and take care to measure the other ingredients well.
Use a good quality cocoa powder. All of the chocolate flavor comes from the cocoa powder, so be sure to use a good one.
Pour the pudding on with a light touch. If you dump the pudding into the baking dish, it will mix with the cake batter. Pour it lightly, or spoon it over the cake batter.
Serve warm. This pudding cake is definitely best served warm. If you need to reheat it, try warming it in a low-temperature oven for a few minutes.
Don't forget the ice cream! Go classic with a big scoop of vanilla ice cream, or try chocolate chip, coffee, or your favorite flavor to pair with chocolate.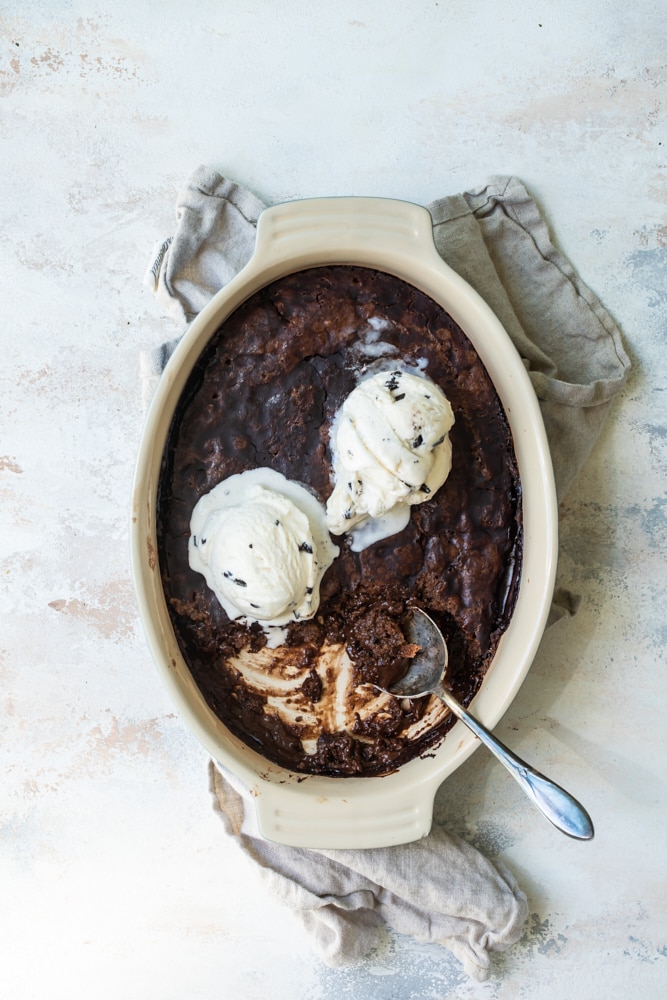 How to Store and Reheat Leftovers
Cover leftovers in the baking dish or transfer them to an airtight container. They'll keep in the fridge for about 4 days. Reheat in the microwave or in a 300ºF oven just until warmed through.
Can This Recipe Be Frozen?
You can freeze Brownie Chocolate Pudding Cake for up to 3 months. Wrap it well, then thaw it in the refrigerator overnight before reheating according to the instructions above.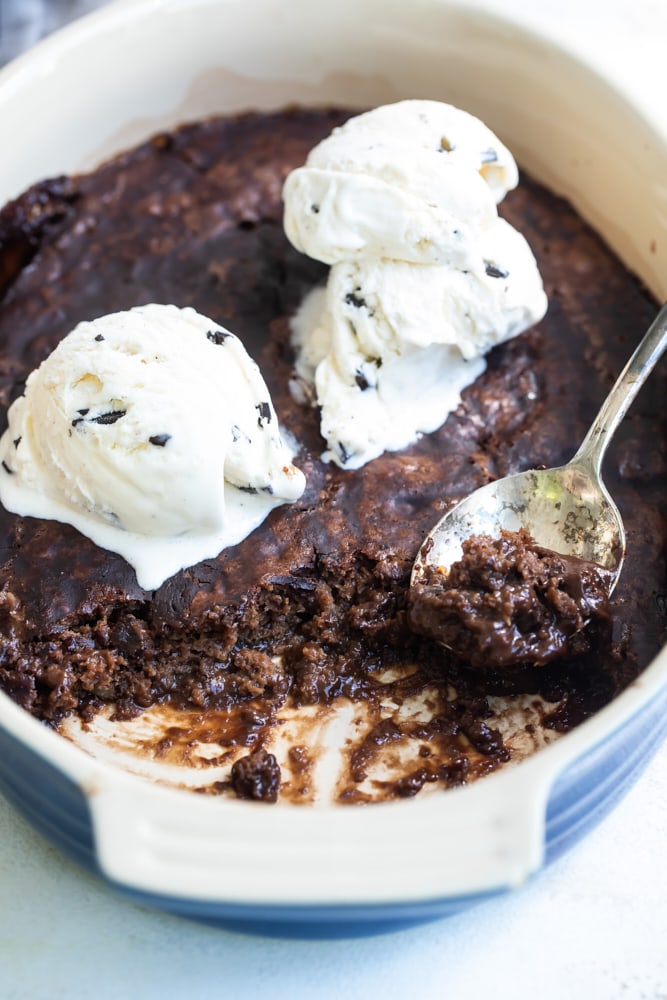 More Easy Chocolate Desserts