Brownie Bottom Mini Cheesecakes combine two favorite desserts into one delicious and adorable bite-size treat!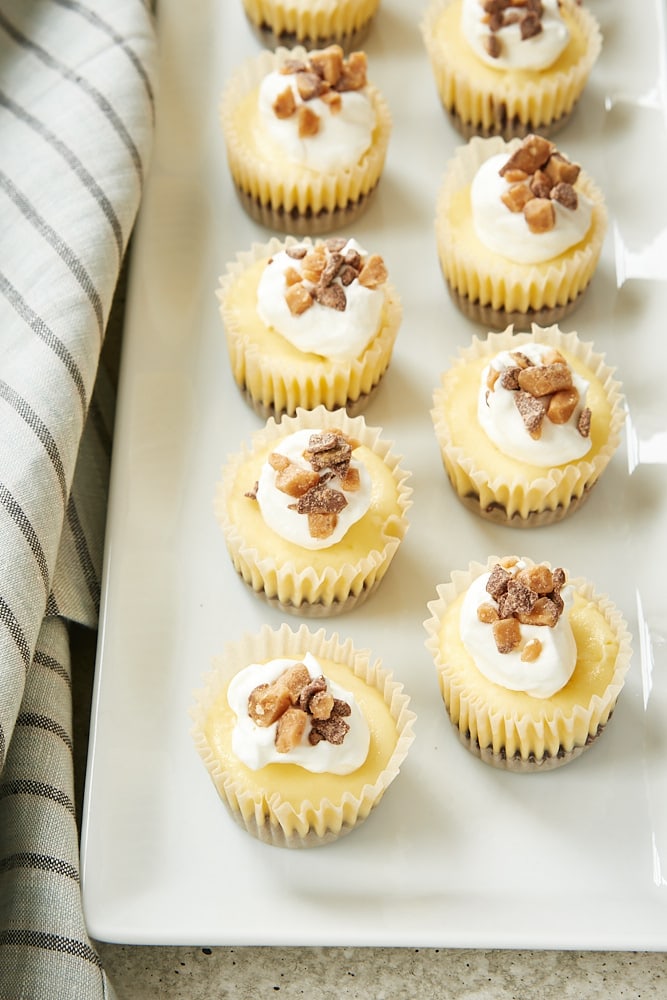 Two of my very favorite things are brownies and cheesecake. So, combining them into these Brownie Bottom Mini Cheesecakes is something worthy of quite a bit of excitement!

These little cheesecakes are so, so good. The rich chocolate and sweet cheesecake are perfect companions for bite-size deliciousness. They're also simple to make, which shouldn't be that surprising because brownies and cheesecakes are two of the easiest batters to make.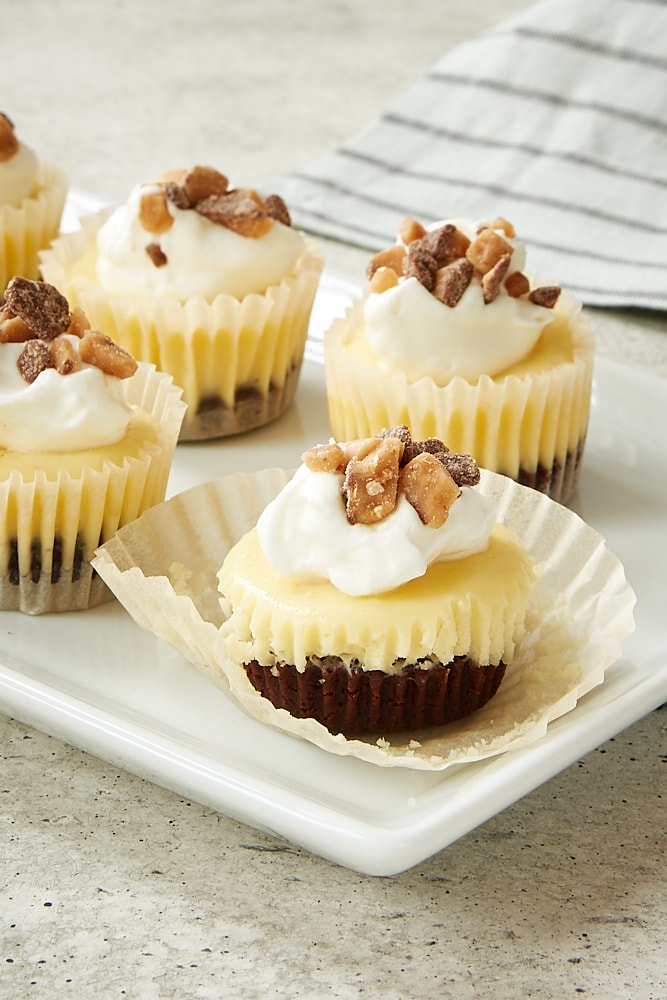 This brownie batter is a bit on the thick side, which works well for a cheesecake base. You only need a small amount per cheesecake, and I highly recommend using a small scoop for quicker and more accurate portioning. You'll need about 2 teaspoons of batter per cup. If you have a scoop that size, then this is a perfect time to put it to use.
The cheesecake portion of these little beauties is a fairly straightforward cheesecake batter. I like the addition of sour cream for a more interesting flavor and smooth texture. Again, a scoop is your friend for portioning the batter quickly and easily. A scant tablespoonful per cup is just right.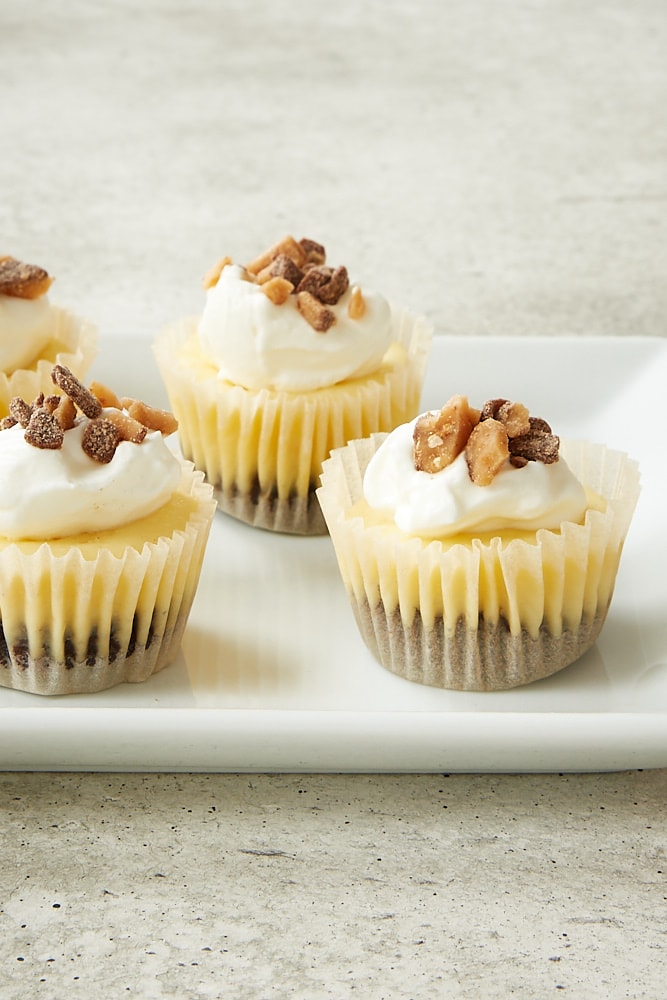 While I like to use liners for these little cheesecakes, that's not absolutely necessary if you'd rather not use them. Just keep in mind that the liners do make it much easier to remove the cheesecakes from the pan. They also make the cheesecakes nicely portable and shareable.
A little dollop of sweetened whipped cream is the perfect way to finish these little beauties. If you want a little more garnish, try sprinkles, nuts, or chocolate toffee bits as you see in these photos.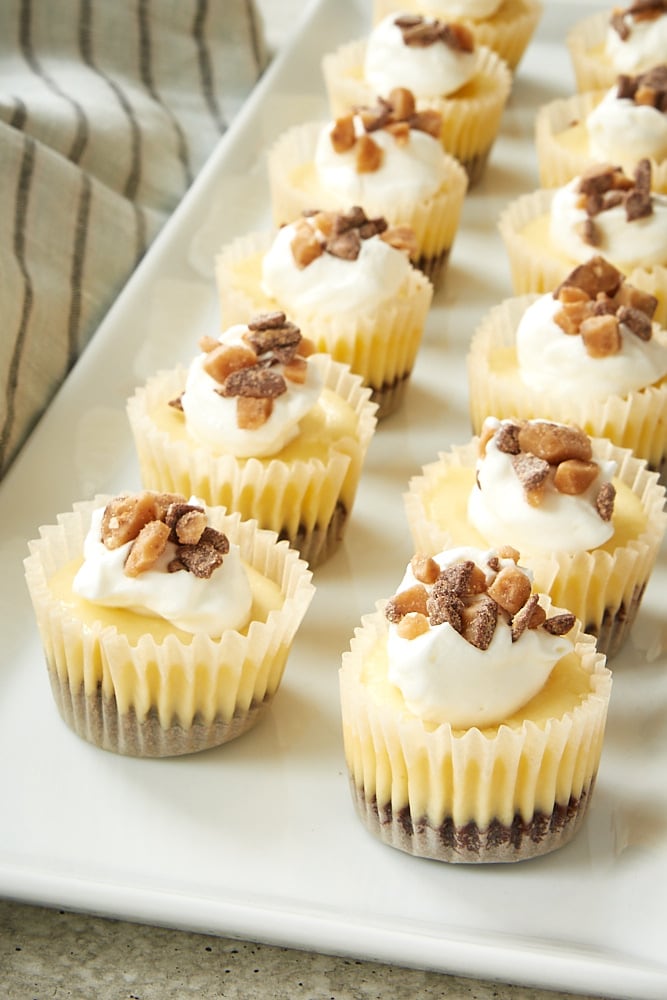 Brownie Bottom Mini Cheesecakes are magical because they look far more complicated than they actually are. Plus, they're absolutely delicious, which is sure to bring many requests to make more. You can just sit back and take the compliments, reveling in your knowledge of how easy it was to make them.
Video Tutorial: Brownie Bottom Mini Cheesecakes
More Brownie Bottom Desserts