December 6, 2013
Pecan Cake with Caramel Mousse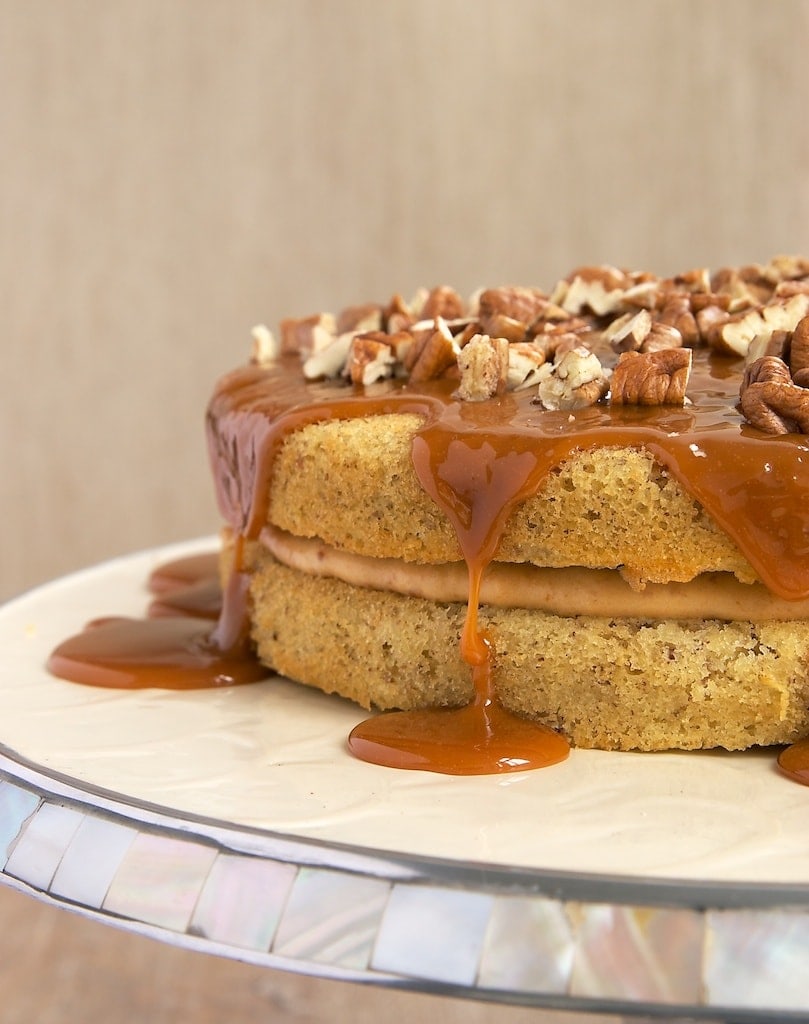 There's just something about this time of year that makes me a bit caramel crazy. I want to put it in and on everything I bake! So, as you can imagine, this caramel-drenched cake makes me positively giddy.
Plus, look at all of those pecans! Yep. Giddy.


Before we go any further, I will say that this cake is a bit more involved than most of the desserts I make. Making something a bit more elaborate every once in a while is fun. More often than that, maybe not so much. Not that any part of making this cake is difficult. It just takes a little while and will create a lot of dirty bowls.
So, a little bit of time and a few dirty bowls later, you'll have this gorgeous cake. We're talking two layers of nutty cake with a caramel mousse filling. And, all of that is topped off with a caramel sauce and some toasted pecans. Oh. My. Word.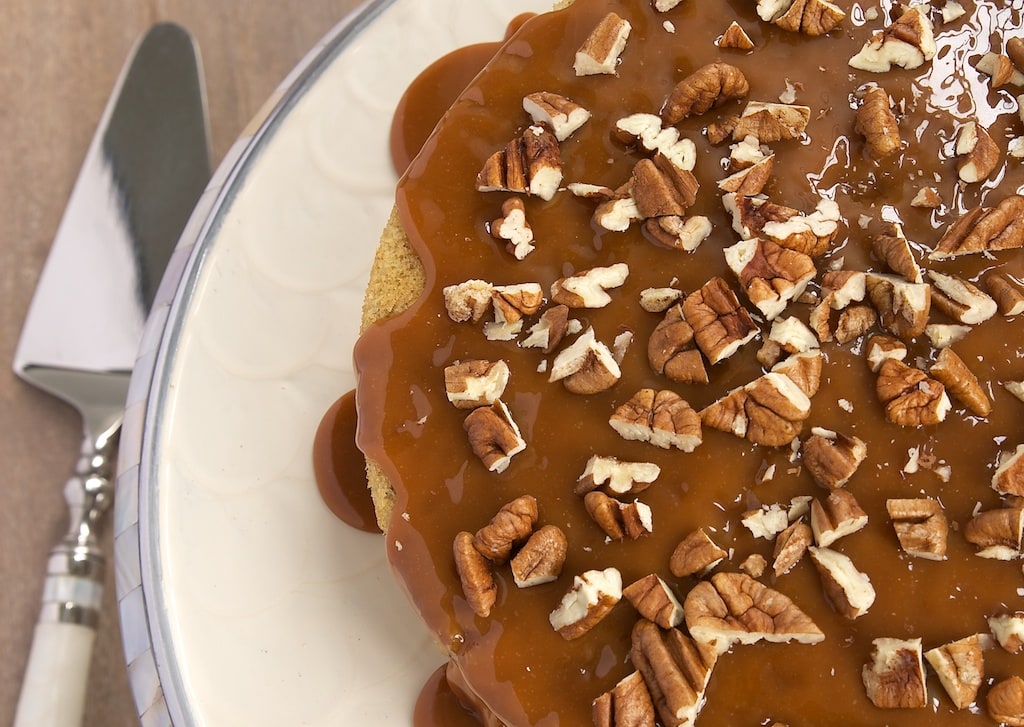 This thing is gooey and messy and just plain delicious.
If you can bear to wait, this cake will serve up a bit more neatly if you refrigerate it for a bit. I got a bit impatient with it and sliced into it before the mousse layer could set completely. Honestly, if you cut slices of this and they fall apart and resemble more of a trifle than a cake, it's so good no one will care.
Pecan Cake with Caramel Mousse
Yield: 16 servings
Prep Time:45 minutes
Cook Time:30 minutes
Pecan Cake with Caramel Mousse combines layers of nutty cake with a rich caramel mousse and caramel sauce. Delicious!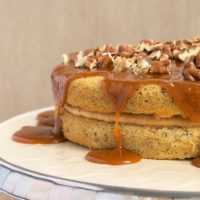 Ingredients:
For the cake:
1 & 2/3 cups all-purpose flour
1/2 cup ground toasted pecans
1 teaspoon baking powder
1/2 teaspoon baking soda
1/4 teaspoon salt
3/4 cup granulated sugar
1/2 cup unsalted butter, softened
2 tablespoons canola oil
3 large eggs
1 teaspoon vanilla extract
3/4 cup buttermilk
For the caramel mousse:
1/4 cup granulated sugar
1/2 cup milk, warmed
1 teaspoon unsalted butter, melted*
1 tablespoon cornstarch
1 tablespoon water
2 teaspoons bourbon
1/4 teaspoon vanilla extract
1/8 teaspoon salt
1/2 cup heavy cream
1 tablespoon granulated sugar
For the caramel sauce:
11 ounces soft caramels, unwrapped (about 30 caramels)
1/3 cup heavy cream
1/2 cup toasted pecans, roughly chopped
Directions:
To make the cake:
Preheat oven to 350°. Grease two 8- or 9-inch round cake pans.
Whisk together flour, ground pecans, baking powder, baking soda, and salt. Set aside.
Using an electric mixer on medium speed, beat sugar, butter, and canola oil until light and fluffy. Add eggs, one at a time, mixing well after each addition. Mix in vanilla.
Reduce mixer speed to low. Gradually add flour mixture in 3 portions, alternating with 2 portions of buttermilk, mixing just until combined.
Divide cake batter between prepared pans. Bake 20 minutes or until a pick inserted into the center comes out with moist crumbs.
Cool in pans on a wire rack for 10 minutes. Then, remove cake from pans to cool completely on wire racks.
To make the caramel mousse:
Place 1/4 cup sugar in a medium saucepan.** Cook over medium-high heat until sugar dissolves. Stir as needed to make sure the sugar dissolves.
Carefully stir in milk and melted butter. The mixture will bubble and the caramel will harden. Continue cooking and stirring until sugar melts (about 1 minute).
Add cornstarch to water and combine. Add to caramel mixture. Bring to a boil. Cook until thick and bubbly (about 1 minute).
Remove from heat. Stir in bourbon, vanilla, and salt. Pour caramel into a bowl. Cover and refrigerate for 20 minutes.
Place cream in a large bowl. Using an electric mixer with a whisk attachment, beat at medium-high speed until the cream begins to thicken.
Sprinkle 1 tablespoon sugar over the cream. Whisk until combined.
Continue beating until you can lift the whisk out of the whipped cream and a peak that curves downward forms in the cream. This should take 4 to 5 minutes.
Fold about a third of the whipped cream into the chilled caramel. Gently fold the remaining whipped cream into the caramel.
Place one layer of cooled cake on a serving plate. Spread caramel mousse over the cake, leaving a 1-inch border round the edge. Top with the other cake layer. Place cake in refrigerator while you make the caramel sauce.
To make the caramel sauce:***
Place caramels and cream in a small saucepan. Heat over medium heat, stirring frequently, until caramels melt. Stir until smooth.
Pour over cake, allowing the caramel to run down the sides. Sprinkle with pecans.
Notes:
*Yes, teaspoon not tablespoon.
**Use a bigger saucepan than you think you'll need to avoid a mess.
***As you can see, I used a lot of caramel sauce on this cake. If you want to use less, just scale back the sauce recipe.
Recipe slightly adapted from My Recipes.
Cake stand and server provided by Julia Knight Collection.