March 27, 2017
Brown Sugar Caramel Cheesecake with Oatmeal Cookie Crust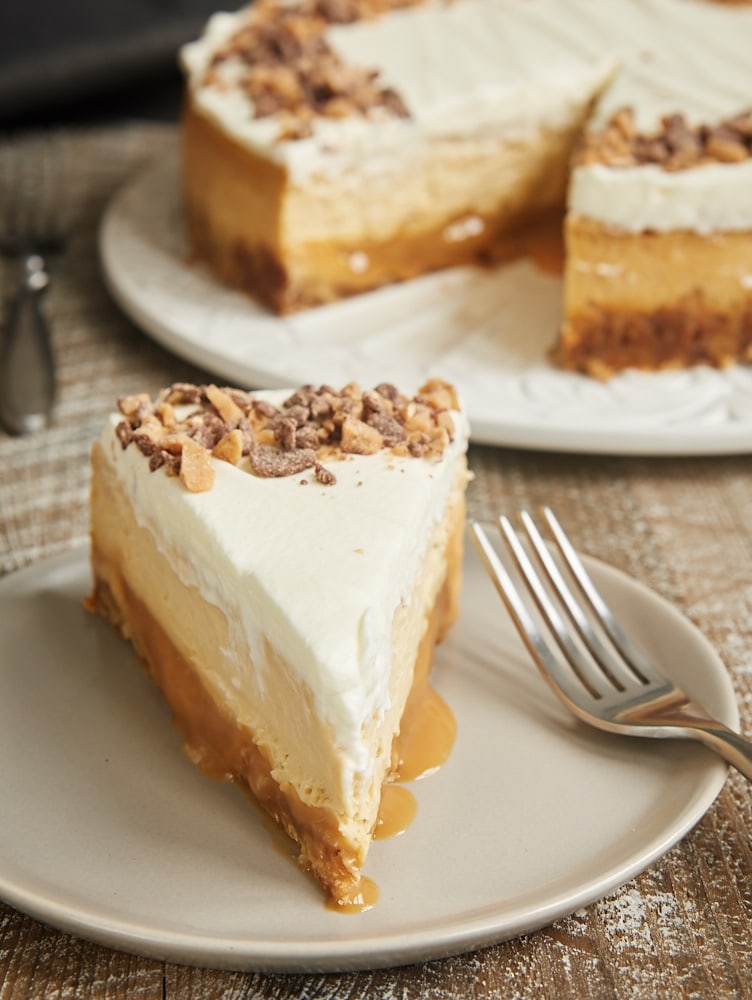 I love cheesecake just about any way I can get it, from the simple, no-frills varieties to the over-the-top wonders. This Brown Sugar Caramel Cheesecake falls somewhere in between, combining a few simple flavors in all of its layers of deliciousness.
Let's start from the bottom and work our way up. First, the crust is much like an oatmeal cookie. It's buttery and sweet and chewy and really just delightful. It also has just a hint of cinnamon to give it a little extra flavor that complements all the good stuff on top of it.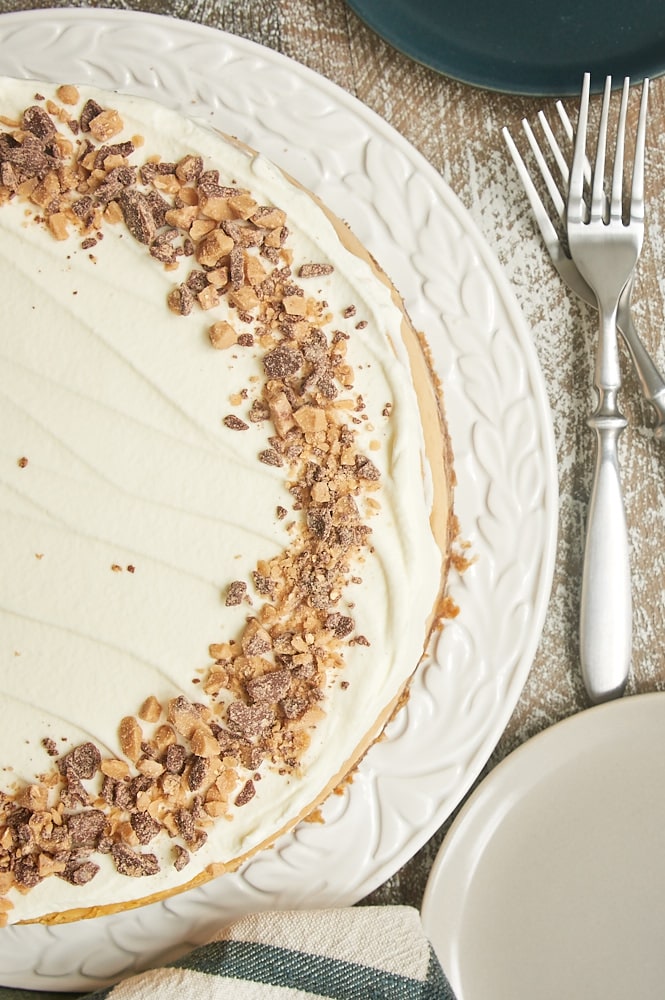 Next comes a layer of caramel. This is the quick and easy version of caramel that starts with a bag of soft caramels. I often make caramel this way in multi-step recipes because it takes a lot less time and attention than making caramel from scratch. It chills well without getting too hard to slice, and it gets nice and gooey after it's plated and allowed to sit for a few minutes.
On top of the caramel is a variation of a classic cheesecake filling. But this one is made with all brown sugar to give it a little different flavor. If you're a fan of brown sugar, then you're going to be in dessert heaven. It's sweet and has that hint of caramel-like flavor that brown sugar lends to baked goods.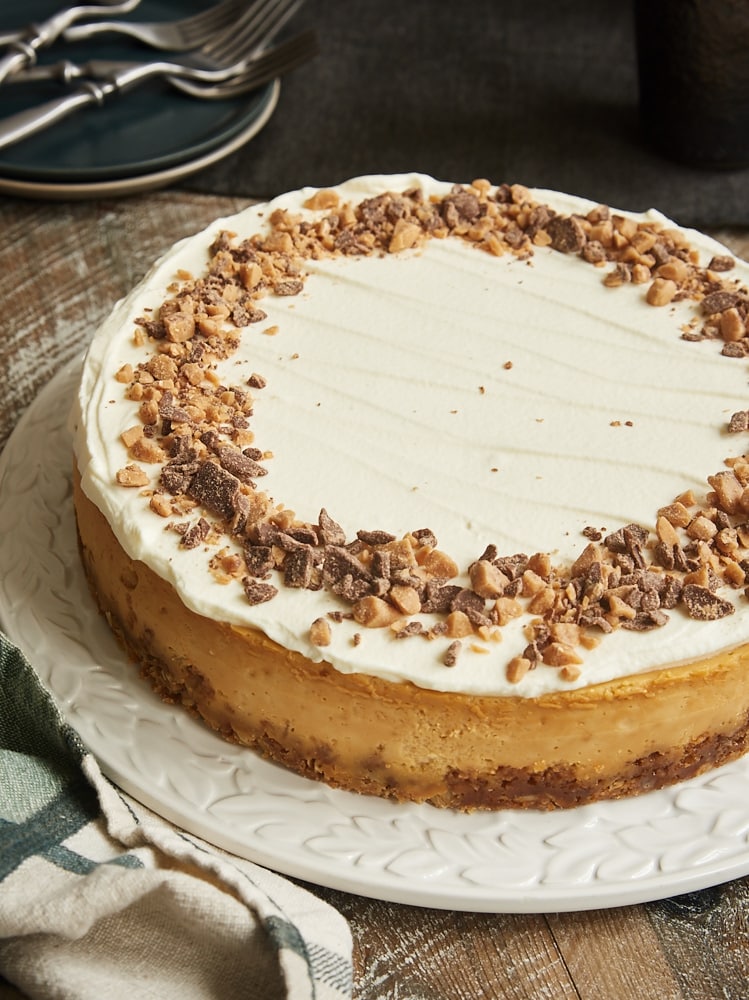 To top it all off, there's some simple sweetened whipped cream plus some chocolate toffee bits for garnish. The layer of whipped cream is a bit of an extra sweet indulgence on top of this fantastic cheesecake. I really like the crunch of the toffee bits to go along with this smooth, creamy cheesecake. You could also top it with something else, like toasted nuts or chocolate shavings, or just leave it unadorned if you like.
If you love caramel and brown sugar, then this is the cheesecake for you. The flavor is really just wonderful. All those layers work together perfectly! Even though making each layer takes a bit of time, this cheesecake is still simple to make. It's just the kind of thing when you want an impressive, crowd-pleasing dessert without too much fuss.
Find more cheesecake recipes in the Recipe Index.
This post contains affiliate links. If you make a purchase through one of the links, I'll receive a
small commission at no additional cost to you.
Brown Sugar Caramel Cheesecake with Oatmeal Cookie Crust
Yield: 16 servings
Prep Time: 40 minutes
Cook Time: 2 hours 20 minutes
This Brown Sugar Caramel Cheesecake has SO many delicious layers – oatmeal cookie crust, caramel, cheesecake, and whipped cream. A big-time crowd-pleaser!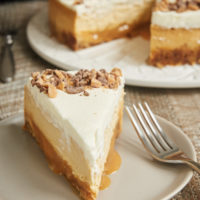 Ingredients:
For the crust:
1/2 cup all-purpose flour
1/4 teaspoon ground cinnamon
1/4 teaspoon salt
3/4 cup old-fashioned rolled oats
1/3 cup firmly packed light brown sugar
1/4 cup unsalted butter, softened
1/2 teaspoon vanilla extract
For the caramel:
11 ounces soft caramels (about 40 caramels)
1/3 cup heavy cream
For the cheesecake filling:
24 ounces cream cheese, at room temperature
1 cup firmly packed light brown sugar
3 large eggs
2 teaspoons vanilla extract
1/2 cup sour cream
For the topping:
1 cup heavy cream
2 tablespoons granulated sugar
toffee bits, for garnish
Directions:
To make the crust:
Preheat oven to 350°F. Grease a 9-inch springform pan.
Whisk together the flour, cinnamon, and salt. Stir in the oats. Set aside.
Using an electric mixer on medium speed, beat the brown sugar, butter, and vanilla until thoroughly combined.
Reduce mixer speed to low. Gradually add the flour mixture, mixing just until combined.
Press the mixture into the bottom and slightly up the sides (about 1/4″ to 1/2″) of the prepared pan.
Place the pan on a lined, rimmed baking sheet to catch any spills. Bake 10 minutes. Set aside to cool.
To make the caramel:
Place the caramels and cream in a medium saucepan. Cook over medium heat, stirring frequently, until the mixture is smooth.
Pour over the cooled crust, and spread evenly. Place the pan in the refrigerator while you make the filling (about 10 minutes).
To make the cheesecake filling:
Using an electric mixer on medium speed, beat the cream cheese and brown sugar until thoroughly combined. Add the eggs and vanilla, and mix well. Mix in the sour cream.
Pour the filling over the chilled caramel, and spread evenly.
Place the pan on a lined, rimmed baking sheet to catch any spills. Bake at 350°F for 15 minutes.
Reduce the oven temperature to 200°F. Bake for 2 hours.
Remove the cheesecake from the oven and gently run a thin knife around the edges of the pan.
Turn off the oven, and return the cheesecake to the oven. Leave the cheesecake in the oven for 2 hours.
Cover loosely and refrigerate overnight.
To make the topping:
Place the cream in a large, cold mixing bowl. Using an electric mixer with a whisk attachment, beat at medium-high speed until the cream begins to thicken.
Sprinkle the sugar over the cream.
Continue beating until you can lift the whisk out of the whipped cream and a peak that curves downward forms in the cream. This should take 4 to 5 minutes.
Spread the whipped cream over the cheesecake. Garnish with toffee bits.