Oh, peanut butter and chocolate, how I love you. Seriously, I never seem to get tired of that classic combination. I've used that famous duo in cookies, cheesecake, cake, brownies, pie, and more. And, I don't plan on stopping any time soon.
If you follow my baking adventures, you know that I'm not much on pretty, elaborate desserts. I may make something like that occasionally, but my practical side says that simple is the way to go more often than not. I'm betting most of you are with me on that, too.
This cake is one of those lovely one-layer kind. It's made very much like a Texas Sheet Cake, with some cooking on the stovetop for both the cake and the icing. The chocolate cake is moist and dense and just lovely. It has a nice, delicate chocolate flavor. That's a good thing, because the icing is not even remotely subtle in the chocolate department.

The peanut butter filling couldn't be simpler. It's peanut butter. Seriously. Spread it on the cake while it's still warm, and the peanut butter will make a lovely, tasty layer between the cake and the icing.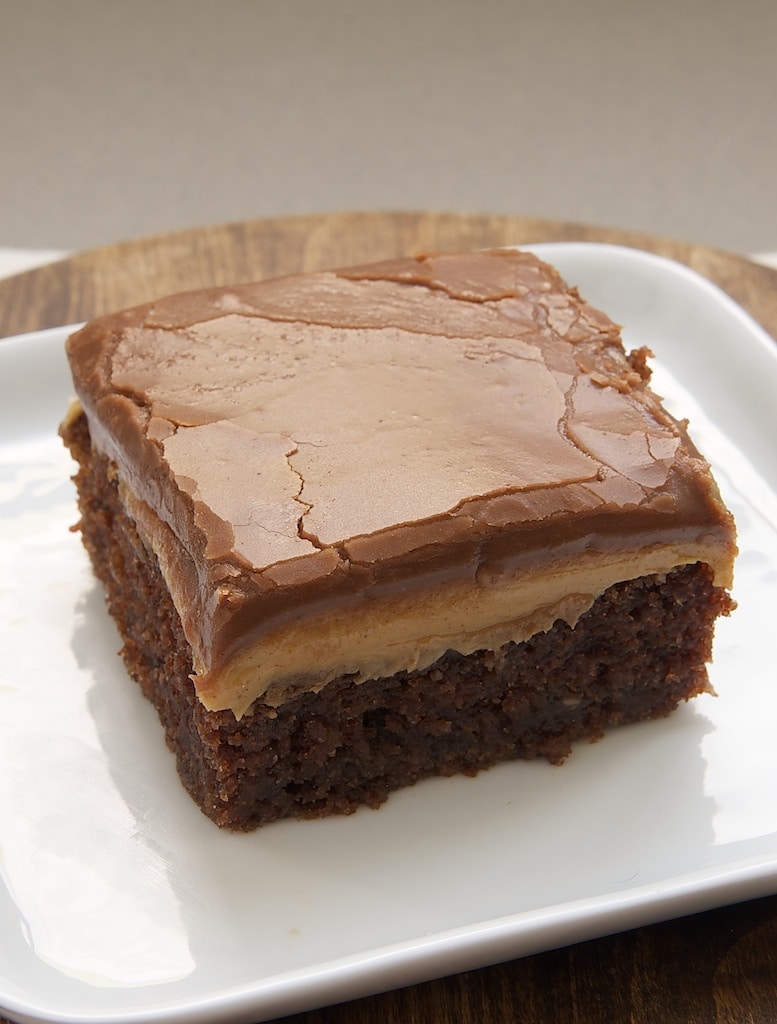 I love this kind of icing. It's simple to make, so that's always a plus. And, it's so soft and gooey. It goes on the cake while it's warm, and then it hardens and sets as it cools. It forms some kind of serious shield over the cake. Don't be alarmed if the icing cracks and crinkles when you cut into it. That's just the nature of this kind of icing. If it bothers you, that's why some very smart person invented garnishes. Maybe some chopped peanut butter cups?
This cake is what's known as a crowd-pleaser. First of all, it makes enough for a crowd. Secondly, it's chocolate and peanut butter, so what's not to like?
As is always the case when chocolate is the center of attention, be sure to use a good quality cocoa powder for the best results. I used one of my favorites, Scharffen Berger unsweetened natural cocoa powder.
I made this cake to help out my blogging friend Erin of The Spiffy Cookie. She is finishing up her dissertation and asked for a little help from some fellow food bloggers.