September 10, 2012
Chocolate-Peanut Butter Sandwich Cookies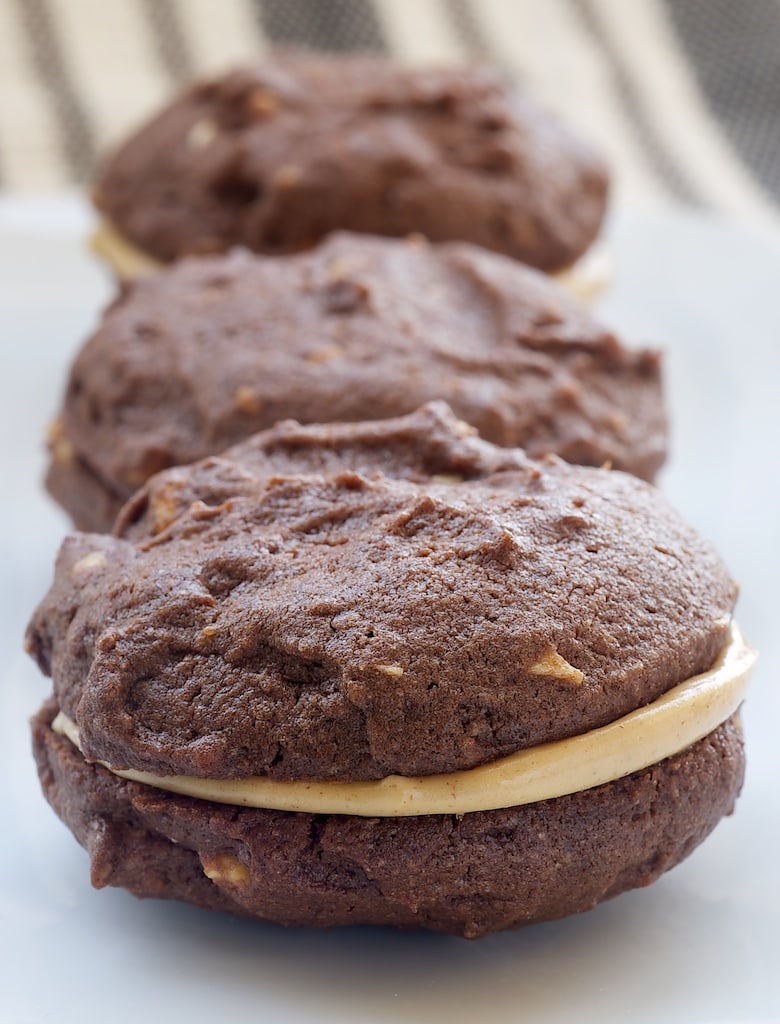 In case you were wondering, I'm still just as much of a fan of chocolate and peanut butter as I've ever been. I hope at least most of you share that sentiment because you're likely to see that combo on this blog for years to come.
We start with dark chocolate cookies. These are pretty delicious on their own. I love the addition of roasted peanuts to the cookies. I don't think I bake enough with peanuts. Sure, there are plenty of recipes here with pecans or hazelnuts or almonds. But, peanuts just don't show up nearly enough.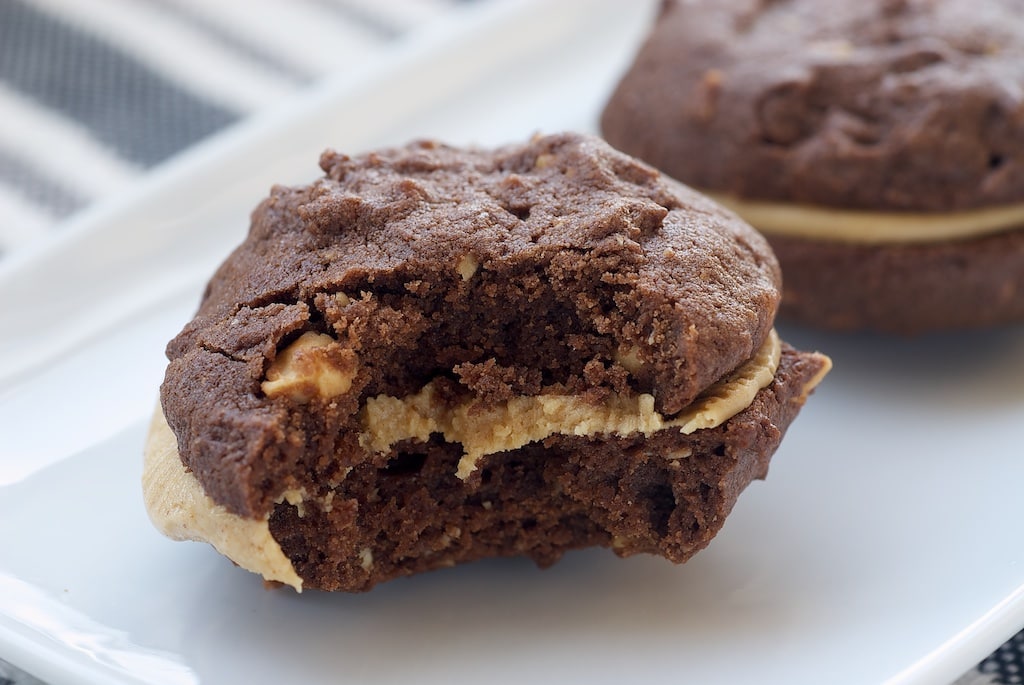 Sandwiched between those dark chocolate cookies is a sweet peanut butter filling. It's a really simple and quick filling to make. If it gets too warm as you're working with it, just stick it back in the refrigerator for a few minutes.
If, like me, you are a fan of all things chocolate and peanut butter, be sure to see my collection of BoB's best chocolate and peanut butter recipes.
Chocolate-Peanut Butter Sandwich Cookies
Yield: 18 sandwich cookies
Prep Time:25 minutes
Cook Time:15 minutes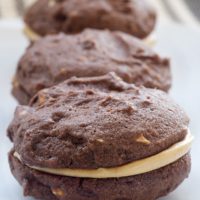 Ingredients:
For the cookies:
2 cups all-purpose flour
3/4 cup unsweetened cocoa powder
1/2 teaspoon baking powder
1/2 teaspoon salt*
1 cup unsalted butter, softened
1 cup granulated sugar
2 large eggs
1 teaspoon vanilla extract
1/2 cup finely chopped roasted peanuts
For the filling:
3/4 cup creamy peanut butter
1/4 cup confectioners' sugar
4 tablespoons unsalted butter
1/2 teaspoon vanilla extract
1/2 teaspoon salt
Directions:
Preheat oven to 350°. Line baking sheets with parchment paper or silicone liners.
Whisk together flour, cocoa powder, baking powder, and salt. Set aside.
Using an electric mixer on medium speed, beat butter and sugar until light and fluffy. Add eggs, one at a time, beating well after each addition. Mix in vanilla.
Reduce mixer speed to low and gradually add flour mixture. Mix just until combined. Stir in peanuts. Dough will be sticky.
Drop by tablespoonfuls onto prepared pans, leaving about 2 inches between cookies. Flatten each cookie slightly with the back of a spoon or the bottom of a glass. Bake, one pan at a time, for 13-15 minutes. Cool on pans for about 5 minutes. Then, remove to wire racks to cool completely.
To make the filling, place all filling ingredients in a medium bowl. Beat until smooth. If necessary, refrigerate filling for 15-20 minutes until firm enough to spread.
Spread 1 to 1 & 1/2 teaspoons of filling on the bottom of half of the cookies. Place another cookie on top of the filling so that the bottoms of the cookies are facing each other. Once cookies are assembled, place in refrigerator for about 15 minutes or until filling has set.
Notes:
*If you're using unsalted peanuts, you may want to add an additional 1/4 – 1/2 teaspoon salt to the cookie dough.
Please note that cook time is per baking pan.