April 4, 2016
Brown Butter Pound Cake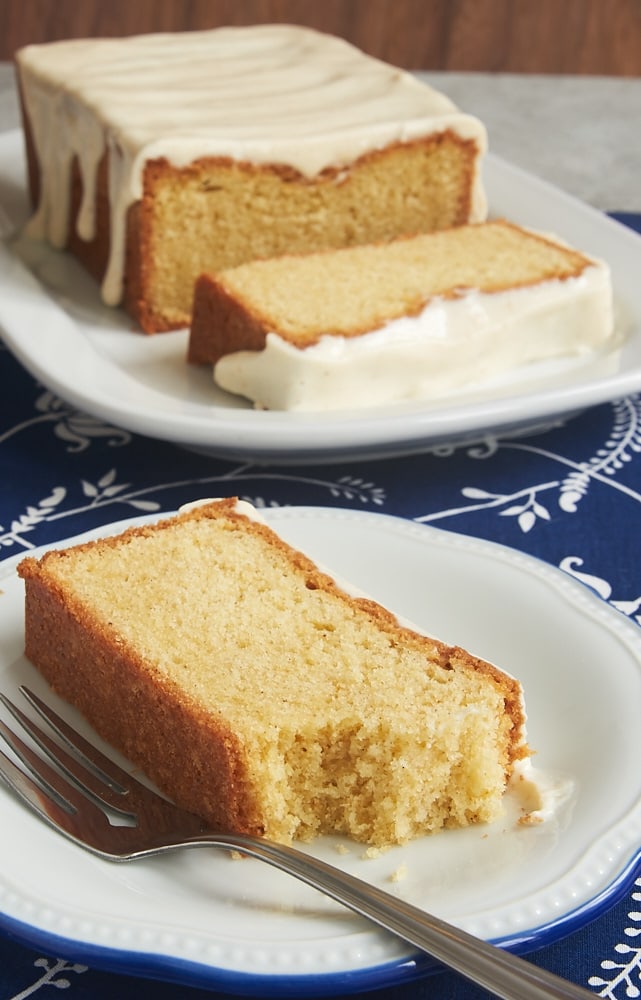 Pound cake is not exactly the most exciting dessert around. I do enjoy it, but it's not really something I crave. But how about bringing brown butter to the party? I adore brown butter, so I'm always game for adding it to my baking. Just that little change makes this pound cake crave-worthy!
And it doesn't stop there. Topping off this lovely cake is a sweet cream cheese glaze with even more brown butter. I must say that as much as I like this pound cake, I'm absolutely smitten with that glaze!

If you've ever browned butter, then the process of doing that won't hold any surprises for you. But in a bit of a departure from the usual, you'll need to let it cool after browning it until it re-solidifies somewhat. That texture lets you mix it in much the same way you'd mix softened butter.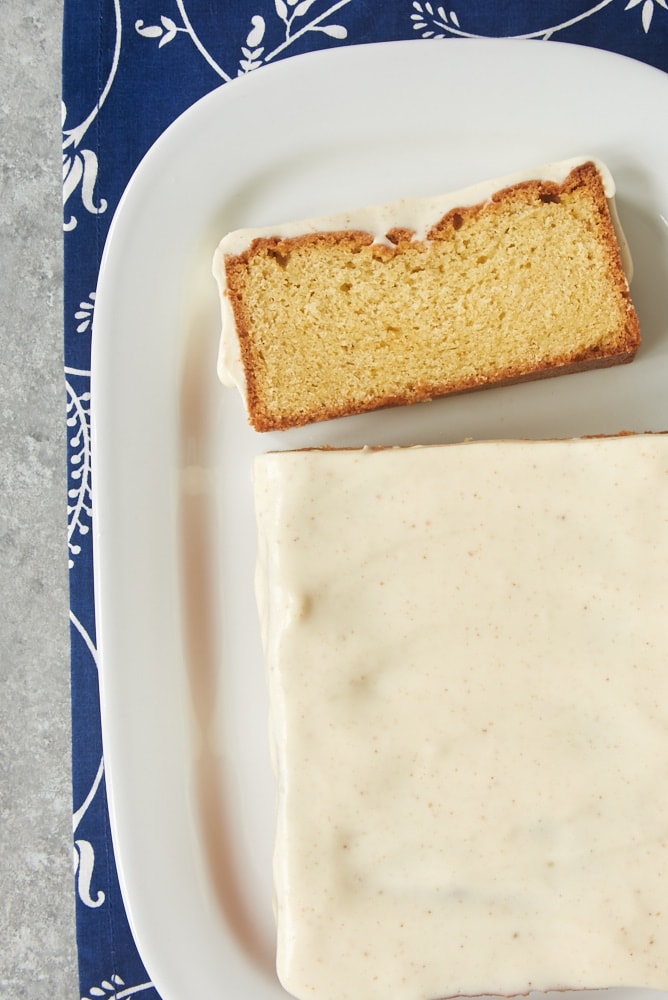 Once you've let the brown butter cool, this cake mixes up very quickly. The batter is thick, as you'd expect from a pound cake. And with both brown butter and vanilla bean paste mixed in there, it's full of lovely little brown specks.
This cake has a lot going for it. It's a great cake for snacking or for a simple dessert. It's not overly sweet, but instead focuses on the wonderful nutty flavor of brown butter. And you likely have everything you need in your kitchen to make it whenever the craving strikes. This is one of those recipes you'll find yourself turning to again and again when you want a simple dessert that's sure to please.
Find more cake recipes in the Recipe Index!
Brown Butter Pound Cake
Yield: 10 to 12 servings
Prep Time:30 minutes
Cook Time:1 hour 20 minutes
The nutty flavor of brown butter turns a traditional dessert into something extra special in this Brown Butter Pound Cake.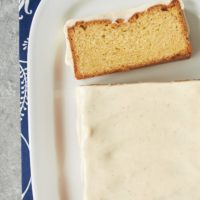 Ingredients:
For the cake:
1 cup unsalted butter
1 & 3/4 cups all-purpose flour
1 & 1/2 teaspoons baking powder
1 teaspoon salt
1 cup granulated sugar
4 large eggs
1 tablespoon vanilla bean paste*
For the glaze:
3 tablespoons unsalted butter
3 ounces cream cheese, at room temperature
1/4 cup confectioners' sugar, sifted
2 to 4 tablespoons warm milk
Directions:
To make the cake:
Place the butter in a medium saucepan or skillet. Cook over medium heat until the butter melts and begins to foam.
Continue cooking, stirring occasionally, until brown specks begin to form at the bottom of the pan and the butter has a nutty aroma.
Transfer the butter (including the browned bits) to a large mixing bowl. Set aside until the butter has solidified (about an hour).
Preheat oven to 350°F. Grease a 9″x 5″ loaf pan.**
Whisk together the flour, baking powder, and salt. Set aside.
Add the sugar to the cooled brown butter. Using an electric mixer on medium speed, beat the butter and sugar until light and fluffy. Add the eggs, one at a time, mixing well after each addition. Mix in the vanilla bean paste.
Reduce mixer speed to low. Gradually add the flour mixture, mixing just until combined.
Transfer the batter to the prepared pan, and spread evenly.
Bake 1 hour to 1 hour and 10 minutes, or until the cake is golden brown and a pick inserted into the center comes out with moist crumbs.
Cool the cake on a wire rack for 20 minutes. Then transfer the cake to a wire rack to cool completely.
To make the glaze:
Repeat the browning process with the 3 tablespoons of butter.*** Place the butter (including the browned bits) in a medium bowl and allow to cool and solidify a bit (about an hour).
Add the cream cheese to the cooled brown butter. Using an electric mixer on medium speed, beat the butter and cream cheese until fluffy. Add the confectioners' sugar, and mix thoroughly.
Add 2 tablespoons of milk, and mix well. Add more milk, a small amount at a time, until the glaze is thick but pourable.
Top the cooled cake with the glaze.
Notes:
*You can also substitute the seeds of 1 vanilla bean or 1 tablespoon vanilla extract.
**The original recipe uses an 8 & 1/2″x 4 & 1/2″ pan, but I think the slightly larger pan is a better match for the amount of batter. I have this one.
***If you like, wipe out the pan you used for browning the butter for the cake and then brown the butter for the glaze. Browning all the butter at once and then measuring out the amount for the glaze can be a bit tricky, as the total volume decreases by about 25% after it's browned.
This post contains affiliate links.